These days most vacuum insulated bottles and tumblers are made from stainless steel, but there is a trend towards ceramic and glass lined thermoses that are able to keep things cold or hot but don't impart a metallic taste into your drink.
They still aren't very widely available and they can be difficult to find, so I wanted to create a list of the best glass lined thermoses.
To be completely honest with you this is less a list of the "best" and more a list of the "only". There aren't many companies out there still making these, but there are some options.
They aren't as commonly made anymore because they are quite fragile and since the 1960's stainless steel has replaced glass as the material of choice. However, there are still some glass thermos sizes available that you can get if you know where to look.
Glass Lined Thermos: The Original and The Best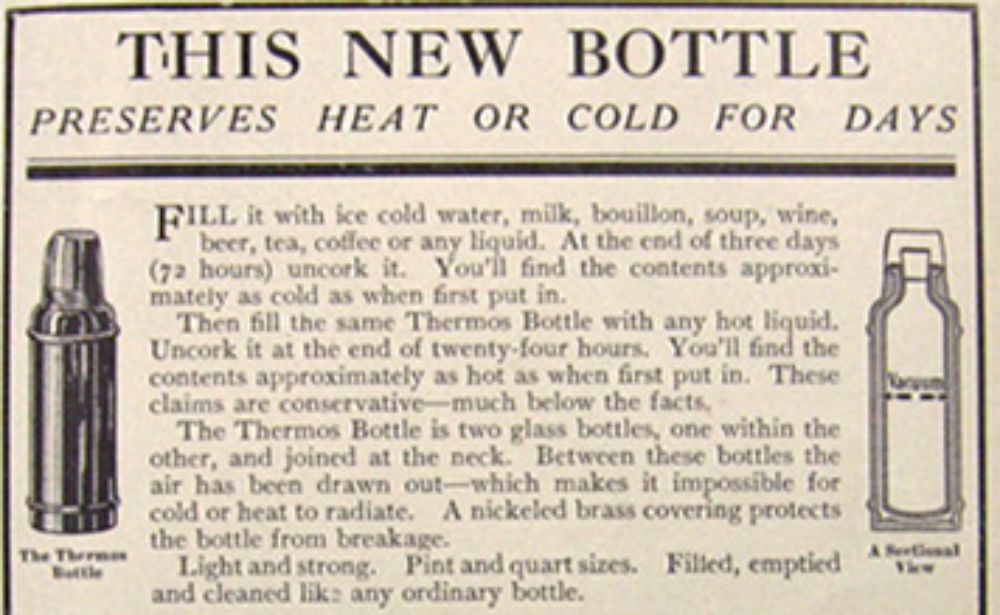 The original glass vacuum flask was invented in 1892 according to Thermos and in 1903 the first domestic glass lined Thermos was created and sold.
This was a glass vacuum flask with an inner and outer glass bottle with a vacuum created inbetween. Then an outer layer of metal is added to protect the inner glass flask.
Basically all Thermoses and vacuum insulated flasks were glass lined until 1966 when the first stainless steel vacuum insulated flask was created.
Stainless steel is preferred over glass in most cases because it's much less fragile, cheap to manufacture and doesn't leech chemicals into hot drinks like plastic does.
With the launch of Hydro Flask in 2008 and Yeti bringing out tumblers in 2014, plus a move away from plastic, vacuum insulated tumblers and bottles grew massively in popularity to the point where now almost everyone owns one.
Why Get a Glass Lined Thermos?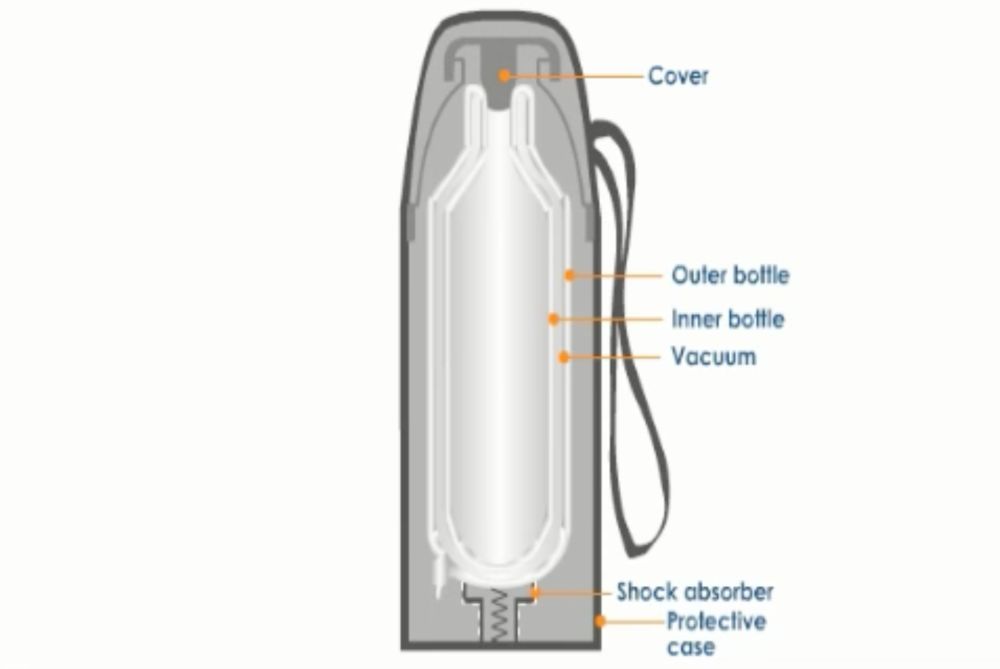 With the stainless steel vacuum insulated tumblers and bottles being so popular some people (my partner included) find that the metal imparts a metallic flavor into their drinks.
They want the benefits of a durable stainless steel insulated bottle but want to have an inner lining of glass (or ceramic) so that no flavors are imparted into their drink.
There is a small movement of people going back to glass lined thermoses as well as ceramic lined options.
The Downsides To Glass Lined Thermoses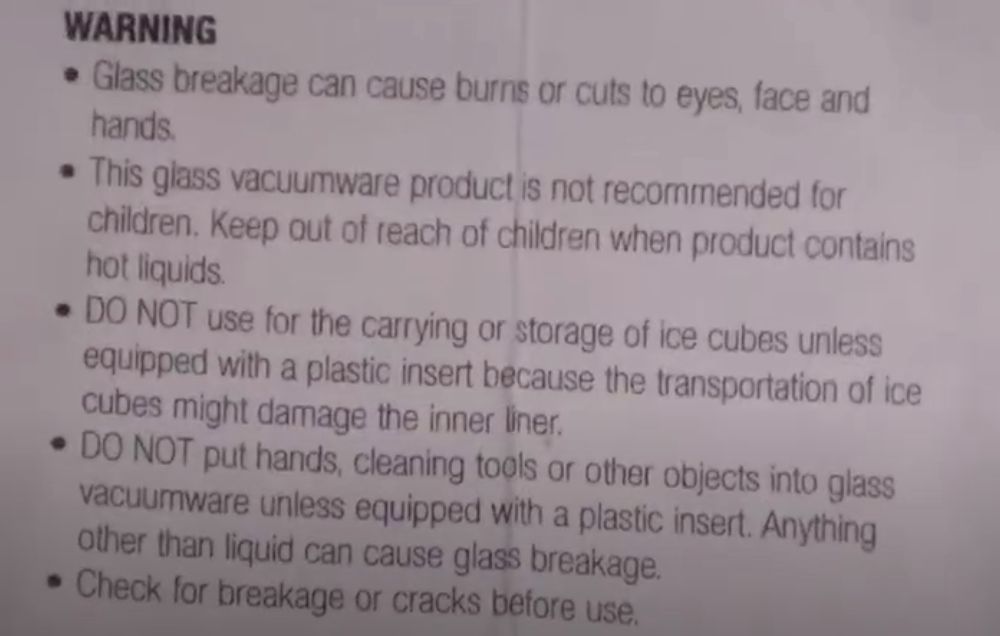 Above is an image from the care instructions on a glass Thermos. As you can see it carries warnings about glass breakages and even advises against putting ice cubes in it because "anything other than liquid can cause glass breakage".
The major downside of glass Thermoses when compared to a stainless steel Thermos or even a ceramic one is their tendency to break easily.
A vacuum creates a lot of inward pressure. A small crack or scratch in the glass is sometimes enough to cause the entire thing to shatter and implode putting lots of tiny shards of glass in your drink.
The stainless steel exterior is there to protect it from some exterior damage but even a small drop or sudden changes in temperature can cause the Thermos to break.
Stainless steel is just as cheap to manufacture these days and much safer and less prone to breaking so glass lined Thermoses are becoming a thing of the past.
However, with more and more people seeking glass lined insulated tumblers and water bottles it may see a resurgence.
The Best (and Only) Glass Lined Thermoses
Below I was able to find a few glass lined vacuum insulated Thermos bottles that are still available for sale today on Amazon.
I've provided some details and each and outlined some pros and cons plus provided direct links to the product on Amazon if you want to buy it.
Searching for and finding these products is hard and I struggled to find them so hopefully this helps. They are affiliate links so you if do buy something through these links I do get a small commission so thank you for that.
Here are the best glass lined Thermos options:
1. Thermos Add-A-Cup Glass Vacuum 35 oz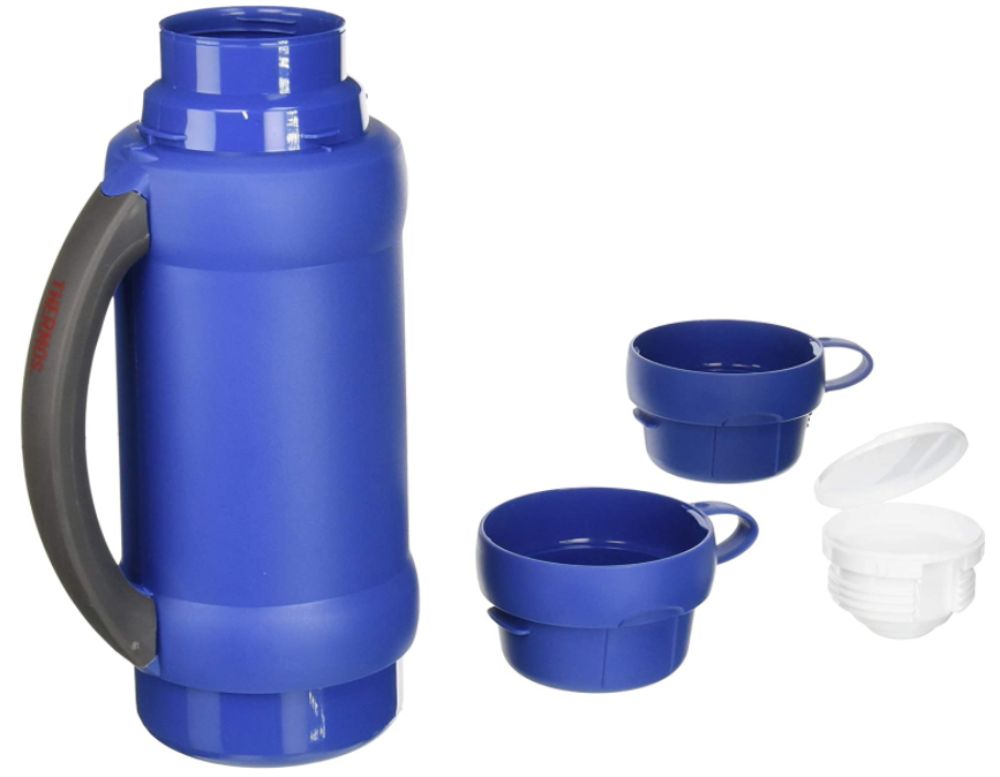 The Add-A-Cup Glass Vacuum Thermos is the largest size bottle you can get and it comes with a protective plastic exterior and thick carry handle.
The lid comes off and gives you 2 plastic cups that you can use to drink out of and even the twist top stopper pops open and can double as a cup or as a dry storage container for things like sugar, coffee or tea bags.
The stopper can also be partially unscrewed and you can still pour out of it.
This is the most versatile option and as with all these glass lined Thermos flasks it's extremely well priced and even cheaper than it's stainless steel counterpart.
See the latest price of the Thermos Add-A-Cup at Amazon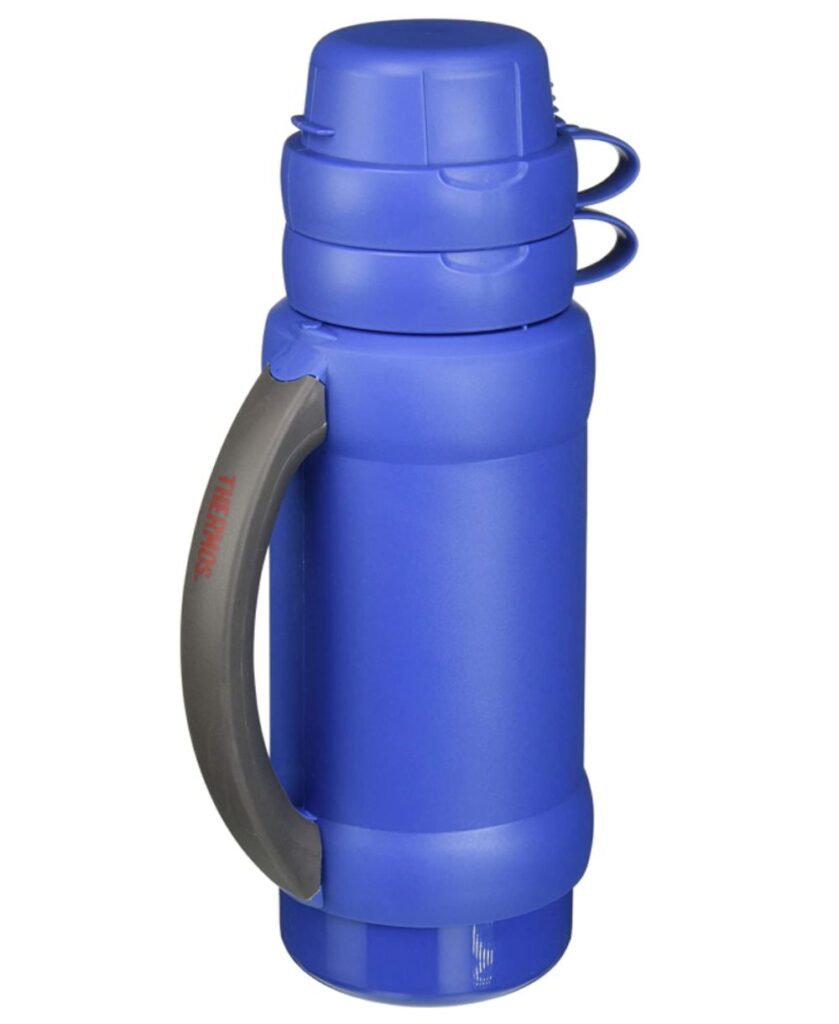 PROS:
Comes with multiple cups
Dry storage in the stopper
Durable plastic exterior and thick carry handle.
CONS:
Only one color
Quite large to carry around with you
2. Thermos 17 oz Arc Series Glass Vacuum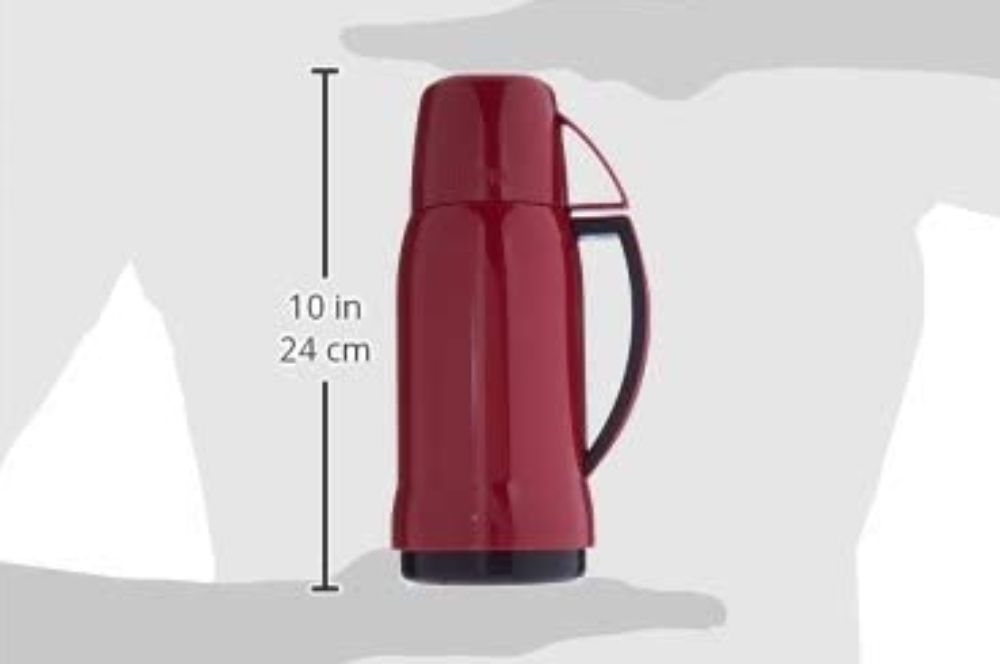 This 17 oz glass vacuum insulated tumbler is a more compact and personal size.
It's got a rubber handle which is comfortable to hold and the lid doubles as a tea cup with a handle for easy drinking of tea, coffee, water or whatever drink you're taking with you.
This is the best glass lined coffee thermos for personal use. I can imagine drinking a barista made coffee out of this bad boy and having it stay hot for hours with no metallic taste.
This is also the most affordable version and is cheaper than the larger sizes.
See the latest price of the Thermos Arc 17 oz Bottle at Amazon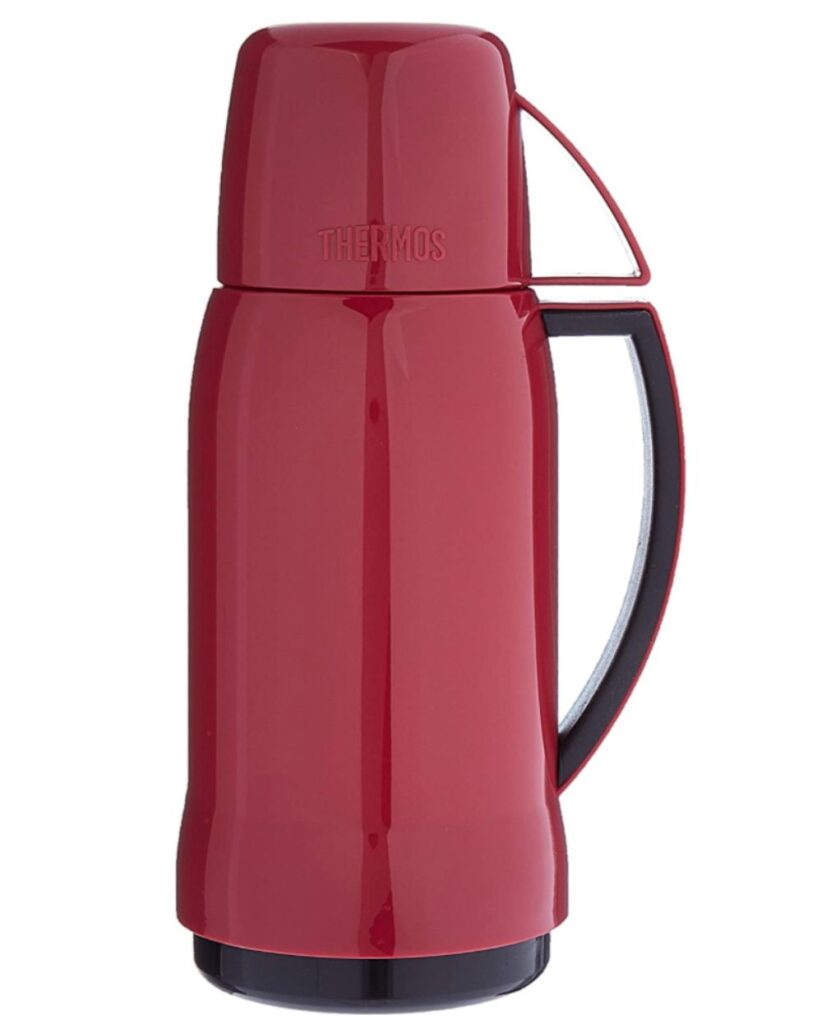 PROS:
Smaller size is more portable
Lid doubles as a cup with a handle
CONS:
Fragile and can easily break
May be too small for some people
3. Thermos 35 oz Arc Series Glass Vacuum
Like the 17 oz size listed above this glass vacuum tumbler has a thick rubber handle and lid that doubles as a cup with a handle.
The exterior is made of a protective plastic (not metal) and it's a larger 35 oz size.
See the latest price of the Thermos Arc 35 oz Bottle at Amazon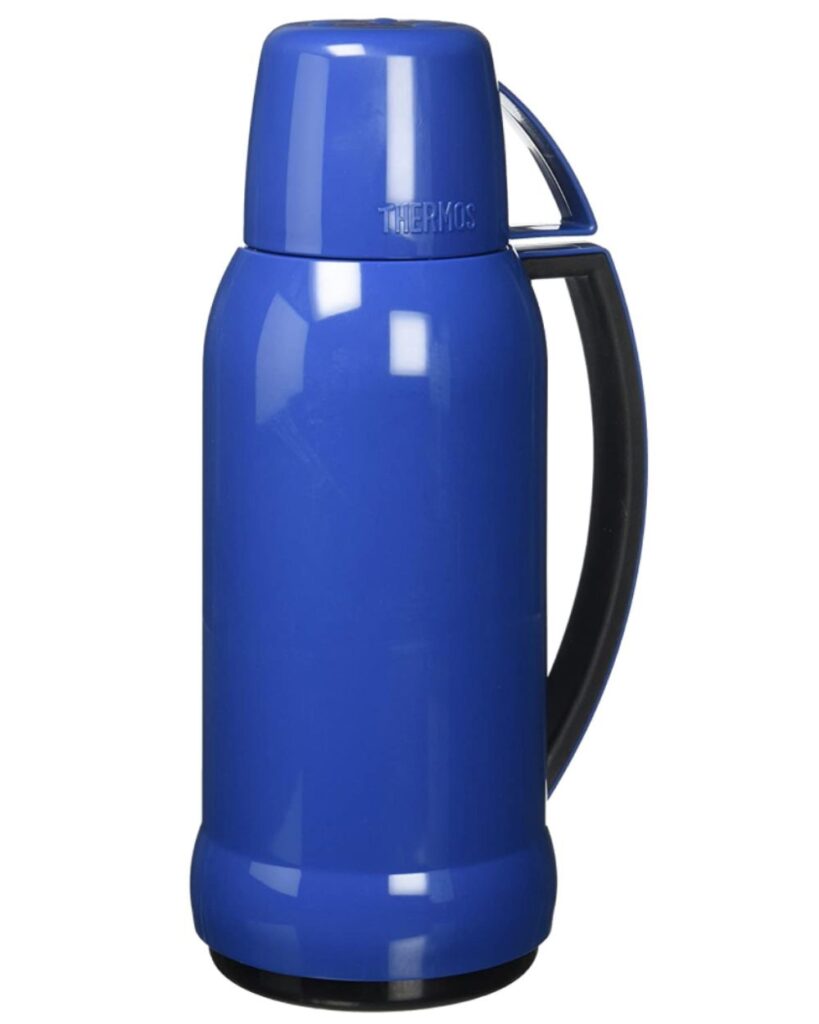 PROS:
Larger 35 oz size
Lid doubles as cup with handle
Glass inside won't impart flavors
CONS:
Exterior is plastic not metal
Only comes in blue or red (not the sexiest colors)
4. Thermos Glass Vacuum 2-Quart Pump Pot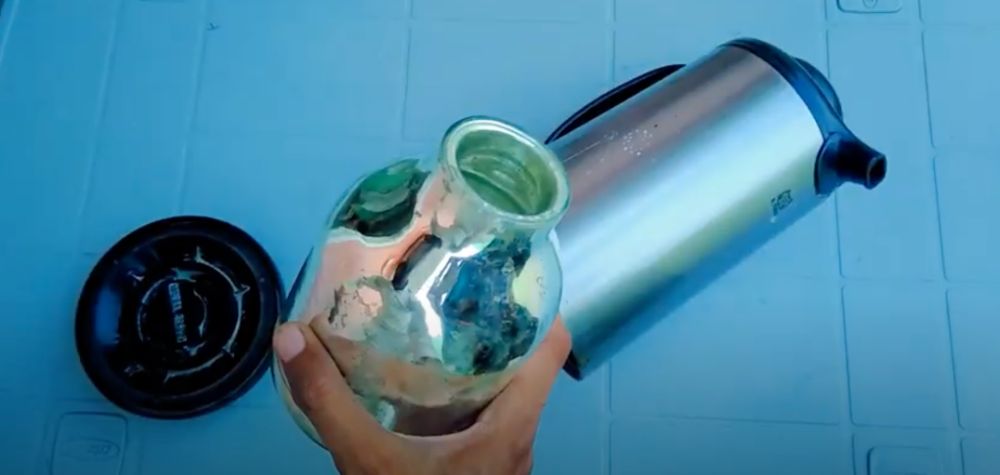 The Thermos Glass Vacuum Pump Pot is a medium-large size pot perfect for storing boiling water or tea or coffee for functions of group gatherings.
It's got a large 2-quart (64 oz) capacity and it can keep drinks hot for up to 12 hours or cold for up to 24 hours.
The lid locks on easily and is secure but it also has a convenient hand pump so people can portion out how much drink they want.
It's got a convenient carry handle and the exterior doesn't get hot so no one will get burned.
See the latest price of the Thermos Glass Pump Pot at Amazon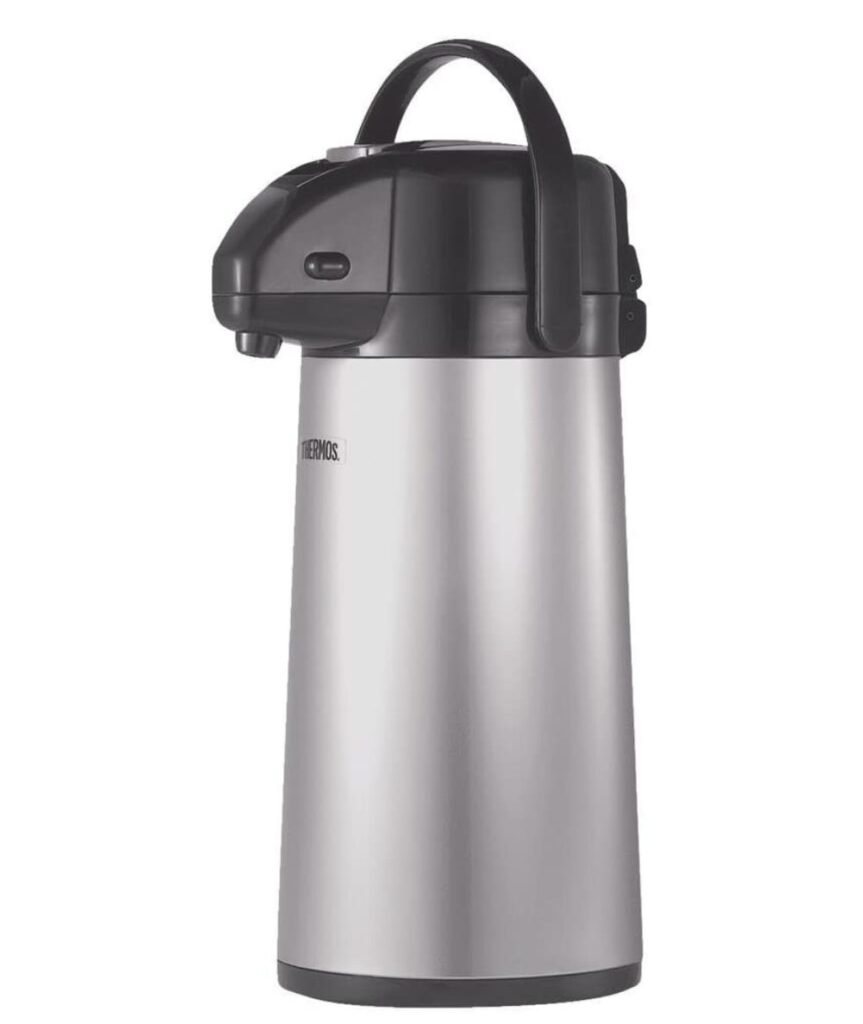 PROS:
Large 2-Quart size great for gatherings
Easy carry handle
Convenient hand pump for portion control
CONS:
Only really useful for large group gatherings
To fragile to take on a picnic
5. Alfi Carafe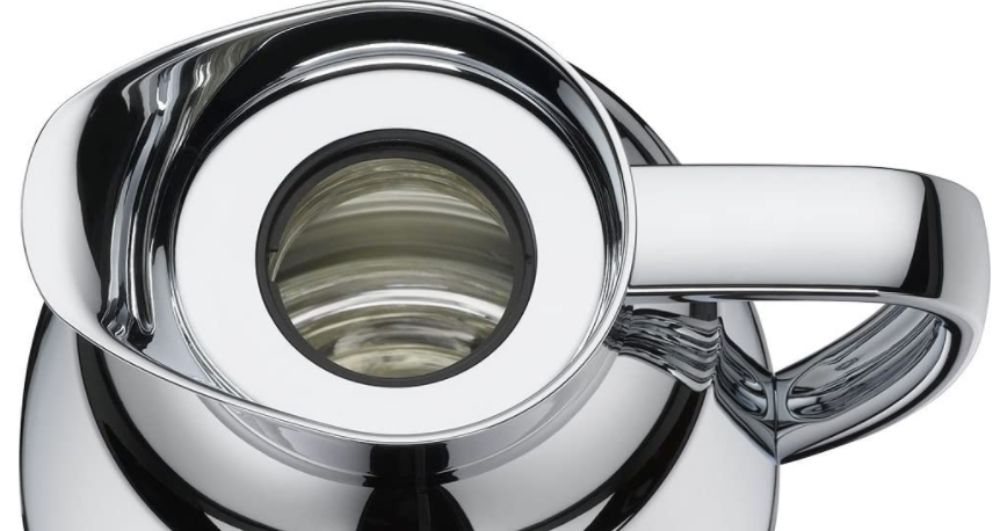 Thermos owns the brand "Alfi" that makes carafes in a variety of different price ranges. From the affordable plastic ones that cost less than $20 up to the ones that cost hundreds of dollars.
They each have a glass interior so they won't impart taste and are perfect for anything from serving coffee or tea to wine or water in a more formal setting.
The is a wide variety of choices and styles available to fit any budget.
See full range of Thermos Alfi Carafes at Amazon
See the latest price of the affordable Alfi Carafe at Amazon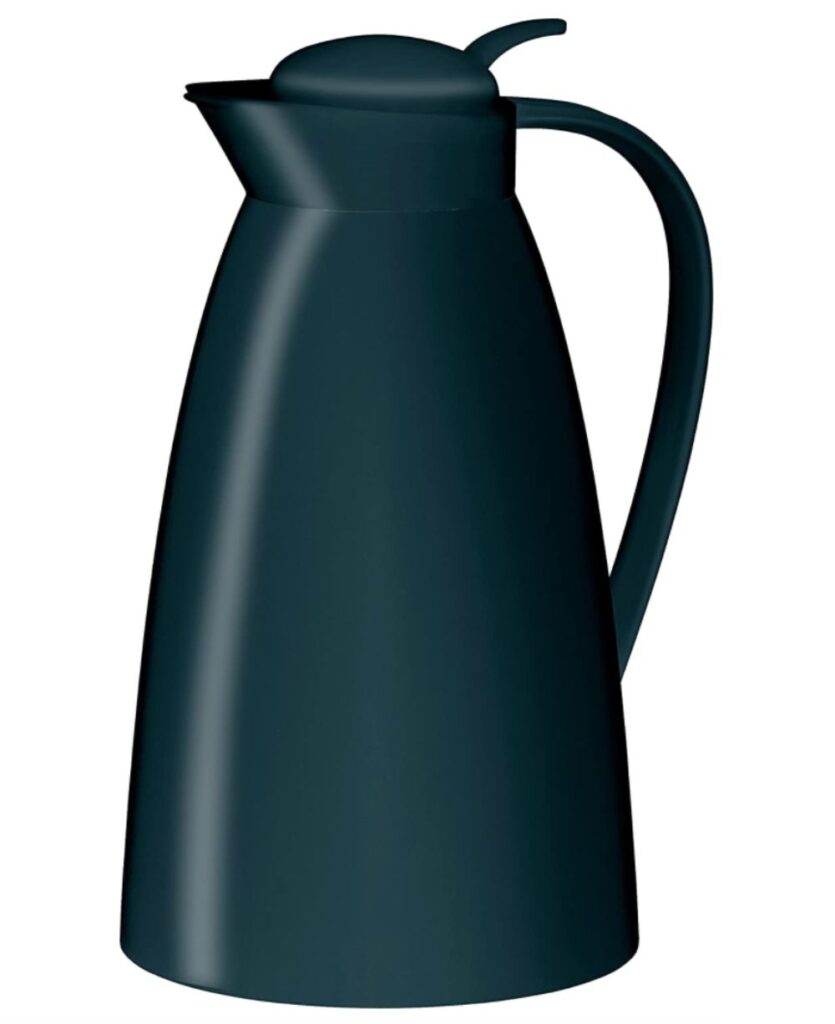 PROS:
Great for serving drinks at more formal events
CONS:
Not leak proof or portable
6. EWater Glass Lined Vacuum Flask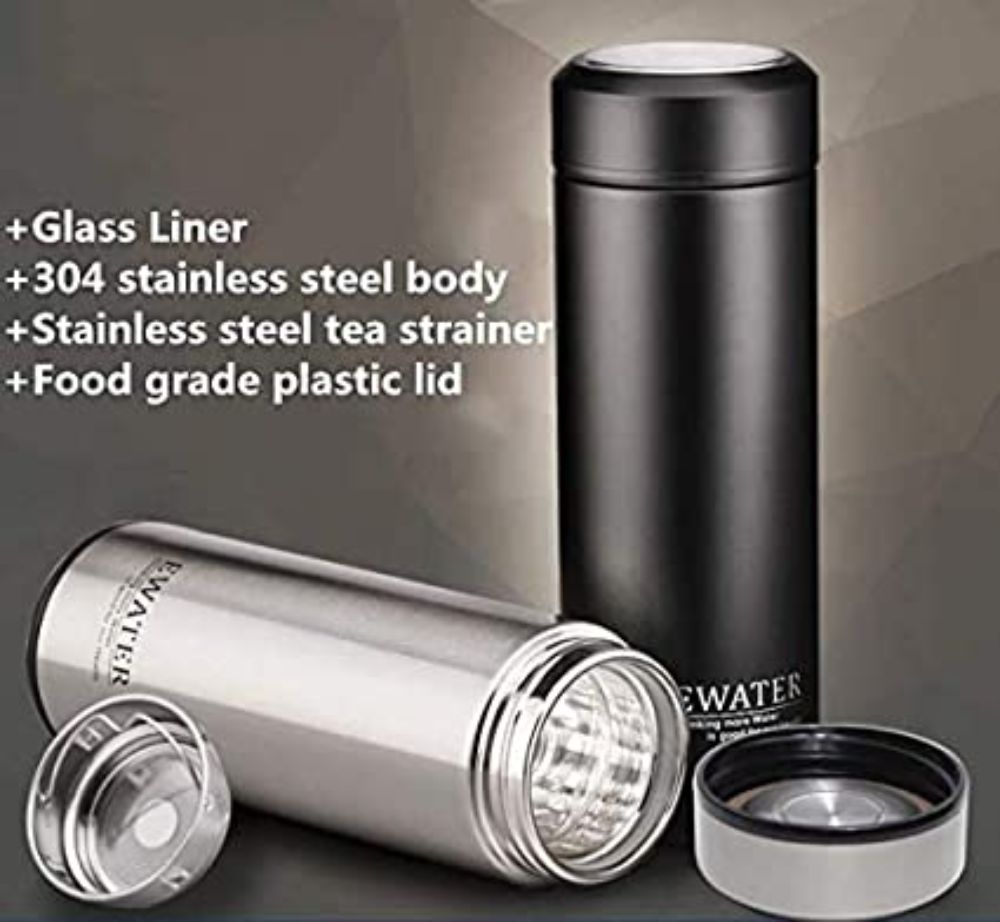 Other than Thermos this EWater glass lined vacuum insulated bottle is one of the only brands I was able to find that also has a glass lining.
This brand takes a different approach to Thermos. Rather than having two glass flasks with a vacuum inbetween and a protective outside metal layer they have created a double walled stainless steel bottle with the vacuum inbetween the two metal walls. Then they added a thin glass liner to the inside of the stainless steel.
It's got a high boron glass liner so you don't have to worry about any metal leeching into your drinks.
The downside with this design is that the interior glass is prone to breaking easily with sudden changes in temperatures or even the smallest drop. In fact a glass water bottle would likely be less fragile than this.
This is really designed for inside use and I can see it being perfect for making coffee at home or in the office and keeping it warm for hours as you slowly sip it as you work or go about your day.
It could also be good for coffee or tea for your daily commute but it isn't great for lots of transporting especially where it may get dropped on banged around as it's going to break.
See the latest price of EWater Glass Liner Mug at Amazon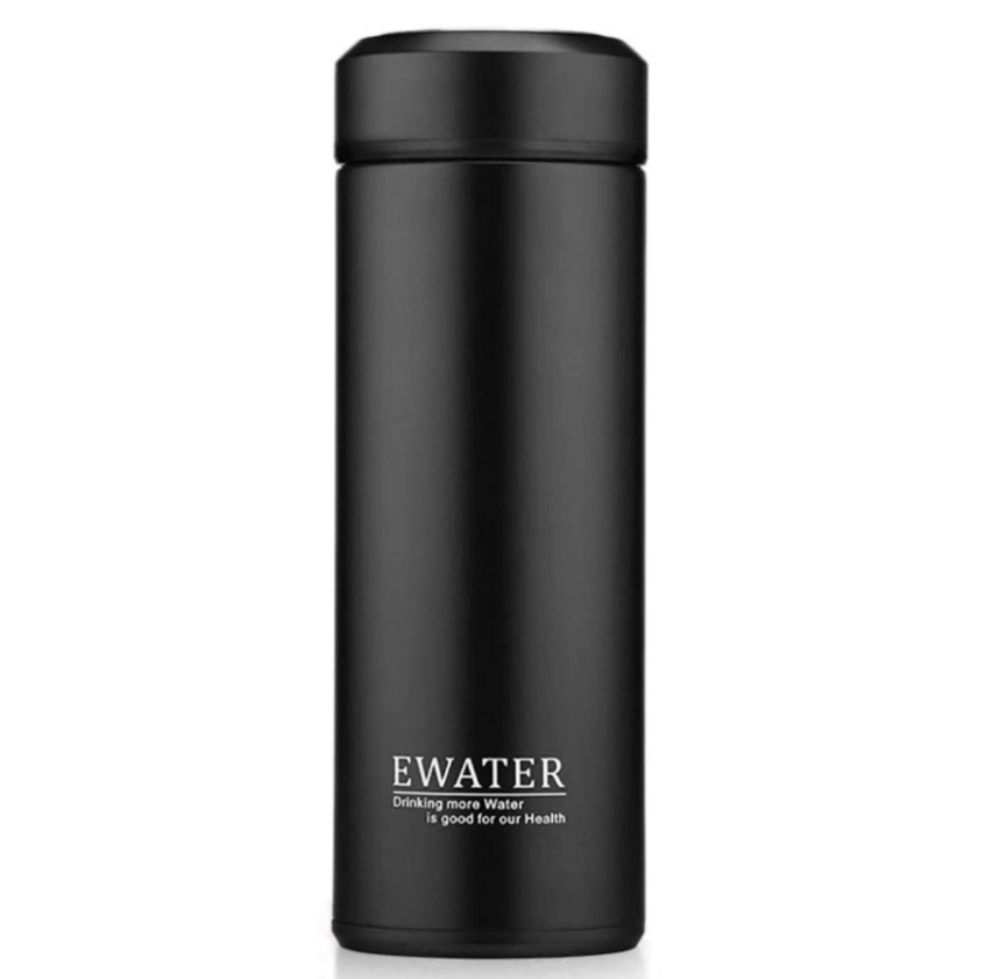 PROS:
Insulated stainless steel bottle with glass liner
No metalic taste
CONS:
Still fragile and glass can break easily
Only comes in small sizes
Inside use only or calm commutes
7. Benecasa Thermos Glass Lined 1L
It's rare to find another glass vacuum thermos so I was excited to find this one as an alternative to the Thermos brand.
It's got a protective outer plastic bottle that comes in 4 colors – blue, green, red and black.
It's lightweight and the lid doubles as a cup with a lid. It's well priced and a good alternative to the Thermos.
See the latest price of Benecase Thermos at Amazon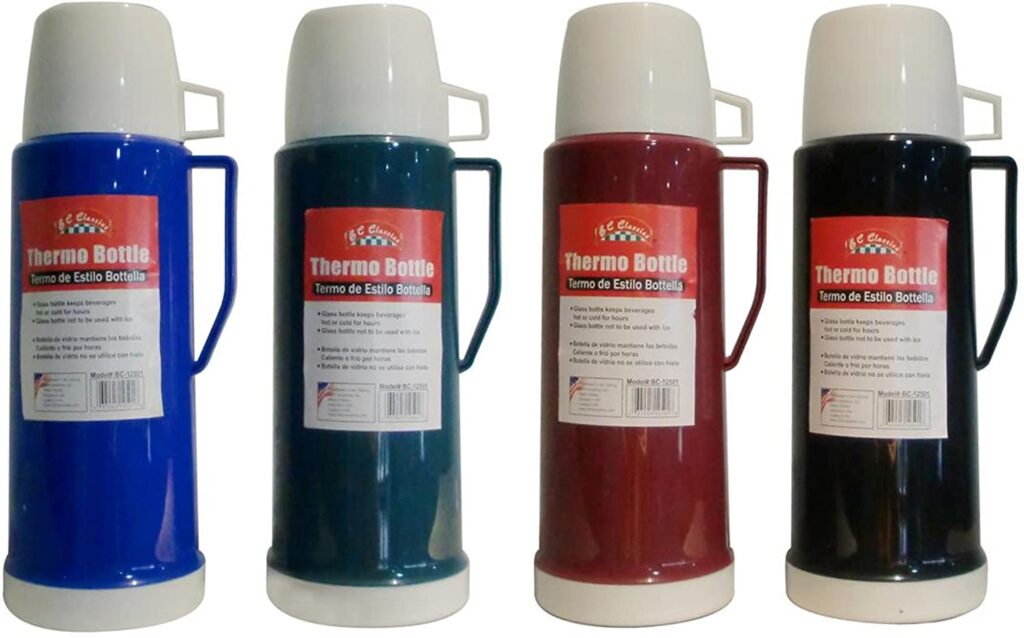 PROS:
Insulated stainless steel bottle with glass liner
No metalic taste
CONS:
Still fragile and glass can break easily
Only comes in small sizes
Inside use only or calm commutes
BONUS: Best Ceramic Lined Thermos: Contigo TWISTSEAL Glaze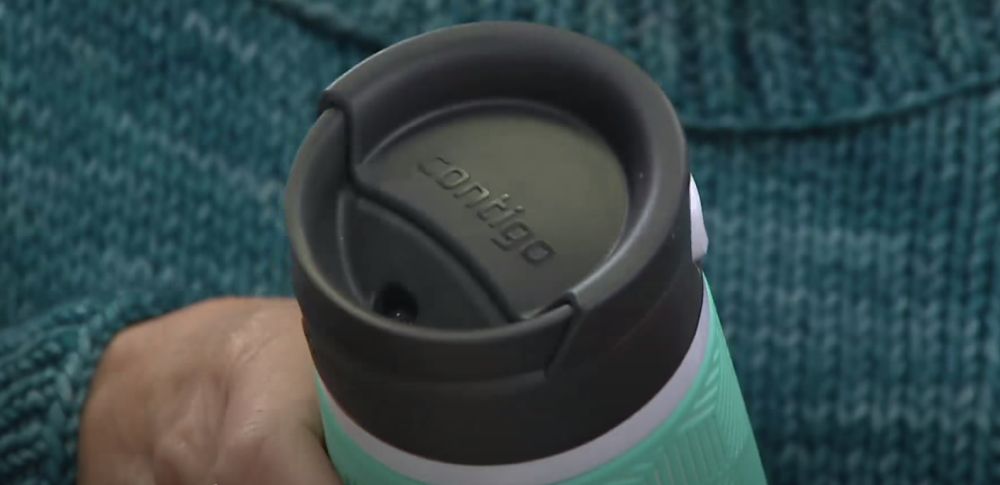 Instead of seeking a glass lined Thermos it might be better off looking into a ceramic lined insulated bottles or tumblers.
These have the durability of a double walled stainless steel bottle so you don't have to worry about breakages like you do with glass but you still get the benefit of the ceramic protecting your drink from the stainless steel and stopping it from imparting flavors.
I did a full article on the best ceramic lined travel mugs and #1 on the list is this Contigo Glaze with a twistseal lid.
It keeps drinks hot up to 7 hours and cold up to 18 hours and the lid is completely leak proof.
It's thin enough to fit in most cup holders and the ceramic lining protects the flavor of your drinks
See the latest price of Contigo Twistseal Glaze Travel Mug at Amazon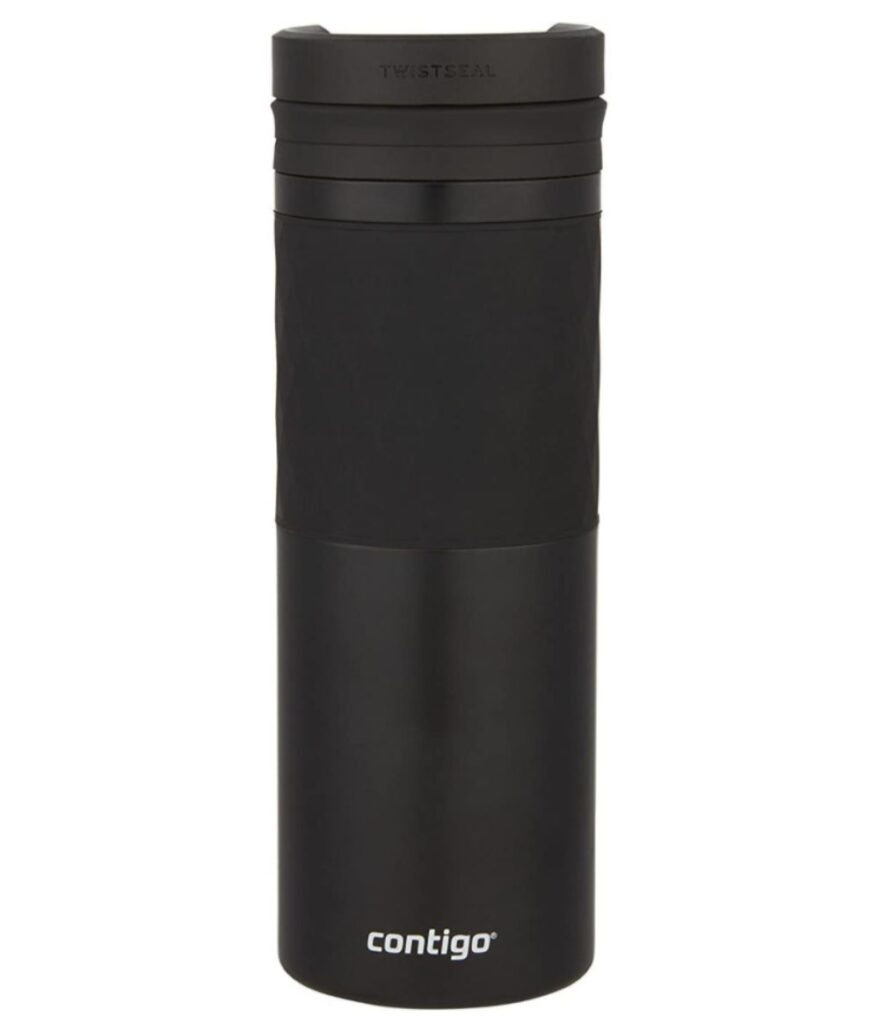 PROS:
Well known brand
Ceramic lined
Dishwasher safe
Leak proof lid
CONS:
Only one size available
Not glass lined
Is There a Glass Lined Stanley Thermos?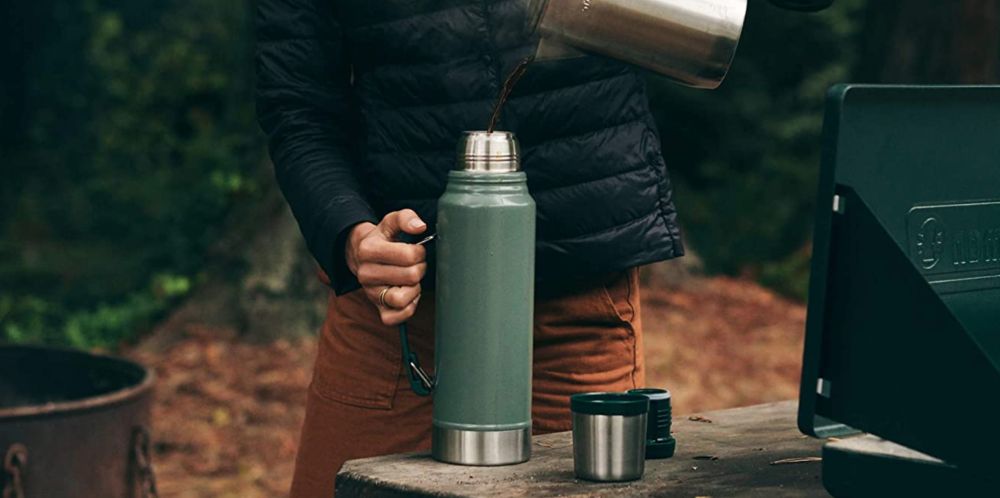 In doing my research looking for glass lined thermoses and vacuum insulated bottles I saw people talking about a glass lined Stanley thermos.
Stanley is another brand that has been around for over 100+ years.
They do sell The Stanley Classic Vacuum Bottle but it's not a classic glass vacuum bottle but rather it just looks like a traditional bottle and is made out of stainless steel.
I couldn't find any glass vacuum Stanley thermoses or bottles. But the Classic bottle looks great and it comes with a lifetime warranty.
See the latest price of the Stanley Classic Bottle at Amazon