I love my Yeti Hopper for a lot of reasons — it has great insulation, has been surprisingly durable over the years, and is way easier to carry than any of my other coolers. 
But perhaps my favorite thing about it is those little loops on the front.
But what exactly are they for?
The loops on the front of the Yeti Hopper are Yeti's patented HitchPoint Grid. It's a MOLLE-like system used to attach a bunch of useful accessories straight to your cooler. From bottle openers to dry gear bags, the HitchPoint Grid helps you customize your Hopper for whatever adventure you're about to set out on.
Unfortunately, the HitchPoint Grid is NOT compatible with other MOLLE products. It's similar to MOLLE, but uses a different format and is only compatible with products specifically designed for it.
If you haven't been taking advantage of your Hopper's HitchPoint Grid, you've really been missing out.
What Is A Yeti Hopper's HitchPoint Grid Used For?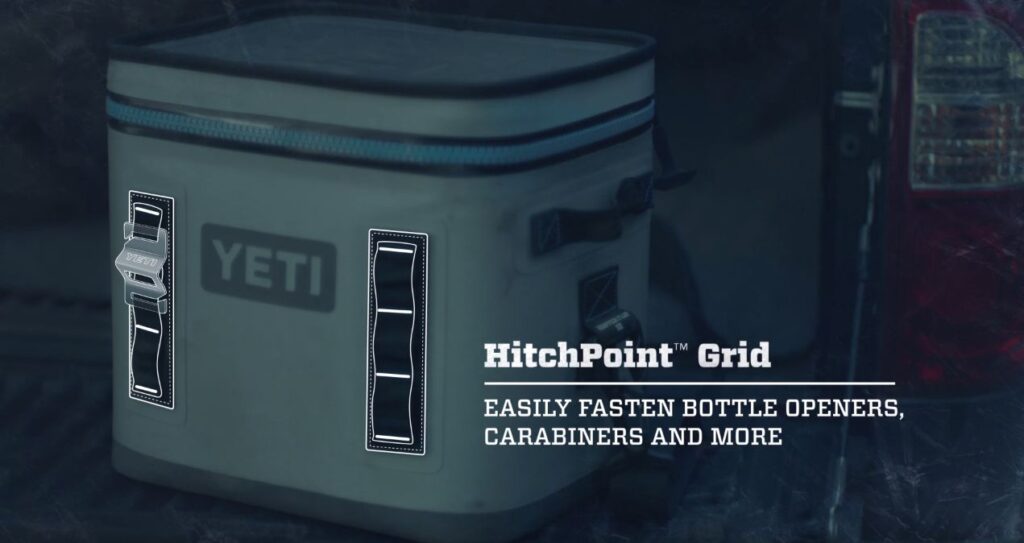 Those little loops on your soft-sided Yeti are for more than just hanging a carabiner from or strapping your cooler to the back of your truck.
They're actually a part of Yeti's HitchPoint Grid, which is a MOLLE-like system used to connect a bunch of awesome accessories straight to your cooler.
HitchPoint Grid-compatible accessories slide or hook right onto the loops. And, depending on the size of the accessory, you can mix and match to customize your cooler for whatever you're about to do. 

For a day at the beach I usually strap on a dry bag, so I don't have to carry another bag for my keys and phone. 
For car camping, I don't really need the extra storage, so I strap on a bottle opener and a Bluetooth speaker instead. 
Best HitchPoint Grid Accessories For Yeti Hopper Coolers
Yeti makes several great accessories compatible with the HitchPoint Grid. But, if you get a little creative, there are tons of other interesting things you can hook to your HitchPoint Grid as well.
These are a few that I find myself using most often.
Bottle Opener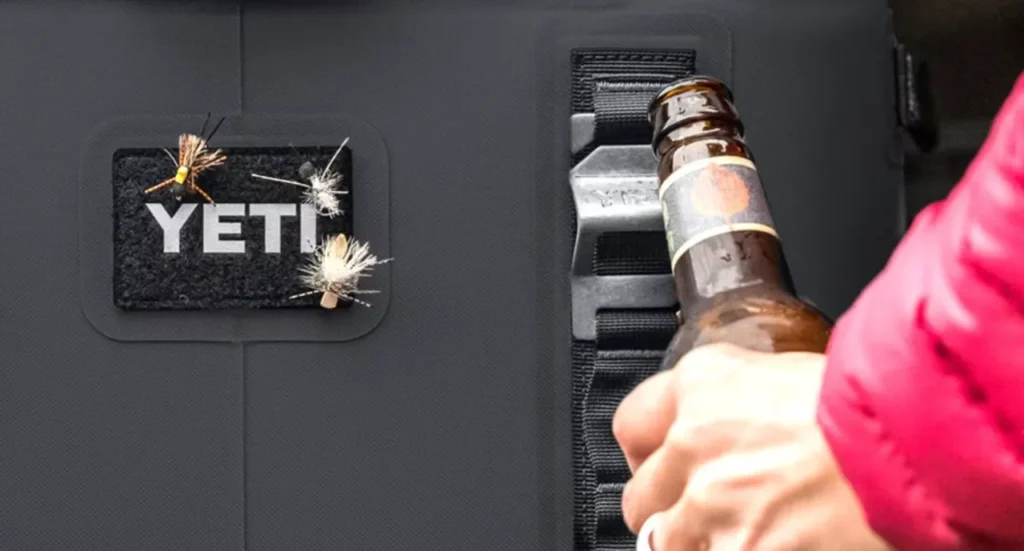 Because Yeti Coolers don't come with a built-in bottle opener, you can bet that if I have a Hopper full of beers, I'm gonna strap a bottle opener to my HitchPoint Grid. 
Yeti makes a couple decent options.
The MOLLE Bottle Opener is a static stainless steel bottle opener with a nice low-profile so it doesn't snag when you're carrying your cooler. 
Or if you'd prefer, the MOLLE Zinger has a retractable cord which makes it a bit easier to use (especially after a few drinks). 
But if you just want to save a few bucks, you can always just tie any cheap bottle opener to one of the loops instead. 
Bluetooth Speaker
While Yeti doesn't make a Bluetooth speaker directly compatible with the HitchPoint Grid, most small speakers can be hooked to a HitchPoint loop with a carabiner or some paracord.
I use the JBL Clip 4, but most small speakers will work just fine. 
Dry Bag

Yeti's Sidekick Dry Gear Case is perfect if you need to carry a few small items and don't want to carry a bag alongside your cooler. 
It's the perfect size for your keys, a wallet, and a cell phone — and is waterproof so you know your stuff is safe from the elements.  
Rambler Bottle Sling
We both know that cooler full of beer isn't going to help you stay hydrated, but who really wants to save room in their cooler for a few bottles of water?
Luckily, you can just strap a Bottle Sling to your HitchPoint Grid instead and not need to worry about it.