There's nothing worse than having a cooler full of ice cold beers and realizing you forgot to pack a bottle opener — which is why it's so convenient to have one right on your cooler.
But unfortunately, not all coolers come equipped with a bottle opener. Do any Yeti coolers come with bottle openers?
Yeti Coolers don't come with a built-in bottle opener like some other brands. They do, however, sell several great options that can be used as a handheld bottle opener, mounted directly to your hard cooler, or connected to your soft cooler's hitchpoint grid.
I've had a bottle opener mounted to both my Tundra 45 cooler and a bottle opener hooked onto my Yeti DayTrip lunch bag cooler for years. I didn't buy official Yeti coolers I just added my own.
I only had to forget my bottle opener once to immediately hop on Amazon and pick up a couple of cheap bottle openers and attach them to my coolers with string and I have never lacked a bottle opener again.
Do Yeti Coolers Have A Bottle Opener?
No Yeti Coolers come with a built-in bottle opener.
This is a bit of a bummer as a lot of other cooler brands like Engel and Orion and so many other brands come with either one or multiple built in bottle openers in their coolers.
Even the Engel HD30 soft cooler (which is THE BEST soft cooler for ice retention) comes with a built in bottle opener strapped to the front of the cooler.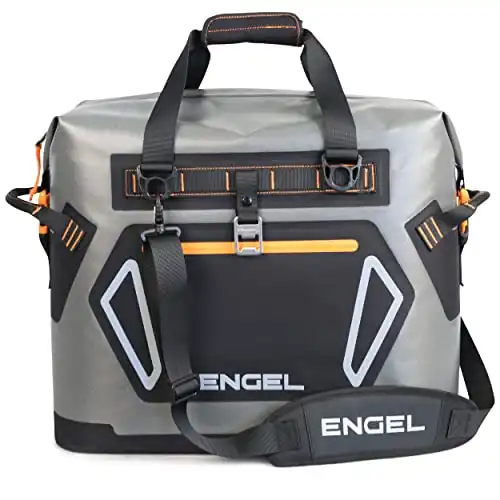 Engel HD30 - 32 Quart Heavy-Duty Soft Sided Cooler Bag
This is hands-down THE BEST soft sided cooler for ice retention. It'll keep ice for 3-4 days at a time with its patent pending vacuum valve technology. Features a waterproof inner lining and zipper and super strong 840-D nylon exterior that is scratch and puncture resistant.
Backed by a 1 year warranty and sold for an affordable price this is one of (if not THE) best soft cooler on the market.
Buy Now at Amazon
Read My Review

It wouldn't take much for Yeti to add bottle openers to their coolers and given how good their product design team is I think they could make it functional, durable and beautiful.
Alas, Yeti don't seem to be even planning on adding any built in bottle openers to their coolers anytime soon.
But the good news is, they do carry several great bottle openers that can be mounted to your hard cooler, connected to your soft cooler's hitchpoint grid, or be used as a standalone opener.
And if you're on a budget then you can easily attach your own bottle opener by purchasing a cheap one for $1-$2 and attaching it to your cooler with some string.
The Best Bottle Openers For Yeti Coolers
Depending on the type of cooler you have and how you prefer to use your bottle opener, Yeti makes several solid options.
Noa Store Bottle Opener and Locking Bracket
Yeti offers a screw in bottle opener for your Yeti cooler, but I personally don't like the idea of drilling/screwing into my expensive cooler and potentially damaging it.
The Noa Store cooler lock and bottle opener from Amazon is compatible with Yeti coolers and slides into the tie down slots in the side of the cooler. It's one of the best locks for Yeti coolers and the fact that it doubles as a bottle opener is extremely convenient.
Can be used to tie your Yeti cooler down and stop people from stealing it and it's also always there to open your beers when you need it.
Made from 316L ultra low carbon steel, meaning it won't rust and is backed by a lifetime guarantee. In my opinion this is one of the best bottle openers for a Yeti cooler and beat's Yeti's offerings.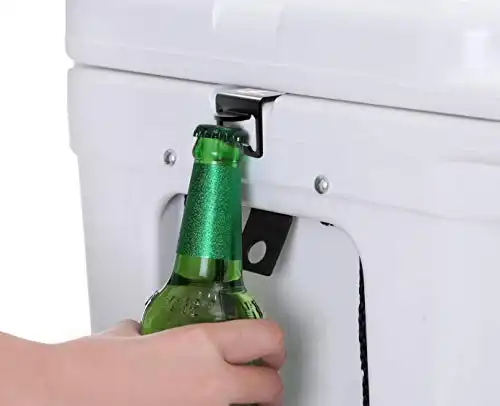 Yeti MOLLE Bottle Opener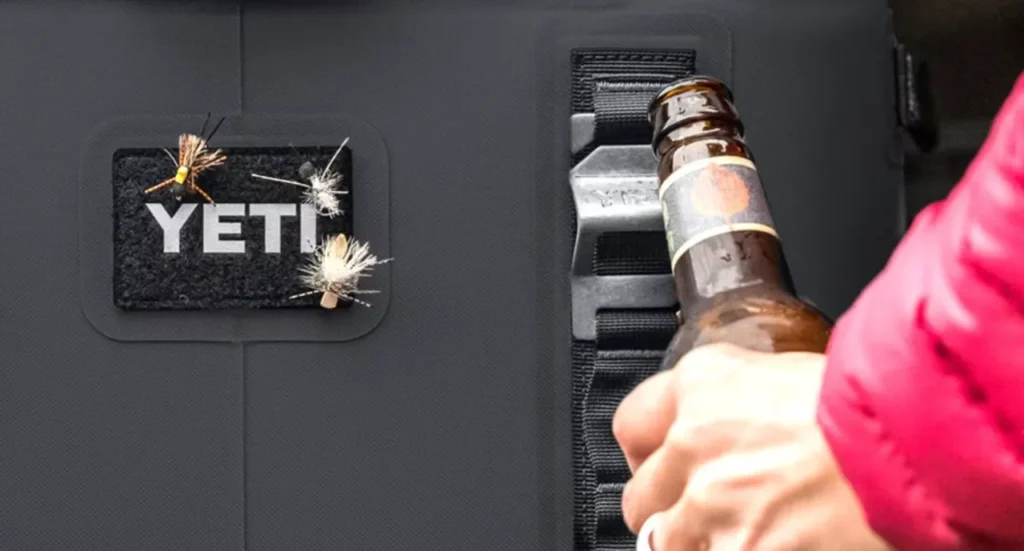 If you've got a Yeti soft cooler then this is a really good bottle opener attachment that stays on the outside of your cooler.
Yeti's MOLLE bottle opener is designed to connect straight to your Hopper's hitchpoint grid.
It attaches quickly and snugly, so you know it's not going to shake loose, and has a nice low profile, so it doesn't catch or snag on anything. Plus, it's made of ⅛" stainless steel, so it's super tough but barely weighs a thing.
It's also fairly affordable and in my opinion well worth the investment.
If you have Yeti Hopper, a MOLLE bottle opener is a no brainer.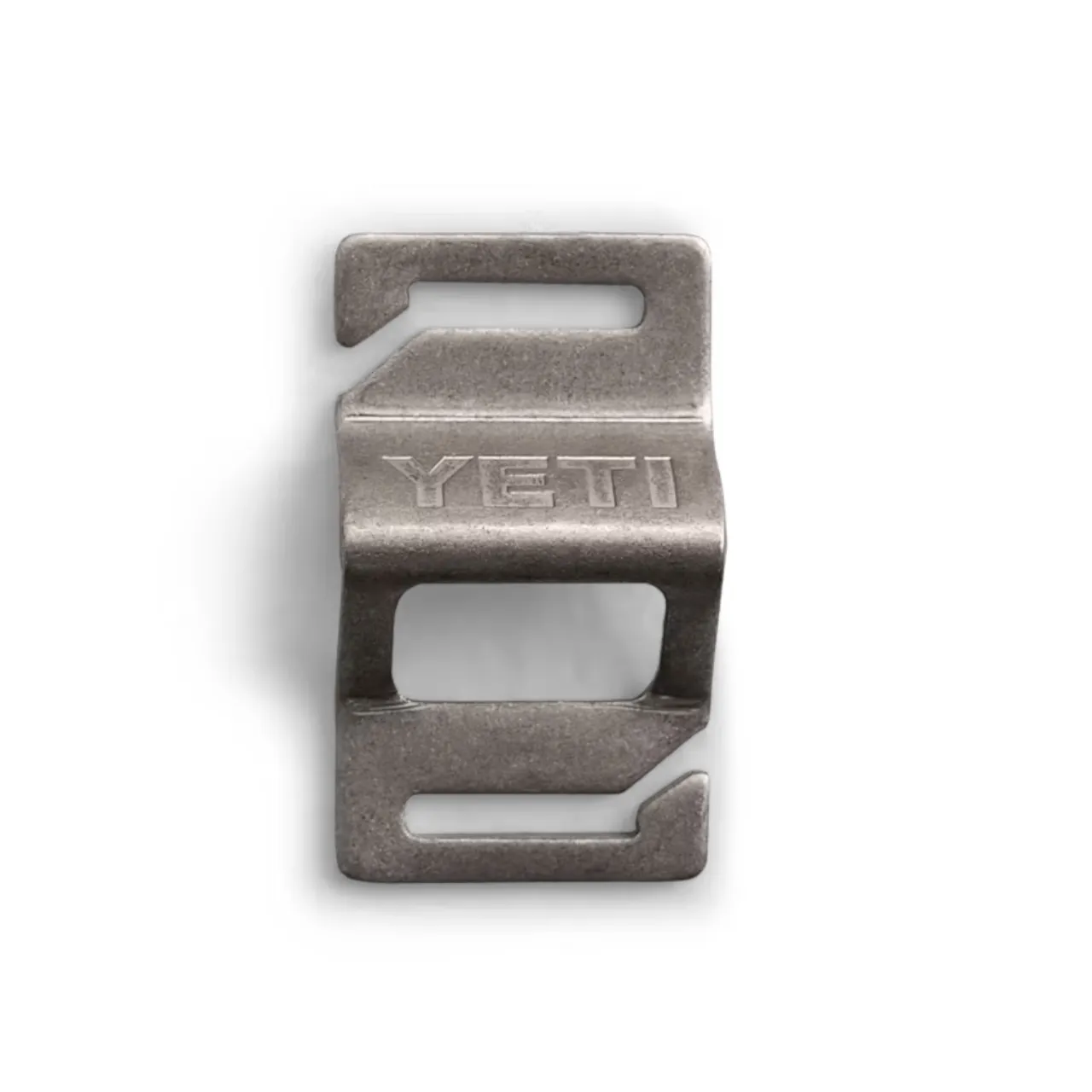 Cheap Bottle Opener and Some String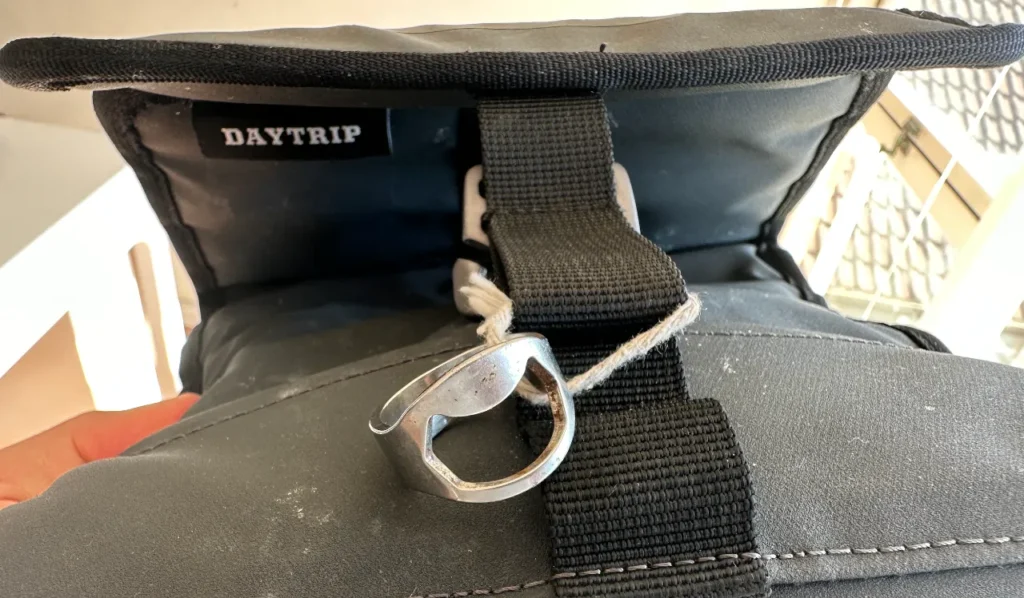 Honestly one of the best ways to get a bottle opener on your Yeti cooler is to buy a cheap on and then attach it with some string. That's what I did with my Yeti DayTrip lunch bag cooler.
I got a cheap ring bottle opener from the bottle shop and just tied some string around it and so far it's been there for a couple of years without issue.
It's getting a little rusty and the string maybe needs replacing, but overall it does the job just fine.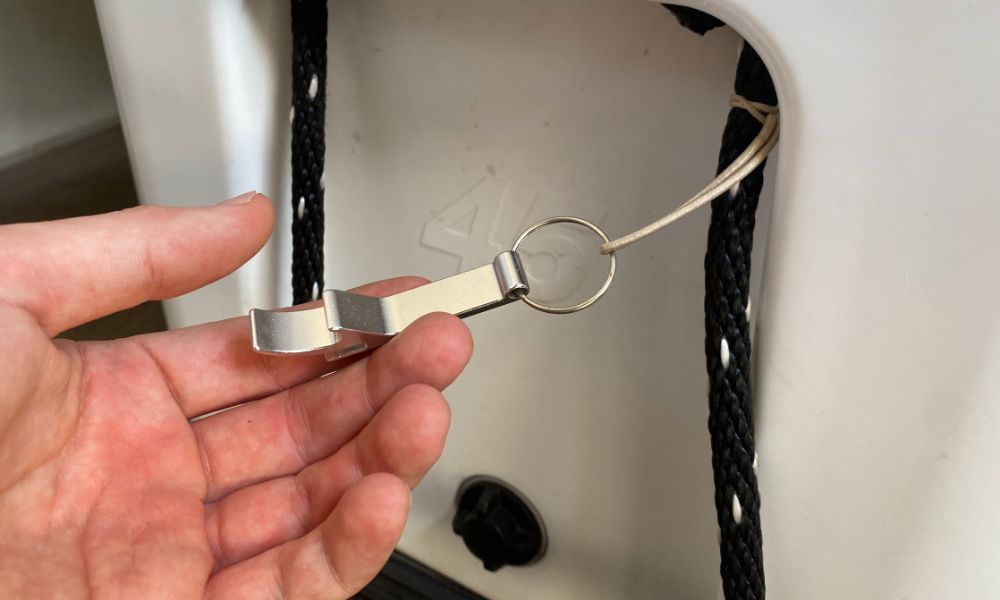 I've also attached a $1 bottle opening that I got to the side of my Yeti Tundra cooler and that works great too.
These colorful aluminum bottle opener keychains from Amazon are small and can be easily attached to any Yeti cooler.
Yeti Cooler Mounted Bottle Opener
If you don't mind screwing into your Yeti hard coolers, the Yeti bottle opener is the perfect match.
It can be mounted directly to your cooler — either on the side, front, or even the underside of the lid, for easy, one-handed opening.
Made of cast stainless steel, it'll last as long as your cooler (and a few more after) and looks good enough to not be an eyesore.
The only downside of this bottle opener is you do have to screw it directly into your cooler, damaging the exterior if you ever wanted to remove it. But for many people this won't be an issue.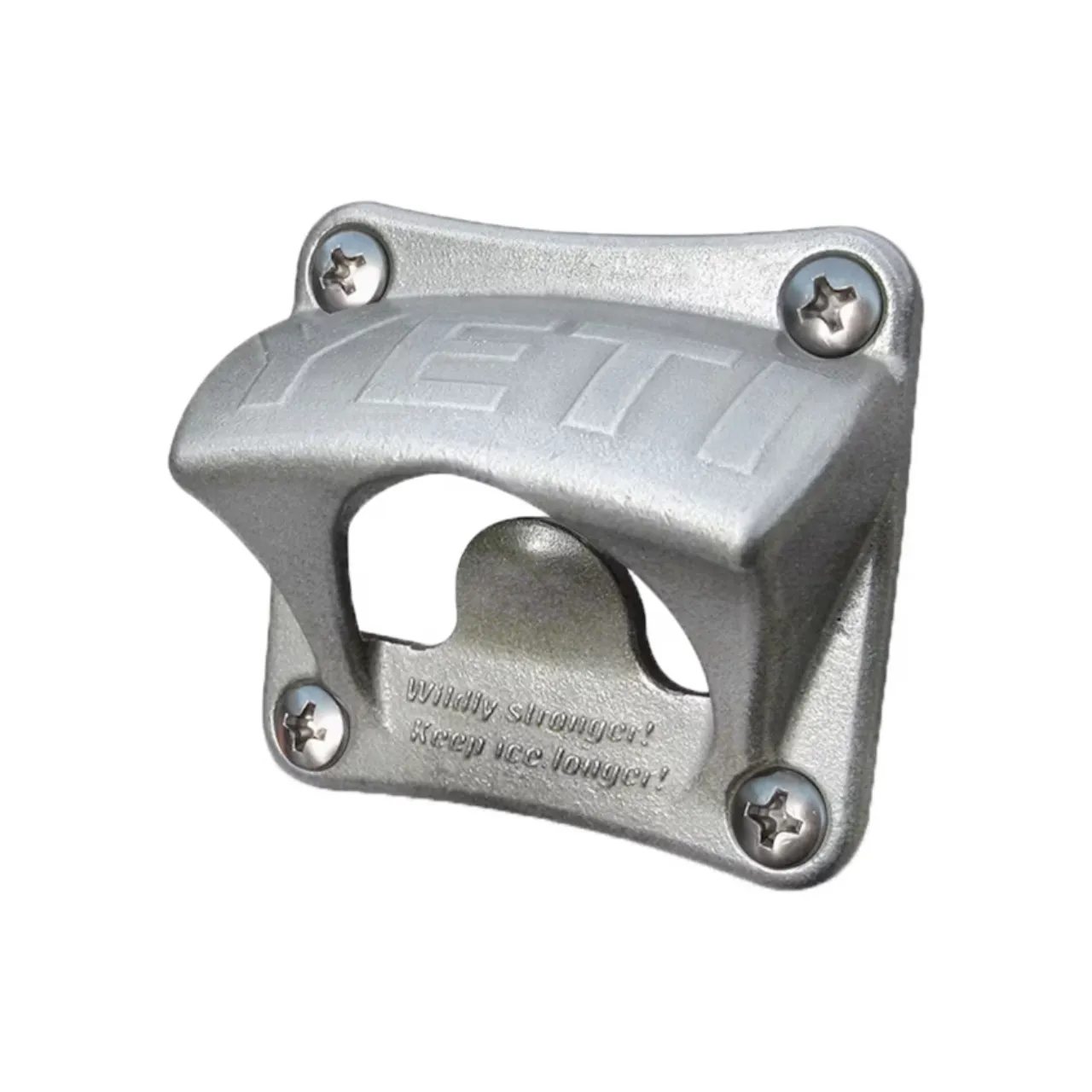 Yeti BRICK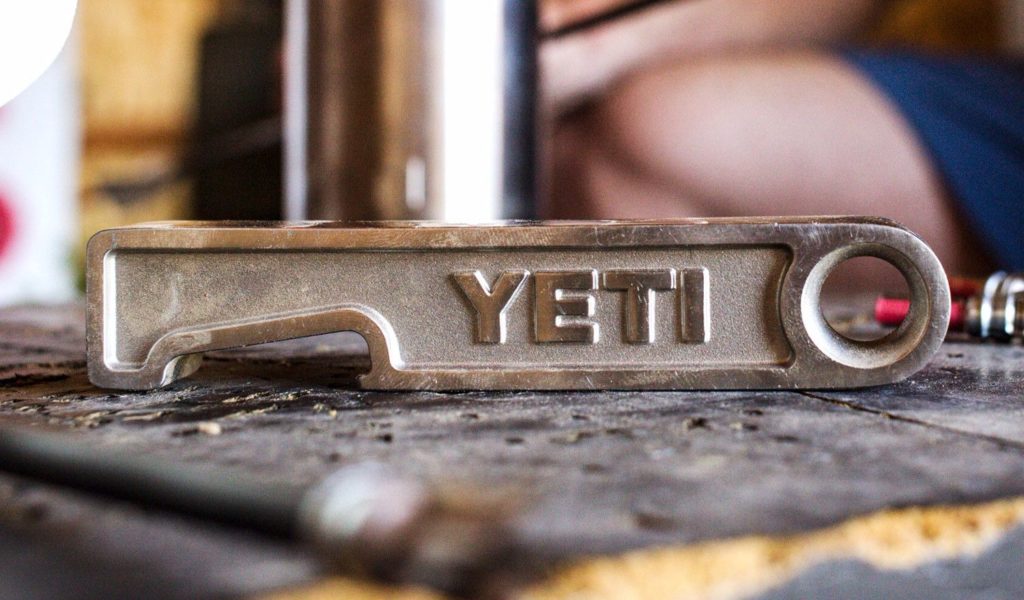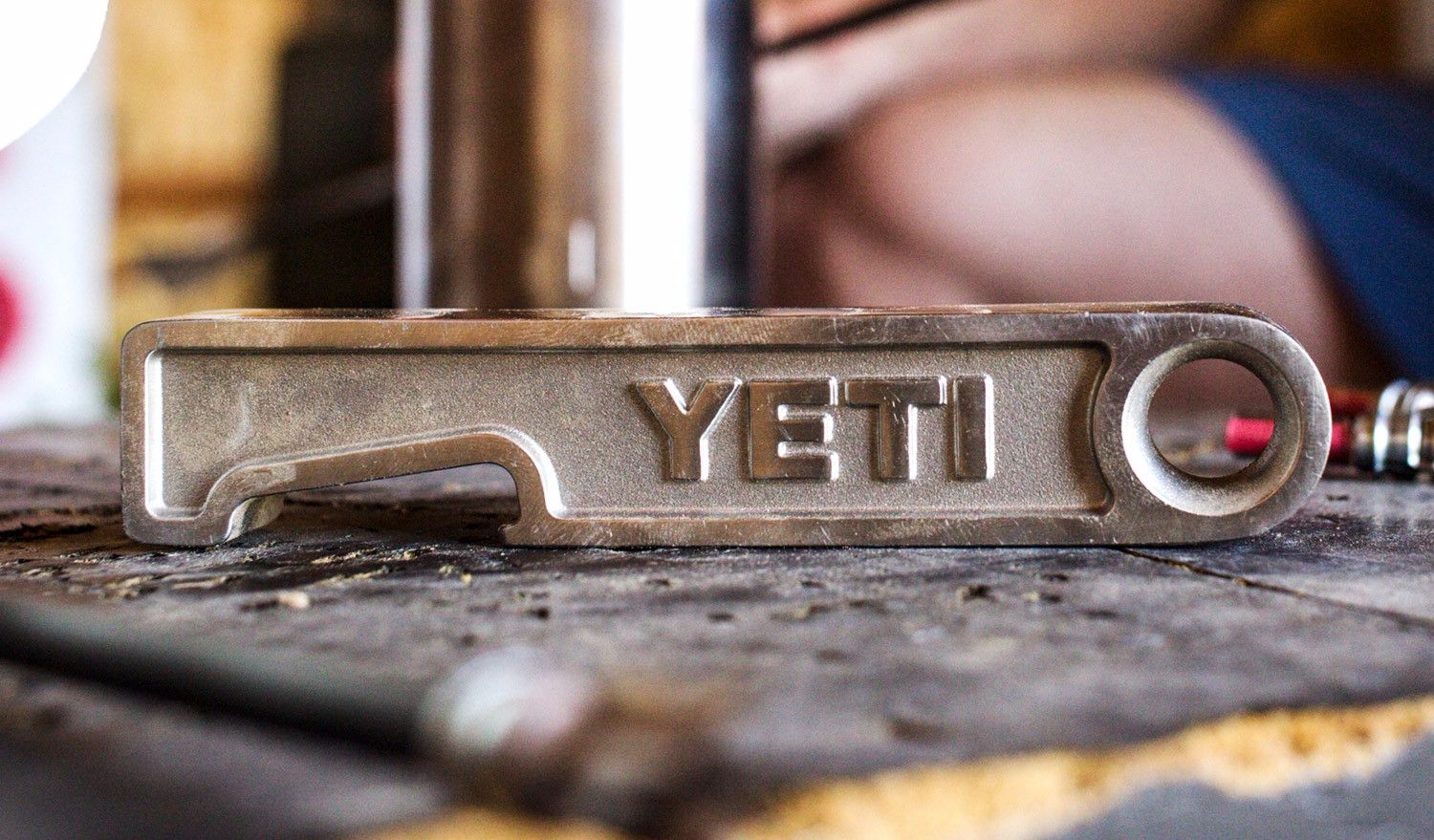 If you prefer a handheld bottle opener, the Yeti BRICK may be more your style.
It's a hefty ¾ lb stainless steel bottle opener, and, in true Yeti fashion, is tough, functional, and a bit overpriced…
In all seriousness, it's a solid bottle opener, but there are plenty of cheaper options that work just as well for ⅙ the price.