There are a lot of double wall vacuum insulated water bottles on the market that can keep drinks cold all day long but what about a triple wall insulated water bottle?
Surely this would offer twice as much insulation and keep your drinks cold or hot for even longer?
While in theory that makes sense there is yet to be a company out there to make a triple wall insulated water bottle with twice as much vacuum insulation as other brands. However, there is one brand that has triple wall insulation, but it's not to keep water cold for longer but rather to keep coffee at the perfect temperature.
The Burnout Mug is a triple wall insulated water bottle that is designed to quickly cool coffee and keep it at just the right temperature all day long. It's not designed to keep drinks cold longer than regular insulated bottles. The EcoVessel triple insulated bottle isn't triple walled but it keeps drinks cold for 48+ hours and hot for 12+ hours.
Triple Wall Insulated Bottle: How It Works
The Burnout is the only truely triple walled insulated bottle that I am aware of.
I've reviewed so many different brands of bottles and I'm yet to come across any others.
But's it's not 3 walls of stainless steel with 2 layers of vacuum as I would expect someone to make. It's 3 walls of stainless steel with an outer layer of vacuum insulation and an inner layer of phase change material (PCM).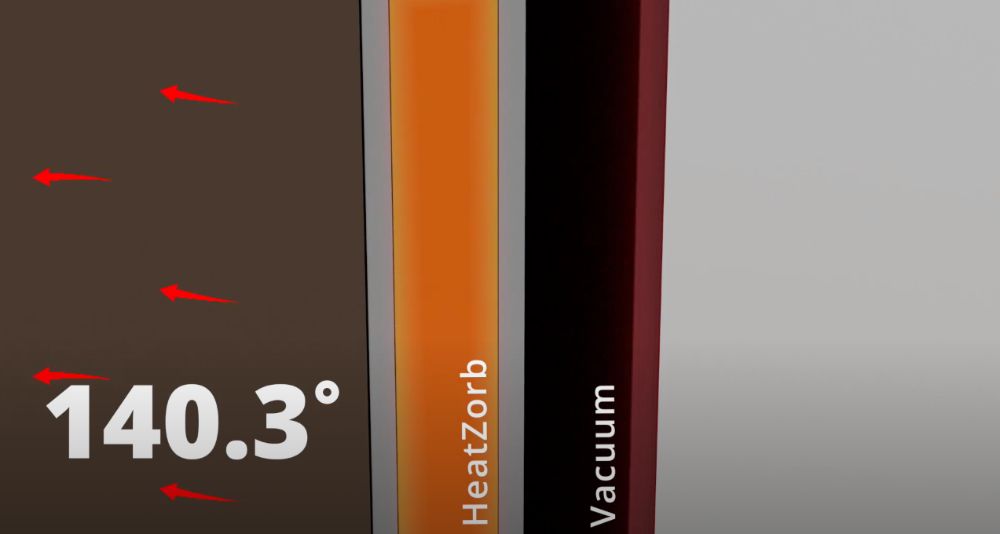 The way this phase change coffee mug works is that the layer of PCM absorbs heat from your hot coffee turning from a waxy solid into a liquid.
This cools down your coffee to the right drinking temperature and then stores extra heat in the "HeatZorb" PCM material.
Then as your coffee and the PCM cools the PCM turns from a liquid back into a solid. During this process is releases heat and heats up your coffee keeping it right in that perfect drinking zone of 120-145ºF (48-63ºC).
The outer layer of vacuum works to insulate both the PCM and your coffee and stops heat from escaping to the outside.
See the latest price of the Burnout Triple Walled Mug at Amazon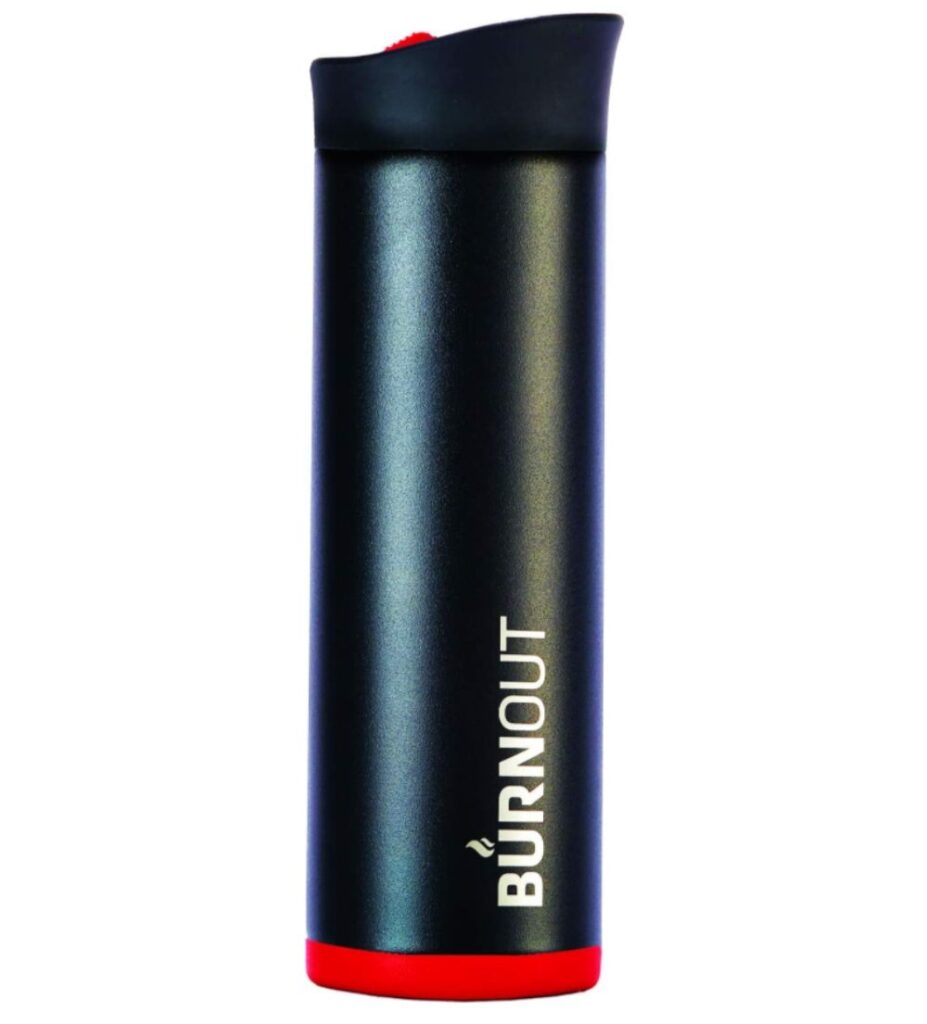 Is The Burnout Good As A Water Bottle?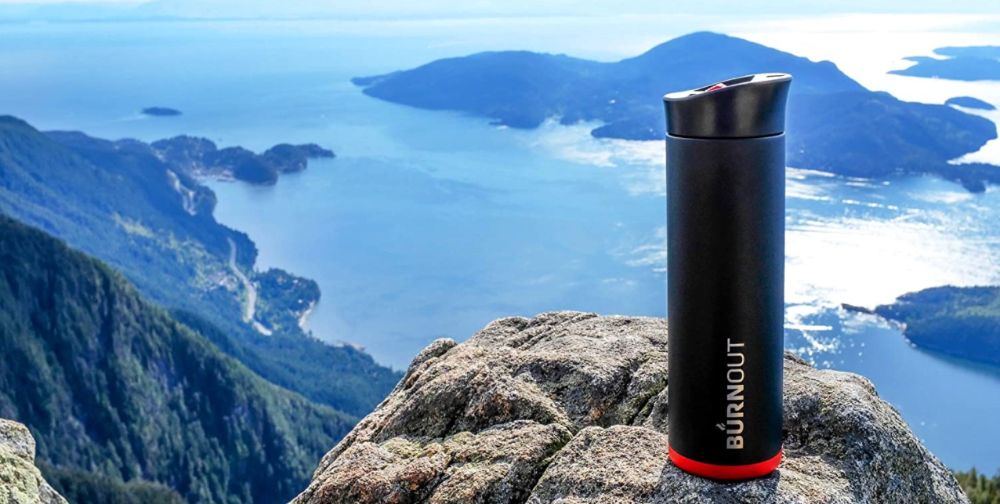 While the Burnout works great for keeping coffee at that perfect temperature is it just as good at keeping water ice cold all day and should you get it as a water bottle?
Yes, the Burnout does work to keep your drink cold all day long because the vacuum insulation stops heat getting into the bottle. However, you'll want to pre-chill your bottle otherwise the heat in the PCM will actually melt your ice.
But when it comes to using as a water bottle it suffers from the fact that it only comes in quite small sizes (12 and 16 oz) as well as the fact that it's much more expensive than regular vacuum insulated water bottles that keep ice just as well if not better.
If you're using it for coffee it's great and can be worth the extra money, but if you're just using it to keep water cold then there are better options out there that are a lot cheaper. Read more about the Burnout Mug in my full review.
I personally love both Yeti and Hydro Flask but if I had to choose one I would choose Hydro Flask as it's more lightweight and has a lifetime warranty (Yeti only has a 5 year warranty).
See the latest prices of Hydro Flask bottles at HydroFlask.com
(or compare to the prices of Hydro Flask bottles at Amazon)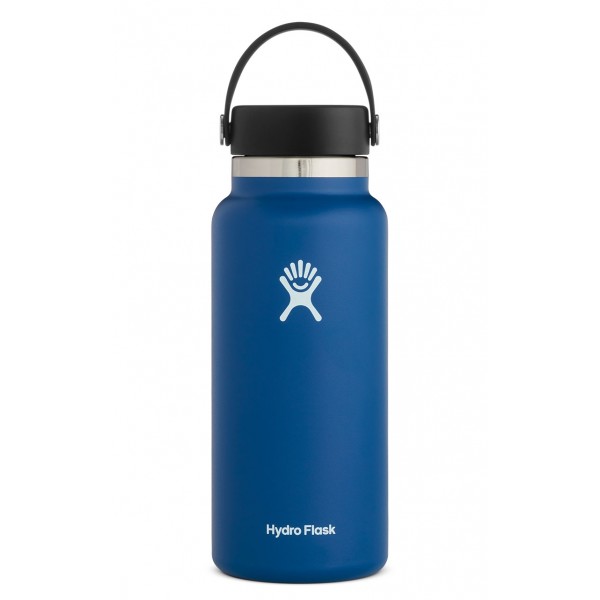 Triple Insulated Bottle: EcoVessel
There is another brand of water bottle out there that labels itself as a "triple insulated bottle" and that's the EcoVessel.
They claim to be able to keep drinks cold for 48 hours and to keep drinks hot for 12 hours. Which is quite impressive.
However, this is not a triple walled insulated bottle as you might expect but rather just a double wall vacuum insulated bottle with a copper lining to reflect radiant heat.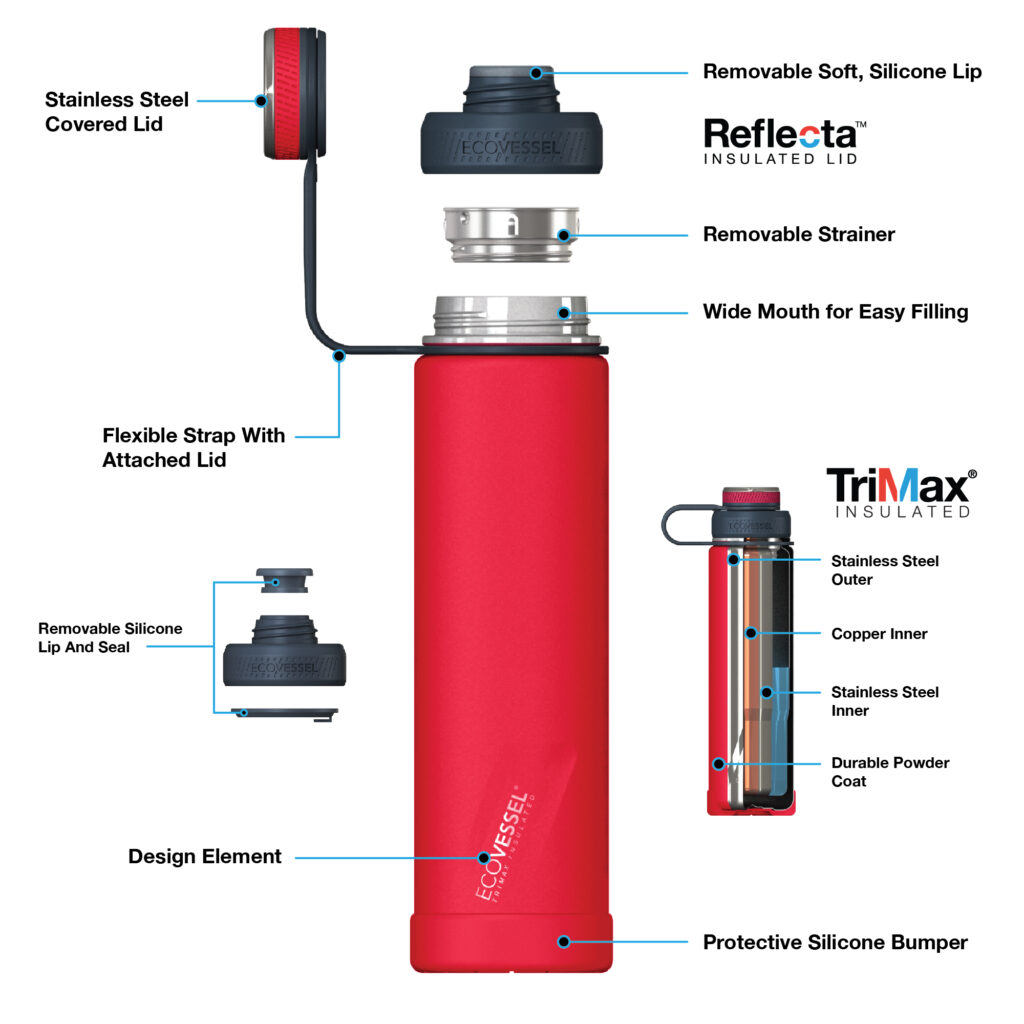 I'm trying to work out where the "triple" comes in because you really only have the vacuum and the copper as insulators which gives you double insulation. But where's the third?
Maybe they are counting the stainless steel walls and these don't transfer heat very well or maybe they are referring to the plastic insulating lid. I'm not quite sure.
I'm nit picking here and just trying to understand how this water bottle gets such great performance if it gets great performance at all.
The only comparison I could find was between EcoVessel and Hydro Flask and the HydroFlask performed better even though the Hydro Flask doesn't have the copper lining.
What Does The Copper Lining Do?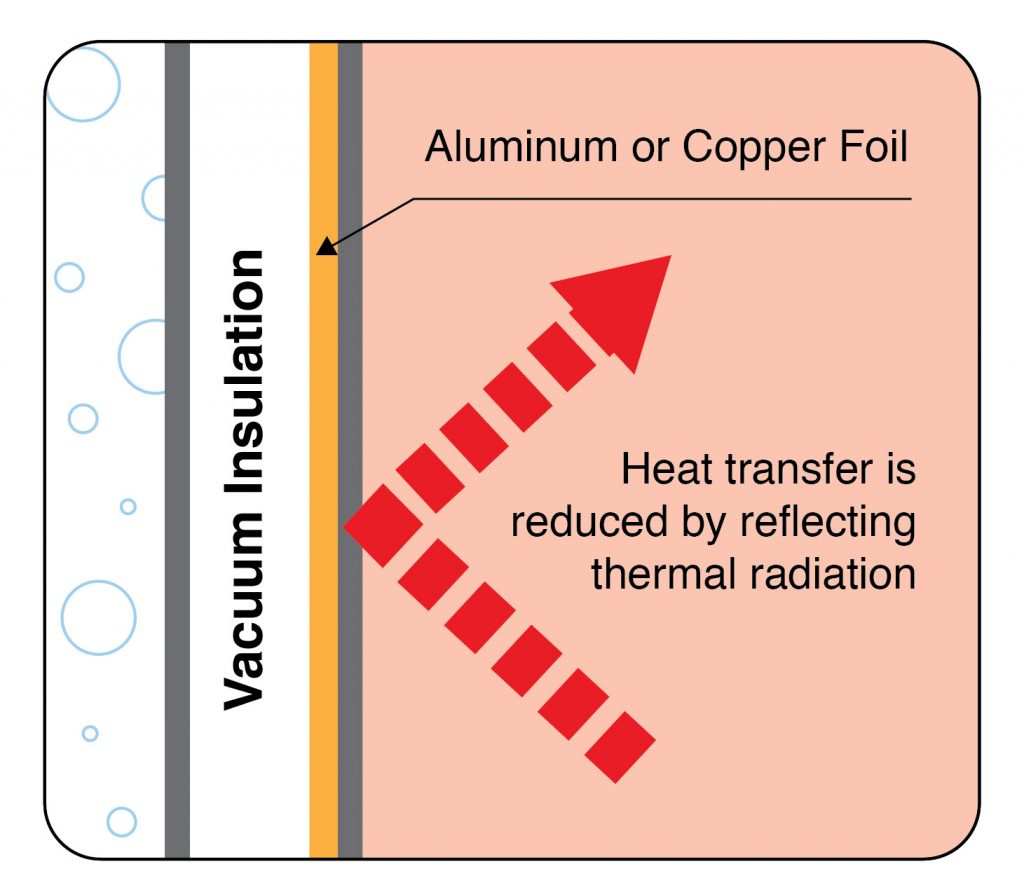 Heat transfers in 3 main ways conduction (movement of heat through a substance), convection (movement of a hot substance somewhere else) and radiation (infrared rays).
The vacuum in insulated water bottles is amazing at stopping conduction and convection but as radiation can move through a vacuum it doesn't stop heat radiation.
Copper however is about 98% reflective to radiation and can withstand the high heats of boiling water in your bottle.
So the vacuum will protect against most heat loss and the copper will help against radiant heat loss.
Is The EcoVessel Worth It?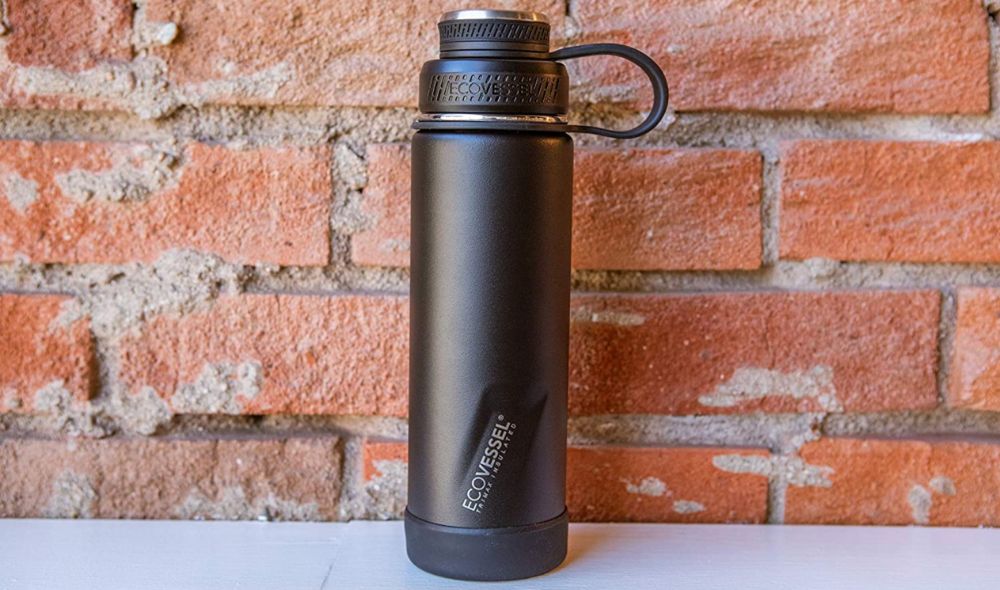 While the Ecovessel offers "triple insulation" and claims to keep drinks longer than the competition I can't see any facts to back this up and from the side-by-side comparison I did see Hydro Flask outperformed it and Hydro Flask aren't even the best bottles when it comes to ice retention.
So do I think they'll offer premium ice retention? Probably not.
But are they good bottles that are well made and keep drinks cold for hours or even days at a time? Yes they are.
They are well made vacuum insulated bottles and they do keep drinks cold for days and hot for hours. You just have to decide if you want to get this brand or another brand like Yeti, Hydro Flask or Klean Kanteen or even go for a cheaper option like Ozark Trail. There are so many different options to choose from.
I do like that EcoVessel have a dual cap lid. The entire lid screws off for a wide opening where you can add ice and the smaller lid top screws off for easy drinking.
It also comes with a strainer that you can use to keep the ice inside your bottle or to infuse fruit into your bottle which is a really cool feature.
They are similarly priced to most of the premium brands out there, maybe saving you a little bit of money.
See the latest price of the Ecovessel Water Bottle at Amazon