Ember Mugs contain a lithium iron battery to power the heating element. But as with all batteries they lose their ability to hold charge over time.
If your Ember Mug or Ember Travel Mug has a faulty or old battery can you replace the battery?
You cannot buy Ember Mug battery replacements and the base of the mug is molded closed and the battery cannot be accessed without destroying the mug. Ember Mugs comes with a 1 year warranty so if you battery is faulty you can send it back to them for a replacement.
Sadly if you're outside of the 12 month window for the warranty then you'll either have to put up with a battery that doesn't last very long and just use the charging coaster to keep your drink hot or you'll need to buy a new Ember Mug.
Can You Buy Ember Mug Battery Replacements?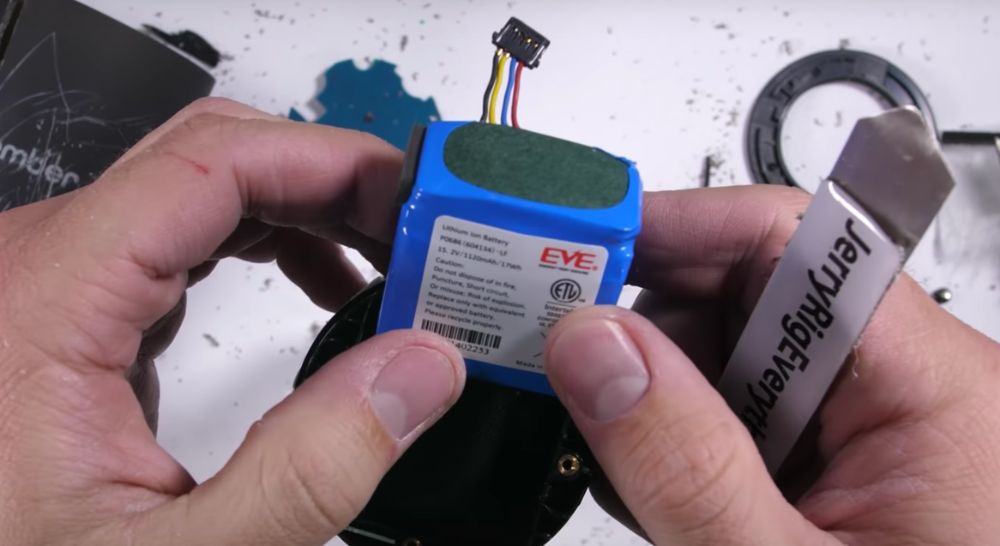 No, Ember does NOT offer replacement batteries for sale for their mugs. You cannot buy replacement batteries for the Ember Mug and you can't replace the battery yourself without breaking the mug.
I search Ember's website to see if you can purchase a replacement battery and I couldn't find it anywhere on their website.
So I contacted the company directly and asked their customer service team.
The team actually got back to me really quickly (within 14 hours) which was nice. Shows that they have a really good customer service team.
I wrote:
Hey team,
I was wondering if you offer battery replacements for Ember mugs?
Is there a way I can buy a fresh battery to replace an older one?
Thanks
Ryan
And they responded:
Hi Ryan,
Thanks for reaching out to us! Unfortunately we do not have a battery replacement program. That said we are happy to help if you notice any changes with the battery life. The mug does come with a 1 year warranty so if you have any questions or concerns please let us know.
Stay Warm,
Ember
This reminds me of an old Casey Neistat video that went viral. It was about iPods that didn't have a replacement battery and only lasted 18 months.
It's seems Ember Mugs have the same issue. The product is only as good as the battery continues to hold charge.
If it stops holding charge after your 1 year warranty period is up then there isn't much you can do.
How Long Should The Ember Mug Battery Last?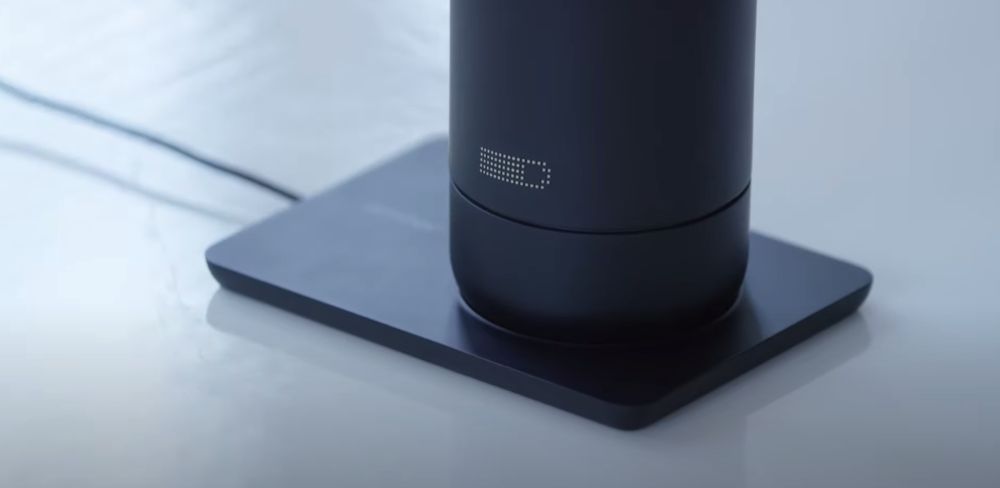 Before you go contacting customer support asking for replacements it's important to know how long Ember Mugs are meant to hold charge for, because it actually isn't very long at all.
The smaller Ember Mug is only designed to hold charge for 1.5 hours (1 hour for original version) and the larger Ember Travel Mug is designed to hold charge for 3 hours (2 hours for previous version). But this time can vary based on a variety of factors.
Starting temperature of your coffee, whether you've added cold milk/cream to your coffee as well as things like ambient temperature and what temperature setting you choose all effect how long the battery lasts.
As to how many month or years the Ember Mug battery is meant to last before performance is reduced that's unclear.
It's common that over time Lithium Ion batteries become less effective. This is true for devices like cell phones and laptop computers and it would also be true for the Ember Mug.
I would expect 18-24 months before you start seeing significant decreases in how long your Ember Mug battery holds charge for.
See the latest price of the 10 oz Ember Mug at Amazon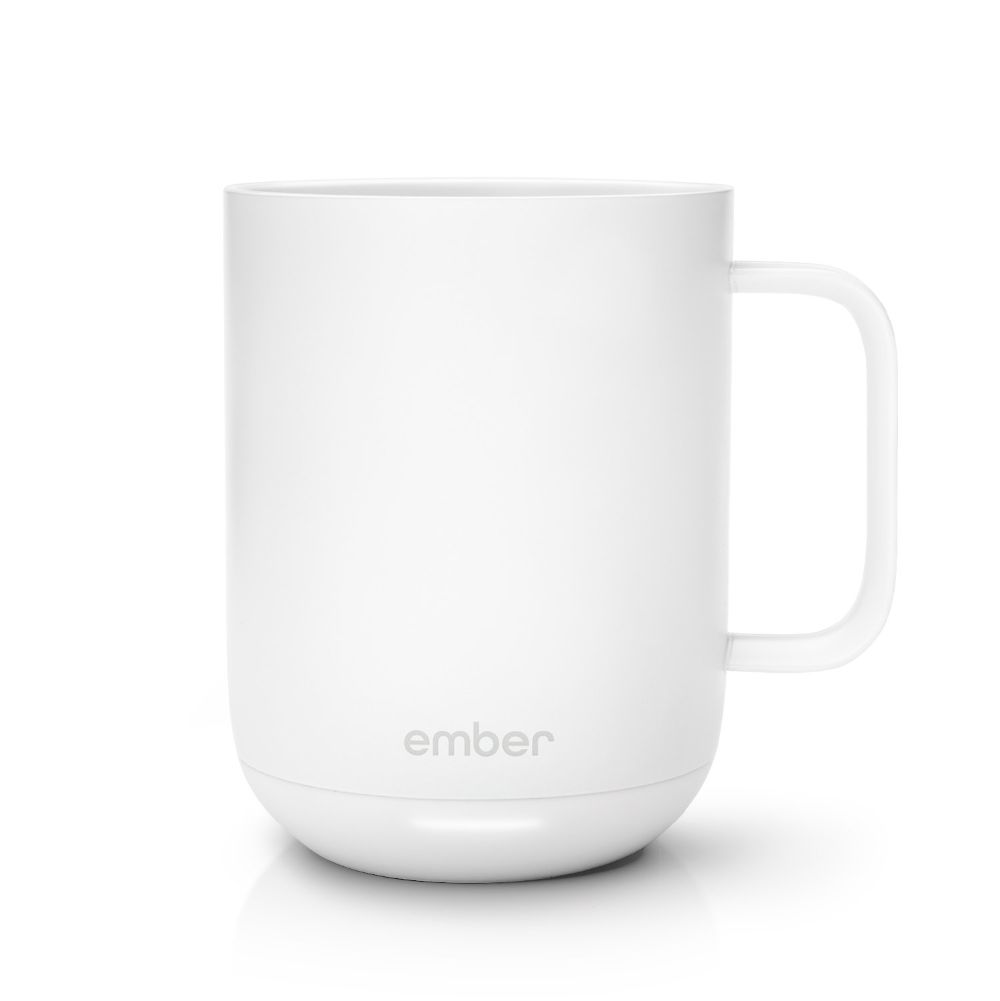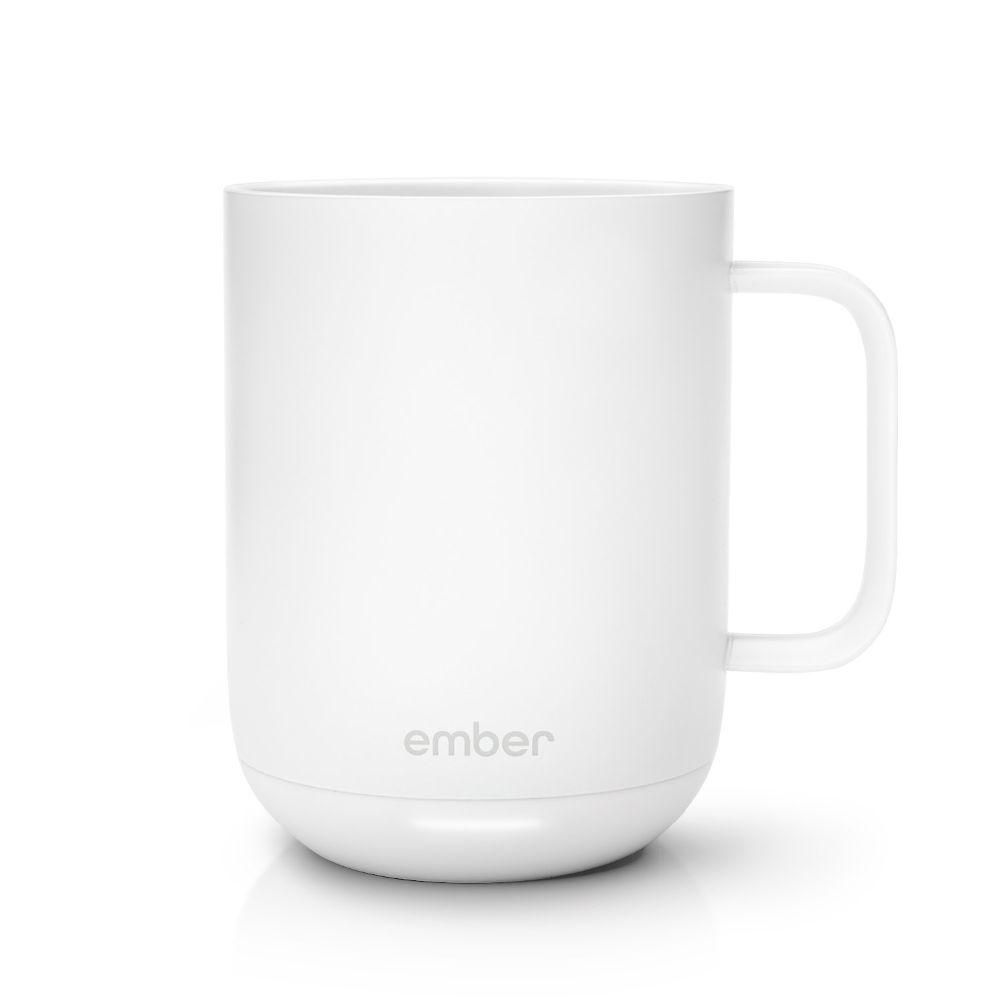 See the latest price of the Ember Travel Mug at Amazon
Can You Take Out and Replace The Ember Mug Battery?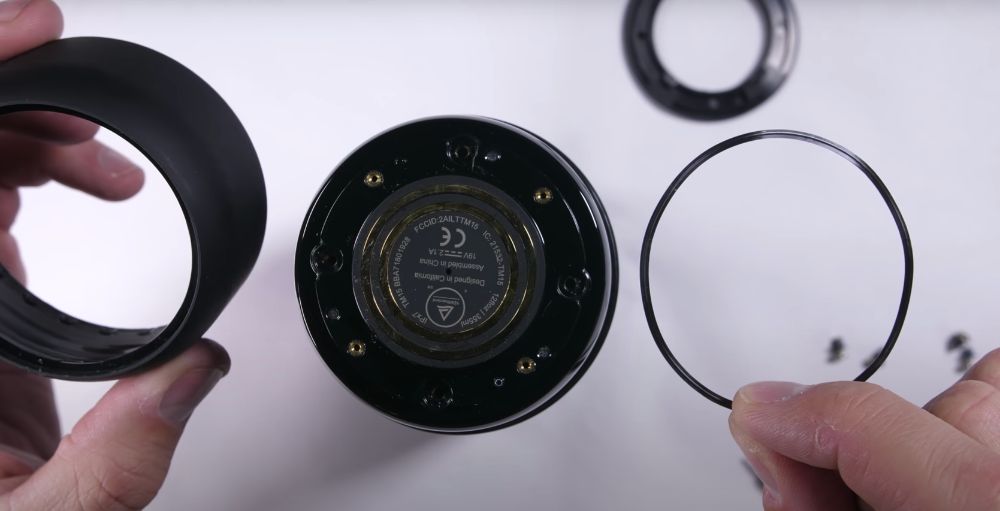 The Ember Mug contains a pretty simple lithium ion battery so if you were able to access it yourself (even if Ember don't want you to) you could in theory replace it yourself.
However, this idea starts to fall apart when you see how difficult it is to access the battery on the Ember Mug.
It seems impossible to replace the Ember Mug battery without first completely destroying the mug itself.
Below is an amazing video from Jerry Rig Everything where you can actually see how difficult it is to pull apart the Ember Mug.
As you can see he had to use a hack saw to completely cut the outer plastic shell and pull out the inner part of the mug with the stainless steel interior as well as the battery and computer components.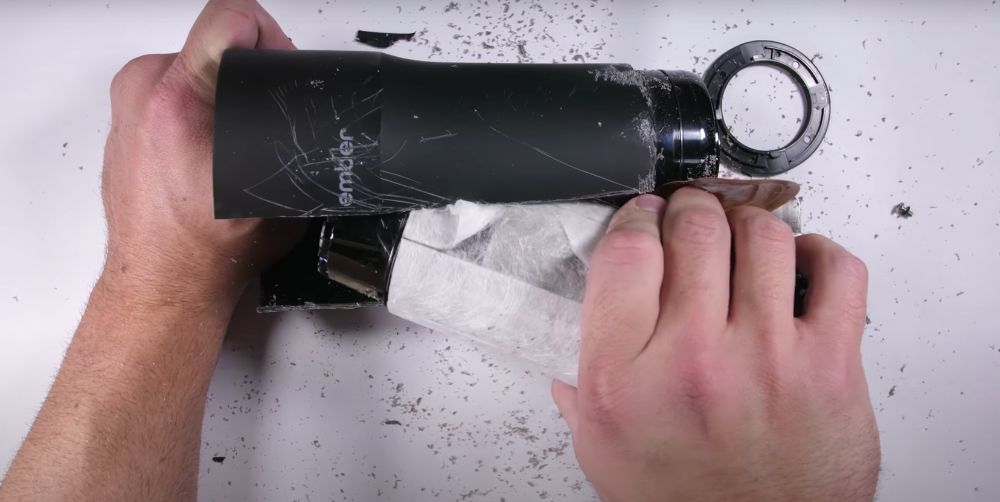 These mugs are made to hold liquid and so it makes sense that they would need to be sealed pretty tightly to ensure no water is able to damage the electrics in the device.
When you can get the outer shell off the Ember Mug you then need to remove the motherboard in order to access the battery.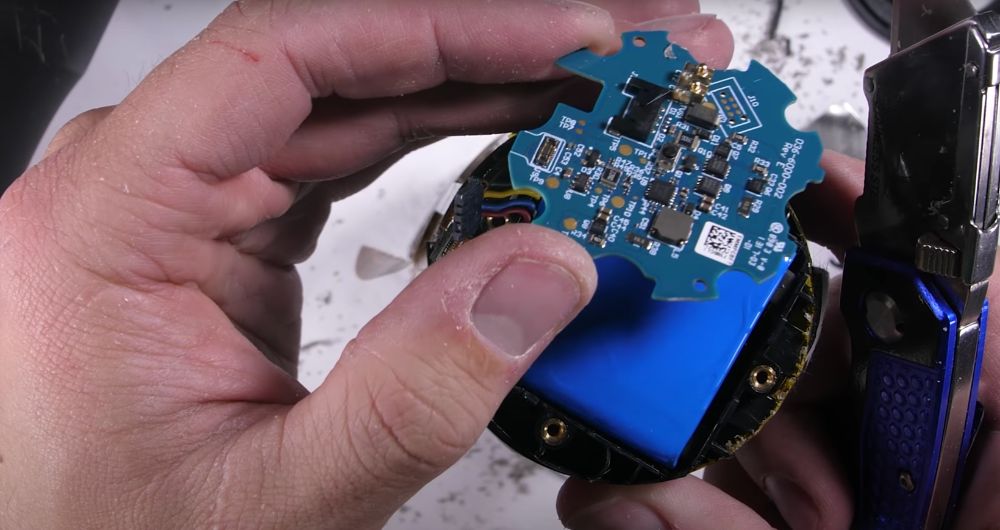 As you can see this is an 2V/1,120 mAh (17Wh) battery from EVE. I had a google to try and find this part.
I couldn't find any standard batteries in this size to purchase. So perhaps it's a custom made battery just for Ember or perhaps I just didn't know where to look.
I also know Ember have upgraded their batteries in the newer Ember Mug 2.0. Click here to see the differences between Ember Mug 1 and Ember Mug 2.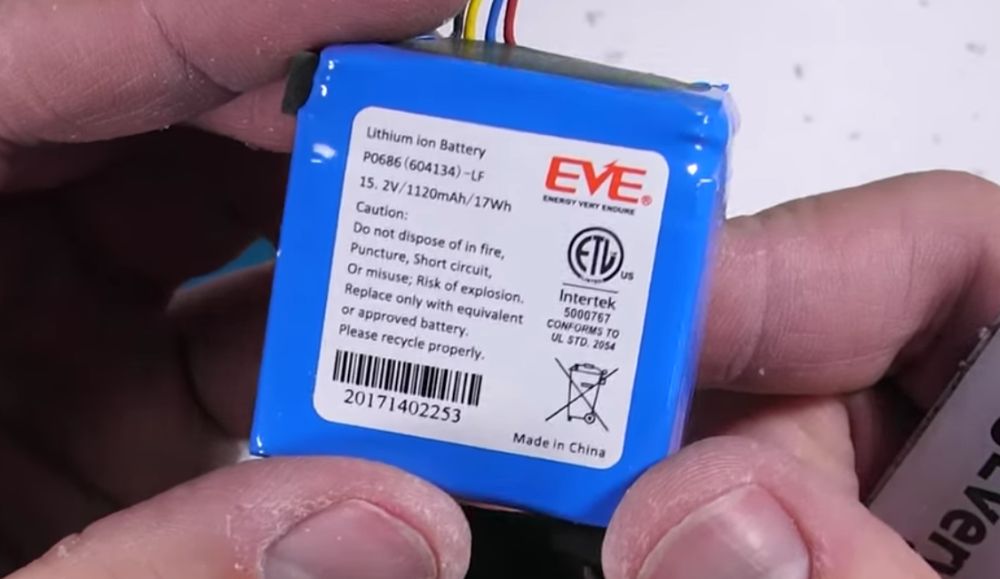 Regardless, you have to destroy the mug to access the battery so even if you could buy a replacement part you can't replace it.
Alternative To The Ember Mug
If you're looking for an alternative to the Ember Mug, maybe one with a longer lasting battery, then there are quite a few good options out there.
You can see them all in my list of the 10 best Ember Mug alternatives.
Cauldryn Travel Mug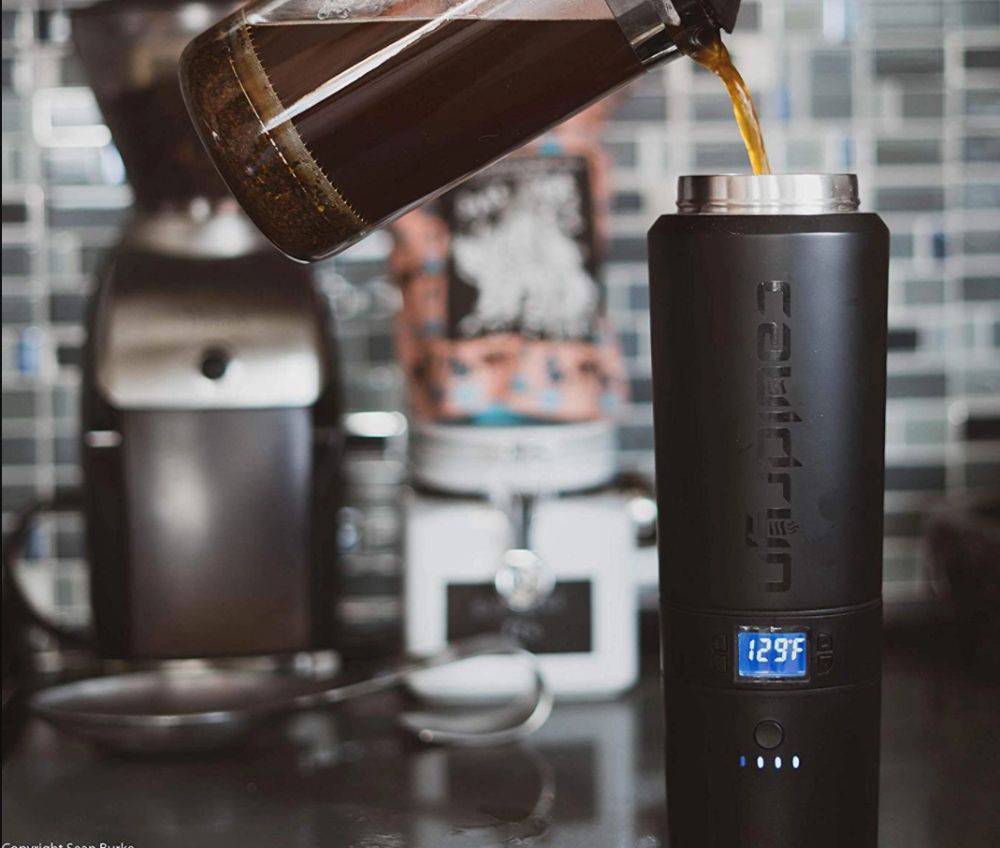 I tend to recommend the Cauldryn Travel Mug as this has a longer lasting battery that can actually be replaced if it stops holding charge.
The Cauldryn has many advantages over the Ember Mug. Click here to read my Ember Mug vs Cauldryn comparison article.
Yeti Mug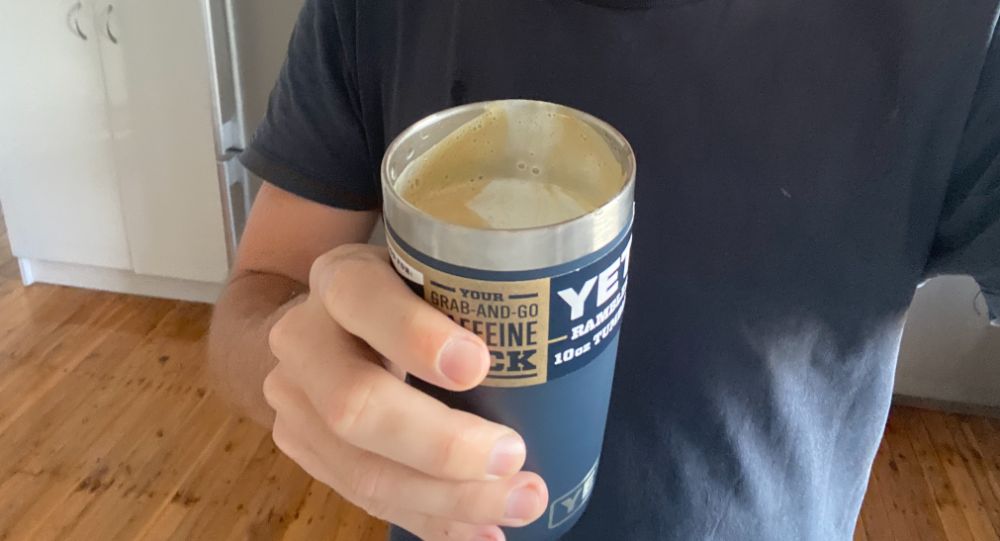 Another option you can go for is an unpowered vacuum insulated coffee mug which can keep coffee hot for up to 6 hours.
I personally own and recommend the Yeti 10 oz Tumbler which I absolutely love. But there are lots of different sizes out there if you like larger coffees than I do.
I've also written a full Ember Mug vs Yeti comparison which you can check out.