Yeti coolers are extremely popular products and are well-known for their durability, but you may be wondering if you can get a little creative and make your cooler even "cooler"?
Rather than just having a plain colored Yeti cooler you can make it stand out with some great customizations.
You can customize a Yeti cooler with certain sports teams and logos when you purchase it through Yeti.com. Further customizations like names, images, logos, prints and colors can be done by yourself or through professional companies. People commonly use prints, paint, spray paint, stickers and sometimes even wallpaper to customize their Yeti coolers.
Customizing your Yeti cooler is a great idea if you're looking to stand out from the crowd or give a special personalized gift to someone.
There are so many different ways to customize a cooler that I've gone ahead and made a list of some of the best ways to customize your Yeti cooler.
1. Yeti Mold-On Graphics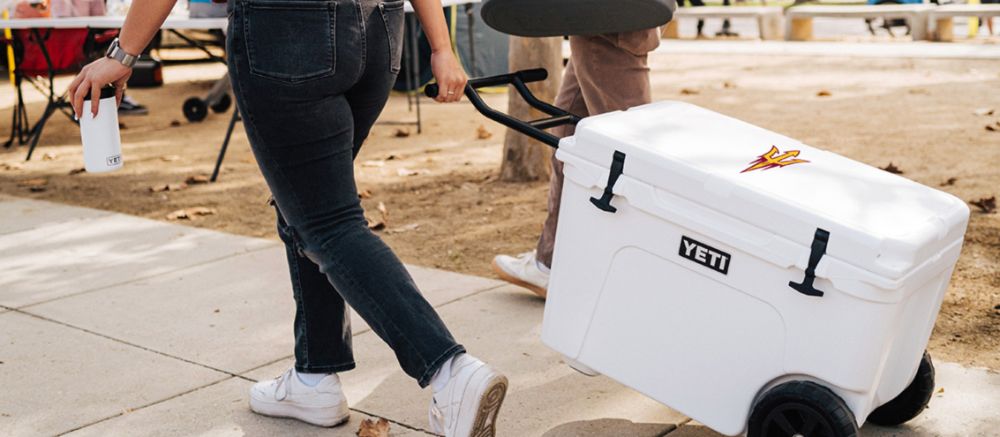 Yeti has an awesome selection of custom mold-on graphics available for their hard coolers.
If you're a baseball or NASCAR fan or perhaps a proud college student, then you definitely have to check out their customizable cooler range.
There are also branded options for corporate sales. What better gift to give to staff members or valued customers than a Yeti cooler branded with your company's logo?
Click here to see Yeti's full range of customization options
Unfortunately at the moment Yeti does NOT allow regular customers to create their own designs on their coolers (only for their drinkware). However, there are a variety of ways you can add your own designs to your Yeti coolers yourself.
2. Mod Podge Prints
If you don't want to get your cooler printed at a professional printer, you can do it yourself. All you need is some mod podge and paper templates (your prints).
Before you start applying the prints, make sure the surface is smooth and clean.
The process:
Apply a layer of mod podge onto the back of the paper and the surface of the cooler
Stick the paper down onto the cooler. Smooth out any wrinkles
Apply 3 final layers on top of the paper – allowing time for the mod podge to completely dry between each coating.
NOTE: You'll want to use dishwasher safe mod podge as this will help to create a strong waterproof seal.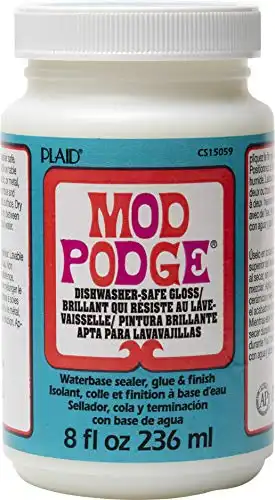 Mod Podge Dishwasher Safe Sealer
$13.99
$5.99 ($0.75 / Fl Oz)
This all-in-one glue, sealer and finish dries hard and a glossy finish that sticks and seals your projects. Works on a variety of surfaces including mugs, tumblers, coolers and more.
Mod Podge is proudly manufactured in the USA.
Buy Now at Amazon
3. Engravings
While Yeti does offer personalized engravings, this is currently only for their drinkware.
However, there are plenty of other companies that can engrave your cooler for you. Griffin Laser Engraving is an authorized Yeti dealer that offers customs engravings.
Or, you could do it yourself if you own a CO2 or diode laser machine.
Engravings are a great way of personalizing a cooler as they do not fade or peel off like a label.
4. Hydro dipping
You can easily hydro dip a Yeti cooler yourself using either spray paint or a special hydro dipping print. I have a full guide on how to hydro dip Yeti products plus a list of the biggest hydro dipping mistakes (that you can avoid), but overall the process is pretty simple and can give some great and unique results.
To hydro dip your cooler, you will need:
White primer Spray paint
Gloss spray paint
Epoxy Spray
Rubber gloves
Plastic bags
Painters Tape
Bucket big enough to fit your cooler
Water hose
Hair dryer
The process:
Clean the cooler with warm soapy water and dry it
Cover areas you don't want to paint with painter's tape
Apply a layer of white primer paint to the cooler and leave it to dry
Fill your bucket to the top with 75-90ºF/24-32ºC water
Spray a decent layer of spray paint onto the surface of the water
Lower the cooler or lid into the water at an angle, and twisting will create funky patterns
When the cooler is submerged, break the layer of excess surface paint with your hand and gently remove the cooler from the water
Dry with a hairdryer and remove tape
Apply a layer of epoxy resin (this is optional)
5. Spray Paint
Spray painting your cooler is super easy to do and inexpensive. There is no limit to the size of the cooler you can decorate. It's just up to how many cans of spray paint you want to buy and how intricate your design is.
Things you will need:
Spray paints
Stencil (optional)
All-purpose cleaner
Rag
Drop cloth or any old material
The process:
Wash your cooler with an all-purpose cleaner and allow it to dry
Set your drop cloth down in a well-ventilated area
Shake the spray paint can well
Hold the can 6-8 inches away from the cooler and begin to spray
Apply as many layers and colors as you desire
6. Paint and Resin
Another way to really make your cooler stand out from the rest is to paint it yourself. Whether you're an artist or not, painting your cooler is so simple.
What you need:
All-purpose cleaner
Paint primer
Stencils or designs
Brushes/sponges
Paint of your choice
Mod Podge
Waterproof sealer (optional)
Before you begin painting, you will need to clean the cooler with an all-purpose cleaner than dry it. Apply a coat of primer to the cooler, wait for it to dry, and you can begin painting.
If you want your cooler's new paintwork to last longer, it is a good idea to apply a layer of waterproof sealant.
7. Sticker or Decals
Stickers and decals are great for decorating your Yeti cooler. What's great about using stickers and decals is that they're not permanent, so if you get tired of them, just peel them off and start again.
There are so many different types of stickers and decors to choose from:
Polypropylene
Vinyl
Gloss paper
Lamination
Or, you could make your own stickers at home using clear packaging tape, paper design, parchment paper, and scissors.
8. Wallpaper
If you want to customize your cooler with a totally unique and interesting finish, you can use wallpaper. All you need is self-adhesive wallpaper and some clear varnish to seal it afterward.
Before sticking the wallpaper, make sure that the cooler has been cleaned and is completely dry. When applying the wallpaper, start from the bottom and gently smooth out wrinkles as you go.
9. Professional Prints by Yeti
On their website, Yeti has the option to have your hard cooler customized with your purchase. They currently offer this print customization for corporate branding, so if you're looking to get a company cooler, then this is a good option.
You can also choose to have your own design, name, text, or photos printed onto your cooler.
10. Vinyl Wrap
Vinyl wraps can be a great way to completely cover the original cover of the cooler and make it any color or design you want.
It takes some time and some patience to apply to vinyl wrap correctly and to ensure there are no creases or bubbles, but when done correctly you can end up with an amazing result.
11. Custom Skins
You can purchase "skins" which are specially designed for Yeti coolers and allow you to create a customer print all over your cooler.
This also helps to protect the underlying cooler from scratches and damage and it can be easier to apply than vinyl wraps.
Places like USA Tuff have a variety of vinyl cooler wrap skins – they have over 150 designs to choose from.
They also have a variety of SeaDek cooler pads that you can use to customize the top of your Yeti cooler.
12. Customize Your Cooler With Add Ons/Extra Features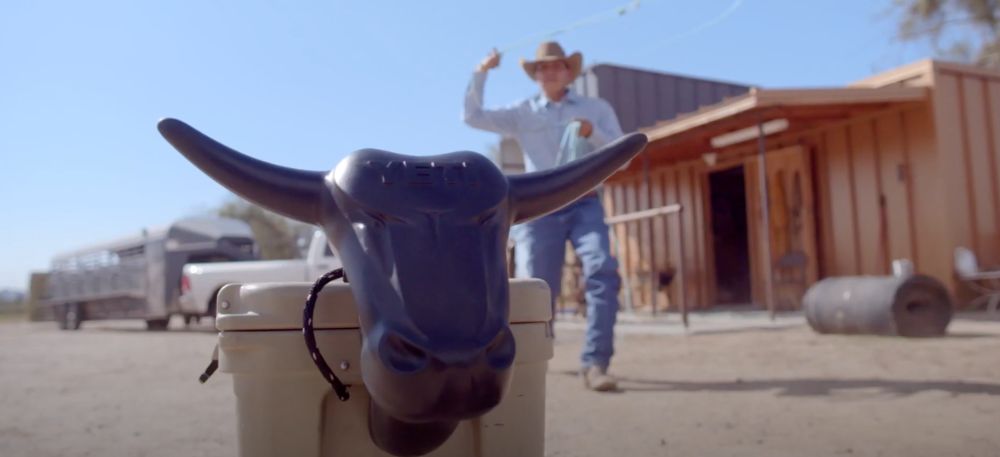 By now, you should have a good idea of how you're going to customize your own Yeti cooler. As well as some cool DIY ideas you probably hadn't thought could be used on a cooler.
Making your cooler even more awesome doesn't have to stop with customization. There are also tons of cool ways to modify your Yeti cooler to make it even greater.
You can find more ideas on the best Yeti cooler modification here.