Whether you're flying oversea of domestic you may want to keep food, drinks or medicine cold on your flight over. But what are the best coolers for air travel and what do you need to know about taking coolers on airplanes?
What Kind Of Coolers Are Best For Air Travel
There are 3 main types of coolers suitable for flying on a plane.
Hard-sided coolers are generally too large and bulky to fit in the overhead lockers. Given weight restrictions hard sided coolers are also too heavy to be practical.
This means you'll want to get a soft sided cooler that is smaller, weighs less and is more comfortable to carry.
There are 3 main types of soft coolers you'll want to consider and in this article we'll highlight the best of each type for airline travel.
Lunch Bags

These are your small, compact coolers that are big enough to fit a couple of ice bricks (or maybe a frozen water bottle) and a little bit of food.
If you're travelling by yourself and just want to keep a small amount of food or medicine cold then packing a cooler lunch bag inside your larger backpack or regular bag will be enough for the trip.
Tote Bags

Tote bags are generally bigger than lunch bags and can fit more items, plus have a shoulder strap as well as handles for easy carrying.
If you've got a long flight or you want to take one cooler bag to feed multiple people then this is a good option.
Backpack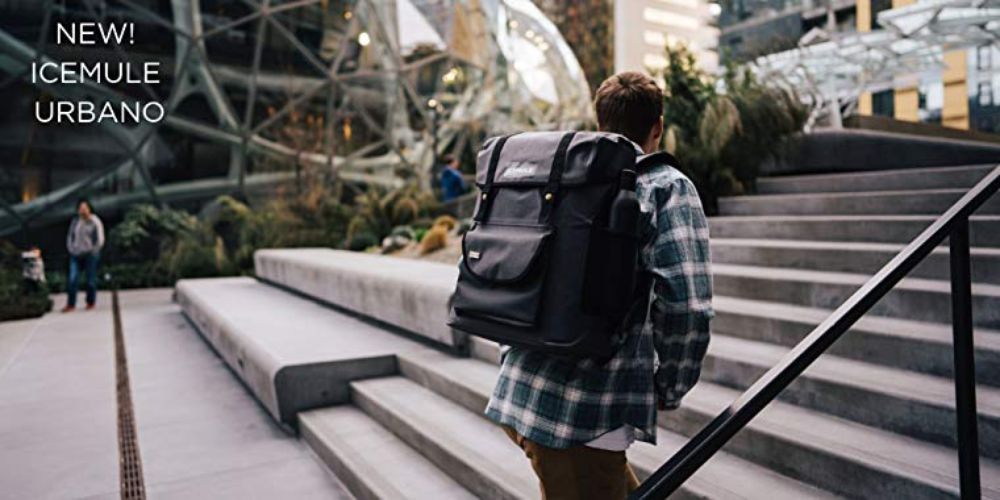 Backpack coolers are a similar size to tote bag cooler but have the added benefit in that they are easier to carry and you can just throw them on your back.
Most of them are still small enough to use as carry on and you can keep things cool plus use them to store other items.
The Best Coolers For Air Travel By Category
There are a lot of different coolers out there that can be really practical for air travel. What I've done below is organized what I believe the be the best coolers for flying by category.
In each category I've highlighted the best premium cooler, which is going to be more expensive, as well as the best budget option which isn't going to be as durable or keep ice as long.
So depending on your budget and what kind of cooler you're after for your next holiday or overseas trip we've got you covered.
Best Lunchbag Coolers For Air Travel
If you're just after a small sized cooler that is big enough to fit a drink and a bit of food then a small lunch bag sized cooler is all you need.
Here are the best lunchbag coolers for air travel:
PREMIUM OPTION: Yeti DayTrip

In this category there is nothing that even comes close to the Yeti DayTrip in terms of durability and ice retention. This is another area where Yeti is breaking new ground with their premium and well built DayTrip cooler.
The cooler expands out to be large enough to fit 6-cans plus an ice brick (more on whether or not you can take ice packs on airplanes) and this means it's big enough to fit your water bottle as well as 1-2 small meals.
It can be used both to keep items cold as well as to keep items hot.
It uses a Coldcall Flex insulation which is super effective and can hold ice for a full 24-hours but doesn't weigh too much.
This cooler clocks in a 1.1 lbs when empty so it's not going to use up all your carry on baggage weight limits.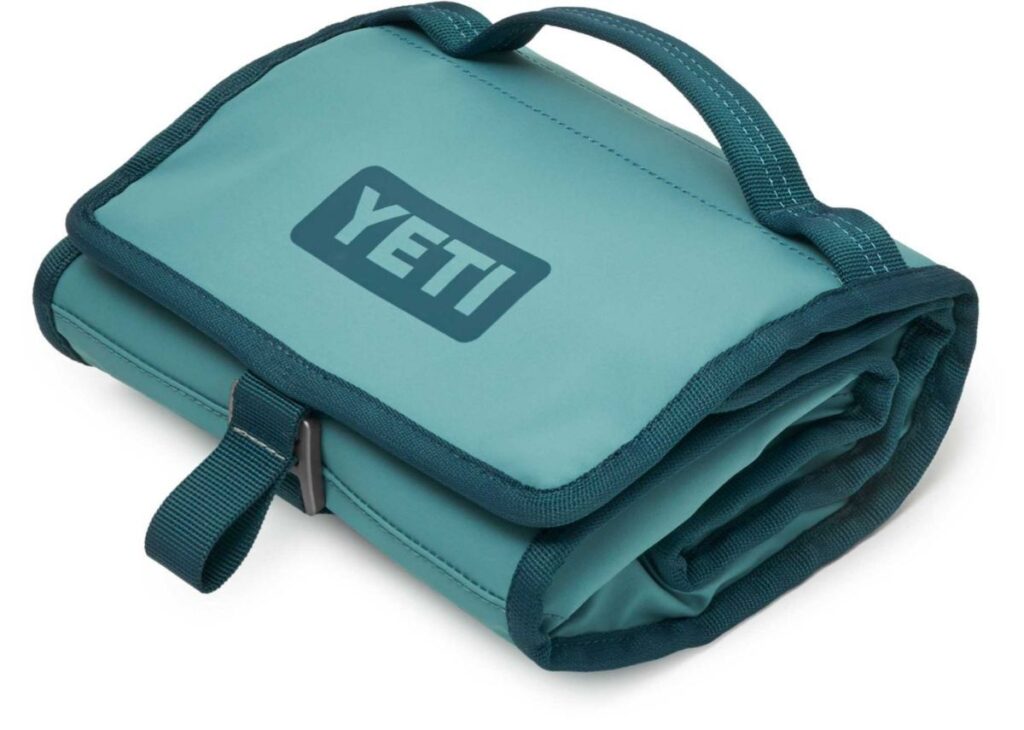 Another cooler feature is that this cooler packs down small when not in use. So when you've finished your food and drunk your drink it can pack up small in your bag and not take up much room.
Or you can pack it up small and once you get through security buy some cold water bottles from the shop and throw them in here to keep them cold.
This lunchbox cooler isn't cheap, but it's extremely durable, has high performance cold/hot retention and it's durable enough to last you years. I highly recommend it if you've got the money.
See the latest price of the Yeti DayTrip at Amazon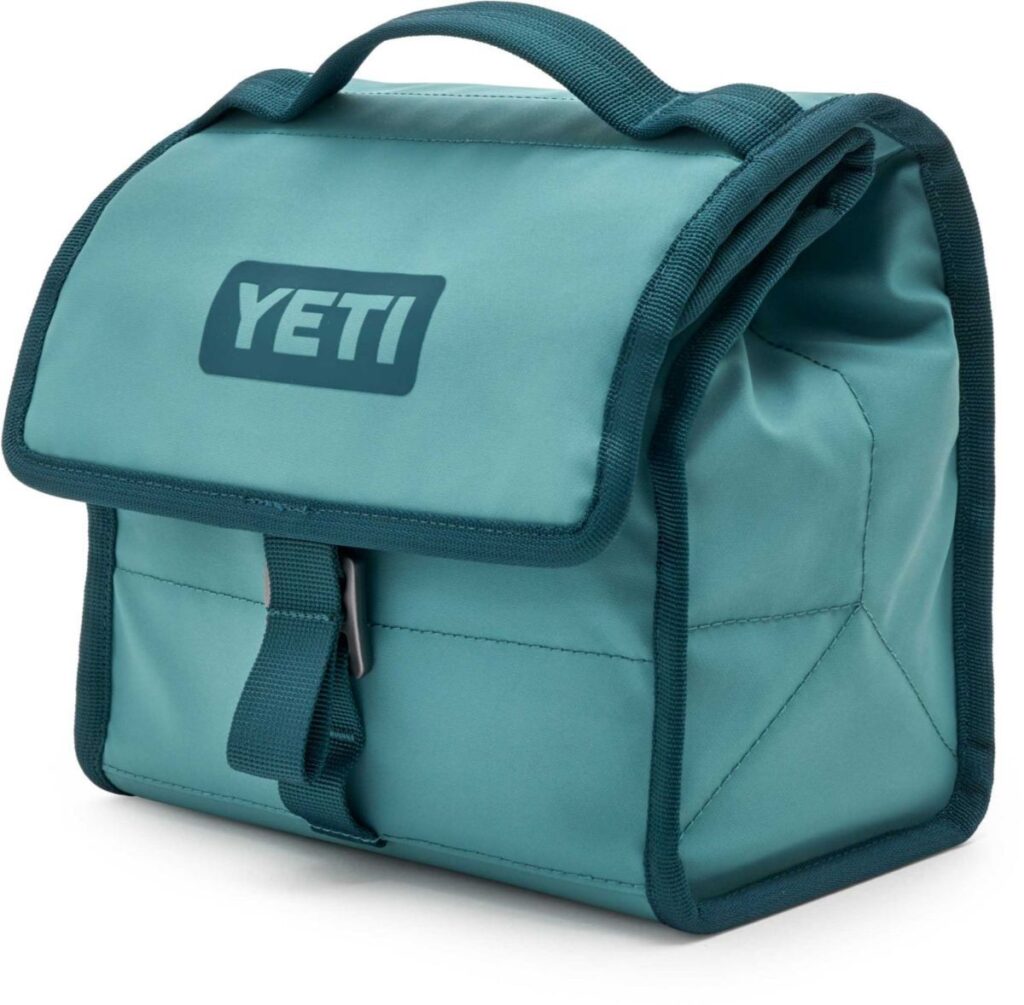 BUDGET OPTION: RTIC Day Cooler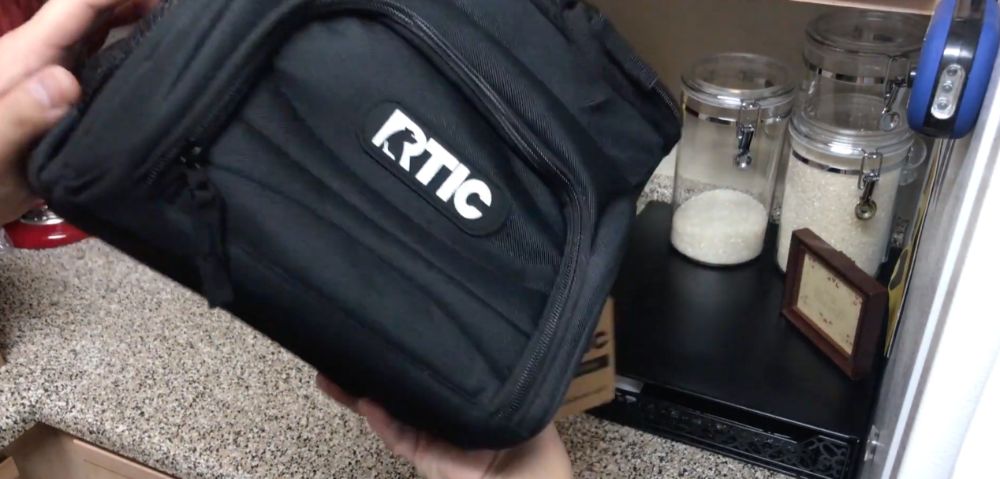 The RTIC Day Cooler is one of the better cheap lunchbox coolers on the market. I personally ranked it as one of the best soft coolers under $50.
It's not as high-quality as the Yeti DayTrip but it still features decent insulation as well as an exterior pocket and mesh side pockets.
It comes in multiple sizes – 6-can, 8-can, 15-can and 28-can – so you can choose the size that best suits your travel needs and it also has a shoulder strap if you want to carry it separately. They also have lots of color options to choose from
It's made from heavy-duty polyester so it won't break easily and the interior is made from soft, antimicrobial food safe material that resists odors, mold and mildew.
It's also super affordable and won't cost you much.
Click here to see just how affordable the RTIC Day Cooler is at Amazon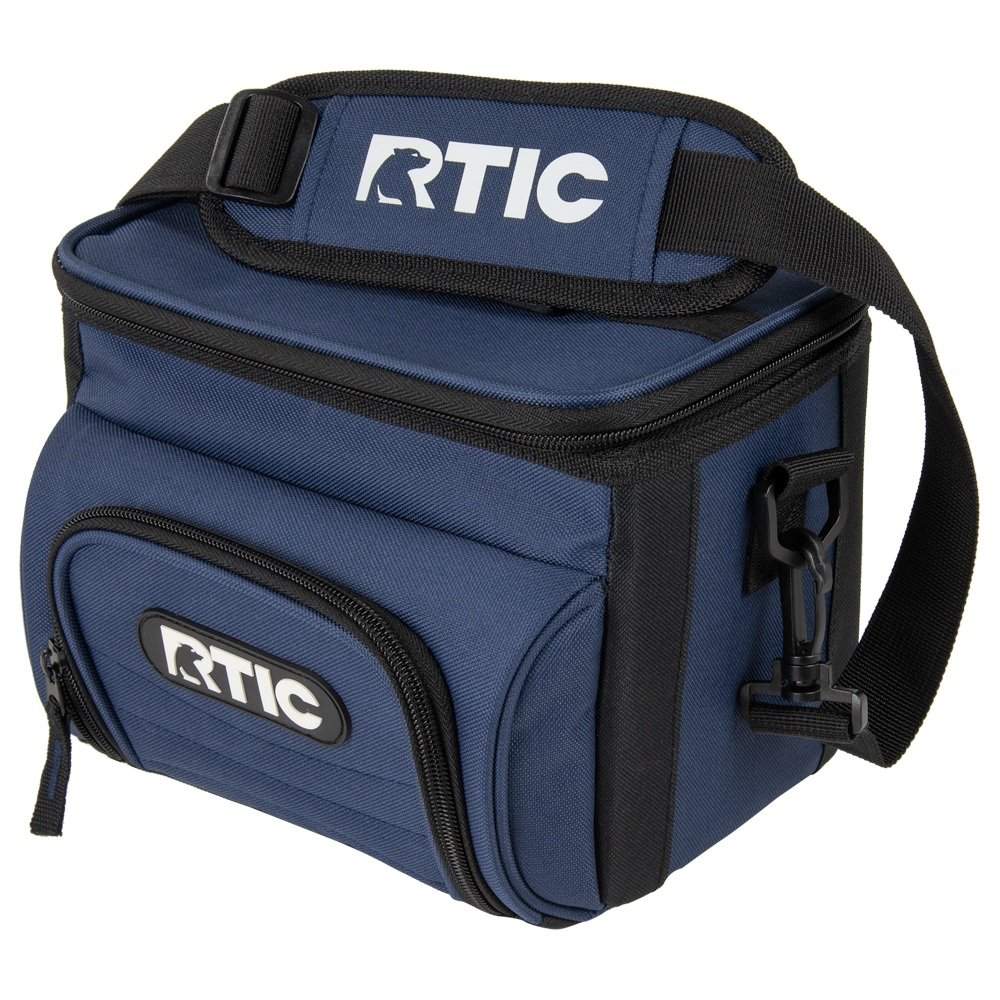 Best Premium BackPack Cooler: IceMule Jaunt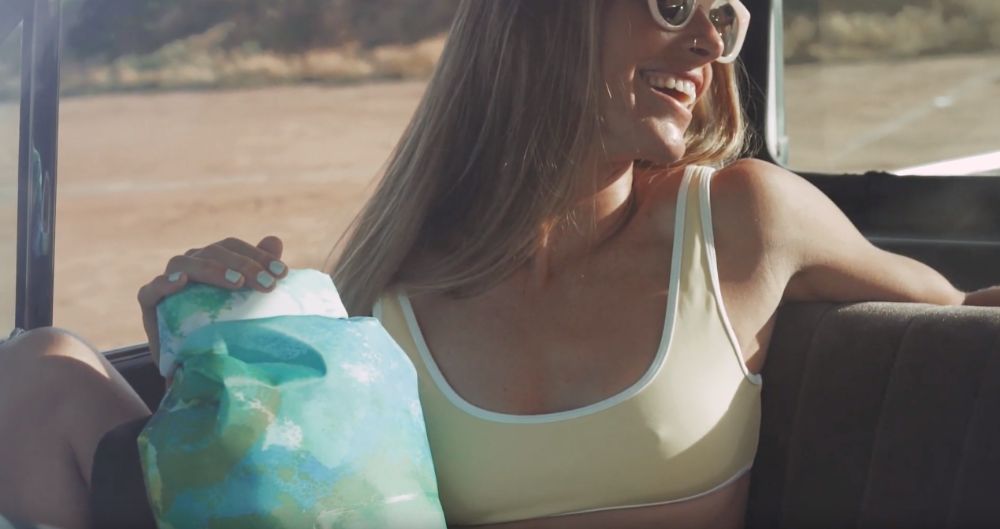 The IceMule Jaunt is a small backpack cooler that is 9 Liters in capacity and comes in some funky designs.
What makes this such an ideal cooler backpack for air travel is 3 main features:
It's got good ice retention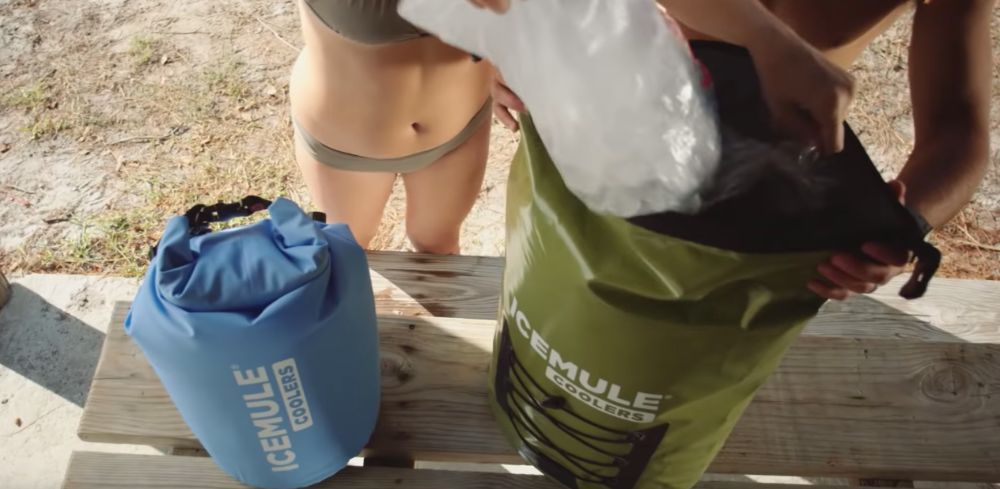 This backpack cooler is able to hold ice for around 1-1.5 days which is longer than almost all international flights.
Most other backpack coolers (except the super premium ones) won't have ice retention even close to this. So this backpack will keep stuff colder longer.
It's lightweight
When empty this backpack cooler weighs just 1.5 lbs. This means it's not going to take up a lot of your available carry on weight and you can take more stuff.
It packs down when not in use
On the side of this backpack is an air valve which allows you to take the air out of the insulation so you can roll up the backpack into a small size when not in use. This means it can easily store in your other baggage when you're done with it.
It also has an external pocket, durable waterproof exterior and the roll down design at the top makes the bag completely leak proof.
It's a really good design and for it's quality it sell for quite an affordable price
See the latest price of the IceMule Jaunt at Amazon
See the latest price of the IceMule Classic at Amazon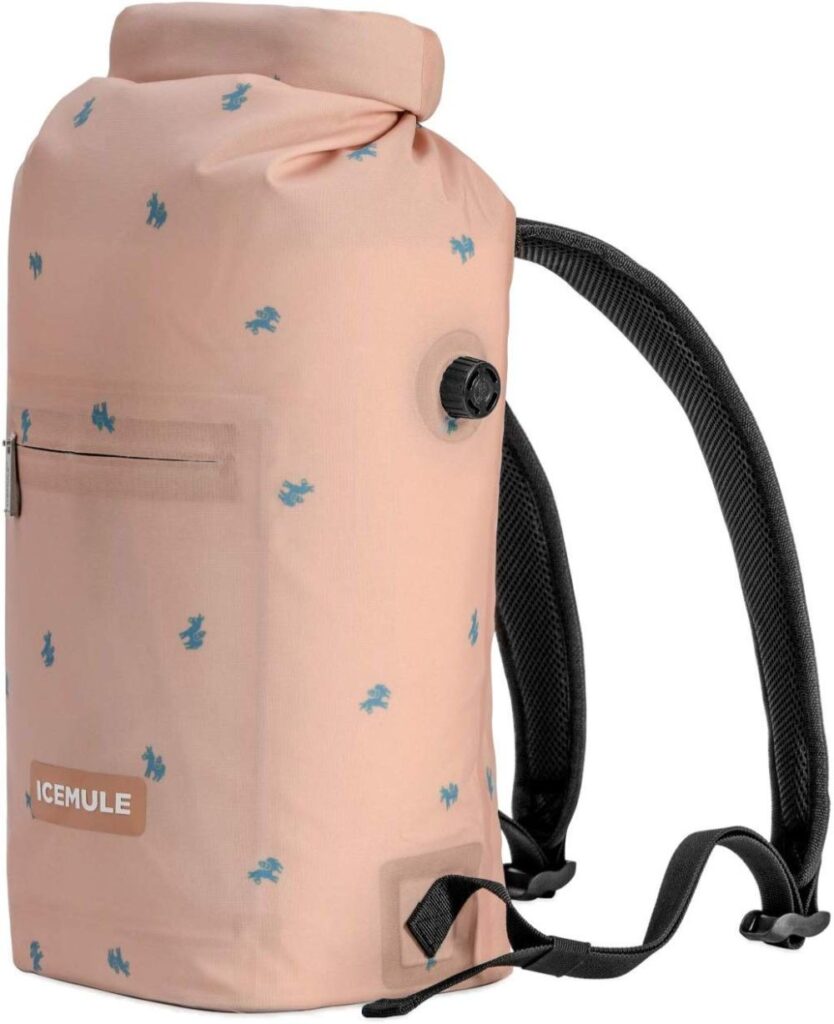 Budget Backpack Cooler: Coleman C003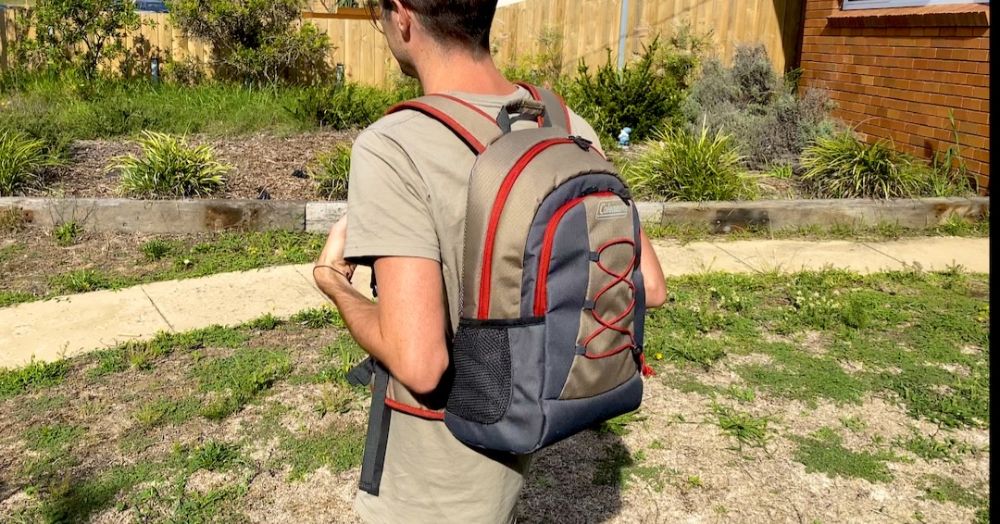 When it comes to budget backpack coolers there are literally hundreds you can choose from on Amazon and they are all pretty similar.
I personally own the Coleman C003 (that's me in the picture up above) and what makes this cooler a notch above the rest is that is sells for an extremely affordable price and the quality of the backpack is surprising for the price you pay.
The main compartment of the backpack is completely insulated. It uses thin insulation and a reflective material so it isn't as good as the IceMule but it's definitely better than a regular bag.
It's also got a non-insulated front pocket with another mesh pocket in there as well as 2 side elastic pockets for water bottles.
The bag is big enough to fit most laptops and it has hip straps to take some of the weight off your shoulders.
The backpack straps are padded and comfortable and the back is made of mesh as is breathable. Overall it's a surprisingly good backpack cooler for the price and I think it looks a lot nicer than I originally thought it would.
See the latest price of the Coleman C003 Cooler Backpack at Amazon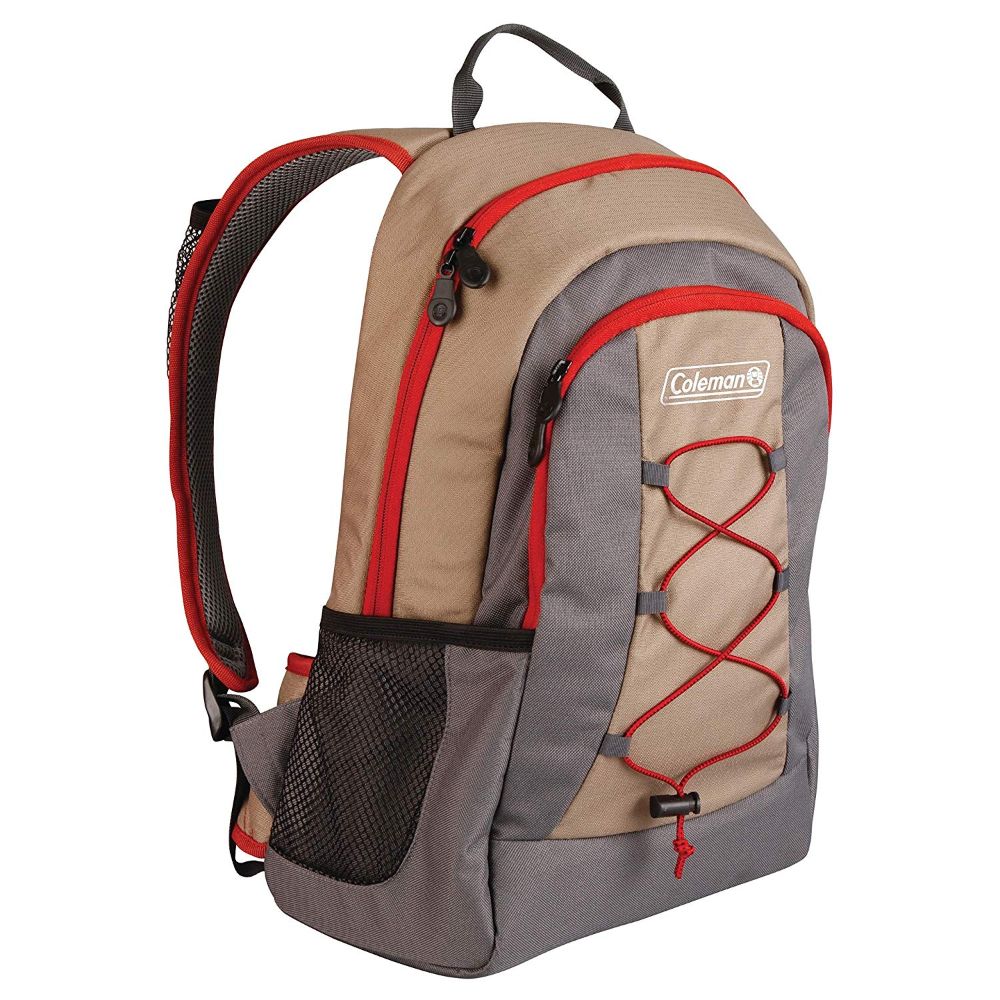 Best Premium Tote Cooler: Hydro Flask Unbound Coolers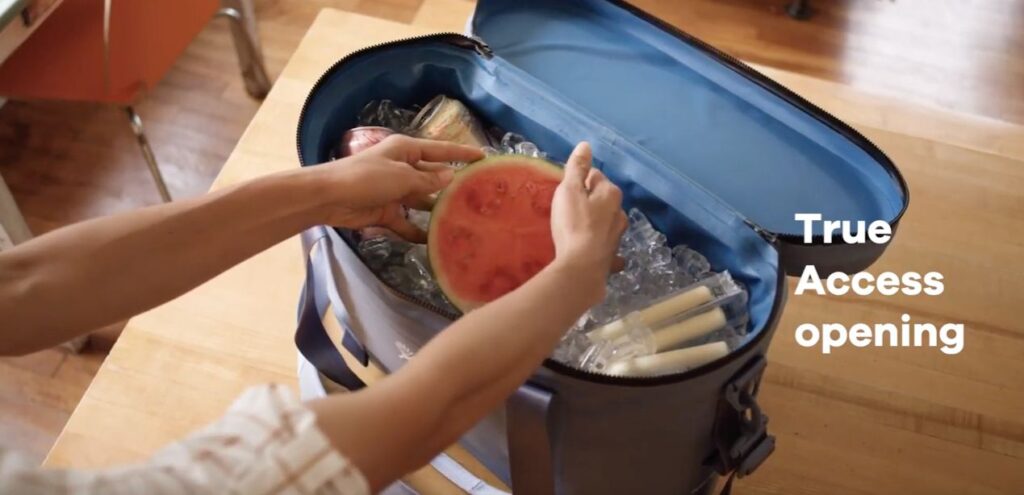 There are a lot of great tote-style coolers out there so it was hard to pick what the best tote cooler for air travel would be. You can read my list of the best soft sided coolers if you want to see the full collection of tote-style coolers.
One of the major problems with the premium tote style coolers is the weight. They are generally made of super heavy-duty material with thick insulation and while that is great for most uses it makes them heavy for airline travel. The Yeti Hopper M30 for example weighs a full 7 lbs (3.2 kgs) when empty.
The Hydro Flask 18L tote only weights 2.8 lbs when empty – giving you much more weight to carry more food and drinks.
It's still made from an extremely tough and durable nylon exterior that is TPU laminated to make it completely waterproof.
The inside is made from food safe material and the zipper is completely leak proof so you don't have to worry about any spills.
It's got a fun bold design and features external pockets for storing items, though these pockets are small. It's got carry handles as well as a shoulder strap for easy carrying.
The lid opens wide for easy access and the thick insulation gives you 1-2 days ice retention so it should easily keep your drinks cold and food fresh for your entire flight.
See the latest price of the Hydro Flask Tote Coolers at Amazon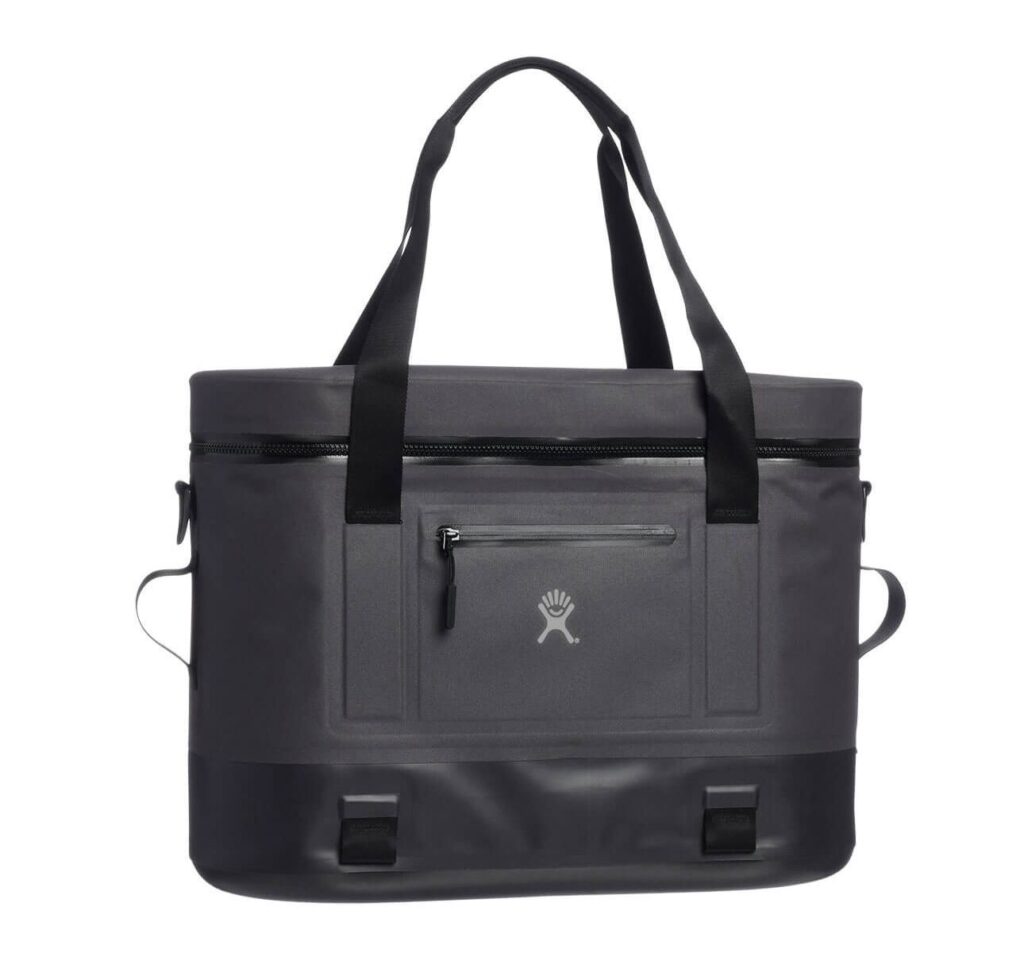 Budget Tote Cooler: Titan Deep Freeze Tote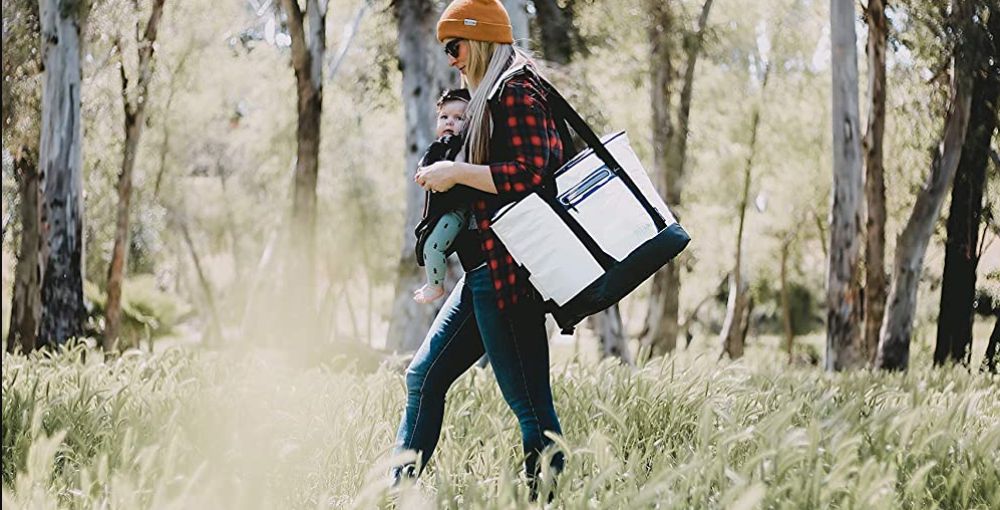 The Titan Deep Freeze 30-can tote ticks all the boxes for a good quality budget tote cooler.
It's lightweight, weighing less than 1.6 lbs when empty, which makes it perfect for flying and using as carry on luggage.
It has a food-grade inner lining that is completely leak proof (the zipper isn't leak proof though) and it has a therma-flect radiant barrier to reflect heat and it has 3 thick layers of superfoam to add more insulation.
It's not the highest quality insulating cooler on the market, but for the cheap price it does the job good enough for a flight.
It's got carry handles that are big enough to throw over your shoulder, but there is no shoulder strap on this one.
See the latest price of the Titan Deep Freeze 30-Can Tote Cooler at Amazon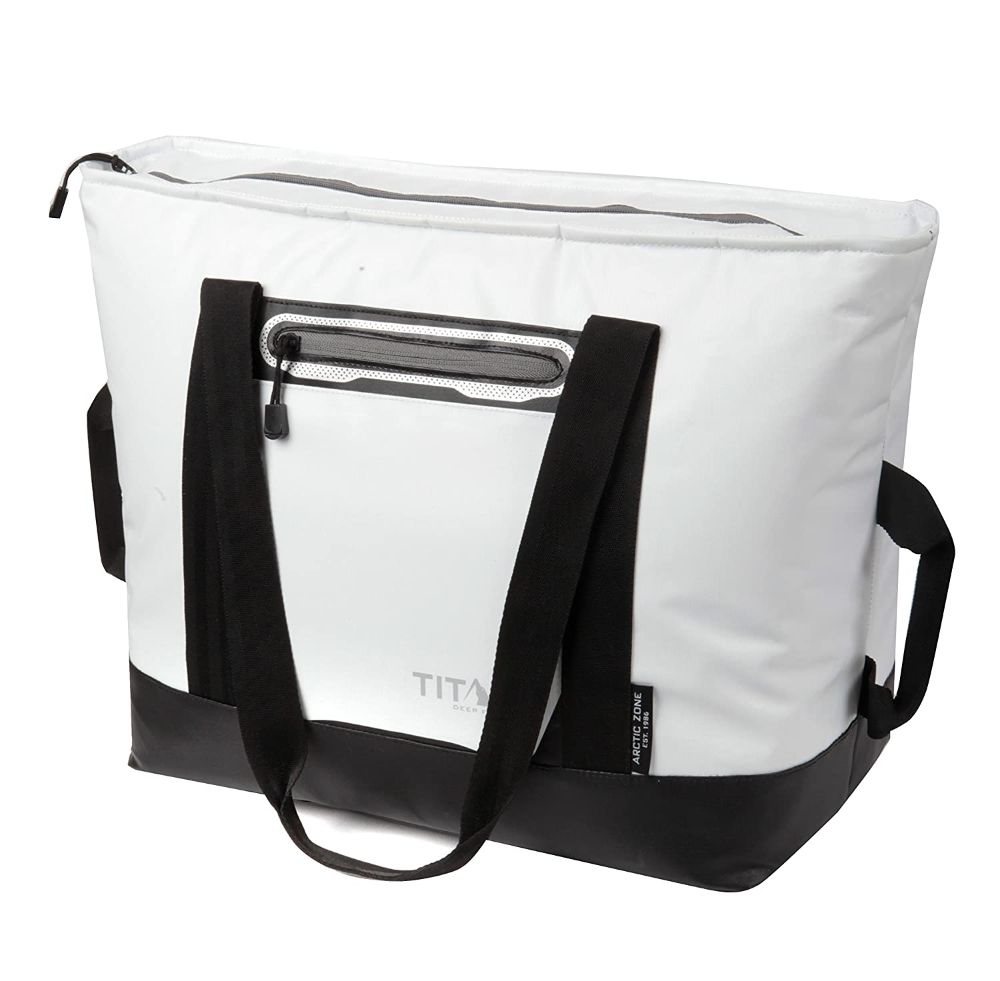 Best Kids Cooler Bag For Flying: Yodo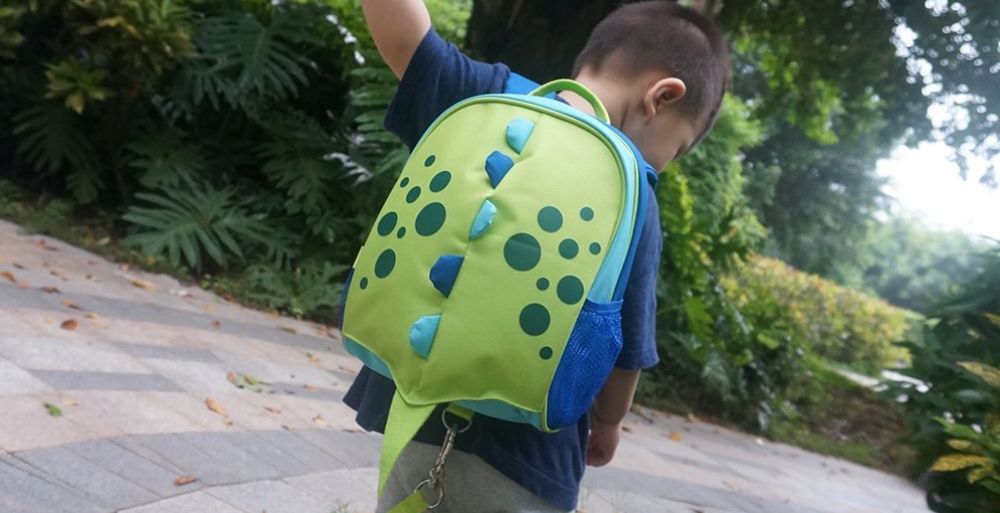 Yodo make a wide variety of fun backpacks, coolers and suitcase for kids and toddlers. Designs like giraffes and sharks and dinosaurs make these super fun bags.
Their insulated toddler backpack has a fun dinosaur scale design and enough room to fit some lunch or their favorite toys.
The inside is insulated to keep things cooler and there is the option to clip on a harness if you are concerned with losing your child while travelling.
While I'm not one for harnessing my child usually at an airport it can be so easy for little kids to get lost in the crowds so I actually appreciate this feature a lot.
The bag is also super affordable and won't break the bank. Plus it has nearly 1,000 reviews with a high average star rating showing that parents and kids alike love this cooler and it's great for flying with kids.
See the latest price of Yodo insulated kids bag at Amazon