Yeti recently announced that they would be discontinuing their Roadie 20 cooler, which is Yeti's most popular hard sided cooler. But they aren't getting rid of it completely, they are replacing it with a new improved version the Yeti Roadie 24.
The Yeti Roadie 24 is an improvement on the old design. It holds ice longer, it's lighter and has a larger capacity and is tall enough to hold a wine bottle standing upright. The metal handle has been replaced by a rope one and it has a new Quicklatch design.
In this Yeti Roadie 24 review I want to show you in detail the features of the new Yeti Roadie and talk about how it's different from the original Roadie as well as how it compares to other products in Yeti's lineup and other coolers that are similar but cheaper.
After reading this you'll have a good idea of the pros and cons of the Yeti Roadie 24 and whether or not it's a good cooler for you.
See the latest price of the Yeti Roadie 24 at Yeti.com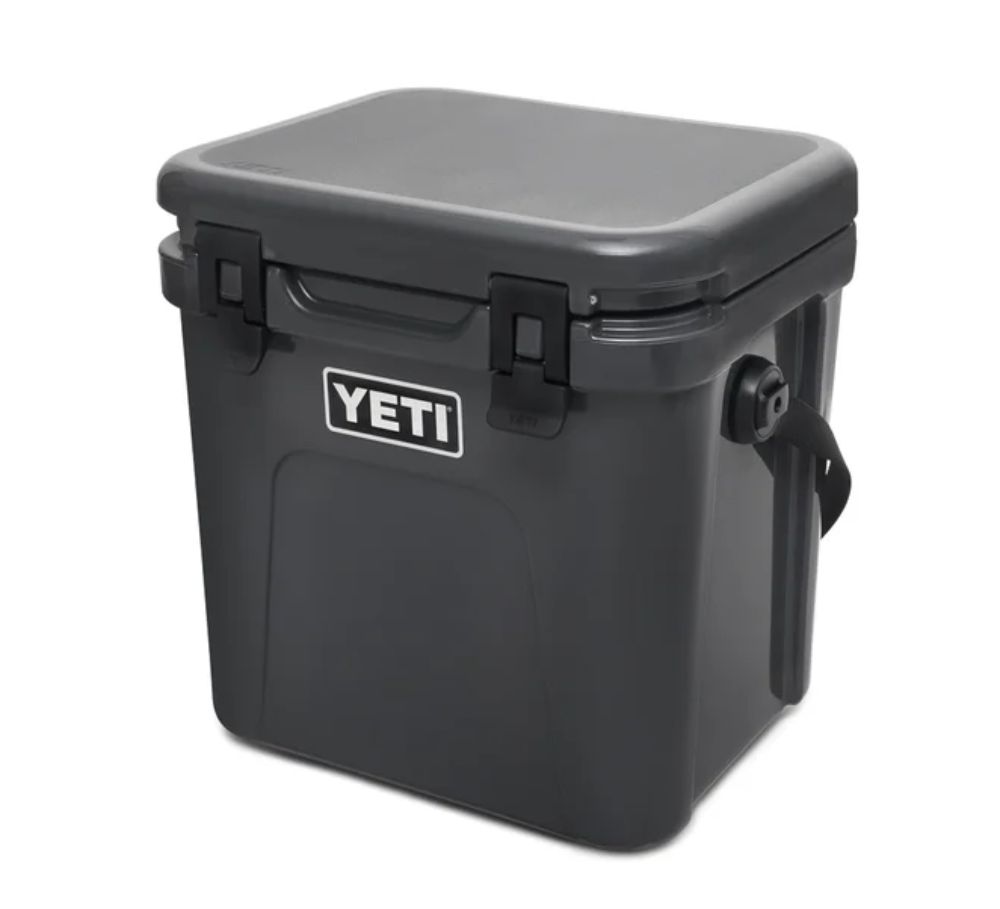 10% Lighter Than The Old Yeti

The new Yeti Roadie has a larger capacity than the Roadie 20 but it's also 10% lighter than the original Roadie.
It weighs in at 12.8 lbs when empty compared to 15 lbs of the original Roadie. This is a decent amount lighter and it's definitely noticeable.
Check out what this reviewer said about the product over on Yeti's product listing:
I used to work at a sporting good store that sold Yeti product and always wanted to purchase one. the roadie 20 was always eye apealing but I didnt like the weight and handle. This cooler solved both issues! Instantly could tell a difference in the weight as soon as it arrived and I hadnt even taken it out of the box yet.
The lighter weight combined with the rope handle instead of the metal handle makes this cooler much easier to carry than its predecessor.
I'm unsure exactly how they cut out 10% of the weight of the cooler. The rope handle is obviously lighter than the old metal handle, but given it insulates just as good (if not better) than the original roadie I don't know where the extra weight savings have come from.
Hefty Hauler Rope Handle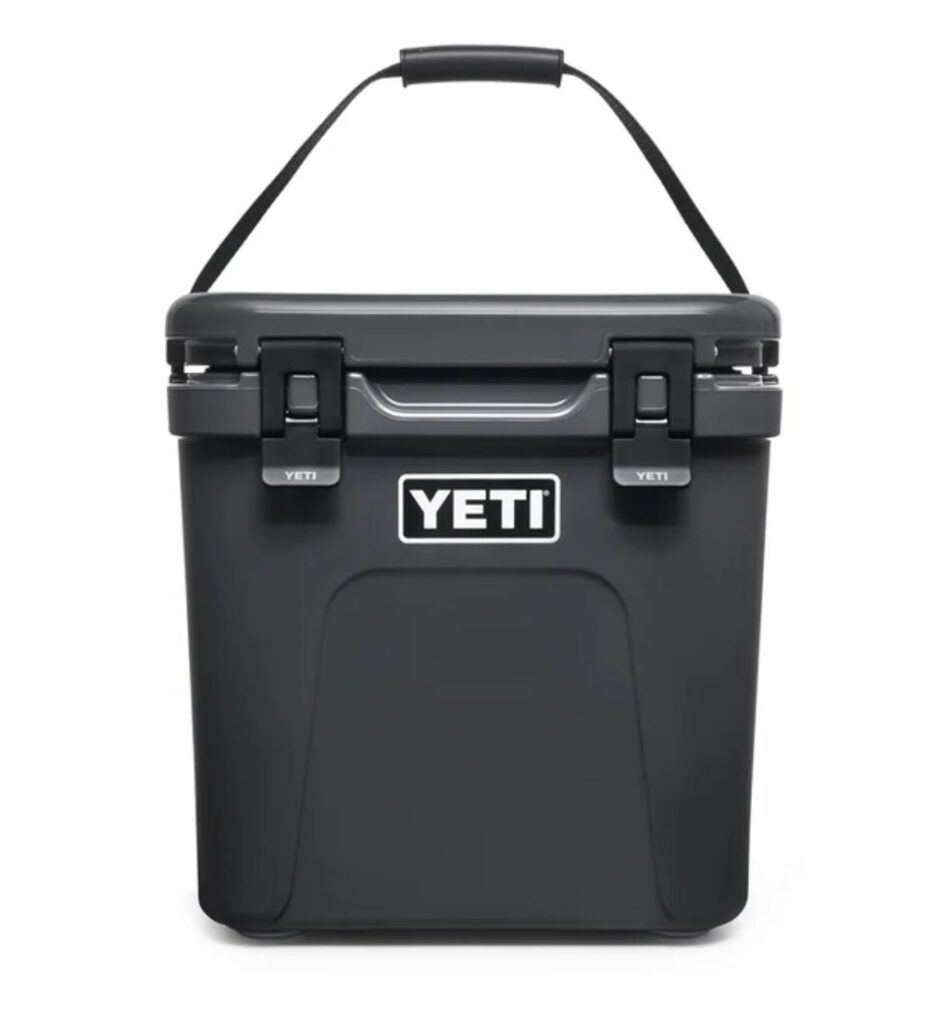 Yeti have redesigned the handle for the Roadie and replaced the old pull up metal handle which clicked into place with an attached rope handle which has a rubber grip for easy carrying.
This reduces weight from the cooler but also the feedback is that this handle is actually better than the old one. Because it moves and flexes with you it make the cooler much easier to carry with one hand.
Here's what one customer had to say:
Love the new color (for the hard cooler line) and the strap handle design. It's a huge upgrade from the metal bar on the Roadie 20.
Another customer said this:
The handle is much less annoying that the lock-in-place stiff metal bar of the 20, but still not ultra functional to carry this cooler a quarter mile to a docked boat, into a kid's soccer game, or a half mile or more to a favorite fishing spot to double as a seat…..Plus there are grab points under the rim making it pleasant to carry with both hands
So the handle isn't perfect and still has some issues. Carry a heavy cooler is always going to be difficult and while a shoulder strap may have been better this seems like a decent design.
You've got the rope handle when it's empty or only partially filled and then you've got molded in side handle to 2 hand carrying or carrying with a friend when the cooler is fully loaded.
Holds Ice 30% Longer – Why?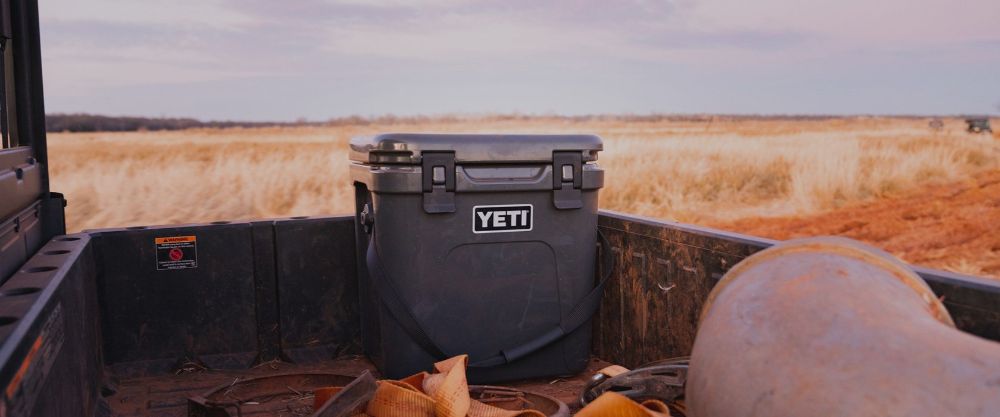 Yeti claim that the new Roadie 24 hold ice 30% longer than the original Roadie. They say "performs 30% better thermally than its legendary predecessor" but they don't give any indication into how they worked this out.
When I did my intense and in depth research for the best coolers for ice retention it was pretty obvious that larger coolers can hold ice longer than smaller coolers even if they have the same insulation.
This is just because a larger volume of ice takes more total heat to melt all of the ice. (Think trying to melt one small cube of ice in your hand vs an entire bathtub filled with ice).
Maybe it's the extra ice, maybe it's the taller thinner design means there is less exposure of the ice at the bottom to the hot air coming in from the top when the cooler is opened.
Maybe they have improved their insulation and the new insulation is lighter but more thermally insulating. Who knows.
Regardless of how it work it's good to know that it does work and this bad boy can hold ice for 2-4 days.
While I couldn't find any side-by-side ice test comparisons the reviews people have left seem to indicate that yes this cooler does hold ice just as well, if not better than the original Roadie.
Here's what one customer said:
Been sitting in the back seat of my Ford pickup and holds ice 4-5 days and keeps the drinks cold longer than that.
See the latest price of the Yeti Roadie 24 at Yeti.com
Compare this to the price of the Yeti Roadie 24 at Amazon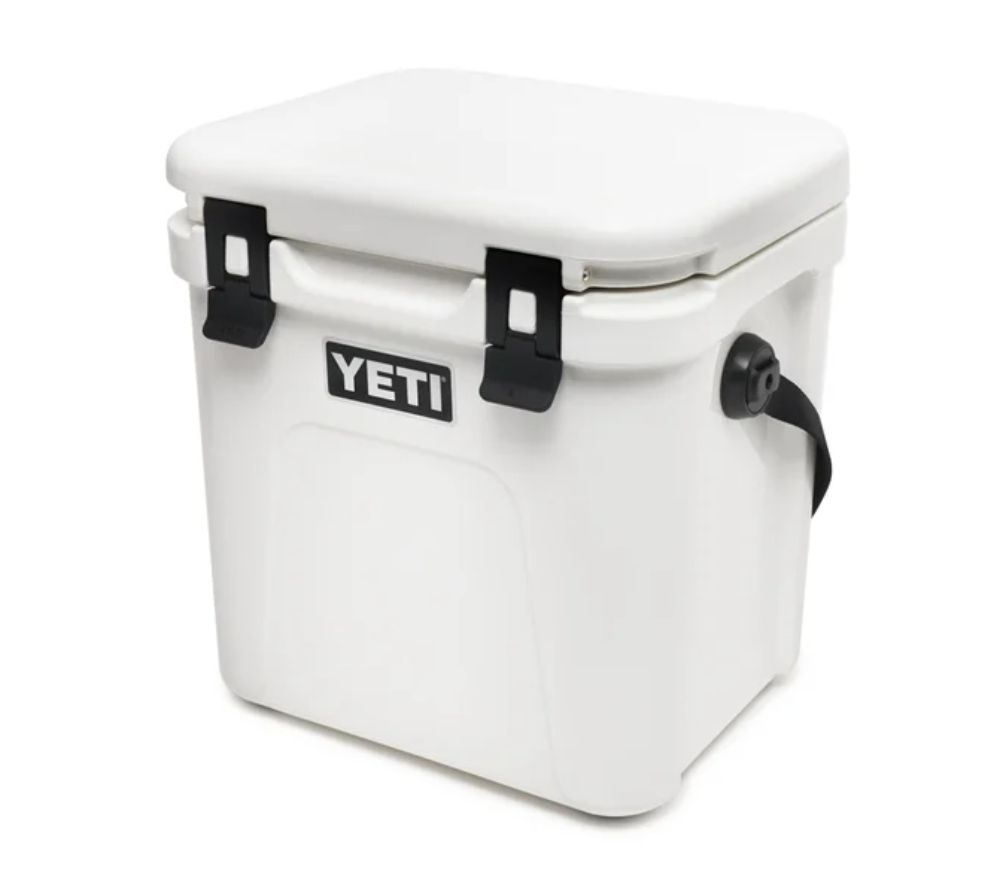 New "Quicklatch" Design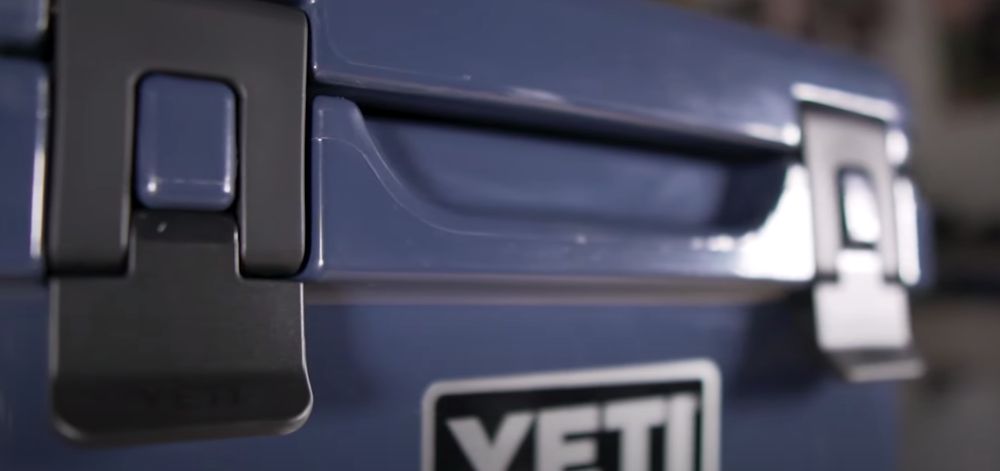 Ever since the introduction of the Roadie and the Tundra in 2008/09 Yeti coolers have always had pull down rubber "T-Rex" latches.
While these work great to fix the lid into place they can be difficult to use.
I remember living in my campervan with my kids and my younger kids really struggled to open our Yeti cooler.
The new Roadie 24 has new "Quicklatch" latches which are a cam latch design.
The part connected to the lid is the firm but elastic rubber like the old Yeti latches but the bottom part is hard plastic.
You simply put them into place and then push them closed. They are much easier to use and still create a tight seal on the lid.
One customer summed up the pros and cons of this type of latch system perfectly:
For the casual user, the new latch handles are easier to open and do keep the lid sealed snug, not as bomb-proof as the T handles, and asking for trouble if stuffed into a truck or UTV bed with other loosely secured stuff for a trip down a bumpy dirt road, but much more non-gorillahanded user friendly, and seems they will do fine if not abused.
Taller Thinner Design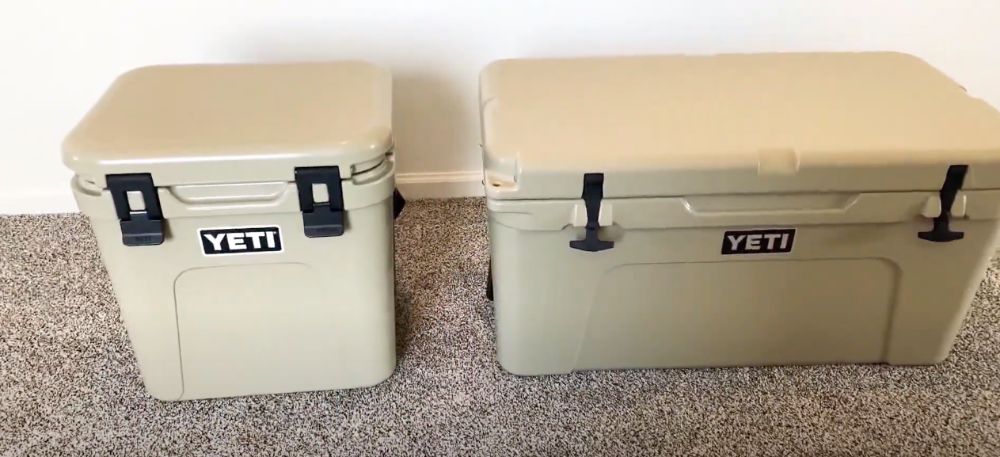 The new Yeti Roadie is thinner and taller than the original Yeti Roadie.
It's actually the same depth as the original Yeti but the front width is 2 inches shorter and the height is 3 inches taller.
This makes it perfect for sitting and makes it tall enough to hold a wine bottle standing upright.
The downside of this design is that it's slightly harder to access the items in the bottom of your cooler. But overall it's not a huge change and I think it's slightly better than the previous design.
Problems With The Yeti Roadie 24
The Yeti Roadie 24 isn't a perfect cooler by any stretch of the imagination and while there have been some improvements made compared to the original Roadie there have also been adjustments made which make the cooler worse.
No Drain Plug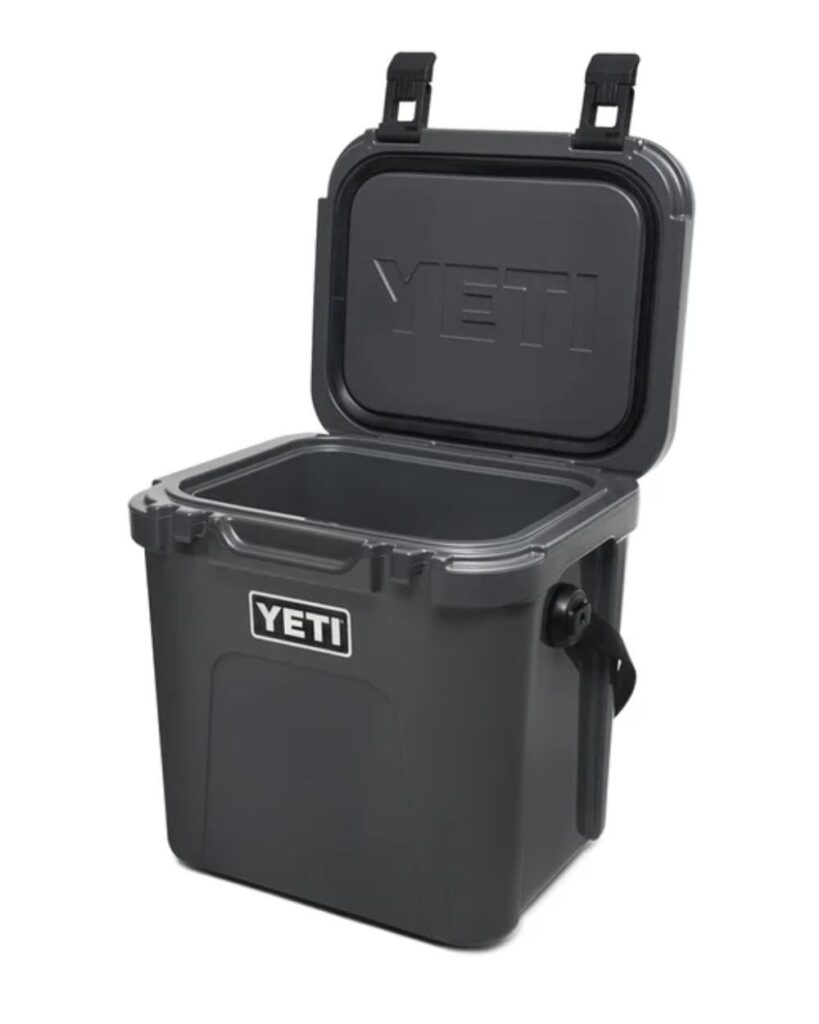 The biggest complaint people have about this cooler is the fact that Yeti took away the drainage plug.
They try to sell it as a benefit "With no drain plug, you can ditch excess water or ice with a quick flip." but in reality there is no user benefit to removing the drainage plug.
People aren't happy about it either.
Of all the complaints about this cooler this stands out as the #1 complaint
I just don't understand the reasoning behind the no drain plug? Sure its small enough to flip over and pour the water out, but that can be a pain in the ear. A drain plug would have been a whole lot cooler!!!
However, the dumbest thing was leaving out the drain! Please say it was a cost savings measure… Cause who else would honestly think it's a good idea to take a simple way to drain off water and tell you to just "flip it" than a freaking accountant…
We went to empty the water out and just throw more ice on top, but noticed that there was no drain plug! Now having the cooler still more than half full of drinks, we had to take everything out to drain the water and then put everything back in. It's just a complete design flaw for how expensive the cooler was.
And that's just a small sample of the reviews on Yeti's website. There are way more complaints about it on their website, on Amazon and I'm sure lots of other people are missing the drain plug.
No Attachment Slot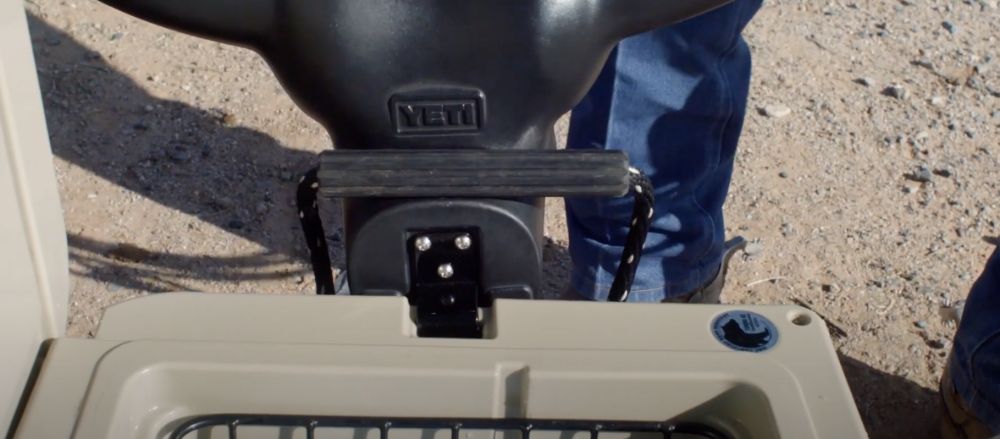 All Yeti hard sided coolers have an attachment slot molded into the rim of the cooler. You can attach things like cup holders, fishing rod holders, bottle openers and even this Yeti roping dummy.
These slots also double as tie down points for the cooler.
You can strap it down to stop it moving around but this can also stop theft of your cooler as a thief can't just pick it up and run.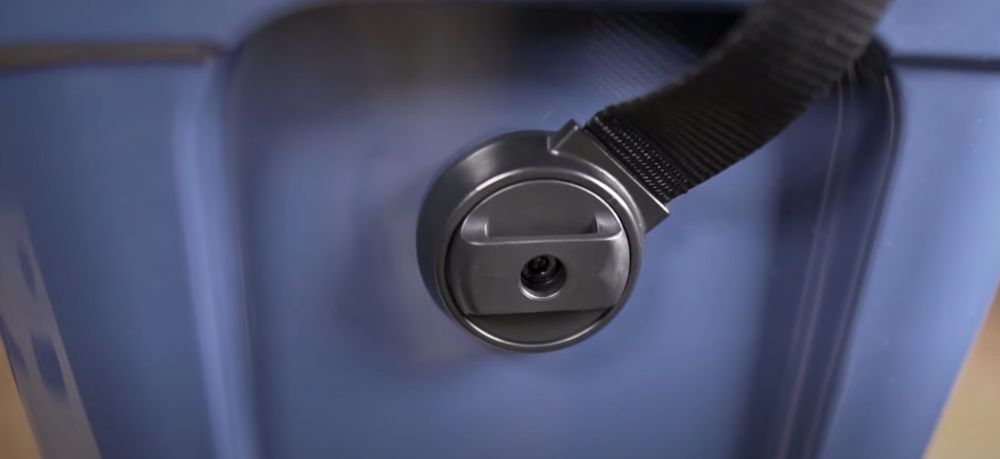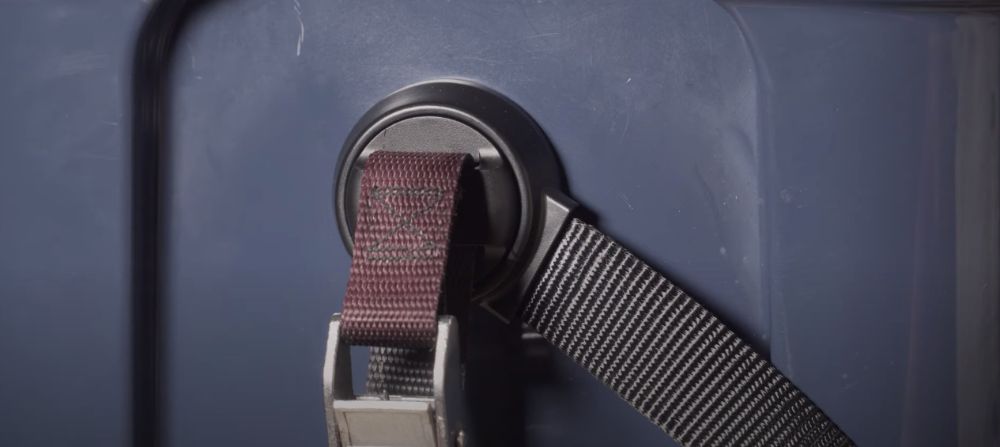 The location where the rope handle attaches to the cooler now doubles as the tie down point.
This customer described it well:
The tie down points on the 24 are built into the hanlde attachment points and feel like a plastic that will crack if put to heavy-duty use, so again probably not the cooler to ratchet strap into the back of your off-road golf cart / dune buggy – you're not going to see this model on any river rafting excursions, but fine for the golf course or pontoon boat.
So while you can still tie it down it's unlikely this will be as durable and having it molded into the cooler. You also can't attach anything onto this spot so it's useless for that.
Not Lockable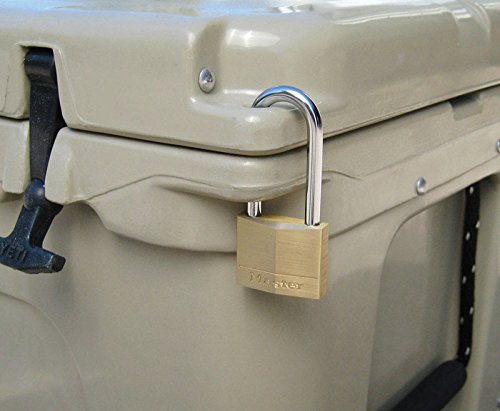 Yeti coolers usually have holes in the front corners of the cooler that allows you to lock the cooler shut.
This is primarily for bear resistance but lots of people like to lock their coolers closed and with the new Yeti Roadie you can't do that.
Not Bear Resistant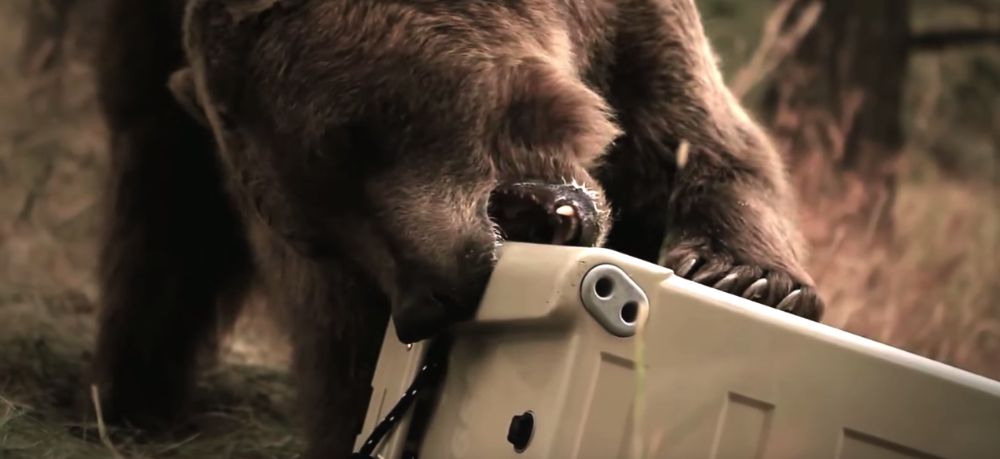 Because there are no locks on the cooler this also means that this cooler is no longer bear proof.
If you are going out into bear country this is NOT the cooler to take with you. You'll need to get a larger Yeti cooler which has the ability to be locked.
Alternatives To The Yeti Roadie Cooler
I've previously done a full article on the best coolers like the Yeti Roadie but cheaper, so you can check that list out if you want to see 16 quality alternatives ranked by price.
But I'll quickly highlight my most recommended alternatives here.
VALUE FOR MONEY: Lifetime 28-Quart
Lifetime coolers are hands down the best value for money alternatives to the Yeti.
It costs less than half the price of the Yeti and is most often sold for under $100 compared to the nearly $200 price point of the Roadie 24.
It is made in the USA, has all the main features that a Yeti Roadie has with pull down latches, padded metal handle, thick insulation, rubber gasket, non-slip feet etc plus it's even bear proof
PLUS it comes with a built in bottle opener which is a nice feature.
It's blow-molded (not roto-molded) so it's not AS durable as the Yeti Roadie, but it's pretty damn close and ice retention is extremely similar and maybe even better than Yeti.
Get the Lifetime 28-Quart Cooler on sale at Walmart.com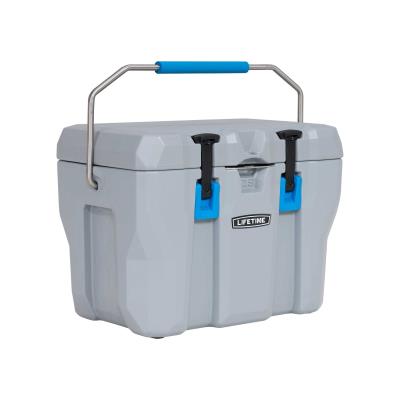 HIGH PERFORMANCE: ORCA 20-Quart
If you want to best ice retention possible and highest build quality then you'll want to get yourself an ORCA.
You'll get slightly better ice retention than a Yeti cooler and you'll get a cooler that is made in the USA and backed by a lifetime guarantee.
ORCA coolers also come in lots of different color options and it also sells for a cheaper price than the Yeti.
If you're looking for a better quality cooler then the Orca definitely comes highly recommended.
See the latest price of the ORCA 20-Quart at Amazon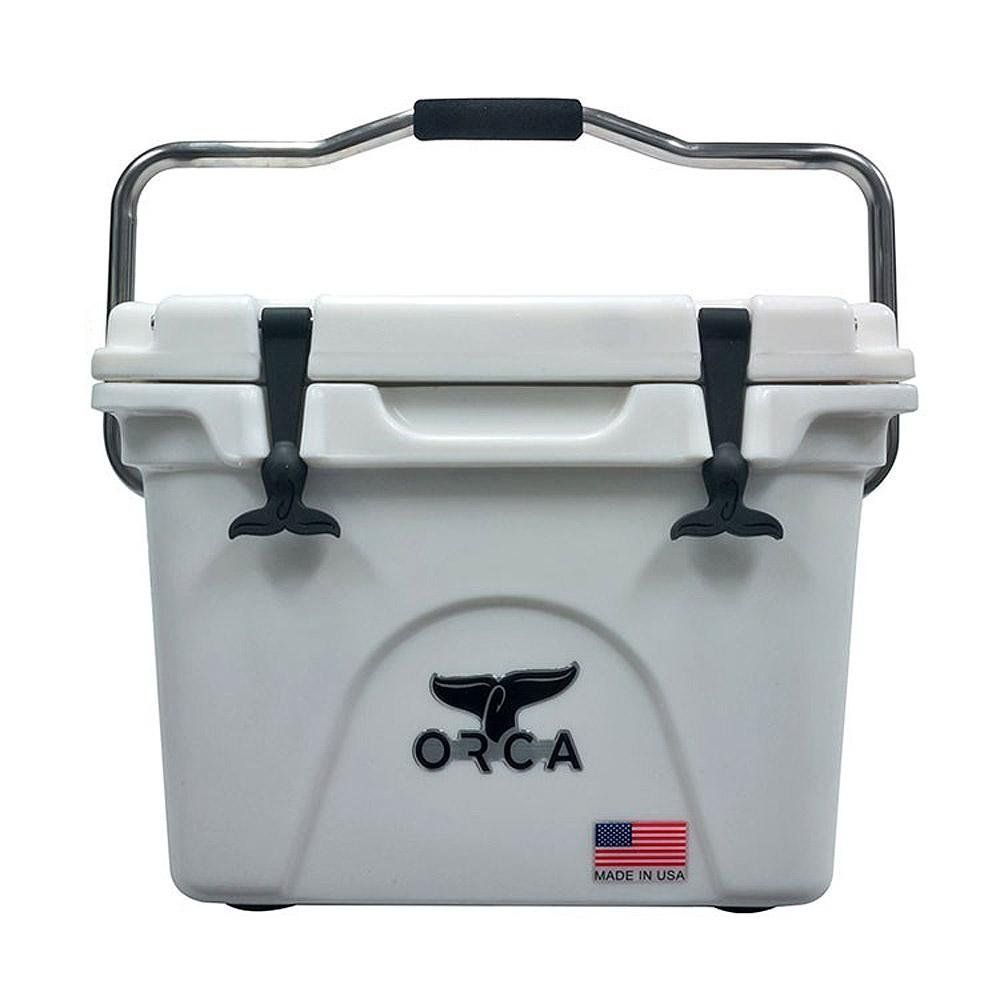 Should You Get a Yeti Roadie 24 Cooler?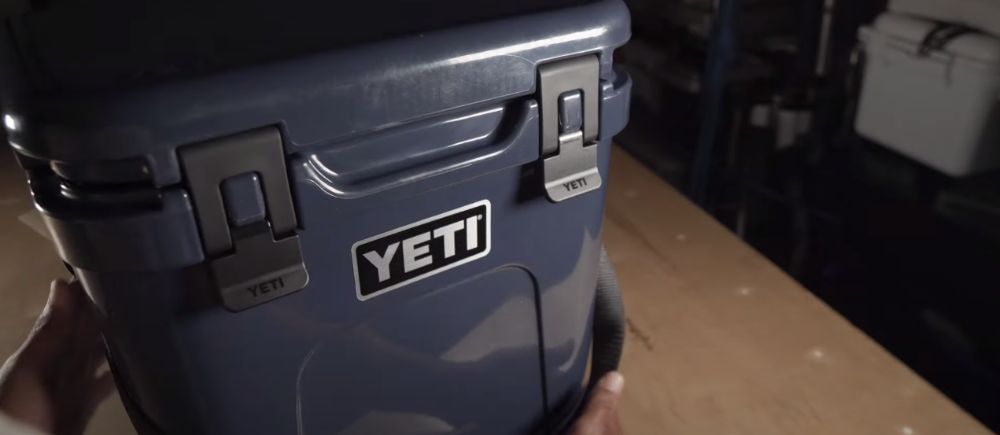 The Yeti Roadie 24 is a great cooler.
I see it as an upgrade from the original Yeti Roadie and I wouldn't personally go out and buy the old one over the new one.
I think the latches and the carry handle is better. The fact that it has a more practical shape and is lighter while being able to hold more makes it a better cooler that its predecessor.
If you've already got a Yeti Roadie then I don't think there is quite enough different to justify an upgrade if your existing Yeti is in good condition.
But if you are in the market for a new cooler then the Yeti Roadie is a great option. Without a doubt this is going to become Yeti's most popular cooler.
See the latest price of Yeti Roadie coolers at Yeti.com