Snow-lined streets that look like they've come straight out of a Christmas postcard lose can actually become dangerous and slippery. Walking on slippery icy surfaces can cause slipping, falling, and painful injuries.
To help you prevent any ice-related injuries, here are some of the best things you can put on ice for traction.
The best thing to put on ice for traction is sand. It is cheap, spreads well and provides instant traction in all temperatures. Alternatives to sand include wood chips, sawdust, kitty litter, gravel and straw.
You can also lay down traction mats over ice to provide vehicles with instant traction. These can be a great reusable option for driveways.
Adding traction to icy surfaces doesn't have to be difficult or expensive. Try out these handy methods and choose the one that works the best for you.
You will find a mixture of methods for every budget and preference.
1. Sand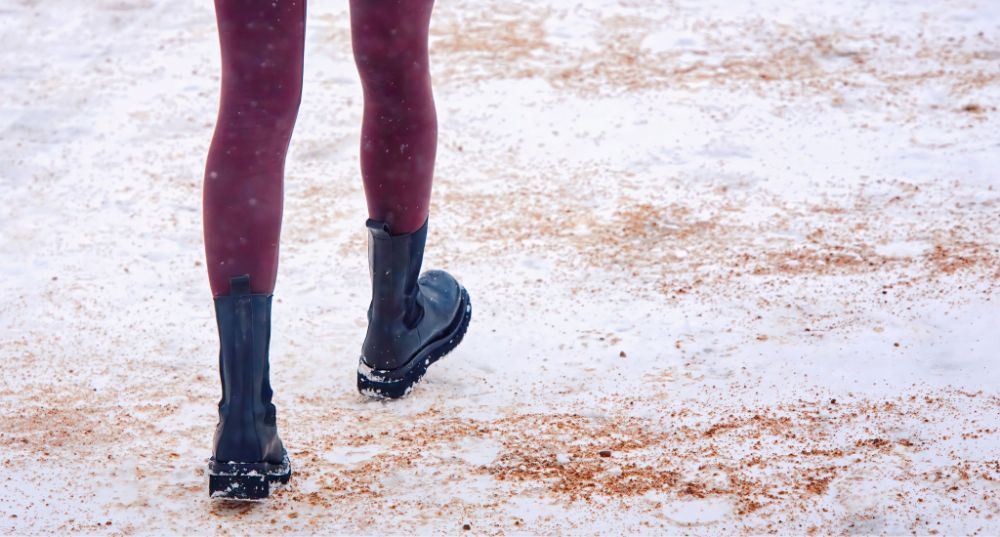 This is one of the popular methods of creating traction on ice because it is easy to do, environmentally friendly towards plants and animals and is a very cost-effective option.
Sand doesn't melt ice but rather sits on top of the ice and stops people and vehicles from slipping.
Sand is commonly used in areas where temperatures are so low that regular ice melt doesn't work or isn't cost effective or it can be used as a more environmentally friendly alternative to ice melt.
Unlike harsh chemicals, sand is safe to use on concrete surfaces. The best type of sand to use on ice is the simple and easily available sandbox sand.
To add traction to the ice, you can sprinkle sand on the surface of the ice, and this method can be used on sidewalks, steps, driveways and even roads.
Some people like to add salt to speed up the melting process or to help the sand stick and embed itself in the ice so it doesn't blow away..
The major downside of using sand is that it can easily be blown away during storms or bad weather and can also be washed away by rain. You'll also need to reapply it if there is more snow and ice as the sand can easily be covered.
2. Wood Chips or Sawdust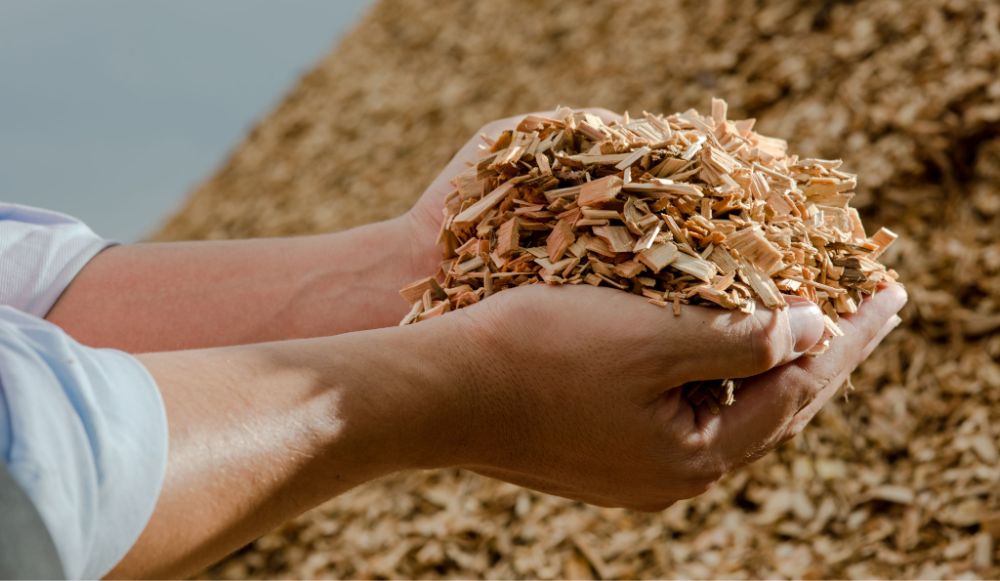 Wood chips are another clever way to create traction on ice. This method is not only inexpensive but it has the added benefit of working great across larger areas and the fact that it is more difficult for it to be blown or washed away (when compared to sand).
Sawdust is another option as well but wood chips tend to be better as sawdust can absorb water and become mushy. It also blows away easily whereas bark chips keep their form and stay where you put them.
You can buy a 5 Quart bag of pine wood chips at Amazon. It is also good for the environment and not harmful to animals or children.
The wood chips are sprinkled over the desired area you want to use, and the best thing about this method is you won't have to clean them once the ice has melted. Wood chips naturally break down over time themselves or you can sweep them onto your garden to provide natural protection from weeds and nutrients as they break down.
If you are wanting to buy bigger loads of wood chips at a time and save some money, I suggest visiting your local lumber yard for any leftover wood chips or even shavings.
3. Kitty Litter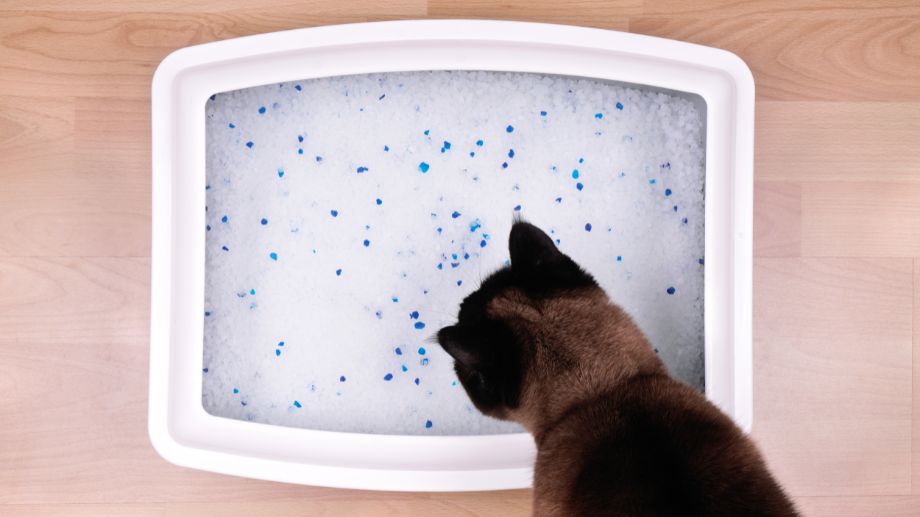 You may think that this is an odd way to add traction to ice, but trust me, it works!
Kitty Litter is super accessible and is actually made from the same core ingredient as sand, making in environmentally friendly.
Like sand, kitty litter won't melt ice but the course texture is great at creating a safe surface to walk over and it's a good thing to keep in your car for emergency traction or a good thing to buy if your local store has sold out of sand or ice melt.
Just make sure to buy the right kitty litter for ice as some kitty litters are a lot better than others at providing traction. The white silica gel kitty litters work great while you want to avoid walnut and pine kitty litter as they clump together and can be extremely dusty.
Not only is Kitty Litter easy to sprinkle over the icy surface, but it also is not harmful to the concrete surface underneath like ice melt is.
A handy trick is to always keep a bag of Kitty Litter in your car in case of ice-related emergencies.
I must mention that given the choice of sand or Kitty Litter, I would recommend using sand as Kitty Litter can be more expensive and doesn't look as good washed into your garden after the ice has all melted.
4. Gravel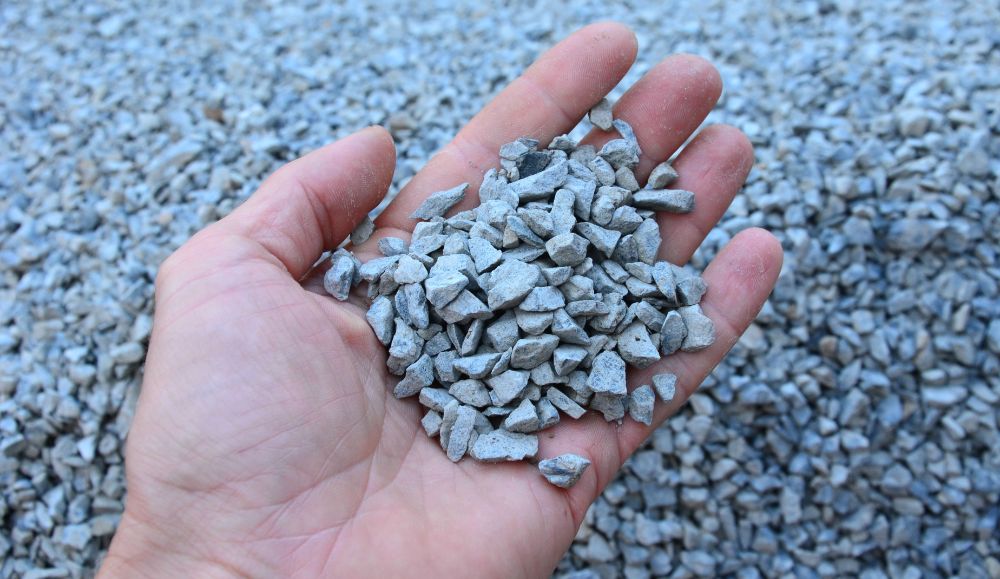 Gravel is a great alternative to sand, as the coarseness of the gravel can really help create traction on the ice. This method is best used on driveways and road surfaces because cars will be driving over it.
One added benefit of using gravel is that it also helps with melting ice on concrete surfaces by a small amount. This is thanks to the friction caused between the gravel and the cars driving over it.
There is just one downside to using gravel. You run the risk of the gravel flying into your car and denting the body of the car. One way of combating this is by driving slower and braking softly.
Gravel is easy to get, and your local Home Depot should stock a variety of gravel products.
5. Traction Magic
If you're looking for a non-toxic method that is not harmful to people, pets, and plants, then Traction Magic is the right product for you.
This product contains no salt, so it is completely safe to use on your concrete surfaces, and it works in two ways. There are absorbers inside the mixture that sucks up the water layer in the ice, while the spiked granules provide instant traction.
Simply pour the mixture over the icy surface for instant results.
There are a number of different brands that offer the same products. You can check these alternatives out at Amazon.
6. Traction Mats
Traction mats are a handy short-term solution in the event that you are stuck in your driveway or on the road.
These mats come in long strips the width of a car tire and have a rough grid that creates traction between the car tire and the ice. Because they fold up, they are easy to store in your car or garage for when you need them.
They work by placing the mat underneath each tire and slowly driving over them. Therefore I recommend using at least four mats. Because the mats are so short, they should be used for emergencies or used in conjunction with the other methods mentioned.
7. Straw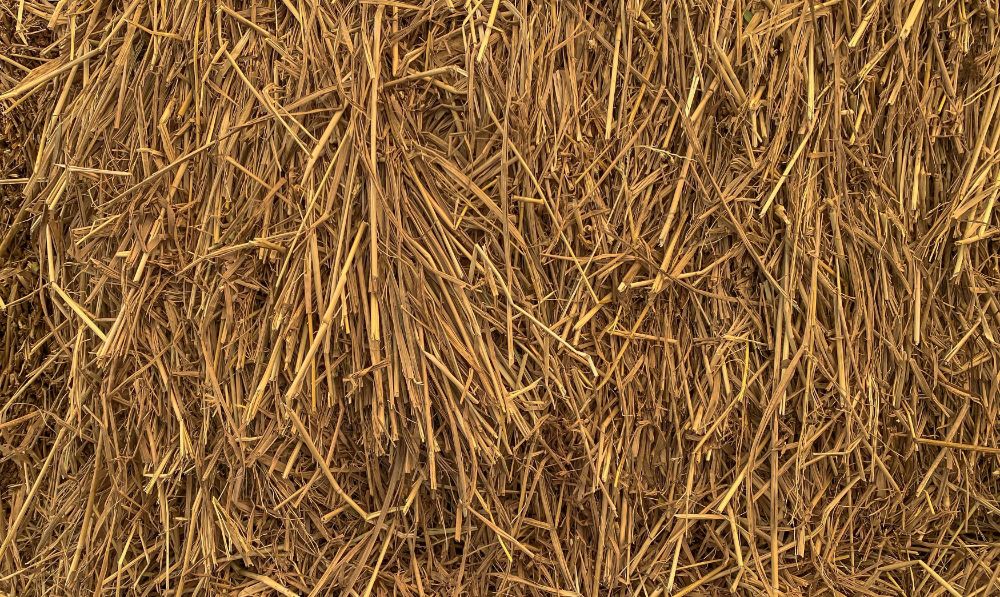 Straw is another great way to create traction. It may not be as effective as sand or wood chips but for those of you on farms or in rural areas where access to straw is easy and cheap this can be a good option.
The reason why I have added straw as an option is that the stuff is dirt cheap and is super easy to use if you are in need of a quick fix.
If the thought of buying straw from a local store is too much of an effort, or you would rather not drive on icy roads, you can get bales of straw from Amazon.
Melt Icy Surfaces With These Helpful Hacks
Creating traction on ice is easy enough using any of the above methods or even a combination of them. But sometimes, you may want to melt the ice rather than cover it with sand.
While many people may use salt, this is actually bad for concrete surfaces. Check out my guide on how to melt ice without using salt.