If you've been in the market for a new cooler, you may have stumbled across the term "marine cooler" and wondered what it means and what makes it different to a regular cooler. 
While it's not nearly as common a phrase as it was a few years back, you'll still find a few solid coolers marketed this way.
So what exactly is a marine cooler anyway?
Marine coolers are essentially just coolers that are designed to handle the conditions you're likely to find on a boat. This means they're typically well-insulated to keep ice cold throughout your voyage, UV protected and all-white to reflect sunlight, rust-resistant to handle exposure to saltwater, and with non-skid feet to prevent sliding around on deck.
The term used to be a lot more common prior to the release of high end roto-molded coolers like Yeti. When only cheaply made coolers were available "marine coolers" were marketed as a slightly better version of your regular cooler.
In recent years, high-end, roto-molded coolers, like Yetis and RTICs have all but replaced classic marine coolers on most boats and beaches — and as a result, are sometimes referred to as marine coolers in many boating circles as well.
What Exactly Is A Marine Cooler Anyway?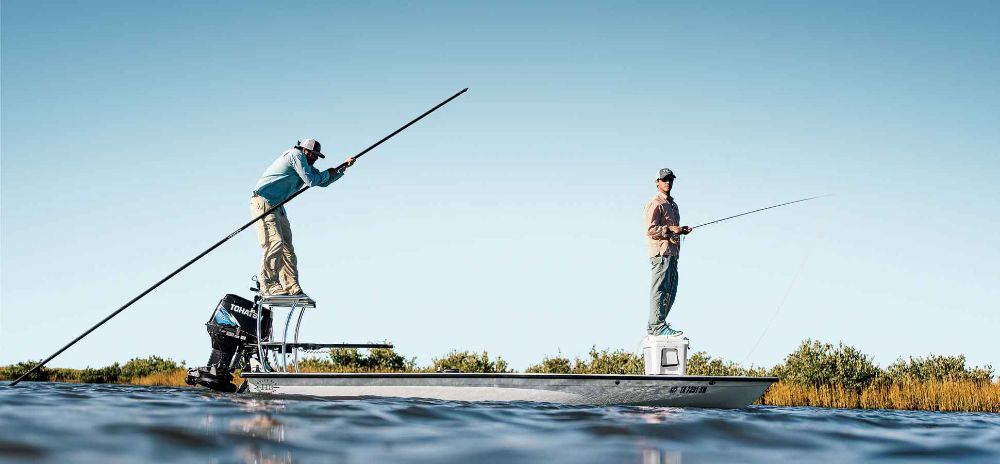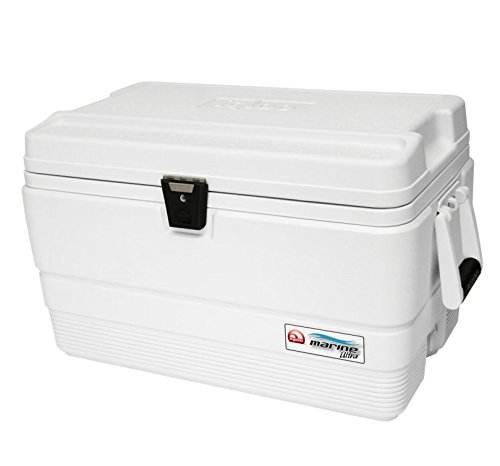 Marine coolers are essentially just traditional coolers with a few minor tweaks to help them better handle the extreme conditions you may find at sea.
While they're not necessarily their own distinct type of cooler — at least not to the extent that roto-molded and soft-sided coolers are — they do tend to share a few advantages over more basic coolers.
In recent years, the term has morphed a bit to also include any hard coolers that are equipped to handle a boat or beach, regardless of if that cooler is marketed as a "marine cooler" or not.
What Makes A Cooler A Marine Cooler?
ABOVE: One of the original cheaper marine coolers by Igloo
Coolers live a tough life on a boat or on a beach. 
They're normally out in pretty extreme temperatures, with the summer sun beating down on them, exposed to saltwater and other elements, jostling and sliding around on deck.
A cooler used on a boat needs to be able to withstand all the abuse, while still managing to keep your drinks ice cold throughout your voyage.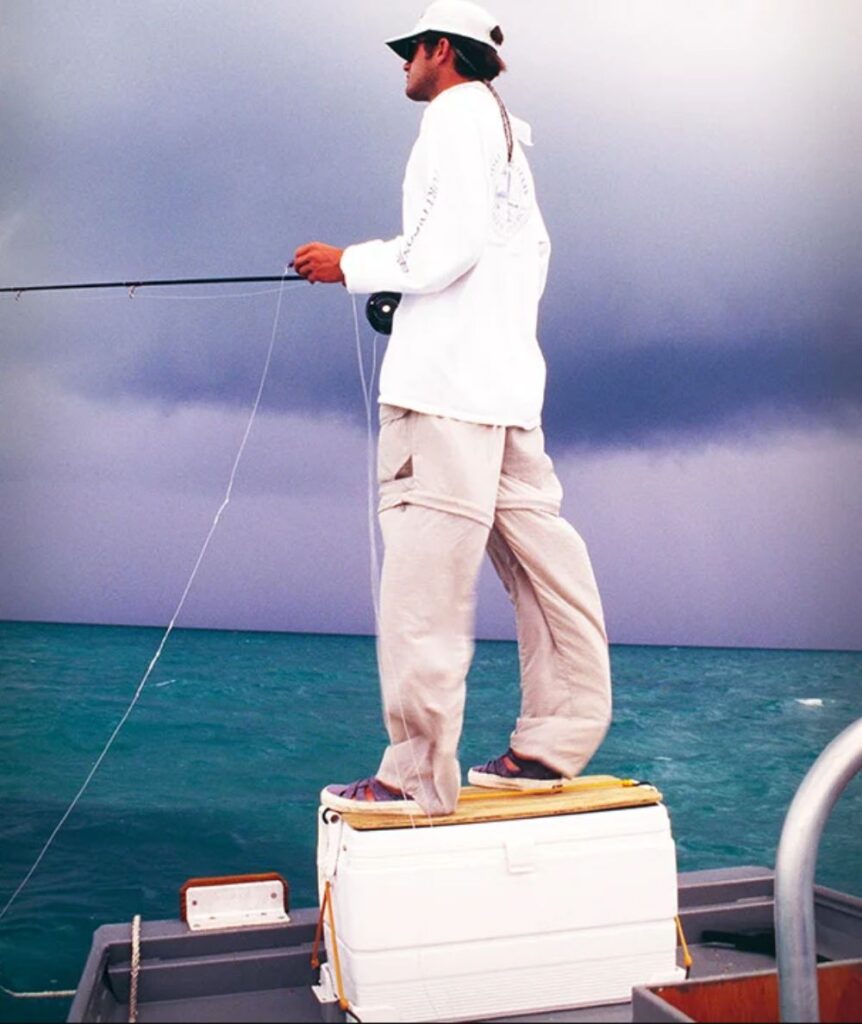 Marine coolers typically share a few common traits that make them better equipped to handle the seafaring life:
Marine coolers tend to have better insulation and ice retention than their standard counterparts. Which is important because they're normally used in harsh conditions and need to keep ice at least throughout the day, since refilling ice can be a challenge on a boat. 
Marine coolers tend to have some level of UV protection because they typically spend most of the day out in the sun.
Marine coolers are traditionally all-white, which helps reflect sunlight to keep the contents of your cooler cold for longer and also matches the most common aesthetic on most boats. 
Marine coolers are frequently exposed to saltwater, which greatly speeds up the formation of rust. To combat this, marine coolers typically have rust-resistant hinges, latches, and other metallic parts.
On the deck of a boat, you know that anything that isn't slip resistant or tied down is going to shuffle and slide. Marine coolers normally have slip proof feet and are tie-down compatible to help keep them in place throughout your journey. However, some older marine coolers don't feature this.
Optionally, many marine coolers also have a cushioned seat lid (you can never have too many seats on a boat) and measurement markings engraved on the lid ("how big is that salmon I just caught?").
Check out my deep dive on the differences between marine coolers and regular coolers to learn more.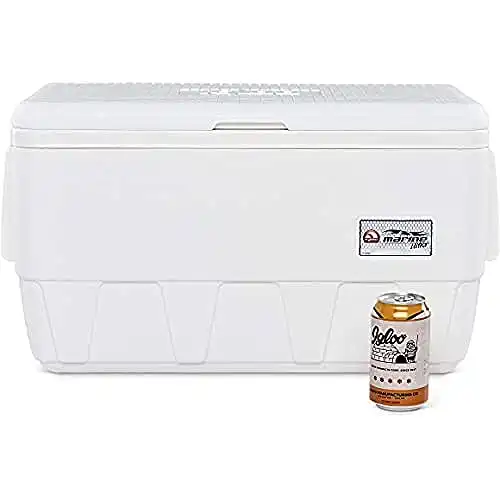 Igloo 36 Quart Marine Ultra Cooler
Ultraviolet inhibitors protect against sun damage
Ultratherm insulation in body and lid holds ice up to 3 days
Hinges made with Riteflex resin, an impact resistant, highly flexible, temperature and chemical resistant material
Rust-resistant stainless steel lid strap and screws are designed to survive harsh marine conditions
Non-slip, comfort grip swing up handles add comfort and improved grip in wet conditions
Buy Now at Amazon
Are Marine Coolers Still A Thing?
ABOVE: Igloo's new marine cooler is injection-molded and is very similar in performance and features when compared to other roto-molded coolers
When the term marine cooler was introduced, it was a clever way for Igloo and other cooler makers to market their 'premium' boating coolers. And to be honest, at the time, it was a helpful distinction. 
Nowadays, the lines are a bit more blurred.
If you consider what makes a cooler a marine cooler, most premium roto-molded coolers are actually much better equipped for a life at sea.
Take Yeti for example.

They don't market their hard coolers as marine coolers, but they still have better ice retention, are more weather resistant, and can withstand much more of a beating than a traditional marine cooler ever could. 
As coolers labeled "marine coolers" have mostly faded away, the term now broadly includes any coolers that work well on a boat — including Yetis, RTICs, and Pelicans, just to name a few. 
For me now when I see the term marine cooler I think "cheap regular cooler but slightly better". I would almost always opt for a higher-end roto-molded or injection-molded cooler if I actually wanted something with great performance to take on my boat.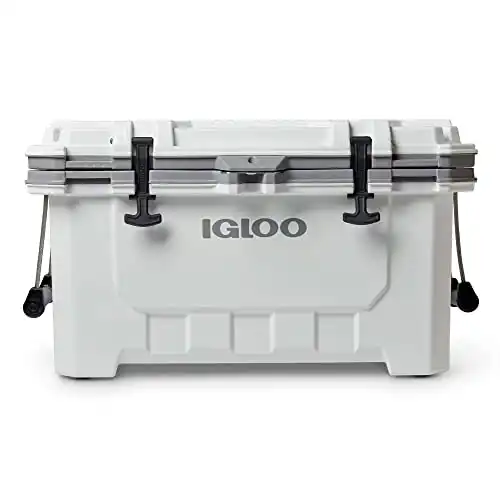 Igloo White IMX Cooler
Cool Riser Technology improves cooling performance by elevating cooler body away from hot surfaces
Injection-molded construction provides advanced durability
UV inhibitors prevent sun damage
Molded-in side handles give you the option for two-handed lifting & loading
Four self-draining cup holders are built into the lid
Buy Now at Amazon