I love weekend getaways in the outdoors, but whether I'm camping at a festival or I'm having a holiday with my kids I want our stuff (and ourselves) to be as safe and secure as possible.
While there isn't a huge likelihood that your tent will be invaded while camping or at a festival, it's always a possibility, and I've heard way too many stories of people having their stuff stolen in the night or while they are away from their campsite.
So having some sort of mechanism to secure your tent for a bit of extra security can be great for peace of mind and to deter potential thieves from stealing your stuff.
Tent locks, tent alarms and other tent-securing methods can help protect your belongings as well as prevent little ones from wandering out unnoticed, and there are plenty of options to choose from.
The good thing is most of the options are either free or extremely affordable.
The best tent locks and ways to lock a tent include:
Cable locks that are able to be threaded through your tent's zip loops (Luggage locks such Sure Locks are recommended).
The BASU Emergency Alarm works to both secure tent zippers together and alarm you if anyone attempts to open the zippers.
Shoelaces, keyrings, or twist ties that can be used to link tent zippers together through the zip loops.
Most thefts at campsites are thefts of opportunity. People looking for an easy steal. If you make your campsite just slightly difficult to steal from then robbers or more likely to move on to easier targets that seem less risky.
At the end of the day a tent is only going to be as strong as it's weakest link. A simple pen knife can cut through most tent walls. So locks can only do so much, but combining locks with alarms or sensor systems – plus getting friendly with your neighbor can go a long way towards keeping your stuff safe.
I personally go for convenience when it comes to securing a tent (and with most camping-related things), and I can tell you there are definitely pros and cons to each of these methods.
We'll start with some basic tips for keeping your tent and belongings safe wherever you are, and you should continue reading below to decide which tent lock will work best for you.
How to Secure a Tent and Belongings
Tent locks can be a great addition to your camping gear and they can ease the worry of unexpected guests (human and animal), but there are a few things to keep in mind when securing a tent and keeping your things safe, whether camping in a family park or at a festival.
Keep Your Exit Plan in Mind with Tent Locks
The most secure lock won't necessarily be the best lock when it comes to locking your tent overnight.
Complicated padlocks and other mechanisms are great for stopping outsiders from getting in, but they might end up causing issues for you if there's an emergency (whether it's a fire or a midnight bathroom rush).
If you decide on using a padlock, be sure that you are still able to make a quick escape if something were to go wrong.
Keep Valuables in a Safe Spot (Or Don't Bring Them at All)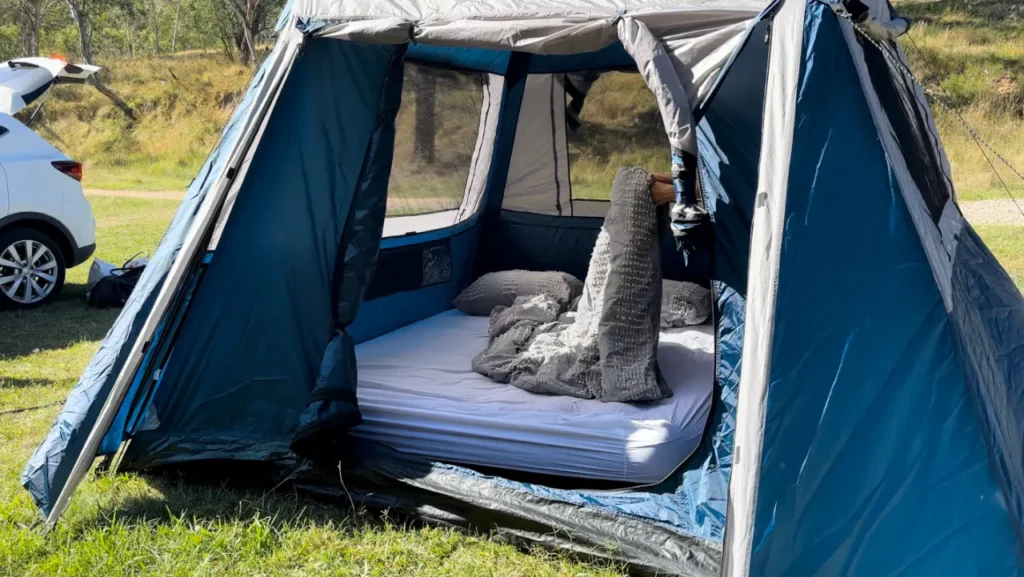 This one especially applies to festivals. Having a good spot to stash your belongings can deter any possible grab-and-go.
This can be anything from a diversion safe (like this decoy Dasani Bottle from Amazon), a snack box, or even digging a hole under your tent to stash your most valuable belongings.
At the end of the day, the most guaranteed way to keep belongings safe at a festival will be to not bring them at all, or as many suggest, leave them in your car.
Know Your Surroundings/Tent Spot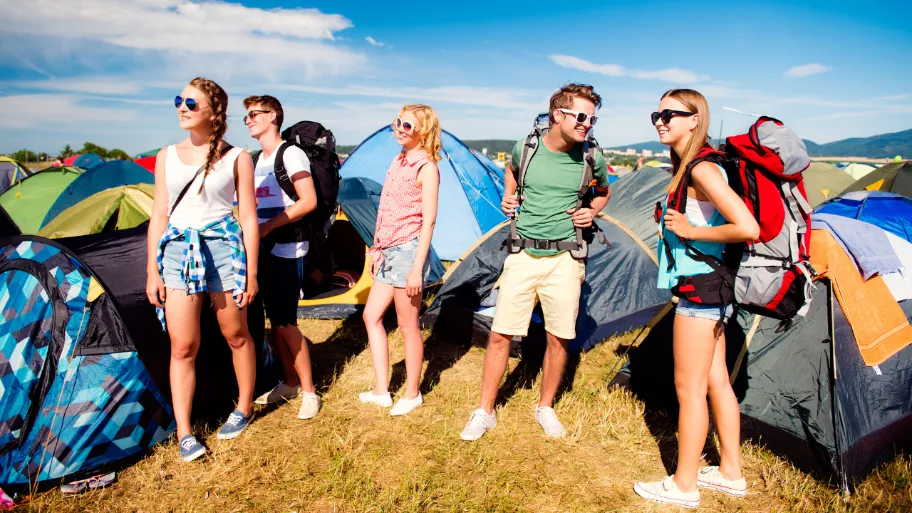 Whether your camping or at a festival, choosing a good spot to set up camp and knowing your surroundings will always play a factor in your safety.
I always try to stay clear of high-traffic paths while camping in the woods, as this can help keep attention and possible thieves away from your tent. Whereas at a festival a high trafficked path can actually be a thief deterrent.
It can also be helpful to get to know your neighbors whether it's at a campsite or a festival, as it can help give a little more peace of mind when it comes to the secureness of your stuff.
With these tips in mind, here are the best tent locks and ways to lock a tent.
1. Sure Lock Luggage Lock
Luggage locks are the best padlocks for tent camping due to the cable cord that's capable of fitting through a tent's zip loops. This makes it so that you can easily connect and secure your tent door's zippers together.
A simple combination lock like this one from Sure Lock is your best choice for tent camping. The lock only has three numbers on the combination, which is a plus when it comes to locking and unlocking conveniently.
Simply thread the lock's cord through each tent door zipper (after closing the tent) and secure the lock.
I recommend keeping the combination only one dial off, or even just keeping the correct combination on most of the time, as this makes it much easier to take off in the case of an emergency.
Also, as with any other lock, I always recommend tucking the lock inside your tent if you are locking it from the outside.
A big reason people steer clear of padlocking their tent is the fact that it advertises to potential burglars that you may have something of value, so tucking the lock will help prevent this from happening.
2. Masterlock Backpack Lock
The Masterlock Backpack Lock is mainly intended for backpacks and other bags, but it can actually double as a great tent lock.
The loop on the lock is small enough to fit through most tent zipper loops, and the three-dial combination means it's easier to attach and remove.
Similar to a luggage lock, all you need to do is open the lock and thread the ring end of the lock through each zip loop on your tent's door. Then just close the lock to secure it.
As with a standard padlock, I'd recommend only changing one dial at most to make it easier to leave when needed.
What I like most about this tent lock is that it's easy to carry around on bags or keychains and can be used to secure camping gear, so it comes with a few more uses.
3. BASU Emergency Alarm
Tent alarms are a great way of securing a tent and your belongings at night, and alarms like the BASU alarm can also double as a tent lock mechanism.
The alarm works on a pin system. When one end is detached from the device, the alarm will trigger.
To use the alarm as a tent lock, you'll need to attach each end to one of your tent's zip loops. While it does come with a carabiner to help with this, you may need an extra to attach it to both of your tent's zippers (you can also substitute a keyring or other similar items).
When someone (or something) attempts to open your tent's door by pulling the zippers apart, the alarm will be sounded.
While it does require some fidgeting to get it all set up, I like the simplicity of the alarm system itself and it can come in handy if you're camping in an area where there might be larger animals, or if you're worried about thieves at a festival.
4. Masterlock Travel Lock
This travel lock from Masterlock is another great option if you're looking for a cable lock to secure your tent.
I like that the lock is lightweight enough to not drag down a tent's structure, and it's even TSA approved in the case that you want to use it for other purposes like luggage (works great as a cooler lock as well).
The lock has a three-dial combination that you're able to choose yourself, and the cable is thin enough to easily fit through zip loops.
I also like the metal casing as it makes the lock durable for outdoor environments, and you should be able to get several years of use out of it.
5. Shoelace/Rope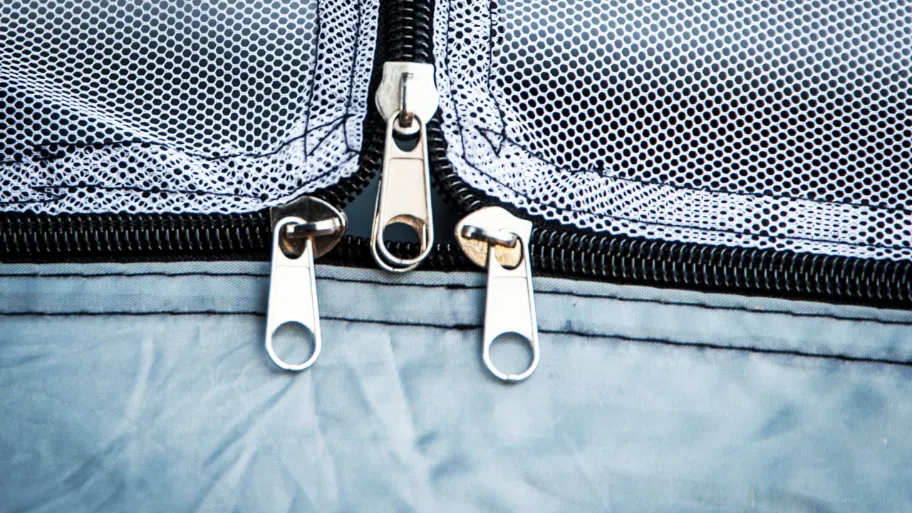 When it comes to crafty methods of locking a tent, shoelaces (or any thin rope material) will be one of the easiest and most convenient tricks available.
To use shoelaces to lock your tent, simply zip up your tent and thread your lace through each of the zip loops on your door. Then, tie a simple knot (I recommend a bunny ear knot for easy undoing) and your zippers will be secure.
I recommend a bunny ear/shoe-tying knot as this will make it much easier to undo if you're in a scramble to exit the tent.
This is one of my favorite methods since you're almost always going to have some sort of rope on you while camping, and if you don't want to go out and purchase a lock this is always an option.
6. Keyring
Keyrings work great as tent locks, especially in situations like festivals where you don't want to have to bring any extra items with you or use an actual lock that might draw attention.
As seen in the video below, all you need to do is attach a keyring to each of your tent's zippers, effectively securing them together.
This is one of my favorite tricks for locking a tent since keys are something you almost always carry with you, but as this comment points out, this method is a little bit harder to undo compared to others.
To make things easier for you in the case of an emergency, similar trinkets like a carabiner or paperclips can also be looped around zippers to fasten them together.
7. Twist Ties (Bread Ties)
I've wasted a few minutes of my life fidgeting with those tiny twist ties that come on bread loaves, but that annoyingness can actually come in handy in the case of locking a tent.
Grab a twist tie and thread it through each zip loop on your tent. Then just twist it securely just as you would a loaf of bread, and you have yourself a secured tent door.
This is a super simple and quick way to keep your tent zippers held together and it has the perfect blend of being just strong enough to keep the door closed, but not too strong to hold you up if you need to exit.
Just be careful if you have any genius toddlers, as they may be able to undo the tie if they want to make an escape (I recommend keeping your zippers near the top of the door).
8. Homemade Tent Lock/Alarm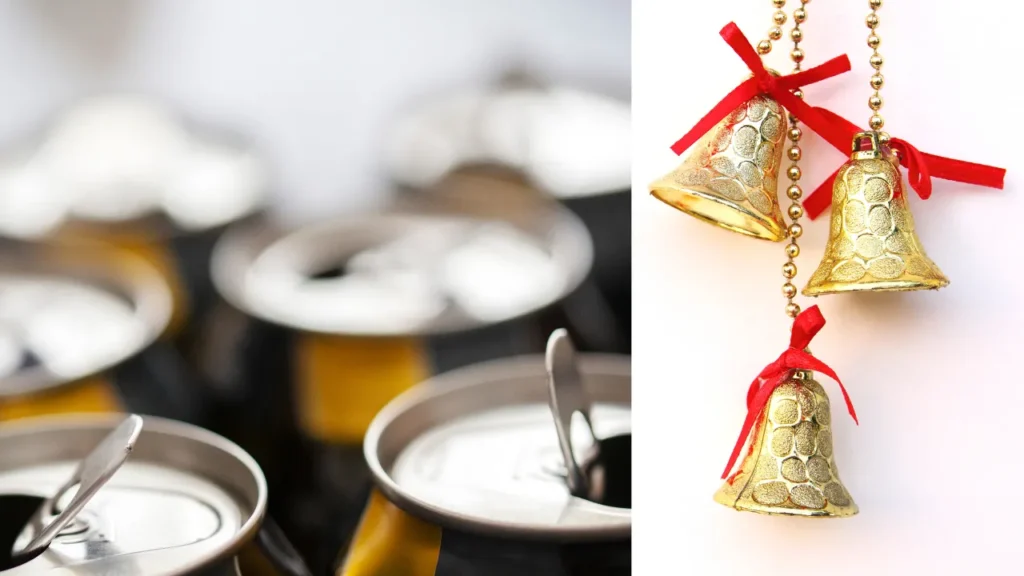 If you feel like getting crafty, there are several items you can use to create a makeshift tent lock/alarm at home.
This can be done by combining a shoelace, rope, keyring, or carabiner with anything that makes some noise (this guy suggests jingle bells).
You can also take some empty beer/soda cans and tie them together with some string, then attach them to your tent's zippers at night for a makeshift alarm.
Having the noise aspect is important for me as someone who likes to camp in the wilderness since animals won't be as skittish about a lock as they will be an alarm, so I definitely recommend adding a noisemaker if you're using any of the makeshift locks on this list.
9. Zip Ties
Zip ties are similar to duct tape when it comes to versatility, and one of the many things they can be used to secure is a tent door.
Just as with any lock, you'll thread the tie through your zip loops and pull to secure. However, make sure NOT to pull it completely to the end, or you might have a hard time getting it off later.
This is the most obvious downside of using zip ties as a tent lock, as you're likely going to need some scissors or a knife to cut it open when it comes time to leave.
You can try only securing it one knot down as you'll probably be able to pull it open, but this also makes it less secure in the case of anyone trying to get in.
10. KeySmart S Clip
In my opinion, the KeySmart S clip looks like it was tailor-made for locking a tent. It works sort of like a dual carabiner, as the two-sided clip can connect each of your tent's zippers.
Just hook each end of the S clip onto your zip loops to secure them together.
My favorite feature is that there's even a little slider to make sure that the gates can't be opened or come loose if anyone (or anything) is trying to force themselves in, making it secure while still being easy to undo.