I've always loved tent camping for the simplicity of it and the ability to get out in nature. But with that, you lose some of the natural comforts of home.
One comfort that you may feel is lacking is a sense of security. Especially if you're camping with kids like I do or if you're camping at a festival where drunk strangers may wander into the wrong tent.
A tent isn't exactly a stronghold like your home might be, but being able to lock it from the inside so you can feel safe and secure at night can really help you get a better night's sleep.
Luckily there are a few ways you can keep you, your kids and your stuff more secure in a tent by adding a lock at night.
Safe ways to lock a tent at night include:
Using a thin cord or lace (ex. shoelace) to tie your tent's zippers through the zip loops.
Use a tent lock to secure the tent's zippers together (usually cable or luggage locks will work best).
Use a keyring or a similar trinket (ex. paperclip) to link your tent's zippers together.
Use twisty or zip ties to connect your tent's zippers through the zip loops.
Before deciding on any of these methods, I always recommend considering your surroundings and situation. Locking your tent at night could prove more annoying than useful in the case of an emergency, fire, or bathroom scurry.
However, if you're worried about someone (or something) stumbling into your tent while you sleep, a tent lock can definitely keep them out.
The methods below each have their pros and cons but you should be able to find a method that suits you.
1. Use Shoelace/Rope to Tie Tent Zippers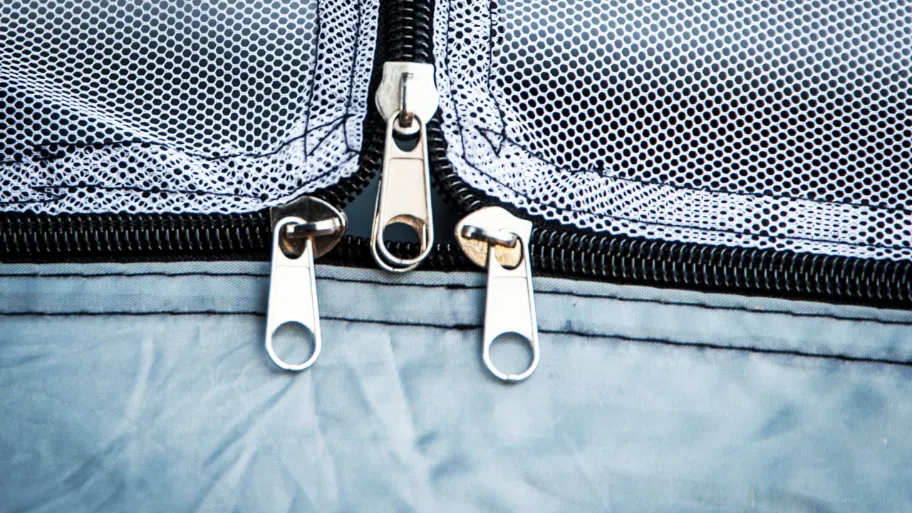 If you're worried about a middle-of-the-night emergency, a simple shoelace lock will be your best bet in terms of convenience and a fast exit. It's also one of the cheapest options on here.
You can use any type of paracord, string or twine. It doesn't have to be a shoelace.
The first step for using any of these tent lock methods is zipping up your tent completely so that the two (or three) zippers meet.
Then you'll take your lace or rope and thread it through each of the zip loops, tying a knot to secure (I'd recommend a shoelace bow knot for easy undoing).
This is usually the first method I recommend for camping or festivals, as it does a good job of keeping your tent door secure while still being super easy to undo when you have to.
You also don't need any special equipment for this and most tents have spare rope to tie and peg them down in the case of high winds. So you're pretty likely to have some sort of rope on you.
Remember, locking a tent at night is mostly to prevent petty theft and people accidentally entering after too many drinks, so the priority should almost always be the convenience of the lock – not the strength of the log.
Dedicated burglars can always just slash and grab, so in terms of tent locks we're looking for something that is secure enough to hold but easy to undo in emergencies.
2. Use a Tent Lock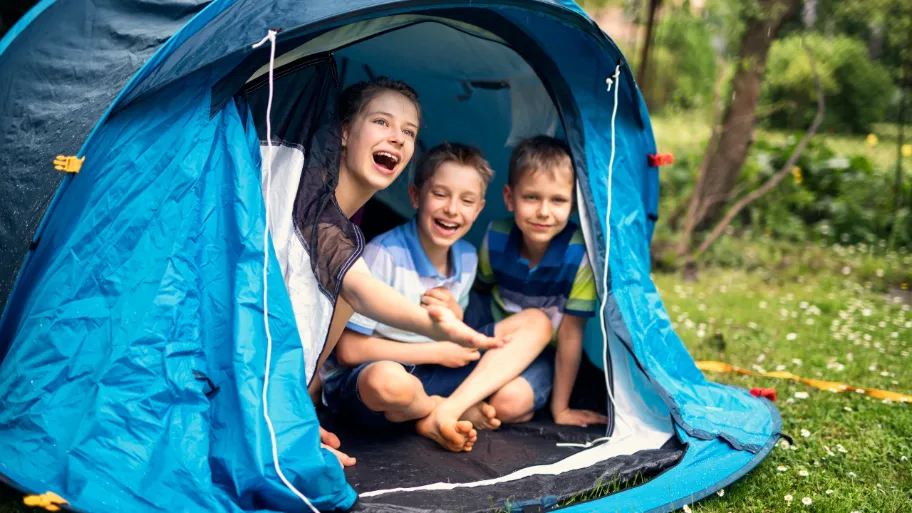 When I'm camping with my kids and they are staying in a tent by themselves (which my kids love) then I like to get them to lock their tent at night using a tent lock as it's easy for them to use and undo.
Tent locks are the most foolproof and secure way to lock a tent at night, and there are plenty of options to choose from.
I recommend using a combination padlock, as having a key will make it especially obnoxious to undo in the morning and possibly dangerous if you lose it. We all know how forgetful kids can be and you don't want them to accidentally lock themselves inside their tent without a key to get out.
My favorite locks for this purpose are corded locks (like this luggage lock from Amazon), as they will be easy to fit through zip loops and flex enough to secure easily.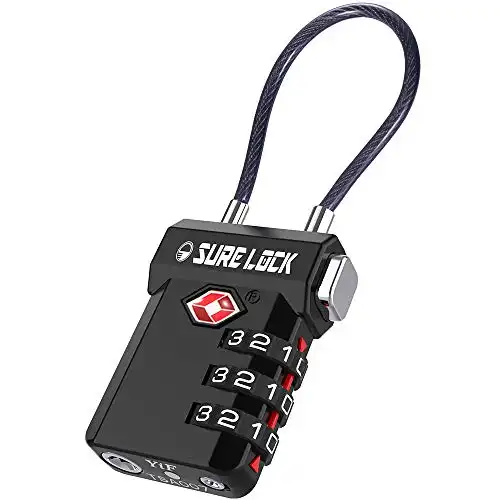 As with other methods, you'll loop the lock through each of your tent's zip loops and then secure it.
Some are hesitant to use tent locks as they can slow you in the case of an emergency or fire, and for this reason, you should always be careful when it comes to the combination.
It will be much easier (and safer) to keep the combination with only one dial off, or even leave it as is, that way you can unlock it quickly to exit.
For my fellow campers, I'd recommend checking out the Masterlock Backpack Lock. These work great for not only locking a tent at night but for securing bags and other belongings (keeping one on your keys is super convenient).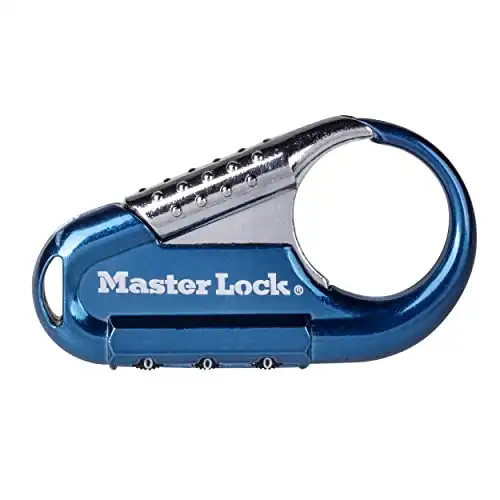 Remember that if you're at a festival, a padlock on your tent may be a sign to potential thieves that you have something valuable. Some folks are wary of using tent locks for this reason, but it can be avoided by tucking the lock inside the tent (or locking it from the inside) to conceal it at night.
Learn more about how to best lock your tent at a festival.
3. Attach Zippers Using a Keyring
Keyrings are a popular way of securing belongings at festivals while sleeping due to the fact that it's super convenient. If you're someone who doesn't like bringing a bunch of stuff along, all you'll need is your keys.
Start by zipping up your tent, then loop the keyring through each zip loop to effectively connect them. You can see how this is done in the video below.
I personally love convenient tricks like these for camping. However, as some people have pointed out, it can be a little hard to undo compared to other methods.
If you're worried about taking it off in the case of an emergency, a simple item such as a paperclip can substitute and be much easier to undo.
4. Secure Zippers Together Using a Twist/Zip Tie
Twist ties (like the ones on bread) are super quick to use and they can turn out to be surprisingly secure for locking a tent from the inside during the night.
Like other methods, you'll zip up your tent completely and loop the tie through the zip loops. Then just twist to secure.
I like this method for how fast the locking/unlocking process is, but just be careful if you have any super-genius toddlers that could possibly undo the ties in the middle of the night.
I typically keep the tent zippers all the way towards the top of the door when camping with little ones to avoid the chance of them wandering off on an adventure at whim.
Zip ties can be used in a similar fashion, however, my biggest problem with that method is the undoing process.
As you might expect, you'll need a tool to undo the zip tie when you need to exit (unless you're ripped).
I always carry a pocket knife on me while camping, but if you're at a festival this may not be the best method as you may end up stuck in your tent.