If you've ever woken up to the inside walls of your tent being completely soaked in condensation, you've probably been searching for a solution ever since.
While the answer is actually pretty simple — just lower the humidity level in your tent — figuring out exactly how to do so can actually be a bit of a challenge.
The good news is, a tent dehumidifier is an easy and inexpensive way to lower the humidity in your tent to prevent, or at least reduce, condensation.
But with so many different dehumidifiers to choose from and so few actually being targeted at campers, it can be tough to know which will help the most and which are actually worth the money.
The best tent dehumidifier depends a lot on how exactly you camp.
For backpacking, where you need something small and lightweight, Eva-Dry Renewable Mini Dehumidifiers strike a great balance between portability and efficiency. Or if you want something even smaller and more compact, Dry & Dry Moisture Absorbers are a slightly less effective but much lighter alternative. 
If you car camp with access to a generator or electrical outlet, it opens up the use of electric dehumidifiers — which are significantly more efficient than the absorptive dehumidifiers above.
For most situations, a portable compressor dehumidifier like the Pro Breeze 16 oz Mini Dehumidifier works perfectly for camping. But if you're camping in colder weather, you'll need to use a desiccant dehumidifier with a wider working range instead, like the Ivation 19. 
Below we'll take a closer look at the 6 best tent dehumidifiers on the market today, how much you should actually expect them to reduce the condensation inside your tent, and which type of tent dehumidifier works best for the ways that you camp.
1. Eva-Dry Renewable Mini Dehumidifiers (Best for Backpacking)
Renewable dehumidifiers work by using a powerful desiccant (typically silica gel crystals) to draw humidity from the air and trap it until it can later be "renewed", releasing the moisture elsewhere.
They're great for backpacking because they're small, lightweight, and don't require any electricity to work.
That being said, they're far from the most efficient dehumidifiers at lowering humidity quickly. While they can absorb plenty of moisture before needing to be renewed, they do so at a relatively slow pace.
Still, when weight and storage space in your backpack are a concern, they're one of the few realistic options.
My go-to are Eva-Dry's Renewable Mini Dehumidifiers. They're affordable (costing less than $15), weigh just over a pound, and Eva-Dry has a solid reputation for making dependable products.
Or if you'd like something a little more durable that you can just squish into the bottom of your pack and not really have to worry about, dehumidifier bags, like these by Zarpax, make a reasonable alternative. 
2. Dry & Dry Moisture Absorbers (Best for Ultralight Backpacking)
If you prefer to go ultralight when you backpack, Dry & Dry Moisture Absorbers may be more your style. 
Weighing in at less than half the weight of Eva-Dry Dehumidifiers and folding up to about ⅓ the size, Dry & Dry Moisture Absorbers are my choice for the best tent dehumidifier for ultralight backpacking.
While they're not quite as efficient as most renewable dehumidifiers, the trade-off is often more than worth it on those longer hikes.
And in my experience, the difference in adsorption is barely noticeable. 
3. DIY Tent Dehumidifiers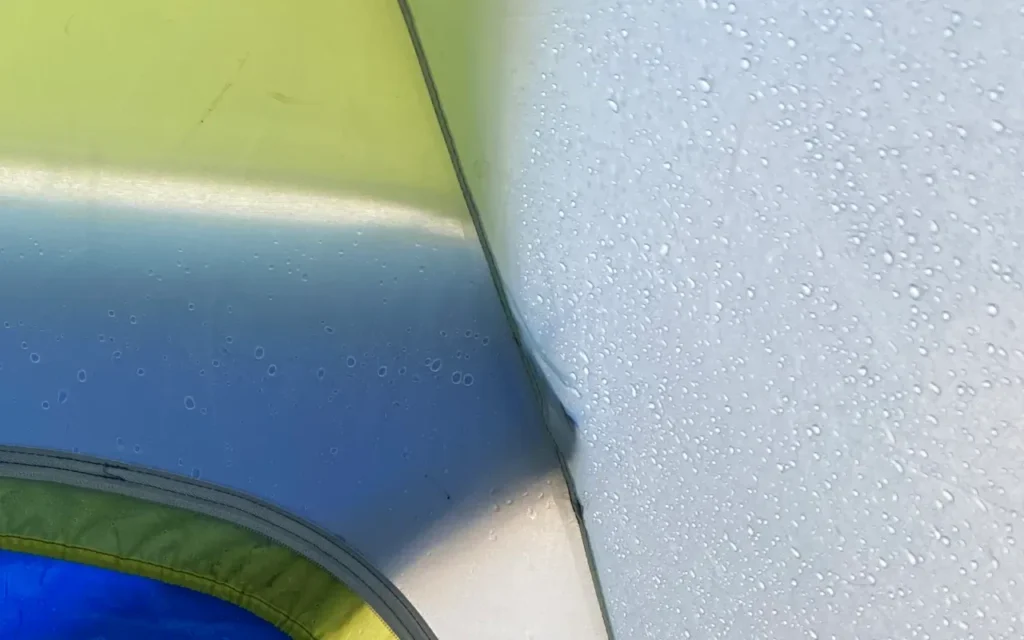 While the dehumidifiers above work great and are actually quite budget-friendly, it's not that hard to save a few bucks and make your own DIY tent dehumidifier instead. 
For a very portable dehumidifier, all you really need is a desiccant (like silica gel, charcoal briquettes, or baking soda) and a breathable pouch or wide-mouth bottle to keep it in.
Simply fill the container nearly full with the desiccant and place it open in your tent at night.
Or if you're car camping and want the most efficient DIY dehumidifier possible, nesting a bucket (with a few holes drilled in the bottom) full of rock salt in another bucket will draw moisture from the air much faster.
It's just kind of clunky and requires you to dump the bucket somewhat regularly, but draws moisture from the air significantly faster than the desiccants above.
4. Pro Breeze Dehumidifier (Best for Three Season Car Camping)
If you're car camping with access to a generator or electrical outlet, it opens up many more options since any portable electric dehumidifier is now on the table.
Generally, there are two main types worth considering for camping — compressor and desiccant dehumidifiers (not to be confused with the non-powered desiccant dehumidifiers listed above).
Compressor dehumidifiers pull in warm humid air, pass it over refrigerated coils to cause rapid condensation, which then collects as runoff in a sealed reservoir.
They're typically the first choice for camping (and home use) because they're way cheaper and remove considerably more humidity — at least when used in warmer temperatures.
I've used a Pro Breeze Portable Dehumidifier for the last few years, anytime I'm car camping in the summer, spring, or early fall. 
It's easy to use (just plug it in and switch it on), quiet enough that you can still hear the sounds of nature while it runs, and has consistently pulled enough moisture out of my tent for me to wake up to little or no condensation.
And as an added bonus, I keep it in my laundry room when I'm home to help keep things nice and dry there as well. 
5. Ivation 19 Desiccant Dehumidifier (Best for Winter Car Camping)
Desiccant dehumidifiers work by drawing in air and passing it over a desiccant wheel to collect moisture through adsorption.
They're a bit more niche than traditional compressor dehumidifiers thanks largely to their increased size, weight, and price tag, but they still have their uses — like when camping in the winter, where the temperatures drop below the operating range of compressor dehumidifiers.
The Ivation 19 is among the most affordable desiccant dehumidifiers on the market and, for camping, it's more than good enough to lower the amount of condensation in your tent.
6. Gewanolla Battery-Powered Camping Fan (Best Dehumidifier Alternative)
While not technically a dehumidifier, using a fan to increase the air circulation is arguably more effective at reducing condensation than even the best electric dehumidifiers.
The reason it works so well is because warm, humid air is moved away from the walls of your tent before it ever has a chance to cool below its dew point.
I've had great luck using a Gewanolla Camping Fan but really any portable fan will do. 
The only real downside is that you might regret having a fan blowing while you're trying to sleep on those particularly chilly nights.
How Effective Are Tent Dehumidifiers At Preventing Condensation?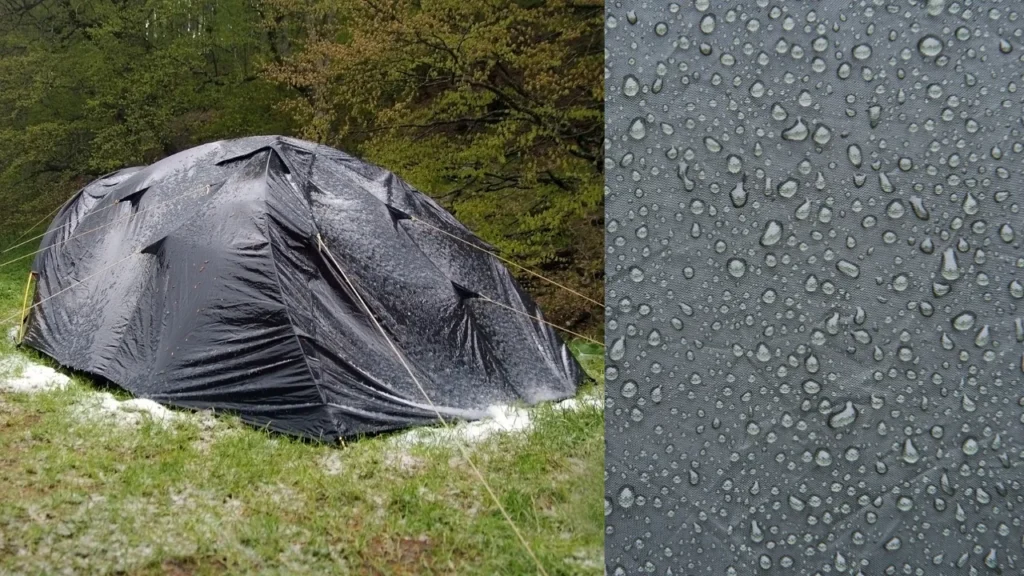 While a dehumidifier works great to keep your basement, pantry, or bathroom nice and dry, a tent is a much bigger challenge.
Think of it this way…
In an enclosed indoor space, the humidity level is more or less set (not completely, but close enough) — there's a certain amount of moisture in the indoor air that, once removed, isn't quickly replaced.
In a tent, on the other hand, you're dealing with air that's often starting off more humid to begin with, actively increasing in humidity through our breathing and wet clothing and gear drying inside, and constantly fighting with new, humid air entering the tent from the outside.
So does all that mean a tent dehumidifier is a complete waste of time and money?
No, not at all.
I've camped dozens of times with a dehumidifier and dozens of times without — and without question, I've consistently woken up to less condensation on the nights that I had one in my tent.
You just need to consider it a part of your overall plan to combat moisture and condensation in your tent, instead of relying on it as the sole method. If you do, you're sure to end up disappointed.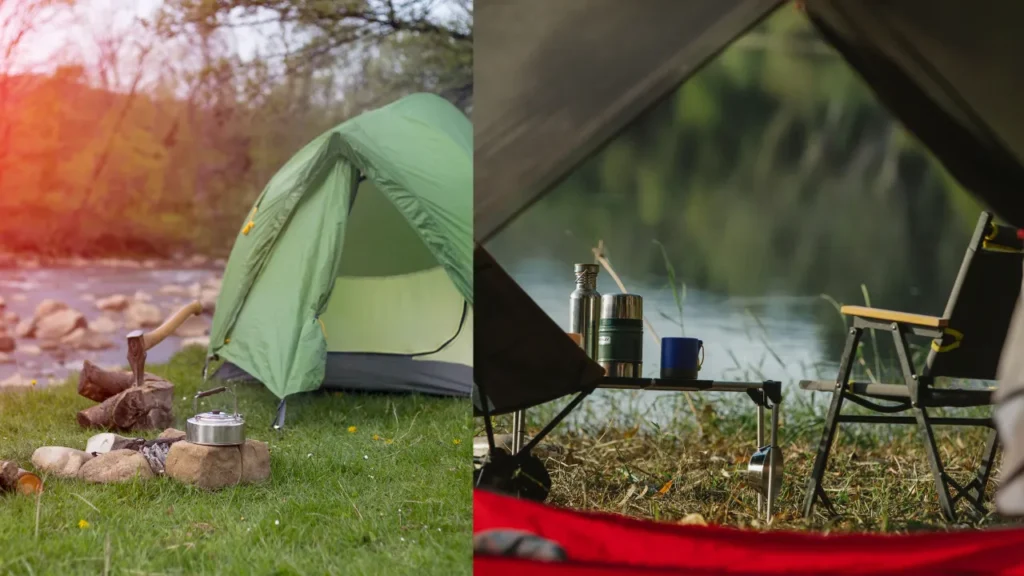 In addition to your tent dehumidifier:
Choose a high-quality tent made of breathable materials.
If weight is no concern, always opt for a double-wall tent to maximize airflow through your tent.
Ventilate your tent as much as possible — by rolling up sections of your rainfly that aren't in use, opening your tent's flap whenever possible, and ensuring that your tent is vented on each side, to allow a cross breeze.
Don't add additional moisture to your tent by cooking, boiling water, or storing wet clothes and gear inside it.
Set up camp in an intelligent way — on high-ground, using a groundsheet, away from water, under a tree (check for broken or dead branches overhead), with your tent flap facing the oncoming breeze.
Check your tent for holes or tears that may allow moisture to enter.
Wipe away condensation that still occurs with a hand towel (and store it outside the tent or in a dry bag).
For a deeper dive on the other ways to reduce condensation in your tent, check out my complete guide on tent condensation solutions.