One thing that can really make your Hydro Flask stand out for the crowd is to put stickers on it. People love to decorate their bottles with bright stickers to make it look more fun and unique.
I see a lot of people put stickers on their water bottles and coffee mugs, even premium models like Hydro Flasks. But can you really put stickers on a Hydro Flask and how do you do it?
Putting stickers on your Hydro Flask is a great way to show off some personality where others can see it. It's best to use high-quality vinyl stickers because they are dishwasher safe, just like Hydro Flasks. Vinyl stickers are more durable, too, but if you ever need to remove them you can use a blowdryer to heat them up and minimize sticky residue left behind.
If you're going to put stickers on your expensive Hydro Flask, it's worth doing it right.
Keep reading for all my tips for how to keep stickers on your Hydro Flask looking good for a long time.
What Are The Best Stickers For Hydro Flasks?
When it comes to putting stickers on your Hydro Flask the type and quality of the stickers matter. Don't just throw on any plastic or paper sticker and expect it to look good and last a long time.
The wrong stickers will fade, crinkle and peel off and can make your Hydro Flask look worse than if you'd never put stickers on it in the first place.
The best stickers for Hydro Flask bottles are high-quality vinyl stickers as these are waterproof, dishwasher safe and are unlikely to fade or peel. They are also easy to remove if you ever decide to freshen up your Hydro Flask or want to replace them with new stickers.
You want to avoid paper stickers as these will not wash well and will fade, peel and begin to break over time. Plastic sticks also have a tendency to peel off when you wash your Hydro Flask and they can leave a sticky residue.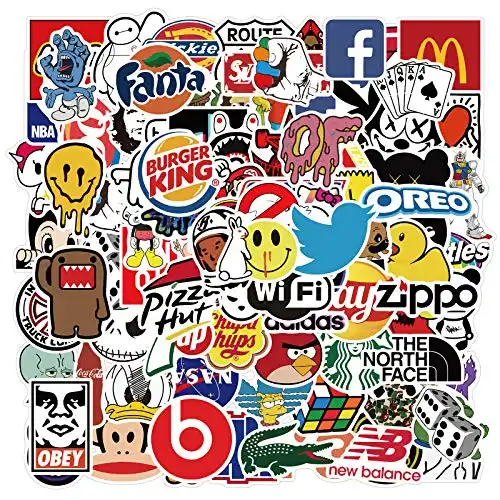 Waterproof Vinyl Stickers (101 pieces)
These trendy stickers are made from high quality vinyl PVC. Waterproof and UV resistant these stickers won't fade in the sun. Easy to stick repeatedly or peel off without any annoying residue. Features some of the coolest brands and backed by a 100% satisfaction guarantee.
Buy Now at Amazon

Will Stickers Ruin Your Hydro Flask Bottle?
You might be worried that putting stickers on your Hydro Flask might ruin the bottle underneath, making your bottle look terrible if you ever decide to remove the stickers. But this isn't the case.
Placing stickers on your Hydro Flask bottle will not ruin the underlying paint on your Hydro Flask and can actually protect your Hydro Flask from damage. The strong powder coated paint won't peel off with most stickers, just be careful not to use sharp objects when removing your stickers as this can scratch the paint.
Adding stickers to your Hydro Flask can actually protect it from external scratches and damage. Just like how the Hydro Flask Flex Boot protect the base from damage.
The stickers provide an outside protective layer over your Hydro Flask and minor scratches will occur to the stickers, not the bottle itself.
You just need to be careful when removing the stickers. Heat shouldn't be an issue but if you're trying to scratch off sticker residue with something sharp you may scratch the underlying paint.
Step 1: Clean Your Hydro Flask Well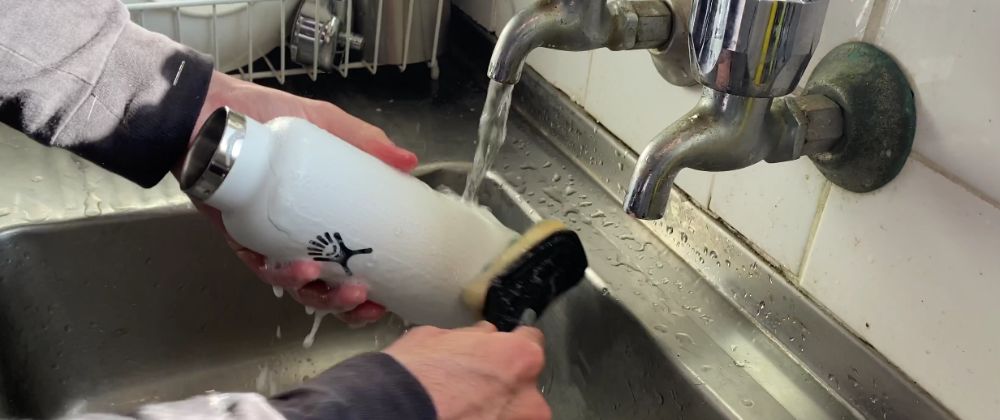 Before you apply any stickers, you need to make sure that your Hydro Flask is clean and dry. Dirt, grime, and moisture can cause bubbles in your stickers or make them fall off.
Hydro Flasks are dishwasher safe, so that's a great option, or you can use soap and hot water to wash by hand. Whatever you do, make sure to dry the bottle well before you apply any stickers.
Step 2: Select Your Stickers
For best results, you should only use high-quality vinyl or plastic stickers on your Hydro Flask.
Vinyl is best because these stickers are dishwasher safe, durable, and tend to have a nice glossy appearance.
These will last a long time, keep your Hydro Flask easy to clean, and look just as good as the colorful paint of your Hydro Flask.
Step 3: Plan Your Design
There are all kinds of stickers out there
If you want your Hydro Flask to look great when you are done with it, I recommend planning ahead which stickers you will use and where you want to put them.
Think about the size of the stickers, whether you want them to wrap around the curve of the bottle or run top-to-bottom, and how they match with your Hydro Flask's paint color.
I like to leave a little "breathing room" in between stickers so that the paint underneath is still visible and all of the stickers are easy to read or see. However, some people like to overlap the stickers and cover the whole bottle – it's up to you!
Step 4: Apply The Stickers To The Hydro Flask
When it comes to stickering your Hydro, slow and steady wins the race.
Work on one sticker at a time. Carefully remove the backing (I like to start on one edge of the sticker, apply this to the surface, and then peel the remaining backing from the sticker as I apply it).
As you apply the sticker, make sure that it is nice and straight (if this is what you are going for). It's okay to peel it up and start over, as long as you haven't stuck it on completely.
Once the sticker is in place, smooth it from the middle out to the edges to flatten out any bubbles or creases. You can even slide a credit card over the surface like a squeegee to work out any stubborn bubbles.
Step 5: Enjoy!
Repeat Step 4 for as many stickers as you are putting on the Hydro Flask until you are all done. If you want to add more stickers later, just clean the bottle well before you start.
Your Hydro Flask is ready to go and full of personality!
As an added benefit, the stickers should help protect your Hydro Flask from scratches and might make it a little quieter when you bump it on things.
Can You Wash a Hydro Flask With Stickers?
You might be a bit hesitant to wash your Hydro Flask after placing stickers on it, but if you chose the right stickers you shouldn't be.
It's safe to wash your Hydro Flask with vinyl stickers on it. Vinyl stickers are waterproof, peel resistant and dishwasher safe so they shouldn't be affected by washing. However, paper and plastic stickers may peel or fade when washed.
If you want to be on the safe side it's a good idea to hand wash your Hydro Flask bottle if you have stickers on it.
Why Do People Put Stickers On Their Hydro Flask?
You might have seen a lot of people covering their Hydro Flasks in stickers and wondered what all the fuss was about. Why are people adding so many stickers onto their Hydro Flasks?
People add stickers to their Hydro Flask as it's a great way to make their bottle look more exciting and unique. You can express your personality with stickers and good vinyl stickers also protect the bottle from scratches and can be removed whenever you want.
Stickers are a super cheap and fun way to add some flair to your Hydro Flask bottle. Given the Hydro Flask brand is know as being lighthearted and fun with their bright colors it makes complete sense that people would want to have fun with their bottles by placing stickers on them.
What Are Hydro Flask Stickers Made Of?
Most Hydro Flask stickers are made from a durable vinyl also known as PVC. They are strong, waterproof and UV resistant and last around 5-10 years depending on how well they are applied and how often you use your water bottle.
Click here for more details on how vinyl stickers are made
How To Make Sure Your Hydro Flask Stickers Don't Come Off or Peel
If you're putting stickers onto your Hydro Flask you want to make sure they don't peel off as this will both look bad and be annoying.
If you're finding that your stickers are peeling off here are a few things you can do to make sure they stick for the long term.
Buy High Quality Vinyl Stickers
The best way to ensure your stickers don't come off your Hydro Flask is to invest in high-quality vinyl stickers.
Vinyl stickers are waterproof and peel resistant and should last up to 5-10 years depending on how often you use and wash your Hydro Flask
Poor quality stickers use cheaper adhesives and are more likely to peel.
Overlap The Stickers
Individual stickers can be more prone to peeling off your Hydro Flask but when you place layers of stickers on your bottle over overlap them they can be less likely to peel off.
At A Layer of High-Quality Packing Tape On Top
One thing you can do to protect your stickers and stop the peeling is to add a layer of clear high-quality packing tape over the top of your stickers.
You'll want to take your time with this working your way from the bottom up, one layer at a time.
Use a thick packing tape and overlap the layers slightly. This will provide good protection for your sticks but should also come off when you decide to remove your stickers.
Use a 2-Part Epoxy
For a more permanent solution you can cover your stickers in a 2- part epoxy resin.
Use an old toothbrush or disposable paintbrush to apply the epoxy making sure to cover the entire outside of the water bottle (even the base).
If you are just protecting individual stickers then you can just put the epoxy over the sticker, with a little bit of overlap onto the bottle, but you don't need to do the entire bottle.
This will set clear and protect your stickers. The downside of this method is it's difficult to remove.
Use a Spray Adhesive Underneath Your Stickers
For extra stick you can clean and dry your Hydro Flask and then apply a spray adhesive to your bottle before you place the stickers on top.
The 3M Spray Adhesive #77 (at Amazon) is recommended by some people for Hydro Flask stickers.
The downside of this is it will make your stickers more difficult to remove when you do want to change things up.


How To Remove Stickers From Hydro Flask
To remove stickers from a Hydro Flask, you can start by trying to peel it off slowly with your fingernail. Of course, this method isn't always enough.
You can try using a hairdryer to warm up the glue on the back of the sticker before you peel. This should work especially well on vinyl stickers.
You can combine this method with a stiff scraping tool, such as a credit card or a plastic putty knife. I recommend using plastic to avoid scratching the paint on your Hydro Flask.
If you are removing paper stickers, it should work well to soak the Hydro Flask in water for a few hours, then attempt to peel or scrape the stickers off.
Click here for my full guide on how to remove stickers from your Hydro Flask
How To Remove Adhesive From Hydro Flask
If you get the sticker off your Hydro Flask but you still have adhesive gunk on the bottle, what do you do? Your best bet is to use isopropyl rubbing alcohol to remove the glue.
Start by pouring a little bit of isopropyl alcohol onto a rag or a paper towel. Press this to the affected area and rub in circles with a good amount of pressure.
Follow up the alcohol by scraping with a credit card or another sturdy plastic tool.
If this doesn't do the trick, try putting a little more rubbing alcohol on a rag or paper towel and wrapping it around the Hydro Flask to soak for 10-20 minutes. This should loosen up the adhesive enough for you to remove it.
Can You Replace The Stickers On A Hydro Flask?
If you want to remove some or all of the stickers on your Hydro Flask, you can follow the steps above for removing stickers and adhesive from the bottle.
Once your old stickers are removed, you can put new ones in their place or just leave the Hydro Flask plain again.
You might also consider just putting new stickers over the old ones as they wear out. This can build up quite an interesting "skin" of stickers that you have collected from all over the place.
Can You Use Paper Stickers On A Hydro Flask?
I don't recommend using any paper stickers on a Hydro Flask. They are likely to scratch, fade, or look generally bad after some use (especially going through the dishwasher).
If you really want a certain paper sticker on your bottle, you can apply some high-quality clear packing tape over the sticker to keep it in place and protect it. Good, clear tape will provide the same benefits as vinyl stickers but it should also be easy to remove if you want to later.