If you want to buy a Hydro Flask you'll naturally want to look on Amazon to see what the prices are on there and if you can get your free prime shipping. But you might be worried about fakes and be asking is Amazon an Authorized Hydro Flask Dealer?
You want to make sure you get an authentic product and a real Hydro Flask, not a fake one.
Well the good news is they are.
Tall Ridge is the exclusive authorized dealer for Hydro Flask products on Amazon. So "Amazon" isn't an authorized dealer but Tall Ridge is and almost all Hydro Flask products sold on Amazon are authentic.
See the authentic Hydro Flask store at Amazon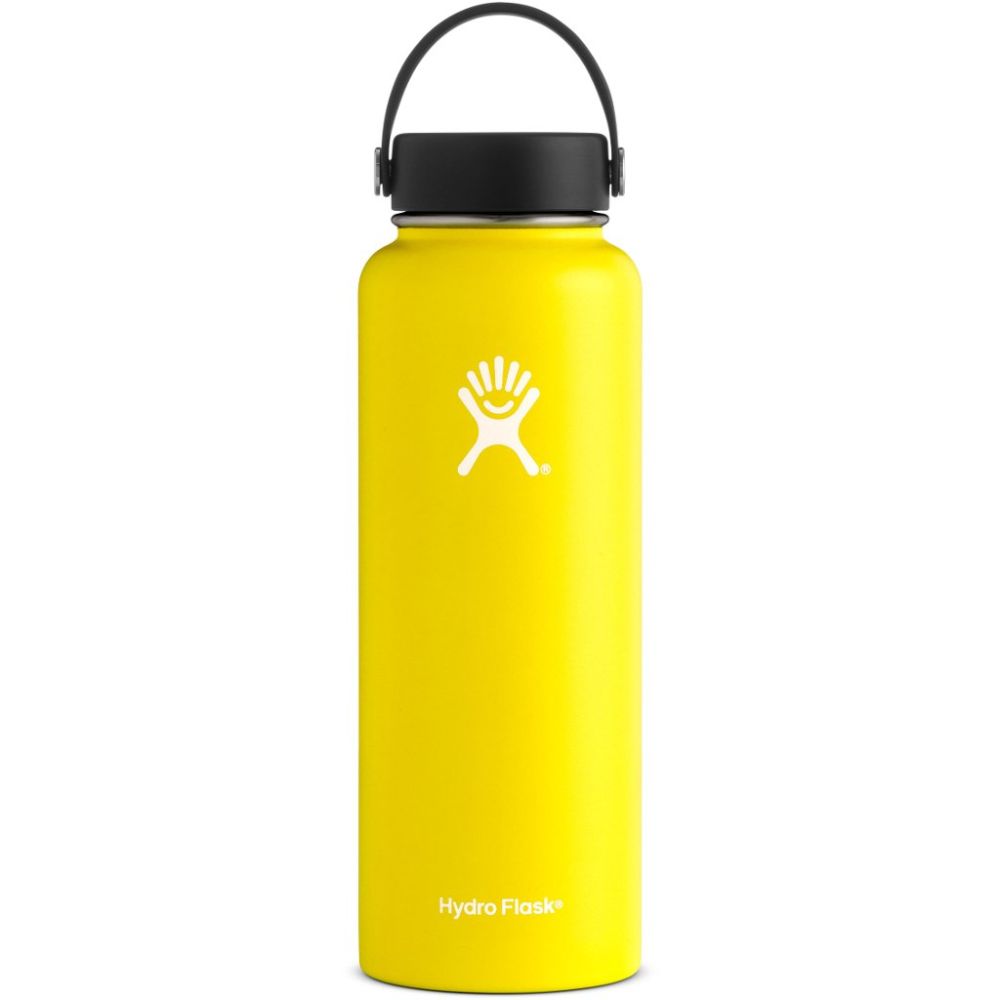 This is good news if you want to get a Hydro Flask from Amazon and you can be assured of its quality. But how do we know Tall Ridge are an authorized Hydro Flask seller?
Is Tall Ridge an Authorized Hydro Flask Seller?

You may be surprised to buy a Hydro Flask on Amazon and see that it was sold by Tall Ridge but fulfilled by Amazon.
Given the prevalence of fake Hydro Flasks being sold out there on the internet it's wise to ask whether or not Tall Ridge is an authorized Hydro Flask seller.
The good news is they are. In fact they are the only seller authorized to sell Hydro Flask bottles one Amazon.
Tall Ridge is an authorized Hydro Flask seller and they are actually the exclusive seller of Hydro Flask products on Amazon. No other seller is allowed to sell current Hydro Flask products on Amazon.
How Can You Be Sure Tall Ridge Is An Authoized Hydro Flask Seller?
I wanted to do some digging and actually find proof that Tall Ridge is selling authentic and real Hydro Flask bottles on their website.
It turns out they are and here's the evidence I found to back it up:
Tall Ridge's Website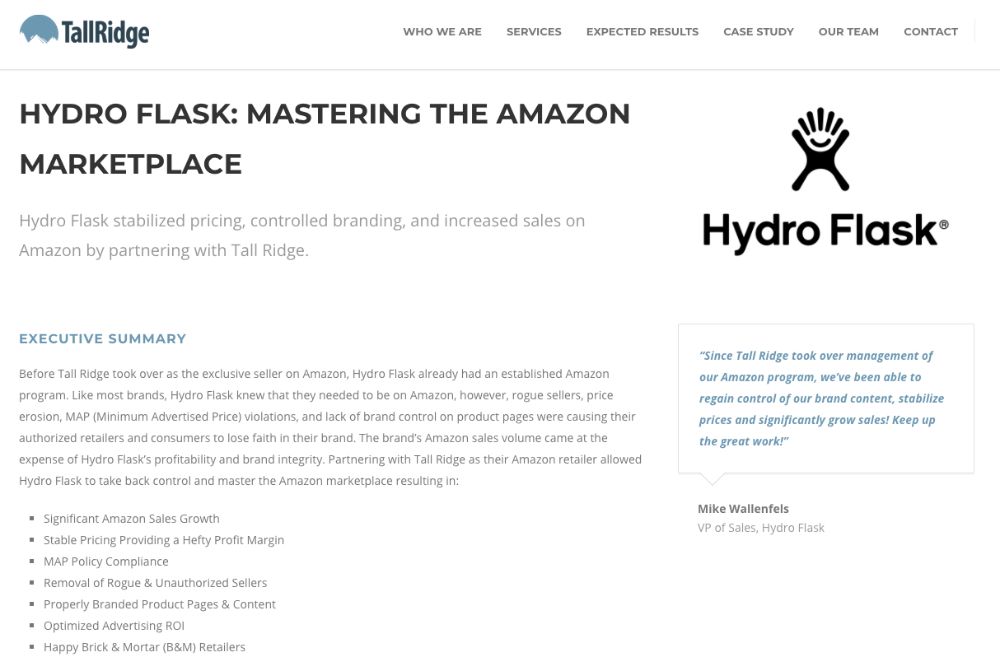 Tall Ridge is a different company to Hydro Flask. From their website it appears they specifically focus on helping companies to increase their revenue and profit through Amazon.
Their website features this case study about their success taking over as the exclusive Amazon seller for Hydro Flask products.
Tall Ridge's Amazon Store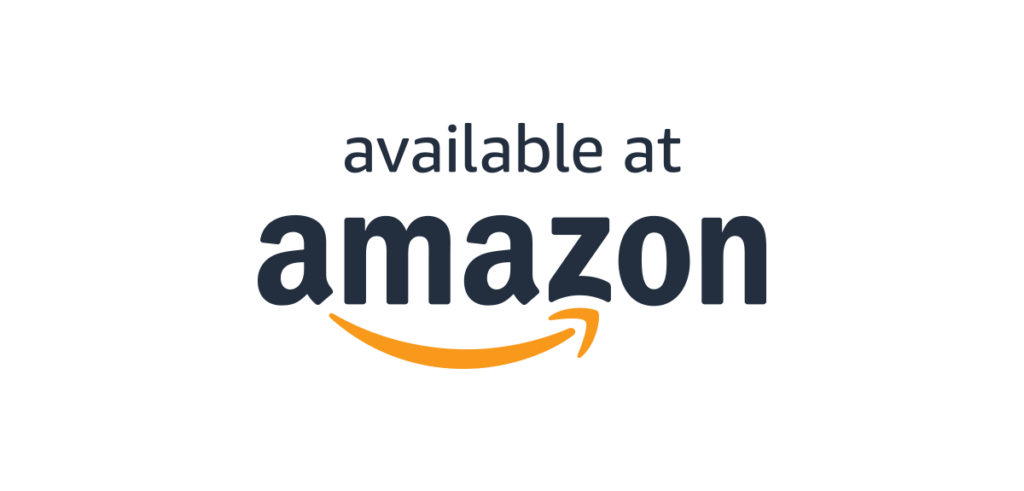 Tall Ridge is an extremely highly rated Amazon seller with a 99% positive rating and over 8,000 ratings in the last 12 months alone.
You can see Tall Ridge's Amazon profile here which shows those statistics.
The list of products Tall Ridge sells on Amazon and you can see that they sell Hydro Flask products.
When you click on these products it shows that they are in fact sold by the brand Hydro Flask and not some third part company.
Tall Ridge also sell products from the brand OXO, which is owned by Helen of Troy – the same public company that owns Hydro Flask.
Sellers Ratings

There is a website that ranks the best and most reputable sellers on Amazon. You can see here that Tall Ridge has a very high seller ranking and is in the top 400 at the time of this writing.
On the website they say:
Tall Ridge is a Top Rated seller trusted by more than fourty thousand Amazon.com customers in the US.
They sell in Health & Household, Home & Kitchen and Industrial & Scientific departments from Hydro Flask, SOLE, Sole, MODE, Adventure Medical Kits and other brands. They offer Prime shipping for the hundreds of products they have in stock.
The website also says:
Seller rank is based on the number of positive reviews received during the last 30 days.
So this makes Tall Ridge look even more legit.
Responses To Customer Questions
There are a lot of customer questions about Hydro Flask bottles and often the seller will get in there and answer those questions.
When a seller answers a question (as opposed to a regular person answering the question that isn't affiliated with the product) there is a "Seller" badge/link next to their name.
For a lot of the questions you can see "Wendy from Tall Ridge here" answering questions and the account is "Tall Ridge" and the seller badge is right there. See an example of it here.
Customer Anecdotes
A customer on this reddit post spoke about the issues they had with their Hydro Flask when it was delivered it was deformed during shipping.
They spoke directly to Hydro Flask customer support about their issue and said this:
Also, also I did find out (maybe this is common knowledge) that Tall Ridge is the official reseller for Hydro Flask, so at least I know my stuff is not counterfeit.
Does Amazon Sell Real Hydro Flasks?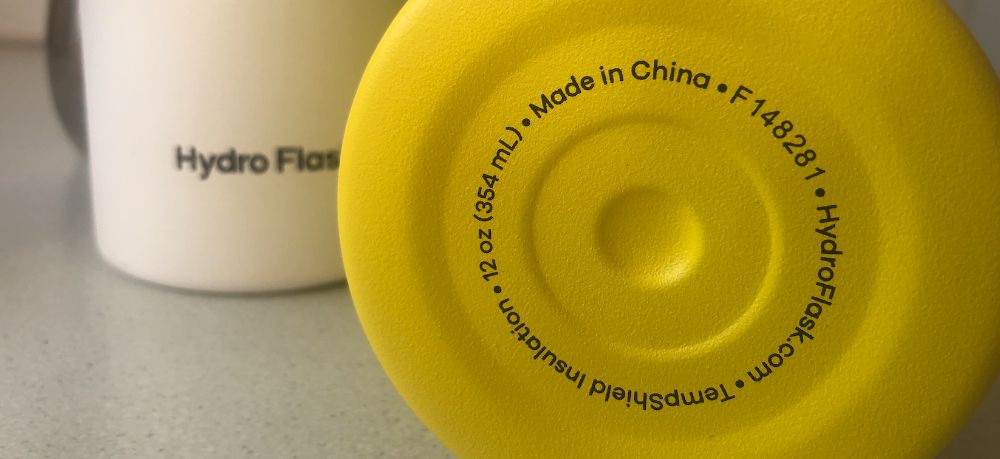 Given that Tall Ridge are the exclusive seller of Hydro Flask products on Amazon then yes Amazon does sell real Hydro Flasks.
Tall Ridge state on their website they were able to achieve a 99% Reduction in the Number of Unauthorized Sellers.
This means that only a teeny tiny amount of unauthorized Hydro Flask sellers are selling fake products on Amazon.
It's important to note that Hydro Flask bottles (even authentic ones) are made in China, not in the USA.
Whereas in the past this was more commonplace this is no longer the case and Amazon is a trusted seller of Hydro Flask products.
See the real Hydro Flask Amazon store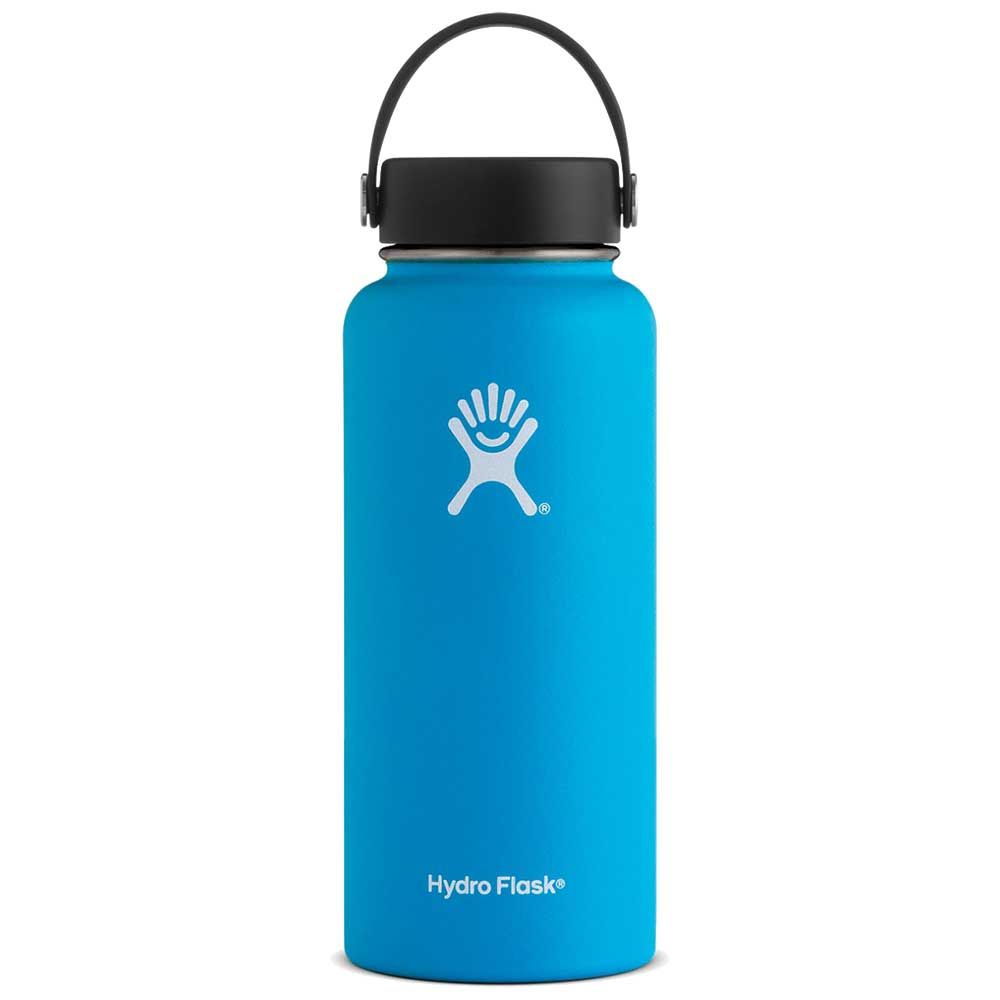 Does Ebay Sell Real Hydro Flasks?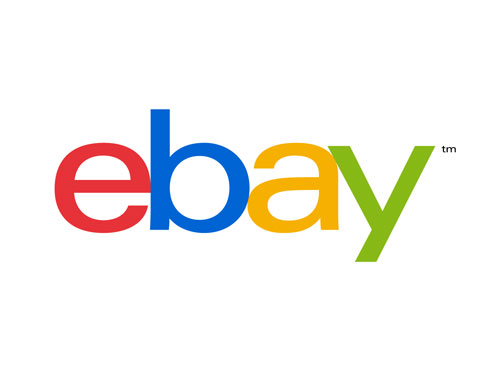 Ebay is different and more of a wild wild west when it comes to real and fake Hydro Flasks. So does Ebay sell real Hydro Flasks?
I've had a look through a lot of the listings and something that seems to pop up even on the listings that say "official authentic" is the fact that these products are coming from China.
Standard Shipping from China/Hong Kong/Taiwan to worldwide
This does not seem legit to me.
The majority of Hydro Flask products sold on Ebay are fakes and are not sold by authorized dealers. The exception to this is used Hydro Flasks or limited editions from real sellers.
If they are cheaper than on Amazon on Hydro Flasks websites or colors that never existed they are most definitely fakes.
This reddit comment said it best:
The only eBay and amazon sellers I would trust are actual store retaillers that have their own website/standalone stores as well.
The exception I would add to that is some of the listings clearly made by individuals (not businesses) that are selling used or limited edition Hydro Flasks where you can clearly see a picture of the real product you are buying not a fake.
See a full list of the old, discontinued and limited edition Hydro Flask color options