When looking at Cordova coolers vs Yeti we discovered that Cordova coolers are more expensive than Yeti but have a few unique features that make them worth consideration.
Cordova coolers are a brand new entrant into the roto-moulded cooler market and are battling against coolers like Yeti, Pelican and Engel to be seen as the best cooler on the market. So are they better than Yeti?
In this head-to-head comparision we'll look at the similarities and the differences of the Cordova range and the Yeti range so you can decide which cooler is going to be best for you.
About Cordova Coolers
Started in June 2016 (see announcement post) by 3 extreme outdoor enthusiasts (Scott Campbell Jr., Mike West and Steve West) this cooler claims to fit the needs of adventurers in ways that other coolers fall short.
Similarities Between These 2 Coolers
Before we get into the unique features of the Cordova cooler it's important to quickly note the ways in which these coolers are they same.
Both coolers are roto-moulded, bear proof coolers with at least 2 inches of insulation all around. They both have a commercial grade gasket, rubber latches and non-stick rubber feet.
Most importantly both keep ice longer than a standard cooler.
Cordova vs Yeti: The Differences
Aluminum Handles with Inbuilt Bottle Opener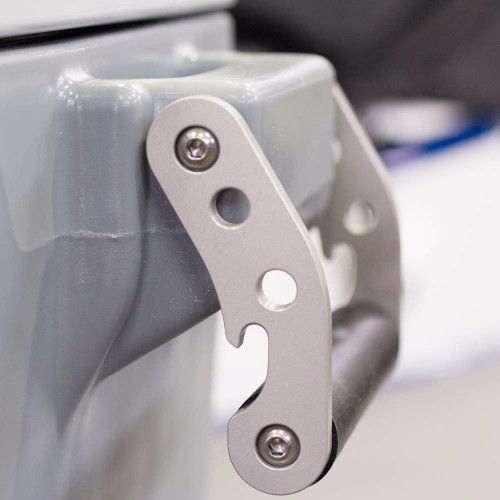 The Cordova has carry handles unlike any other cooler on the market. Rather than being made from plastic or nylon rope they are made from strong aluminum with a rubber grip.
The design of these handles also allows them to double as a bottle opener which is a really grate feature that Yeti doesn't have on any of their coolers.
Reverse Rubber Latches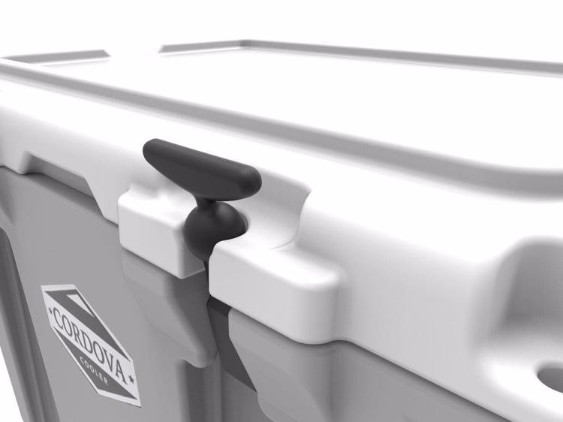 Both Yeti's and Cordova's latches work using a similar mechanism where the latch is stretched and holds the lid in place with the tension.
Both latches look almost idential only Yeti's latches pull down and latch onto the main body of the cooler, while Cordova's latches pull up and latch onto the lid of the cooler (similar to the K2 cooler).
Highest Insulation Rating Of Any Cooler
Cordova claims to have the highest insulation rating of any cooler on the market, however this is yet to be proven.
What insulation rating they are referring to and what tests have been done I am not sure.
[arve url="https://www.youtube.com/watch?v=xf7Uf2TfnBM" mode="lazyload" align="left" maxwidth="400″]
The only ice retention video I can find doesn't actually show how long the cooler keeps ice and is done by the company itself so I am assuming an obvious bias.
In saying all that the coolers do appear to have thicker insulation than Yeti, based on their dimensions.
So when comparing the ice retention of these two coolers, it is too early to say which holds ice better, but I would presume they would perform similarly to each other.
Eco Friendly Foam
A cool feature about Cordova coolers is that they use eco-friendly foam in their coolers, allowing you to make a more environmentally friendly choice.
Made In America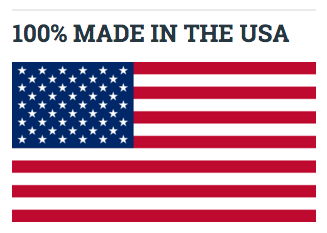 While Yeti coolers are made predominantly overseas (see here) Cordova coolers are proudly made in the USA. They even encourage customers to buy their products because it supports local manufacturing jobs.
Lifetime Warranty

Yeti coolers come with a 5-Year warranty while Cordova coolers come with a lifetime warranty. This means you can purchase your cooler knowing that you are covered for life.
Inbuilt Temperature Sensor
The Cordova coolers has an inbuilt temperature sensor. I haven't seen this in action yet so can't really comment on it's usefulness sorry.
Private Labeling/Branding Available
For companies Cordova coolers offer a private labelled cooler. This means you can have Cordova create you a cooler with your companies label on it.
This is great for branding purposes as effectively you can have your own high end cooler with your brand on it without having to do all the R&D and manufacturing that goes into creating a cooler like this.
Color Options
Cordova have a 2-tone color with the bottom being grey and the lid being white (great for reflecting sunlight and heat).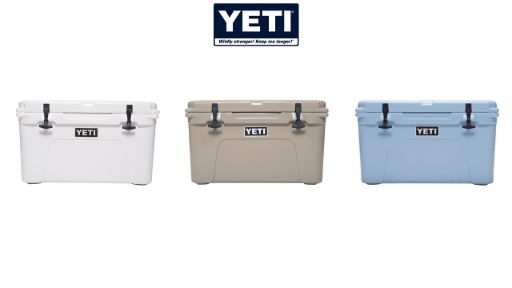 Yeti coolers on the other hand come in 3 different single tone color options. White, desert tan and ice blue.
I have said this many times in other reviews but the gloss finish of the Yeti coolers really makes them look like a premium product and they are the nicest looking of any cooler on the market (in my opinion).
Sizes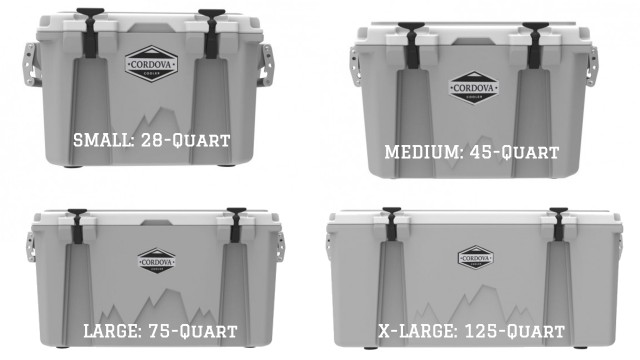 Cordova hahas 4 sizes of coolers. 28-Quart, 45-Quart, 75-Quart and 125-Quart which they name Small, Medium, Large and X-Large.
This is a decent range of sizes with the 28 and 45-Quart likely to be the most popular.
Yeti on the other hand has 14 different sizes, starting from the Roadie 20 going all the way up to the Tundra 420.
Yeti Sizes
Model
Number
20
35
45
50
65
75
105
110
125
160
210
250
350
420
Capacity
(Quarts)
20.8
28.8
37.6
47.2
57.2
74.8
87.2
96.4
121.2
150
?
232.4
?
402.4
While one of Cordova's sizes will suit most people, for those with specific size requirements they might need to look to the Yeti instead.
Price
Model Number
Quart
Capacity
Price
Amazon Price
(click to see)
Cordova Small
Yeti 35
28
28.8
$339.00
$299.99


Cordova Medium
Yeti 50
45
47.2
$439.00
$379.99
Not on Amazon

Cordova Large
Yeti 75
75
74.8
$539.00
$449.99
Not on Amazon

Cordova X-Large
Yeti 125
125
121.2
$699.99.00
$549.99
Not on Amazon

Price point is an extremely important thing to look at. Generally when I am looking at alternatives to Yeti coolers I notice that they all offer their coolers at a discounted price when compared to the Yeti.
Cordova on the other hand have opted to make their coolers more expensive.
Yeti are already one of the most expensive coolers on the market by over $100 compared to other coolers. So seeing as Cordova coolers are more expensive again, I believe this will cause a lot of people to choose a cheaper alternative.
Check the price list and you'll see that Cordova coolers are $40-$150 more expensive than Yeti coolers.
Which Cooler Do I Recommend: Cordova or Yeti?
If I had to recommend one cooler then I would have to go with the Yeti.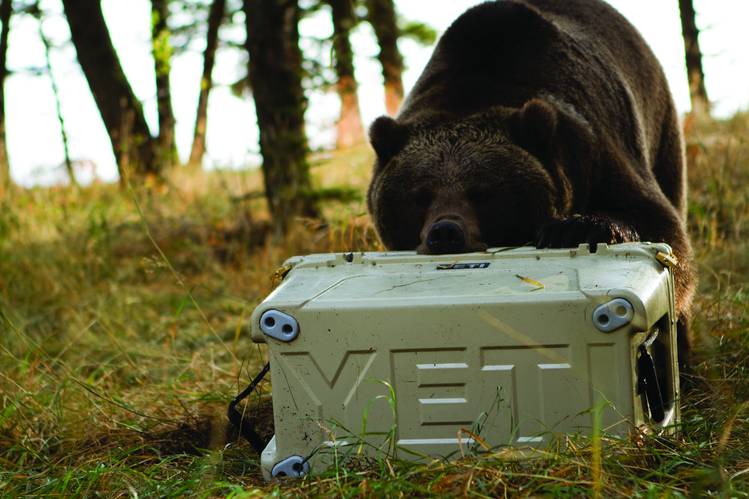 Yeti coolers are cheaper than Cordova coolers and have been tried and tested by thousands upon thousands of customers.
I love that Cordova coolers are made in the USA, use eco-friendly foam and have built in bottle openers, but it my eyes this doesn't make them worth the extra $40-$150 in cost.
Maybe once they have been out longer and we have some more ice tests to compare the two coolers, or if they drop in price then my opinion will change.
But for now I think you can't go wrong with the Yeti cooler.
The premium finish and premium brand name of the Yeti means your friends are guaranteed to be impressed. Add to that the huge distribution Yeti has means it's easy to get a replacement cooler or to get parts if something does go wrong
While I think both coolers are great and I believe you would be happy with either I just don't think the Cordova has done enough to stand out from the pack. But I could be wrong…I'm sure time will tell.
Which cooler do you like better? Choose your favorite below to see the latest price on Amazon as well as read the latest customer reviews.