Whether your protecting your car from getting wet and stinky or you're doing a multi-mile hike to get to a hidden surf spot and good wetsuit bag will help you store and carry your wetsuit wherever you need to go.
Wetsuit bags feature a waterproof wet/dry section that allows you to easily store your wet wetsuit without making yourself or all your other gear wet while you carry it back home.
There are a lot of great wetsuit bags out there and depending on how far you're walking and what exactly you need it for there are a variety of different options to choose from.
From changing mats, to tote and duffel bags to backpacks and even waterproof bags that double as coolers – wherever you're going one of these bags will have you covered.
The best wetsuit bag on the market today is the Ripcurl F-light Surf Midnight Backpack as it's made from high quality materials and features not only a waterproof wet/dry section for your wetsuit but also a variety of other convenient pockets that make it the perfect day bag for any surf spot.
The COR Surf Backpack is a good budget option with one main waterproof compartment and 2 smaller pockets and the Ho Stevie! Changing Mat/Dry Bag is one of the best options if you're just looking for a wetsuit bag to keep your car dry.
Tips For Choosing a Wetsuit Bag
Wetsuit bags are waterproof sacks made to hold a wet or dry wetsuit. Their primary purpose is to keep your wetsuit contained, protecting the rest of your belongings from getting wet or ruined.
There are many different types of wetsuit bags out there, and all of them attempt to accomplish the same goal: keeping your wetsuit contained in a safe and secure place.
Wetsuits do not only collect water, but they can begin to smell and can create large amounts of mess. This is why it's so important to have the proper storage and transportation equipment for your wetsuits.
When choosing a wetsuit bag, it is essential to decide what you will be using your wetsuit and your wetsuit bag for.
Some people are more adventurous and head into the ocean frequently, needing a bag for their wetsuit.
However, others might use their wetsuit bag as a dry bag for storing belongings.
There are hundreds of wetsuit bags on the market today, and all of them are great options for adventuring. However, it is best to find a bag that suits your specific needs.
Here are some things to consider when purchasing a wetsuit bag:
Decide if you will utilize your bag for a specific sport, for leisure, or as a dry storing bag.
Ask yourself how much money you would like to spend on your bag.
Choose how heavy you want the wetsuit bag to weigh and how many compartments you need.
Figure out how much gear you will bring on your adventures and what weather conditions you may experience.
Try your best to find a bag that is comfortable to wear, especially if walking long distances.
Decide if you need a wet bag, dry bag, or a versatile option that works as a wet and dry bag.
The wetsuit bag is constructed from a material that makes it fully waterproof. 
The bag has a clip, zipper, or some type of latch for closing the bag securely.
The size of the bag is large enough for you.
Evaluate your personal needs for what you desire.
1. The Ripcurl Flight Surf Midnight Backpack
When it comes to the best wetsuit bags I'm not surprised to see a brand like RipCurl topping the list.
For decades now RipCurl have been know to make incredibly high quality wetsuits and other surf gear and when it comes to an all-in-one wetsuit backpack no one really does it better than the RipCurl F-Light Surf 40L Midnight Backpack.
This 40 liter bag features a wet/dry section at the back which is completely waterproof and features a roll down and clip top. This allows you to separate your wetsuit and any other wet gear from the rest of your bag.
The breathable back straps are also very comfortable so great for long hikes to the beach or surf break and it features a variety of other compartments that make it not just a good wetsuit bag but a great backpack overall.
It's got a dedicated vin organizer, a section for your laptop and an EVA molded panel for added protection for all your gear.
It has a fleece lined pocket for any tech gear you don't want to get scratched or damaged, an external pocket for wax and sunscreen and an insulated drink bottle pocket.
Super versatile and convenient and backed by a brand known for their high quality I have to rate this as the best wetsuit bag you can buy.. 
2. COR Surf Waterproof Dry Bag Backpack
The COR Surf Waterproof Dry Bag Backpack is a simpler and more budget friendly wetsuit backpack that is still extremely practical, durable and comfortable.
It comes in two different sizing options, including 25L (6.6 gallons) and 40L (10.6 gallons). I love this one because it was designed specifically with surfing enthusiasts in mind.
It comes with pockets inside the pack for storing things like wax and fins, as well as a waterproof wet/dry compartment for housing your wetsuit.
The external pocket works great for storing your phone, wallet or keys and overall it's a great bag for a great price.
This bag is definitely a great option for anyone with a lot of gear and if you can't afford the RipCurl backpack or don't need all the pockets it offers then the COR is your next best option.
3. Dakine Mission Surf DLX Wet/Dry 32L & 40L Backpack 
Dakine is a great company that makes excellent products for water-related adventures. Year ago I reviewed their bucket cooler accessory and it's no surprise to me that this backpack is a highly functional product.
The Dakine Mission Surf DLX Backpack is 32 liters (8.45 gallons) and has a roll-down waterproof compartment and latch for housing a wetsuit.
There are additional pockets which gives you tonnes of room for you all your extra gear and it features a tarp lined pocket for your surfboard wax and a fleece lined pocket for your sunglasses or phone to stop it from getting scratched.
You can also roll up your beach towel and clip it onto the back to give you even more carrying capacity.
The 40 L (10.6 gallon) version also comes with a bottom compartment with a coated lining.
The main compartments are zippered shut, and the bag has a mesh back which is great for breathability.
4. Malo'o Wetsuit Duffle Dry Bag With Build In Changing Mat
While a changing mat isn't a necessity to have for a wetsuit bag, it certainly makes life easier.
The Malo'o wetsuit duffle and change mat is a dry bag that won't leak but also features a built in changing mat that you can roll up and tuck away after using it.
The changing mat is a solid 30″ by 28″ so it's a good size to stand on and when you're done you can throw everything inside the 60L duffel dry bag and carry it with either the shoulder strap or top handles.
It also features both exterior and interior pockets for things like your keys, phones or surf wax and even has some MOLLE hook attachments for carrying flasks or other accessories.
5. BEST FOR THE CAR: Ho Stevie! Wetsuit Changing Mat/Dry Bag
Ho Stevie! makes a lot of good surf gear, including some of the best wetsuit hangers and even some good cheap and affordable wetsuits. They know surfing culture and are a trusted brand to a lot of surfers.
This wetsuit changing mat and dry bag is super practical to keep inside your car.
After your surf stand on the mat and change out of your wetsuit. The durable base is waterproof and will avoid your wetsuit rubbing on the concrete or asphalt and it'll also stop sand, dirt and debris getting stuck in your wetsuit.
Once you've changed pull the drawstrings and it turns into a dry bag and stops your car from getting wet and smelly.
This is super affordable and a great product. It's good for the car but not so good for traveling long distances with a wet wetsuit. So if you need a legitimate backpack to carry your wet wetsuit back from the beach this is not the product for you.
6. GREAT FAMILY BEACH BAG: RTIC Ultra-Tough Tote
I've had my RTIC Ultra-Tough Tote bag for years now and it's still going strong.
While technically not a "wetsuit bag" this tote is 100% waterproof and great for taking down to the beach and carrying the wet gear home.
I can fill this up with beach towels, wetsuits, water bottles and even snacks for the beach and it handles it all and provides much more room than a regular backpack.
There's only one main compartment in this bag which does make it difficult to separate wet stuff from dry stuff but when I'm surfing I'll leave this in the back of my car and it'll fit multiple wetsuits and keeps my car dry.
7. FOR MULTIPLE WETSUITS: Ocean & Earth Compactable Wetty Bucket
If you're a family man like me and surfing is often a multiple-person endeavor then the Ocean & Early Wetty Bucket can be a great addition to your car.
It collapses down for easy storage and is big enough to stand in and take your wetsuit off in.
Completely waterproof this is great for the car for storing single or multiple wetsuits and keeping your car completely dry.
8. SURPRISINGLY COMFORTABLE: IceMule Pro Insulated Dry Bag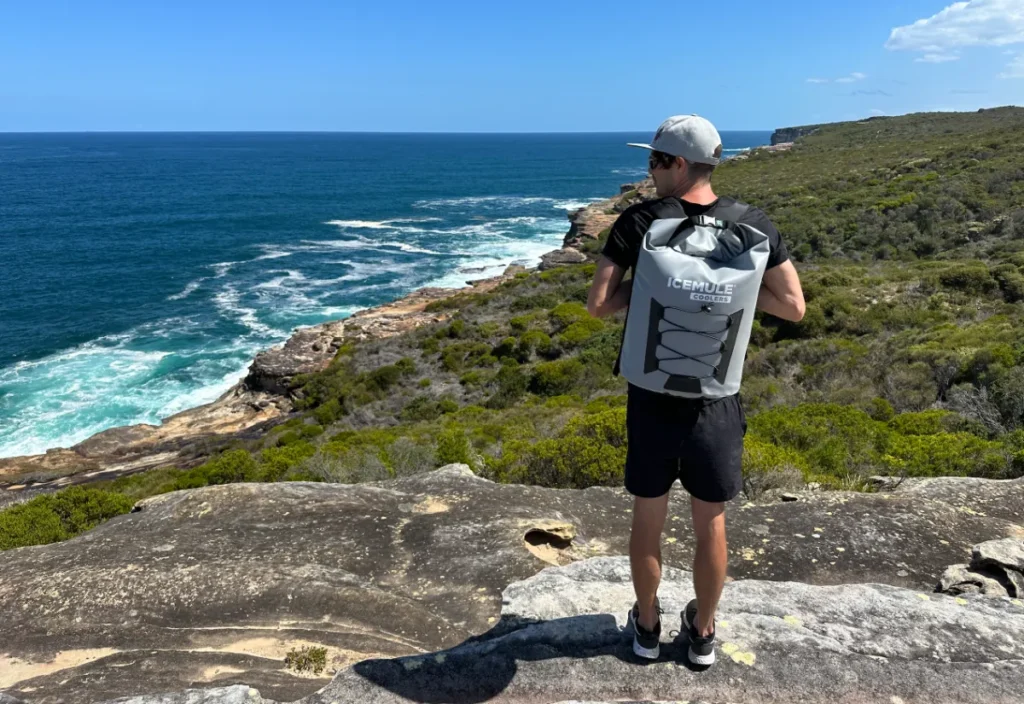 The IceMule pro is marketed as a backpack cooler but it's relatively lightweight and is completely waterproof making it a great wet/dry bag which can store your wet wetsuit without making you wet.
The shoulder straps are surprisingly comfortable even when carrying a heavy load and the sternum strap makes everything even more secure.
I've used this on hikes, for beach picnics and also used it to carry gear to harder to reach surf spots.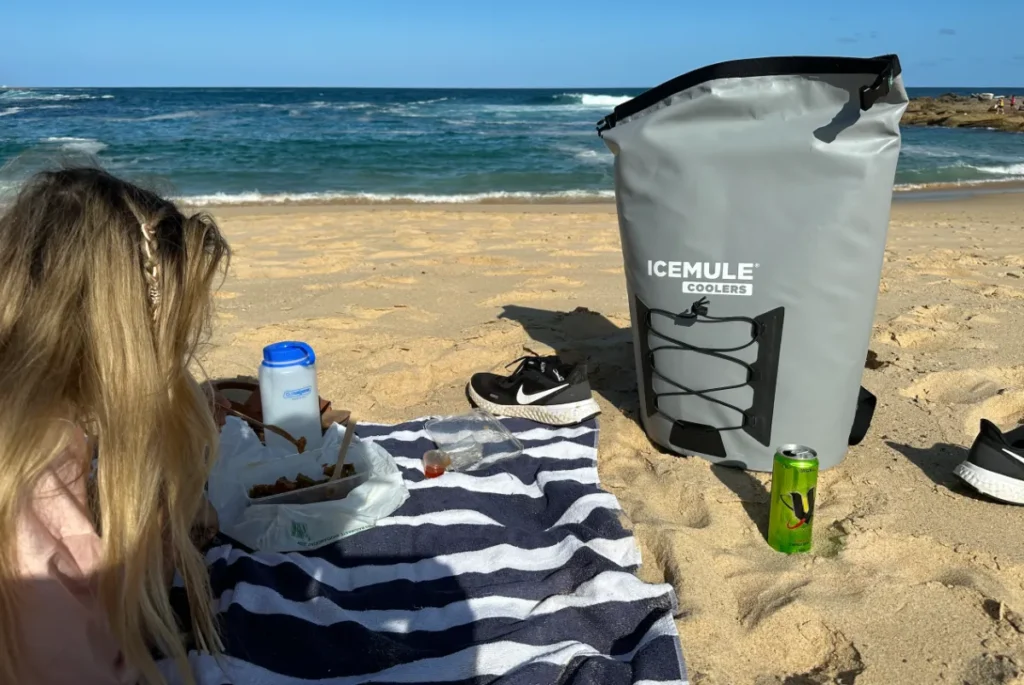 They have smaller versions with just a shoulder strap but I highly recommend the pro version as the backstraps make for much easier carrying – especially when your wetsuit is wet.
The insulation also comes in super handy as you can fill it up with iced water and it won't end up lukewarm or hot by the time you get out of the surf. I love this product and use it regularly.
9. Parallaxx Wetsuit Waterproof Dry Bag 
The Parallaxx Wetsuit Waterproof Dry Bag is another good changing mat and dry bag option for your car.
It's made of polyester and is very durable, so you won't need to worry about leaks or rips. There is also a compartment on the inside for holding your phone, wallet, and keys for travel. 
This bag closes with a drawstring and comes in a sea-green color. It also has handles and a shoulder strap for comfortable carrying. It's more comfortable to transport than the Ho Stevie! option but it's slightly more expensive.
10. Dakine Cyclone II Dry Pack 
Another great option from Dakine is the Cyclone II Dry Pack. This wetsuit bag is great for surfers and adventurists. This pack comes in black and camouflage and is 36 liters (9.51 gallons). 
It has a roll down and clip for the water compartment and venting to release extra air. This bag is bulky and oversized and can hold lots of gear.
There are extra sleeves and compartments on this pack for holding extra belongings with an integrative board carrying system.
11. The Vissla Elite Surfer Backpack 
If you're looking for a good wetsuit bag then Vissla have a variety of wetsuit backpacks available.
Their bags can handle all weather conditions and are specifically designed for surfers, but it can be utilized by anyone who owns a wetsuit.
The top rolls down and closes with a buckle, and the entire pack is waterproof. Some of their bags also come with storage compartments and they are all available in a variety of different colors.