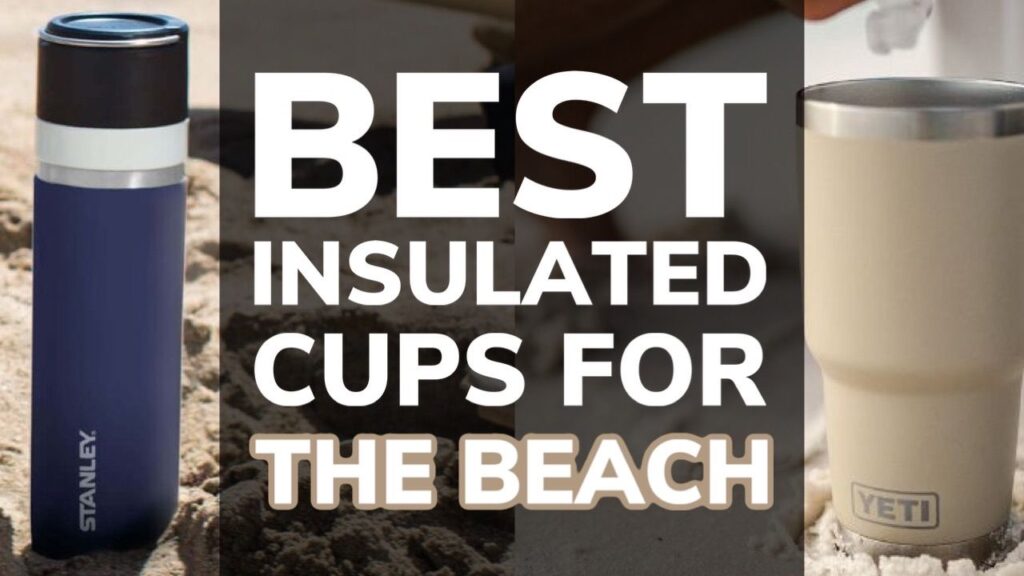 I absolutely love taking my family down to the beach and spending the day down there. But there's nothing worse than getting thirsty in the hot sun and only having warm sandy water to drink.
A good insulated cup can keep your drink cold the entire time you're at the beach. But you'll also want a cup that won't leak in your beach bag and won't have issues with sand.
I own a lot of insulated tumblers and bottles and have done a lot of reviews but I wanted to create a list for those beach goers like me of the best insulated cup for the beach.
In this list you'll find a mix of different insulated cups that suit different types of beach adventures. Everything from wine tumblers for an adult only beach day to stackable tumblers for the kids or the leak proof won't spill tumbler you can throw in your beach bag.
The best insulated cup for the beach is the Yeti Rambler Tumbler with the STOP-IT leak proof accessory or the Yeti Rambler Bottle. The Contigo offers the best value for money with their leak proof lid and the Cauldryn Mug is vacuum insulated AND has a blender attachment for making smoothies or cocktails at the beach.
Powered Mug With Blender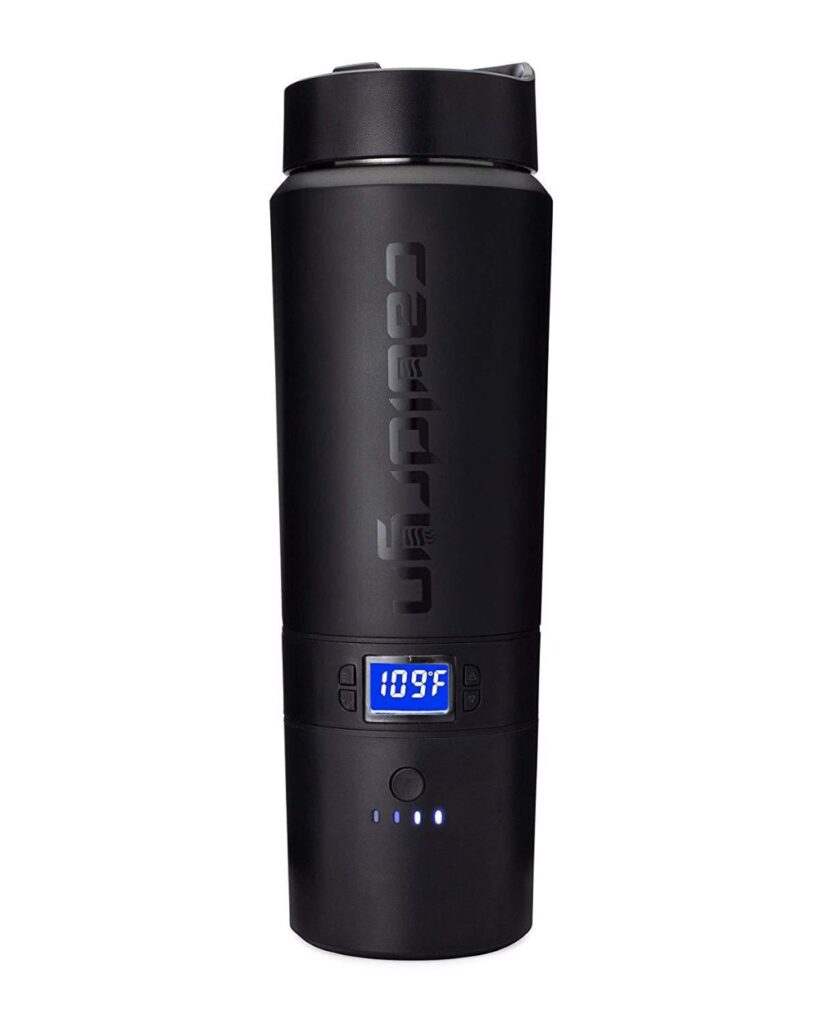 Cauldryn Battery Powered Mug
Price: See at Amazon
BEST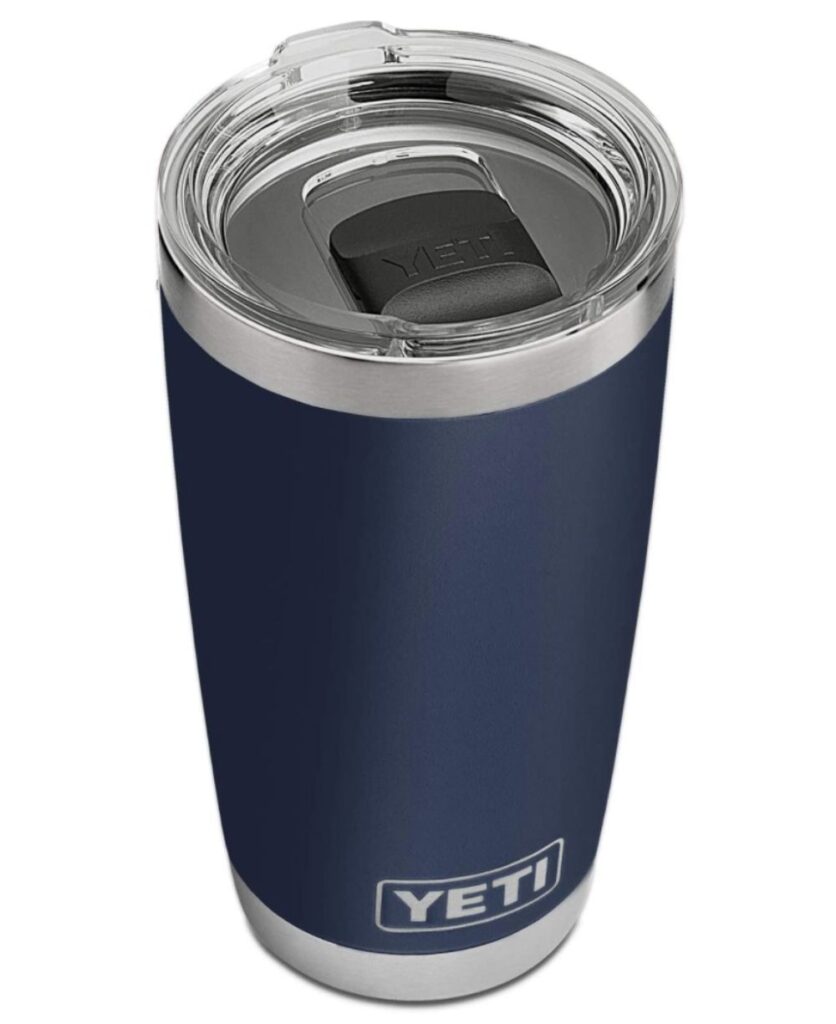 Yeti Rambler Tumblers
Price: See at Yeti.com
(or compare to Amazon)
Value For Money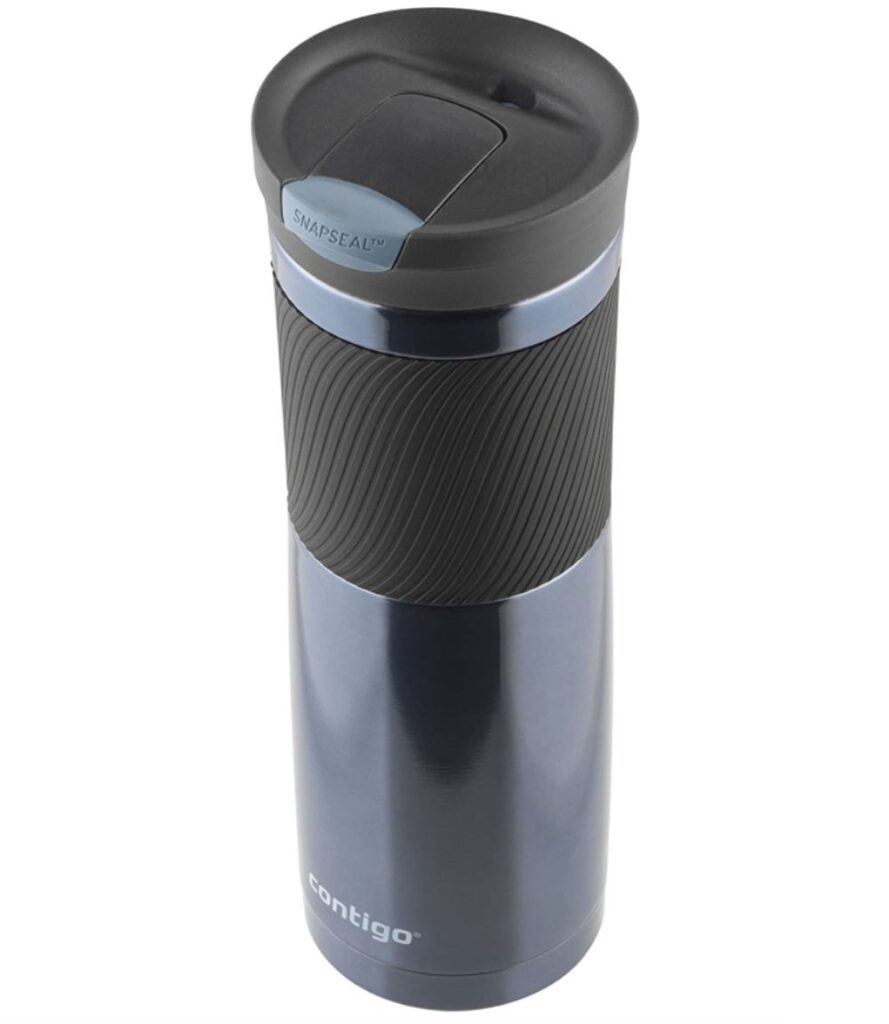 Contigo SnapSeal
Price: See at Amazon
What Makes a Good Insulated Beach Cup?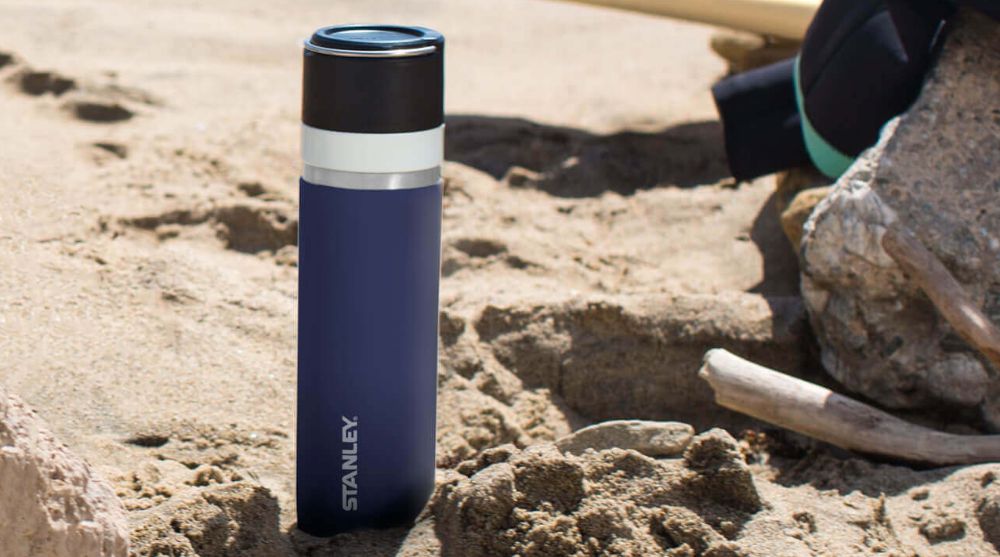 Rather than just creating a generic list of some of the best insulated cups and bottles out (which I could do) there I wanted to specifically list ones that would be good for everything from a short solo beach trip to a full day trip with the family.
So what exactly makes a good insulated cup for the beach?
Ice Retention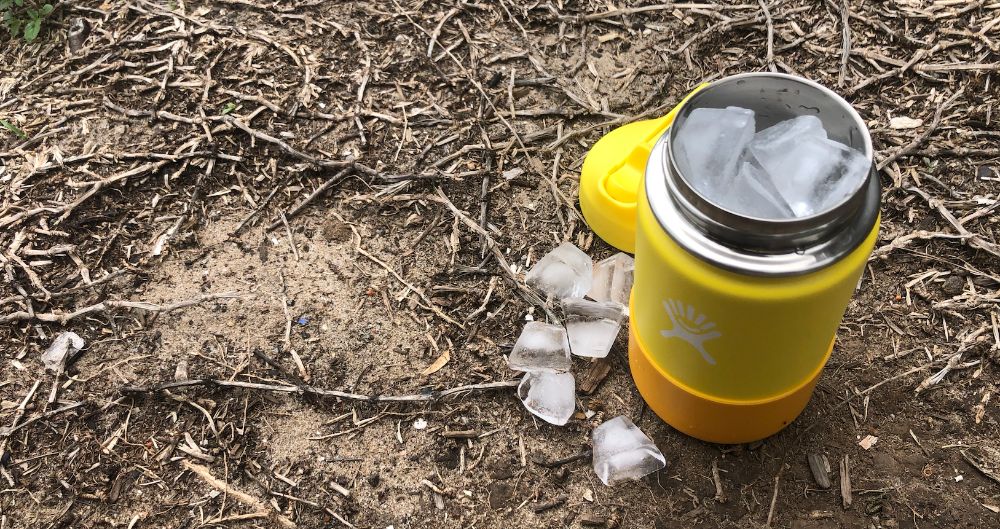 The ability to keep your drink cold even in the blaring hot sun is top of the priority list when it comes to a beach trip.
Otherwise you're going to pack your cold iced water, juice or smoothie in the morning only to have to heat up and become hot water when you actually want to drink it.
Leak Proof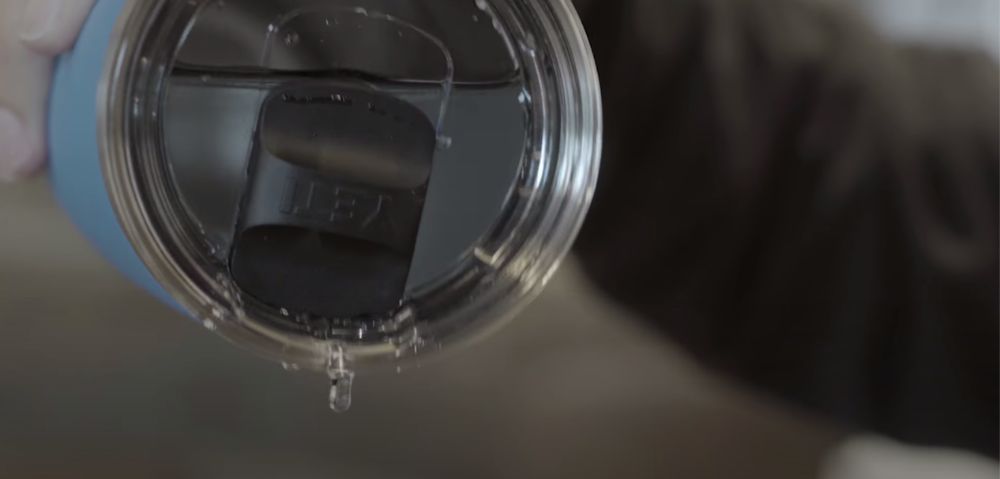 Most insulated cups aren't leak proof and the lids are only held on by the friction of the rubber gasket.
While this is fine for home or while driving it's annoying when you're heading down to the beach with a bunch of stuff and you can't put your tumbler in your bag for fear of it spilling your drink everywhere.
While not all tumblers in this list are leak proof a bunch of them are.
Durable and Not Damaged Easily By Sand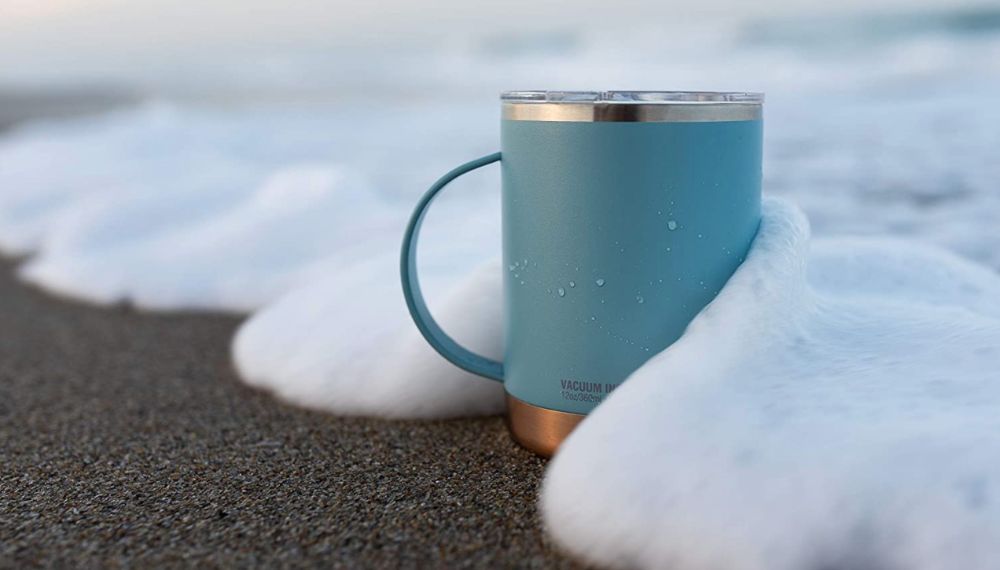 You want a tumbler that can handle the hustle and bustle of a beach day. To get knocked around in your bag and to maybe even get used by the kids to make sand castles. So it needs to be strong and durable and not easily damaged by sand.
Easy To Clean
After a long beach day the last thing you want to do is spend a long time cleaning. So ideally a good insulated mug for the beach would be easy to clean and where possible dishwasher safe.
Stackable (If Possible)
When you've finished the day at the beach and are ready to head home it would be great if you could stack your tumblers together to save space.
This isn't a must have, but it's a nice-to-have if possible.
1. Yeti Tumbler + Stop It (or Bottle)

Gahh I hesitate to make Yeti #1 on this list because it just seems like the token thing to do given it's the most popular brand. But when I think about which insulated tumbler cup I feel most comfortable taking to the beach it's this one.
Yeti tumblers are, in my opinion, the most well built and rugged insulated tumblers on the market.
With other tumblers on this list (like Simple Modern) I would be less likely to let my kids dig in the sand with them and make sand castles with them. But the Yeti I feel would be fine.
The downside of the Yeti is that the tumbler is not leak proof and only held on by a rubber gasket. But there is an affordable Yeti tumbler accessory called the "STOP IT" which both makes the lid leak proof and holds it into place so the lid won't pop off.
Yeti is arguably the most popular and well known brand in the tumbler space.
However, Yeti tumbler lids DO leak even when they have the MagSlider lid and the MagSlider is in it's closed position.
There are some leak proof lids on the market on Amazon, however these are still just pressed on with a rubber gasket and so don't solve the "if I drop it and the lid pops off" problem.
However, there is a solution. It's called the STOP-IT and it's a silicone accessory that wraps around your tumbler and turns a Yeti lid into a leak proof lid. You'll need to have this Yeti original lid in order for it to work, but if you've got the money it's worth the investment.
See the latest price of the STOP IT Rubber Cover at Amazon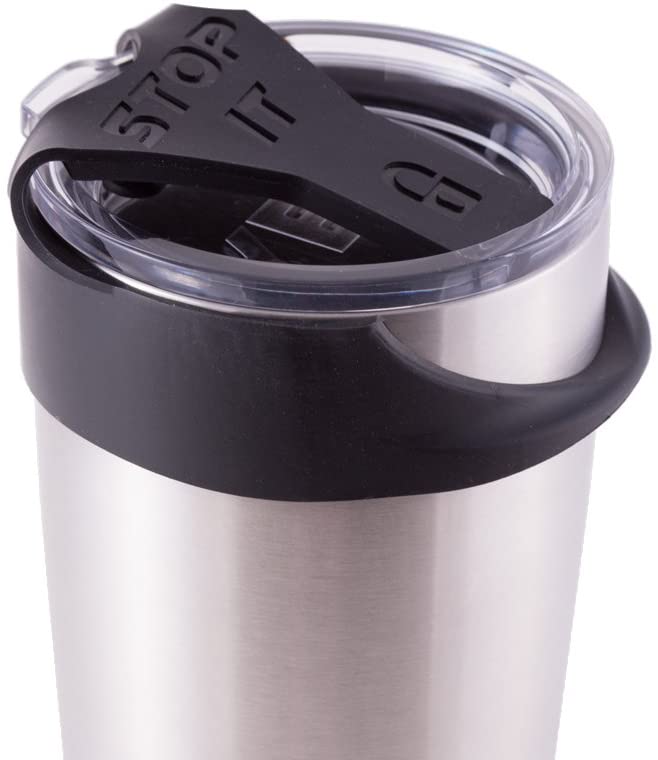 Yeti Tumblers come in a variety of different sizes from 10 oz up to 30 oz. The 16 oz and 26 oz varieties are stackable so if you take multiple to the beach it's easier to pack them up together and bring them home.
They are backed by Yeti's 5 year limited warranty which protects you against defects and they are one of the few insulated tumblers that are actually dishwasher proof making them one of the easiest tumblers to clean.
They are also one of the biggest brands. They are a lifestyle brand you would be proud to show off at the beach.
Given how much all these tumblers cost anyway I am one of those people who actually think owning a brand you love is worth the extra cost. It personally makes me enjoy my Yetis (or Hydro Flasks) more than my generic tumblers that perfect just as well.
You do pay a premium for the Yeti tumbler, but if $20-$50 isn't a huge concern for you then grab a Yeti and get the STOP-IT accessory while you're at it.
See the latest price of Yeti Rambler tumblers at Yeti.com
(or compare to the prices of Yeti tumblers at Amazon)
Get the STOP-IT Leak Proof accessory at Amazon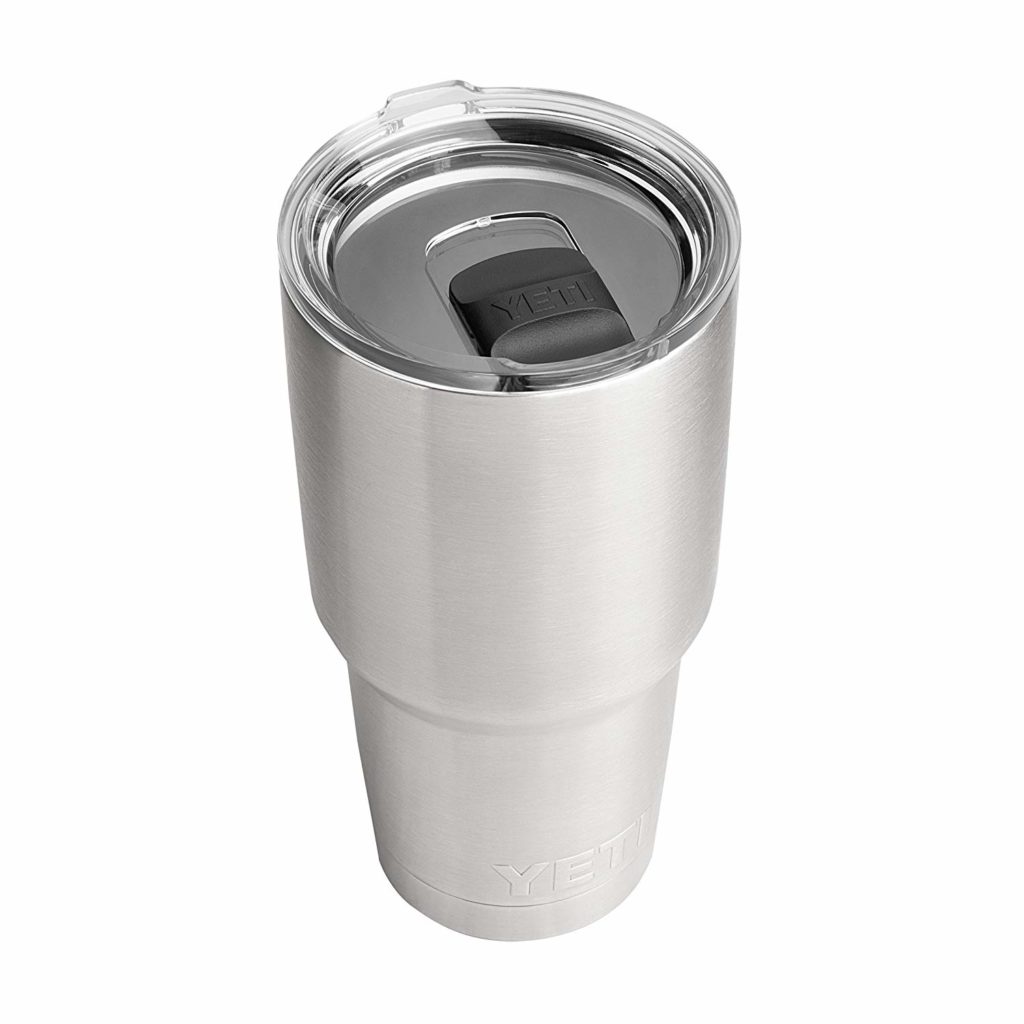 PROS:
Best build quality
Dishwasher safe and stackable
Biggest and most well recognised brand
5-Year warranty
CONS:
Expensive
You need to buy extra accessories to make it leak proof
Yeti Rambler Bottles

If you want the rugged build of a Yeti but want something that is more guaranteed to be leak proof then Yeti have a range of bottles that can be good for the beach too.
I personally own the 18 oz as well as a 12 oz kids bottle and it has a wide mouth opening that makes it feel like a cup as your drink it.
They even have a "hotshot cap" which is specifically designed for coffee drinkers.
However, the lid screws on tight and is guaranteed not to leak in your beach bag or spill everywhere if you drop it on the sand.
See the latest price of the Yeti Rambler Bottles at Yeti.com
(or compare to the prices of Yeti Rambler Bottles at Amazon)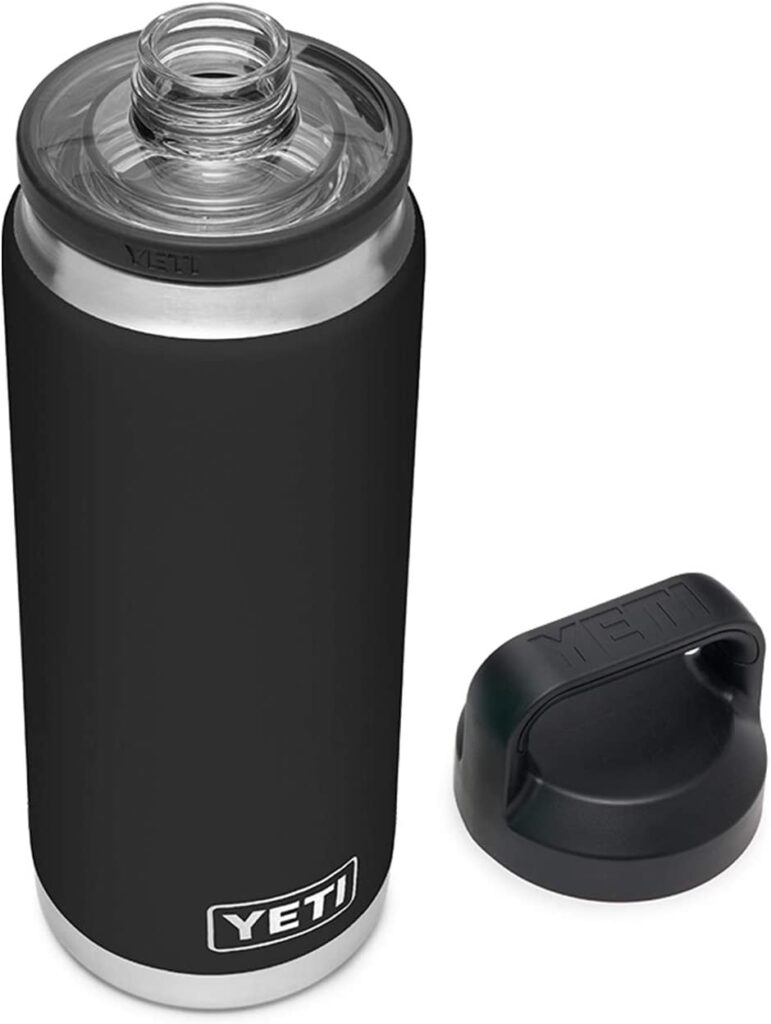 2. Contigo – Value For Money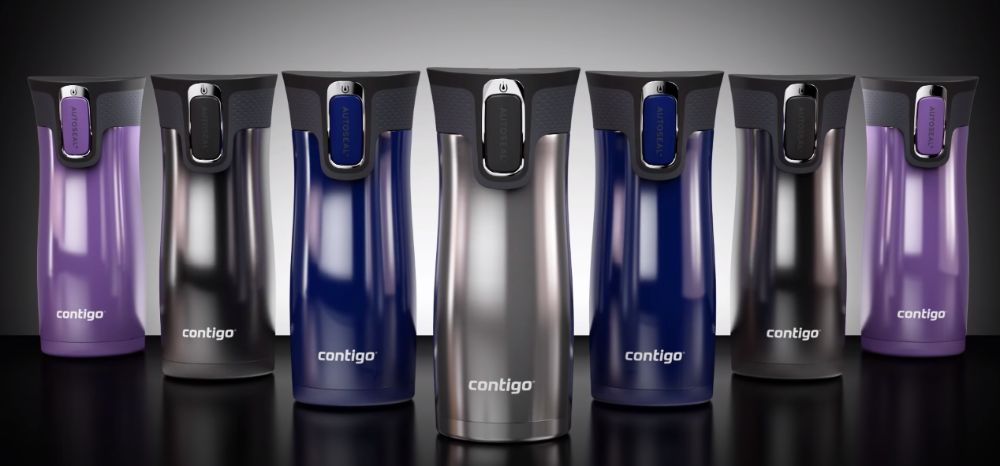 If you are on a budget and don't want to splurge on the Yeti Tumbler then Contigo make great insulated tumblers that sell for a fraction of the cost.
Rather than costing $20-$40 like the Yeti most of the Contigo cups sell for under $15 with some of them even selling for less than $10.
They also have one of the simplest and easiest to use leak proof lids. The Snapseal lid easily clicks open for drinking or closed for travel and the Autoseal lid only opens when you hold the button otherwise it seals itself shut.
The tumbler itself as well as the lids are all dishwasher safe which makes them easy to clean after the beach and the vacuum insulation will keep drinks ice cold all day long.
Contigo are a reputable brands that makes lots of great tumblers and water bottles. They are the cheapest on this list and in my opinion offer the best value for your money.
See the latest price of Contigo tumblers at Amazon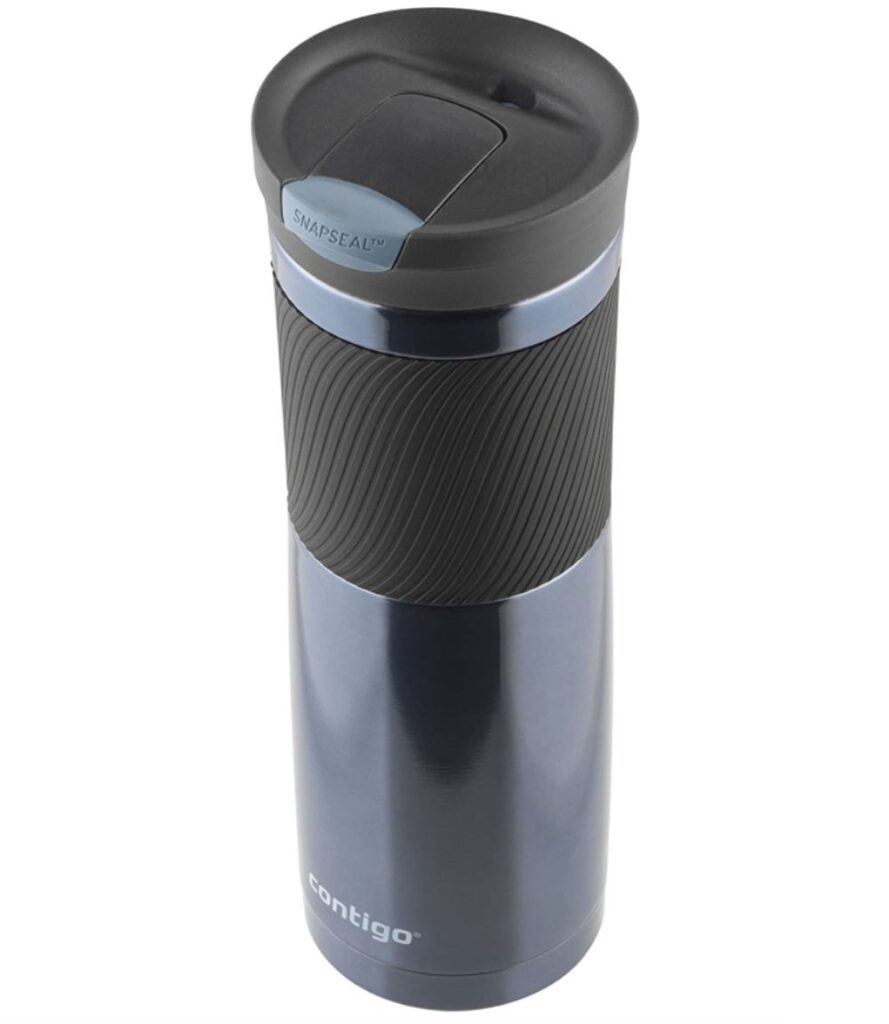 PROS:
Leak proof lid
Cool new design
3. Simple Modern Tumblers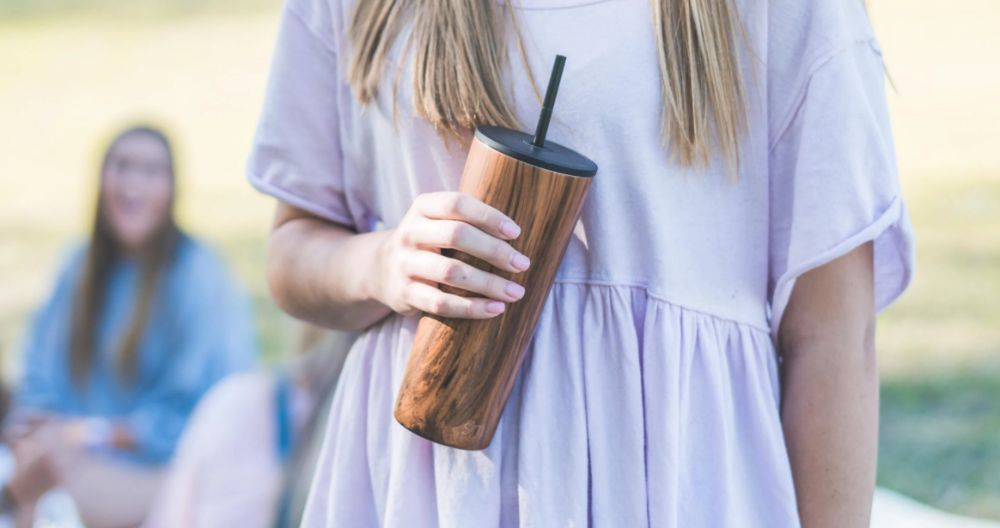 The awesome prints and designs on the Simple Modern tumblers is perfect for a fun day in the sun.
Rather than taking a boring stainless steel or black tumbler to the beach why not get one with a wooden or marble finish. Or choose from one of Simple Modern's two tone ombre colors or bright single colors.
They not only have some of the coolest designs but they also come with 2 different lids. One leak proof flip lid as well as a straw lid which isn't leak proof but is splash resistant.
They also perform really great and are one of the best tumblers at keeping ice cold and keeping drinks hot.
There are 3 sizes – 16, 20 and 24 oz – and they are in the middle tier when it comes to price. Not the cheapest but not as expensive as the Yeti either.
I think they offer good value for money, good performance and if you want a funky design this is the brand for you.
See the latest price of Simple Modern Classic Tumblers at Amazon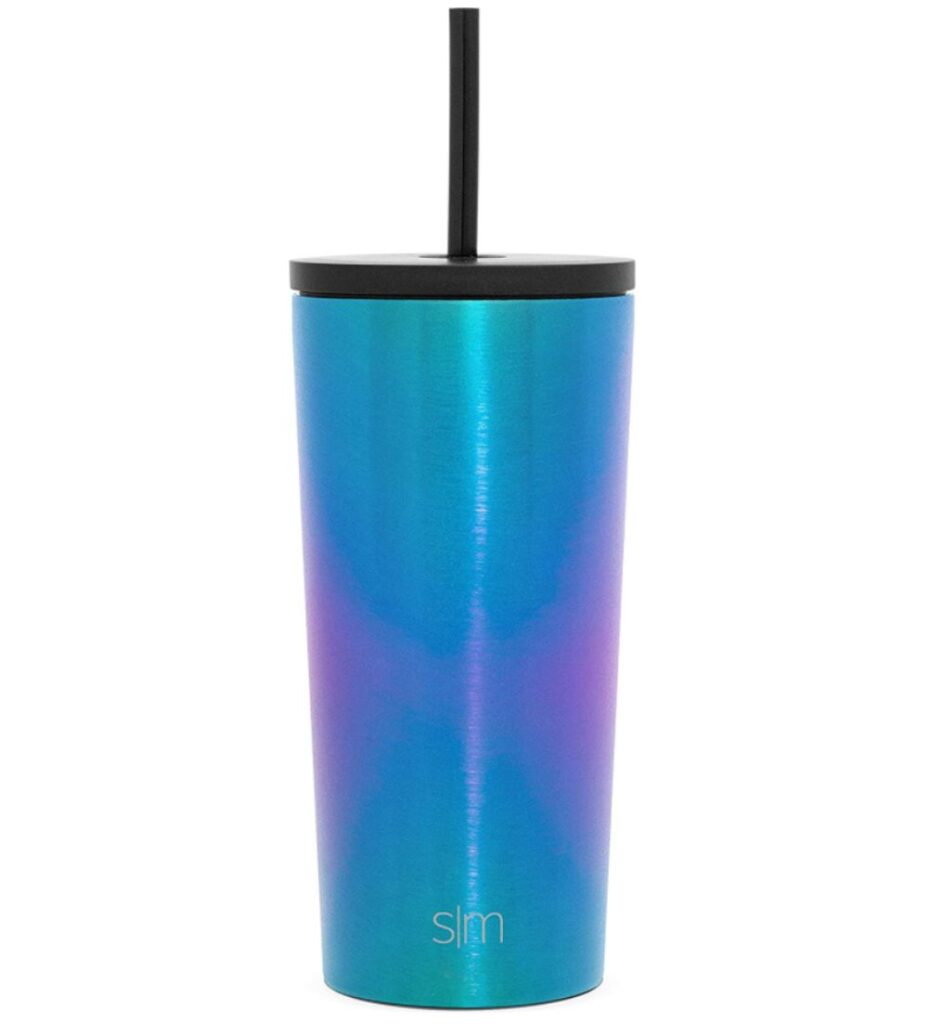 PROS:
Amazing selection of colors and designs
Can be completely leak proof
Comes with 2 lids
Fits into most cup holders
Company donates 10% of profits to helping others
CONS:
Only a 90-Day warranty
Brand relatively unknown
4. Contigo TWISTSEAL Glaze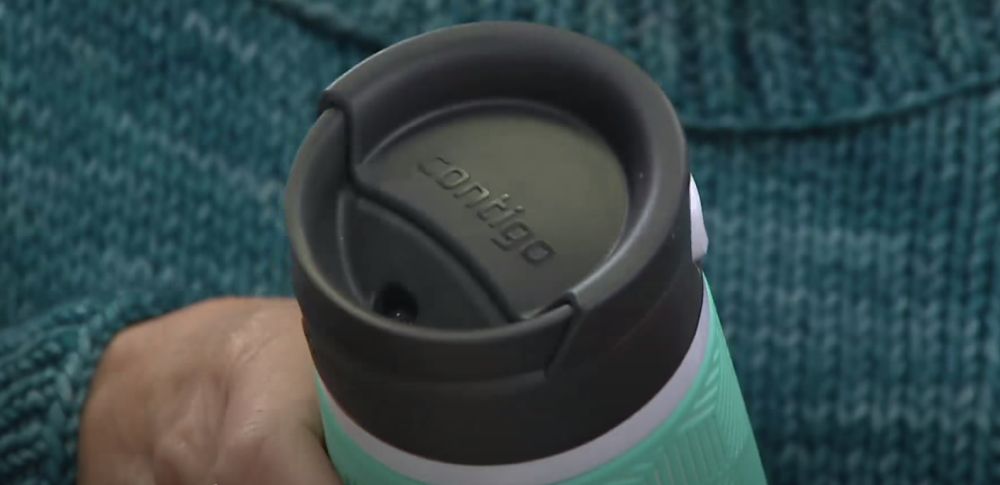 Some people (my partner included) don't like the taste that stainless steel seems to impart into their drinks.
Personally I can't taste it but she swears that she can taste the difference.
If that's you then this ceramic lined insulated cup might be the best cup for your beach trip. It's one of the best ceramic lined insulated tumblers on the market.
Whether you're drinking cold water or hot coffee this will maintain the temperature while the ceramic lining protects the taste.
The Twistseal lid is completely leak proof so it won't spill in your bag and it's backed by a limited lifetime warranty.
It's well priced and a great option for your coffee, tea or water.
See the latest price of Contigo Twistseal Glaze Travel Mug at Amazon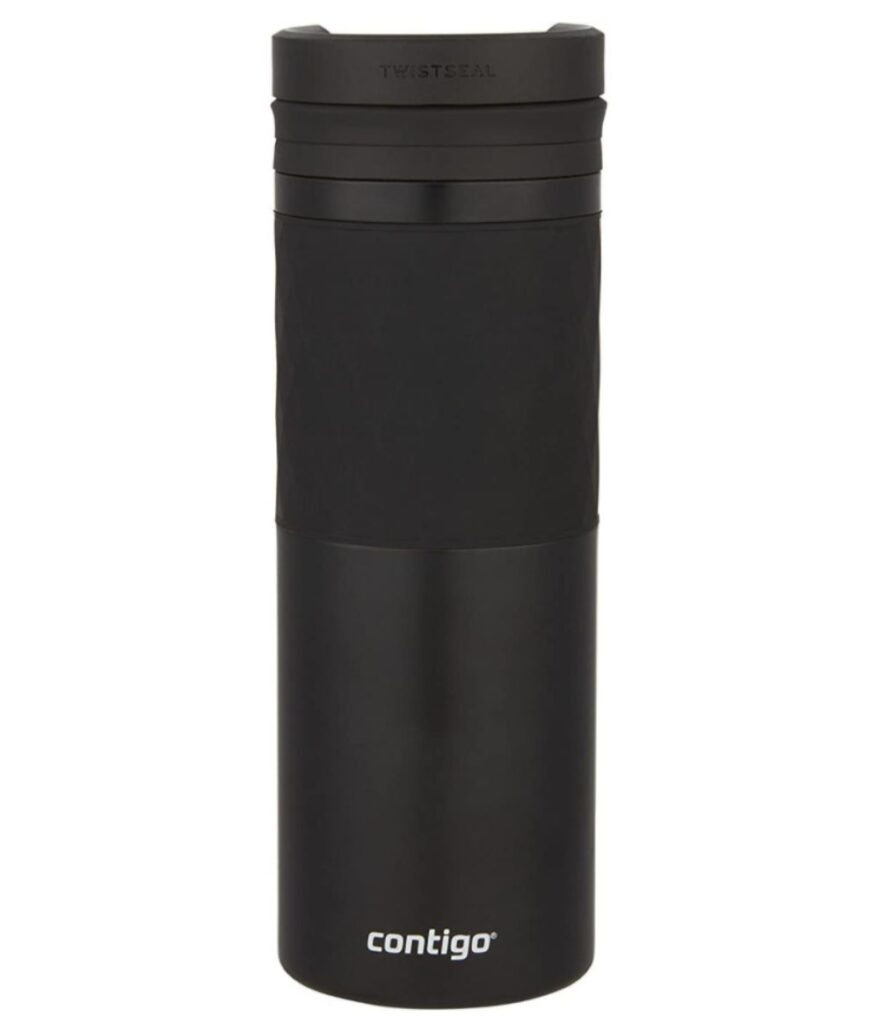 PROS:
Well known brand
Ceramic lined
Dishwasher safe
Leak proof lid
5. Burnout Mug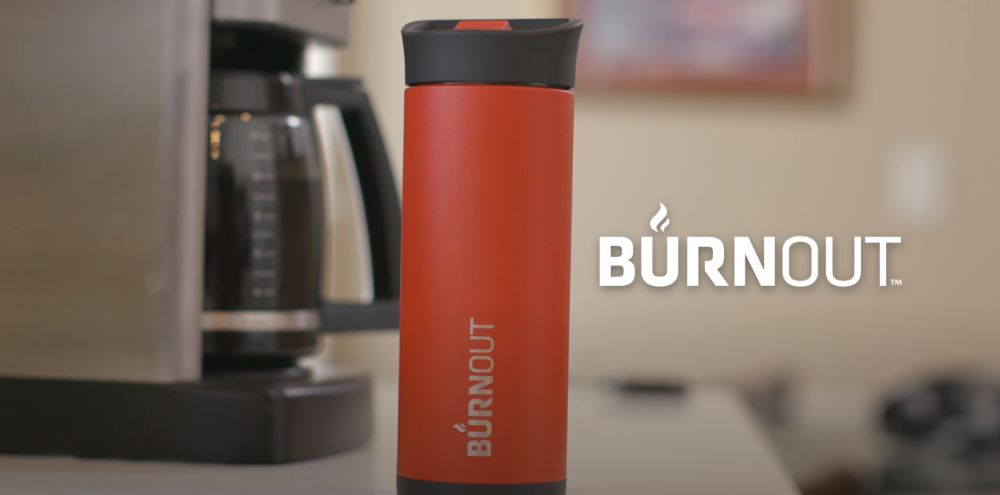 This is one for the coffee lovers out there. The Burnout Mug is designed by rocket scientists (literally) and uses unique technology to keep your coffee at the perfect drinking temperature (around 120-145ºF) all day long.
Instead of just being double wall vacuum insulated it's triple wall with one layer of vacuum for insulation and one layer of what's called "phase change material" or PCM.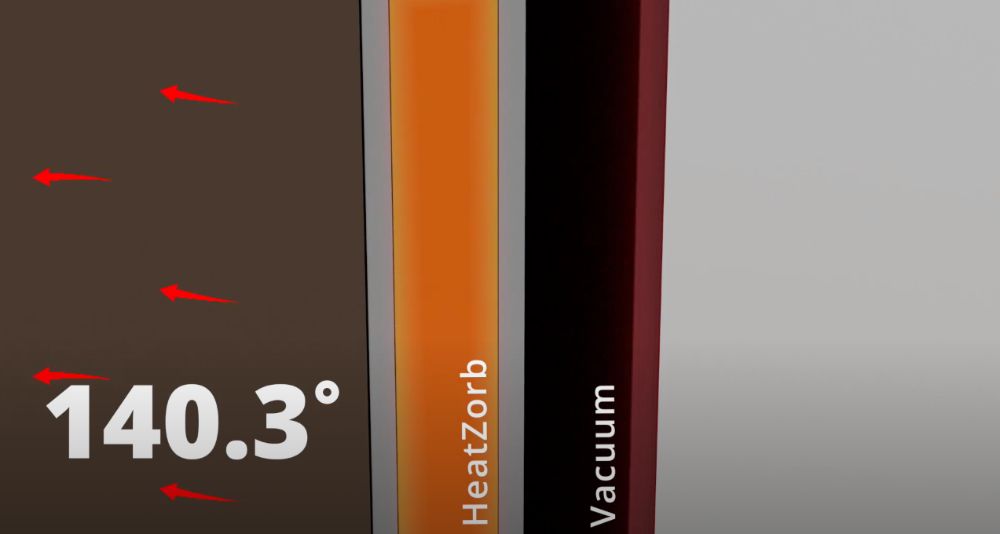 This PCM quickly cools down your coffee to the perfect temperature and then as your coffee cools the PCM releases heat back into your coffee to keep it in that "hot but not too hot" goldilocks drinking range.
It's more designed for hot drinks but the vacuum will also keep your water cold, but the sizes are a bit too small to make it practical as a water bottle for a full day at the beach.
It's completely dishwasher safe and the lid is leakproof so you can throw it in your beach bag and then sip your coffee all day long at the beach.
It's a bit pricey compared to other cups on this list, but for the serious tea or coffee drinker this could be perfect.
See the latest price of the Burnout Triple Walled Mug at Amazon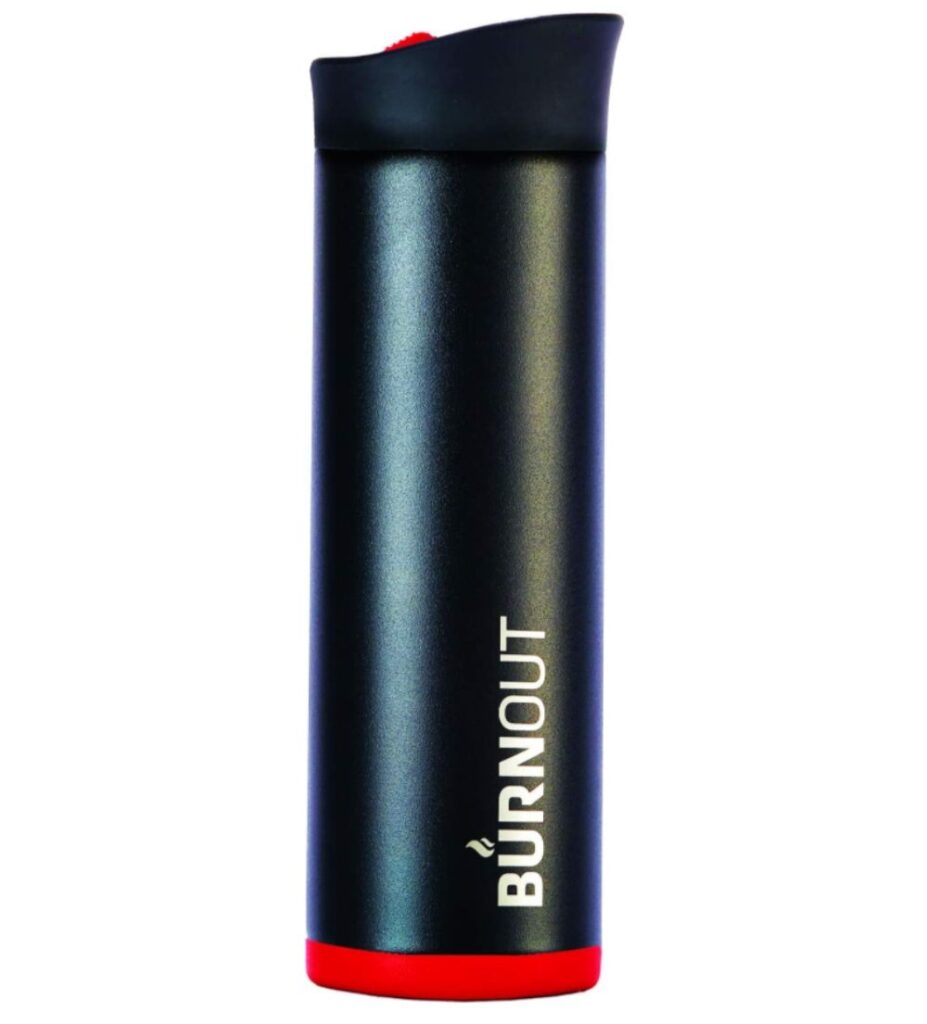 PROS:
Quickly cools down hot drinks to perfect drinking temperature and keeps it there all day
Triple wall and vacuum insulated
Dishwasher safe
Leak proof lid
CONS:
Much more expensive than regular insulated mugs
Lid can be a big annoying to use at times
Bit too small for use as a water bottle.
6. BEST FOR KIDS: Hydro Flask Kids 12 oz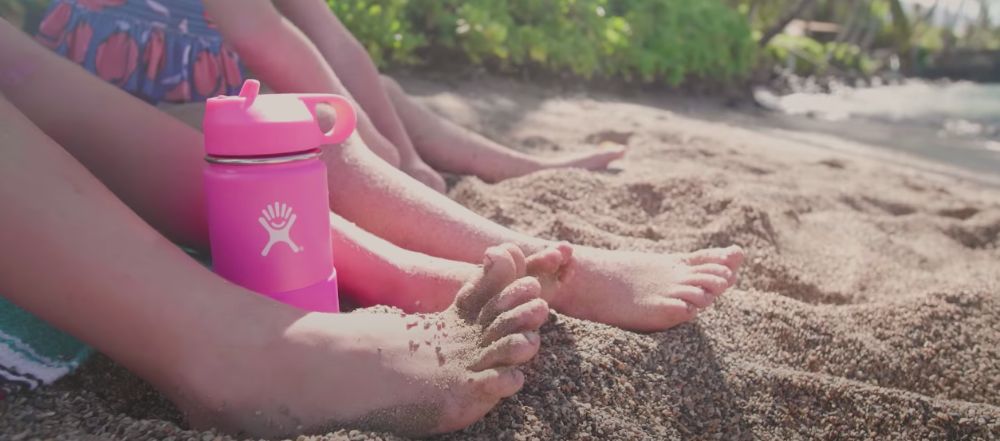 If you're on a family day at the beach and you want a great insulated cup or bottle for the kids then the Hydro Flask 12 oz bottle is perfect for the little ones.
It's a small 12 oz which means it won't be too heavy for them to drink and it comes with a straw lid that's easy for them to drink out of.
It's got a little carry loop as well as a protective silicone boot to stop it getting dented or scratched. Trust me I've got 3 kids and you should see the state of my Hydro Flask that doesn't have a protective boot…sad face.
It comes in a bunch of bright colors that will make it exciting to drink their water.
See the latest price of Hydro Flask kids tumblers at HydroFlask.com
(or compare to the prices of Hydro Flask kids tumblers at Amazon)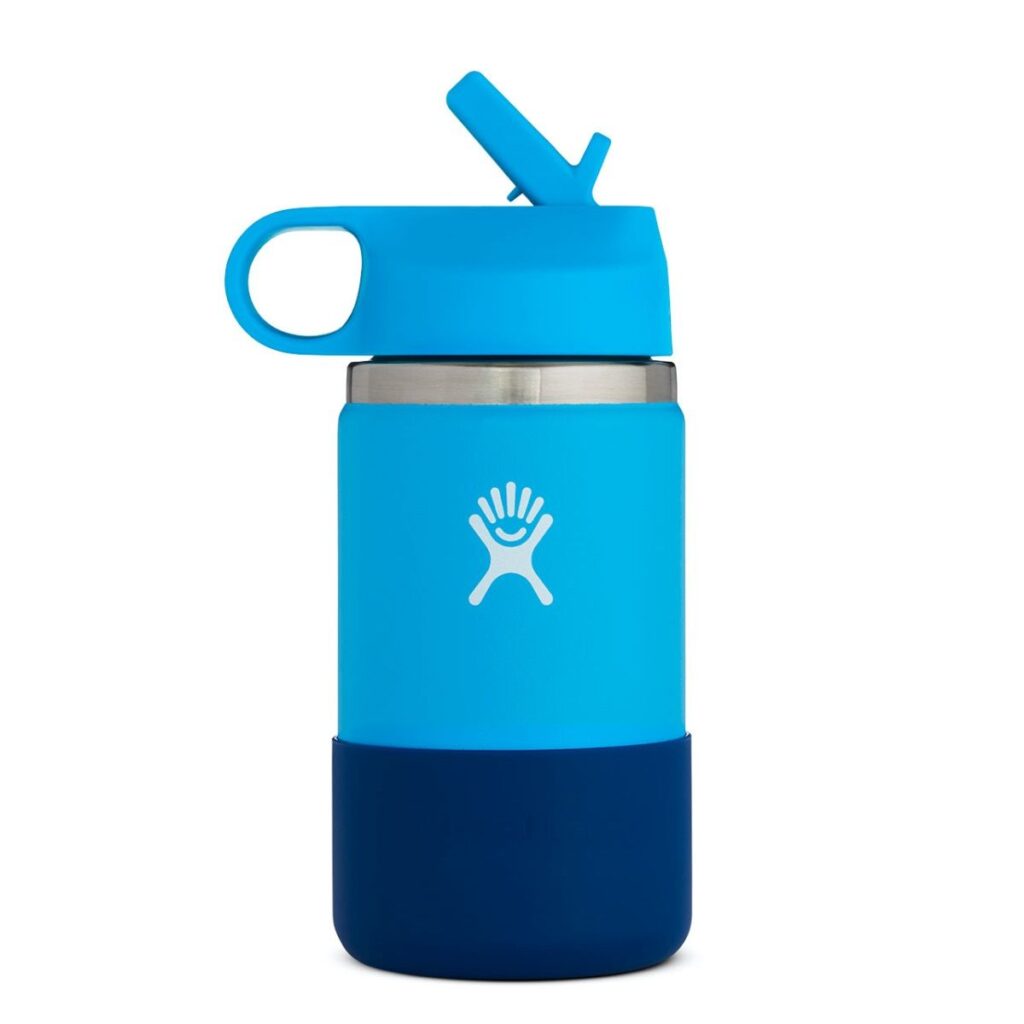 PROS:
Leak proof straw lid
Bright colors perfect for kids
Protective silicone boot
Lifetime warranty
CONS:
Only a 12 oz size
No dishwasher safe
7. Mora Double Wall Ceramic Travel Coffee Mug with Lid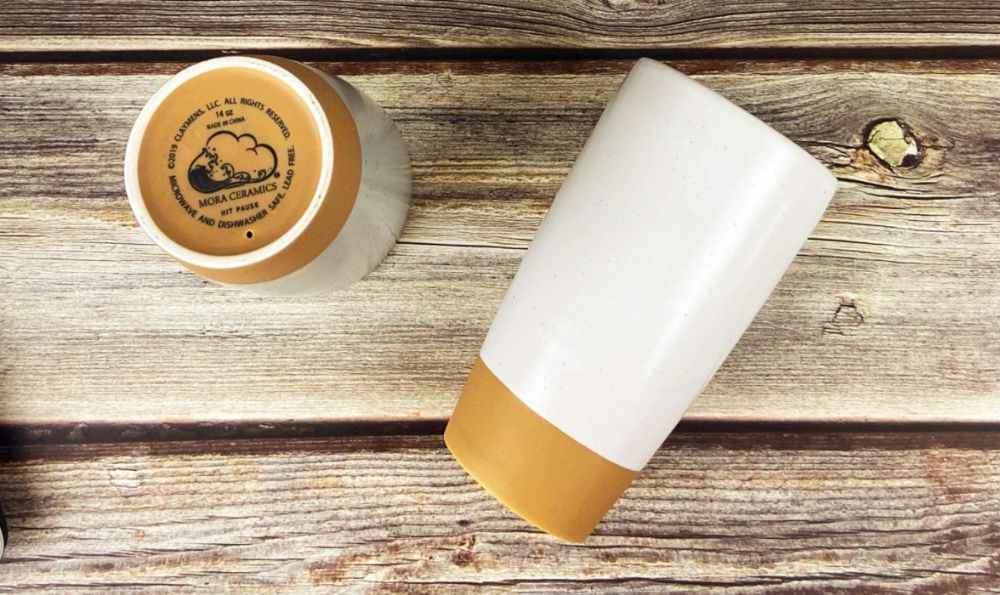 My partner doesn't like drinking her coffee or water out of stainless steel as she swears it imparts flavor into it. I can't taste it but she tells me she definitely can.
For her a ceramic cup doesn't impart flavors and this Mora double wall ceramic travel cup is made from Paladin Clay which is 20% stronger than regular ceramic so it's less likely to break.
It features a splash resistant lid which stays shut until you spin it open. It's not completely leak proof for your beach bag though so you'll have to carry it.
It's double walled which helps to keep your water cold or coffee hot but it's not vacuum insulated so it won't work as well as the stainless steel ones.
It's backed by a 30 day "love it or return it" policy so if you're not happy you can send it back.
The 14 oz size isn't as large as some of the stainless steel tumblers on the market, but I've found it's a good size for a tea or coffee and it's dishwasher safe which makes it easy to clean.
It isn't the cheapest mug on this list, but for high quality ceramic I think it's well priced.
See the latest price of the Mora Insulated Ceramic Tumbler at Amazon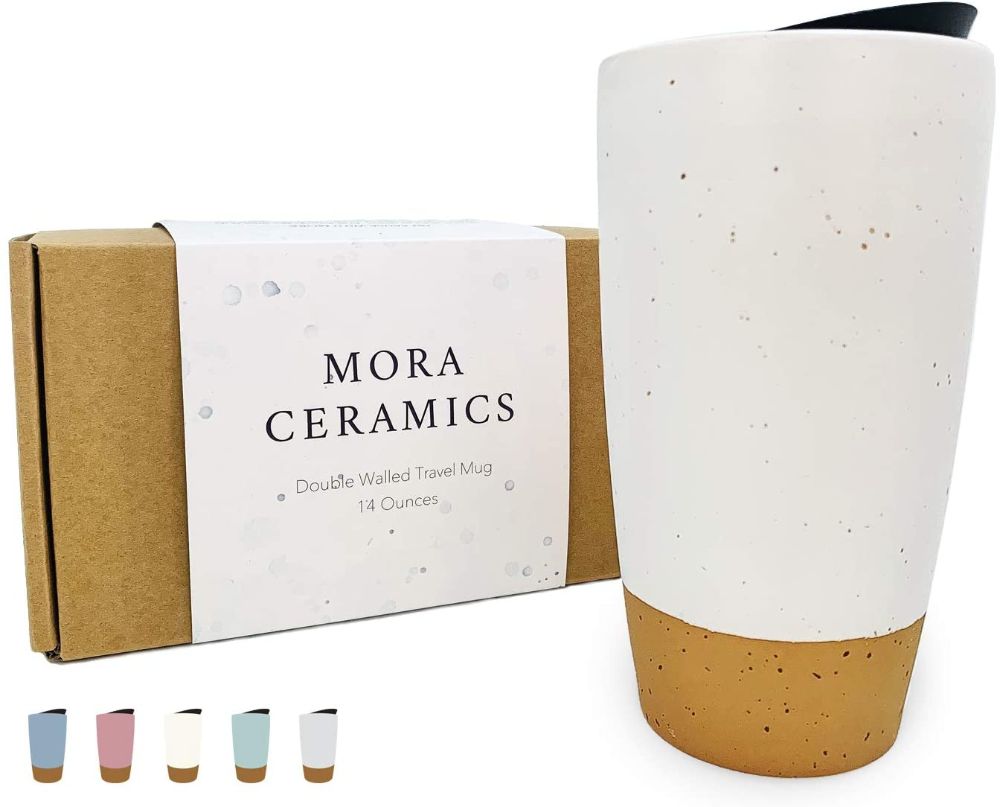 PROS:
Double walled ceramic so it won't burn your hands
Spill proof lid
Dishwasher safe
Great design
Made from strong Paladin ceramic
CONS:
Not vacuum insulated
Size may be too small for some people
Still prone to breaking when dropped
8. CHEAPEST OPTION: Rubbermaid Thermal Tumbler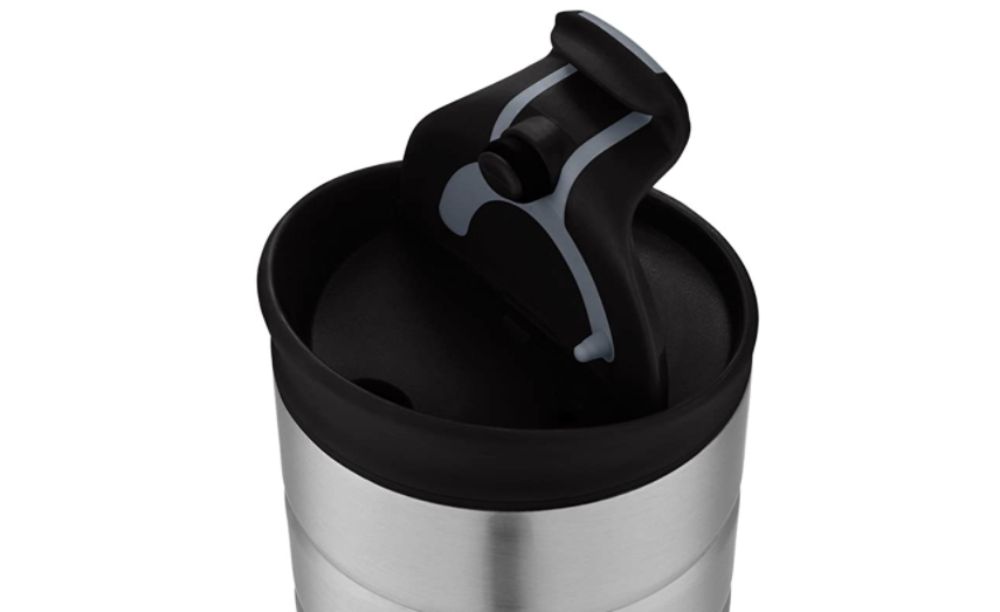 If you're on a tight budget and just want a good cheap insulated tumbler then the Rubbermaid is the cheapest tumbler on the market.
It comes in a 10 and 16 oz size and the lid screws on and is completely leak proof, perfect for the beach.
This is one of the cheapest tumblers I have ever seen (except when the Ozark Trail Tumblers are on sale) and it's actually dishwasher safe which the Ozark Trail isn't. That makes it easy to clean after a long day at the beach.
If you want the cheapest insulated tumbler for the beach then this is the cup for you.
See the latest price of the Rubbermaid Tumbler at Amazon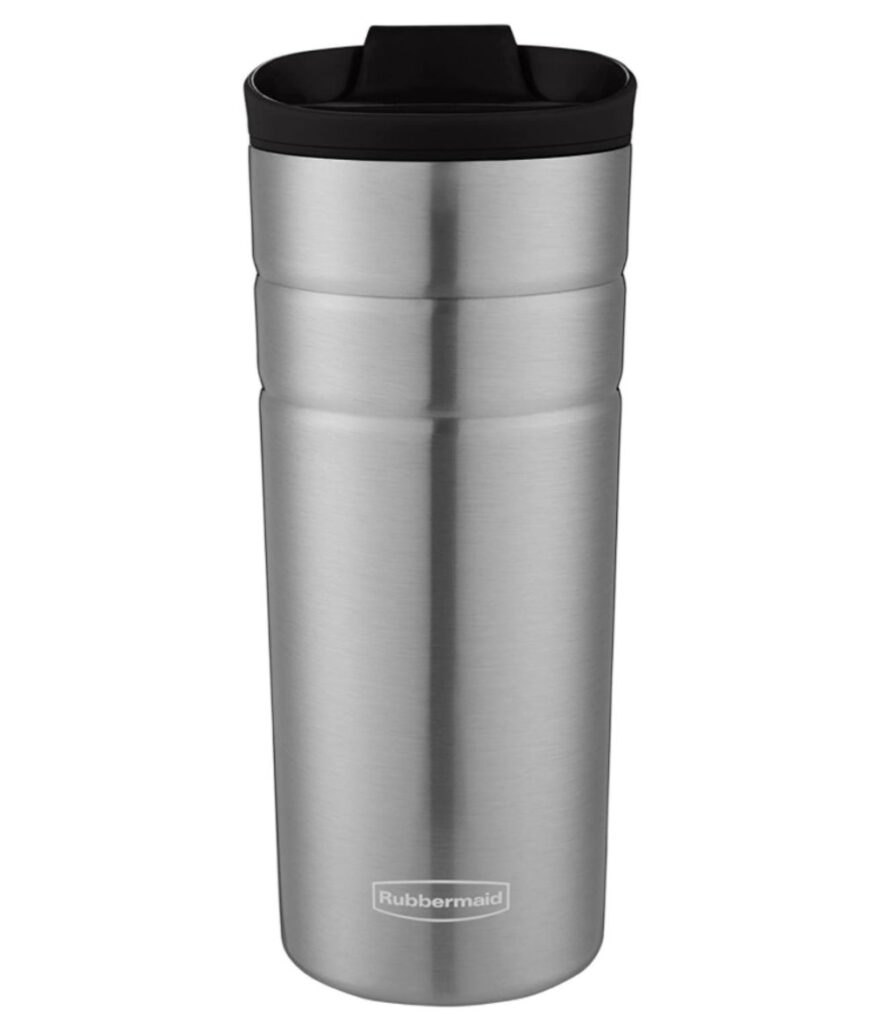 PROS:
Cheapest option
Dishwasher safe
Leak proof lid
Fits in most cup holders
CONS:
Only comes in stainless steel
Only comes in smaller sizes
9. For The Adult Beach Adventure: Yeti Wine Tumblers

If you're heading down to the beach for a picnic and day (or evening) with your friends that involves cheese, crackers, wine and good times then the Yeti 10 oz wine tumblers will be the perfect beach tumbler for you.
They are made from the same 18/8 kitchen grade stainless steel so they are rugged and durable and unlikely to break. They are vacuum insulated like other Yeti Tumblers so they'll keep your white wine cold even on the hottest beach day.
The look stunning, work great and come in a variety of different color options.
See the latest price of the Yeti Wine Tumbler at Yeti.com
(or compares to the prices of the Yeti Wine Tumbler at Amazon)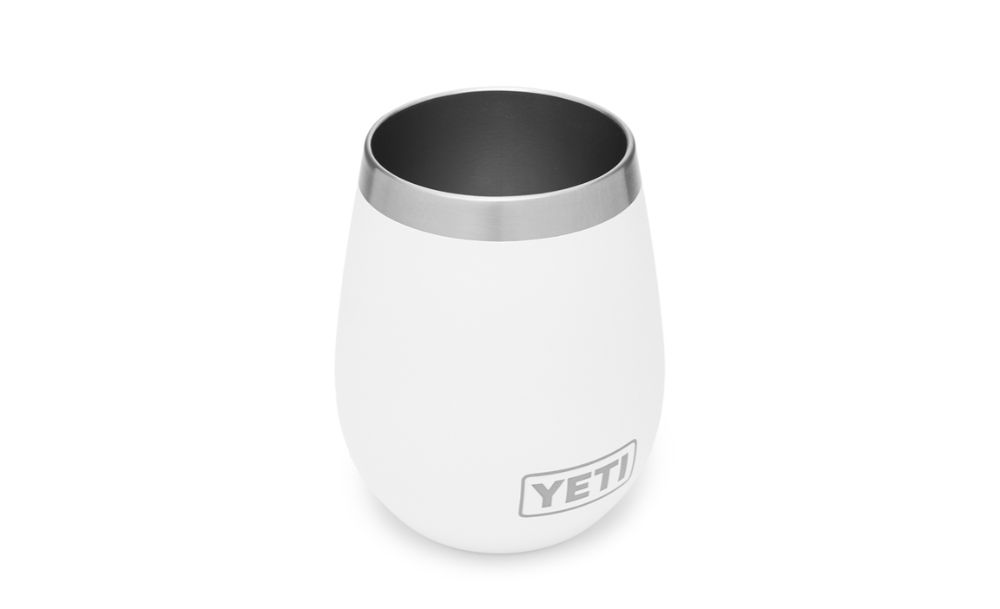 PROS:
Durable and won't break
Vacuum insulated to keep wine cold
10. For Smoothies and Cocktails At The Beach: The Cauldryn Battery Mug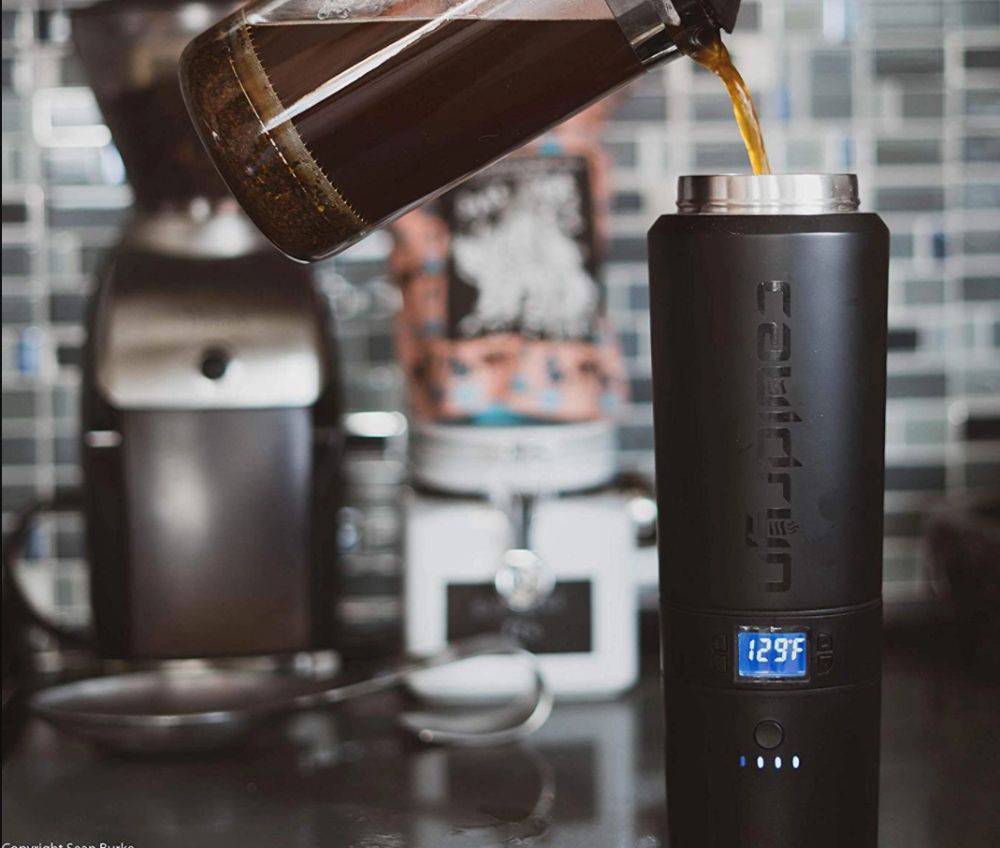 Sometimes you leave the best and most impressive for last. This is a little reward for those of you who read all the way to the end of the list.
Rather than just being a vaccum insulated tumbler that can keep drinks cold it's so much more than that.
The Cauldryn has a battery pack that can be used to boil water for brewing tea or coffee or it can keep your drink at the perfect temperature for up to 10 hours!
The mug is modular so you can swap out the heating element for a blender attachment and now you've got a portable blender to take with you to the beach to make fruit smoothies or even cocktails.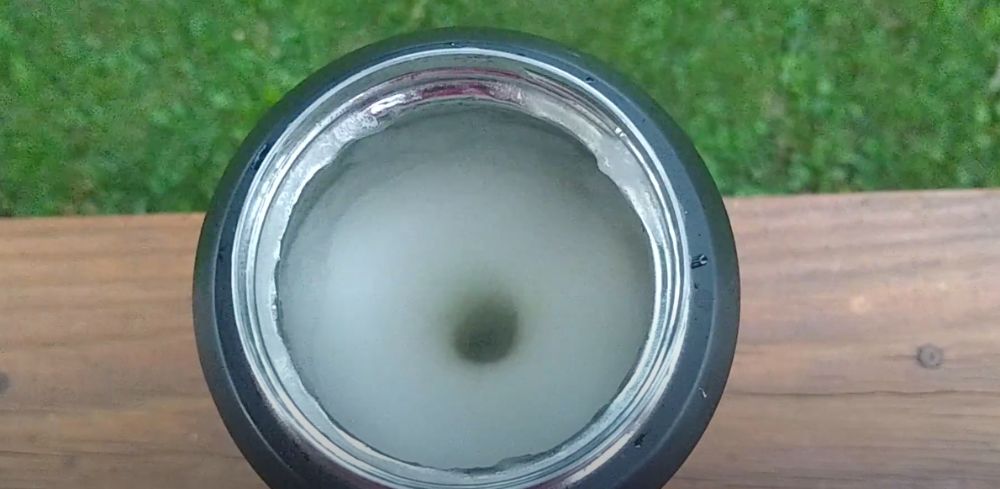 The main body of the cooler is vacuum insulated so it can keep water ice cold all day if you just want to use it as a regular drink bottle.
It's 16 oz in size and it's more expensive than a regular plain old insulated tumbler but you obviously get so much more for your money given it has a big battery pack and can run both a heating element and a blender.
At the time of writing the cup retails for around $130 on Cauldryn's website but I actually saw it for much cheaper (under $100) on Amazon.
See the latest price of the Cauldryn Heated Mug at Amazon
See the latest price of the Cauldryn Heater Mug + Blender at Amazon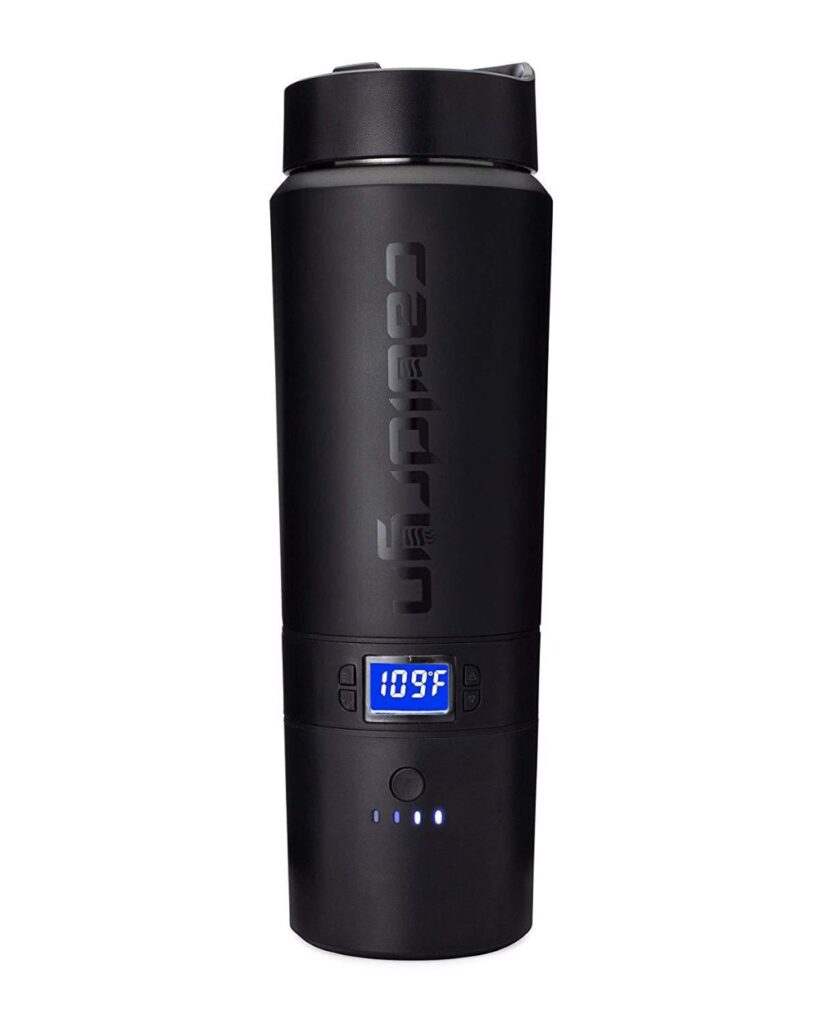 PROS:
Can boil water or keep it any temperature
Battery lasts for up to 10 hours
Vacuum insulated
Modular design
Blender accessory
CONS:
Only comes in black
Light stays on when in use
Stainless steel may impart flavors into your drink