Solo Stove make sleek and attractive looking smokeless fire pits and I love using mine for relaxed evenings in the backyard, on the beach and it's a staple for me when camping.
Solo Stove fire pits come in various sizes to suit different uses and group sizes and it's a good idea to compare the models before buying one.
Solo Stove Mesa and Mesa XL are great tabletop fire pit options while the Ranger 2.0 is a lightweight, portable ground standing fire pit suitable for couples and groups of up to 3.
The Bonfire 2.0 is a great ground standing fire pit for groups of 3-6 and is the most popular model and most versatile while the Yukon 2.0 (the largest Solo Stove fire pit) is best for communities and large groups. 
Once you've decided on the size Solo Stove fire pit you should buy, you can have fun choosing one in your preferred color. 
Below is a table comparing the different sizes of Solo Stove fire pits:  
Best Tabletop Solo Stoves: Mesa and Mesa XL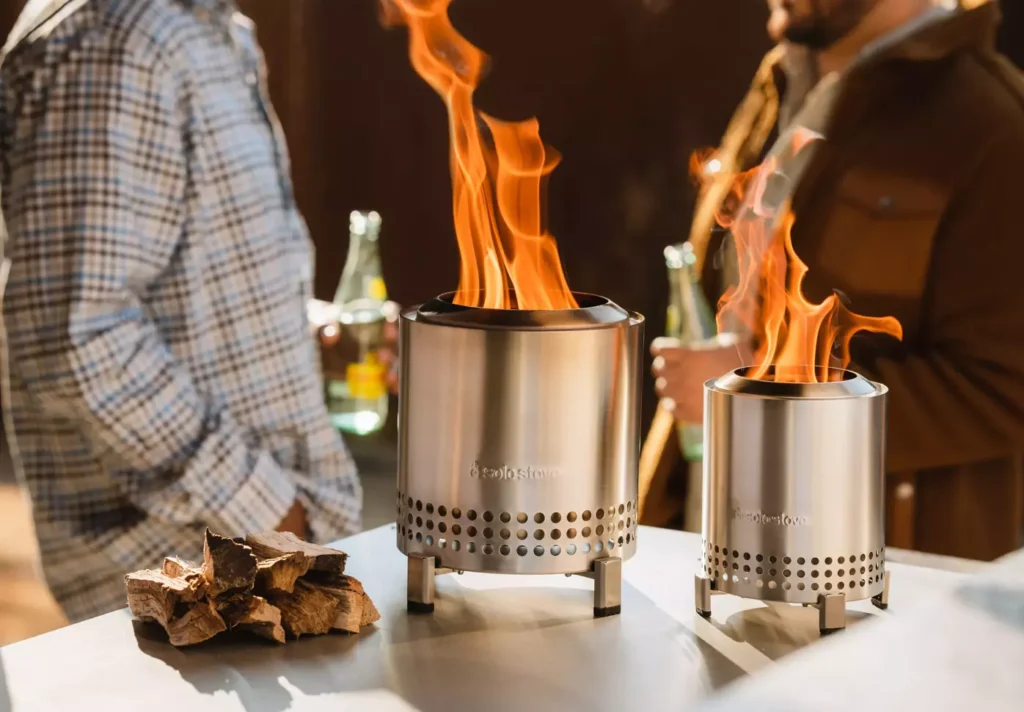 Looking for a sleek-looking fire pit to use on your patio table and to create some cozy ambiance? Look no further than the Mesa and Mesa XL fire pits which make attractive centerpieces on any outdoor table.
The Mesa is a fantastic option for balconies or small patios and provides a heat radius of roughly 1-2 feet, making it great for groups of 1-3 people or if you're worried about nearby vegetation being a safety hazard.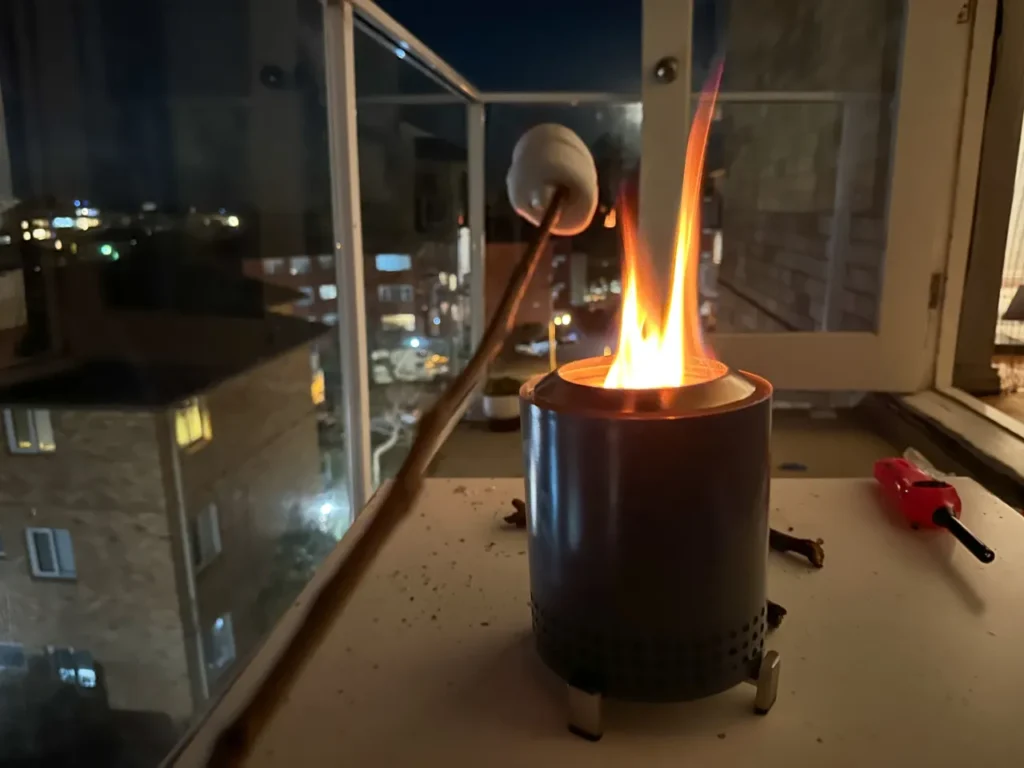 However, you can't really rely on it to keep warm on cold evenings but it does allow you to roast a few hotdogs or marshmallows. 
For a bit of extra warmth and to accommodate more people (up to 6), I would opt for the Mesa XL which has a heat radius of 2-3 feet. 
If you know you want a tabletop fire pit but are still on the fence between the Mesa and Mesa XL, check out this handy guide which gives an in-depth comparison between the 2. 
Best Portable Solo Stove for Couples: Ranger 2.0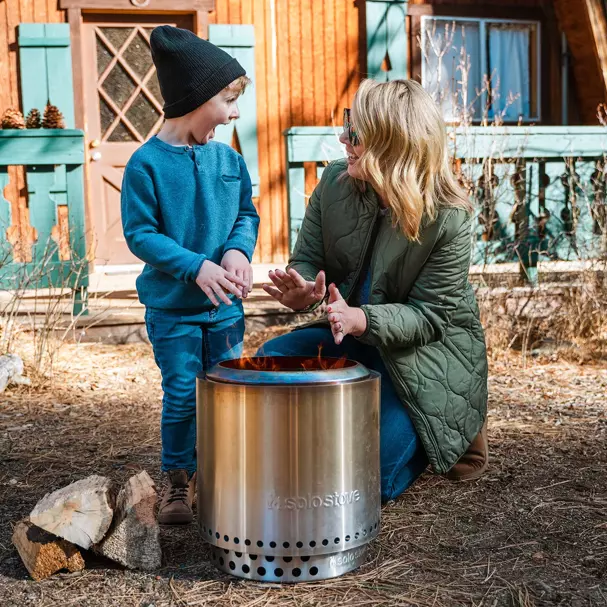 Do you like camping alone or in very small groups with only a partner or a maximum of 2 other people? 
If you're also the type who enjoys quiet evenings on the beach, on your patio or backyard with only 1 or 2 people, the Ranger 2.0 would make the ideal fire pit for you.
The Ranger 2.0 is the smallest ground standing Solo Stove fire pit and weighs only 15 lbs meaning you can easily transport it with you while camping or traveling to your campsite. 
This compact fire pit can comfortably provide warmth for up to 3 people and you can also roast marshmallows or hotdogs over it. Solo Stove also sell a range of accessories such as roasting sticks for this purpose. 
The Ranger 2.0 retails as the cheapest large Solo Stove and is typically $40 or so cheaper than the next biggest model, the Bonfire 2.0. 
However, this price excludes a stand which usually costs around $39.99 and is recommended by Solo Stove when using your fire pit on: 
Best Portable Solo Stove for Small Families and Groups: Bonfire 2.0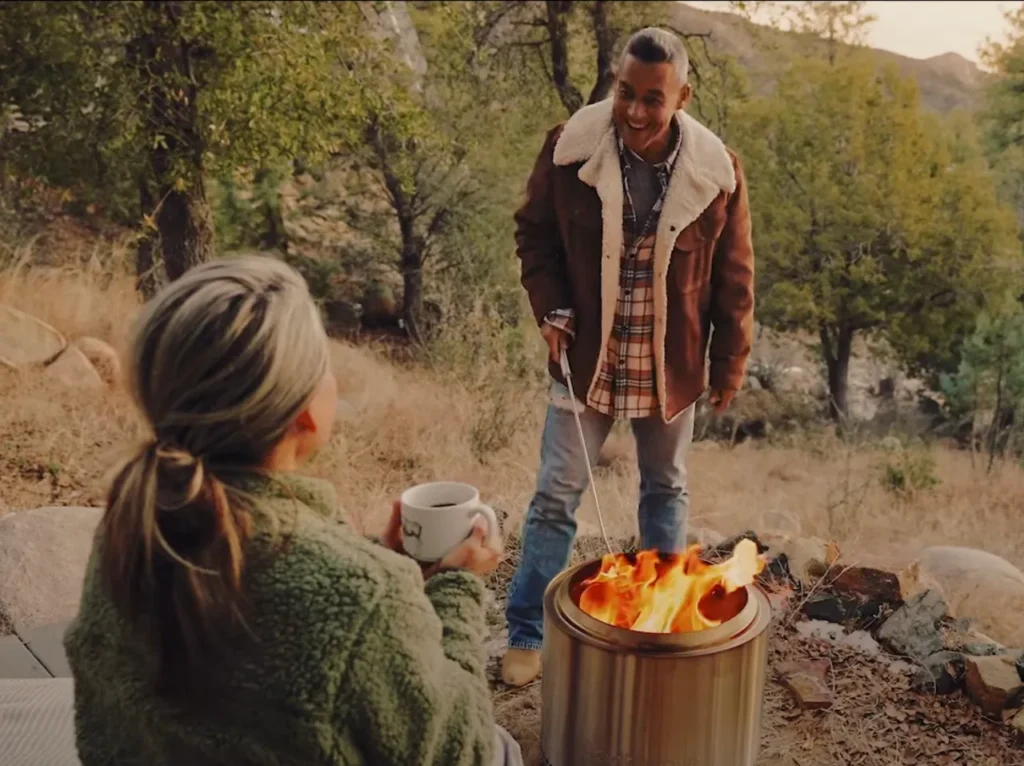 Bigger than the compact Ranger 2.0 but smaller and much more portable than the Yukon 2.0 is the Bonfire 2.0, which weighs just over 23 lbs.
This fire pit suits groups of 3 to 6 people, making it a fantastic choice if you're a small family or you need a fire pit to cater for smallish groups when camping or relaxing in your backyard.
The Bonfire 2.0 is also popular with folks who often attend tailgating parties because it can easily fit at the back of your truck or in your trunk.
Unlike the Yukon 2.0, the Bonfire 2.0 comes with a carry case for easy transport but (like all Solo Stove fire pits) the stand is extra.
This is the most popular of the Solo Stoves and for good reason. It's small enough for singles, couples and smaller gatherings but just big enough for larger groups too. It has good heat output and can be good for cooking.
It's also small enough to be easily portable which means you can take it with you on the road wherever your adventure takes you.
If you're not sure which size to go with then you can't really go wrong with the Bonfire and it's likely this will suit you best.
Best Solo Stove for Large Groups and a Backyard Centerpiece: Yukon 2.0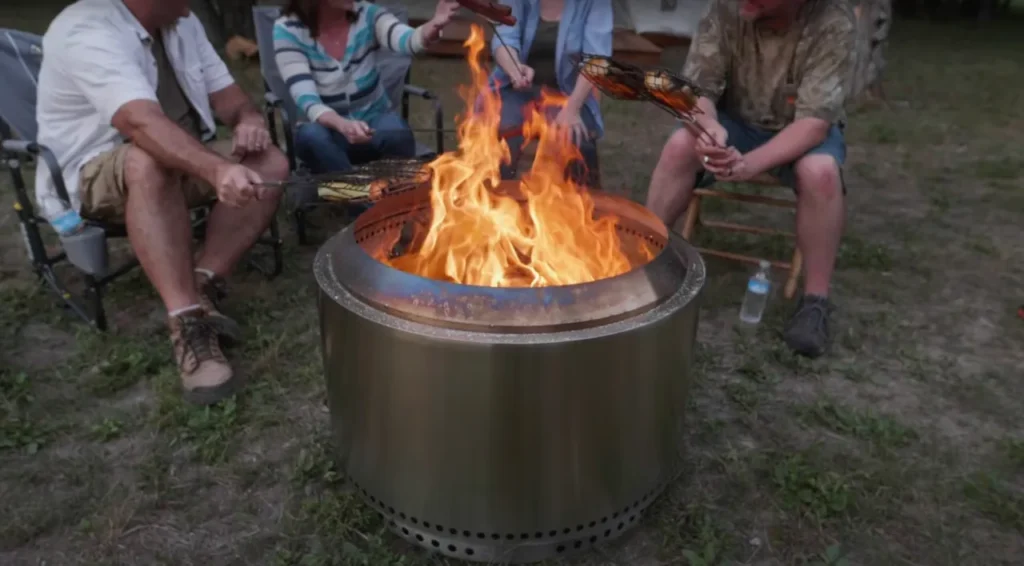 Do you often entertain large groups outdoors and are you looking for a fire pit that can accommodate more than 6 people at a time?
The Yukon 2.0 is large enough for this and also makes a striking and elegant centerpiece in your backyard due to its big size.
The only time I wouldn't recommend this fire pit is if you're looking for something you can easily transport from one site to another.
The Yukon 2.0 weighs just over 41 lbs, is the bulkiest of Solo Stove's fire pits and can be challenging to move around.
This is mainly a firepit you put in one spot and leave it there for a long period of time.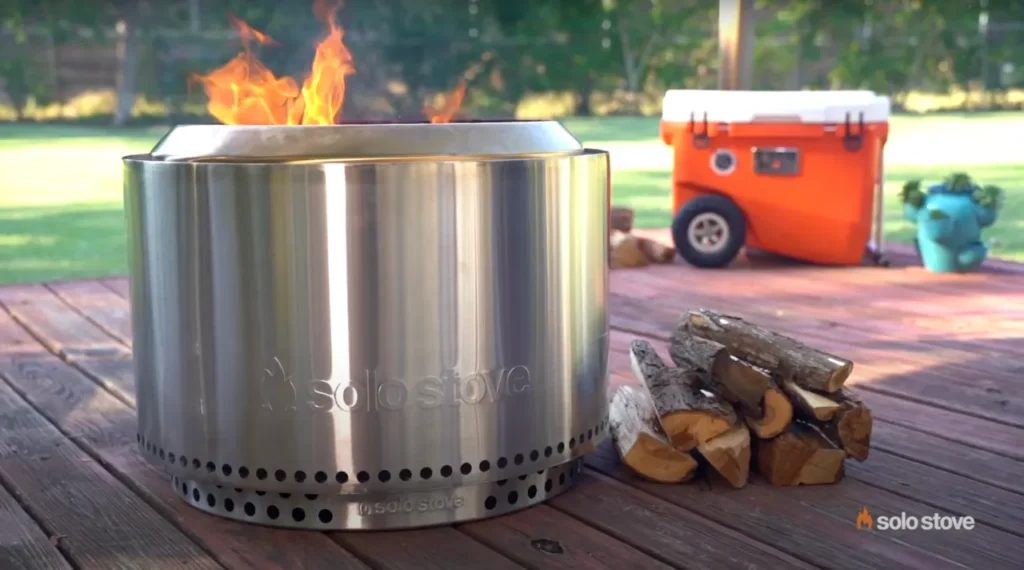 It's also the most expensive Solo Stove fire pit and will set you back around $450 excluding the stand.
The Papababe Outdoor Fire Pit from Amazon for example comes with 2 grills you can use at the same time. While it isn't smokeless like Solo Stove fire pits, it's quite a bit cheaper and allows you to cook a wide variety of food. 
Still undecided about the right size Solo Stove fire pit for your needs? Take a look at this in-depth comparison of the Bonfire 2.0 and Yukon 2.0 plus this one comparing the Bonfire 2.0 and the Ranger 2.0.