I was recently in the market for a great tabletop fire pit and the Solo Stove brand was my natural choice.
Since I live in a unit/condo and also love camping I wanted something that would work with my balcony and something I could take with me on quick camping trips away where I just want a little fire for ambiance.
I narrowed my search down to the Mesa and Mesa XL and opted for the Mesa in the end. However, my research showed that they're both fantastic fire pits but it all depends on your fire pit needs.
As the name suggests the Mesa XL is a larger version of the Mesa with a larger capacity, heat output and burn time. The Mesa XL doesn't need a separate pellet adapter whereas the Mesa does.
I personally recommend the smaller Mesa for balconies, small tabletop fires and small courtyard areas where space is extremely limited and larger fires aren't really practical or allowed. The Mesa XL is great for larger tabletops or slightly larger outdoor spaces.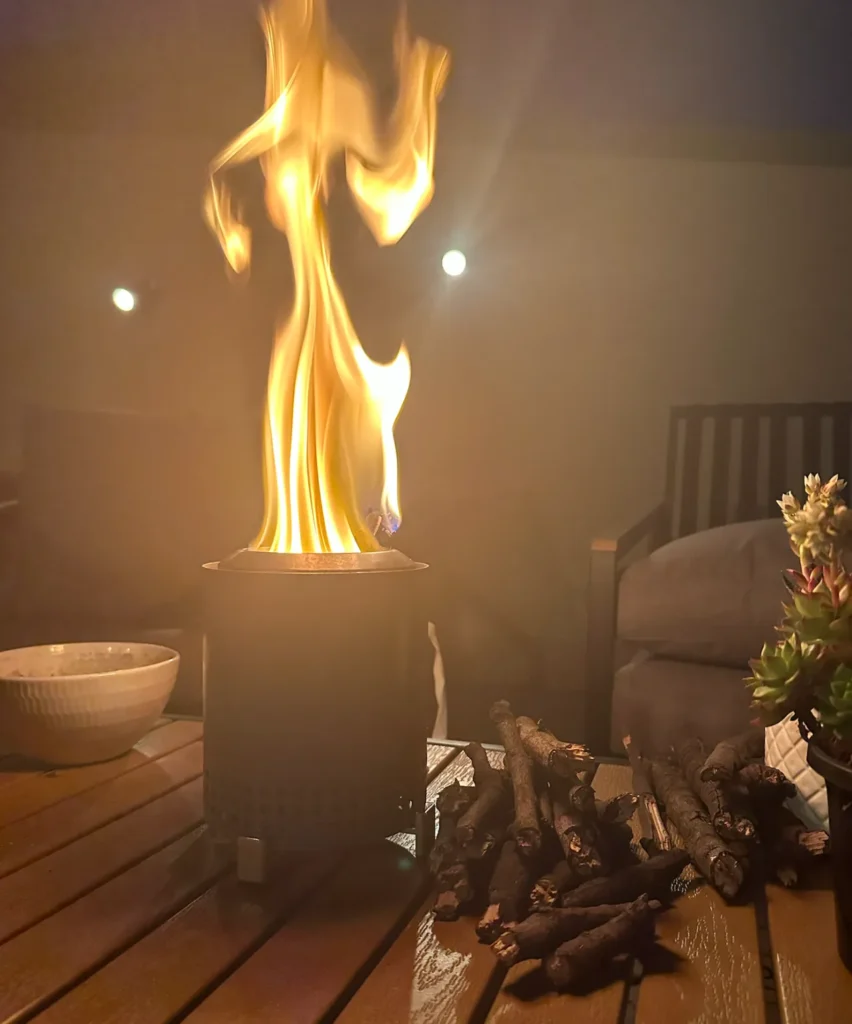 The Mesa and Mesa XL tabletop fire pits both have the same basic design with 360° airflow and durable stainless steel construction. Producing very little smoke, they come in various colors and have stands and a carry case.
The main difference is the size which directly affects the heat output and the burn time. The Mesa can only handle 285 g of pellets and burns for 30-45 minutes while the Mesa XL accommodates 1 kg of pellets and burns for 45-60 minutes.
The Mesa's heat radius is 1-2 feet but the Mesa XL's is 2-3 feet.
Both models are compact enough for a patio and convenient to take camping but you need to consider your usage, heat needs and how many people you want to accommodate with your fire pit.
Best For:

Small patios or balconies
Small groups (1-3 people)
To create ambiance (not necessarily warmth)
and roast a few marshmallows

Best For:

Larger groups (3 or more people)
A hassle-free fire tabletop fire pit experience
A little warmth
Longer burning time
Most Popular
Best For:
Small patios or balconies
Small groups (1-3 people)
To create ambiance (not necessarily warmth)
and roast a few marshmallows
Best For:
Larger groups (3 or more people)
A hassle-free fire tabletop fire pit experience
A little warmth
Longer burning time
10/02/2023 04:57 am GMT
What's The Difference Betwen the Mesa and Mesa XL?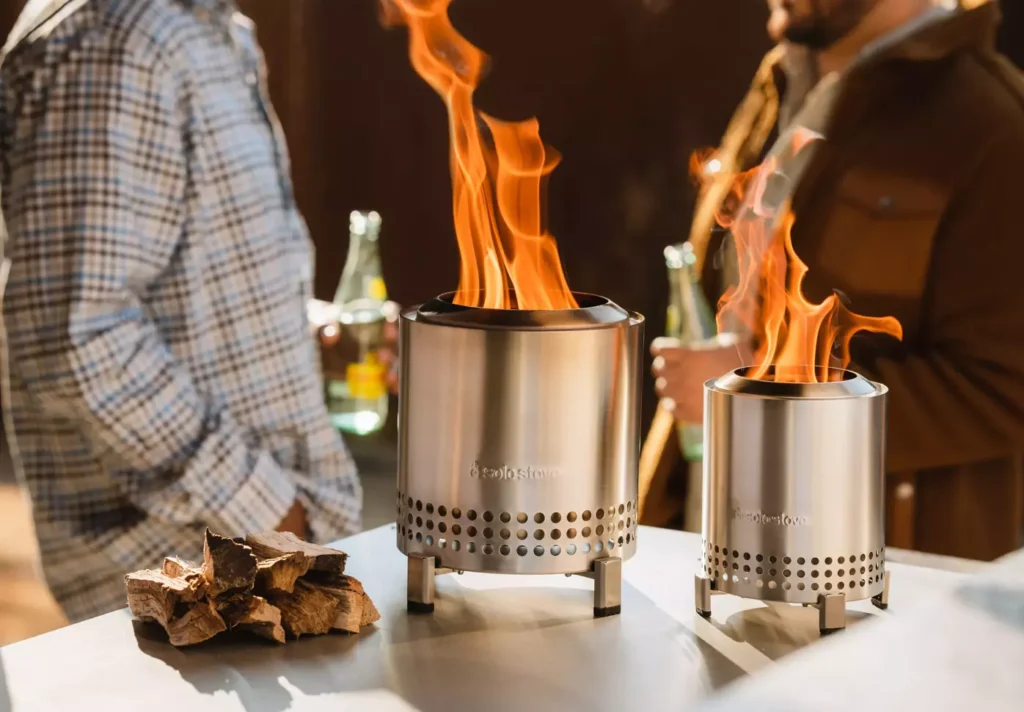 Solo Stove's Mesa is basically the mini version of the Mesa XL but they share many similarities:
Same design with 360°airflow
Same flame height
Stand and carry case included
They come in a range of attractive colors and plain stainless steel.
You can use Mesa accessories with both like the Mesa Accessory Pack that includes roasting sticks, stick rests, lid and scoop (unlike Duraflame logs, these fire pits are safe to roast food over).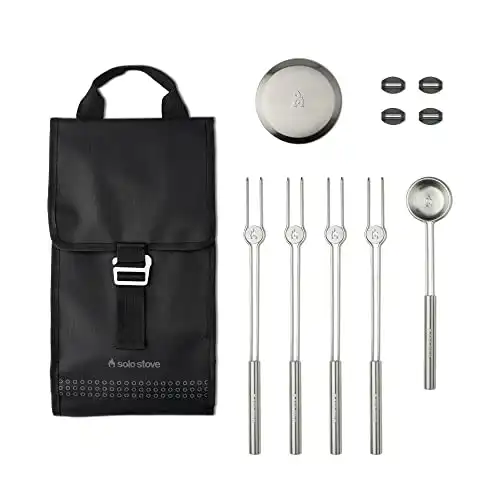 The video below gives a great introduction to these 2 fantastic tabletop fire pits:
Now let's check out their key differences:
Size and Weight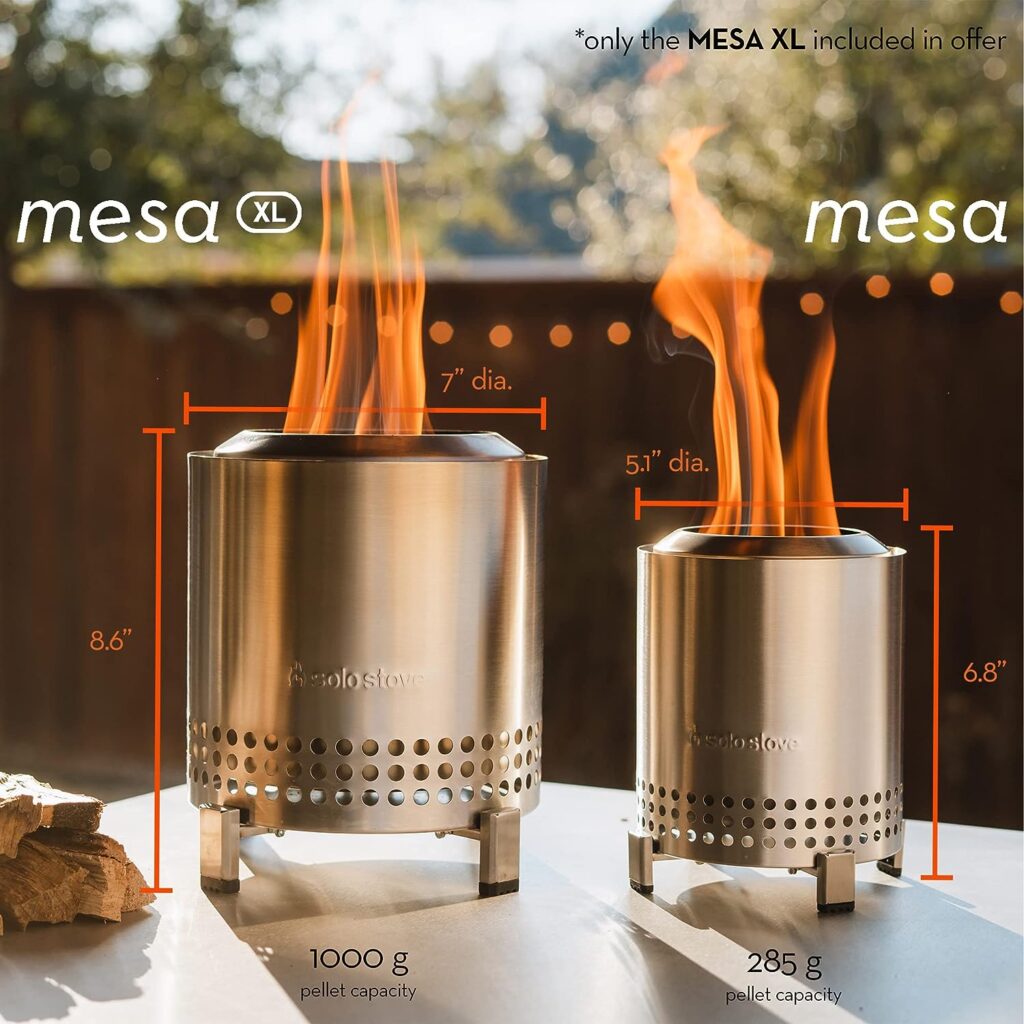 Here's how both fire pits compare in size and weight:
| | Mesa | Mesa XL |
| --- | --- | --- |
| Dimensions | 6.8(h) x 5.1(w) inches | 8.6(h) x 7(w) inches |
| Weight | 1.4 lbs | 2.3 lbs |
If you have a smallish balcony area like me the Mesa is the better option from a safety point of view.
The fire doesn't get as big and the flames aren't as high.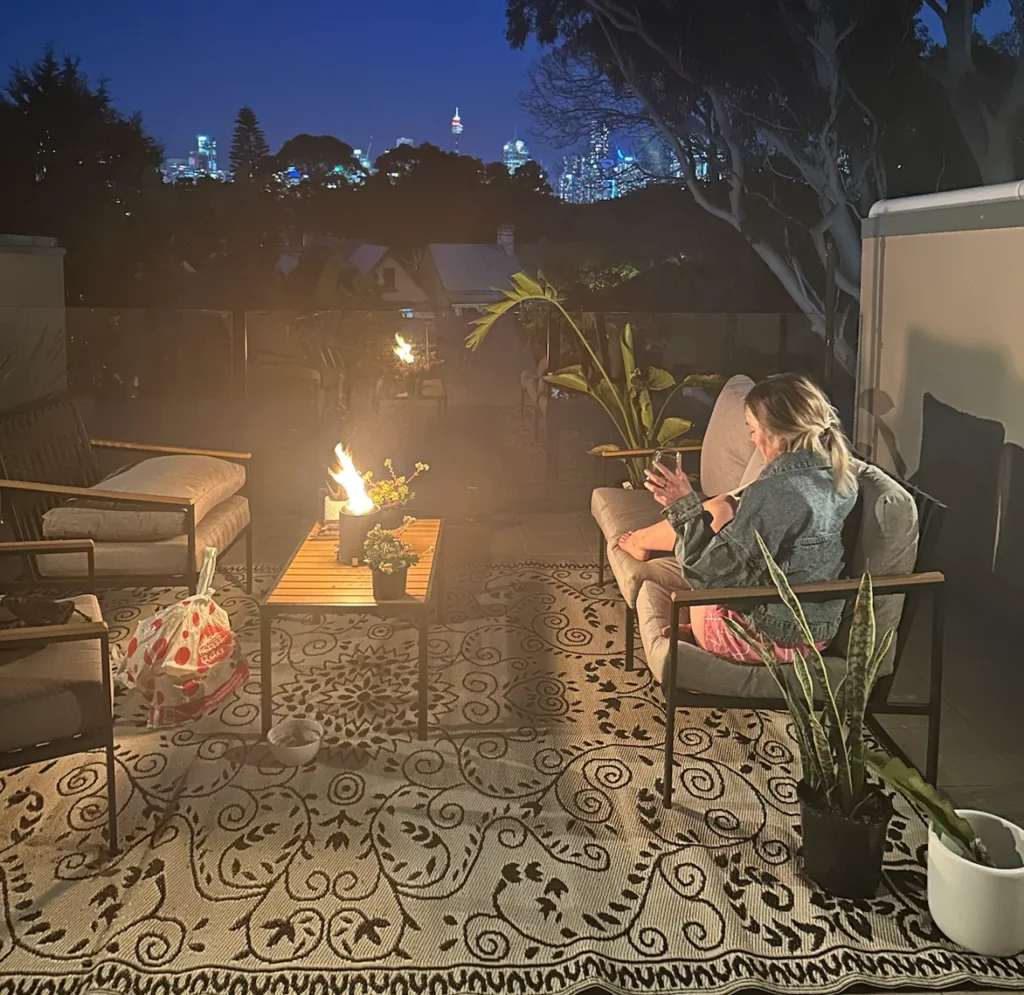 While it still produces way more flames than a candle I'm confident that I won't burning down my apartment building and I'm also confident that my neighbors won't have a big problem with it.
If the fire pit was larger then there's a change I might get reported.
It's also easier to transport especially when I'm hiking to a campsite as it's more lightweight and compact.
The Mesa Fits In A Backpack Easily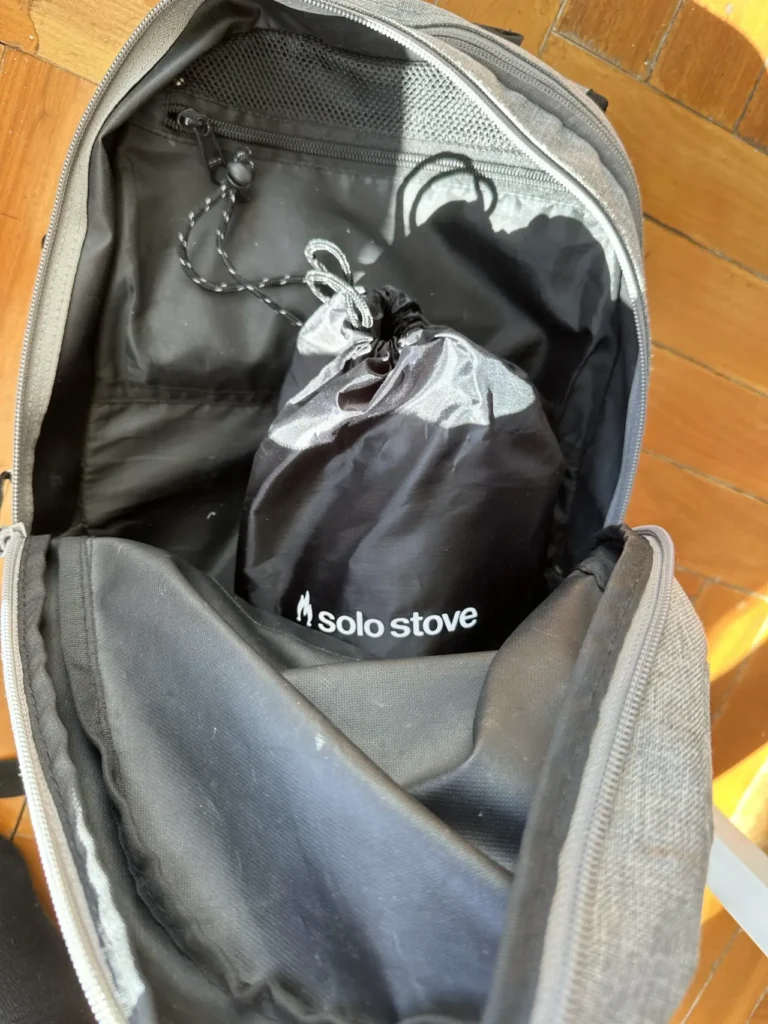 One thing that I love about my little Mesa (and something I didn't realise when I bought it) is that it easily fits inside my backpack and still leaves loads of room for other stuff.
This makes it super convenient to take hiking and have a little fire without having to have an open pit fire. It also makes it easy to take to friends houses or to my partner's house.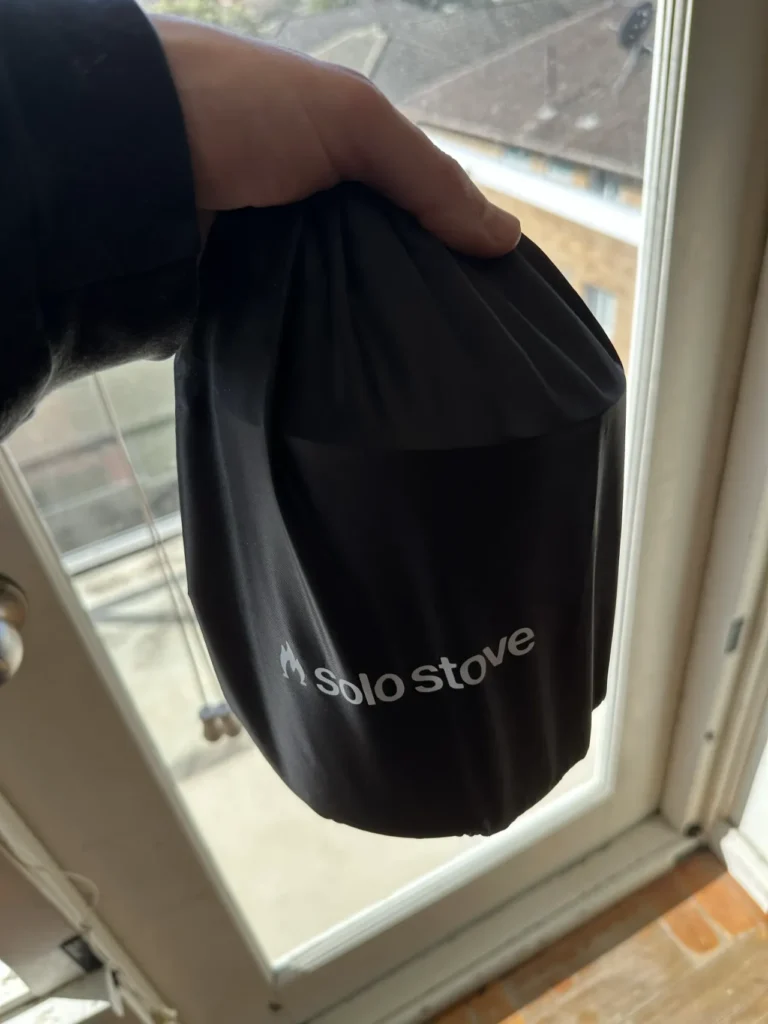 The little carry bag means everything is completely contained and ash doesn't get everywhere.
The Mesa XL isn't THAT much bigger, but it wouldn't be nearly as convenient to take in a backpack.
Burn Time and Fuel Capacity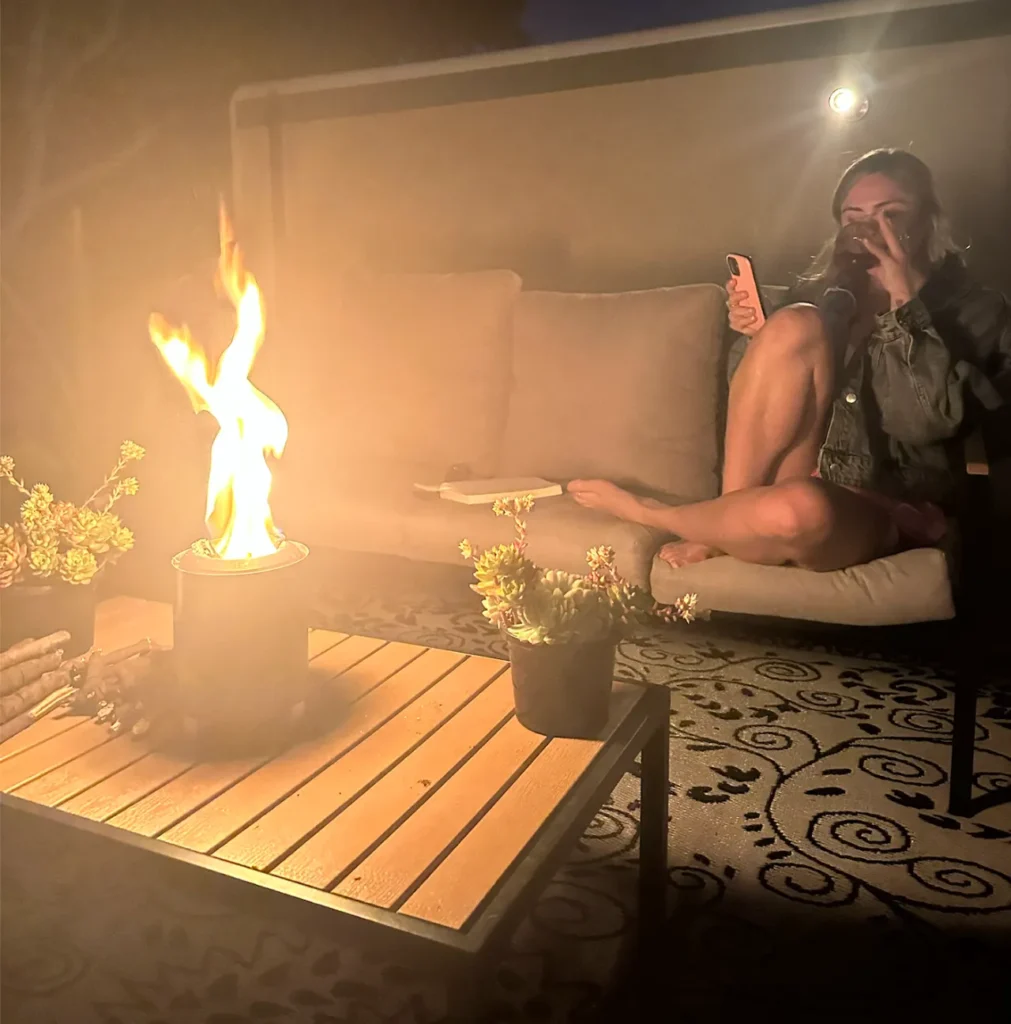 One of the downsides of the Mesa is the super small burn time. You've got to be constantly feeding the bad boy wood otherwise it goes out rather quickly.
The first time I used it my fire went out a couple of times because the wood burned through so quickly and then I added too much wood and the fire went too high.
Burn time is an important factor because it affects how often you have to reload the fire pit with wood pellets or hard wood pieces.
The Mesa's burn time at full capacity is 30-45 minutes while the Mesa XL's is between 45-60 minutes. However, in real world usage I'd say I was adding wood to my Mesa every 5 minutes or so.
Getting an maintaining a consistent flame is difficult and I would recommend wood pellets over firewood for this reason. It's easier to add more at a consistent rate and creates a more consistent fire.
The Mesa can fit 285g of pellets whereas the Mesa XL accommodates 1000g, nearly 4 times more.
In addition to having to reload your Mesa more often you also need to use the included pellet adaptor if you want to use wood pellets with it. This makes the space smaller and so using pellets and wood combined is difficult.
The Mesa is also so small that you can only fit in wood pieces up to about 3-4 inches in size.
In contrast, the Mesa XL has an in-built dual fuel grate and can take wood pieces and pellets up to 7 inches. Larger wood pieces leads to longer burning before you have to add more wood.
Some Mesa users have also reported that the small opening makes it more challenging to ignite. That said, if you're ok with the extra effort needed, it's still a good option.
Heat Radius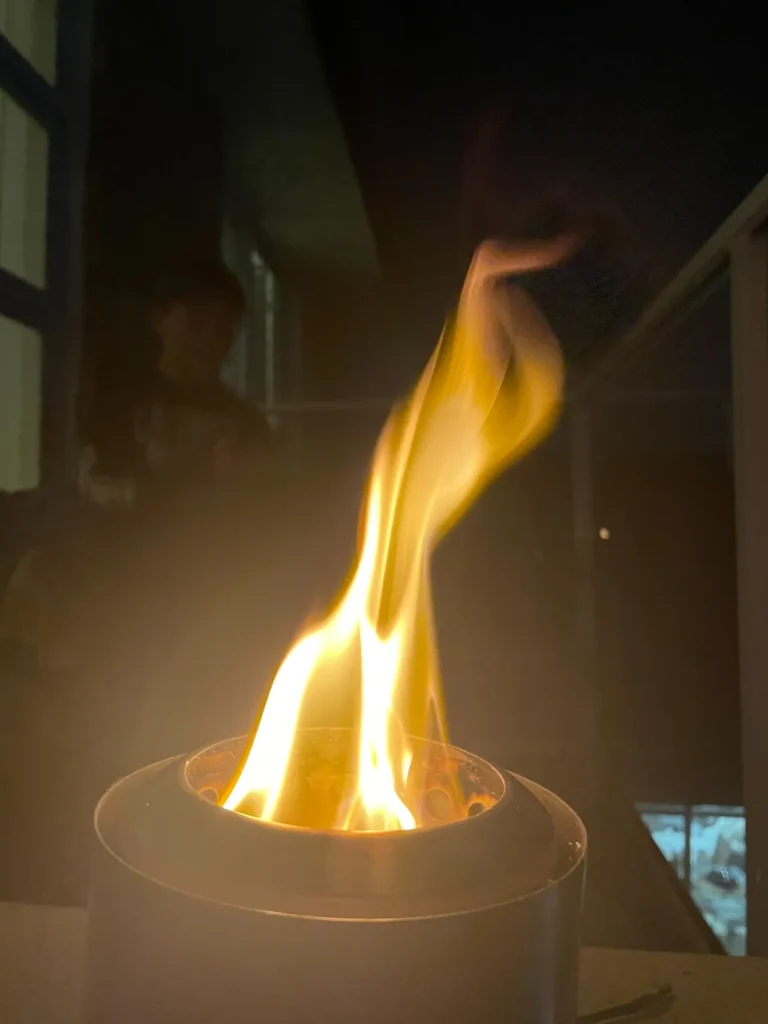 You can notice a bit of heat from the Mesa when it's cranking but the heat is pretty pitiful compared to a regular fire. It's nice, but it isn't going to keep you super warm on a cold winter's night.
If you often camp in places where it gets quite cold in the evenings and there are usually more than 3 people in your group, I'd go for the Mesa XL because its heat radius is between 2-3 feet compared with the Mesa's 1-2 feet.
You need to be pretty close to the Mesa to feel a bit of warmth. It's more for ambience than anything.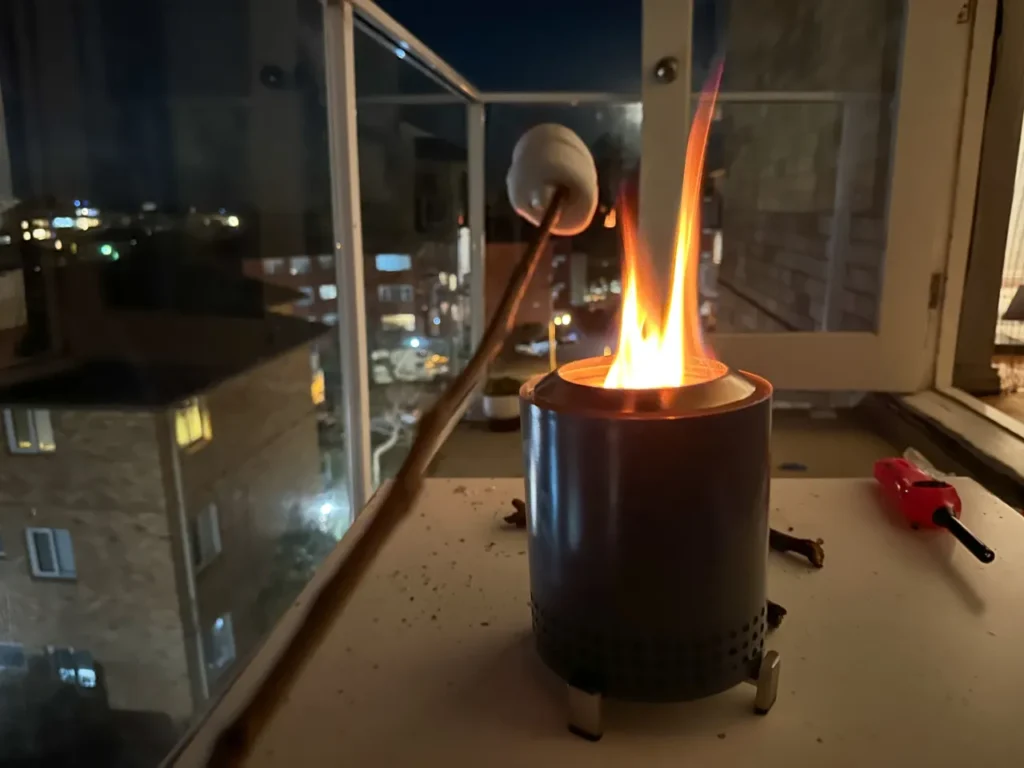 To put it another way, you can roast only 2 marshmallows at a time with the Mesa and 4 with the Mesa XL.
Price
The Mesa is generally around $20 cheaper than the Mesa XL so it could be a good option if you're on a tight budget (if so, consider buying it directly on Solo Stove's website instead of Amazon as it's usually cheaper there).
For the extra $20 the XL gives you:
A larger heat radius
No need to manually adapt your pellets
Longer burn time and ability to use bigger wood pieces
However, if you just want to create some ambiance on your patio, the Mesa will do just fine as a showpiece and you can choose a color that makes your table pop.
What's Better: The Mesa or Mesa XL?
The Mesa XL is the better option because it has a larger heat radius, longer burn time, more hassle-free use and is only $20 more expensive.
If I had more space and wasn't on a tiny balcony I would 100% go with the Mesa XL.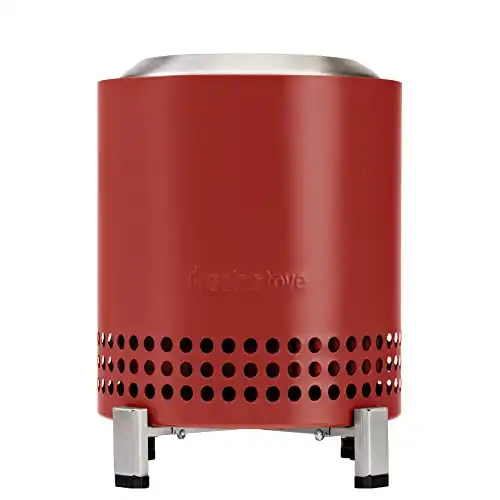 But unfortunately that's not the case for me.
If size and weight is important and you have a small outdoor space, I'd go for the Mesa.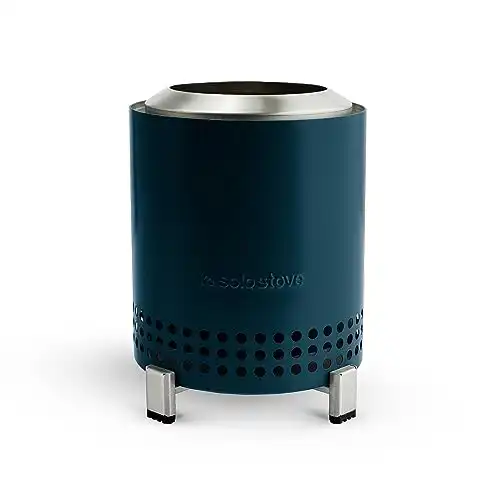 If you're on a really strict budget and still want a small good quality tabletop fire pit, I'd go for the Duraflame Stainless Steel Fire Pit which is just shy of $50. Duraflame is also a trusted outdoor fire brand.