I personally live near some big sand dunes (you may have seen them in Mad Max movies) and I love taking the kids there to slide down them as a fun thing to do on the weekend. 
So far we've used a boogey board to go down the sand hills (and tried cardboard and my skimboard with no success) and it's been a lot of fun.
But (as dads do) I wanted to take our sand sledding to the next level and make it even more fun. So I wanted to know what else we can use so we could at least have 3-4 different options so we don't all have to share the 1 boogey board or at best we could take it more seriously and maybe even do some tricks.
The best items for sand sledding are sand boards, slow sleds or boogey boards with a smooth plastic or fiberglass bottom. Plastic snowboards and even inflatable pool toys can also work if the dunes are steep enough.
Don't waste your time with bits of cardboard, saucers or soft plastic or foam items as they won't slide down the dunes. You need something with a super slick bottom and ideally you want to wax the bottom for the ultimate sand sledding.
If you don't have a dedicated sand sled or sand board handy, don't worry because the chances are you already have a makeshift one somewhere in your home or garage. 
Sandboard Wax Will Help Almost Anything Slide Better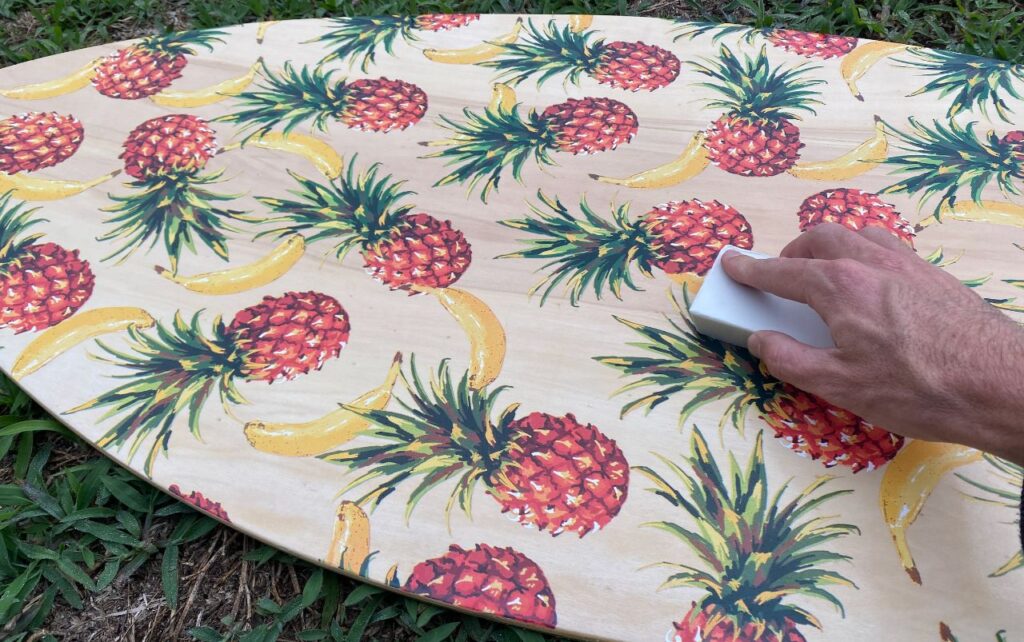 Sand has a high amount of friction and while you might think you can slide down the sand dunes just like you would on the snowy ski slopes you'll be sadly mistaken.
A lot of material that might work great on snow and ice actually end up being quite sticking on sand and you end up going nowhere.
However, applying wax to the bottom of your board (or whatever you're riding) will help increase the slipperyness of your board.
Choosing the right wax is an artform in and of itself and there is a great guide on choosing the right sandboard wax but the simple summary for non-serious sand sledders is:
For hot dry sand use a high temperature wax. Tropical surfboard wax works great and is cheap or you can buy specific waxes for sandboards.
You need the high temperature wax because the sand rubbing over your sled makes everything incredibly hot and soft waxes just won't cut it.
For cooler wet sand a teflon based wax will work great, but a surfboard wax will still do this job and be good enough for most people.
To get the most out of your sand sledding I definitely recommend wax.
What To Use for Sand Sledding
Here are some great items to use for sand sledding: 
1. Sand Board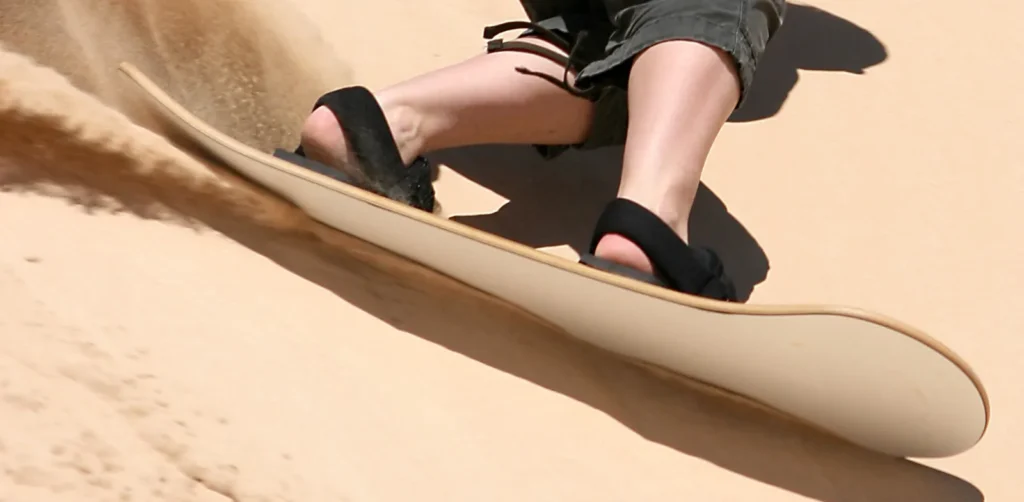 Using a sandboard for racing down the dunes is the best thing you can use because they're very slippery, have a unique base coating and are specially designed for sand (which is softer and coarser than ice and snow).
The rails allow for good turns and you can use them standing up but you can also have a lot of fun just sitting down on a sand board and sledding your way down the hill. There are even sand board designed specifically for sledding.
Sand sledding is still gaining momentum so you'll find it hard to find a sled on Amazon.
However, your local outdoor good store might stock them if you live near sand dunes.
Alternatively, get one online, like this cool Venomous Sandboard. It's a little pricey but it's well-made and worth the investment if you're going to be sand boarding a lot.
If sand sledding is big in your area, you might also be able to rent a sandboard. 
2. Boogey Board with a Plastic or Fiberglass Bottom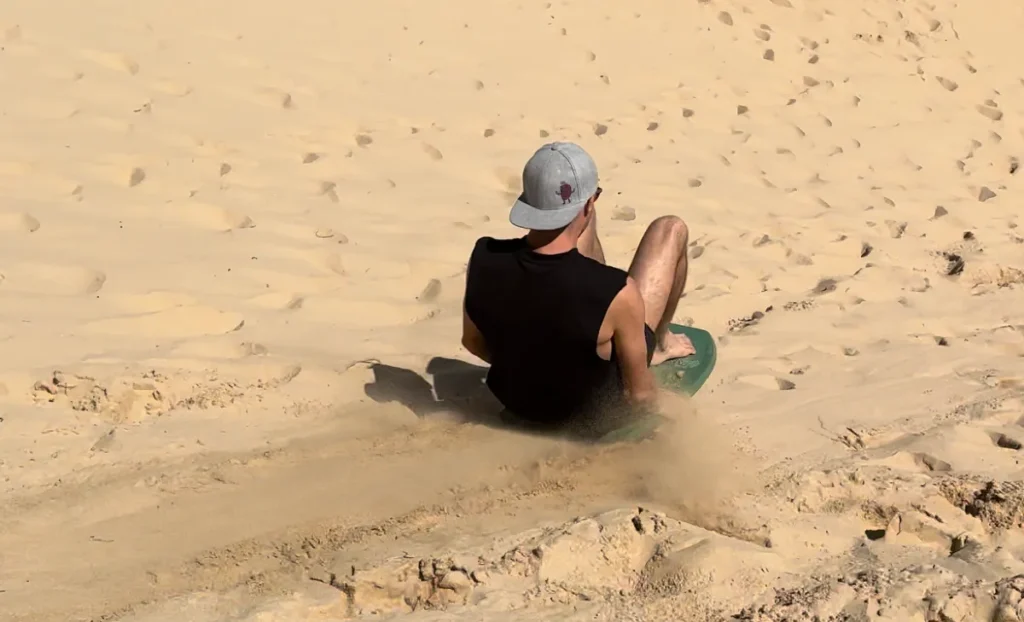 As mentioned, my kids and I have tried boogey boards for sand sledding and they've worked well.
But you want to make sure you've got a board with a smooth plastic bottom, not a rough underside otherwise you won't go anywhere.
We didn't need to wax the board and it worked just fine and we picked up a lot of speed at the local dunes.
But for less steep hills then I would waxed the board before using it.
3. Snowboard
Snowboards aren't designed to glide down sand but they'll work in a fix and still provide plenty of fun on the dunes.
If you don't have one and you also enjoy snowboarding during the winter, consider buying one so it can double up as a sand sled.
However, you'll need to convert it into a sand sled by waxing the bottom before each session (or even before each ride) so it's more suitable for dunes.
Emsco Supre Hero Snowboard from Amazon is a fantastic example because it's highly affordable and suitable for kids. The bottom is already slippery and adding wax will make it a great sand sled or sand board.
4. Skimboard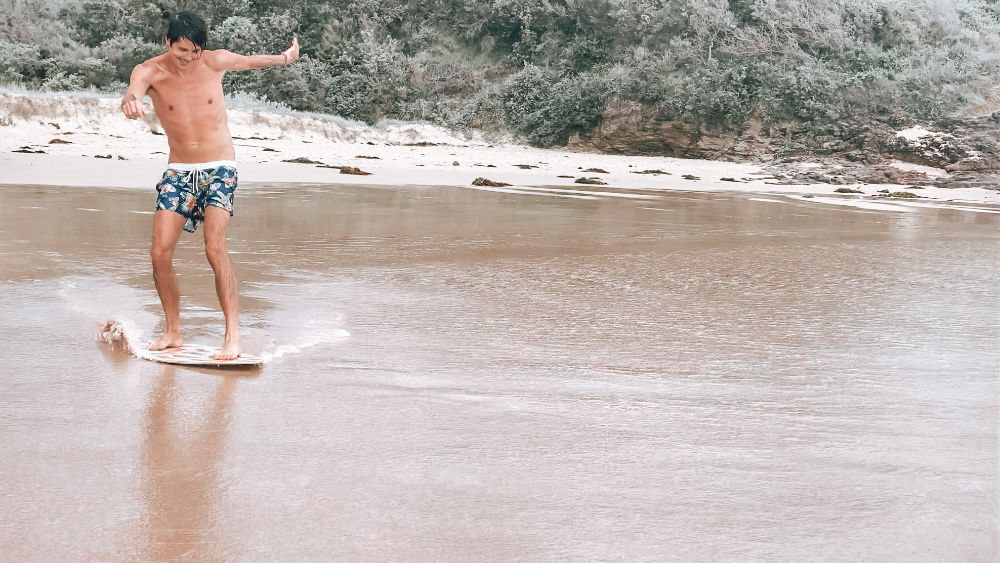 Live near the ocean and love skimboarding? If so, then you may be able to use your skimboard on the sand dunes.
This does depend on what kind of skimboard you have. Cheap wooden skimboards aren't great for sand sledding as the rough wooden surface at the bottom of the board tends to grip the sand and you don't go anywhere.
Waxing the bottom of your skimboard (with a hard surf wax not a speed wax) can improve the slipperiness.
But using a skimboard with a slick fiberglass or even plastic bottom can work great on the sand (especially when you wax it). Check out my list of the best skimboards for beginners.
The Wavestorm is a good, cheap board that is great for beginner skimboarders but can also be used on the sand dunes.
I'm sure you regularly wax your skimboard, and this gives it a smooth and slightly slippery surface that's ideal for sand sledding. 
5. Inflatable Snow Tube
If you're short on space and would prefer something inflatable you can store away compactly, consider the Heavy Duty Inflatable Snow Tube.
It has a smooth PVC bottom to make gliding through sand easy and is heavy duty.
The wide surface area will spread out your weight to made sliding down the sand easier and the heavy duty plastic base will handle the coarse sand (for a while at least).
I still recommend waxing the bottom but this can be a great option for sand sledding with the kids.
6. Large Cat Litter Box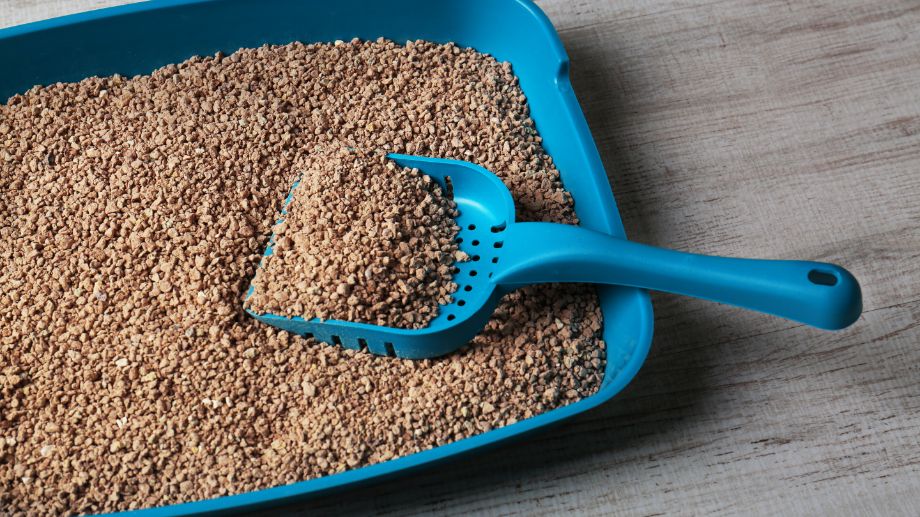 This isn't as disgusting as it sounds. If you have a cat litter box you've never used, it can make a great sand sled. Alternatively, if you have a spare one, you could always wash and sanitize it, or you could buy a cheap one from the store.
Cat litter boxes aren't designed to be abused during sand sledding but they are made of a smooth plastic so should do good for sliding. Especially if you give the bottom of the board a wax before riding it down the dunes.
Even if yours cracks, you can buy another one quite cheaply. 
7. Large Foil Tray
If you're looking for a once-off sand sled, a disposable large foil tray will work well for a couple of goes down the hill.
You can buy these at grocery stores but I find that the cheap ones from Dollar Tree are pretty durable and won't cost you a lot. 
You could also wash one that you've already used to get the most use out of it.
You will need to wax these for them to have a chance of working.
8. Inflatable Pool Tire
If your kids are swimming fans, they probably have an inflatable pool tire lying around somewhere.
That giant swan your girlfriend got for her instagram feed? It just found a new lease of life!
These make excellent makeshift sand sleds because they often have string handles and a smooth surface for racing through the sand. 
Make sure to wax the bottom and don't be upset if they pop because the friction and heat from the sand might be too much for them.