When winter rolls around the dreaded morning windscreen defrosting begins. Frost and ice both block windscreens throughout winter and make driving dangerous.
You either need to wait for your car to warm up and defrost the windshield or get out in the cold and scrape it yourself. But what if there was a way you could create a DIY windscreen cover to avoid this problem and stop frost and ice from forming in the first place? Well luckily there are quite a few ways you can do this.
You can make DIY windscreen frost covers for your vehicle using large waste bags, tarps or even blankets and towels to stop ice from forming. For best results use a waterproof cover and cover the entire windscreen, securing it under the windscreen wipers and inside the doors so it doesn't blow away during heavy winds.
There are so many DIY windscreen cover alternatives that you can use depending on what you have lying around and all of them work really well.
Consider all the cover options below, and you'll be amazed at how simple it is to protect your windscreen from frost, no matter what materials you have.
A Windscreen Cover Only Works with Preparation
Windscreen covers are only effective when you place them on your vehicle before rain or snow or before the evening when you expect temperatures to drop and ice to coat your vehicle. It's important to keep your chosen cover stored in your vehicle, so you can install it whenever you park to keep frost from coating your windscreen.
If you forget to install your cover, you'll have to rely on a thawing method instead of a cover. There are special sprays designed to melt away ice and frost fast. Click here to learn more about how to remove ice from your windshield easily with water.
The Best DIY Windshield Frost Covers Are Waterproof
While we'll outline a variety of different DIY windshield frost covers and they all work fairly well the best covers are always going to be ones that are waterproof.
The reason ice forms on your windshield is that when the temperature drops your glass becomes extremely cold. Water vapor from the air or water from rain or snow will then freeze onto your windshield because it's so cold.
Windshield covers work by stopping this water from ever reaching your windshield so it doesn't have a chance to freeze on there.
While all these DIY solutions can work waterproof versions are going to be most effective as they will stop moisture from rain and snow reaching your windshield. Non-waterproof versions can get wet in the rain and you can still end up with frost on your windshield.
1. Use a Waste Bag
The large waste bags make ideal windscreen covers because they are made from thick plastic, and they're cheap. These bags keep water off your windscreen as well when fastened well.
Obtain large construction waste bags and cut them in half and splay them out to make them as large as possible. Now secure the bag in your vehicle's windows and set your windshield wipers in position to lock the bag in place.
If you're expecting snowfall but no big winds sometimes the bags can be kept on with just static alone (and the weight of the snow on top). Other times you can just secure them using your windscreen wipers.
But if you expect high winds you definitely want to secure the bags to your car using either ropes of closing the sides of them into the doors of your car.
2. Rely on a Blanket
Most people have extra blankets that can help keep ice from blocking their windscreen. The benefit of blankets is they are usually quite large and big enough to cover the entire windscreen.
Keep a blanket that's large enough to fully block your windscreen in your trunk, and you'll have it ready when you need it. Any blanket that's large enough will work well, but water-resistant blankets such as this Yeti LowLands blanket offer better protection. A picnic blanket with a waterproof liner inside it is also a good option.
The one downside to some blankets (if they aren't waterproof) is that moisture may soak through and cause frost or ice buildup underneath.
Also even waterproof blankets can become soggy and wet overnight and this can be a storage problem compared to purely plastic solutions.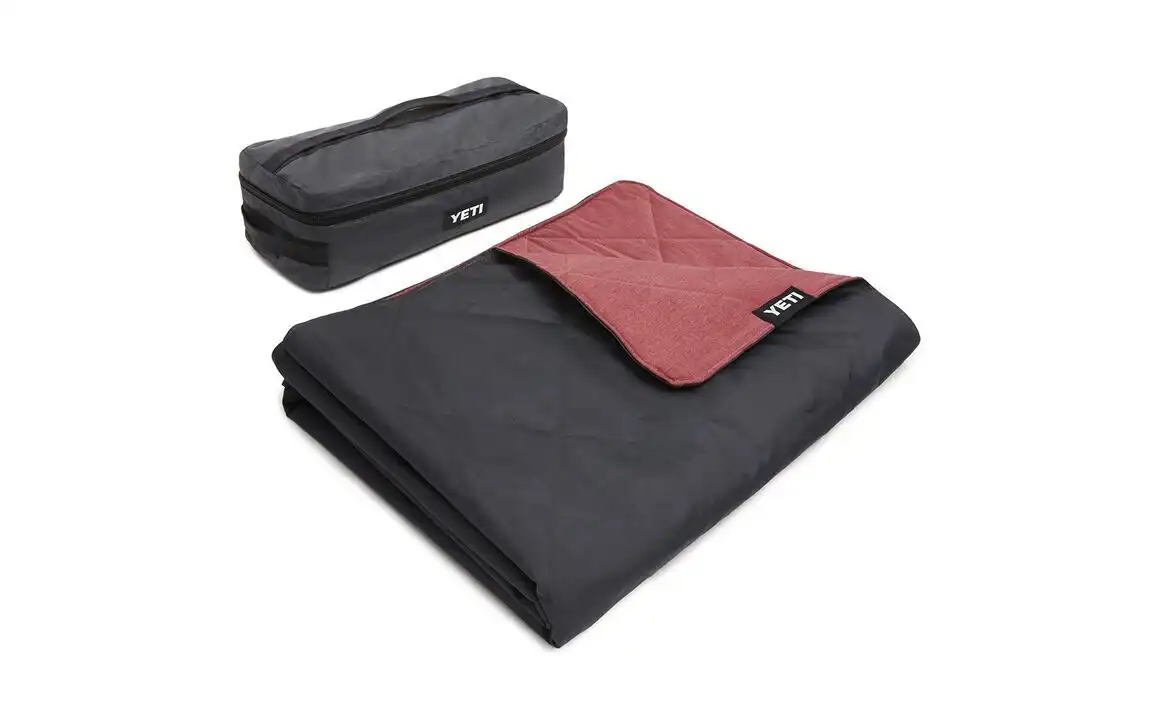 Yeti Lowlands Blanket
Durable and waterproof on the outside this blanket is padded and insulated on the inside. Features a waterproof layer to stop moisture from the ground seeping through but yet extremely soft to touch.
Machine washable and shakes off pet hair easily this is one of the best picnic blankets on the market. Measures 55"x78" and packs up small in its included bag.
See Latest Price at Yeti.com
See Latest Price at Amazon
3. Use Cardboard for Protection
If you don't want to spend any money on materials for a windscreen cover, you can obtain a large piece of cardboard for the task.
Obtain cardboard that's large enough to fully block your windscreen. You can also secure multiple pieces of cardboard together using duct tape to create a reliable cover for your windscreen. Cardboard is easy to cut the size and you can just it to the exact size of your windscreen.
Any cardboard will work, but the best cardboard has a water-repelling finish and thick construction for long-lasting protection.
4. Towels Work Well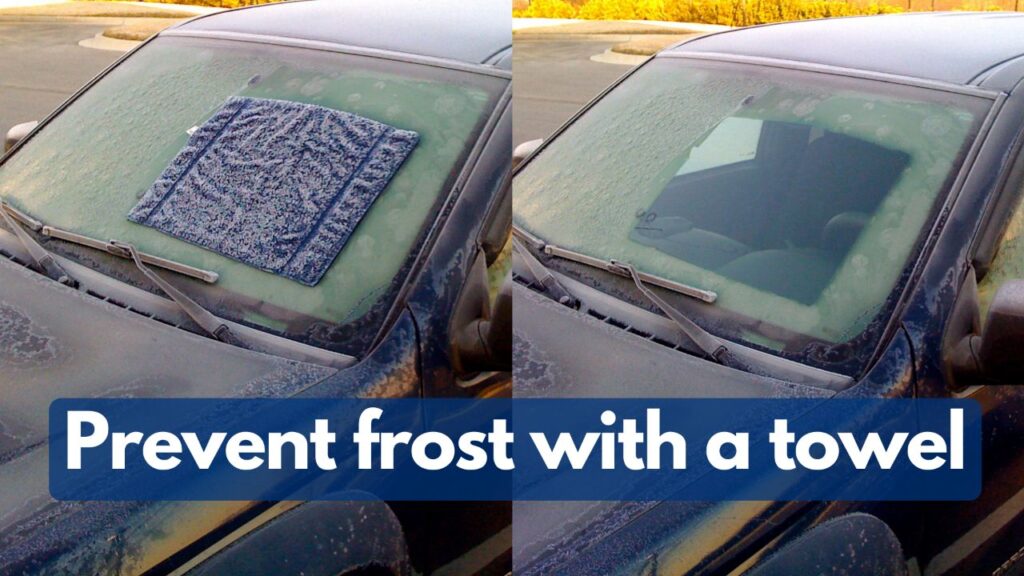 An oversized towel, such as a beach towel, offers the coverage necessary to fully protect a windscreen from frost. I've done a full writeup on how to prevent ice on your windshield using a towel and this solution works great for a lot of people.
Find an old towel that isn't very fluffy, and that's large enough for your full windscreen. Lay the towel across the windshield and close it in the vehicle's front doors. Lift your windshield wipers up and set them down on the towel for a better hold.
This cover works best when protecting the vehicle from minor frost and may struggle with thick ice and heavy precipitation.
5. Use a Long Sleeve T-Shirt, Curtain or Shower Curtain
Another great solutions of minor frost and thin ice is to use either a curtain or a t-shirt to cover your windscreen.
Curtains are large and can cover the full windscreen and some curtains even have plastic liners making them waterproof. Speaking of waterproof a shower curtain can be picked up for a couple of dollars and can do a great job as well.
If you don't have curtains then a long-sleeve t-shirt can be used to cover the drivers side of the windshield. Put the cuff of one arm inside the closed door of your car and you can attach a rope to the other arm so it can reach across to the other door. Spread it out as best you can and it'll protect a portion of your windscreen from ice.
6. Rely on Plastic Sheeting or Construction Plastic
Though it isn't as thick or durable as most of the other options, plastic sheeting is cost-effective and a simple option for blocking frost on a windscreen. Since plastic is an excellent insulator and it's waterproof, it works well for guarding against frost.
Purchase a plastic drop cloth, tablecloth, or another plastic sheet that's large enough for your full windscreen. Thick plastic sheeting will last longer than thin stuff, but most plastic will prevent frost from sticking to your windscreen. You can even use old plastic from construction like in the video above and you might even be able to get it for free.
7. Add a Tarp for Protection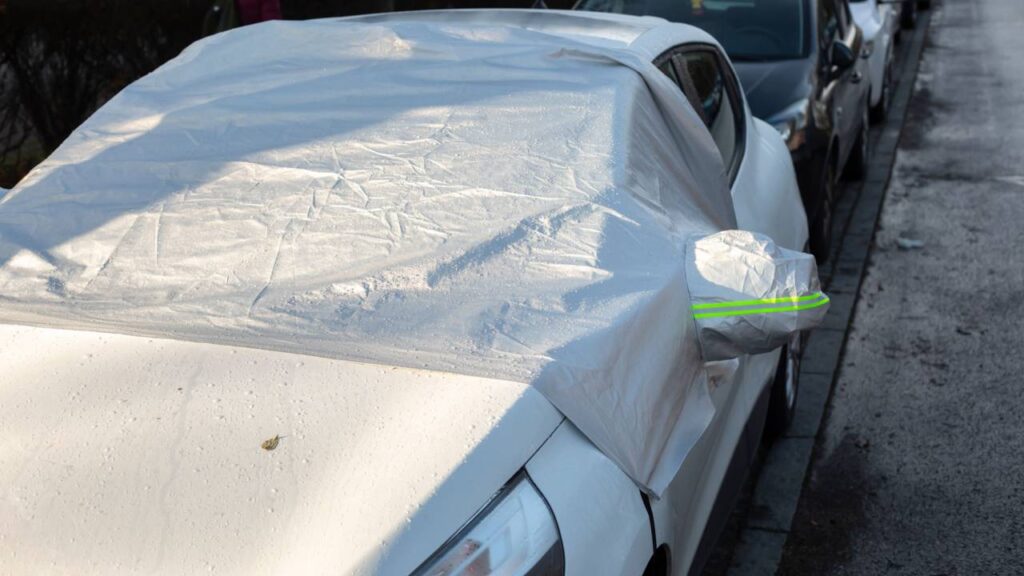 Carefully select a tarp without grommets for use on your vehicle's windscreen. A tarp is waterproof and durable, and most are large enough to fully cover a windscreen too.
Tarps are sold in different colors and sizes, but try to choose an option that is just large enough for you to secure it in your vehicle to cover your windscreen when you aren't driving.
You can attach straps to it so you can more easily secure it to your car and you can even make it so it covers your side rear view mirrors too.
It Might Be Worth Buying a Windshield Cover
While these DIY windshield cover options are great and work well windshield covers are actually extremely affordable and won't break the bank.
If you're in an area where frost on your windshield is a big problem it might be worth spending the $20-$50 in order to get a good windshield cover.
These are designed to perfectly cover your entire windshield and stop ice from forming and they secure in place easily with straps that go around the side rear-view mirrors. This means they won't blow off in a storm like some DIY options do.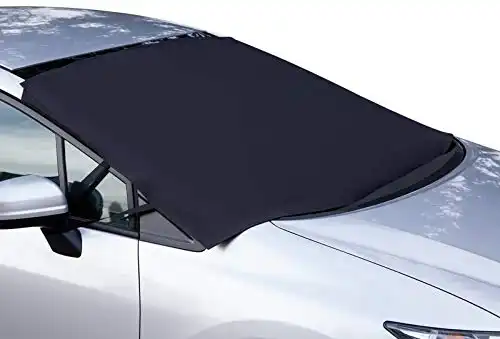 OxGord Windshield Snow & Ice Cover
Great for blocking the windshield from snow and ice accumulation. Made from heavy duty 600D vinyl it has a soft PVC inner layer to protect your windshield and is 100% waterproof.
Quick to install and pack away it's a universal fit that will suit most cars, trucks, vans and SUVs. Over 8,000 positive reviews and counting.
Buy Now at Amazon
How To Stop Ice Forming On Your Rear View Mirrors
While the windscreen is the most important part of your vehicle to protect from frost and ice you'll also want to stop ice from forming on your side rear-view mirrors.
The side mirrors often shouldn't be scraped with an ice scraper and because they are outside your car then warming up your car and using the de-froster heater won't work on them.
The best way to stop ice forming on your rear view mirrors is to place large plastic ziplock bags over each mirror and secure them in place by closing the bag as much as possible. Tying plastic shopping bags onto your mirrors also works and towels wrapped over your mirrors can also work in a pinch.
How to Remove Ice from Your Windscreen with Ease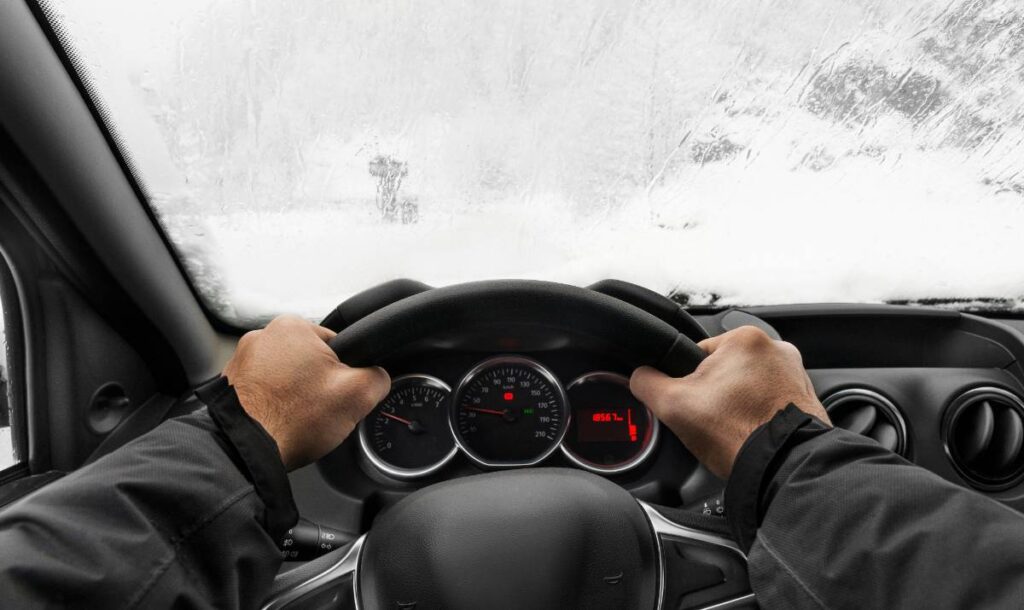 If you don't protect your windscreen using one of the DIY windscreen frost cover solutions detailed above, you may end up with frost or ice on your windscreen. Fortunately, you can quickly remove it with a few simple ingredients.
Gather together isopropyl alcohol (70% strength or greater), a spray bottle, and water. Fill the bottle ⅓ with water and ⅔ with the alcohol.
With your solution finished, you can spray your icy windscreen and melt away any frost to give you a clear view of where you're about to drive. Be sure to use cool water for this application and avoid spraying hot water on your windshield, or you may break it. Learn how you can also use vinegar to clear your windscreen in this guide.
Summary
With a sturdy windscreen cover, there's no need to struggle with frost or ice any longer. Use a waste bag or one of the other methods detailed above to create a protective cover you can rely on each time you park your vehicle.
Keep your cover with you at all times and install it before you leave your vehicle out in the elements. If you forget to place your DIY cover, you'll have to rely on your favorite ice removal method to make your windscreen safe to look out for as you drive.