What my family and I love most about the Camelbak bottles is that they are leak-proof and spill-proof, thanks to the simple-to-use bite valve.
But over time a common issue is that the Camelbak bite valve won't stay down anymore, and my bottle leaks. If this happens to you then you may be wondering what's causing it and also how (and if) you can fix it.
You can fix a Camelbak bite valve that won't stay down by adding a small bit of food-safe epoxy to the nubs and channels in the lid. Alternatively, pushing the valve closed repeatedly might eventually get it to stay down. If these methods don't work, you will have to replace the lid.
The whole point of the Camelbak bite valve is to prevent any spills or leaks, but now that the valve won't stay down, the bottle leaks.
Here is how to fix a bite valve that won't stay down.
Why Is Your Camelbak Bite Valve Not Staying Down?
First I find it helpful to understand exactly why your Camelbak bite valve isn't staying down any more and this allows you to find the issue more easily and fix it, or decide whether or not you need to replace the lid.
The valve stays down due to friction caused by plastic protrusions both on the moving valve section and on the lid itself. These appear on both sides of the lid/valve section.
You can see these highlighted below.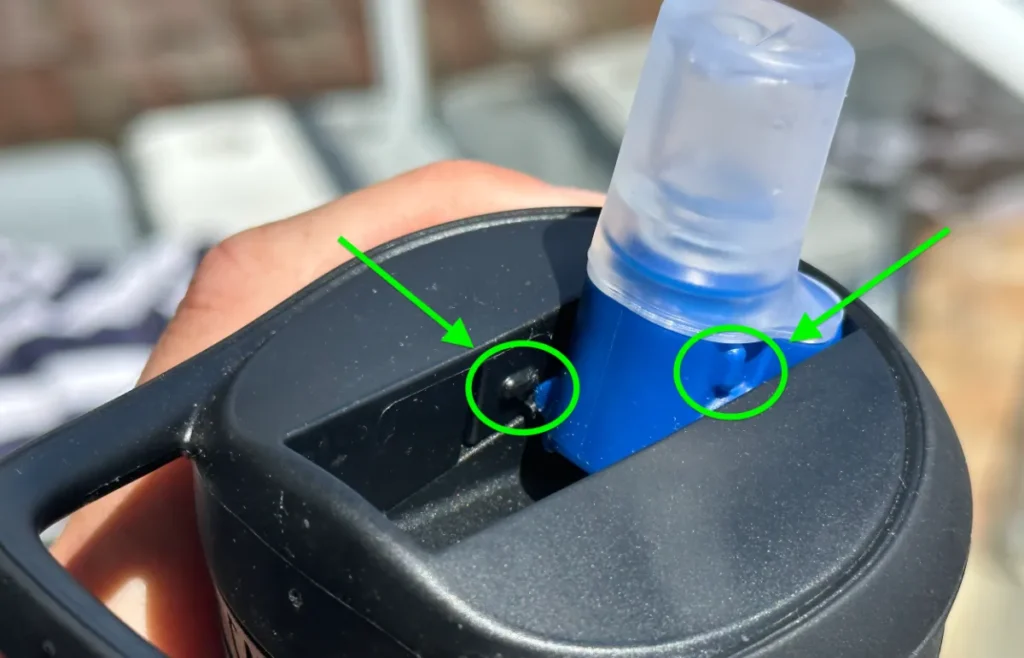 NOTE: If you have an older (or newer) Eddy+ lid these may look slightly different.
When you close the lid these plastic protrusions overlap and stop the lid popping back up.
However, over time these pieces of plastic can wear down through wear and tear or break completely.
When there is no longer enough plastic or enough friction to keep the valve down it will naturally pop back up.
Fix It By Adding Epoxy Glue
Because the bite valve is not staying down, this usually means that the locking mechanism of the valve is broken.
Users on the internet have suggested that using a couple of dabs of food-grade epoxy should help the locking mechanism work.
Depending on the type of lid you have, you may need to take the lid apart or you may be able to do it whilst keeping the lid intact.
For my Eddy+ lid you can access both parts without needing to pull the lid apart.
To fix the issue you want to add a small dab of food grade epoxy to the nubs on the lid or folding valve section.
The goal here is to make them protrude slightly more so that when you close the valve they overlap and stop the valve popping back up.
Using too much may cause it to jam so it's best to just use a small amount, wait for it to dry and test it and then add more if needed.
This is only a temporary fix and won't last as long as a new lid. This is because the epoxy tends to wear away faster than the plastic does and sometimes it can also break off.
If you have an older style Eddy+ lid you may need to pull it apart in order to get access to the nubs and apply to epoxy.
Here is a good video on how to take apart the lid.
To take apart the lid, you will need the following:
Security Torx T10 Screwdriver
To take the lid apart, you will need to:
Remove the lid from the bottle body
Unscrew the two parts of the lid using the screwdriver. There is only one screw to undo
The top and bottom parts of the lid disconnect by sliding the top part toward you
Once you have removed the top part of the lid, you will be able to see all the parts that make up the locking mechanism.
The locking mechanism is made up of two little nubs located on the rotating spout. The two nubs align with two channels that are located between the straw and the pivot points.
When the nubs align with the channel, the spout will lock open and closed. With prolonged use, these nubs will eventually wear down, which can prevent the locking mechanism from working properly.
Push The Valve Down Repeatedly
If you're not up to taking apart the lid of your Camelbak bottle, you will want to try this alternative method instead. It is a lot less complicated.
One user on the internet suggested that you repeatedly push the valve down until, eventually, it stays down.
In this Youtube video, you can see the bite valve being pushed back down each time it pops back up, and then finally, it stays down.
However, chances are this fix won't last very long. The plastic wears down over time, and it will get to a point where you will have no choice but to get a replacement lid.
Use An Elastic Band Over The Valve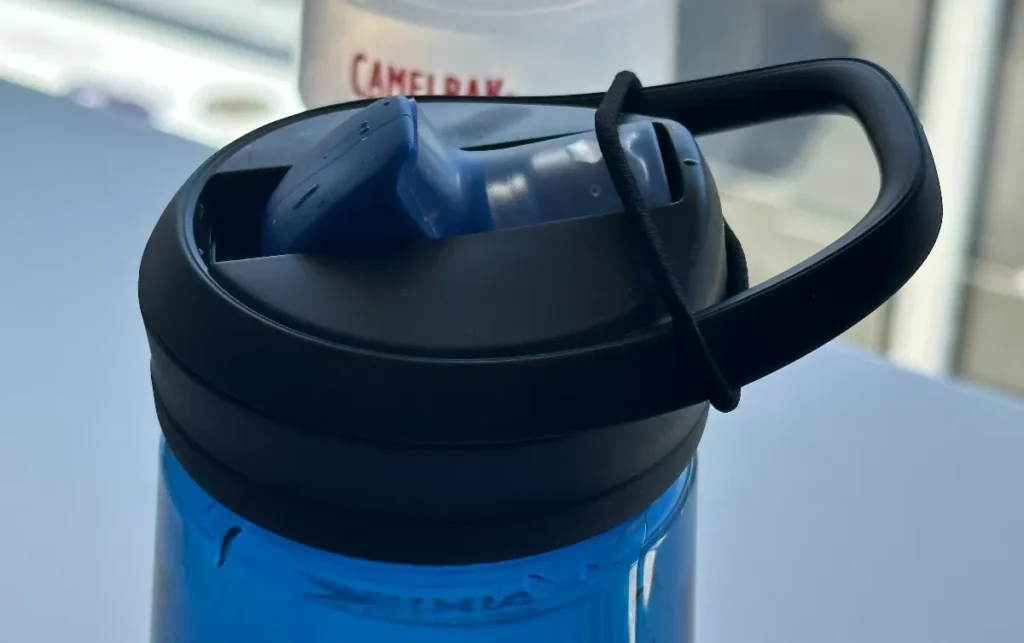 With the Eddy+ lids the handle is positioned in such a way that you can put a rubber band or hair tie around it and use that to hold down the valve.
There isn't a lot of elastic force pushing the valve back up so this is usually enough to just hold it in place so your bottle doesn't leak.
The downside of this method is the rubber band or hair tie can move in your bag and pop back open, causing leaks. Also it adds an extra step every time you use the bottle.
But if you don't want to fix it with epoxy or spend money on a new lid you can get a few more months or years out of your lid with this technique.
What To Do If The Lid Is Still Broken?
If the above solutions didn't fix it, or you don't want to risk pulling the lid apart and not being able to put it back together, you will need to get a new lid.
Contact Camelbak for Warranty Claim
Camelbak offers customers a Got Your Bak™ lifetime warranty. Under this warranty, they say they only replace parts that fail due to manufacturing defects.
So, is a valve that won't stay down included in that?
I can't answer for sure, but on their webpage, they state:
"We do NOT cover products that no longer work due to wear and tear. Wear and tear is damage that naturally and inevitably occurs as a result of normal use. Moving parts will wear out and fabrics will deteriorate and fade over time."
The locking mechanism of the bite valve is a moving part, so it might not be covered under warranty.
I suggest contacting the warranty department to find out as they will evaluate and assess the product before making their decision.
Buy a Replacement Lid
If you can't get a free replacement lid, you can buy one from the Camelbak website. They were not expensive either.
On Camelbak's website, it is only $11 for a new lid with the straw and the bite valve or you can get then even cheaper on Amazon.
Just make sure you purchase the right one. You can buy replacement Eddy+ bite valves for adult sized water bottles or you can get replacement Eddy+ bite valves for kids water bottles. These have different fittings and straw lengths so make sure you get the right one.
Click here for more details on how to replace a Camelbak Eddy+ bite valve.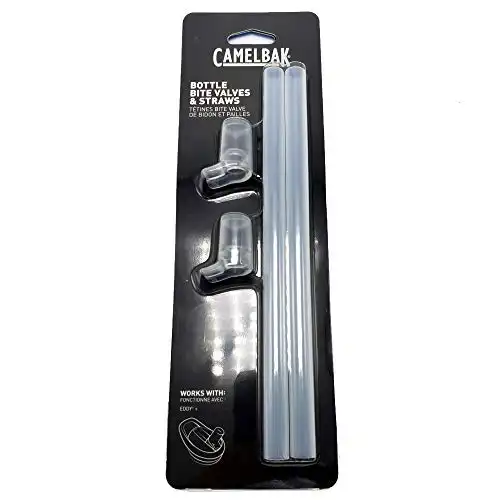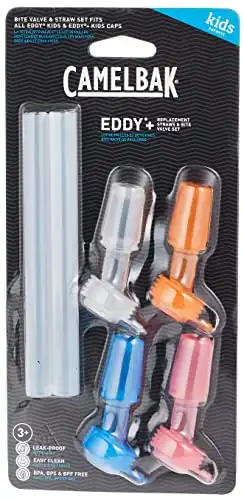 If you are finding your mouthpiece is dirty or has mold in it then check out my helpful guide on how to remove mold from your Camelbak mouthpiece.