It's hard to think of things I genuinely dislike about the outdoors, but ticks are one thing that always comes to mind. Ticks can be nasty to get rid of and if I can take steps to protect myself and my kids from tick bites then that's exactly what I'll do.
If you're a big hiker like me or just spend a lot of time outdoors, you may want to take some precautions to protect yourself and your family from tick bites too.
One effective way I've found to keep these pests away is treating your clothes with tick repellent.
The best tick repellents for clothing include permethrin-based sprays, sprays with DEET formulas, and essential oil-based sprays that are DEET and permethrin free. You can also purchase clothes that are pretreated with tick repellents.
Although these will all help keep ticks off your body when enjoying the outdoors, some work better than others and you should look at each option to know what will suit your situation the best.
How to Protect From Ticks – Things to Keep in Mind
Although they may look small and harmless, ticks can transmit several nasty diseases including Lyme disease. Dealing with them beforehand is definitely better than dealing with one once it's latched on.
Before looking into the best tick repellents available, there are a couple of basic rules to keep in mind when it comes to keeping yourself or your kids protected from ticks.
Cover Up With Long Sleeves and Pants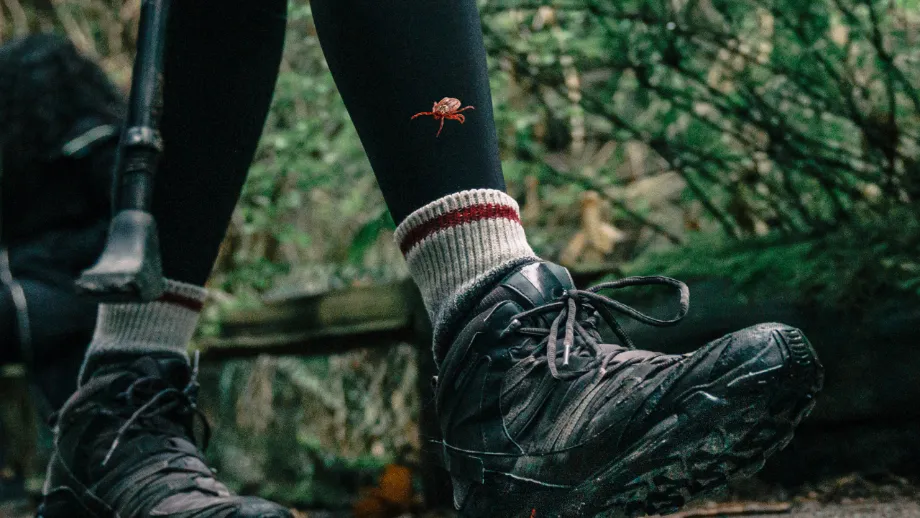 I used to wear long jeans in the summertime as a kid to protect my skin from getting scraped up when I skated. It was burning hot and I sweat like crazy, but it did the job.
Wearing long sleeves to cover your skin is one of the best ways to protect yourself from ticks, and unlike my jeans, there are lots of breathable options for long sleeves that still get the job done.
Ticks cannot bite through most fabrics. This means long sleeves, long pants and high socks are a great way to protect yourself from ticks. Adding tick deterrent onto long clothes will make you (almost) completely tick proof.
Leggings are one of the best ways to protect yourself from ticks and still stay cool in the heat of summer or there are a variety of other great options for hikers.
Check Your Body After Being Outside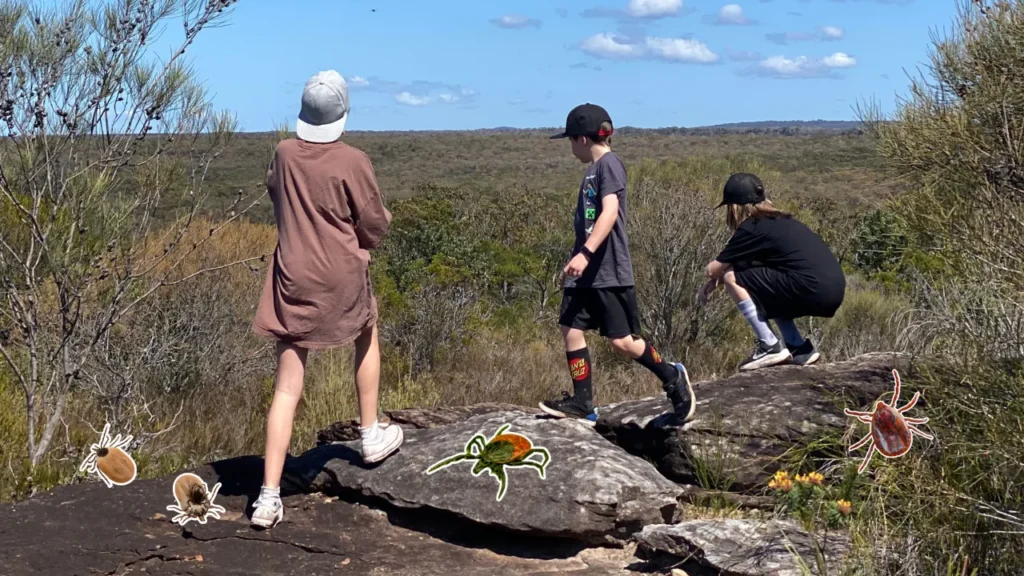 Ticks love grassy and warm environments like parks and woods.
You should always be sure to check your clothing and body for ticks after coming back from a hike or a walk in the park. The last thing you want is to bring these nasty guys into your car or house, where they can invade small spaces and potentially bite pets or other people.
If ticks do end up in your car, you can use one of these methods to get rid of them.
Use EPA Registered Insect Repellents
According to the CDC, you should use EPA registered insect repellents that contain DEET, picaridin, IR3535, Oil of Lemon Eucalyptus (OLE), para-menthane-diol (PMD), or 2-undecanone to best protect yourself from ticks.
Several of the following products contain these ingredients, but you should make sure the pros and cons line up with what you're looking for in a repellent.
1. Sawyer Products Permethrin Insect Repellent
Permethrin is by far the most popular product for tick repellent, and you can find dozens permethrin-based products online.
A 2017 study from the University of Rhode Island found that treating shoes and socks with permethrin reduced the likelihood of a tick bite by up to 71 times for some types of ticks and people who treated their clothing with permethrin spray were 3 times less likely to experience a tick bite. That's a massive improvement!
What I like most about Sawyer's product is that you only have to treat your clothes every 6 weeks (or every 6 washes), and the nozzle makes it easy to apply.
Be aware that permethrin is very toxic before drying, so make sure to apply it in a well ventilated area away from any pets or children. You should give it 2-4 hours before wearing the clothes that you spray.
Permethrin is also especially dangerous for cats, so make sure to keep your furry friends away when spraying your clothes.
See the latest price of Sawyer's Permethrin Tick Repellent on Amazon.
2. OFF! DEET-based Insect Repellent
Diethyltoluamide, or DEET, is the most used ingredient in insect repellents. As you might expect, it's very effective for deterring ticks as well.
OFF's spray contains 25% DEET and lasts up to 8 hours. The main reason I included their spray on this list is because it's safe to put on your skin as well as your clothes, which obviously adds more value.
This also means that you don't have to wait to wear clothes after they're treated, which is one downside of using a permethrin-based spray.
I like that the bottle is conveniently sized to pack in a bag for hikes or camping trips, and the top makes it easy to apply. They also offer a pretty good deal with this value pack on Amazon.
Just be sure to keep DEET based products away from your mouth or eyes, as it can be harmful to ingest.
3. Coleman Permethrin Repellent
I like Coleman's permethrin spray because the packaging is a bit more convenient for taking on a walk or hike. It's shape is identical to the mosquito spray cans found in almost every household.
One thing that's nice about Coleman's product is that it's stain and scent free, meaning you don't have to worry about your clothes having that "bug spray" smell.
It's also a bit cheaper than Sawyer's product, although it does come with less spray. One disadvantage to Coleman's product is that you'll need to reapply every 2 weeks as opposed to 6.
Just as with every permethrin spray, you need to wait 2-4 hours before wearing any clothes you treat.
Although the spray cap might look similar to bug spray, you should be sure to keep permethrin spray off of your skin as it can have harmful effects.
4. Nantucket Spider Essential-Oil Tick Repellent
If you're not comfortable with using chemicals like permethrin or DEET, Nantucket Spider Tick Repellant Spray offers a tick repellent spray that doesn't include either of those ingredients.
The spray contains 100% organic essential oils, and they claim it has shown to repel 92% of deer ticks in testing.
One positive about this spray is that it can be applied to your skin on top of your clothing, and according to reviews it has a good scent (although some claim it's overwhelming).
The big downside with this spray is that it needs to be reapplied every 1.5 hours, a major downgrade from the other tick repellents on this list.
5. Buy Clothing Pretreated with Tick Repellent
Permethrin treated clothing has become a popular product for people who spend a lot of time outside.
The benefit of buying pretreated clothing is that it remains it's effectiveness much, much longer than simply spraying your clothes.
Companies like L.L. Bean, Columbia, and Sawyer all sell permethrin treated clothing and you can find a number of brands like Insect Shield that sell permethrin treated clothing for a good price on Amazon.
You may not think about it, but socks also play a big part in preventing ticks. Ticks don't have wings and can really only climb onto their hosts. This means your socks can stop them before they reach your skin.
There are a number of pretreated sock products out there as well as repellents. Your socks play a big part in protecting from ticks so check out this article on the best tick repellant socks.