I love when warmer weather finally comes around since I can start to get out more, but this also means more ticks. Getting bitten by a tick is something I want to avoid at all costs.
Ticks love warm and grassy areas like parks and woods and they can be somewhat tricky to get rid of once they latch onto you.
A popular method for combating ticks is wearing long clothes/sleeves, but I don't see anyone wanting to do that if it's scorching hot outside.
Instead, you'll probably opt for more breathable clothes like leggings and other moisture-wicking materials. These are especially common with women but I also have a pair of leggings myself and I was wondering if I could wear these bushwalking instead of baggy hiking pants.
But can ticks bite through leggings? Does wearing leggings prevent tick bites?
Ticks cannot bite through leggings, making them great for staying cool and preventing ticks in the warmer months. For the best protection against ticks, combine leggings with long socks over the leggings and use tick repellents that are designed for clothing and fabric.
Although they cannot bite through leggings, ticks are annoyingly persistent and could follow you back to your car or house.
Keep reading to learn how to properly deal with them in these situations.
The Best Way To Wear Leggings To Avoid Ticks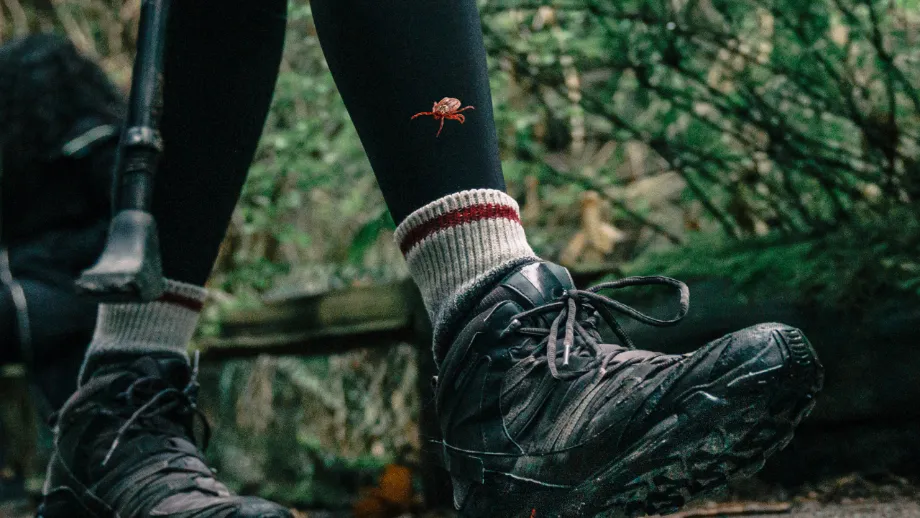 Ticks can't bite through clothing and this includes leggings – making them a great and comfortable options for hiking when there are ticks about. They can also protect from leeches which is great if it's been raining and wet and you suspect leeches to be about.
However, when wearing leggings it's important that you wear them properly if you want to avoid tick bites.
Wear full length leggings that go all the way down to your ankles and then wear long socks and place them over the outside of your leggings. This will cover all your skin and provide completely protection for your feet and legs against ticks.
I love wearing ankle socks when running but long socks are better for hiking and ankle socks can still leave parts of your skin exposed and vulnerable to tick bites.
For extra protection consider a tick prevention spray with the Sawyer permethrin insect repellent spray from Amazon. This adds an extra layer of protection on all your clothing against ticks and this can last for up to 6 weeks or 6 washes, whichever comes first.
Just be careful if you have cats as permethrin can be extremely harmful (and even fatal) for your furry friends. But it's fine for human skin.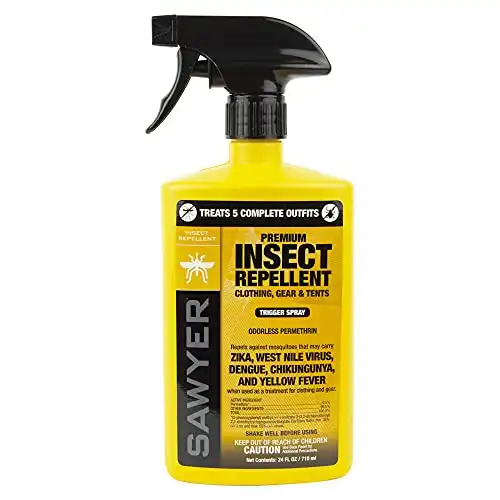 Short Leggings Do Leave You Vulnerable To Tick Bites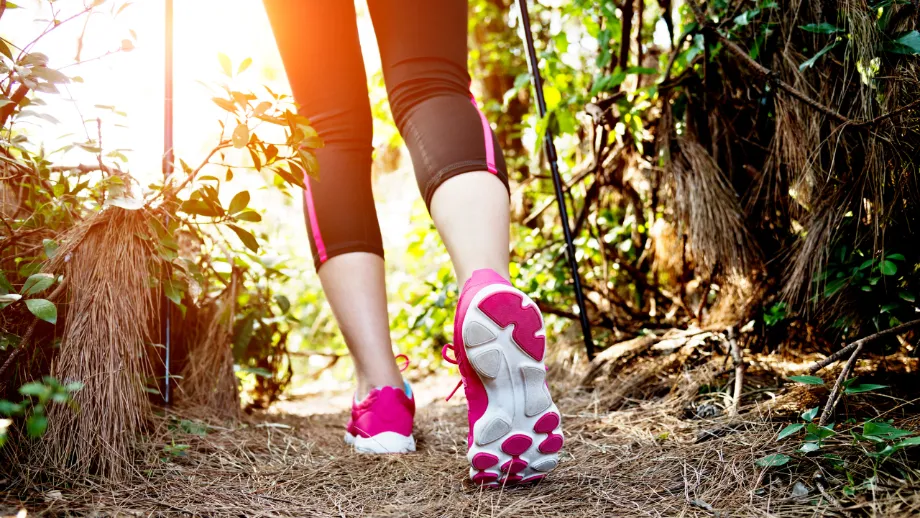 A lot of women like to wear 3/4 length leggings as these aren't as hot to wear and can be quite a stylish option.
However, the downside of wearing 3/4 length leggings it that it leaves the bottoms of your legs exposed to tick bites. Ideally you should wear full length leggings.
Wearing long socks with 3/4 length leggings can help to cover more skin and prevent from tick bites and will still provide more protection than shorts alone. You can also spray your clothes with a tick repellent spray for extra protection.
Does Wearing Long Clothes Prevent Ticks?
You've probably been advised to wear long sleeves when going out in the woods to protect from critters like ticks, and this advice is generally true.
Ticks cannot penetrate most fabrics. They might be able to bite through the thinnest of fabrics, but even then they would not be able to get a good grip and would likely unlatch from any movements.
This means that one of the best ways to protect from tick bites is long clothing.
When I take my kids out for a hike, I'm especially sure to cover their legs and ankles. Ticks can only get onto your skin by climbing (they have no wings), making your lower half the most vulnerable.
If you're wearing pants, especially leggings, one easy trick is to tuck them into long socks to protect your ankles (although it may look a little funny). 
Although they can't bite you through your clothes, ticks are stubborn little guys and will stay on your clothes to try and find exposed skin. This means they can follow you back to your car or house and bite you when you're not expecting it.
You should be sure to check your clothes and skin for ticks when coming back from hiking or going out. If you think your car has become infested, you can check out my guide for some easy ways to kill ticks in a car.
How To Kill Ticks On Clothes
Ticks will cling to your clothes until they find some skin to latch onto.
There are a number of ways to prevent ticks from getting on your clothes, but if you find your clothes covered in these small arachnids, there are a couple of easy solutions.
According to the CDC, the easiest solution is to throw your clothes in the dryer immediately after coming home.
As their site suggests:
Tumble dry clothes in a dryer on high heat for 10 minutes to kill ticks on dry clothing after you come indoors. If the clothes are damp, additional time may be needed. If the clothes require washing first, hot water is recommended. Cold and medium-temperature water will not kill ticks.
Ticks do not do well in extreme heat which means they cannot survive the conditions of your dryer.
Bleach and rubbing alcohol are other at-home solutions to tackling ticks on clothes and other areas, but be sure to read up on how to properly use each as they have their own strengths and weaknesses.
To optimize your long clothes for protection from ticks, use these tick repellents designed for fabric.