A big part of what makes Nalgene Bottles so great is how simple and easy they are to use. But sometimes, they can be perhaps a little too basic.
Luckily, there are a bunch of different accessories that can help customize your bottle, make cleaning easier, and add new functionality. Overall these allow you to get more out of your Nalgene bottle than you otherwise would.
Whenever I order a new Nalgene, I also grab a couple of my go-to accessories — usually a lid that makes drinking easier and a carrying handle. And I'm sure to always have a bottle brush and some cleaning tablets handy.
1. Insulating Sleeve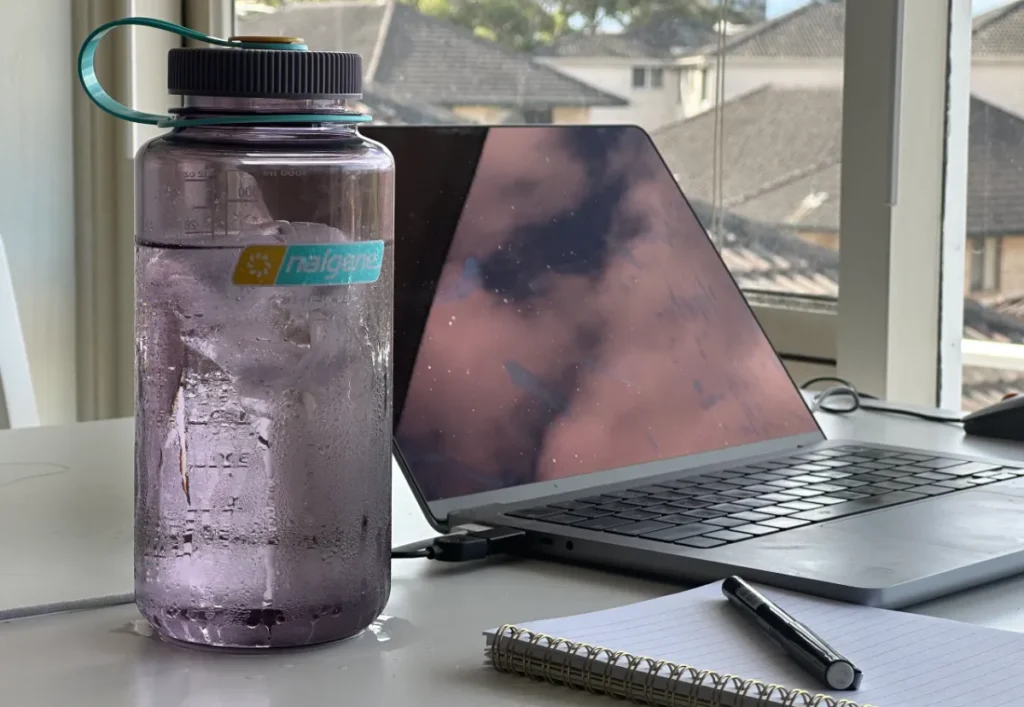 Two of my least favorite things about Nalgene Bottles are that they sweat like crazy and only keep water cold for an hour or two in the summer months (when you want crisp, cold water the most).
The good news is, an insulating sleeve can help with both problems, by absorbing and reducing the amount of sweat and providing insulation that will keep your water cold for hours longer.
Nalgene's Cool Stuff Neoprene Sleeve is the one I'm using now and it works great, but there are plenty of other sleeves with different colors, designs, and types of handles.
2. An Upgraded Lid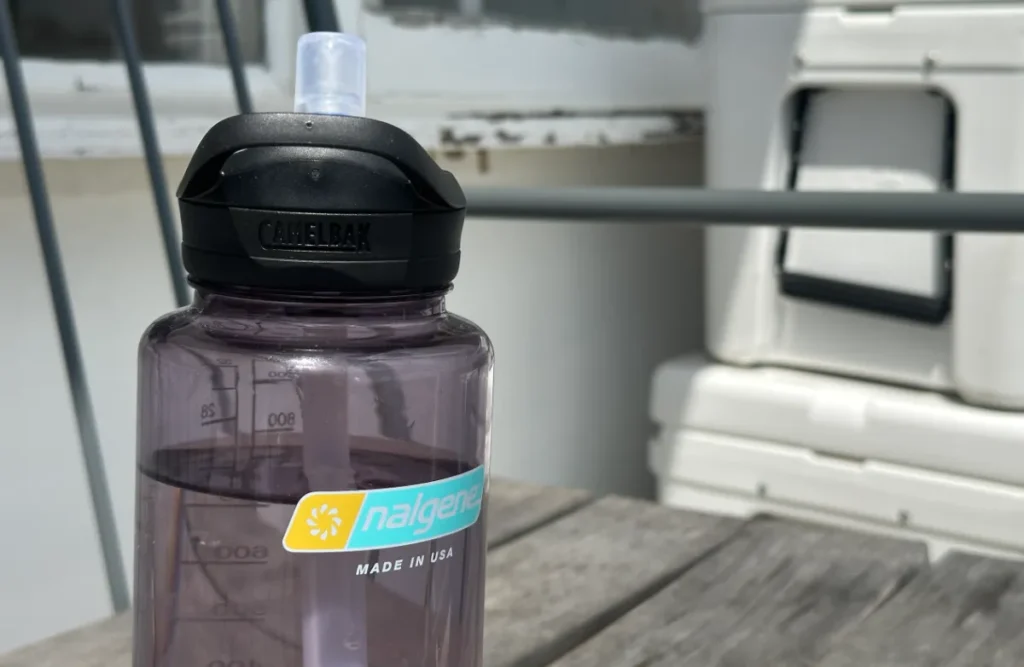 The classic Nalgene lid is a basic, twist-off cap. It's a great lid and it's super easy to clean and I love it.
But if you prefer a lid with a straw, narrow drinking spout, or built-in handle, there are a bunch of great lid options you should check out.
I use a humangear capCAP+ with all of my Nalgenes and my kids absolutely love the CamelBak Eddy+ lid, which is fully compatible with wide mouth Nalgene Bottles.
You can see it pictured above. The awesome thing about the Eddy+ lid is that the straw ends up being the perfect length for Nalgene bottles and the bite valve is fun and easy to use and give you an easy single handed way to drink.
3. Paracord Carrying Handle
Because they're wide and don't have a built-in handle, Nalgene Bottles can be a bit obnoxious to carry around.
I often carry my Nalgene bottles by their lid strap but this isn't advised and once I attached my Nalgene to my backpack via the lid strap and a carabiner only to have the lid strap completely break on me and my Nalgene bounce off into the bushes.
Luckily I noticed and didn't lose my water bottle completely.
A paracord handle, like this one by Gearproz, attaches to the neck of your bottle and gives a convenient and durable handle for carrying or hooking your bottle to a backpack by a carabiner.
If you don't want to buy one, you can also try making your own. I had a lot of fun making these with my kids and it wasn't nearly as tough as I expected it to be.
4. Car Cup Holder Expander
32 oz Nalgene Bottles don't fit in standard cup holders. It's one of the biggest problems with Nalgene bottles – they are chunky and inconvenient.
I used to just lay mine on the passenger seat, but every time I had to brake quickly my bottle was sent flying to the floor.
A cup holder expander is now a staple in my car, and I no longer need to fish around for my bottle at every redlight.
5. Coffee (or tea) Filter Lid
A coffee filter lid is a simple insert that brews fresh coffee or tea directly in your bottle, perfect for cold mornings on the trail or busy mornings on your way to work.
Just keep in mind, plastic Nalgenes handle hot or boiling water pretty well, but there's always a risk that the heat will cause more chemicals to leach from the plastic. To be safe, I only use stainless steel bottles for hot coffee and tea.
6. Hydration System Converter
I love the CamelBak Hydration Packs but usually when I'm backpacking with the kids I have to carry a lot of other stuff too. Plus I don't want to invest money to buy all the kids a pack they'll only use a few times a year.
A hydration system conversion kit transforms your Nalgene Bottle into a full blown hydration system.
Simply screw on the cap, toss the bottle in your backpack, and clip the straw to a shoulder strap.
To save weight on backpacking trips, I bring a conversion kit and leave the bladder at home. After all, I'm bringing a Nalgene Bottle (or two) with me already anyway.
7. Bottle Brush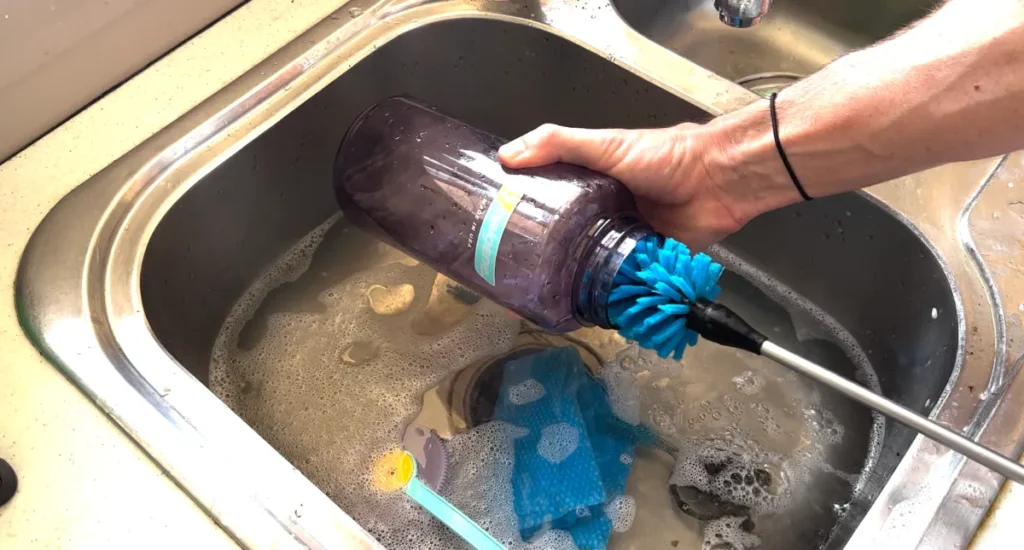 A bottle brush is more or less mandatory to deep clean your Nalgene to prevent mold and odor (especially if you have a narrow mouth bottle).
Even though there are other effective cleaning methods, nothing can fully replace giving the interior of your bottle a good scrub with a bottle brush.
Just make sure the brush you choose is long enough to comfortably reach the bottom of your bottle (at least 12" long) and, if you have a plastic Nalgene, isn't so abrasive that it leaves scratches.
I've created a full list of the best brushes for Nalgene bottles but I personally use and recommend this 3-in-1 water bottle brush set. It's affordable, the brush works great and the mini brush is perfect for getting in the cracks of your Nalgene lids.
Don't forget a set of mini brushes to scrub all the tiny cracks and crevices on the underside of the lid either.
8. Bottle Cleaning Tablets
Water bottle cleaning tablets make washing a Nalgene Bottle a breeze.
All you need to do is rinse the bottle, fill it with warm water, drop in a tablet, and wait 15 minutes for it to work its magic.
They clean and disinfect naturally, without damaging your bottle, and make my lazy days that much easier.