LARQ makes self cleaning water bottles that kill 99.9+% of bacteria, protozoa and viruses using a special UV-C light in the cap of the bottle.
One of the major downsides of LARQ bottles is their price. They are without a doubt one of the most expensive water bottles on the market retailing for around $100 for the 17 oz bottle and around $120 for the 25 oz bottle.
Given LARQ's success a bunch of other companies have sprung up offering a similar product to LARQ and often for a more affordable price or offering extra features that the LARQ bottle doesn't have.
I've curated a list of the best LARQ bottle alternatives. Whether you're looking to save some money, get the power of UV-C light for your HydroFlask or you want extra features like carbon filtration there's an option in this list for you.
1. Crazy Cap 2 – Most Similar
CrazyCap was one of the first LARQ bottle alternatives to hit the market with a KickStarter campaign that was successfully backed in 2019 – just 2 years after LARQ launched.
Just like LARQ they offer a vacuum insulated 17 oz or 25 oz bottle with a lid that has a UV light to clean the water in your bottle and kill the bacteria growing in there.
Just like LARQ the CrazyCap features a self cleaning mode or can be manually activated for 1 or 3 minutes.
Given the brand has been around for a few years now their quality has (so far) stood the test of time and they are one of the highest quality UV-C bottles on the market. While you can save a few dollars from buying other brands with the CrazyCap you know you're getting a high quality product.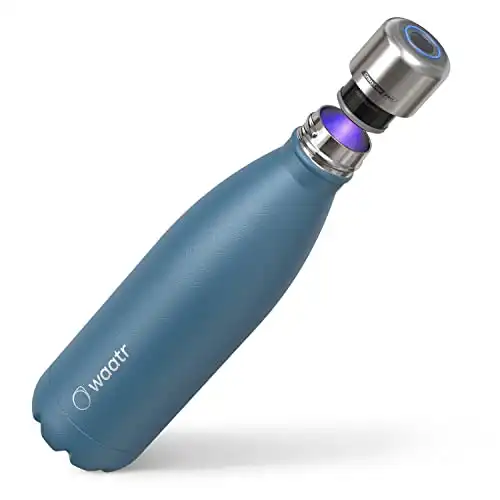 2. CrazyCap LYT Plastic Bottle (Cheapest Option)
If you want the full power of a UV-C light from a reputable company but don't want to pay the high prices that LARQ charge on their bottles then the CrazyCap LYT is a super affordable alternative.
You get the same lid as you would usually get in the CrazyCap metal bottle, the only difference is the bottle itself is plastic and not insulated.
It's made from Tritan plastic which is BPA and BPS and ultra durable. The cap also fits on common narrow mouth stainless steel bottles from brands like Simple Modern, S'Well or other cheaper brands with the narrow mouth opening.
This means you can buy this CrazyCap LYT and then get a cheap vacuum insulated bottle from your local WalMart or supermarket and you'll basically get a CrazyCap for half the price.
Just make sure to take your cap in to the shops with you and confirm it fits on the new bottle before you buy it.
Or you can still with the lightweight plastic bottle and get the benefits of the UV-C treatment without all the weight of a metal bottle.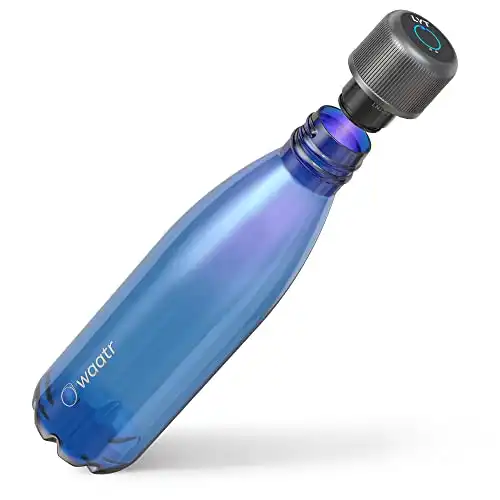 CrazyCap LYT Self-Cleaning Plastic Bottle (23 oz)
Made from BPA and BPS free tritan plastic and featuring the CrazyCap lid that uses UV-C light to kill 99.9999% of bacteria, protozoa and viruses in your bottle allowing you to drink confidently knowing your water is clean. One of the cheapest and best UV-C water bottles on the market.
Buy Now
3. UVBrite – Affordable Insulated Alternative
If you're looking for a cheaper LARQ alternative then the UVBrite Go Self Cleaning Water bottle is one of the cheapest UV-C water bottles you can find.
At about half the price of the LARQ it offers a self cleaning lid that uses UV-C light to sterilize your water. The bottle is also vacuum insulated just like the LARQ so it'll keep your drinks cold all day long.
The downside of purchasing the UVBrite is the inconsistent quality. There are more reports of this bottle failing to charge or stopping working after a few weeks or months when compared to more reputable brands like LARQ and Waatr (CrazyCap).
So you are taking a bit of a risk purchasing this bottle.
However, even if the UV lid fails and stops working it's still a good water bottle and will still insulated and keep your water cold all day.
It comes in a single 18.6 oz size and 3 different colors and is available on Amazon for an affordable price.
4. PureMax 4D by Waatr – Best Alternative
One of the problems with the LARQ water bottle is that the bottle doesn't actually filter your water.
The UV-C rays will kill bacteria, protozoa and viruses in your water but it won't filter out any chemicals, contaminants or microplastics.
The PureMax 4D is the ultimate in water bottle filtration.
It features 2 x UV-C lights to sterilize and kill 99.9999%+ of the bacteria in your water bottle and offers a self cleaning mode like the LARQ.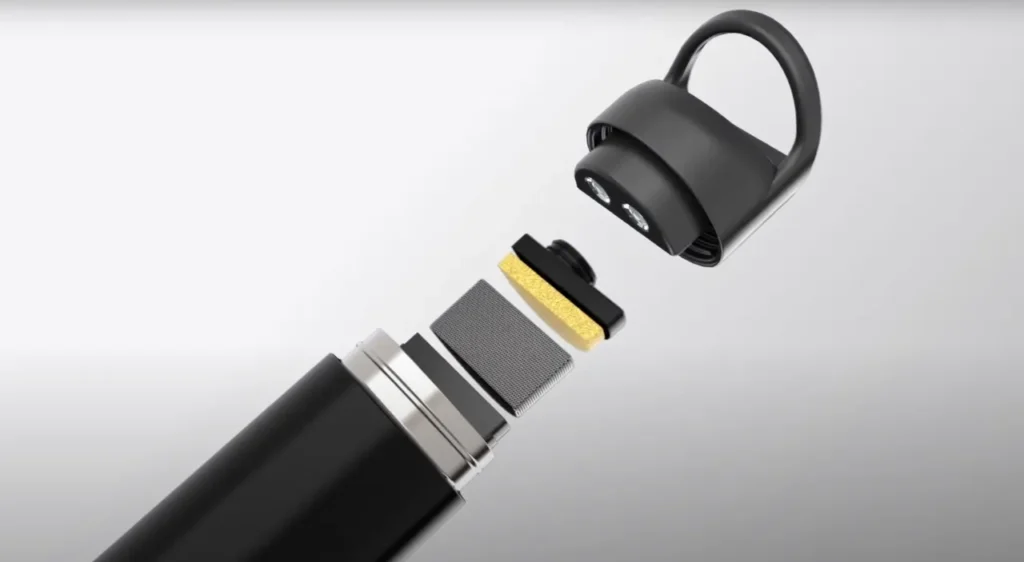 However, it takes things to the next level by also containing a charcoal filtration system and ion-exchange resin that helps filter out sediments, chemicals and heavy metals.
The lid has a place for interchangeable cartridges and the company offers 3 different filters that you can use to improve the quality of your water.
They are even offering a filter analysis where you can send your old filters back to them and they can analyze them and let you know (on a molecular level) what contaminants are in your water and how they might affect your health.
If you want the benefits of UV-C sterilization but you also want to filter out heavy metals and other chemicals from your water then this is hands down the best bottle for you.
It's a bit pricier than the LARQ PureVis bottle that only have UV-C sterilization and not filtration, but you're getting more for your money. You'll also need to factor in the cost of purchasing replacement filter cartridges every few months.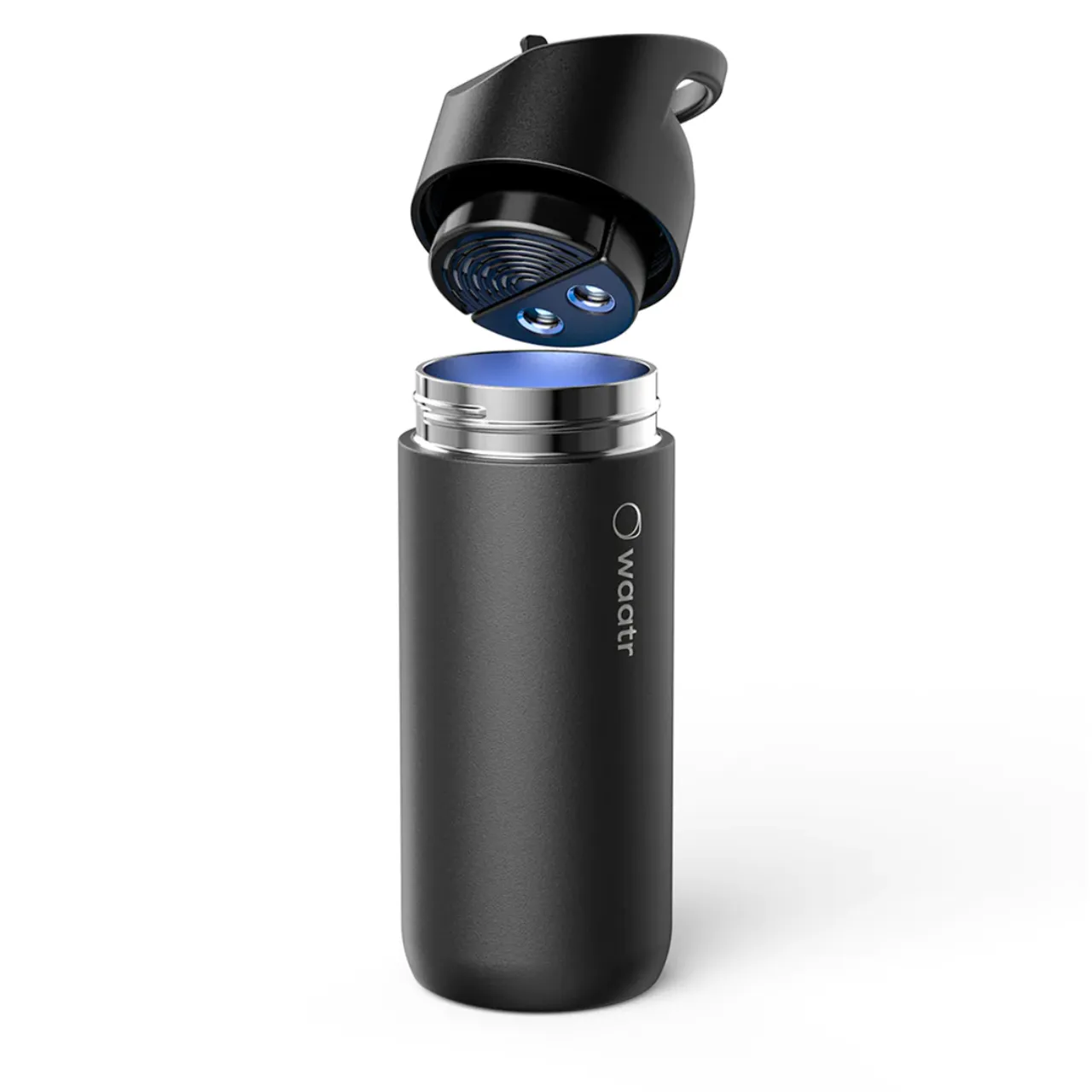 5. HydroCap – Great For Hydro Flask Bottles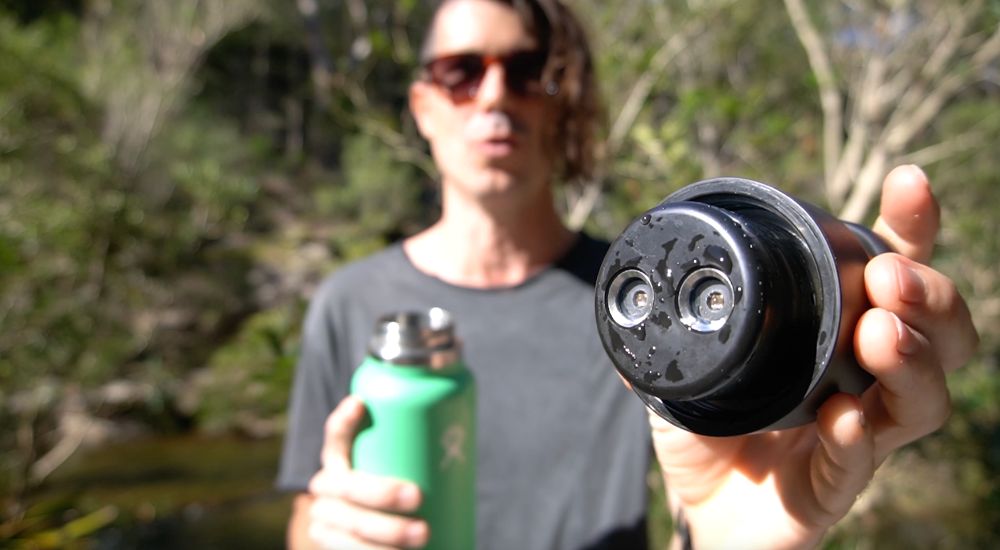 If you've already got a water bottle like a Hydro Flask and want to add UV-C treatment capabilities to it then the HydroCap by Waatr is a great option.
I have had my HydroCap for over a year now and it's still going strong and I absolutely love that I can take my HydroFlask on hikes with me and the kids and fill up water directly from the river.
It also helps to keep my HydroFlask from smelling and it has 2 UV-C lights compared to the single light the LARQ offers. The result is the same though with 99.9+% of bacteria, protozoa and viruses in your water being killed by the light.
I did a full video review on the good and the bad of this product which you can watch below:
I prefer the wide cap bottles as they are easier to clean (as well as put ice in) and I already had a Hydro Flask so this lid was perfect for me and actually a better option than the LARQ even though it's a similar price and doesn't come with a water bottle.
If you already have a wide mouth water bottle this is a great option, but if you don't have a water bottle yet this might not be the option for you. You can read my full review of the HydroCap here.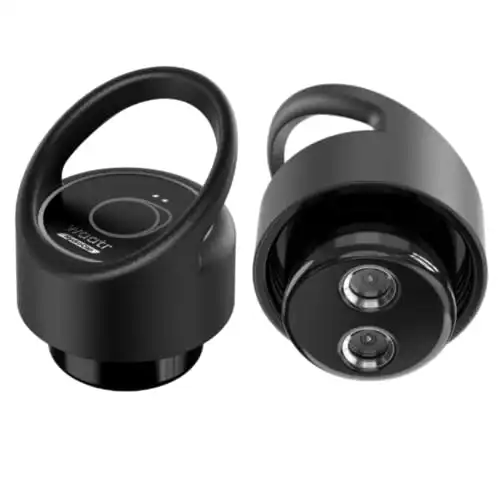 5. Lavone Self Cleaning Water Bottle
Another affordable option similar in price and quality to the UVBrite is the the Lavone Self Cleaning Water bottle.
It's a double walled vacuum insulated stainless steel bottle that will keep your drinks cold all day and features a UV lid that will automatically activate to clean your bottle every 2 hours or can be manually activated to sterilize your drinking water.
The bottle itself is dishwasher safe but the cap needs to be hand washed.
What I like about this product is that you can actually use the lid and UV-C rays from it to sterilize things like phones, computers, table tops, face masks, makeup and much much more.
Most devices have a built in safety mechanism to stop them working when they aren't on the bottle but this one doesn't have that making it more versatile. Just make sure to not shine the UV-C light directly onto your skin.
6. Philips GoZero Self Cleaning Bottle
Philips is a well known brand (generally in the white goods space) and they have their own self cleaning water bottle that is fairly high quality and sells for a fraction of the price of the LARQ bottle.
It usually retails for around $70 but there are some absolute steals on this bottle on Amazon at times. At the time of writing there were bottles available in certain colors for under $30. Making it even cheaper than the CrazyCap LYT.
Like the LARQ it'll automatically self clean your bottle every 2 hours or can be manually turned on to sterilize the water in your bottle.
It's got vacuum insulation to keep drinks hot or cold for 12-24 hours and comes with a 2 year warranty.
The major downside of this bottle is it's small size. At only 12 oz it's the smallest bottle on this list and you'd need multiple refills a day which could get annoying.
But I could see this bottle being really good for kids. My kids rarely clean their bottles so knowing that the bottle is doing it for them would give me peace of mind.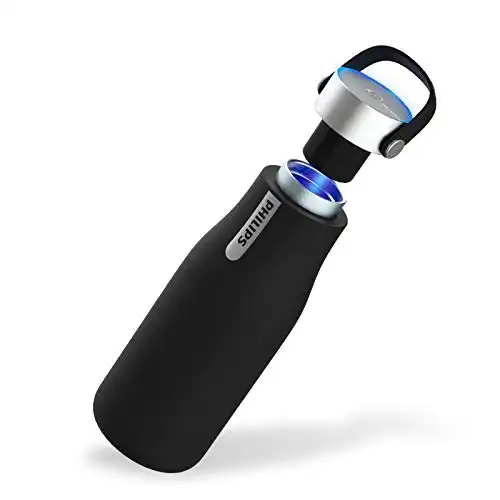 8. Auron Self Cleaning Bottle With LED Display
One of the more beautiful bottles on this list the Auron have a UV-C light like the LARQ but what sets it apart from the rest is the LED display on the top of the bottle.
It'll tell you the exact temperature of the water inside, which can stop you from burning your tongue on hot coffee, and it'll also remind you to drink water throughout the day so you can reach your hydration goals.
Beautiful to look at and comfortable to hold this bottle is similarly priced compared to the LARQ.
LARQ Self Cleaning Bottles I Wouldn't Personally Buy
The below bottles look decent on the surface and similar to some of the other bottles on this list but after reading the Amazon reviews I'm not 100% sold on their quality and for that reason I couldn't comfortably recommend them.
Check them out and try them if you want, but I personally would go for one of the products listed above over these ones.