Ice packs are handy to have around. For starters, they save you the hassle of buying bags of ice. Nor do they leave your cooler's contents swimming once they've melted. (I do enjoy having less mess.)
Also, people on team ice cubes will still benefit from adding a pack to their cooler. The lower freezing temperature of these chilly bricks will extend the length of your ice, keeping everything colder for longer.
It's the summer hack we all need.
Things To Consider When Choosing Ice Packs For Your Cooler
Ice packs are handy, but not all are equal in their effectiveness. Some have a lower freezer temperature than others.
Also, they are made from various materials, making some of them more durable than others. Thus, when buying ice packs, there are a few features I make sure to consider:
Size
Melting temperature
Durability
Price
Form factor
Size
Bigger isn't always better in the land of ice packs. The most obvious reason is container size. An ice pack is useless if it won't fit in the cooler or lunch box. Also, the frozen brick needs to leave enough room for the food.
But you want to minimize empty space when packing a container. Empty air in your cooler increases the melting speed of your ice.
But size comes with other considerations. For example, larger ice packs will last longer than smaller ones, which is great but also means they freeze slower. You can also use less ice packs in a cooler and have it stay cold for longer with larger ice packs.
So if you're in a hurry, freezing smaller packs before you dash might be the way to salvage your mistake.
Melting Temperature
Ice packs have different melting points, many of which melt earlier than regular water ice does. This helps keep your box colder for longer. Learn the science between why ice packs and salt water stay colder than regular water ice.
Not all brands are transparent about this, but some companies provide the information.
For example, Engle Cooler packs start to melt at 20ºF ( -6.6ºC) and Yeti at 28ºF (-2ºC). The Engel will stay at that extremely low temperature longer than a Yeti ice pack which will stay at a lower temperature than regular ice.
This is extremely useful if you want to keep things cold not frozen. For example if you want to keep ice cream frozen in a cooler the colder the melting temperature of your ice pack the better.
Durability
The more durable the ice pack, the longer it'll last. Some brands, such as Yeti and made to be extremely durable and provide a warranty. Others do not.
Nor are all warranties the same length of time. For example, Cooler Shock's come with a 1-year warranty, which is significantly less than Yeti's 5-years.
If an ice pack has a thin outer layer it'll likely be cheaper, but it's almost much more likely to break. Here you need to weigh up the price vs value ratio.
Price
Ice packs are sold in a wide price range. For example, Cooler Shock's lower durability is matched with a lower price than Yeti.
Also, if you have a little darling at home infamous for losing lunch boxes (bless their forgetful hearts), spending a lot on the kid's ice pack doesn't make sense.
However, if you are a responsible human being who keeps track of your stuff, spending more might be worth it to avoid having to buy again when the ice pack eventually breaks.
Form Factor
Ice packs come in a variety of styles and forms.
The thick and ridged frozen bricks last the longest. However, they take longer to freeze and don't bend.
Thin-rigid ones melt faster but are still far more durable than your "frozen bag" style packs.
But flexibility can be incredibly useful, molding around contents and doubling as a first-aid device when you're out of frozen peas.
20 Best Ice Packs For Your Cooler
I've navigated the land of ice packs to find the best for your coolers, lunch boxes, and sprained ankles.
The following are the best in each price range, as well as showcasing designs at various thicknesses and flexibility.
So, whether you are trying to bring mediation home from the pharmacy or go fishing for the weekend, I've found the right ice pack for you.
1. Yeti Ice: Most Durable & Biggest Brand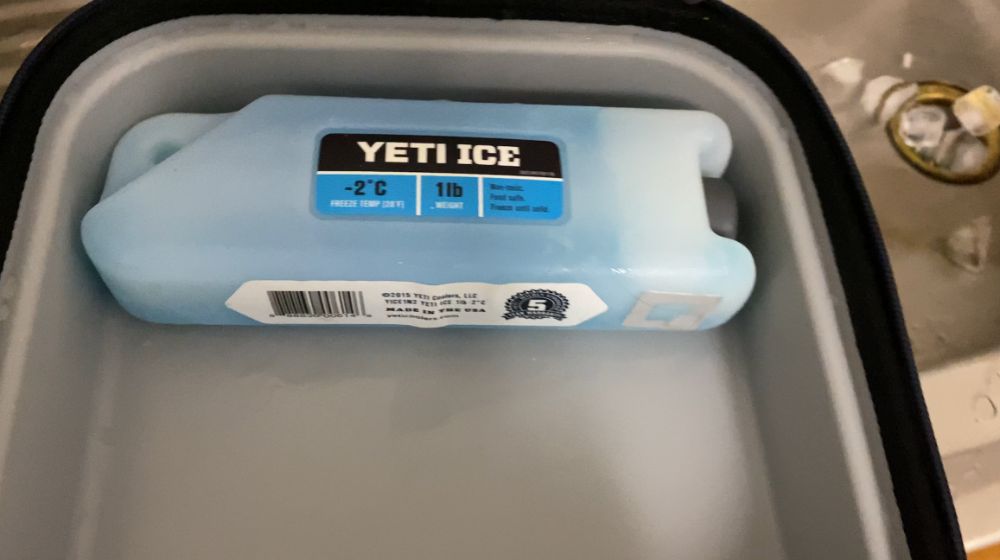 Yeti Ice needs no introduction, and while their ice bricks don't come cheap, they're winners in durability, including their superior 5-year warranty. They are also the best choice if you own a Yeti cooler.
As I mentioned in our in-depth review, Yeti makes packs to fit their coolers perfectly, minimizing empty air space. Thus, a Yeti frozen brick in their cooler will maximize their chill time.
Yeti ice melts at 28ºF/-2ºC which means they'll stay colder than regular ice will. I showed this in my video on Yeti Ice vs Regular Ice which you can see below:
The only major downside of Yeti Ice Bricks is their price. They are expensive compared to some other brands on this list. So if you're on a budget they might not be for you.
However, if you've got the money and want to invest in something that is high quality and will last you a long time you can't go wrong with these ice packs.
See the latest price Yeti Ice Bricks at Yeti.com
(or see the latest price of Yeti Ice Bricks at Amazon)
2. Cooler Shock 3x Freeze Packs: Affordable And Effective
The Cooler Shock 3x Freeze Packs are affordable and effective. These keep items cool for up to 48 hours and are built to last.
They are reinforced with nylon, ensuring they won't leak and cause a wet mess.
Cooler Shock is straightforward to use: fill them up with plain old water, screw on the caps, give them a shake, then tuck them in the freezer.
Purchase includes a funnel, making the process simple.
See the latest price of Cooler Shock Freeze Packs at Amazon
3. Engel Ice 20ºF: Durable And Extra Cold

Engel Ice is a durable product that redefines the meaning of cold.
As I noted in my in-depth review, these turn solid at 20ºF (-6.6ºC), which ensures that frozen food stays frozen and will extend the chill of loose ice in the cooler.
In addition, the ice packs are made from a non-toxic plastic that is impact resistant, making them great for rougher rides, such as going out in the 4×4 or taking the boat into choppy water.
See the latest price of Engel 20 Freezer Pak at Amazon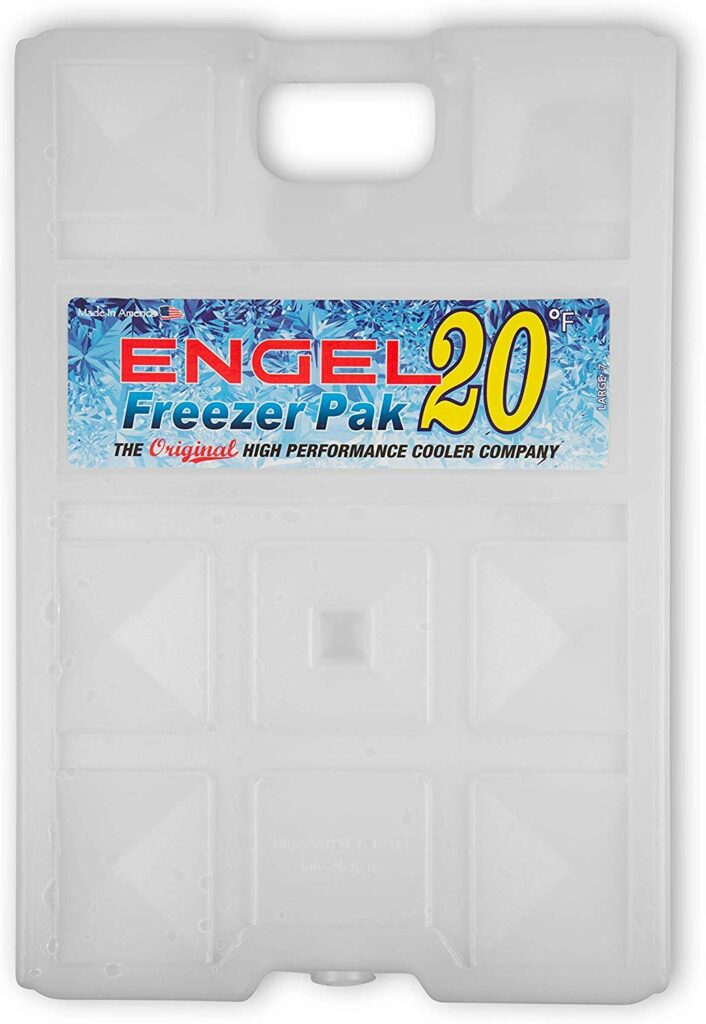 4. Extra Slim Large Ice Packs: Fastest Freezing
Extra Slim Large Ice Packs freeze fast: in 25 minutes. They are the ideal choice for people who love spontaneous adventures. These affordable and thin bricks are also perfect for slipping into reusable grocery bags and fitting into overpacked coolers. They are made from BPA-free plastic and can be reused many times.
See the latest price of Kona Extra Slim Ice Packs at Amazon
5. Nordic Ice Gel Pack: No Sweat To Keep Things Cold And Dry
Nordic Ice Gel Packs are cleverly designed to minimize condensation.
Thus, they are an excellent choice when having to bring home temperature-sensitive medications home from the pharmacy.
These biodegradable and non-toxic packs are also perfect when you want to ice injuries and aches. In addition, they are surprisingly durable despite being made of a flexible material.
See the latest price of Nordic Ice Gel Packs at Amazon
6. Cooler Shock Ice Packs: Most Loved
Cooler Shock Ice Packs are winning our hearts with their affordable and effective ability to do their job.
This durable ridged design is straightforward to use. Simply fill them with tap water, cap them, give them a shake, and stick them into the freezer.
They are also designed to be large and thin. This allows them to freeze very quickly while still providing a lot of cooling power. Stacking them together in your cooler can extend their cooling ability even longer.
Thanks to the cooling gel already inside, they can keep your goods cold for up to 48 hours.
See the latest price of Cooler Shock Ice Packs at Amazon
7. Fit + Fresh Small Slim Ice Packs: Great For Kids Lunches
Fit + Fresh Small Slim Ice Packs are the perfect choice for keeping your little darlings' lunches fresh and cold.
These palm-sized bundles of chill are less than 5 inches long and a quarter inch thick.
Bonus, they don't gobble up large amounts of precious freezer space. In addition, the reusable design is non-toxic and made from BPA-free plastic.
Plus they aren't too expensive so if your kids loses one or leaves it at school it's not the end of the world.
See the latest price of Fresh + Fit Small Slim Ice Packs at Amazon
8. Arctic Ice Chillin Brew 10 Lb Ice Pack: Largest Ice Packs
The Arctic Ice Chillin Brew 10Lb Ice Pack is a giant block of pure cold. If you're looking for a big ice pack that'll last a really long time then this is the ice pack for you.
This all-natural product (made from vegetable oils) has a freezing point of 28ºF (-2ºC).
The USA-made product is reusable up to 100,000 times.
Its ultra-sonic spin welded cap will stay sealed, preventing leaks. For those that find the giant 10 lb pack more than they need, they have smaller options, including a 1.5 lb brick.
See the latest price of Arctic Ice Chillin Brew Ice Packs at Amazon
9. Techni Ice 4 Play Ice Sheets: Best Flexible Ice Packs For Coolers
Techni Ice Play Ice Sheets are flexible and versatile. The 4-ply dry ice sheets can be used to keep things cool or warm and can be used over and over again.
They hold their temperature for 18-24 hours per use and can extend the life of the ice in your cooler which you can see below:
These are not only excellent for lunch boxes and cooler but are handy for easing aches and pains.
See the latest price of Techni Ice Ice Sheets at Amazon
10. Igloo Xtra Large Ice Pack
The Igloo Xtra Large Ice Pack is an affordable option for those looking for bigger blocks.
The ice packs are non-toxic and durable, allowing you to use them again and again.
The ice packs are easy to wipe clean, making them perfect for fishing and hunting trips.
It is an excellent choice for people who need their coolers to stay cold for over 48 hours.
See the latest price of the Igloo Extra Large Ice Pack at Amazon
11. Yeti Thin Ice: Fast Freezing
Yeti Thin Ice provides all the durability and quality you'd expect from the Yeti ice but in a thinner form factor. This means it freezes fast while remaining break-resistant.
The speedy freeze comes from their unique design, and their thinner make allows you to stuff more food into the space.
These are perfect for spontaneous, quick trips. Their lighter weight also gives your shoulders a break while hauling picnics onto the beach.
See the latest price Yeti Thin Ice at Yeti.com
(or compare to the latest price of Yeti Thin Ice at Amazon)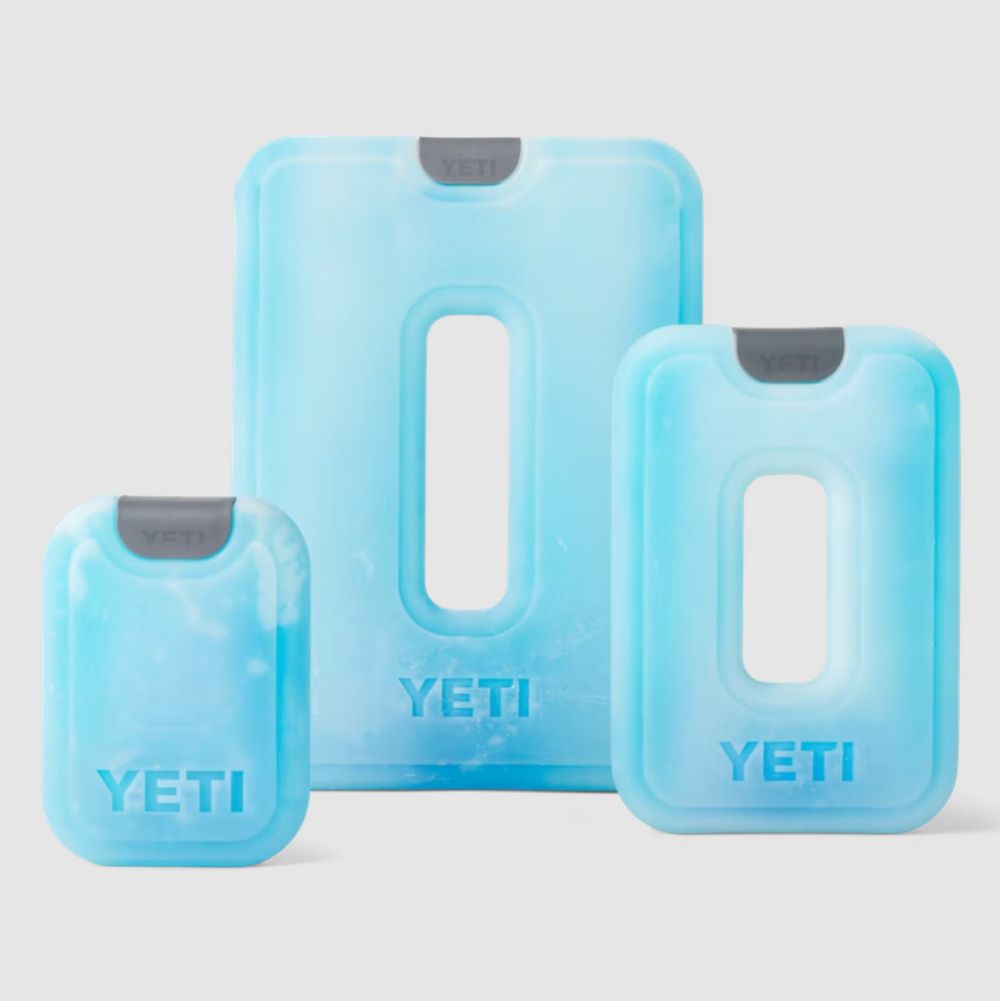 12. Hydro Flask Ice Pack: Fund Design, Fast Freezing
Hydro Flask Ice Pack is a playful-looking brick of chill. It freezes quickly, is easy to grab, and is filled with a non-toxic liquid.
Many fast freezing packs only last for a few hours. However, Hydro Flasks stays ultra-cool, keeping your items fresh for longer, up to a full day.
In addition, the design is durable, solid, and compact so that it won't use up too much space in your cooler.
See the latest price Hydro Flask Ice Packs at HydroFlask.com
(or compare to the latest price of Hydro Flask Ice Packs at Amazon)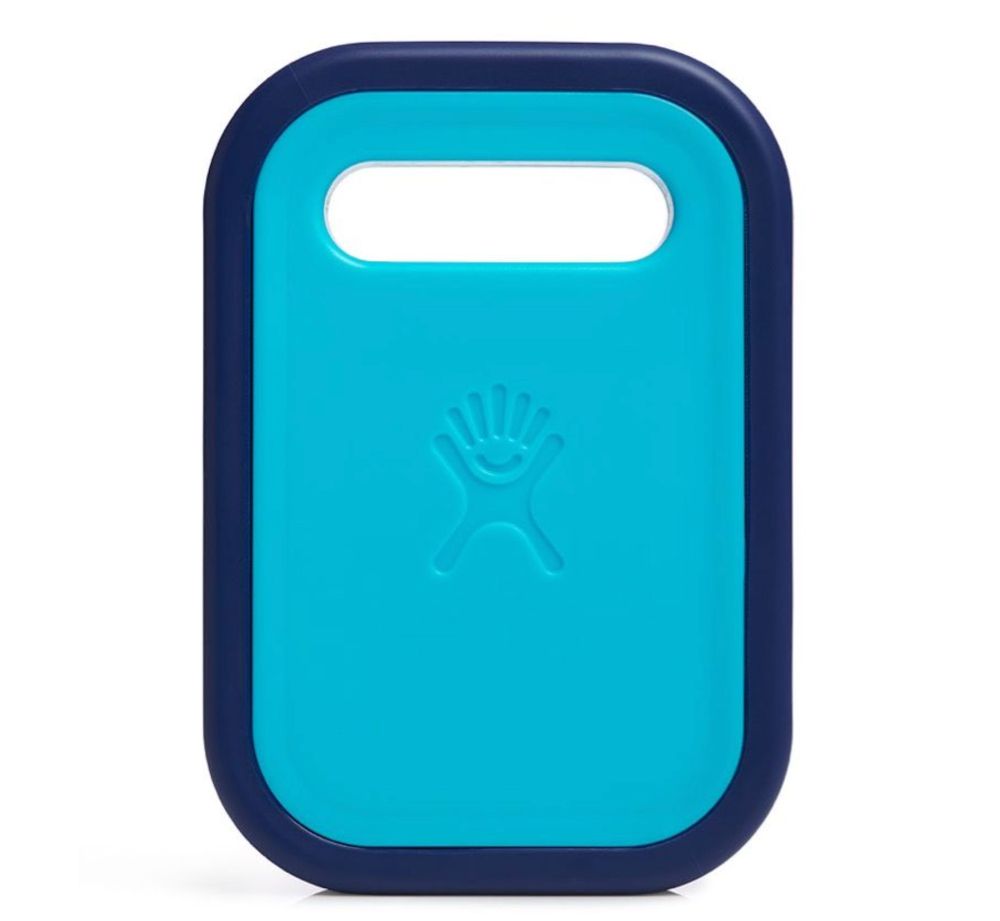 13. Amazon Basics Ice Pack (4 Pack): Cheapest Ice Packs
The Amazon Basics Ice Pack is the most affordable yet effective option.
The thin squares are less than 5 inches long, making them ideal for lunch boxes. The heavy-duty BPA-free plastic is durable and doesn't leak.
Despite the low cost and small size, they can keep things cool for up to 8 hours.
See the latest price of Amazon Basics Ice Packs at Amazon
14. Can Ice Packs: Best For Cans And Breastmilk Bottles
Can Ice Packs are perfect for keeping cans and baby bottles cool and fresh. Very handy for breastfeeding parents that have to travel through airports. Their contoured shape keeps beverages upright, reducing the chances of messy leaks. These durable ice packs are reusable, quick to freeze, non-toxic, and stay cold for hours and hours.
See the latest price of Can Ice Packs at Amazon
15. Tourit Ice Packs: Tall And Thin
Tourit Ice Packs are a slim skyscraper design, perfect for slipping into corners and tight cooler bags.
They are filled with a long-lasting gel, so they stay cold longer than their thin design suggests. In addition, they come in various colors, making them fun for kids' lunch boxes.
Thankfully, they're well priced, so should your little darling lose it, your bank account isn't going to wince.
See the latest price of Tourit Ice Packs at Amazon
Cheaper Alternatives To Ice Packs For Coolers
Ice packs are so handy to have that sometimes they gain legs. Like that time the in-laws visited and asked if they could borrow some ice packs. You thought they meant "a few," and they meant "every single one in the house."
Then there is that little darling that's lost so many that you're done spending another penny on their ice.
Thankfully, whipping up a homemade ice pack is easy and inexpensive.
16. Soda Bottle, Milk Jug or Water Bottle Filled With Water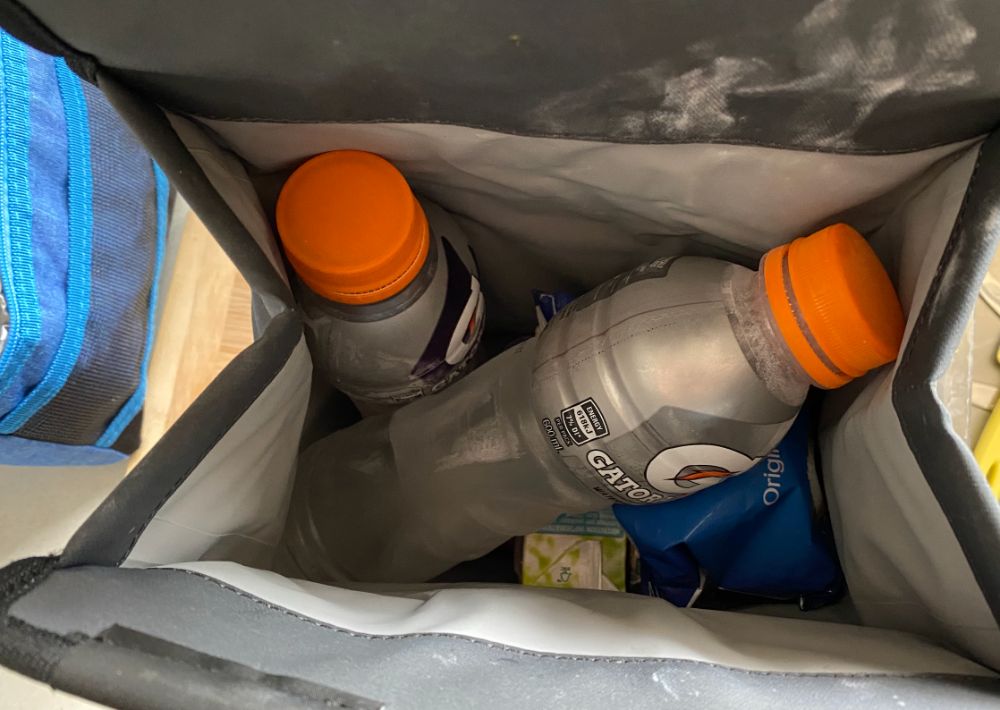 There have been warnings on the news and social media about reusing single-use plastic bottles for drinking. While the truth isn't as cut and dry as some alarmist stories, I still prefer to use reusable bottles, such as a Hydro Flask, for my beverages.
But that doesn't mean old soda bottles or milk jugs are worthless.
On the contrary, they make excellent ice packs when caught short. Just fill them up, screw the lid on tight, and freeze them.
17. Soda Bottle, Milk Jug or Water Bottle Filled With Salt Water
Most of us don't keep the ingredients found in the gels in commercial ice packs. But we can take inspiration from our oceans to reduce the freezing point of cooler bottles and jugs. The salt in the sea reduces the freezing point from 32ºF (0ºC) to 28ºF (-2ºC). Here's why salt causes freezing point depression.
Thankfully, you don't need to rush to the beach. Just add 2 lbs of salt for every gallon of water you mix before adding the saline solution to your bottles or jugs.
18. PVC Pipe Ice Packs
PVC Pipes are another great way to make slim, lunch box-friendly ice packs. This DIY project is also an excellent STEM craft to do with kids.
As you make them, you can ask your kid why you're adding 1-2 tablespoons of salt to the water per pipe.
Then, once you're done, the kid has a useful ice pack they've made while learning a little science.
19. Ziploc Bags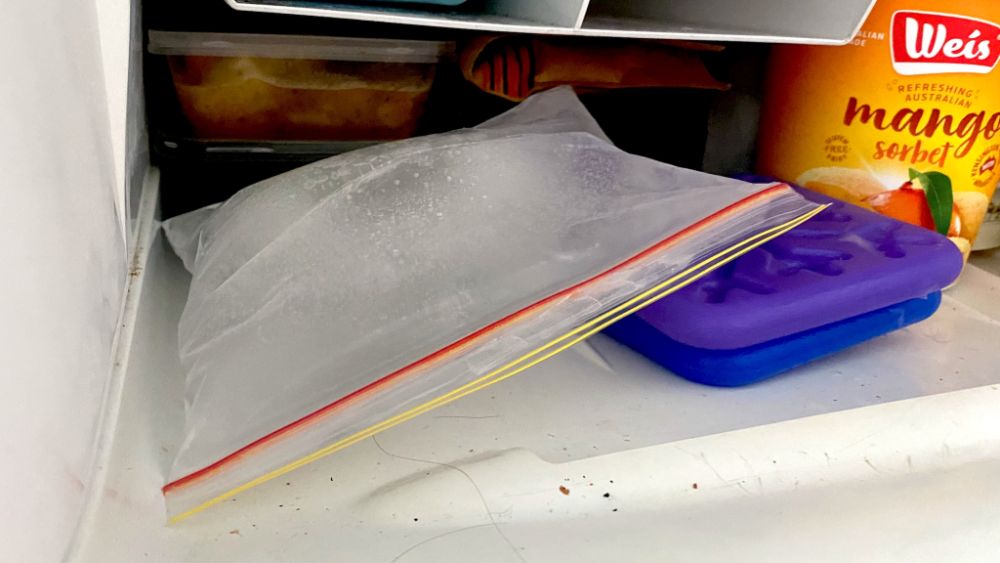 Ziploc Bags are almost as handy as Duct Tape. If you are looking for a flexible material to make a homemade ice pack, Ziploc Bags are perfect.
These things have been storing grandma's spaghetti sauce and dad's special BBQ marinade for generations and can stand up to water.
20. Balloons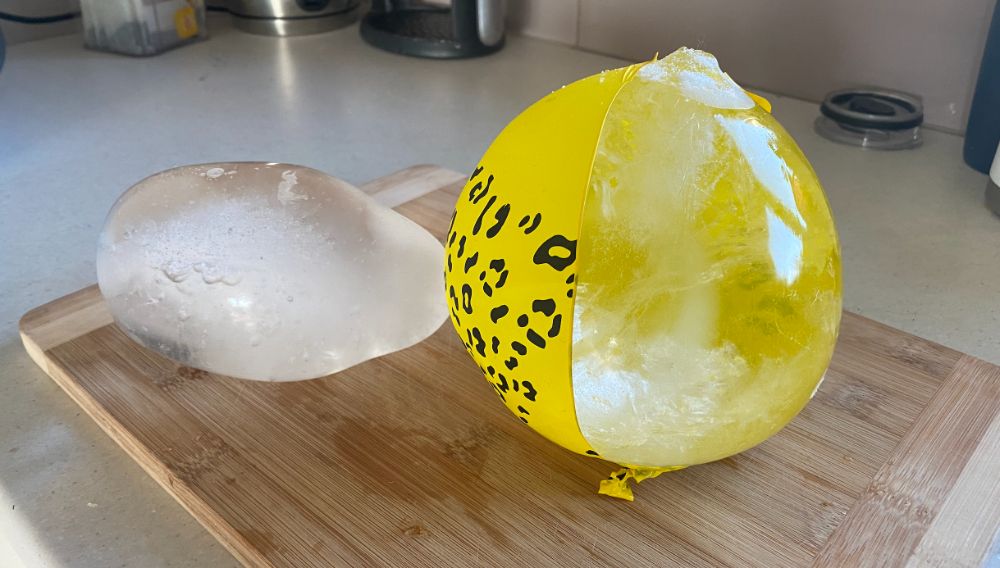 When in a pinch, you can fill a balloon with water and freeze it, creating your very own ice pack.
Bonus: when you reach your destination, you can play practical jokes. Just use your best Pennywise voice, ask your buddy if they want a balloon, then toss them the little ice bomb.
Whether your friend will laugh or not, I can't say. But the moment will be memorable.