Investing in a Yeti cooler is a great idea if you love the outdoors because they have many excellent features and last for ages.
But if you're out on a boat, camping or taking it adventuring you might be wondering whether or not Yeti coolers are waterproof and if they'll keep the gear inside it dry.
Both soft and hard Yeti coolers are waterproof and will keep gear inside protected from rain. However, only the soft Yeti coolers are completely watertight and will keep gear inside dry even if submersed in water. This includes the Yeti Hopper Flip and M cooler range but does not include the DayTrip Lunch boxes and bags.
The soft Yeti coolers have an outer fabric shell made from Yeti's proprietary DryHide material that is tightly woven, leak and waterproof. The zipper is also water and leakproof. Soft Yetis with magnetic closures are also waterproof.
Hard Yeti coolers are almost completely waterproof. The outer material is waterproof but (as a safety measure) their gaskets allow air or liquid to escape if there's enough pressure inside the cooler. So if you immerse a hard Yeti or it has a strong and constant stream of water near the gasket, it will likely allow some water inside the cooler (albeit not a lot).
If you're on the market for a waterproof cooler, any Yeti is an excellent choice and your final decision should come down to the cooler's specific waterproof properties.
Which Yeti Coolers Are Waterproof?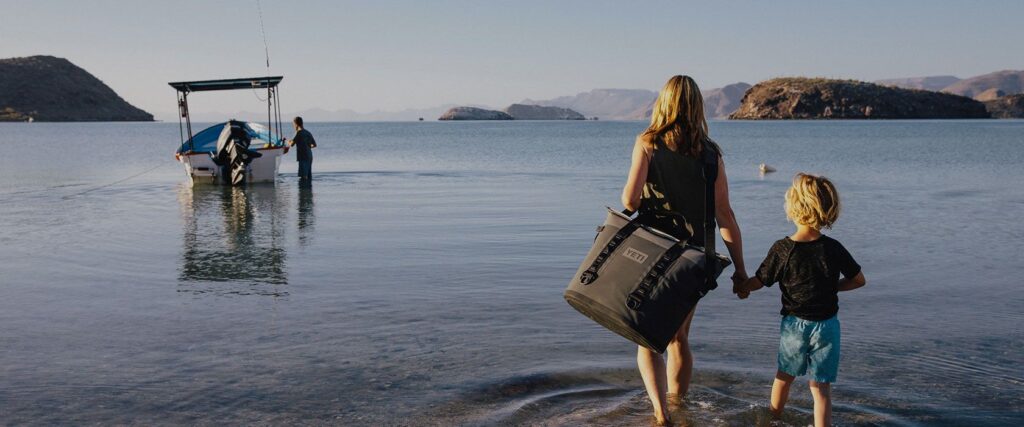 Soft Yeti coolers are waterproof because their exterior shell is made from waterproof fabric. Their zippers use Yeti's water and leakproof HydroLok technology, while the soft coolers with magnetic closures are also 100% waterproof.
A hard Yeti's body is completely waterproof but the area around the gasket isn't and will allow a tiny amount of moisture in if the pressure is great enough.
Soft Yetis, like the popular Hopper Flip have an outer shell made from tightly-woven DryHideTM material that is TPU laminated to make it completely waterproof. 
It's also UV, puncture and mold resistant, and you won't have to worry if you leave it outside in the rain or it accidentally falls in the water when you're sailing. This is one of the many things that make Yeti coolers so special.
The same is true for the soft Yeti Hopper Backpack Cooler that uses strong magnets instead of a zipper as a closure. The magnetic creates a tight and impenetrable seal to close the cooler backpack and won't allow air or water inside.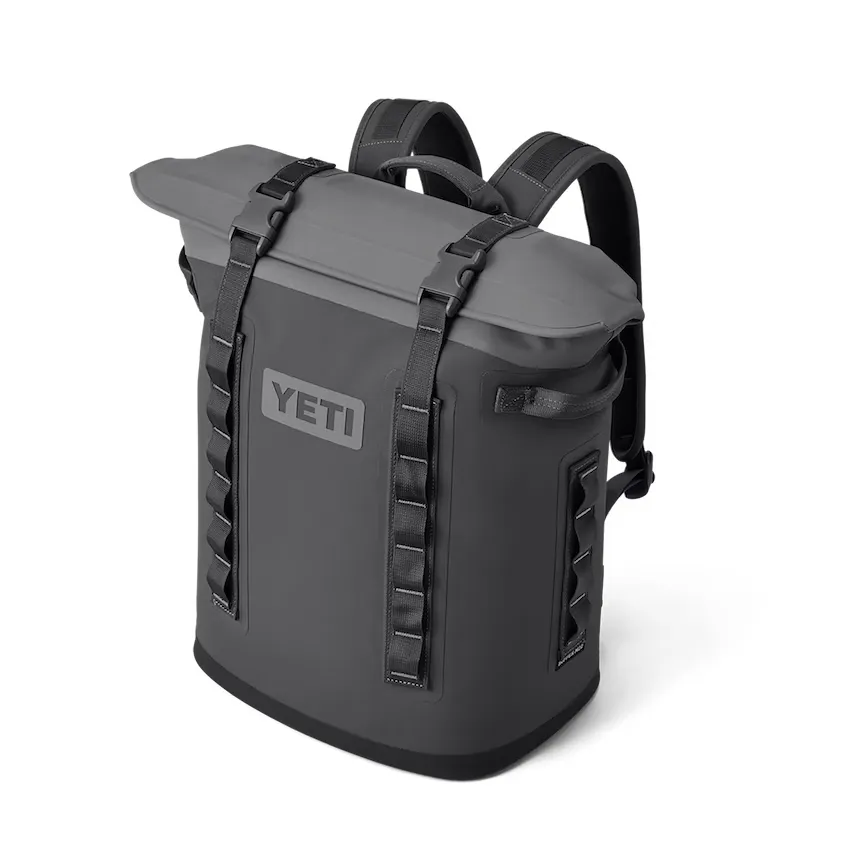 If you have a hard Yeti, like a Yeti Tundra, you can safely store it outside for long periods without having to worry about water damage because it's incredibly durable and pretty waterproof.
The hard plastic Yeti coolers are made from a roto-molded polyethylene exterior, which is the same process used to make water kayaks (polyethylene is known to be waterproof). 
The V Series Yeti Coolers are made almost entirely from durable kitchen grade stainless steel, which is also a waterproof material. They're also corrosion proof and won't rust, even if you leave them outside permanently. 
The only time your hard plastic or stainless steel Yeti may get a little water inside it is if you immerse it in water completely because the gasket is designed to allow some water and gas through, making it non-airtight. 
The same thing may also happen if your Yeti is in an extremely heavy rainstorm (or you're hosing it down or pressure washing it) and the water is directly aimed at the gasket area. Still, the amount of water that will get in is negligible.