Yeti coolers are known for their excellent quality and ability to keep food and drinks cold for longer than cheap coolers.
The hard coolers have a freezer grade gasket around the lid to keep in the air and their soft coolers have waterproof zippers or roll down magnetic closures.
You might wonder if they're completely airtight. I've used both cooler types and you'd be surprised at the facts. 
Hard Yeti coolers aren't 100% airtight because they can leak water when upside down and the rubber gaskets usually have a small gap where air can get in. However, because of their durable polyethylene, polyurethane, thick foam walls and freezer-grade rubber gasket, they're highly insulating and not much air gets in or out.
Soft Yeti coolers are airtight as they have either a waterproof and airtight zipper or a magnetic roll down closure similar to that found on dry bags. No air can get in or out of the soft Yeti coolers with the exception of the DayTrip lunch bag and lunch box.
Buying a Yeti cooler is a great investment but it's worth considering how airtight the soft and hard models are and how they compare before buying one. Plus you need to consider whether or not you even really need a cooler that is airtight.
Do Hard Yeti Coolers Leak?
Hard Yeti coolers do leak but only if you place them upside down or if they are full of water and that water splashes around vigorously. Although they can keep your food and drinks cold for up to 5 days, they're not 100% airtight or leakproof but generally speaking they experience very little leakage.
When I was traveling and living in my van I had both a Yeti Tundra 45 cooler and a cheap Coleman Xtreme cooler that I would use to keep my food and drinks cold. When the ice in the coolers melted and they were full of water the Coleman would often leak when we carried it around or drove and went around corners. However, the Yeti cooler rarely leaked at all and when it did it was only a couple of minor drops.
I know that Yeti coolers can leak more when they are upside down…but seriously who is going to store a cooler upside down?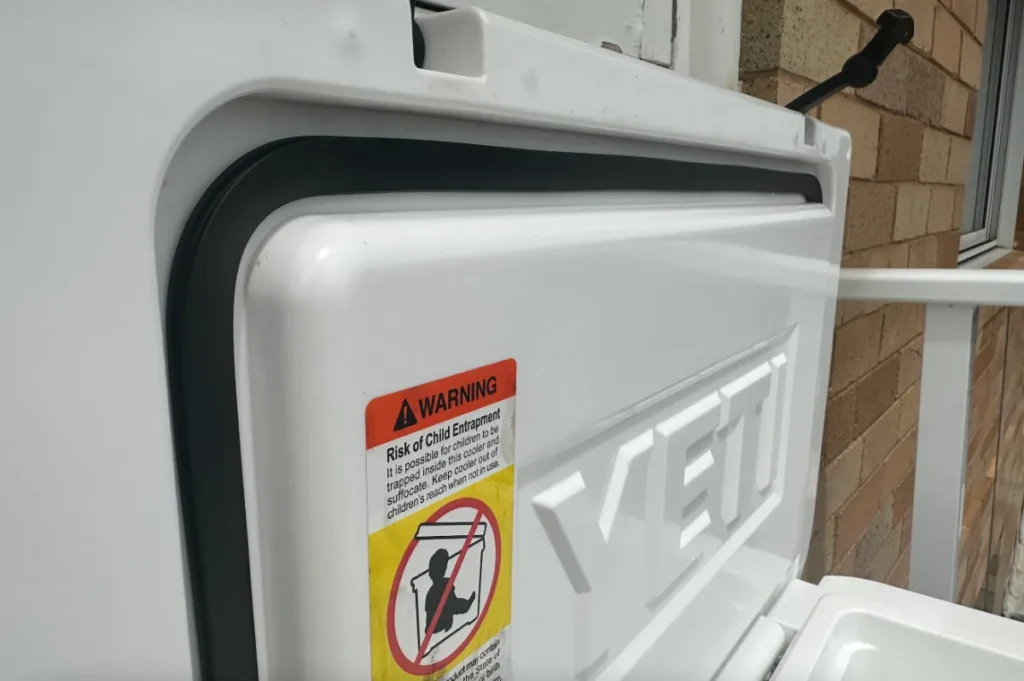 The main reason hard Yeti coolers are almost completely airtight is down to their freezer-grade gaskets, which are are highly effective at keeping the cold inside the cooler as they form a tight seal around the cooler's lid. 
Think of them like the gasket on your fridge or freezer. They keep almost all the air inside the fridge or freezer, but you likely wouldn't rely on them in you needed something to be 100% airtight.
The video below demonstrates how Yeti coolers can leak given the right circumstances:  
If your hard Yeti cooler leaks under other circumstances or due to a structural defect, the good news is that you're covered by Yeti's 5-year warranty. 
You can store dry ice in a hard Yeti because the lid's gasket is designed to allow air or liquid to escape if enough pressure is placed on it. This is a safety measure to prevent the lid from exploding off or the entire cooler from exploding in extreme cases. 
Since most people use their Yetis to store ice, food, and drinks, the fact that they're not 100% airtight shouldn't be an issue, especially given that Yetis can keep their contents and ice cold for days.  
If you're looking for an airtight cooler and you won't be using dry ice in it, consider the Engel UC30 Hard Cooler from Amazon. Engel hard coolers are marketed as being airtight and leakproof because they have an EVA gasket.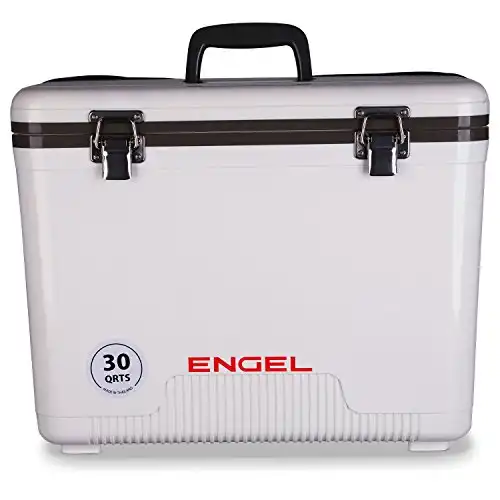 When comparing Yeti and Engel coolers, you'll notice that Engel coolers are cheaper with easier to use latches but Yeti coolers keep ice longer than Engel coolers do. 
How Airtight Are Soft Yeti Coolers?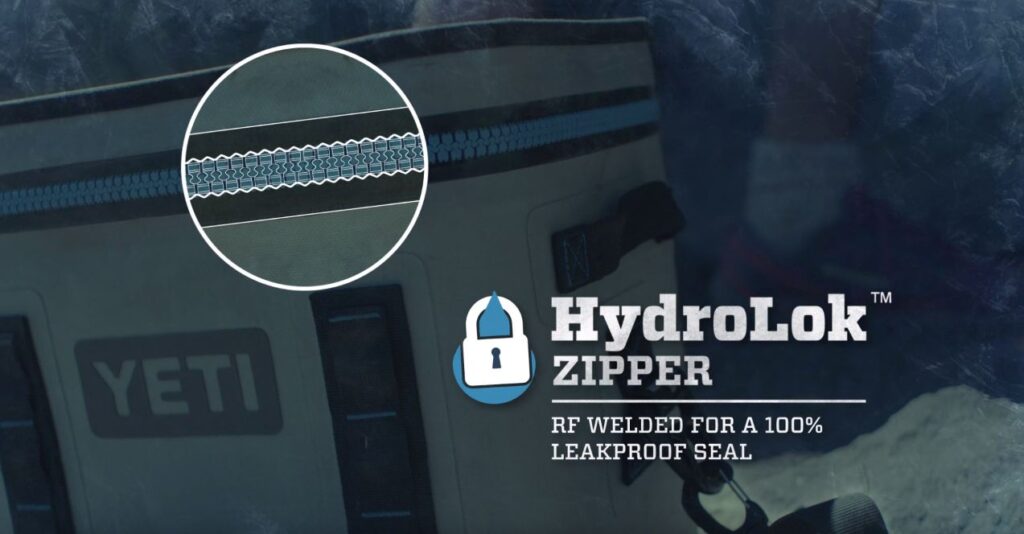 Soft Yetis are 100% airtight due to their RF welded leak proof zippers or roll down magnetic closures similar to that of dry bags.
They are also made from high density durable nylon on the exterior with a waterproof plastic interior to both stop leaks but also make the airtight.
I have not seen what pressure Yeti coolers are airtight up till but I personally can't imagine they could handle significant internal pressure (eg. from expanding dry ice) before they would start to vent air and cease to be airtight.
But you shouldn't put dry ice in soft Yeti coolers anyway as the extreme cold can damage the plastic lining of the cooler.
In fact, Yeti's official website states that you shouldn't use dry ice in their soft coolers as this may cause the airtight space to explode.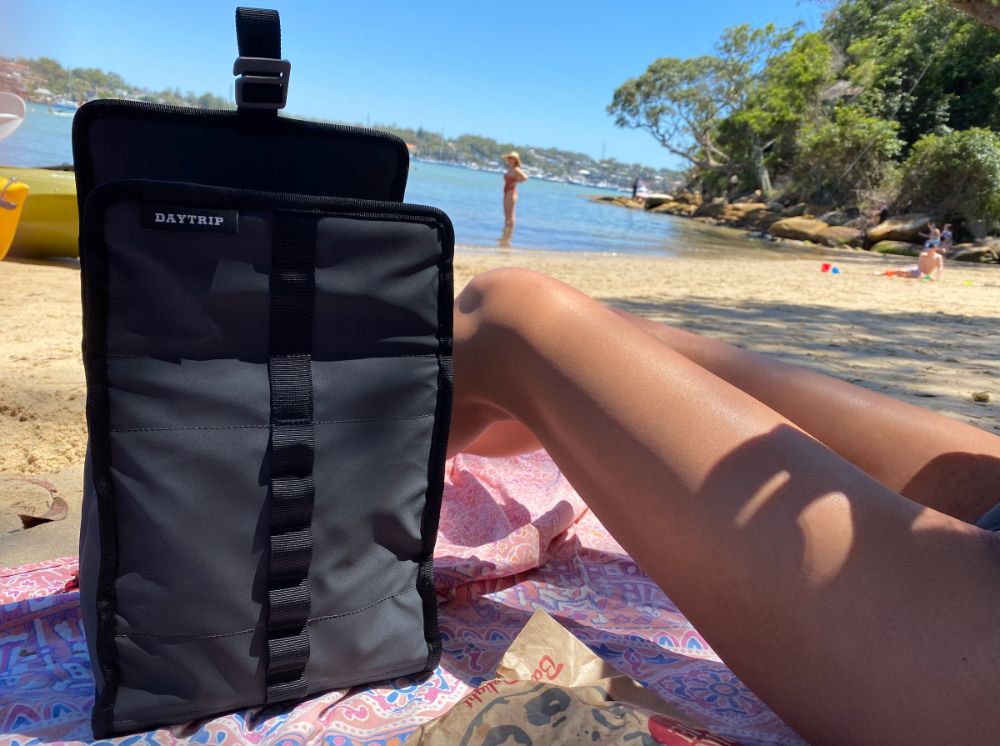 The only Yeti soft coolers that are NOT airtight and leak proof are the DayTrip Lunch Boxes and Bags.
The DayTrip bag has a magnetic closure at the top which then fold down. However, water can leak out of this fairly easily compared to the bigger coolers like the M30.
The Lunch Box zipper is NOT waterproof like the larger Yeti coolers with zippers and so this means that it's not airtight either.
They're marketed as being 100% leak-proof as well and their zippers have the HydroLok feature and don't leak. The Yeti Hopper Flip Soft Cooler is a good example but their models with magnetic closures are also just as durable.