Thermos flasks, cups and mugs are great for keeping food and drinks cold or hot all day long. But can you throw your dirty Thermos flask into the dishwasher with your dirty dishes? Are Thermos flasks dishwasher safe?
If the answer is yes, but you should hand wash anyway, why should you avoid using the dishwasher to clean your thermos? What could happen to your thermos if you put it in the dishwasher and ran a cycle?
In this article we'll look in more detail into why Thermos flasks are considered top-rack dishwasher safe and how you should be washing them.
Stainless steel thermos flasks are top-rack dishwasher safe. But it's advised that you handwash them as the extreme heat and detergent used in a dishwasher can shorten the lifespan of your insulation. Glass vacuum thermoses are NOT dishwasher safe.
See the latest price of Thermos Flasks at Amazon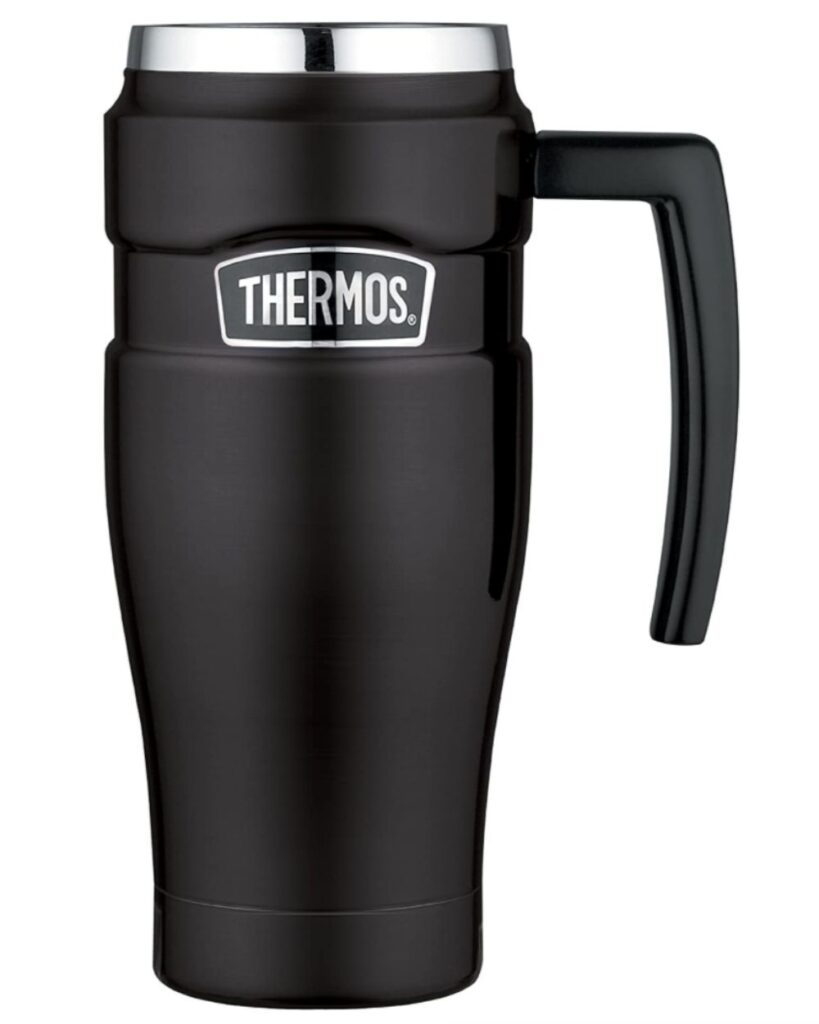 How Do You Know Your Thermos Are Dishwasher Safe?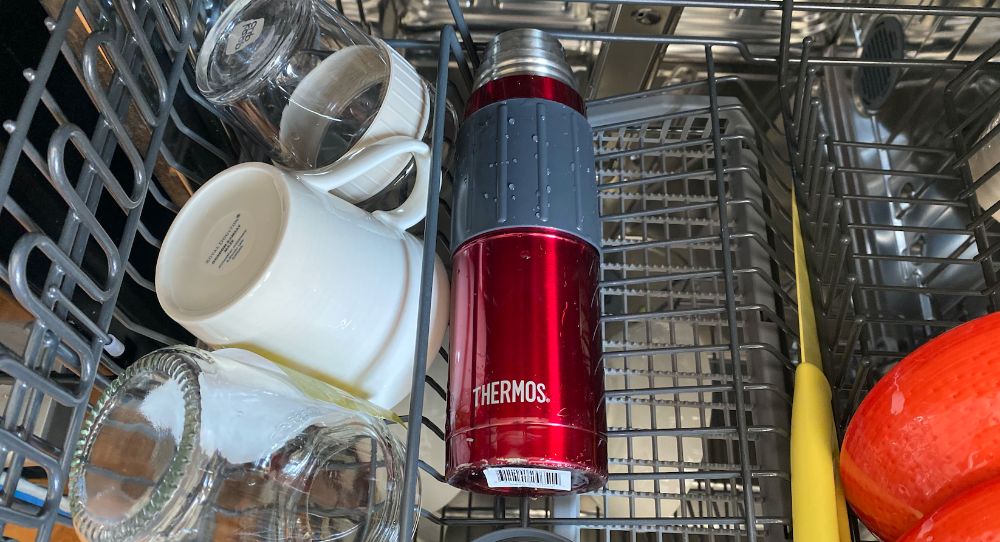 Thermos have been around for 100+ years and they were the first company to invent the stainless steel vacuum insulated flask.
But how can you be sure that your thermos is dishwasher safe and that putting it in the dishwasher won't ruin the insulation?
You can be sure of this because Thermos state it directly on their website under their care instructions.
For stainless steel cups and mugs they state on their care page:
This product is top-rack dishwasher safe; however, hand washing is recommended as the dishwasher uses harsher detergents and hot water that may affect the appearance of your product
However, the same is not true for the vacuum insulated glassware like their carafes as well as their older style glass lined thermos flasks.
On that care page they state:
HANDWASH ONLY – this product is not dishwasher safe.
There used to be hardly any vacuum insulated cups, mugs, bottles or flasks that were considered dishwasher safe. But now more and more companies are saying their insulated products are find to be used in the dishwasher.
See my list of the best dishwasher safe insulated tumblers
Some big brands (eg. Hydro Flask, RTIC and Ozark Trail) all say not to put their products in the dishwasher and to hand wash them only.
The most well known dishwasher safe tumbler is the Yeti. They make high quality and tough products and they have obviously done enough testing to ensure that the dishwasher won't break their products.
What Happens If You Put a Thermos In The Dishwasher?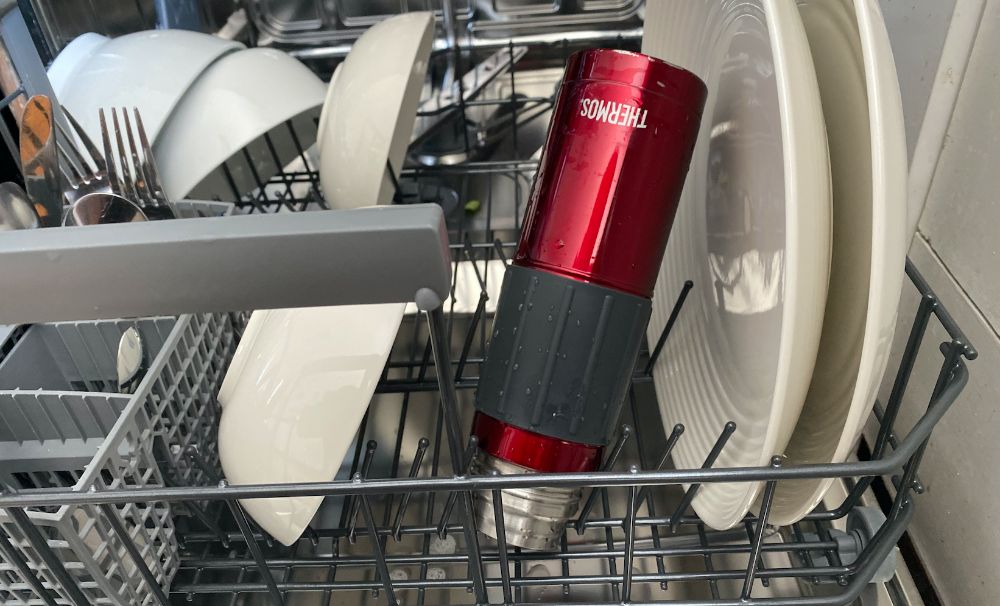 If you were to actually go ahead and put your thermos in the dishwasher and put it through it cycle what would actually happen to your thermos?
If you put it on the top rack of the dishwasher then it's going to be fine and simple come out clean (as you would expect).
However it is possible that putting your thermos in the bottom rack of the dishwasher can damage the vacuum seal and thus your thermos will no longer insulate properly.
The heating element of dishwashers is at the bottom and this extreme heat can potentially break a glass vacuum insulated Thermos or can break the vacuum seal on a stainless steel thermos.
I'm not exactly sure how the vacuum seal on a stainless steel thermos would be broken in the dishwasher. Maybe it has something to do with how hot the dishwasher can get during the drying cycle.
Given that many insulated thermoses use lead to seal off the vacuum I could see why this is possible.
But there have been reports of people who often use the bottom rack of the dishwasher to clean the thermoses without any problems at all. The thermos flask ended up clean, which you would expect from a dishwasher, and no damage was done to the insulation.
To be on the safe side it's a good idea to simply hand wash your thermos as this exposes it to less heat and is less likely to cause any issues.
I have also heard that the dishwasher has the potential to discolor the exterior powder coated paint. But again I wasn't able to find any direct reports of this happening to people.
Is Damage From The Dishwasher Covered Under Warranty?
Thermos flasks come with a 5 year warranty for the vacuum insulated stainless steel products and a 1 year warranty for the vacuum insulated glassware.
This covers you in case they lose their vacuum seal due to a manufacturing defect. If you lose your vacuum seal then they should replace your product for you free of charge.
However, the warranty doesn't cover wear or tear and to keep your warranty you have to follow the care instructions of the product.
On their warranty page they state:
This warranty does not cover ordinary wear and tear or color fading, or any condition affected by abuse, neglect, alteration, accident or improper use or maintenance.
As long as you keep it on the top rack of the dishwasher if there are any issues then it should be covered under warranty. However, if you put it on the bottom rack it's unlikely to be covered under warranty (though whether or not they can tell if was on the bottom rack if you don't tell them is a whole other story).
If you have a glass thermos then breaking in the dishwasher is NOT covered under warranty.
You Can Wash The Lid In The Dishwasher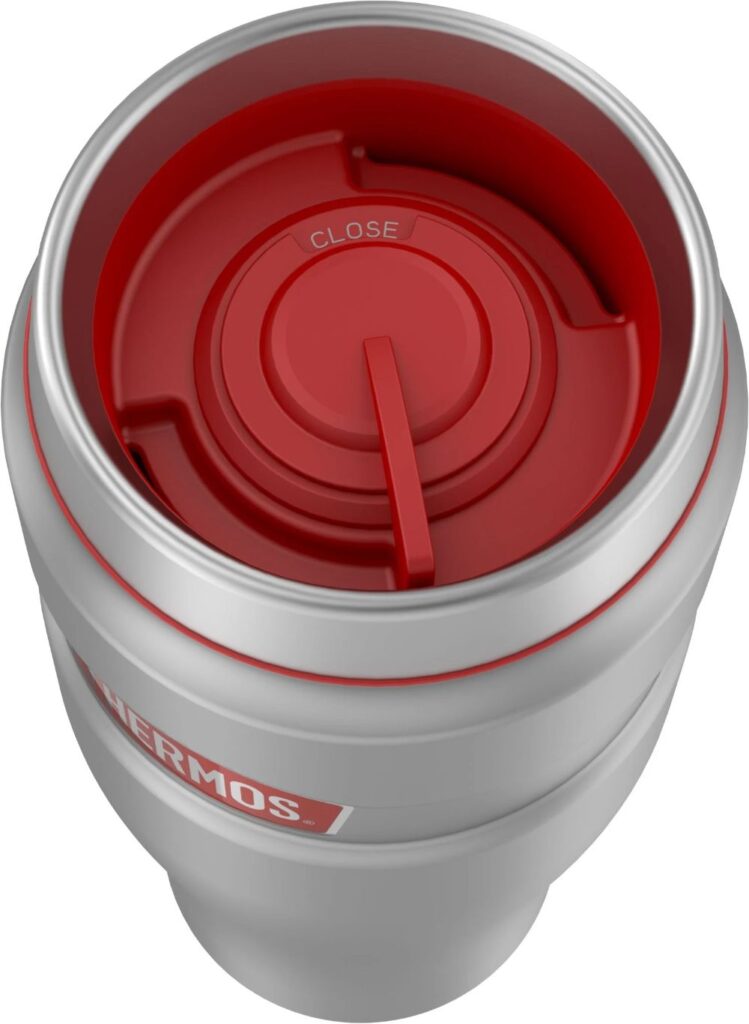 The lids of the thermoses are dishwasher safe. Again they should only be placed on the top rack of the dishwasher.
They are made of plastic and rubber parts that screw together.
However, because of the many different parts Thermos actually advise that you hand wash your lid so that mold doesn't build up and they are cleaned properly.
They state:
Residual liquids, foods, or other contents may become trapped between product components, such as lid parts, container parts, gaskets (flexible band around lid and/or stopper), or straws (if present in the product). Although this product is top-rack dishwasher safe, hand washing is recommended to ensure that all parts of the product are thoroughly cleaned.
You also want to pay special attention to the rubber gasket as this can be one of the prime places where mold can build up. Unless you remove this and clean it properly the dishwasher probably won't wash away this mold.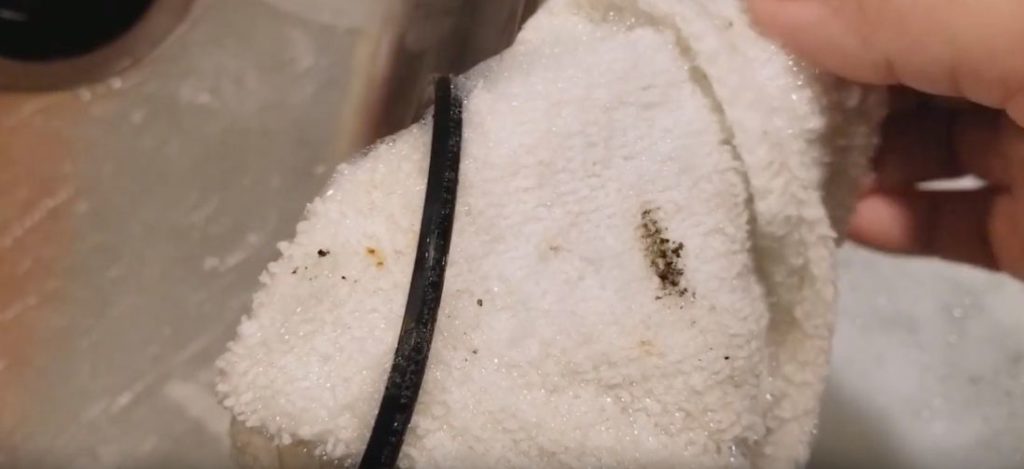 To get rid of it simply remove the rubber gasket from the lid and give it a good scrub. Then leave it to dry separately before putting the parts back together.
This doesn't have to be done every day. I talked more about gasket cleaning in my article on how often should you clean your insulated bottle.
If you don't do this every now and then you may find that you are drinking mold spores and this can actually make you quite sick. So make sure you clean the lid properly.
See the latest price of Thermos Flasks at Amazon