I am a big fan of Simple Modern bottles (and their newer dishwasher-safe tumblers).
Whenever I buy a product I want to take good care of it, especially when it's a high-end, high-quality insulated reusable bottle. However, in saying that I often forget to wash my water bottles so I wanted to know if I could throw my Simple Modern water bottle in the dishwasher instead of having to hand wash it.
While Simple Modern water bottles can be placed in the dishwasher without damaging the insulation, it is NOT recommended. This is primarily due to the fact that the dishwasher can cause damage to the powder coating exterior of the bottles cause discoloration or exterior damage.
The lids, straws and accessories are all top rack dishwasher safe.
Here's what Simple Modern themselves say about the matter:
We do not recommend that you put our products in the dishwasher. While it won't hurt the internal properties of our products, it could cause damage to the exterior or damage the powder coating. Our lids and accessories are top rack dishwasher safe.

Simple Modern
While Simple Modern bottles are made to be durable, functional, and come with a sleek design, throwing one in the dishwasher is not the best idea.
Simple Modern bottles, except the Tritan plastic kids bottles, are made of high-grade stainless steel and are powder-coated for an outstanding finish. 
The high temperature, high water pressure, and powerful detergents of dishwashers are likely to damage the exterior of the stainless steel bottles. Simply put, you shouldn't put the vacuum-insulated stainless steel bottles in the dishwasher.
We do not recommend placing our bottles and tumblers in the dishwasher as this could cause exterior damage and discoloration. Lids, straws, and accessories are top rack dishwasher safe.

Simple Modern Care & Cleaning Guide
What Will Happen if You Put Your Simple Modern Water Bottle In The Dishwasher?
If you're like me and get lazy and leave 3 day old smoothie in your bottle you might be willing to take the risk and put your Simple Modern bottle in the dishwasher, but what would happen in you did?
Honestly, for one time likely nothing.
The main thing you'll notice after placing a Simple Modern bottle in the dishwasher is a deterioration or fading of the external powder coated paint or the prints on the bottle.
This is unlikely to happen after just one cycle through the dishwasher, though one cycle. could create fading, but it's more likely to happen after regularly being put in the dishwasher.
If you don't care about how your bottle looks on the outside then the dishwasher might be fine for you. But if you want your bottle looking as new as possible for as long as possible then I suggest hand washing your bottles only.
The dishwasher should NOT damage the vacuum insulation of the Simple Modern bottles. The dishwasher just doesn't get hot enough to compromise the vacuum seal and it should be fine (function wise) to be washed in the dishwasher.
Are Simple Modern Lids and Straws Dishwasher Safe?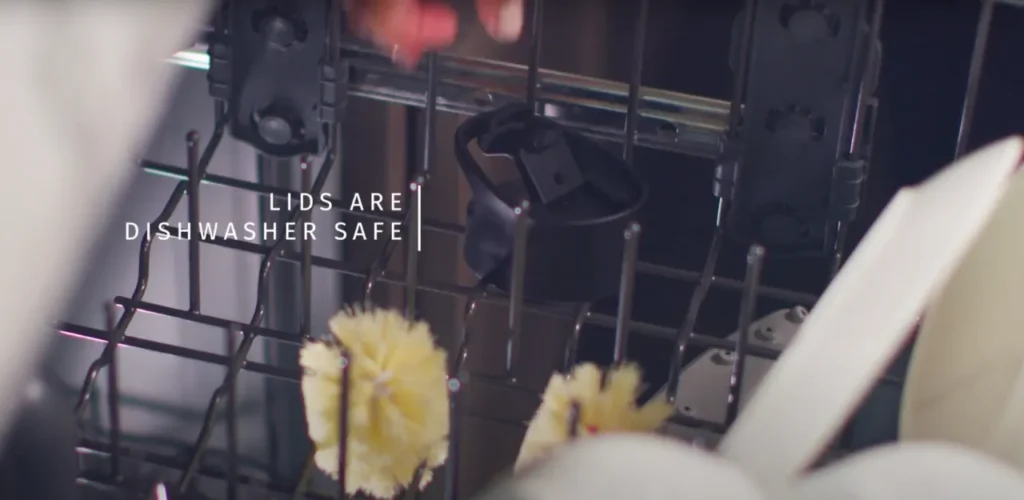 While you shouldn't put the bottles themselves in the dishwasher the lids and straws are another story.
Both the lids and straws are made from plastic which is both BPA free and dishwasher safe and is fine to put it the dishwasher.
It's recommended that you put the lids on the top shelf of the dishwasher as this area is farther from the heating element and so is less likely to suffer from heat damage.
How to Wash a Simple Modern Bottle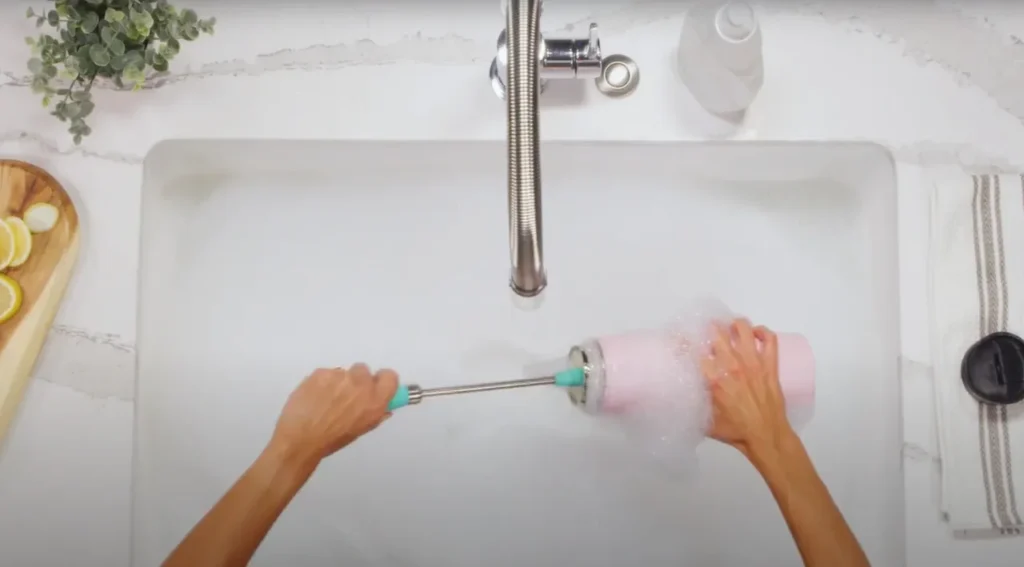 Although the kids plastic bottles and the lids, straw holders, and accessories for the stainless steel bottles are considered dishwasher-safe on the top rack, the alternatives to using a dishwasher are so simple and will give the bottle and accessories extended life.
There are two easy methods to clean all Simple Modern bottles:
after each use or
deep cleaning
What You Will Need:
Water
Warm water
Dishwashing liquid (any common type will do)
Simple Modern brush or other spout brush
To clean your Simple Modern bottle after use, wash it in warm, soapy water. For the best results, you will want to soak the bottle, lid, and any accessories in the warm, soapy water for around 10 minutes.
Just be careful not to overdo it because extended periods in hot water could also discolor the bottle. 
After which, use a spout brush or the brush that came with your bottle to lightly scrub the bottle and components clean.
Then rinse under cold water until all suds are removed and place the bottle and accessories to air dry.
Simple Modern also sell cleaning tablets which are some of the best cleaning tablets for water bottles. This is an easy way to clean your bottles if you don't want to do much scrubbing.
Made in USA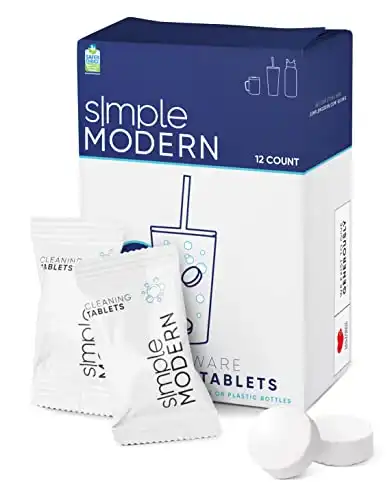 Deep Cleaning a Simple Modern Bottle
Every now and then your Simple Modern water bottle will start to grow mold and smell a bit funky. You'll likely smell the mold before you can see or taste it.
You do not want to drink water out of a moldy water bottle as this can cause health problems.
It's really important to treat mold by deep cleaning your water bottle every so often.
What You Will Need:
Water
Cleaning vinegar or white distilled vinegar
Baking soda
Simple Modern brush or other spout brush
If you are camping and traveling outdoors, you might not be able to wash your Simple Modern bottle after every use. If that is the case, at least make sure that you give it a good rinse. 
Whatever you do, make sure you avoid using bleach when cleaning stainless steel bottles.
Deep cleaning a stainless steel reusable bottle will also prevent tainting of flavor, although this should not be an issue with your Simple Modern vacuum-insulated bottle because it is made with high-grade stainless steel.
When deep cleaning, use the bottle to hold a mix of one part cleaning vinegar and one part water, and add one tablespoon of baking soda.
After adding the baking soda, you can expect the mix to foam up and coat the exterior of the bottle. Leave it to sit overnight.
The next day, discard three-quarters of the mix and add another tablespoon of baking soda.
Give the bottle, lid, and any accessories a good scrub with a spout brush or the brush that came with the bottle.
The last step is to thoroughly rinse and air-dry the bottle and all accessories until they are completely dry before putting them away.
Your Simple Modern water bottle is now clean and ready to go. Make sure you're drinking enough water each day to stay hydrated. Learn how many Simple Modern bottles you should drink each day for optimum health.