For years I eyed off the Corkcicle bottles with their unique designs and prints. It was only recently I got my own Corkcicle drink bottle and I love it.
But one of the downsides of it is that it's got a small opening making it difficult to clean sometimes. It would be great to be able to throw it in the dishwasher instead of having to hand wash but are Corkcicle bottles dishwasher safe?
Since 2020 only SOME of Corkcicle Canteen, Tumblers, Wine Cups and Mugs are top-rack dishwasher safe. All Dragonfly products are handwash only as the dishwasher will damage the paint finish. To know whether or not your Corkcicle is dishwasher safe you need to refer to the initial product label on the bottle at purchase.
It was only in 2020 did Corkcicle transition its line of canteen bottles from hand-wash only to dishwasher safe making cleaning them easier. However it's difficult to know whether or not you actually have one of these dishwasher safe versions or your versions is hand was only.
On their website, they state:
"All of our stainless steel drinkware products must be hand-washed. This includes most of our Canteens, Tumblers, Stemless, and Mugs."
However, in 2020 Corkcicle released this statement to inform customers that the stainless-steel bottles, tumblers, and mugs are now dishwasher safe. But only on the top rack of the dishwasher.
Good news! As of January 2020, some Canteens, Tumblers, Stemless Wine Cups, and Mugs may be categorized as top-rack dishwasher safe. We are working to transition most of our Drinkware products to be top-rack dishwasher safe. Please refer to the product label when purchasing a new product.
This is pretty common amongst insulated bottle brands now as materials become stronger and the testing is more thorough.
How To Know If Your Corkcicle Is Dishwasher Safe or Not?
Unfortunately it seems the only way to know whether or not your Corkcicle bottles, tumbler, wine cup or mug is dishwasher safe is to refer to the care instructions on your product label.
This is found on the underside of the sticker that appears on the side of bottle when you buy it.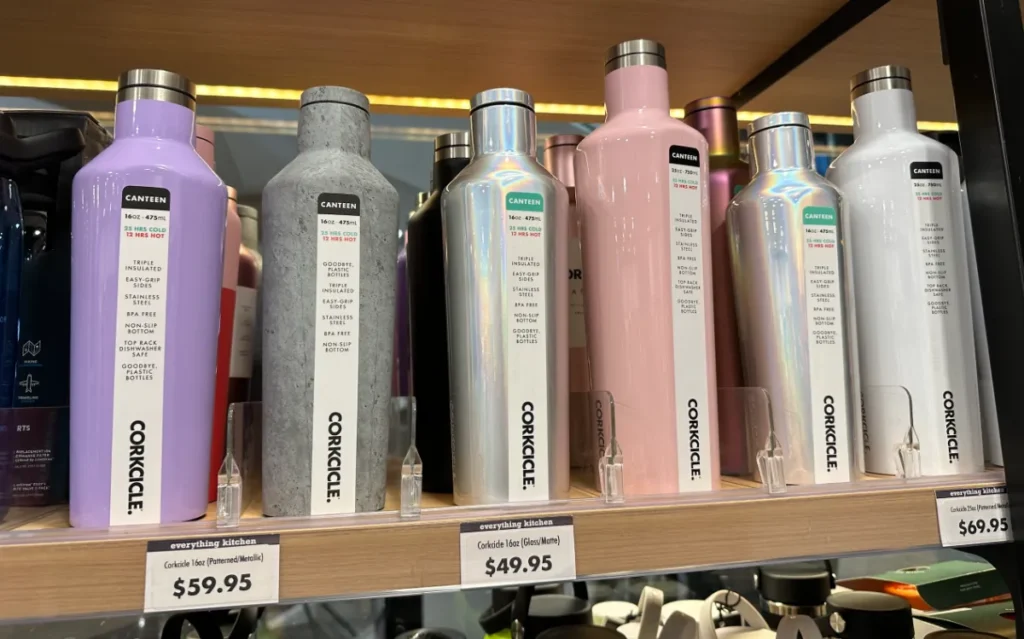 I was looking for my care instructions for this very reason and was surprised when I couldn't find them.
Most bottles have paper instructions inside them but Corkcicle doesn't. It wasn't until I went to take the label off when I was at the beach that I saw the care instructions that say "Not dishwasher safe".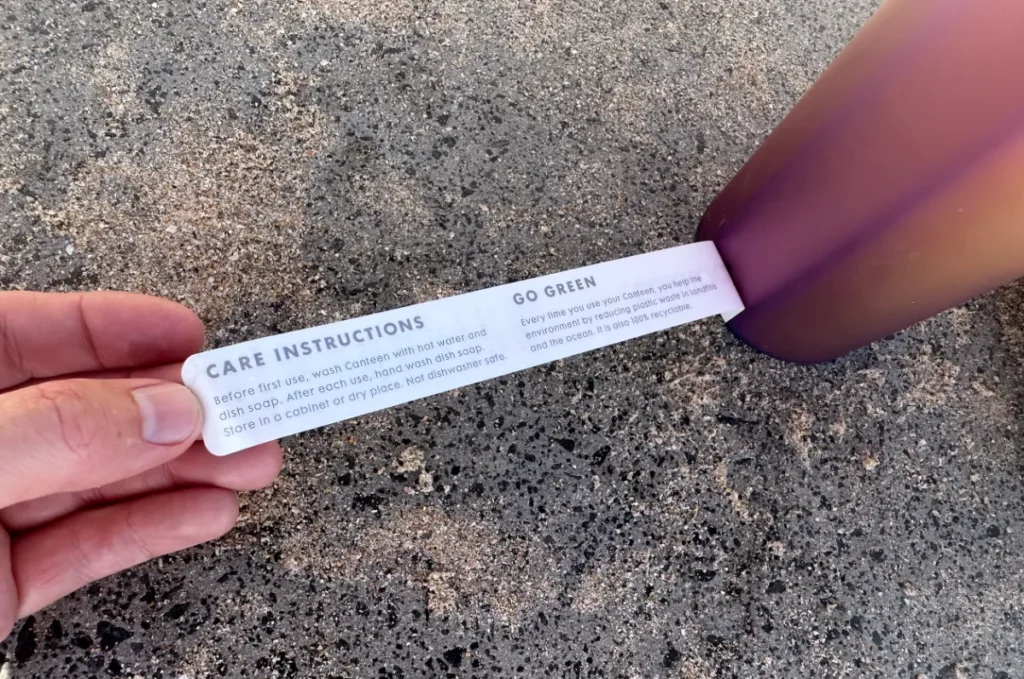 Now I have a Dragonfly Corkcicle and the website states none of these are dishwasher safe even if manufactured after 2020 when the changes were made.
However, it's interesting if you look at the sticker on the base on my Corkcicle it says 2016…even though the bottle was purchased in late 2022.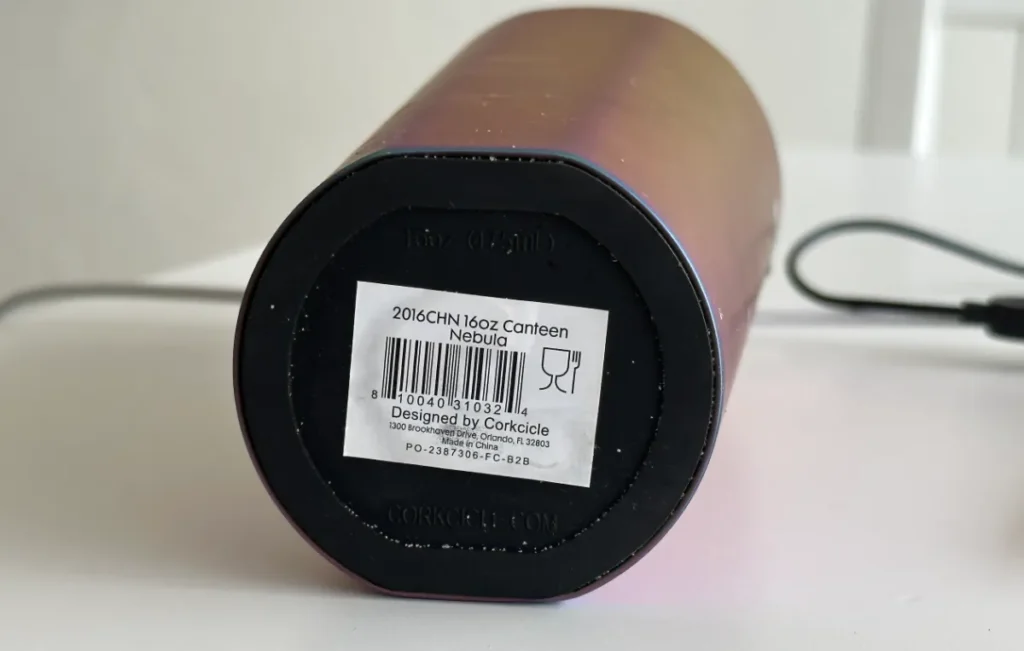 So just because you bought your Corkcicle bottle after 2020 it doesn't mean it was manufactured after 2020 and so it may still not be dishwasher safe.
The only way to know is from the care instructions sticker if you still have it. If you don't have it then there is no way to determine whether you have a dishwasher safe Corkcicle or a hand wash only Corkcicle.
If you don't know when your bottle was manufactured, just stick to hand-washing.
What Corkcicle Bottles Are Dishwasher Safe
Assuming you have a Corkcicle bottle manufactured after 2020 (lucky you) how can you know whether or not it's dishwasher safe.
Corkcicle has quite a large range of bottles:
Series A sport canteen
Series A sport jug
Classic sport canteen
Classic canteen
Dragonfly series canteen
Prism hybrid canteen
According to the product descriptions on the website, the Series A canteen, Series A sport jug, Classic sports canteen, and the classic canteen bottles are all dishwasher safe. For the top rack only.
The Dragonfly canteen series and the Prism hybrid canteen series are not dishwasher friendly. They should be hand-washed only.
The Corkcicle Prism Hybrid canteen is made with a combination of glass and stainless steel, and it cannot be washed in the dishwasher because of this.
It's clear that Corkcicle has been doing all it can to improve the quality of its products by making most of the canteen series dishwasher safe moving forward.
What Happens If You Put a Corkcicle Bottle In The Dishwasher?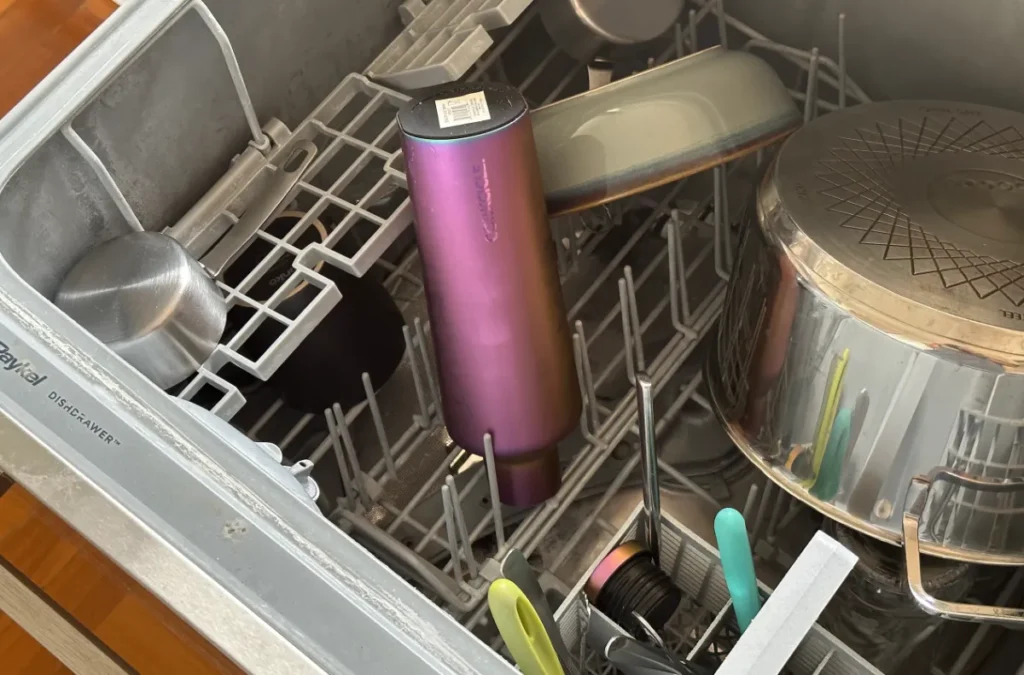 What would happen if you were to put the Corkcicle bottle in the dishwasher when it wasn't supposed to go in there?
The main risk with putting your Corkcicle into the dishwasher is damage to and fading off the paint/pattern on the exterior of your bottle. Plus a small risk of the vacuum insulation seal being compromised.
Luckily, Corkcicle has upgraded most of their canteen range to be dishwasher safe, but this only means you should be putting them on the top rack only.
The reason why many brands advise using the top rack is that the bottom rack of the dishwasher is where it gets the hottest.
This is especially true when using the heavy cleaning cycle and the hot-drying feature.
If you were to put the dishwasher-safe Corkcicle bottles on the bottom rack of the dishwasher, you run the risk of damaging the unique designs of the bottle.
The sports and classic canteen series are coated with a DURAPRENE™ finish. This is a durable type of firm-grade co-polymer which makes it extra durable.
However, this finish might run the risk of getting damaged when washed on the bottom rack of the dishwasher.
Both the Prism Hybrid and Dragonfly bottle series are NOT dishwasher safe at all. On their website, under the product care section, they state:
"Please note, our Dragonfly products are hand wash only."
Corkcicle hasn't said outright what will happen if you put them in the dishwasher. However, they did advise customers that put their Dragonfly bottles in the dishwasher and are experiencing paint issues to contact the company.
This was due to the bottles being incorrectly labeled, but this problem has since been fixed.
So I'm assuming if I put my Dragonfly Corkcicle in the dishwasher the paint job will get completely ruined. It's already getting scratched just from everyday use and taking it to the beach.
The glass and stainless-steel hybrid bottle should not be put in the dishwasher at all. You can wash this bottle with hot soapy water. This is not uncommon with glass-lined bottles.
Is Damage From The Dishwasher Covered Under Warranty?
Corkicle offers a limited 366-day warranty for products purchased off their official website or an authorized dealer.
If you have put your bottle in the dishwasher and it becomes damaged, this is not covered under warranty.
On their website, they directly state:
"We don't cover normal wear and tear on things like paint finishes, dents from drops, broken glass, broken caps from drops, loss, theft, or any other misuse of product or care instructions within packaging (Dishwashing, etc.)."
So if you are using dishwasher-friendly bottles, make sure it is on the top rack only and if you don't know if your Corkcicle is dishwasher friendly then stick to hand washing with a bottle brush.
I like and use this bottle brush set from Amazon. It's affordable and works great for my Corkcicle but also comes with a smaller brush which is great for cleaning the threads on the lid of the bottle.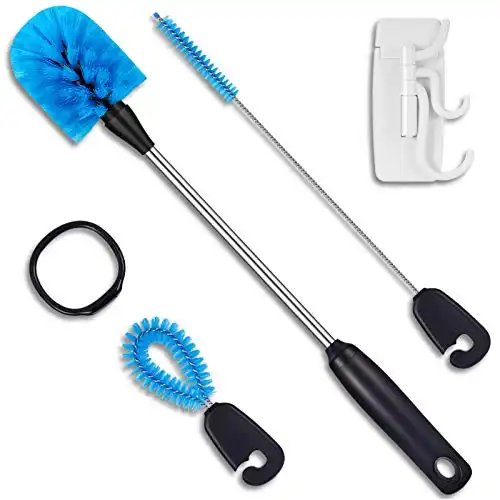 You Can Wash The Lid In The Dishwasher
The lids of the Series A canteen, Series A sport jug, Classic sports canteen, and the classic canteen bottles can be washed using the top rack of the dishwasher.
You can remove the lids by unscrewing them and placing them on the top rack of the dishwasher.
It is only the lids of the Dragonfly and Prism Hybrid bottles that must be hand-washed. Check out my article on how often you should be washing the bottles.