Whether you're surfing or diving, managing your wetsuit can be a chore –that is, if you're doing it right. There are a few clever hacks that allow you to get more out of your wetsuit or will help you make life a hell of a lot easier.
Say goodbye to wetsuit rashes, getting stuck putting your wetsuit on or cold and damp wetsuits you can't seem to dry. These wetsuit hacks might not save the world, but they will make your life easier.
Keep reading to learn more about these helpful wetsuit hacks. I'll explain when each of these tips are useful and how to use them properly.
1. Wear Plastic Bags To Help Get Your Suit On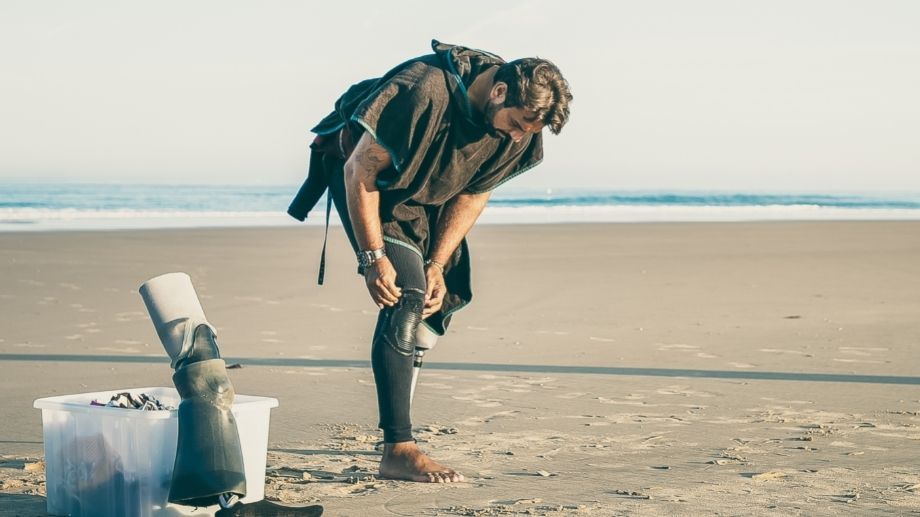 This is one of the best and most simple wetsuit hacks and perfect for getting into a tight, wet and difficult to put on wetsuit. No more wasting 20 minutes getting your suit over your legs.
It can be tedious to put on a wetsuit due to how they grip your skin, as this makes the process awkward and difficult. This is especially difficult when your wetsuit is still wet from the night before. Fortunately, there are ways around this.

A popular and convenient way to slip into a wetsuit without trouble is to put plastic bags on your hands and feet. The material of the suit won't grip the plastic like it would your skin. Simply covering your hands and feet with plastic bags can make it much easier for you to get the suit on without resistance.
You can also use rubber gloves (specifically the plastic ones that feel slippery to touch, not the grippy cleaning gloves) to get your wetsuit on easier too. There's even a company that designed "surf socks" which are made from off cuts of spinnaker sail material that would have otherwise gone to landfill. Check out surf socks here.
Alternatively you can use your wetsuit gloves or wetsuit booties and put them on prior to putting on your wetsuit. They're made of the same material as the suit and serve the same purpose as a couple of bags yet are comfortable to wear and will also keep you warmer in your wetsuit.
Just make sure your wetsuit boots are dry and your wetsuit gloves are dry before using them for this purpose.
2. Get A Wetsuit Lubricant To Make Putting Your Wetsuit On Even Easier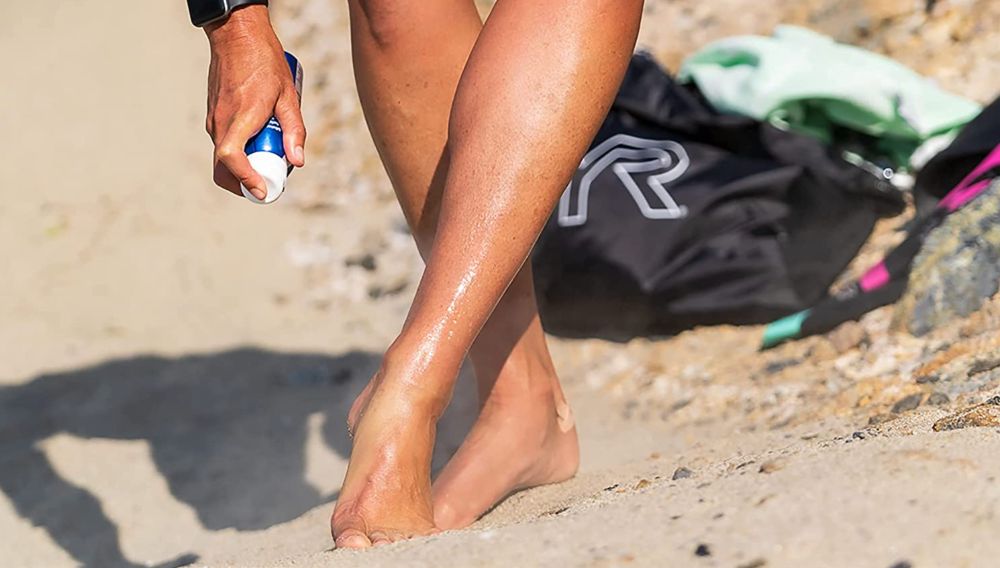 While the plastic bag works well sometimes an even better option is to use a wetsuit lubricant.
These products are designed to both help you get your wetsuit on easier but also to reduce chafing whilst wearing your wetsuit. They often come in spray bottles or rub ons and they are designed with neoprene in mind so they won't damage your wetsuit in any way.
I've written a full article on the best wetsuit lubricants to help you get your wetsuit on but the TriSlide shown below is one of my favorite products.
It's affordable, convenient to use and easily stores in your car or board bag for whenever you need it.
See the latest price of TriSlide Anti-Chafe Wetsuit Lubricant at Amazon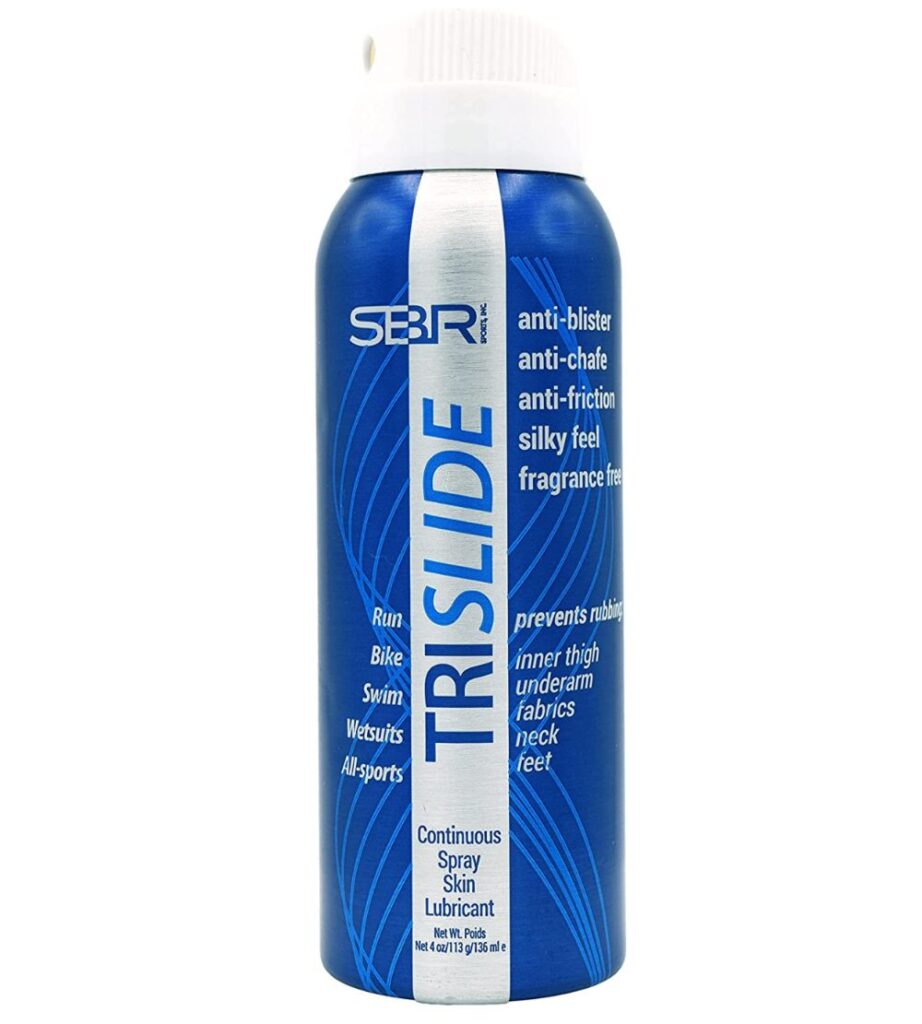 3. Use Vaseline To Help With Rashes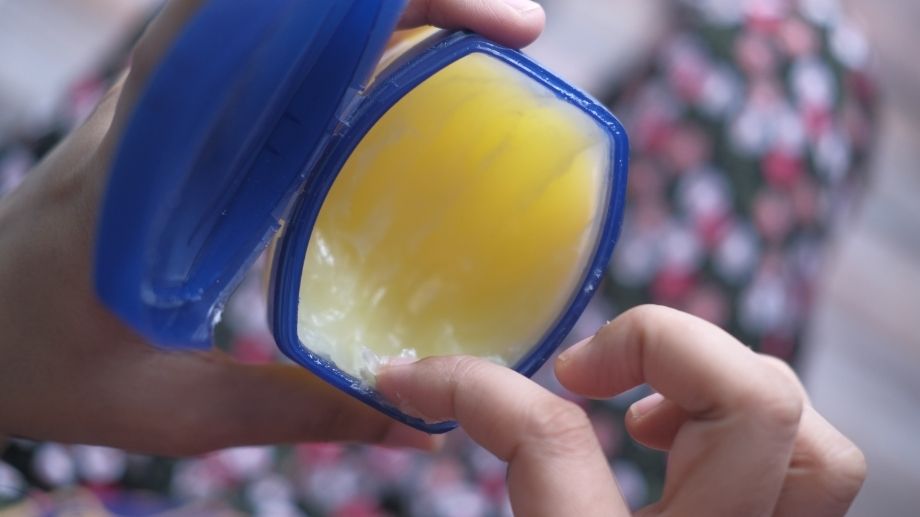 The combination of water and a skintight suit threatens risk of getting a rash. If your wetsuit chafes you while you're trying to surf or swim, that can really take away from the experience. If you've ever had a wetsuit rash you know all about the pain it can cause.
Dealing with this problem is fairly simple. If you have a rash or know you're prone to getting them from your wetsuit, apply vaseline to the sensitive area before gearing up. This helps soothe any current rashes and prevents future ones by mitigating friction.
4. Leave the Zipper Open if You Get Hot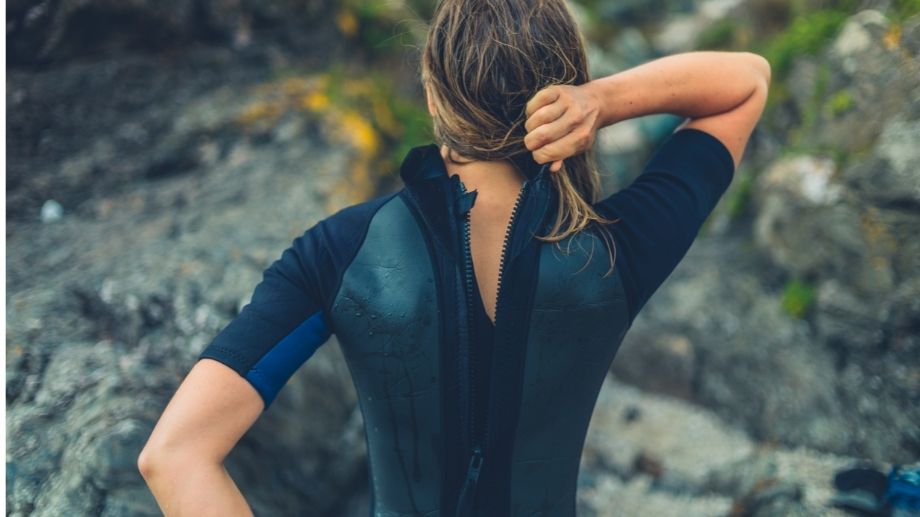 This one is a bit basic but still worth a mention. Wetsuits can get hot to sit in, and if your wetsuit turns out to be too warm for the weather or the water temperature, it's likely to get pretty stuffy before you reach the water.
If it's getting hot and you want to cool off some, it's fine to simply unzip the zipper on your suit. This will help it breathe and could make it more comfortable as well.
Just be sure to remember to zip it up if and when you start getting cold.
5. Use Duct Tape on Tears in Your Wetsuit
If you get a tear in your wetsuit then your wetsuit will constantly flush with cold water and this can strip away your body heat and make you cold very quickly.
You never plan for wetsuit tears and if one happens it doesn't have to completely ruin your session.
A temporary remedy is to bring a roll of duct tape with you when you take your wetsuit out. Duct tape is open strong enough to stick to your suit for a session or two and will stop water getting in through the holes.
This isn't a good long-term solution for a suit with holes, which eventually should be fixed or the wetsuit completely replaced. Still, if you bump into a rock the wrong way and get a tear in your suit, duct tape can be a handy fix to let you finish your outing.
This is even more important if whatever cuts a hole in your wetsuit also scrapes your skin. You probably don't want to be swimming around with a fresh, uncovered wound. If it's just a scratch, it's perfectly safe to temporarily cover it and patch the hole in your suit with tape.
Duct tape can also work great for fixing dings in your surfboard too so it doesn't get waterlogged.
6. Make a Portable Water Bottle Shower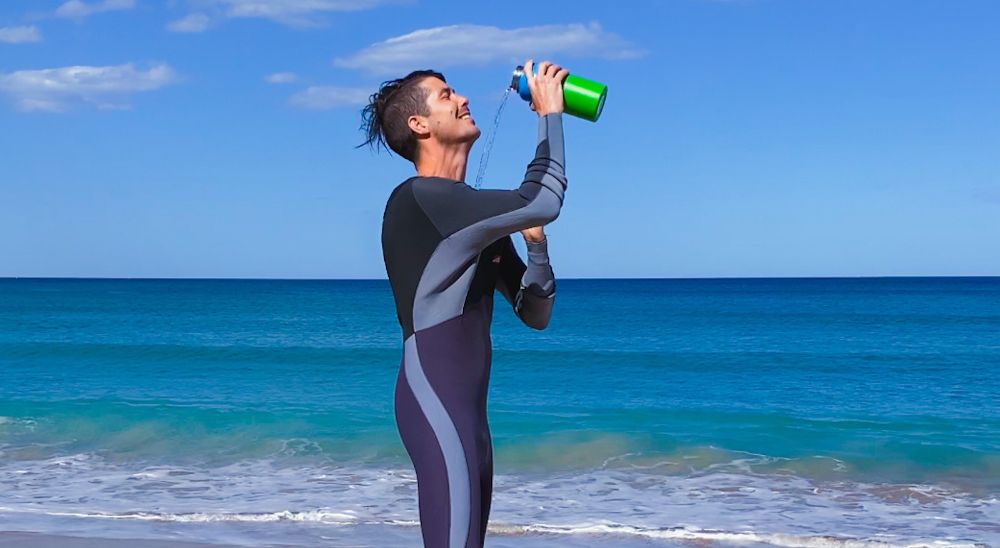 Not all locations have showers and often in the cold of winter a cold beach shower isn't very inviting anyway after a cold surf or swim.
You can actually make a portable hot water shower with either a hot water bottle or an insulated bottle like the Hydro Flask. You can even use an old milk bottle or detergent bottle. The larger the bottle the better as you'll get more water to wash yourself with.
Here's how to make a portable water bottle shower:
Get an empty bottle, preferably a large one such as a detergent jug.
Rinse the bottle out to remove any residue of what was inside before.
Fill the bottle with hot water.
Poke holes in the cap to make it like a showerhead (optional). Ideally get 2 lids, one for transport that doesn't have holes and one to use as a shower that does have holes
Wrap the bottle in blankets and towels so it'll stay as warm as possible during the session. Alternatively use a cooler to keep it hot.
Take it with you when you leave for the beach.
After your surf or swim or dive use the warm bottle to wash yourself (and warm you up)
If you have a vacuum insulated water bottle then you won't need the towels. Just make sure to not use water that is too hot in these bottles as they stay hot for hours and can burn you.
7. Use a Changing Mat
If you plan to get out of your wetsuit while you're still at the beach, consider bringing something to act as a changing mat to avoid getting sand stuck to you or your suit.
You can purchase specific mats for this purpose or standing in a laundry bucket can work just as well.
8. Get a Hooded Towel/Surf Poncho For Privacy Changing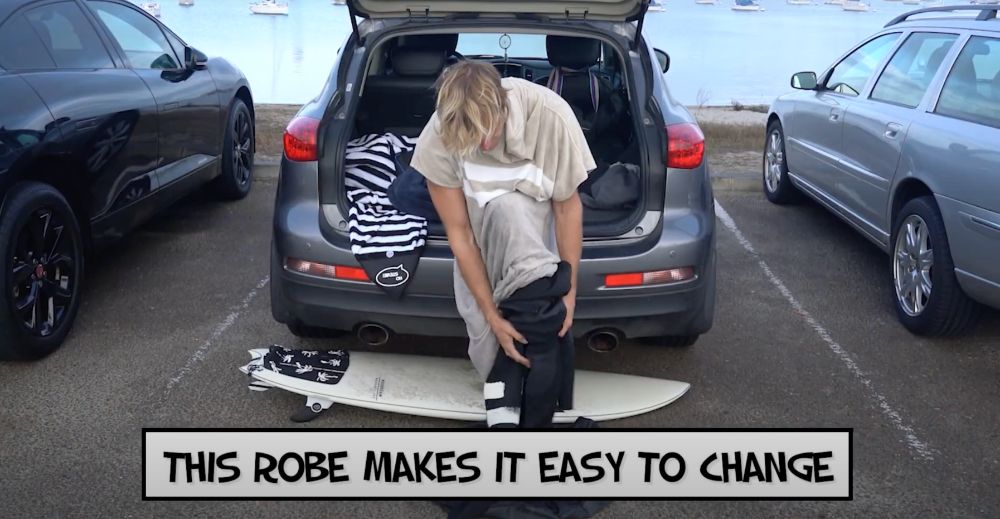 One of the best investments you can make to make changing in and our of your wetsuit easier is a surf poncho.
These are hooded towels that go over your head and are quite long to give you maximum privacy whilst changing in and out of your wetsuit.
They can also be used to dry yourself after you get out of your wetsuit and they can help to keep you warm. I like and recommend the Ho Stevie Surf Poncho below. Ho Stevie make a variety of surf products including one of the best wetsuit hangers (which we'll talk about in tip #11)
See the latest price of the Ho Stevie Wetsuit Poncho at Amazon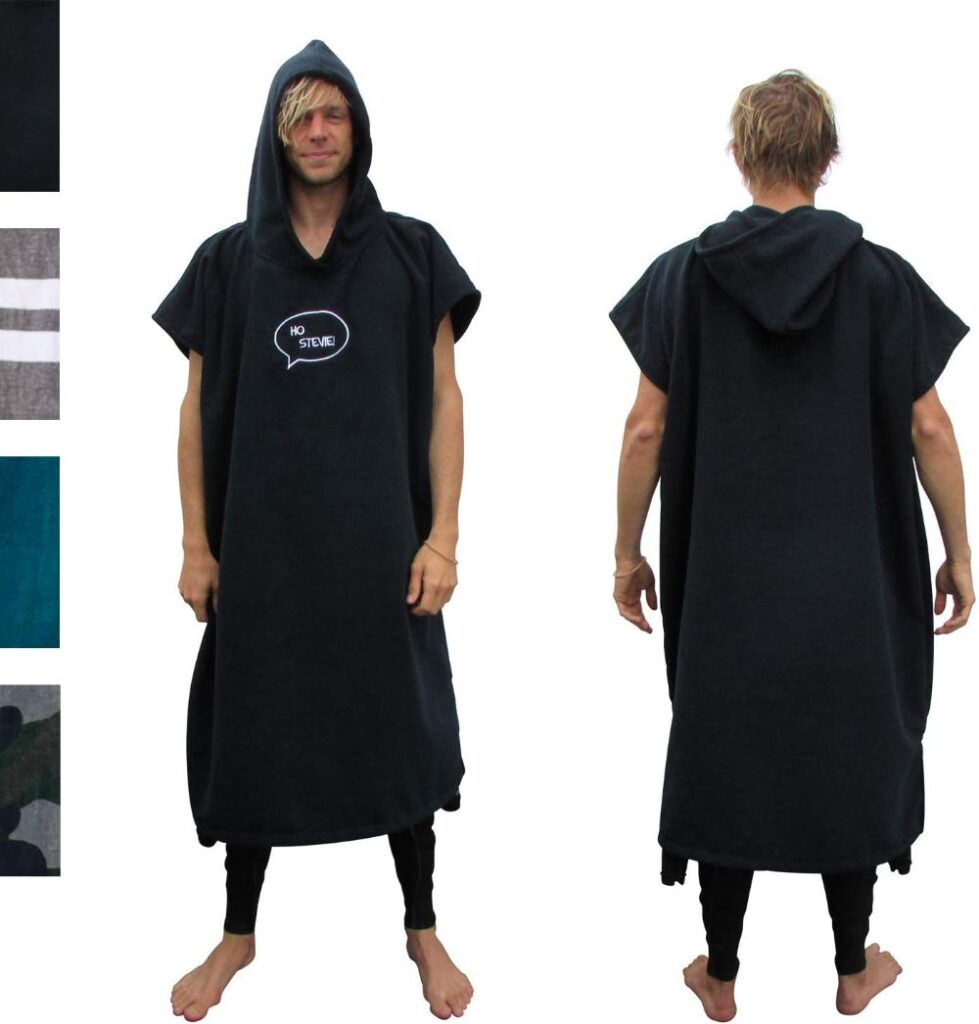 9. Use Paper or Towels To Dry Inside Your Boots
Drying your wetsuit after use is important. Over time, saltwater will corrode your suit if you fail to properly clean and dry it after use. Not to mention, a soaked wetsuit is a great environment for mildew, aka mold, to grow.
To help parts of your suit dry faster, try stuffing areas like the boots and sleeves with paper. Newspapers work well and are generally easy to get. The paper absorbs lots of water from inside the suit that would otherwise take longer to dry, which greatly reduces the risk of mildew.
You can also use towels, tea towels and dry microfibre cloths as alternatives.
For maximum benefit, do this after first cleaning your suit so as to wash some of the salt out before drying it. The portable shower bottle from earlier works well for this.
10. Dry Your Suit Faster With a Heater, Or Even Just a Fan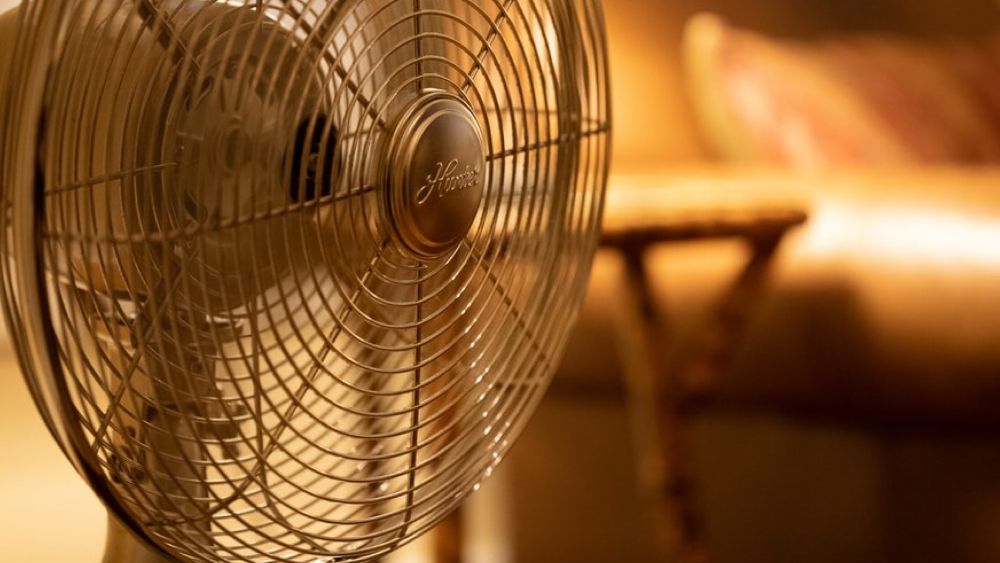 To help avoid mildew, it's important to dry your wetsuit as soon as possible once you're done with it. You can multitask and start drying it before you get home by using your car's heater. This is better for colder weather since you probably don't want to sit in a car with the heat on in the middle of summer.
To do this place the heater on in your car and turn it so it's blowing hot air onto your feet. Place your wetsuit on the floor of your front passenger seat and the warm air will begin to dry out your wetsuit even before you get home.
If you've got the heater or radiator on at home then placing your wetsuit in front of (but not too close to) the heating element can also help it try faster. Just make sure it doesn't melt.
Even if you don't have a heater you can speed up the drying of your wetsuit by placing it directly in front of a fan. Hang it up like your normally would and put it directly in front of a fan. The air blowing over the wetsuit will dry it much faster than it would dry by itself.
11. A Better Way To Hang Your Wetsuit To Dry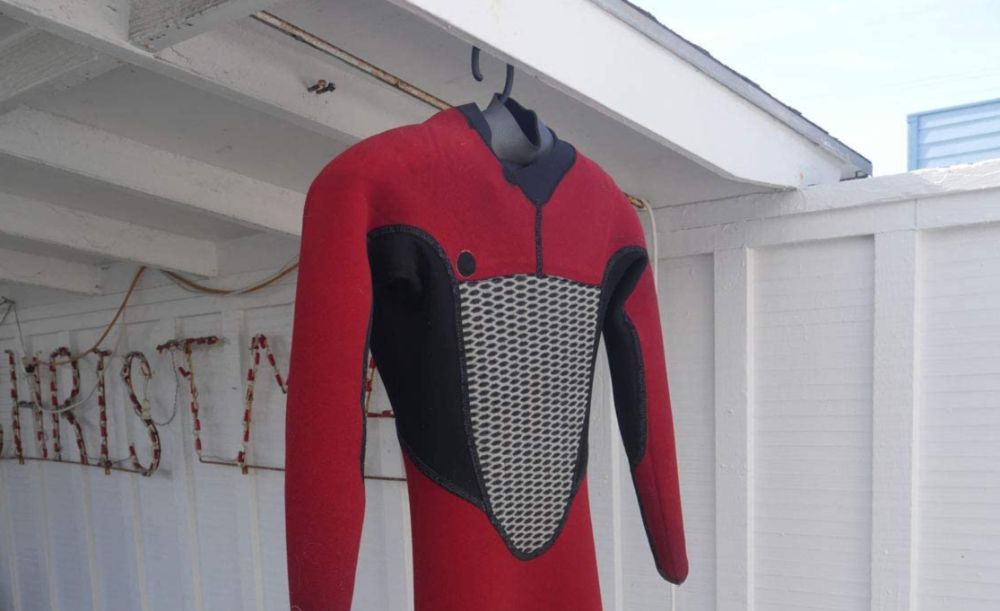 The best way to let your wetsuit air-dry is to hang it. However, traditional hangers are so thin they don't open up the inside of the wetsuit to help it dry and they can cause your wetsuit to stretch due to the weight placed on the shoulders.
A good wetsuit hanger will have wide shoulders to both open up the wetsuit so the inside gets airflow and it dries faster and also spread the weight across the shoulders so it doesn't stretch.
Check out my list of the best wetsuit hangers or the Ho Stevie wetsuit hanger shown below is a good affordable option. It even folds away for easy storage and travel.
See the latest price of the Ho Stevie Wetsuit Hanger at Amazon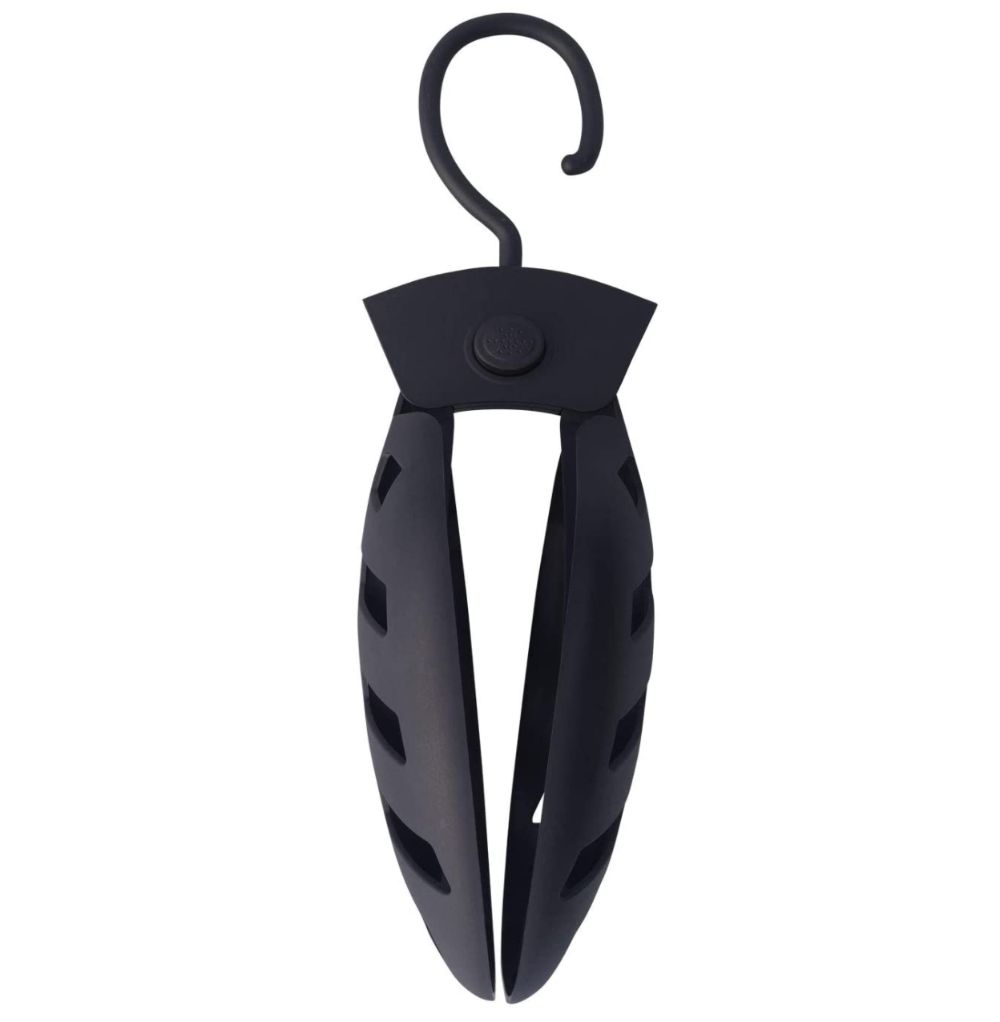 12. Dry Your Wetsuit In Minutes With a Wetsuit Drier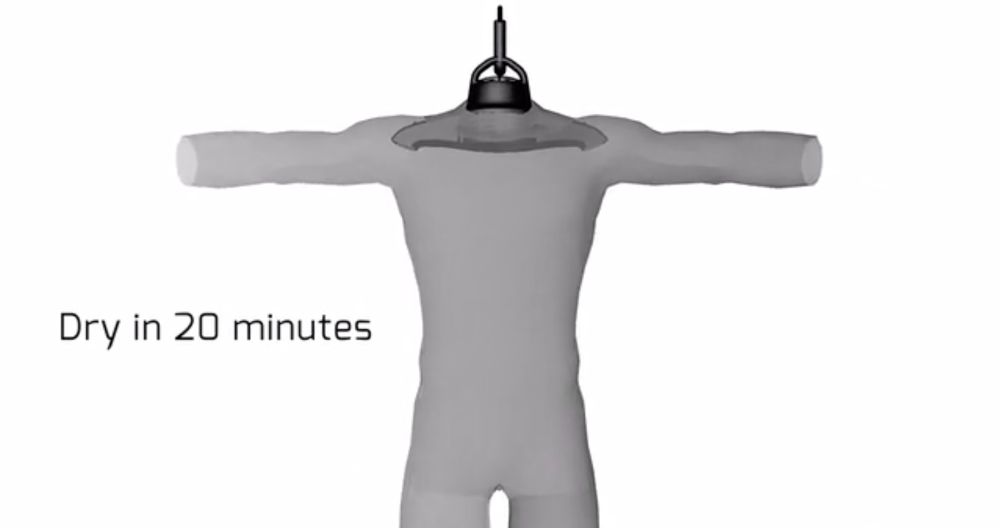 While a wetsuit hanger will do a good job of drying your wetsuit faster than a regular coat hanger a wetsuit dryer will dry your wetsuit in minutes.
The way these work is they blow air down through the neck into the wetsuit drying it faster than any other option.
Some of the best wetsuit dryers have heating elements that create warm air that will dry the wetsuit even faster but isn't so hot that it will damage the neoprene fabric of your wetsuit.
The Blawesome dryer linked below has a heating element or can be run with just the fan and it can be operate both from mains power at home or straight from your car's 12V outlet making it great for portable wetsuit drying.
See the latest price of the Blawesome Wetsuit Drier at TheWetsuitDryer.com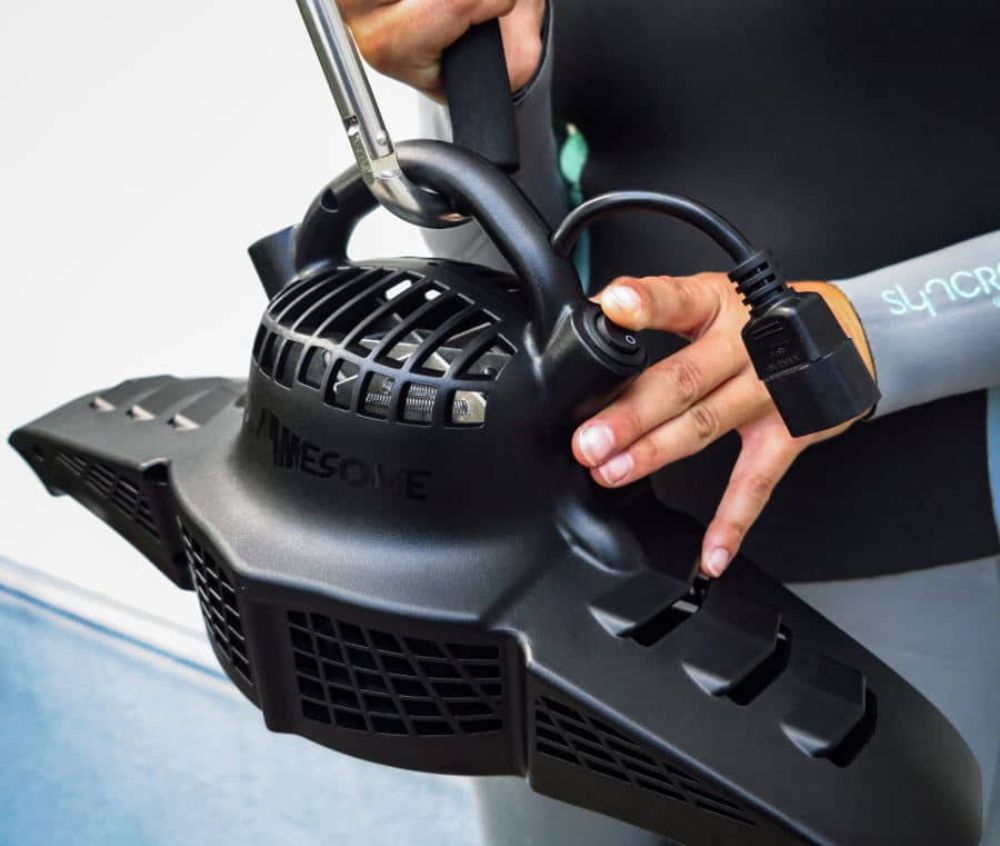 13. Wash The Stink From Your Wetsuit With Wetsuit Shampoo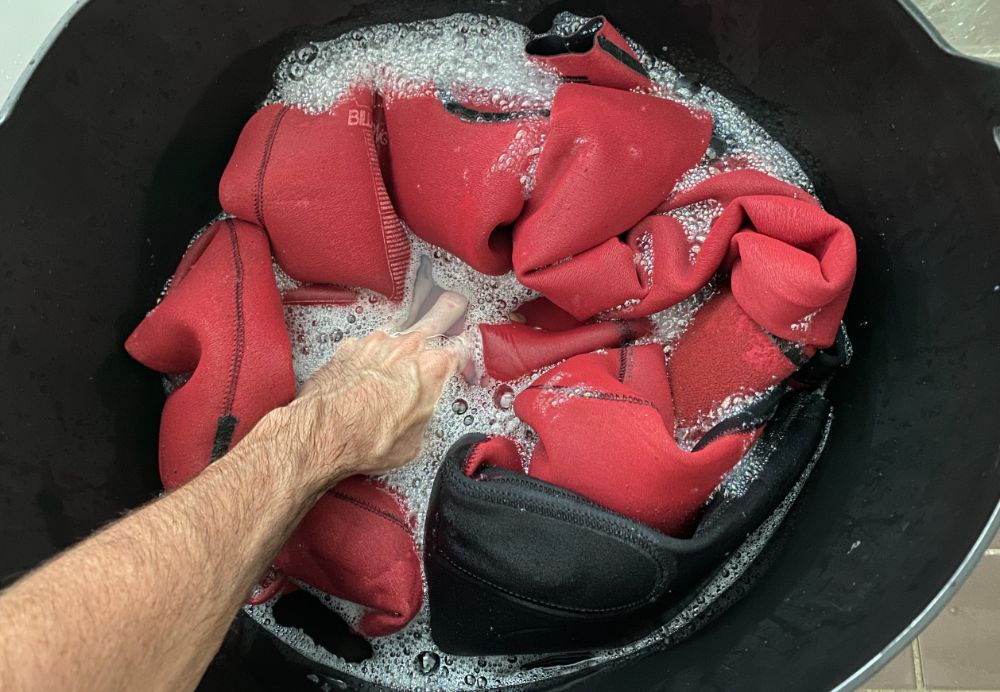 There are wetsuit cleaners that are specifically formulated to remove bad smells and odors as well as mold and mildew from your wetsuit while also being gentle on the neoprene fabric.
Rather than just rinsing your wetsuit in water (which you should do every time) every now and then it's a good idea to use a wetsuit cleaner or shampoo to give your wetsuit a deep clean. I've got a full list of the best wetsuit cleaners out there or if you want something more natural or something you can find in your cupboard then check out the best homemade wetsuit cleaner alternatives.
There are many options for cleaning your wetsuit and getting rid of the nasty smell of urine and replacing it with fresh citrus. Just make sure to follow the instructions and wash your wetsuit the right way so you don't damage it.
The O'Neill packs a powerful punch when it comes to a fresh smell and is great at removing bad odors.
See the latest price of O'Neill Wetsuit Cleaner at Amazon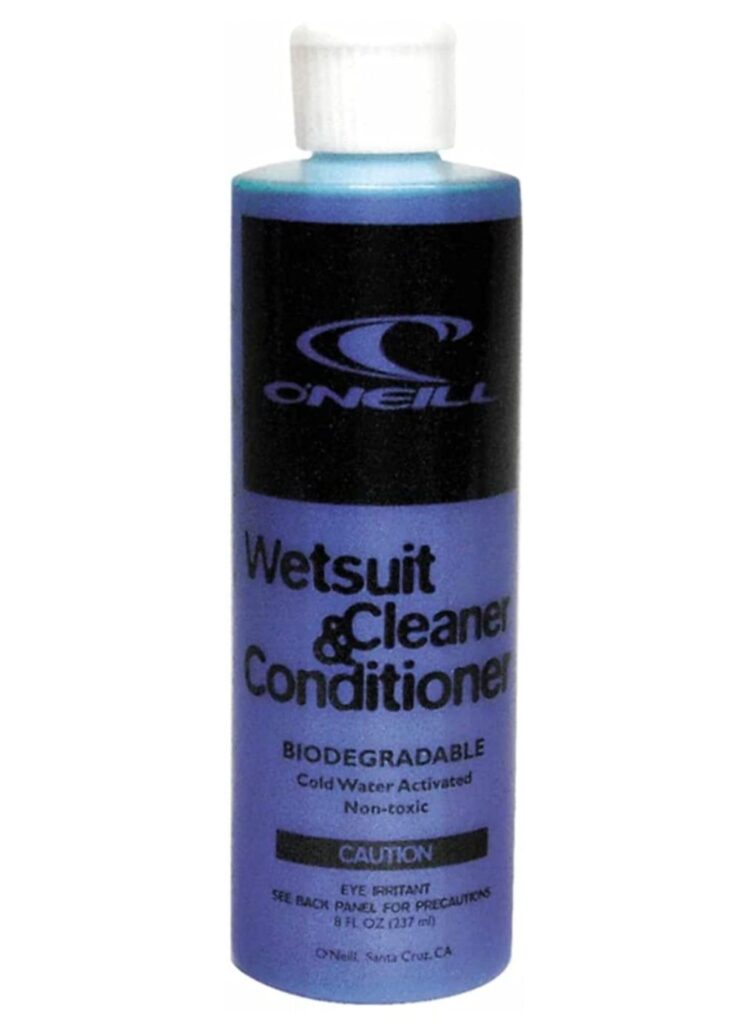 14. Hang Your Wetsuit On Your Car To Dry At The Beach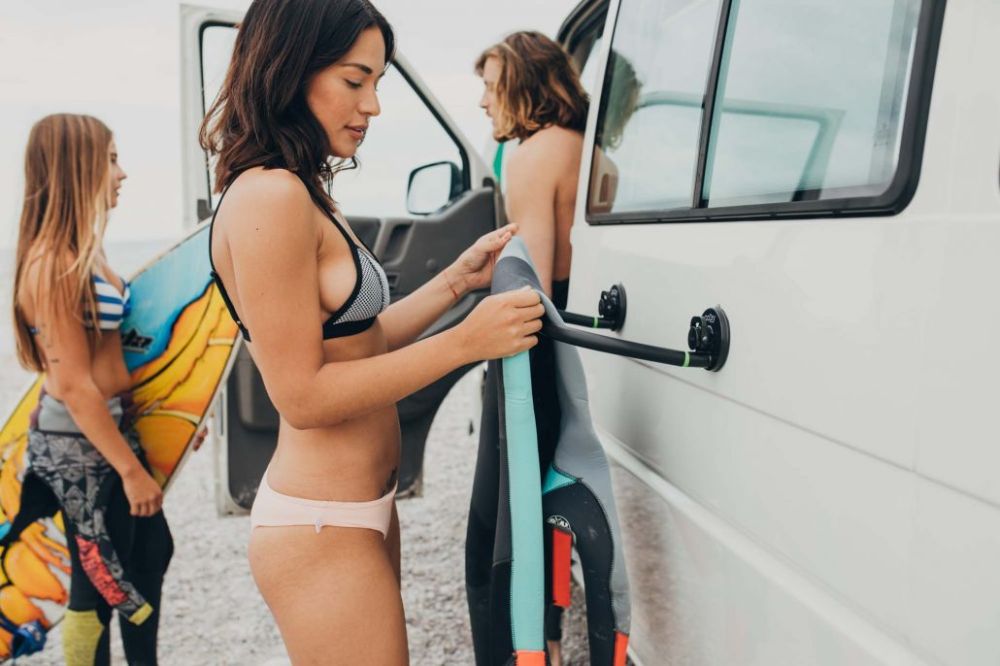 If you're going to be at the beach or on location for a while after you finish using your wetsuit it's a good idea to hang it up outside so it can dry before you put it back in your car.
There are 2 different wetsuit hangers that are perfect for this.
The Go Dry Hanger suction cups onto the side of your vehicle and provides a bar to hang your wetsuit over so it can dry in the sun.
See the latest price of at GoDryHanger.com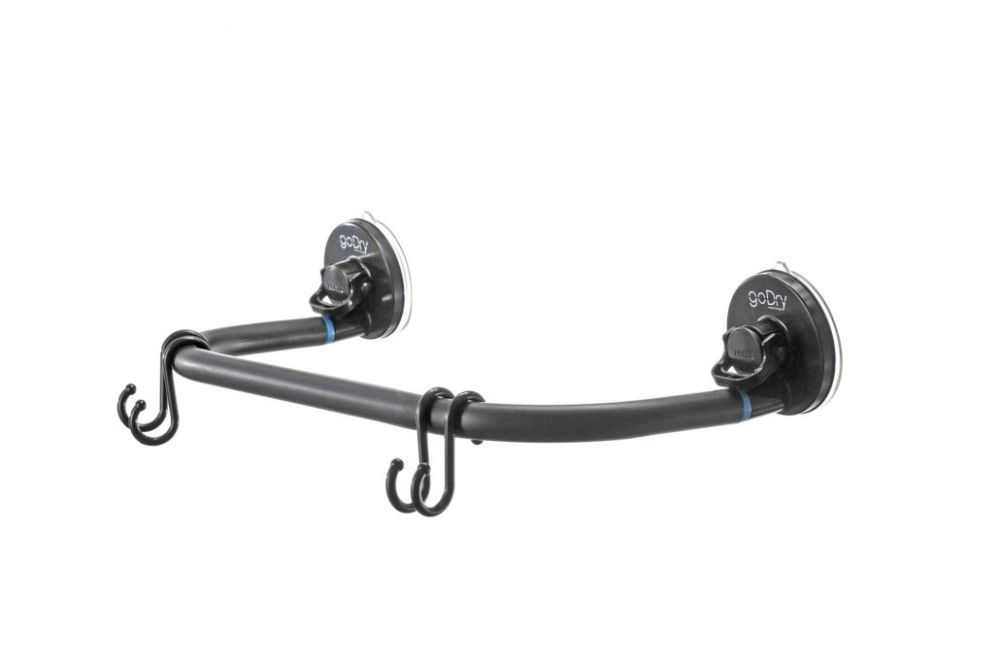 Another option is the Northcore Magnetic Hanger which magnetically sticks to the top of your boot/trunk door when its open and provides a hook for you to hang a coat hanger on with your wetsuit so it can dry outside before you put it back in your car.
See the latest price of the Northcore Magnetic Hanger at Amazon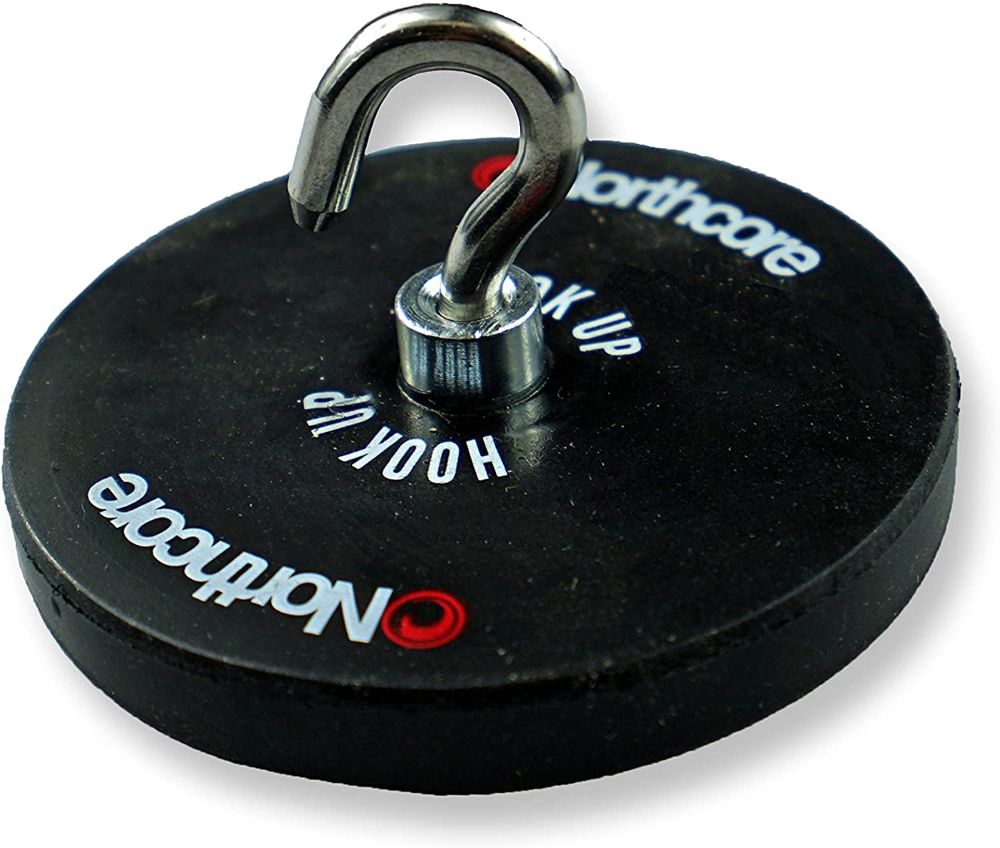 15. Get A Wetsuit Bag For Drip Free Storage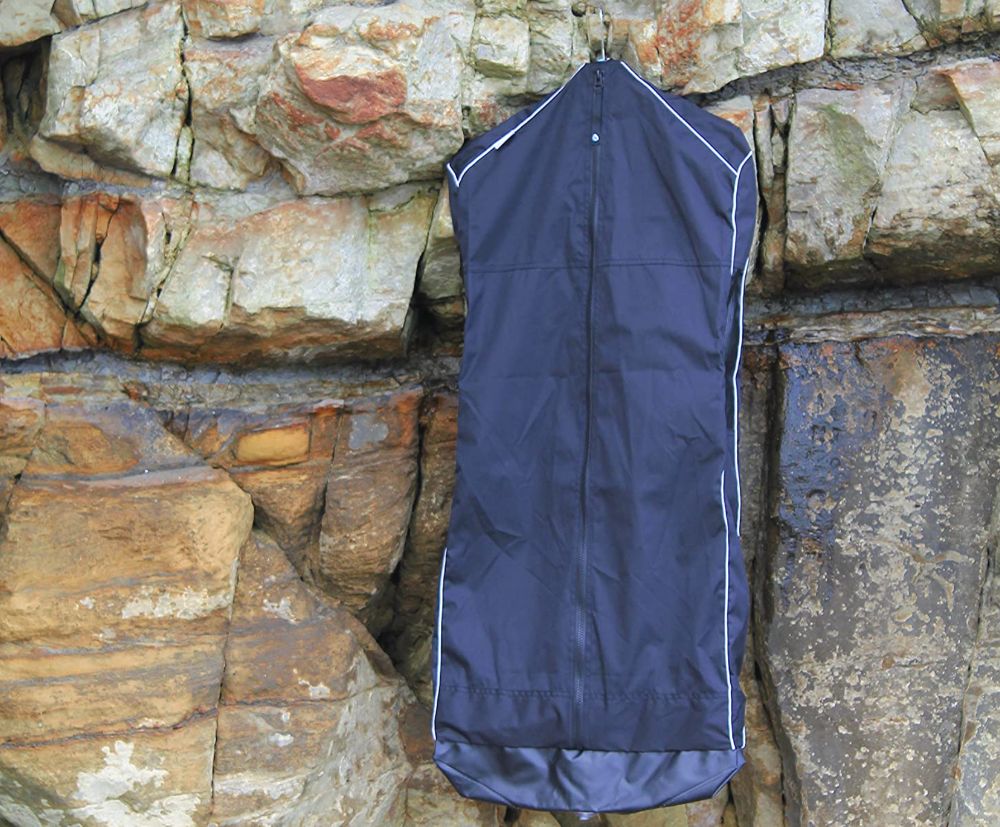 If you want to be able to dry your wetsuit while transporting it and avoid it dripping and wetting your car or wherever you hang it then a wetsuit hanger is a good option.
A good wetsuit hanged will have a wide shoulder hanger and a bag that has vents to let airflow to your wetsuit to dry it whilst having a waterproof base than can catch all the drips and excess water.
There's a plug at the bottom so you can easily release the water somewhere convenient. This is a great way to store and dry your wetsuit at the same time while protecting it from the outside elements.
See the latest price of the Wetsuit Dry Bag Pro at Amazon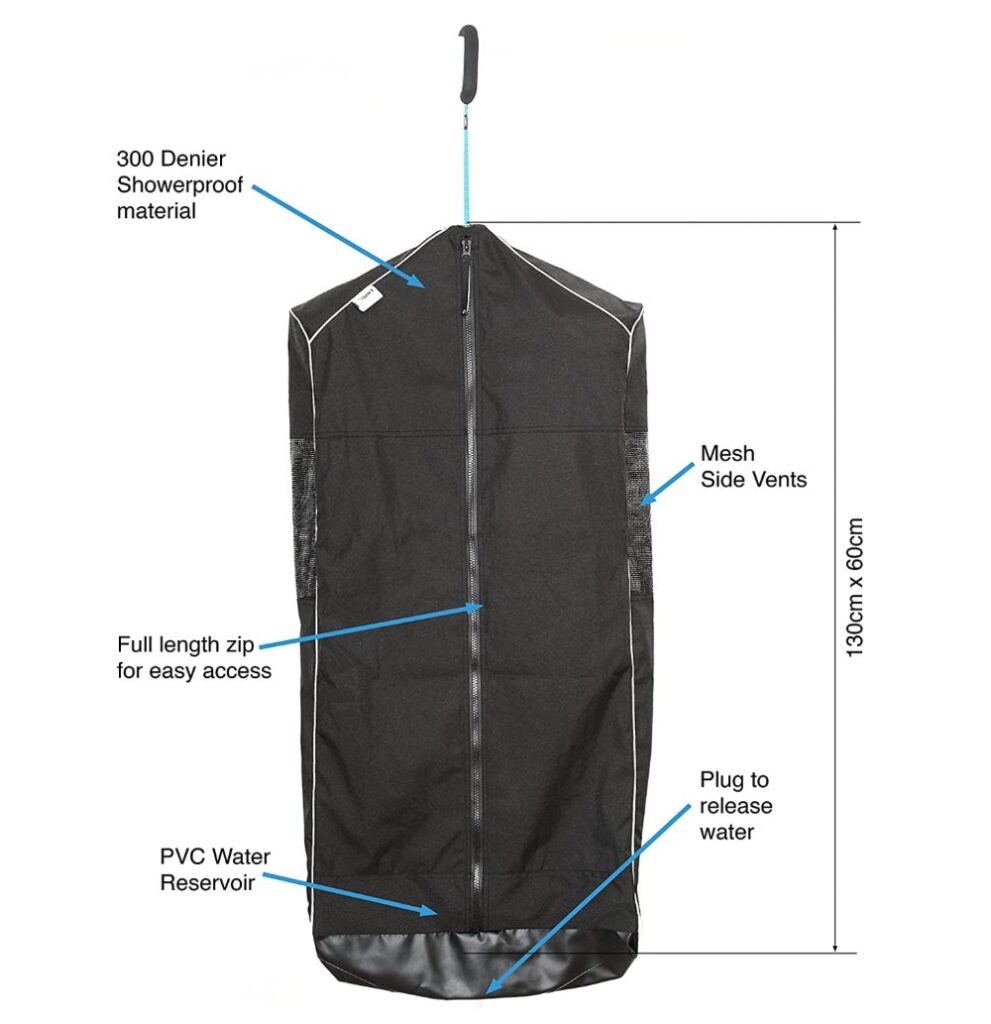 16. Use The Spin Cycle In Your Washing Machine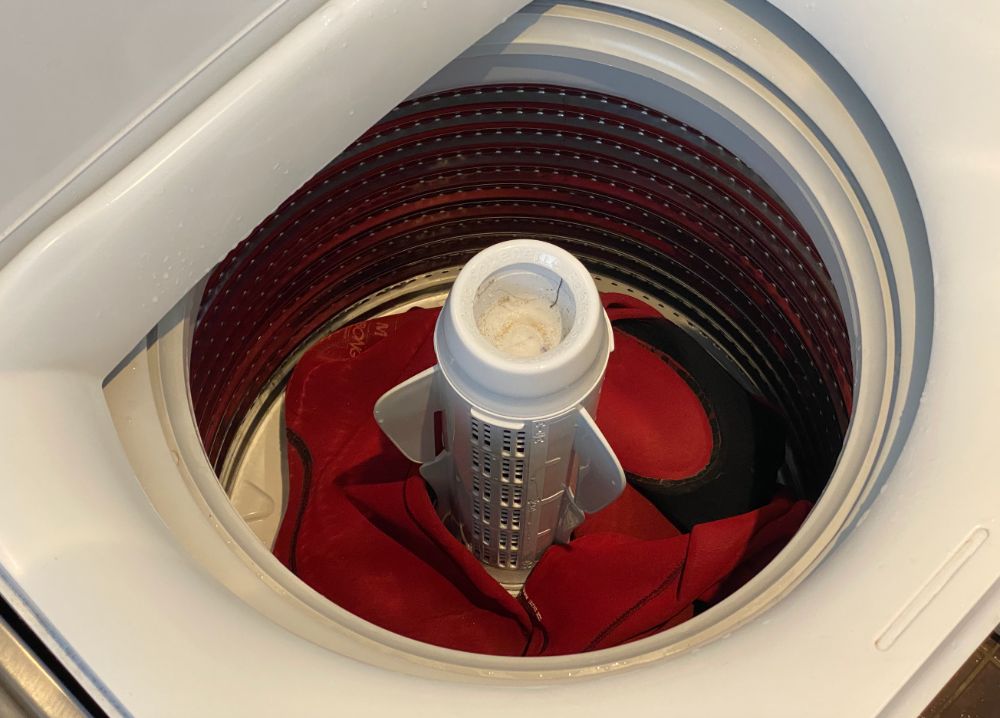 You may think I'm crazy suggesting you put your wetsuit in the washing machine, however you can use front loader washing machines or washing machines without the center stick (like the one pictured above) to spin dry your wetsuit and help it dry faster.
Rinse your wetsuit first in a bucket, in the shower or with a hose then throw it in the washing machine and put it on a spin cycle only.
Make sure it doesn't have a center stick as your wetsuit can catch on this and get destroyed buy front loaders especially don't have this.
It's amazing how quickly a spin can get most of the water out of your wetsuit, then you can just hang it to dry.
If you're still nervous check out my article on whether or not you can put your wetsuit in the washing machine.
17. Put Your Wetsuit In The Dryer (Maybe)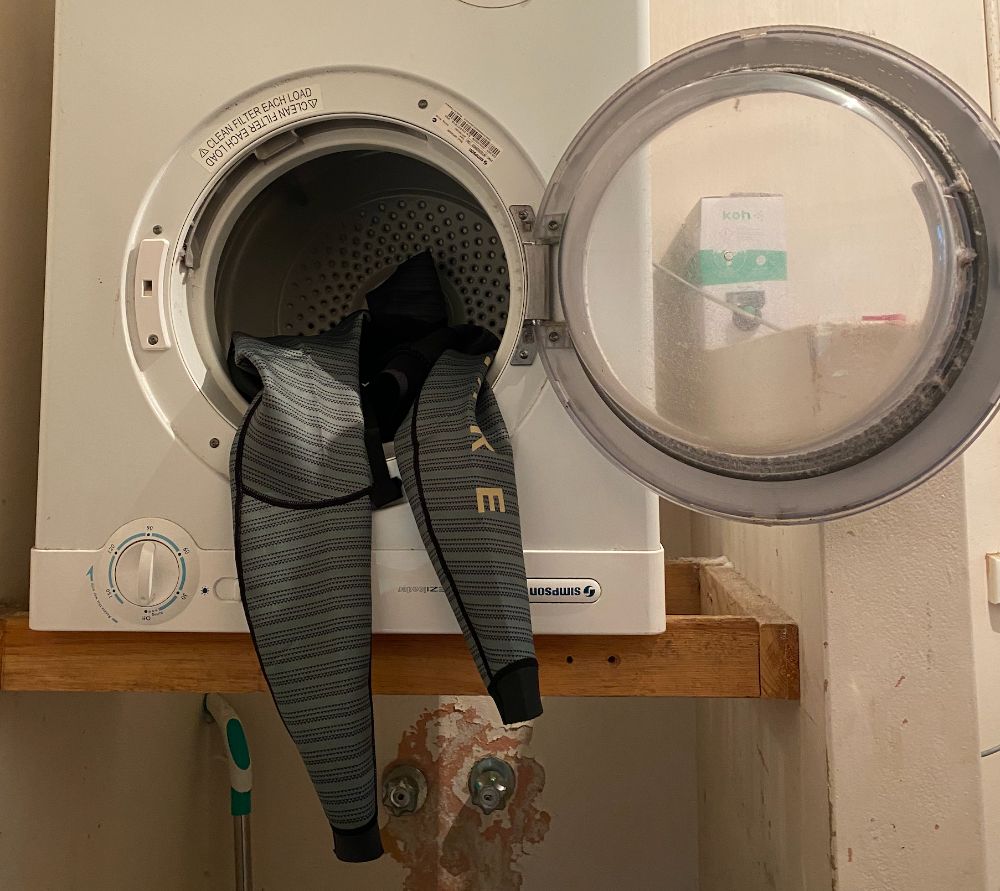 Believe it or not but you can put your wetsuit in the dryer.
It's not amazing for the health and longevity of your wetsuit but if you're in a pinch and need it to try quickly it should be fine to do.
Just make sure you put it on air only (no heat) or you put it on low heat. You also don't want to use to to make your wetsuit completely bone dry as this is where the damage can happen to the neoprene.
Just use the dryer to get it mostly dry and then hang it for the last little bit of drying
18. Flush Your Wetsuit With Cold Water
On a hot day when your wetsuit is a bit too stuffy or it's created a suction around your private parts that is borderline torture then a simple flushing with cold water is a good option.
Pull open the neck of your wetsuit and dive under the water making sure to scoop up as much water as possible. Then let it flush through your wetsuit to cool you down or relieve any suction that may have built up.
19. Add a Wee Zipper or "Scupper" To Your Wetsuit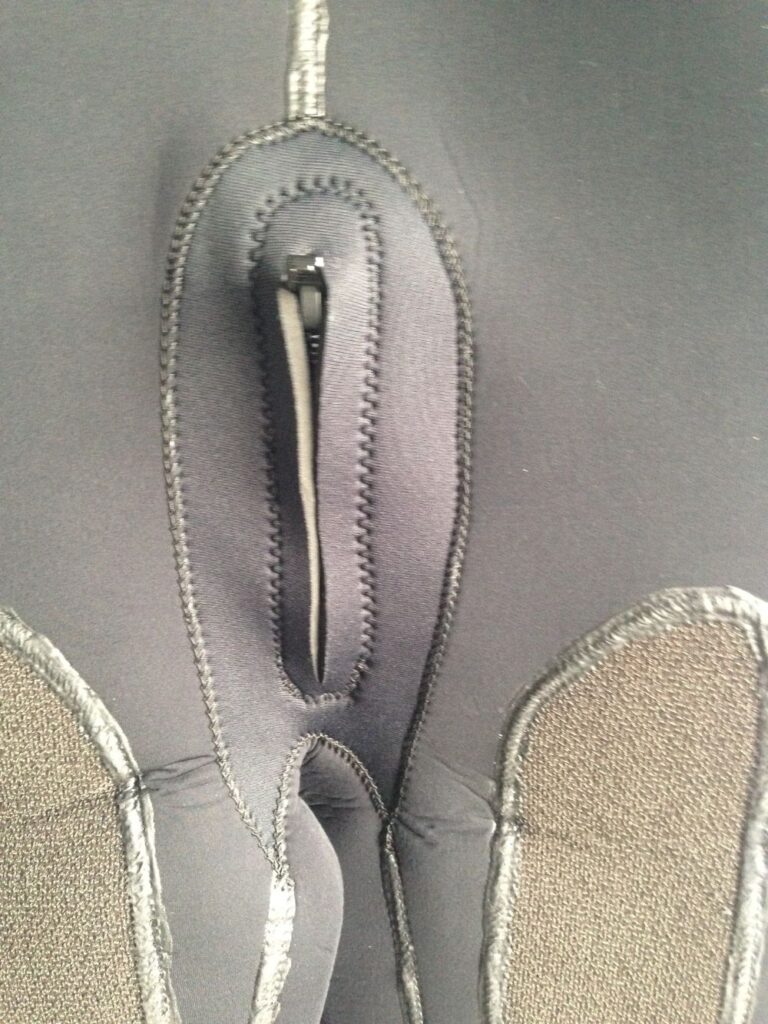 Some people would like the pleasure of being able to wee without having to take their entire wetsuit off or do it inside the wetsuit, which causes a big stink.
While no wetsuit comes off the shelf with it, you can add a pee zipper to your wetsuit either by doing it yourself or getting a wetsuit tailor to do it for you.
You have two main options – adding a zipper of adding what's called a scupper. These are designed to let your wee out but not let water back easily back in. They don't look the greatest and usually you'll want to cover it up with a vest or something else, but they can be very practical.
20. Roll Up Your Wetsuit For Crease Free Storage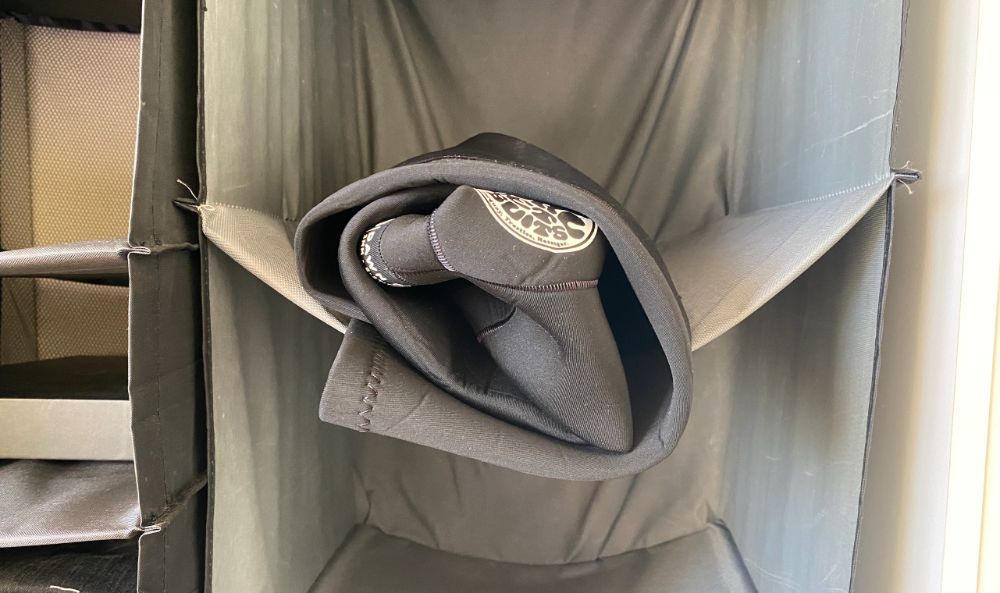 While you can fold a wetsuit the right way for short and long term storage if you want to avoid your wetsuit having any awkward creases then rolling it up can be one of the best ways to store your wetsuit.
Sometimes folding you wetsuit leaves creases right near your crotch or down the center of your wetsuit which doesn't look good and can also damage the neoprene. So rolling your wetsuit can be a very gentle way to store your wetsuit and having it last even longer.
Conclusion
Here are 9 of the best wetsuit hacks:
Wear plastic bags to help get your suit on.
Use vaseline to help with rashes.
Leave the zipper open if you get hot.
Use duct tape on tears in your wetsuit.
Make a portable water bottle shower.
Get a changing mat.
Use paper to dry inside your boots.
Dry yourself with a heater.
Hang your wetsuit to dry.