A quality wetsuit is a worthy investment but if you don't clean your wetsuit properly overtime it can begin to stink or even deteriorate and need replacing. However, proper cleaning practices and a good wetsuit cleaner can have your wetsuit smelling and looking brand new.
Wetsuit cleaners are specifically designed to be gentle on the neoprene and wetsuit fabric whilst also giving them a good wash and breaking down any wax or oils that may be on your wetsuit. They are also great at getting rid of stinky smells, especially if you may have wee'd in your wetsuit and that smell of ammonia just won't seem to go away.
What Makes A Good Wetsuit Cleaner?
Before we go into the list of the best wetsuit cleaners I want to cover exactly what I look for in a wetsuit cleaner and what you may want to consider as well.
Some cleaners are better than others in different areas and it's important you choose the right cleaner for your needs, especially if being eco-friendly is a priority for you.
Smell Remover
One of the most important things you want in a wetsuit cleaner is the ability to remove smells. Wetsuits, semidry suits and dry suits can all become extremely smelly over time. This is largely due to one thing…wee.
Wetsuits are designed to be tight and hold as little water as possible. When you wee in your wetsuit the urine can become trapped for the duration of your surf, dive or swim and ultimately create an intense smell in your wetsuit.
You wetsuit can also develop smells over time simply by being damp for too long or not drying fast enough – which is why your should invest in a good wetsuit hanger for drying your wetsuit quickly.
Most wetsuit cleaners/shampoos have a nice citrus smell and chemicals that help remove nasty smells from your wetsuit.
Gentle on Neoprene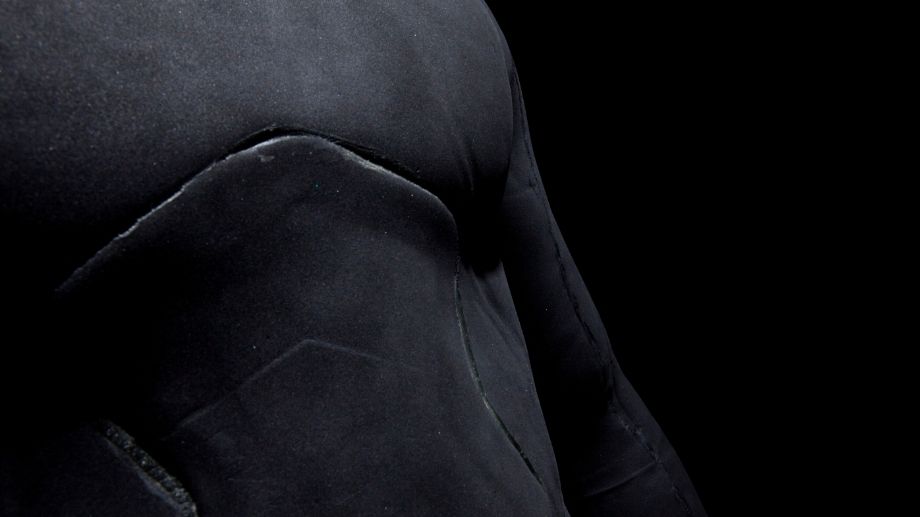 While neoprene is a fairly hardy material and wetsuits can last years before needing to be replace it is susceptible to corrosion from some chemicals and so it's very important your wetsuit cleaner is gentle on the neoprene material and won't ruin it.
It's very important you wash your wetsuit correctly and don't put a wetsuit in a washing machine that could ruin the fabric. A big part of washing a wetsuit correctly is choosing a washing liquid that will be safe to use on neoprene.
Concentrated
Most of the time you're going to be washing your wetsuit in the bath or in a big bucket of water. Ideally you want a wetsuit wash to be concentrated so you don't need to put a lot of it into the water with your wetsuit.
The more concentrated it is the smaller the package you need to hold it. This means you can easily take your wetsuit wash to the beach with you or store it in your poisons cupboard and it doesn't take up much space.
Affordable Price
Wetsuits are expensive and while taking good care of them is important you don't want to be breaking the bank just to wash them.
It's not expensive to wash our clothes with most detergents being extremely affordable for the average person. The same should be true for our wetsuits
Natural and Non-Toxic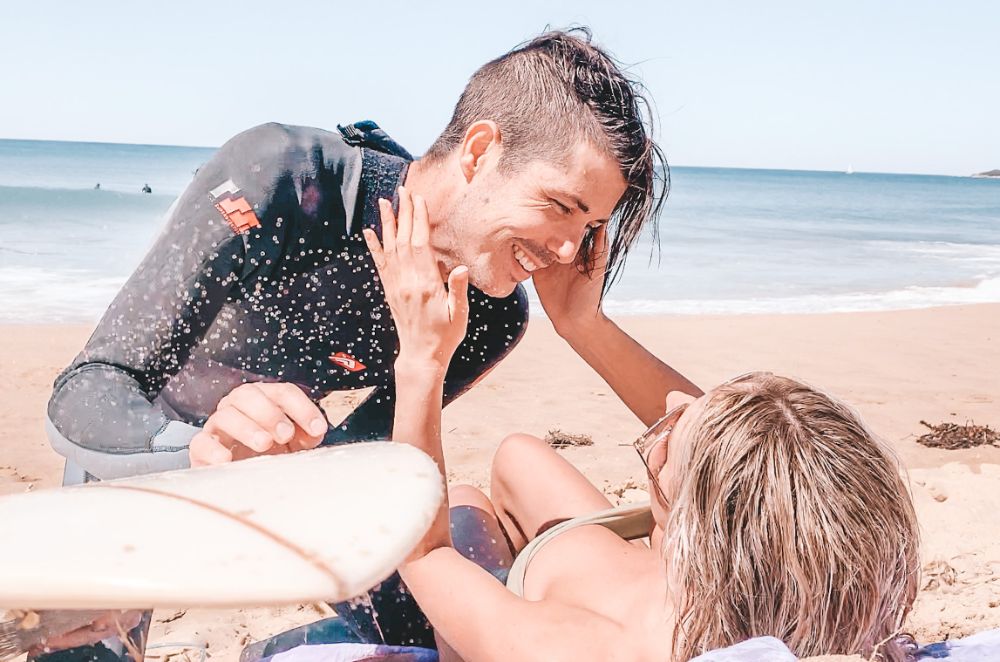 Lastly, if possible you want the ingredients in your wetsuit cleaner to be natural and non-toxic. While it's advised you rinse your wetsuit after washing it chances are some of the cleaner will remain in your wetsuit and end up on your skin and in the ocean.
So ideally you want ingredients that are natural and non-toxic to both yourself and ocean life. While I'll list a lot of commercial wetsuit cleaners here it's good to know there are also natural alternatives to wetsuit shampoos you can make easily at home that do a great job.
How To Use a Wetsuit Cleaner
Using a wetsuit cleaner is extremely simple. Given most wetsuit cleaners are concentrated here's how you'll want to use it.
First fill up a large bucket (or bathtub) with water and then place a dash of wetsuit cleaner in the water and swirl it around. The exactly amount will depend on which cleaner you buy but instructions will be on the bottle.
Next, give your wetsuit a good rinse. As I live in an apartment I rinse my wetsuit in the shower but if you have a house or outside area you can easily use a garden hose. This will remove the salt water and any sand or grass on your wetsuit making it easier to clean. More on how to wash a wetsuit properly.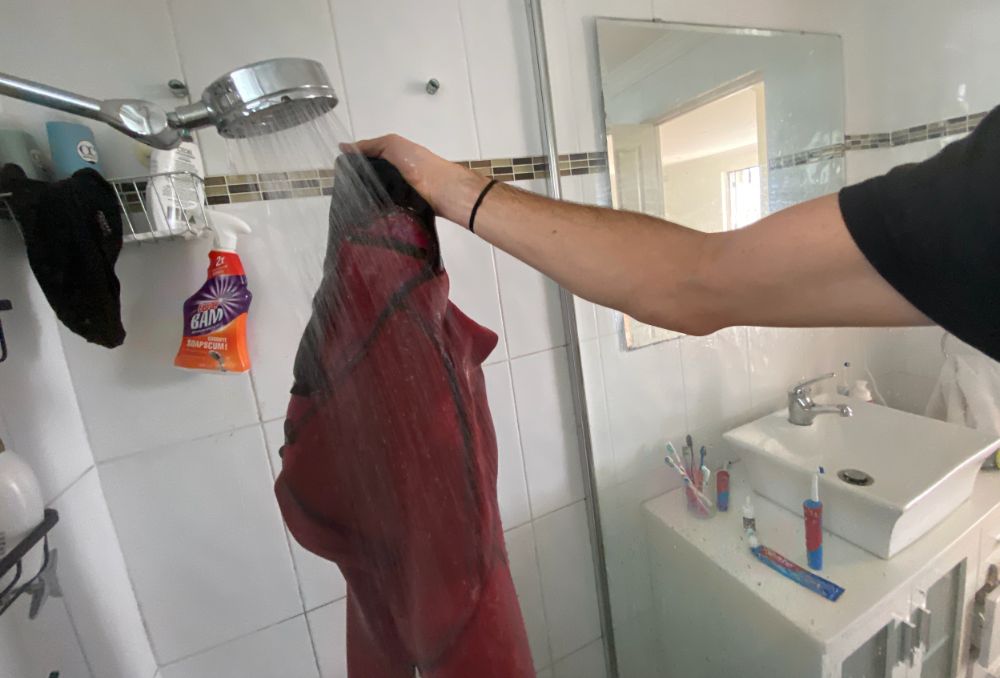 Place your wetsuit in the bucket and give it a rub. Swish everything around to make sure the wetsuit cleaner gets everywhere and rub your wetsuit together focusing on the most problem areas. This may be groin and underarms for smell or may be stomach, chest and knees if you want to try to wash off some of the surf wax. Don't put your wetsuit in the washing machine, especially if it's a front loader, as this can damage your wetsuit.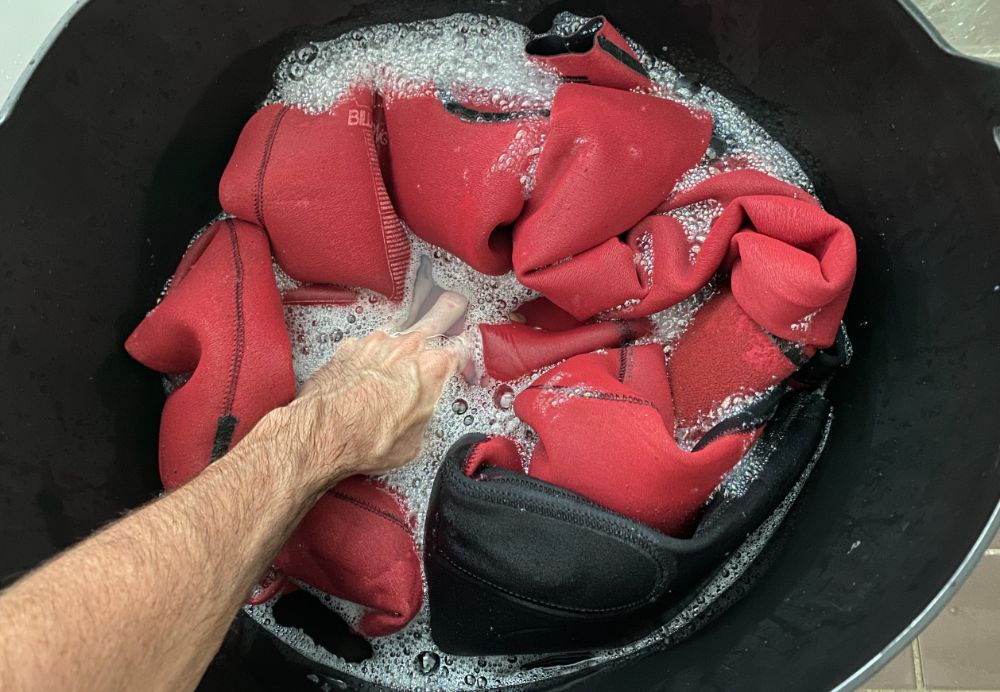 Leave to soak for 10-30 minutes. Depending on the wetsuit cleaner you buy they may advise you soak your wetsuit for 10-15 minutes or maybe up to 30 minutes if it is especially smelly or if you're using an all natural product. This soaking will help get rid of nasty smells and replace them with the fresh smell of the wetsuit cleaner.
Rinse your wetsuit again. Now that it's clean give it a final rinse to remove the wetsuit cleaner so it doesn't stay on your wetsuit potentially irritating your skin or getting into the ocean.
Hang your wetsuit out to dry. Hang your wetsuit in a shady place with good air flow to dry. Directly sunlight can deteriorate the neoprene and shorten the lifespan of your wetsuit. Placing your wetsuit in the dryer, especially if you have it on high heat, can also damage your wetsuit. Invest in a good wetsuit hanger to hang up your wetsuit to dry or for super quick drying (1-2 hours) then invest in a good wetsuit dryer.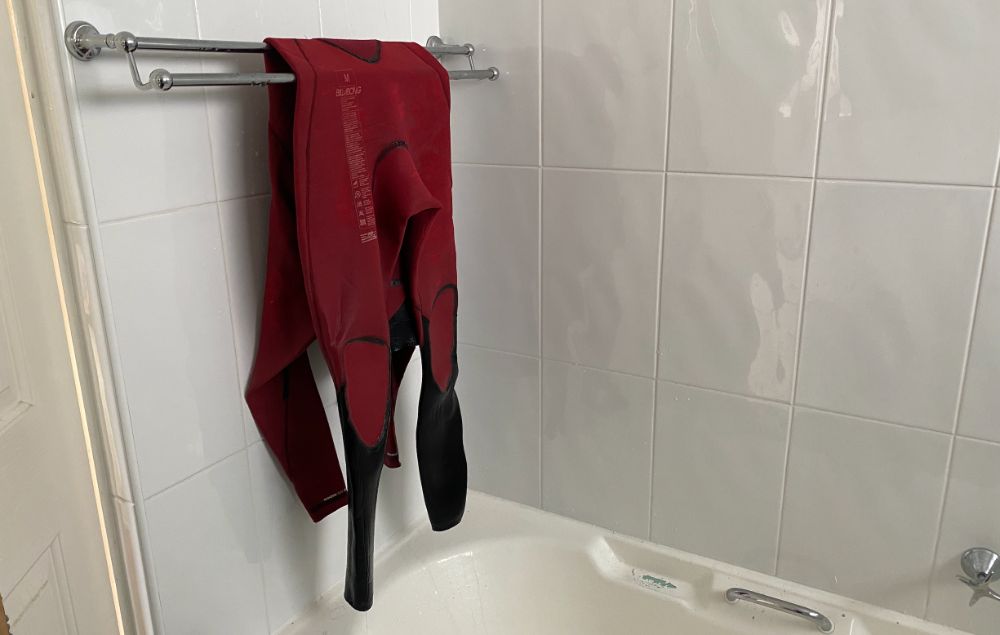 Now that you know how to use a wetsuit cleaner here are some of the best wetsuit cleaners on the market.
1. O'Neill Wetsuit Cleaner and Conditioner
STRONGEST SMELLING WETSUIT CLEANER
Smell: Citrus
The O'Neill Wetsuit Cleaner and Conditioner packs a powerful punch, especially when it comes to removing stubborn odors. This cleaner features a strong citrus smell and leaves your suit with a beautiful fragrance that lasts for hours after drying.
The included conditioning agents help extend your suit's lifespan while also ridding it of odor-inducing bacteria. This cleaner is a non-toxic and biodegradable option and mixes well with cold water when you want to soak your suit.
O'Neill is a wetsuit brand many know and love so that also gives me more trust in this product compared to some other brands.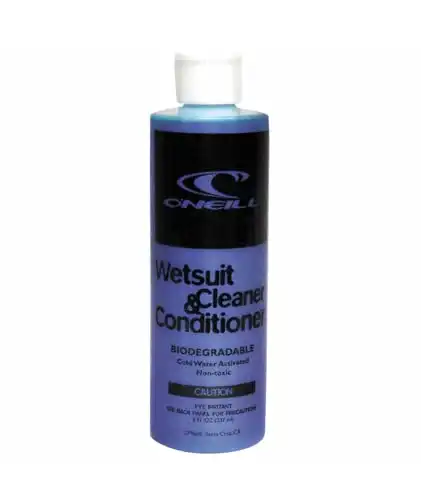 O'Neill Wetsuit Cleaner
With a nice citrus smell this wetsuit cleaner is great at removing stubborn odors. Includes a conditioning agent to help extend the suit's lifespan while killing odor inducing bacteria.
Non-toxic and biodegradable it's a great way to give your wetsuit the cleaning it deserves.
Buy Now at Amazon
2. Jaws Slosh Wetsuit Cleaner
Smell: Lemon
The Jaws Slosh Wetsuit Cleaner is one of the best wetsuit cleaners on the market, featuring a unique formula that helps eliminate odors and chlorine from your suit. This wetsuit cleaner also ranks highly on versatility and works well for most aquatic sportswear. It's also hypoallergenic, which means it isn't going to irritate your skin.
This cleaner also features conditioning agents to help extend your suit's lifespan while leaving your gear smelling fresh for your next adventure. Let your suit soak for a few minutes, and then "slosh it" around for best results.
See the latest price of Jaws Slosh Wetsuit Cleaner at Amazon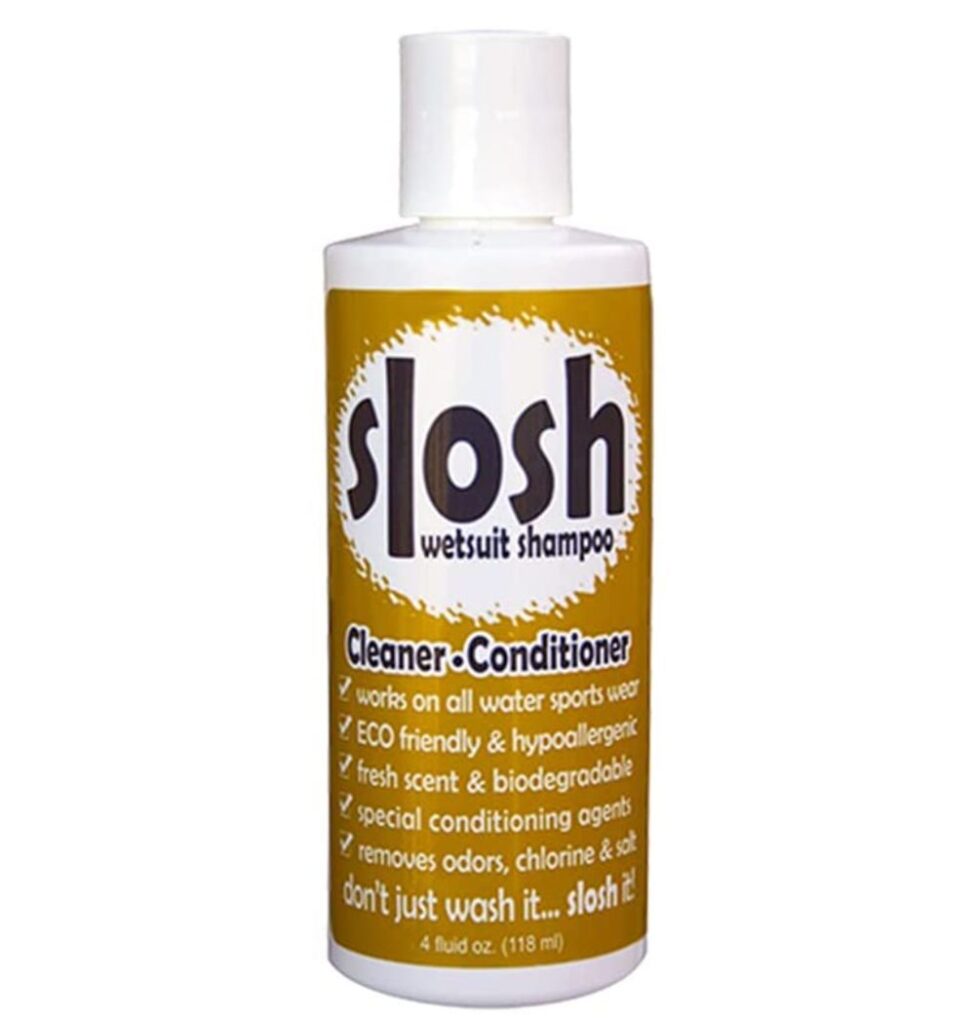 3. Drainbo Pau Pilau Wetsuit Cleaner
Smell: Citrus
The Drainbo Pau Pilau Wetsuit Cleaner is an all-natural wetsuit cleaner capable of getting through the pores on your suit to eliminate stubborn odors and salts.
If you prefer to buy your wetsuit cleaner in bulk, this cleaner is an excellent choice and provides you with 1 gallon of cleaner.
This cleaner also effectively eliminates algae, mold, and other odor-causing residues you might have collected while deep-sea diving. It also deodorizes your suit and leaves it smelling fresh and clean.
This wetsuit cleaner has also built up a reputation as one of the best options for restoring your suit's elasticity while helping to extend its shelf life. It's also ideal for environmentally-conscious buyers.
This product advises that you don't rinse your suit after you've washed it as it'll continue to work during the drying process.
See the latest price of Drainbo Pau Pilau Wetsuit Cleaner at Amazon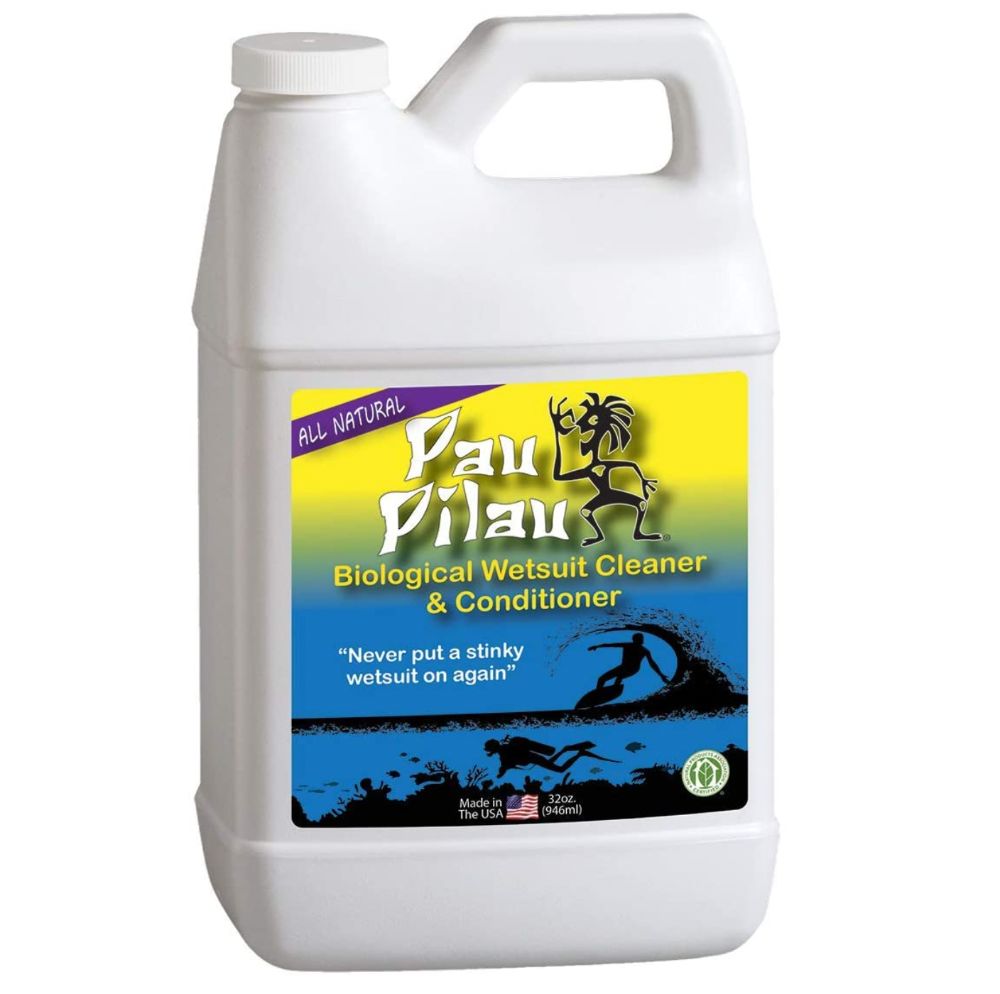 4. Gear Aid Wetsuit & Drysuit Shampoo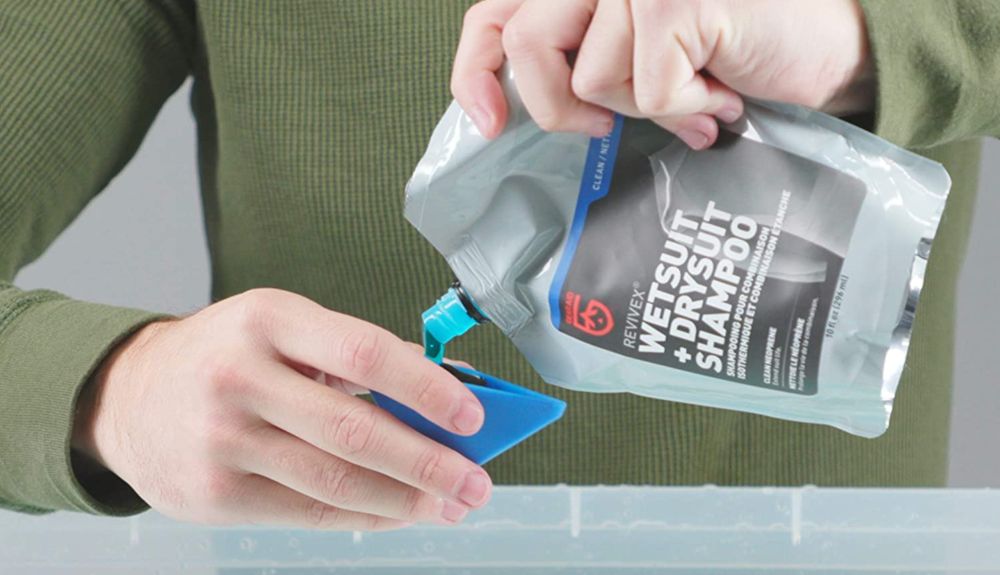 Smell: Citrus
If you're in need of a cleaner designed for high-end gear, this Gear Aid Wetsuit & Drysuit Shampoo is the way to go. It offers versatility without compromising quality, and its affordable price and small portable bag makes it a very accessible product.
This cleaner works to eliminate salt, chlorine, and organic residues such as algae and bacteria. Its unique and concentrated formulation penetrates the neoprene fabric on your suit, helping keep premature aging and oxidation at bay to promote lasting use. It is also lauded for its restorative qualities for virtually all types of watersports gear.
This wetsuit cleaner will also leave your suit smelling fresh and supple. Another thing I love about this wetsuit shampoo is that it's extremely gentle on your hands and skin, so you don't have to worry about irritation during the cleaning process or further wetsuit use.
You only get about 10 washes per bag, so you might want to stock up on a few of these so you don't have to keep restocking. Or if you're doing volume wetsuits (like a commercial operation) then you may want to opt for a brand that has larger containers. But this is great for the solo surfer or diver like myself.
See the latest price of Gear Aid Wetsuit Cleaner at Amazon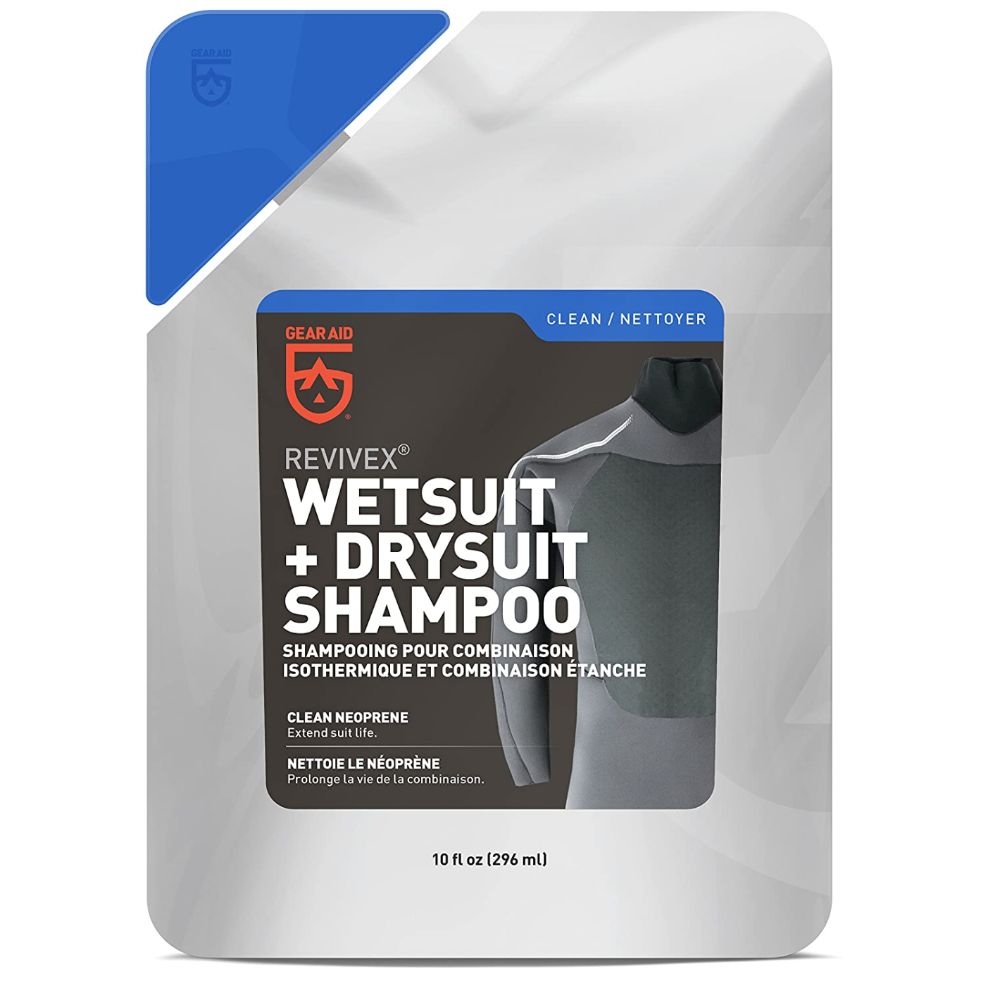 5. Seavenger Wetsuit Cleaner and Neoprene Wash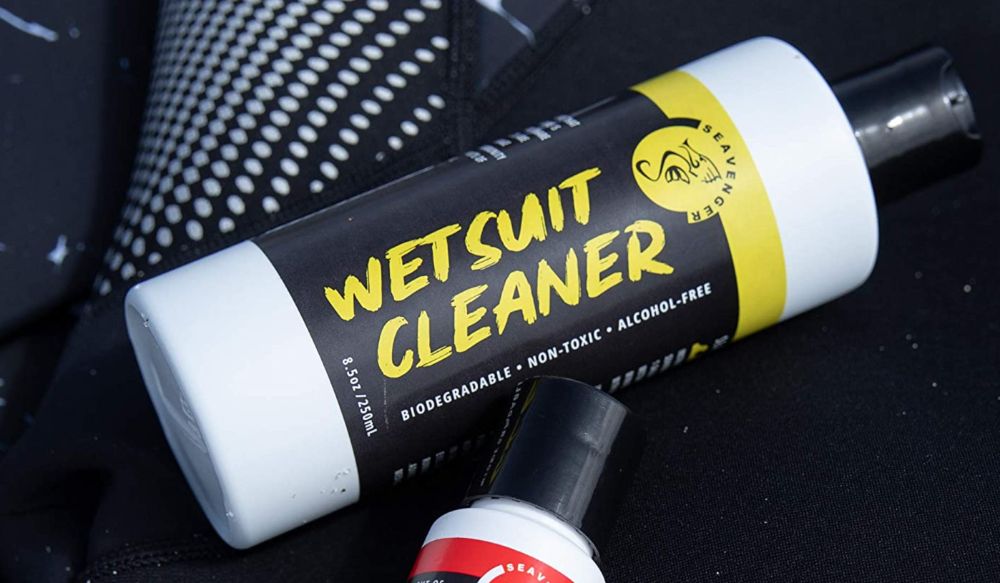 Smell: Citrus
The Seavenger Wetsuit Cleaner and Neoprene Wash is an effective, non-toxic soak and spray cleaner.
This product is ideal for both spot cleaning and soaking and makes it easy to keep your gear spotless. I personally love this cleaner because you don't need to be at home to use it. If you don't have access to a designated cleaning area or all of your cleaning supplies and therefore cannot soak your wetsuit just yet, you don't have to worry.
Instead, you can just aim this cleaner at the problem areas. This is so helpful, especially if you're on the go and only have access to a beach shower and not a bucket or bathtub.
Alternatively, you can soak your wetsuit in a mixture of this product and water for a thorough clean. This cleaner does a great job of eliminating the bacteria and grime that can build up on your suit after rigorous surfing, scuba diving, or other under-water pursuits.
See the latest price of Seavenger Wetsuit Cleaner at Amazon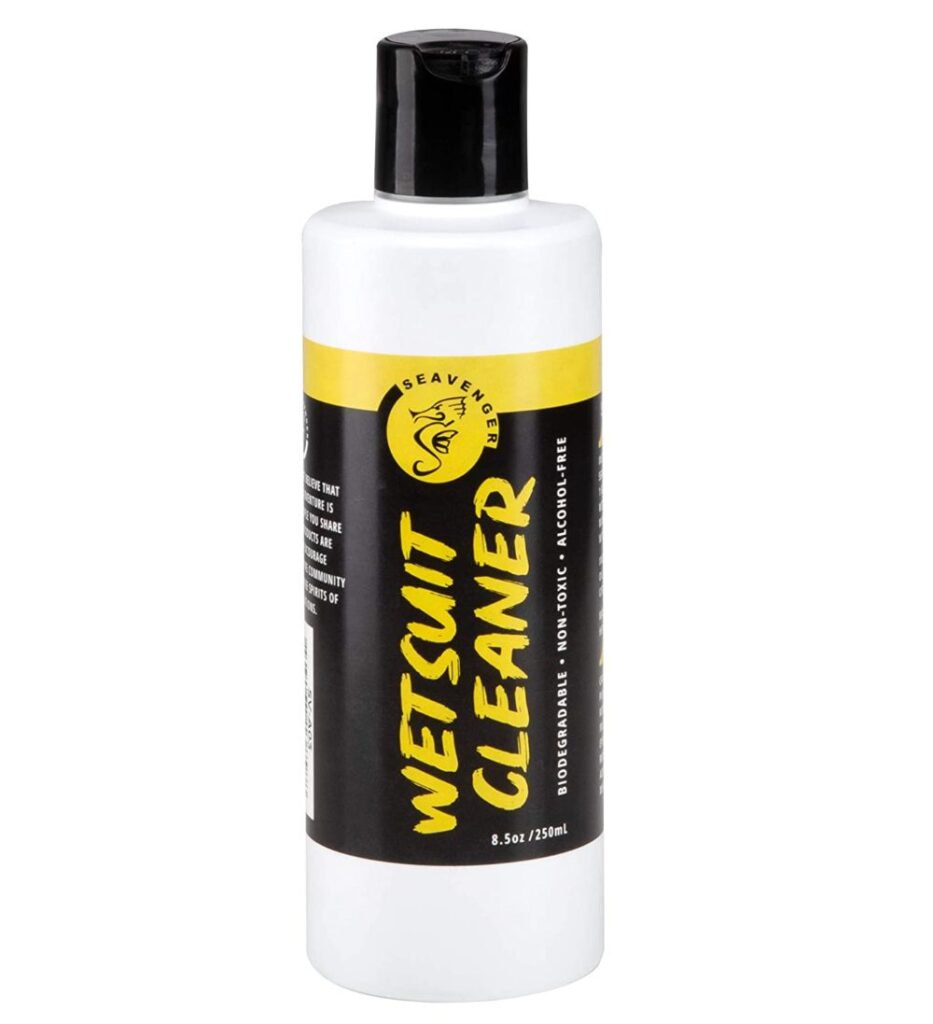 6. Trident Wetsuit Cleaner and Conditioner
Smell: Citrus
Another great cleaner option is this Trident Wetsuit Cleaner and Conditioner. It's a one-step neoprene wetsuit cleaner that doubles as both a cleaner and conditioner, and it's an effective solution for removing body oils, dirt, and salt from your suit.
It also helps extend your suit's lifespan. This cleaner is also scented for a pleasant and fresh fragrance after drying.
See the latest price of Trident Wetsuit Cleaner at Amazon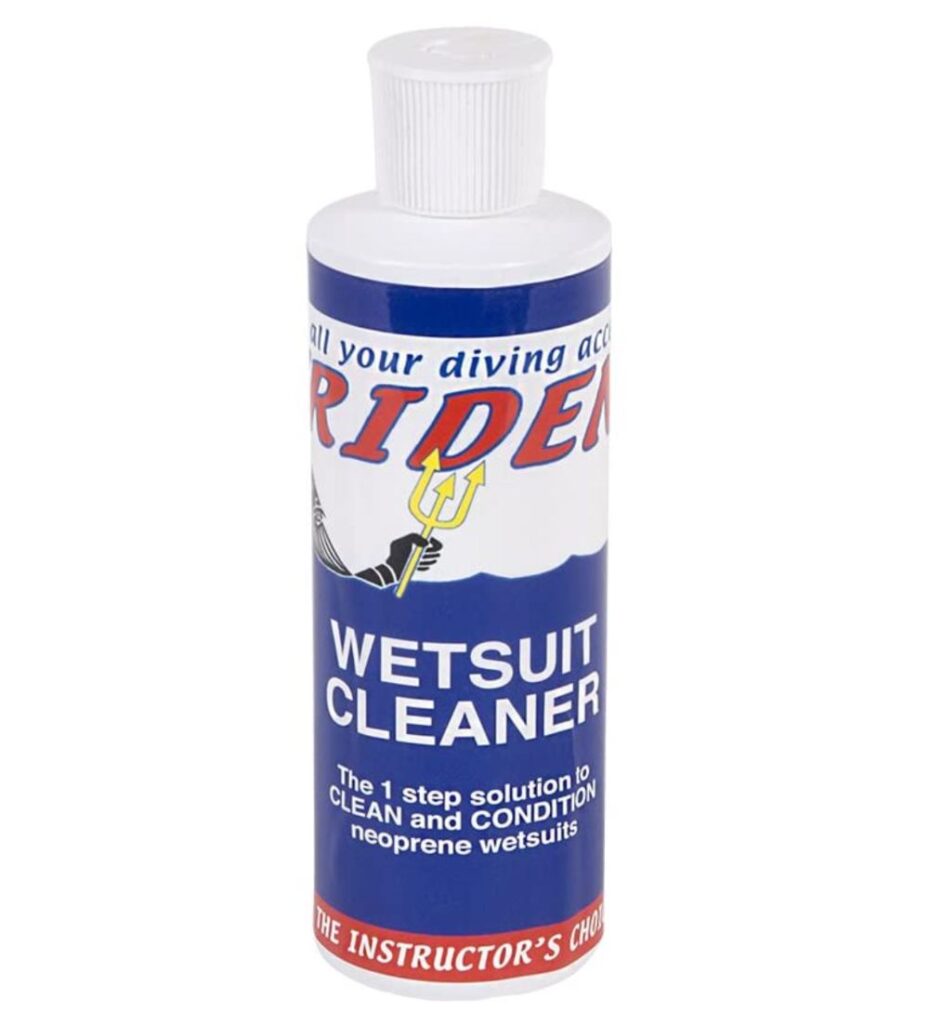 7. OdoBan Wetsuit Cleaner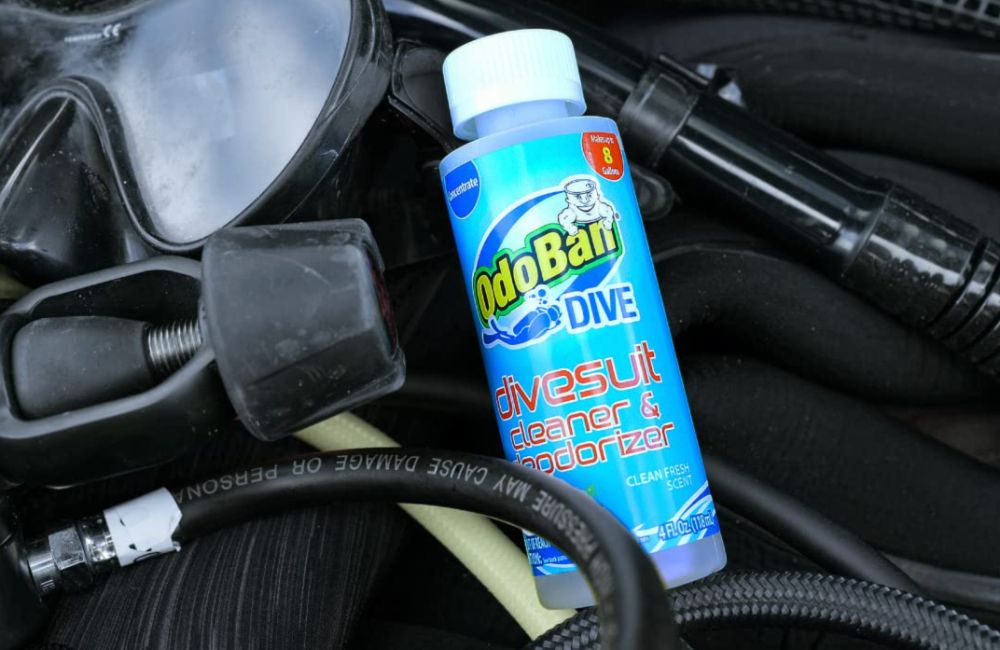 Smell: Citrus
Unlike most wetsuit cleaners in the market, this OdoBan Wetsuit Cleaner requires no rinsing.
All you need to do is mix with water, soak your gear, hang it to dry, and voila. It will do an excellent job of cleaning your suit and leaving it with a beautiful fragrance.
This cleaner fights algae, salt, body oils, and odors with a highly-concentrated smell-eliminating formula. This cleaner also comes in multiple sizes to meet your personal needs.
See the latest price of Odoban Wetsuit Cleaner at Amazon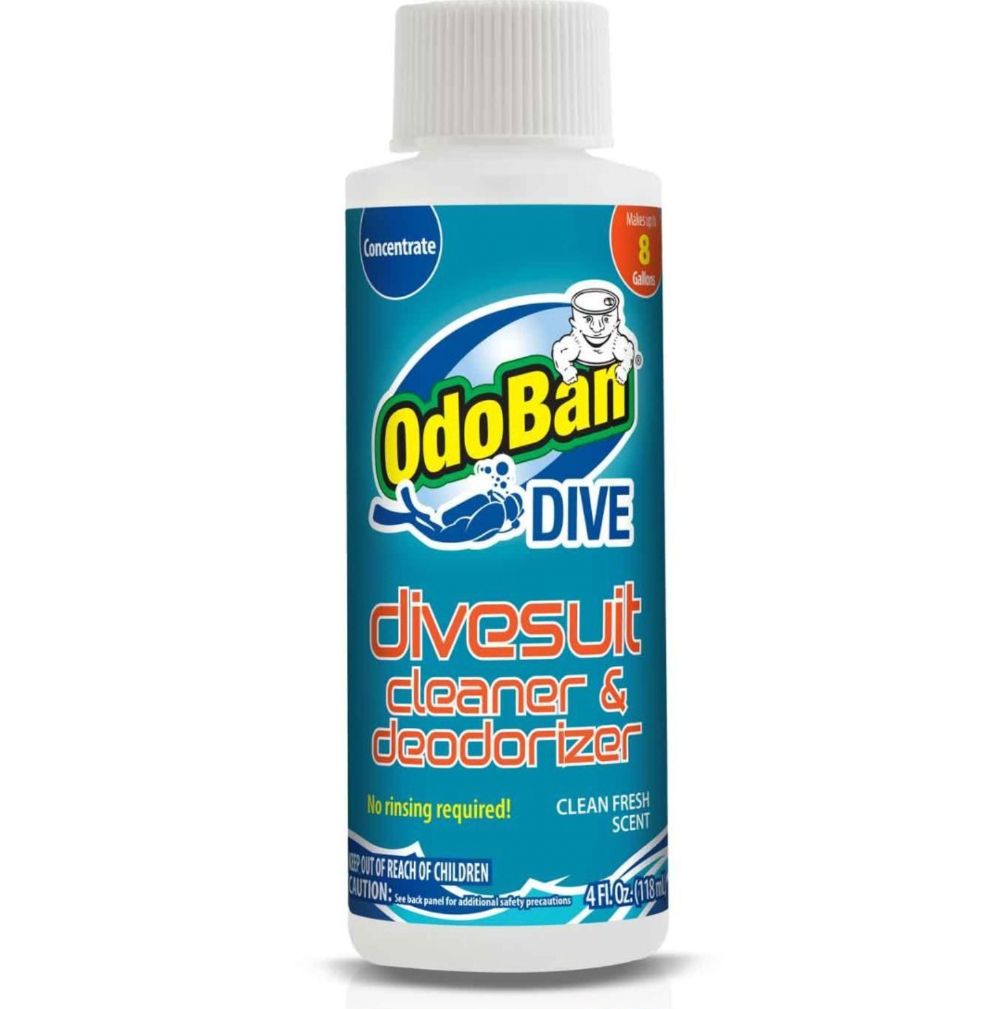 8. Cocoloco Wetsuit Cleaner
Smell: Eucalyptus
The Coco Loco wetsuit cleaner is an environmentally conscious wetsuit cleaner made by a UK brand. So if you're located in the UK then this is going to be the brand for you if you want to support a local business.
The wetsuit cleaner does a good job of wiping out bad smells and it contains natural eucalyptus oil to give it a pleasant scent. It's a delicate but effective formula which will be safe for your skin as well as your gear.
It's non-toxic and actually contains live cultures to break down bacteria that cause the odors in your wetsuit. It also removes salt, chlorine and organic residues from your neoprene suit. Easy to use and you can buy in a small portable container or a larger one for bulk use.
See the latest price of Cocoloco Wetsuit Cleaner at Cocoloco's Website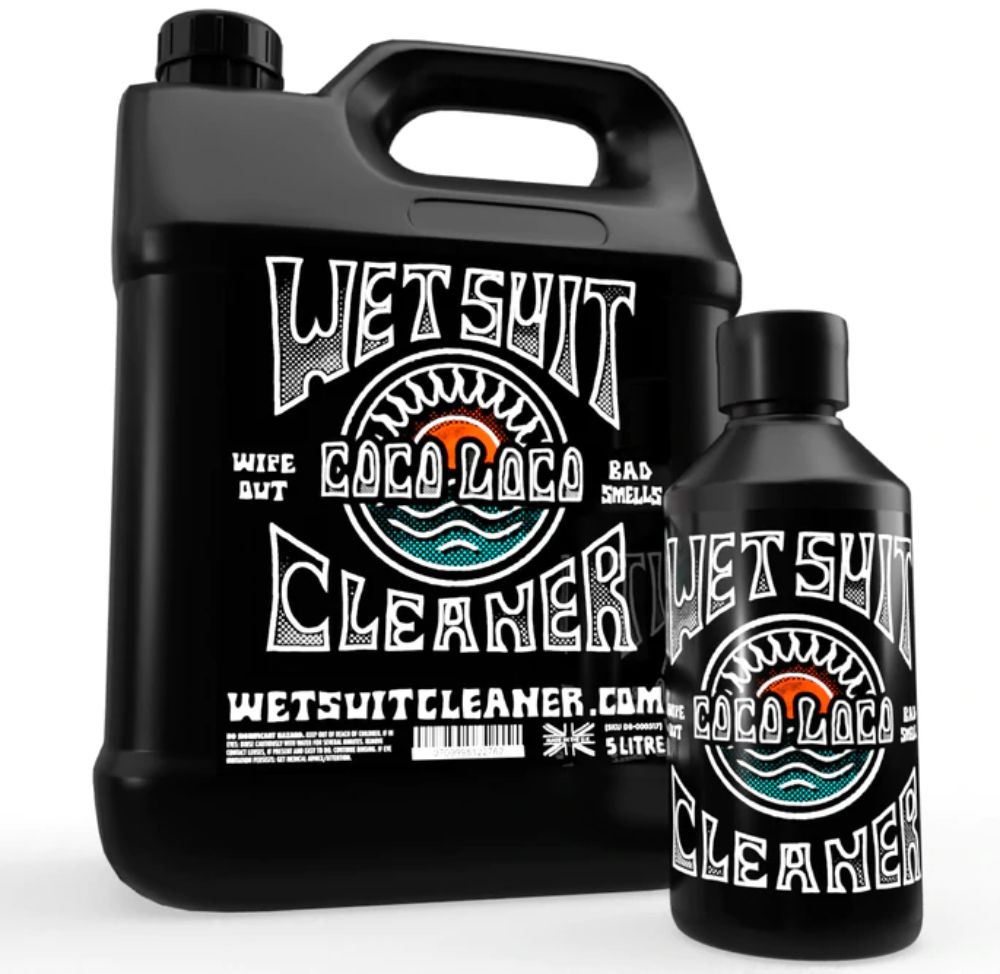 9. Rip Curl Piss Off Wetsuit Cleaner
Smell: Lemon
The Rip Curl Piss Off Wetsuit Shampoo and Cleaner definitely has the best name of any of the cleaners on this list. However, unfortunately it's also one of the more expensive wetsuit cleaners out there which is why I'm placing it further down this list.
It's made from biodegradable materials, so it won't harm the environment and you can use it to wash everything from your wetsuit to your gloves, hood, boots and vest. You don't need to rinse your wetsuit after using this product or before, however I still always recommend a rinse before using any wetsuit cleaner.
The washer doesn't make any bubbles and while it has some good smells whilst washing it once your wetsuit is dry you can't really clean it.
This wetsuit cleaner also stops dirt and grime getting back on your wetsuit.
The small 250mL bottle gives you 5 washes if you use 50mL per wash as the advise but you can get away with using less to stretch it further and if your wetsuit doesn't smell too bad.
See the latest price of Piss Off Wetsuit Cleaner at Amazon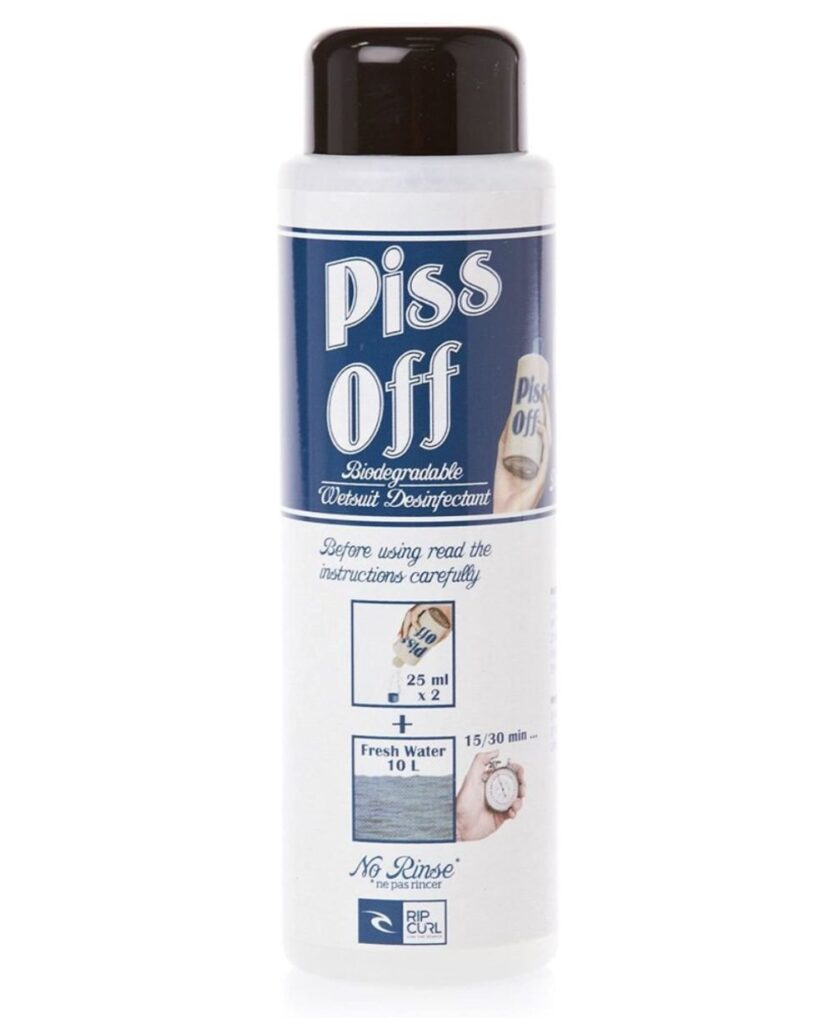 Below you can see a video review of Rip Curl's Piss Off wetsuit shampoo and cleaner.
10. West Path Wetsuit Cleaner and Conditioner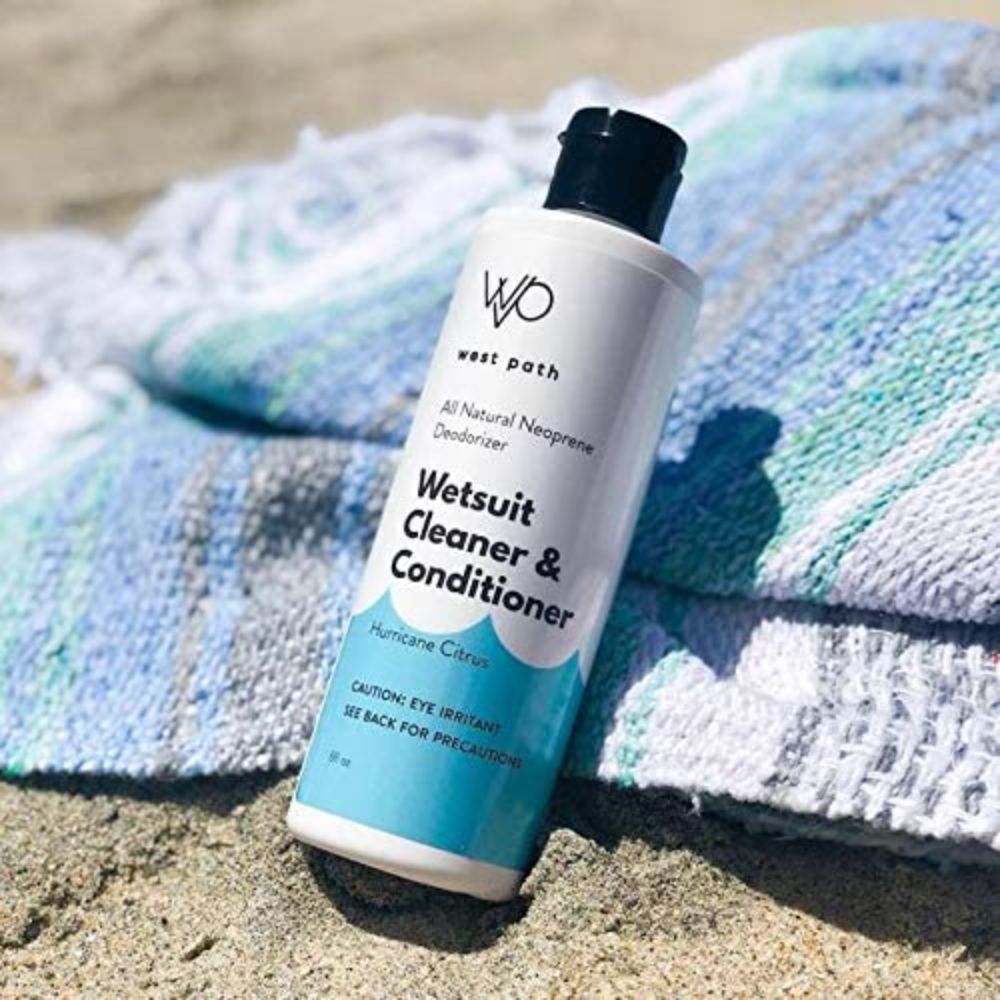 Smell: Citrus
The West Path Wetsuit Cleaner and Conditioner makes your suit softer whilst cleaning it and removing its smells.
What I love about this product is that it's an all natural, biodegradable and eco-friendly wetsuit wash that is made locally in the USA and not manufactured overseas.
What this does mean though is that your wetsuit needs to soak for a little bit longer than other brands with a time of 30 minutes being recommended.
You've even got customers using this wash for things like car seat covers and it works really well to remove dirt and grime but also be gentle on the neoprene.
This cleaner will leave your wetsuit smelling brand new, or better than brand new and it'll chase the funk out of any wetsuit you've got.
See the latest price of West Path Wetsuit Cleaner at Amazon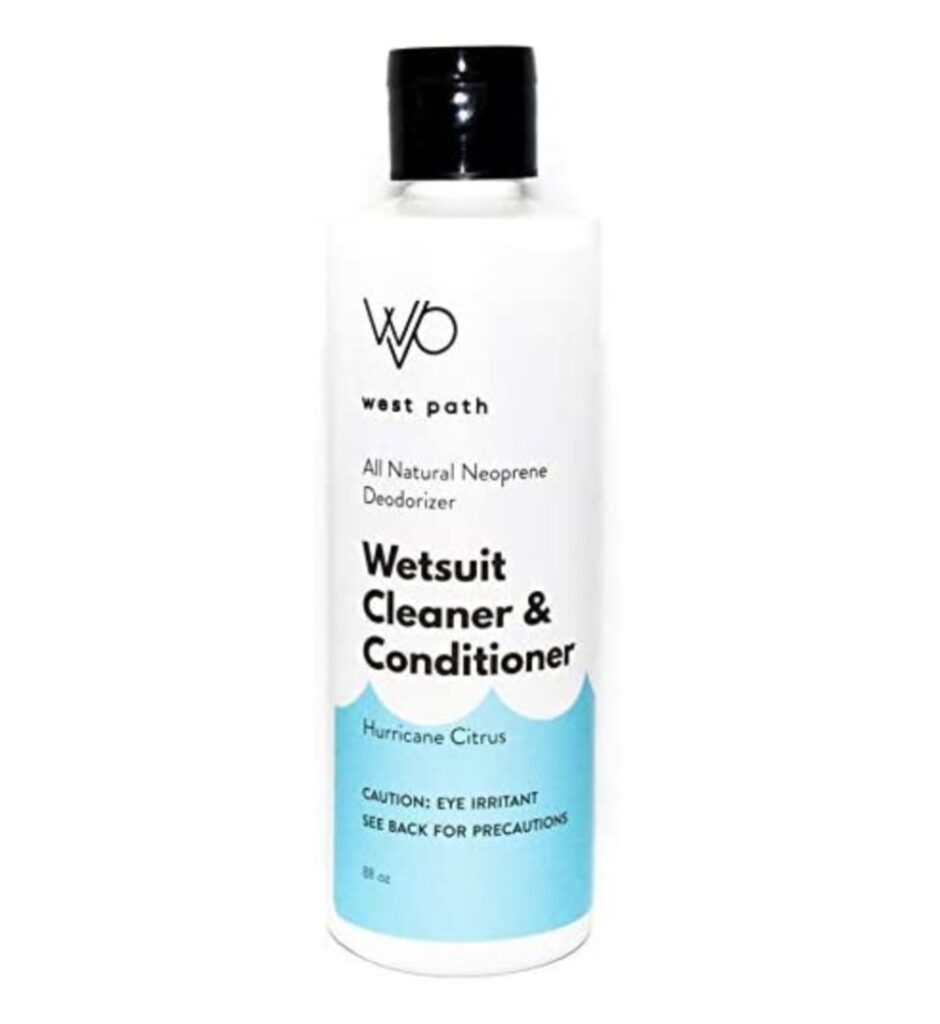 11. Sink The Stink
Smell: Citrus
If you're looking for the smallest most concentrated formula the Sink The Stink is going to be the best option for you.
At just 4 oz it gets 8-10 washes with 10-20 gallons on water.
It'll make any smelly wetsuit smell fresh as a daisy and the small package makes it the optimal choice for people traveling.
See the latest price of Sink The Stink Wetsuit Cleaner at Amazon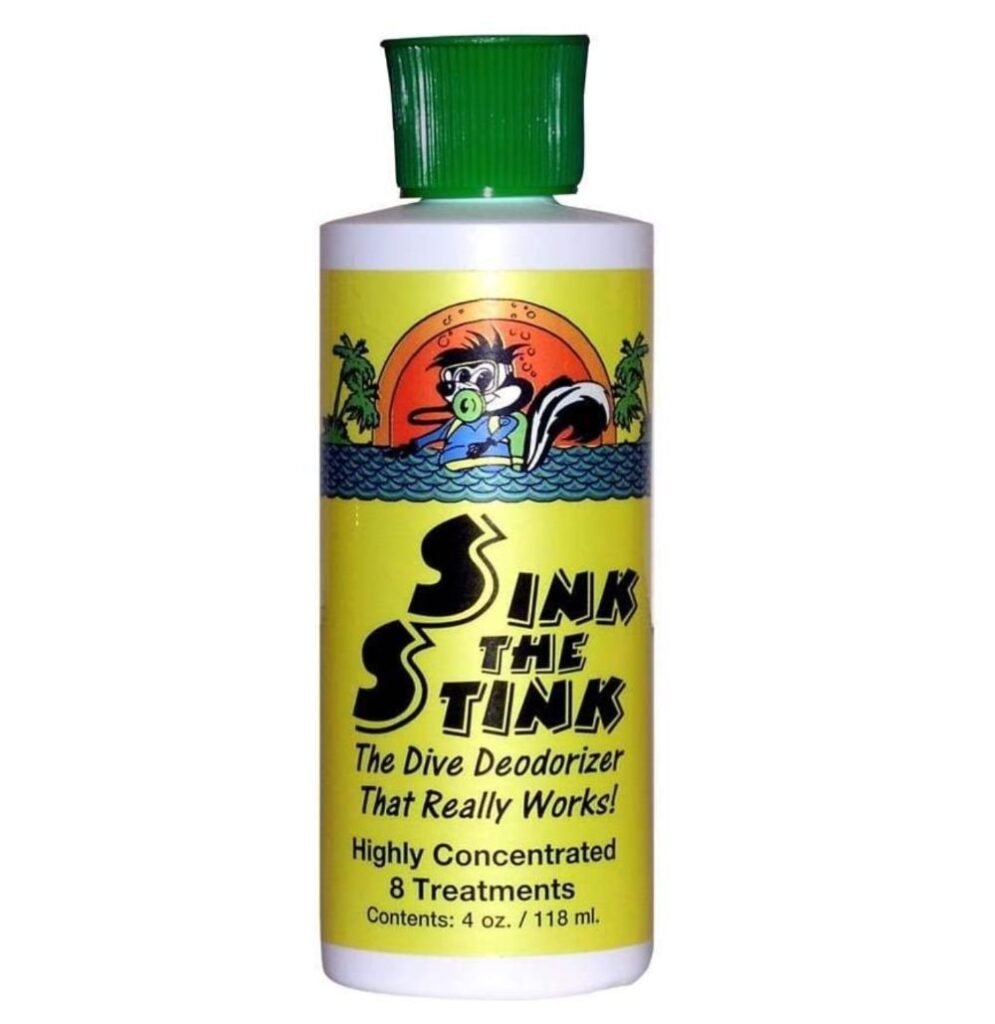 Conclusion
Cleaning your wetsuit properly is an essential part of helping your wetsuit smell better and last longer.
When you don't maintain adequate cleaning habits, it can decrease the longevity of your wetsuit and create an environment for mold and bacteria growth, which can be damaging to your health.
In addition to being a potential health hazard, bacteria and mold growth can create strong odors that will distract you from your aquatic sports experiences and make your day very uncomfortable.
Rather than adding a pee zipper to your wetsuit simply washing your wetsuit every now and then with one of the wetsuit cleaners mentioned above will do wonders for your wetsuit.
Luckily, these cleaning products can make your wetsuit maintenance so much easier so you can enjoy your gear for as long as possible.