My kids love nothing more than roasting a few marshmallows on a relaxing evening around the fire pit.
We have a little Solo Stove Mesa that we use but if you have a propane fire pit you might wonder if you can roast marshmallows or s'mores over it. 
You can roast marshmallows over a propane fire pit because propane is a clean burning fuel and won't leave any toxic fumes or residue on your marshmallows. All you need are some roasting sticks and some marshmallows. 
The only issue is if you over-roast your marshmallow and it drips onto the lava rocks, fire-safe glass or ceramic bricks because this can be a pain to clean.
Although you wouldn't generally use a propane fire pit for cooking food, roasting simple foods on sticks (like hotdogs and marshmallows) works well. Just be careful not to spill food into the fire if you can avoid it.
Why It's Safe To Roast Marshmallows on a Propane Fire Pit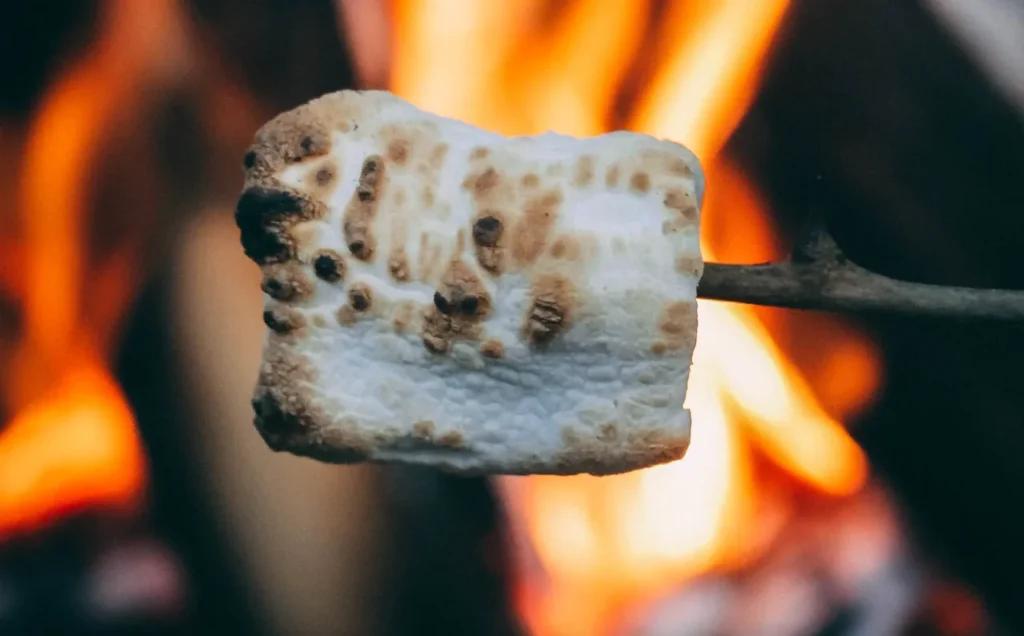 It's safe to roast marshmallows on a propane fire pit because propane is a clean burning gas and won't leave chemicals or toxic fumes on your food. 
This means that it is actually safer and healthier to roast marshmallows over propane than regular firewood.
According to the United States Environmental Protection Agency, burning wood emits pollutants such as benzene and formaldehyde and propane. In contrast, propane emits only trace amounts of mercury, sulfur oxides and particulates.
You should avoid roasting marshmallows over firelogs like Duraflame unless they are made for cooking as they can release pollutants not safe for consumption and also make your marshmallows taste weird.
Propane fire pits come in various BTU ratings (heat output) but they typically don't burn as hot as a regular campfire, the reason they're inefficient to cook over.
However, since marshmallows only take a few minutes to cook, they're great for this purpose (and you can also make s'mores over propane fire pits). 
Bear in mind that propane fire pits have lava rocks, fire-safe glass or ceramic bricks and if you over-roast your marshmallow it could drip sticky liquid onto them which can be a pain to clean. 
If you're in the market for a fire pit and prefer using wood, consider the Solo Stove Bonfire or Yukon instead.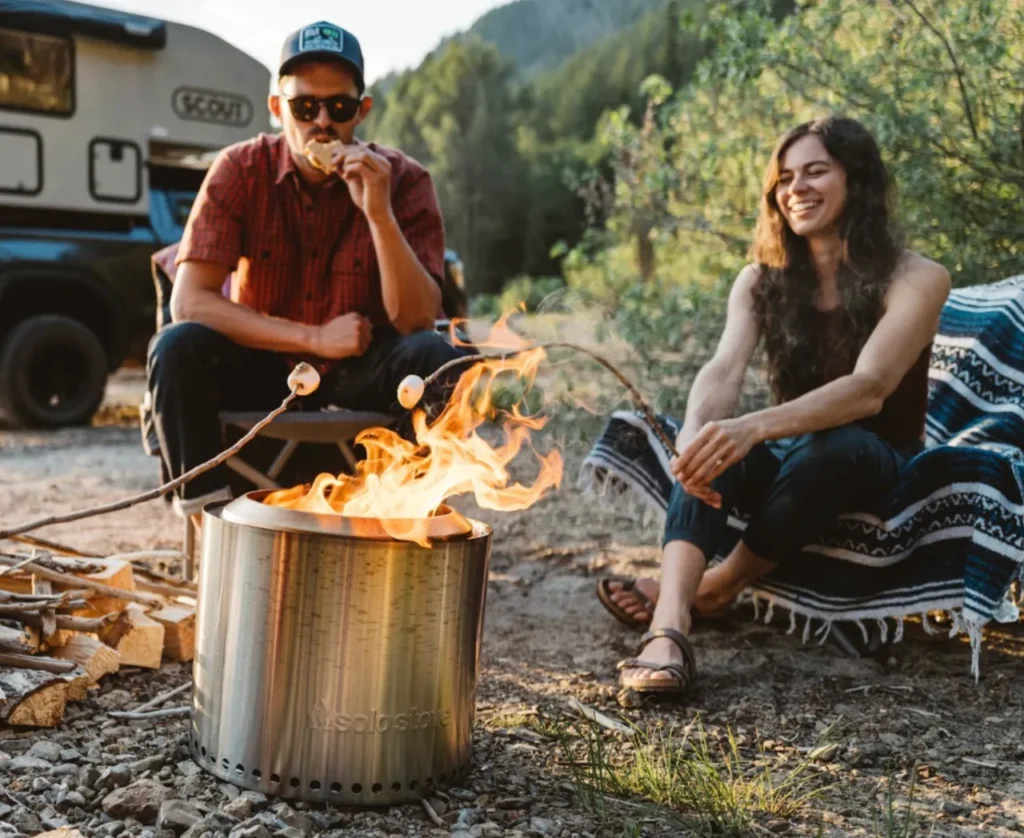 How To Roast Marshmallows on a Propane Fire Pit
Here's how to roast marshmallows over your propane fire pit:
1. Position yourself 1-2 feet away from the fire pit to avoid getting burned and supervise your kids if they're roasting marshmallows.
2. Place a marshmallow on a roasting stick and ensure the prong goes all the way through the marshmallow to avoid it falling off and onto your fire pit and creating a mess.
I like using roasting sticks with 2 prongs (like these ones from Amazon) because you can roast 2 at a time. However, you could always use kebab sticks if you forgot to buy some. 
3. Extend your roasting stick over the fire pit and slowly rotate it so that all parts of the marshmallow get evenly roasted.
4. While your marshmallow is roasting, monitor it closely so that it doesn't drip onto your fire pit's lava rocks, glass or ceramic bricks. 
Your marshmallow will also swell as it roasts and this is when it's most likely to drip or fall off the stick. I like to have a spare roasting stick nearby to prop the marshmallow up in case I think it will fall off.
5. Once the marshmallow is golden to dark brown all over, remove it over the fire pit.