Sometimes the 2-3 finger carry strap on the Hydro Flask water bottles isn't big enough or if you've chosen a straw lid or a different type of lid these sometimes don't have any handles at all.
I love my Hydro Flask but sometimes carrying them can be a pain so I wanted to look into the different Hydro Flask handles that are available and provide you with a wide variety of options in this list so you can choose the best ones for you.
From paracord handles that go around the neck of the bottle to side handles and even shoulder straps, there are a lot of different options to choose from.
Some of these Hydro Flask handles also double as a protective sleeve for your Hydro Flask. So if you do happen to drop it (I hope you don't) then you're must less likely to get dents or scratches.
So what are the best Hydro Flask Handles out there and what are the different options available?
1. QeeCord Paracord Handles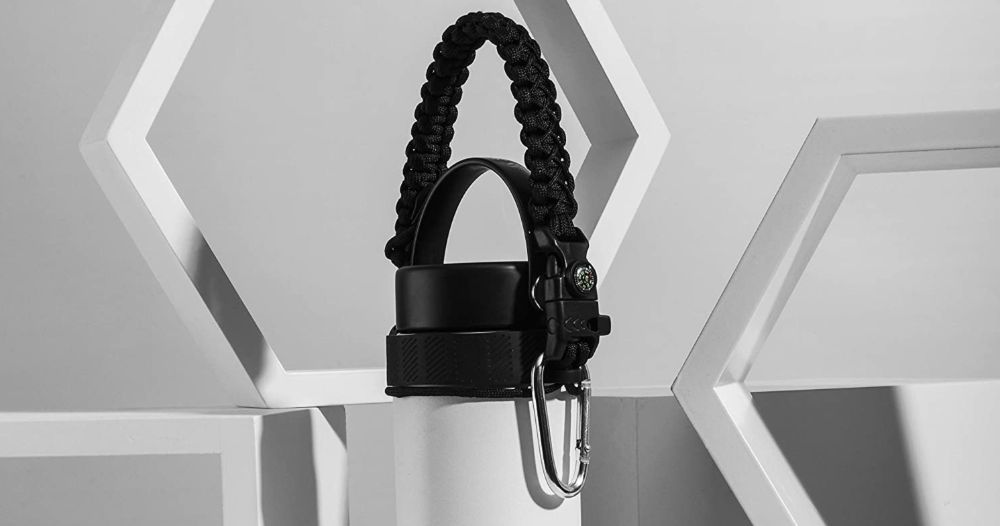 By far one of the most popular Hydro Flask handles is the paracord handle. They are simple and affordable, soft on the hand to carry but extremely strong and won't break and they come in a wide variety of different colors and sizes.
They strap on around the neck of your Hydro Flask and the loop of the handle is long enough to fit on your arm so you can carry your Hydro Flask hands free.
Most either come with a clip or a carabiner or both so you can easily clip your water bottle onto your backpack (or anywhere else you want to clip it).
You do need to be careful as most of the paracord handles out there are designed to fit on the old Hydro Flasks with the rolled neck design. This is fine if you have one of those but if you're like me and have the newer Hydro Flasks with the taller necks these won't fit on properly.
However, QeeCord make a paracord handle specifically designed for the new style Hydro Flasks. It's made from tough rubber that goes around the neck of your bottle and strong (but soft) 550 and 350 grade paracord.
It's backed by a lifetime warranty and there are multiple colors designed to fit all the different sizes of Hydro Flasks.
I love these handles for the newer Hydro Flasks and I think you will too. They are also super affordable so they won't break the bank.
See the latest prices of the QeeCord Paracord Handles at Amazon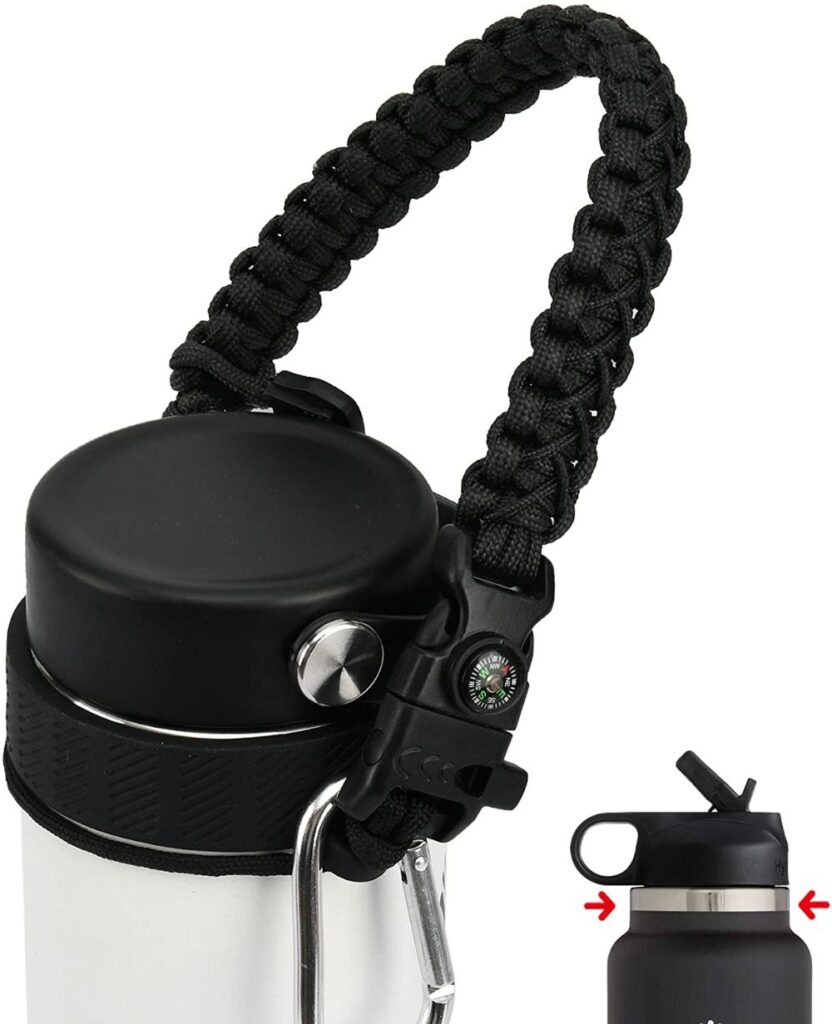 Alternatively, if you still have an older style Hydro Flask then check out the different paracord handles for the older Hydro Flasks by clicking my affiliate link below:
See the full range of Hydro Flask Paracord Handles at Amazon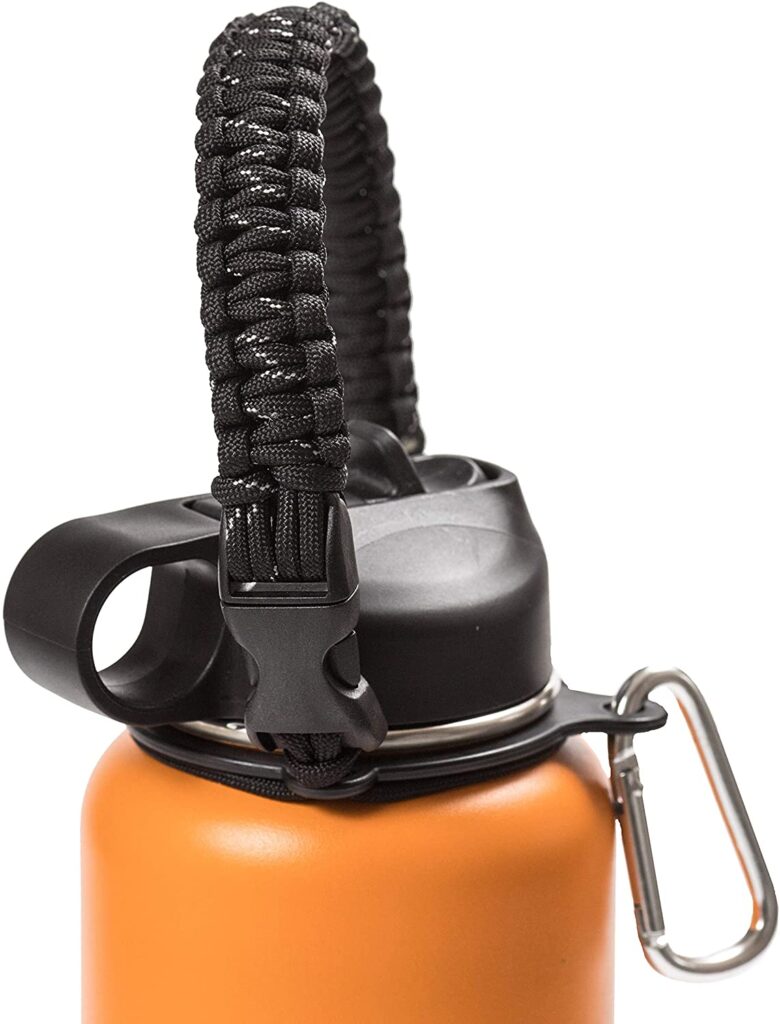 2. REUZBL Bottle Cover With Side Handle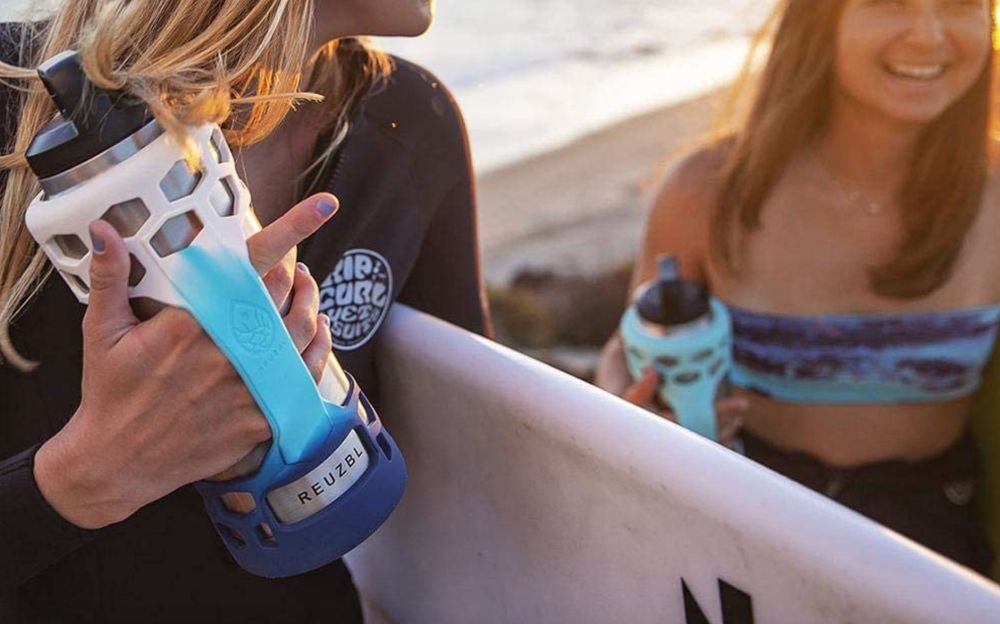 REUZBL make a variety of different products for Hydro Flasks bottles but my favorite is this bottle bumper with a side handle.
This went on my list of the 11 Best Hydro Flask Accessories that you can buy and for good reason.
It covers both the top and bottom of your Hydro Flask offering protection against dents and scratches, especially if you are prone to dropping your Hydro Flask like me.
It's made from silicone so the side handle can easily stretch to fit your hand giving your a snug tight fit or when you're not using it then it stretches back giving a more slimline profile so it doesn't take up too much space.
If you're specifically looking for a Hydro Flask side handle then this is my favorite option.
It's very affordable and it comes in a variety of different colors so you can pick the style that suits you.
See the latest price of the Bottle Bumper at Amazon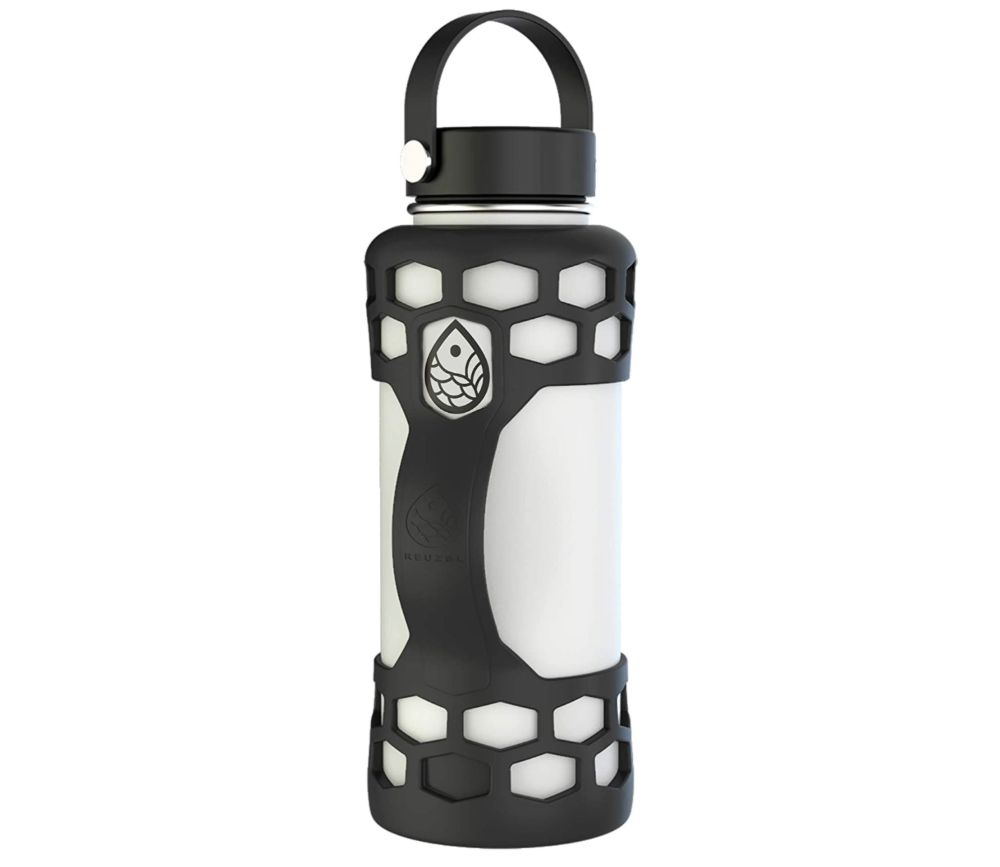 3. Magedon Water Bottle Carrier Grip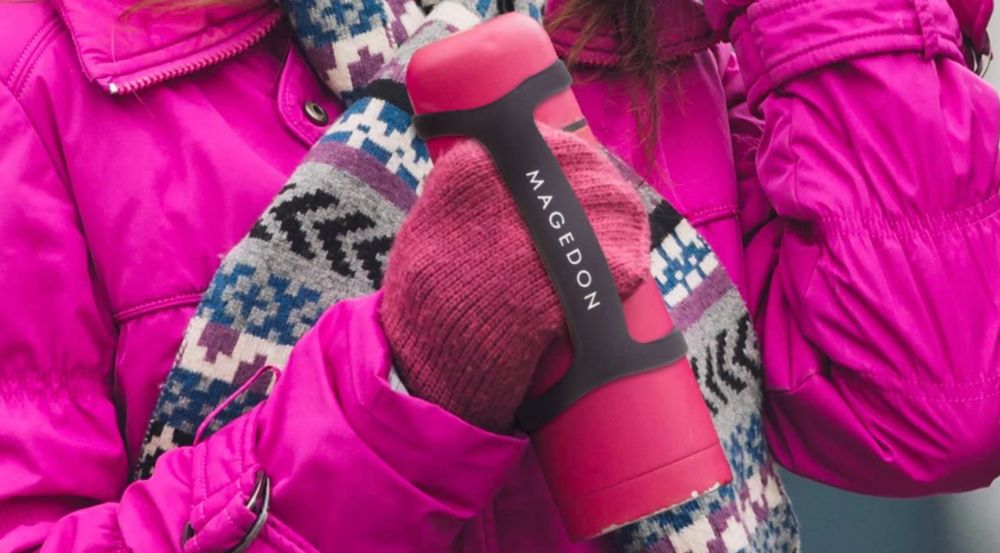 The Magedon water bottle carrier grip isn't just for Hydro Flasks, it'll fit almost any water bottle, but it does work great on any size Hydro Flask.
If you're running with your water bottle, going to the gym or just want some extra grip then this product is cheap, simple and does the trick.
I love that you can adjust the handle to make it looser or tighter just by moving the ends closer together or further apart.
While other products like the REUZBL are specifically tailored to certain Hydro Flask sizes (and they don't have versions for all sizes) this product will fit any version of Hydro Flask you have.
This is great for me as my favorite water bottles are currently the newer Hydro Flask Trail Series which have a different form factor to the same size regular Hydro Flask – Read more about the Hydro Flask Trail Series vs Regular Hydro Flasks.
The Magedon is also super cheap and comes in a 2 pack so you can use it on multiple bottles, have a spare just in case or give one away to a friend or family member.
See the latest prices of the Magedon Bottle Carrier Grip at Amazon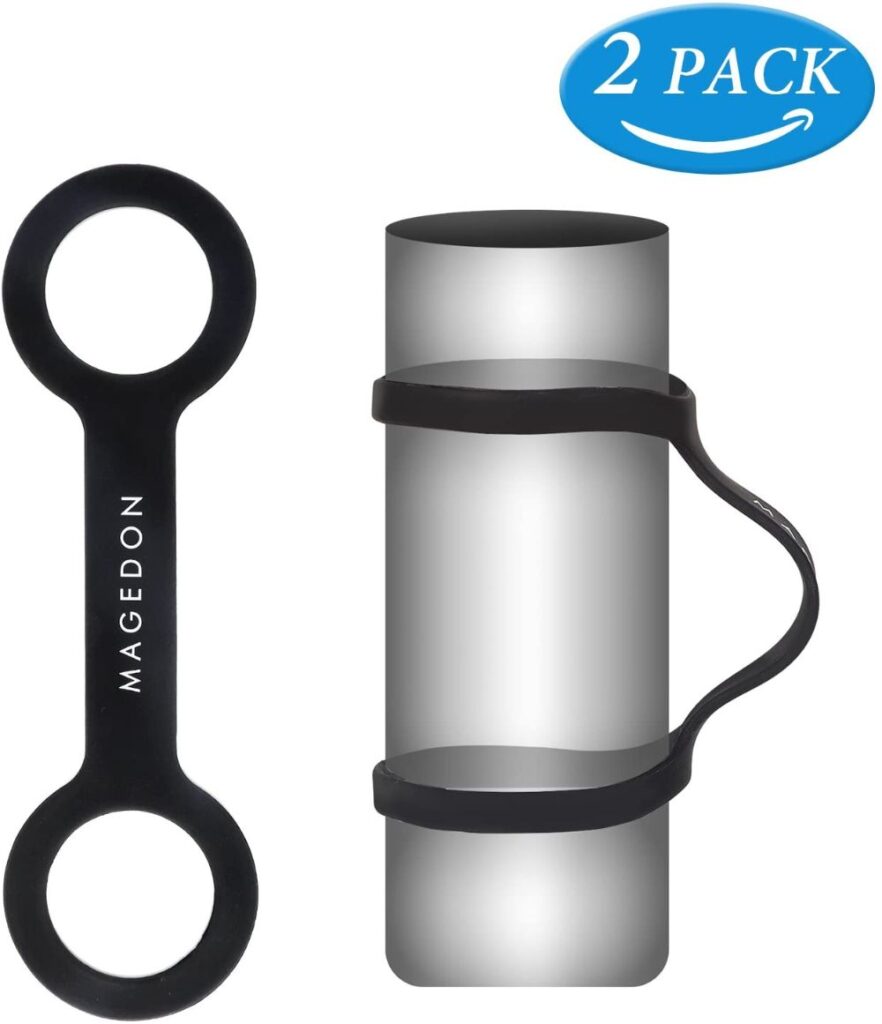 4. Hydro Flask Sling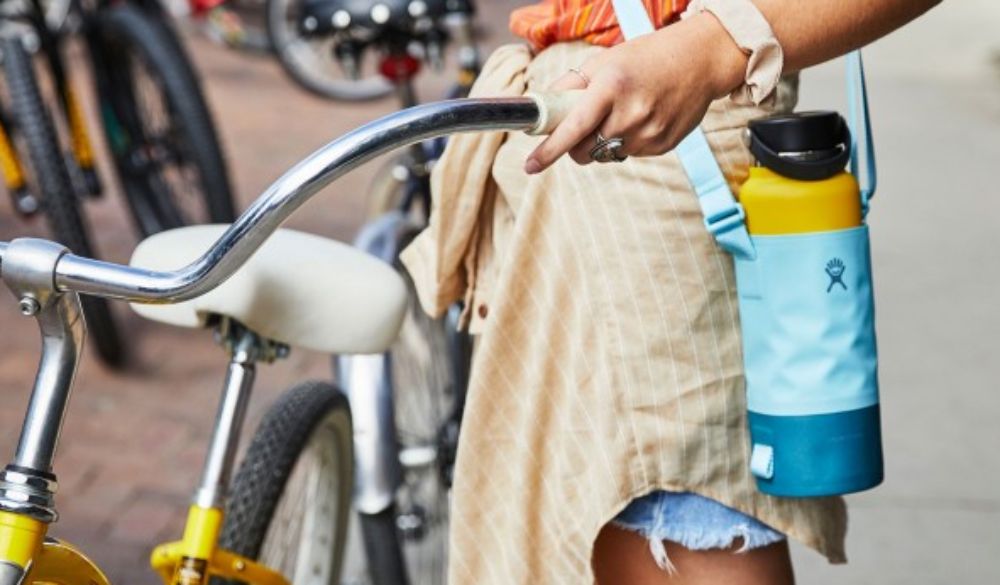 If you'd rather for the shoulder strap instead of the carry handle the Hydro Flask sell slings specifically designed for their bottles.
Like everything Hydro Flask makes these are extremely high quality and come in a variety of fun colors to choose from.
The sling will protect your Hydro Flask from damage but it'll also double as a little bit of extra insulation to keep drinks colder longer in your Hydro Flask or keep them hotter.
They come with a shoulder strap for hands free carrying and come in a variety of bright colors
See the latest price and colors of Hydro Flask slings at HydroFlask.com
(or compare to the latest price of the Hydro Flask Slings at Amazon)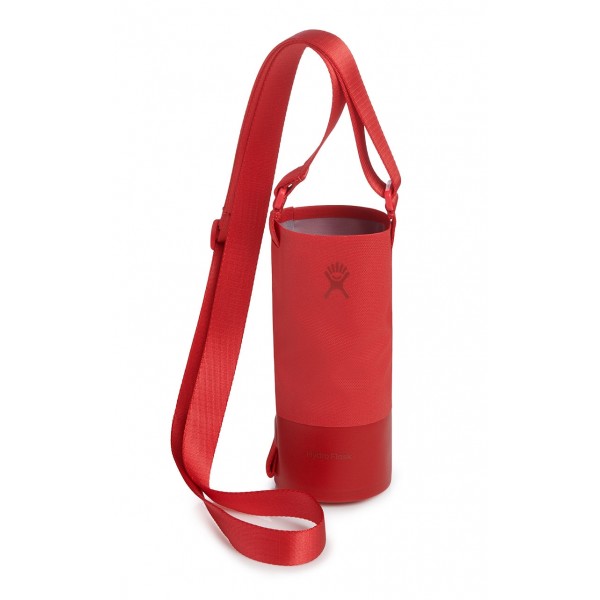 Hydro Flask aren't the only brand that makes protective pouches and shoulder straps for Hydro Flask bottles.
There are also a variety of other brands that make similar products. They aren't as pretty but they can be cheaper and some have more features or cover more of the bottle giving you extra protection.
Check out this other insulated water bottle pouch that is more affordable
5. OYT Water Bottle Shoulder Strap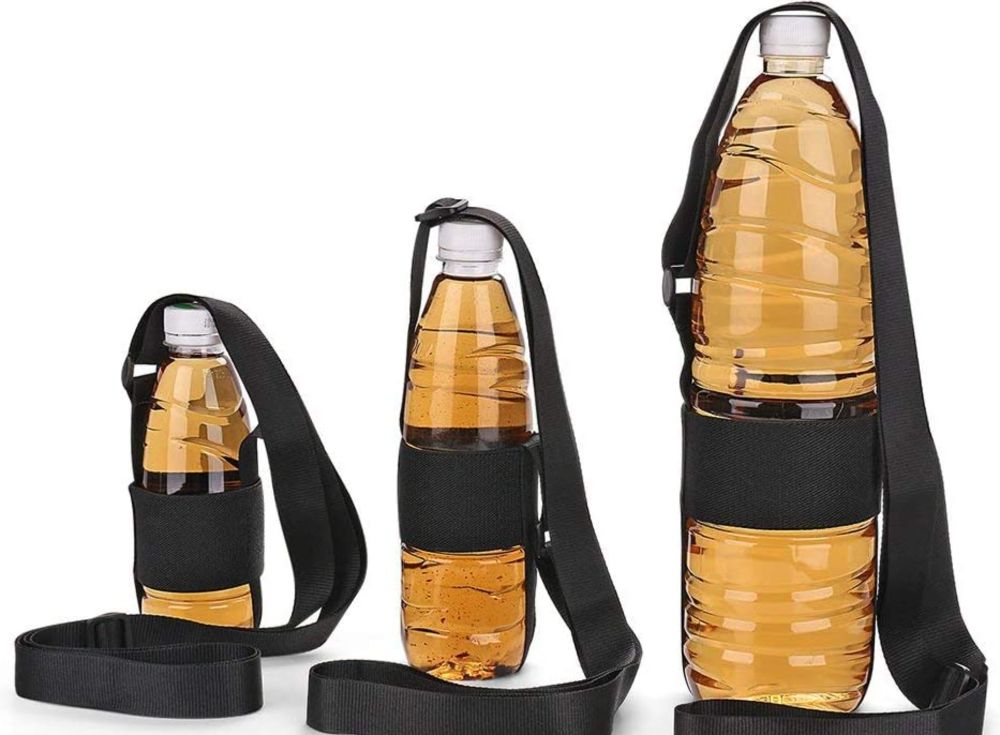 If you're looking for a cheap and lightweight alternative to the Hydro Flask Sling then this water bottle should strap from OYT is another good option to consider.
It's designed to fit bottles from 2.3-3.6 inches (which all Hydro Flask bottles except the huge Oasis ones are).
It's got an adjustable shoulder strap and it's lightweight and foldable so you can store it really easily when you're not using it.
It's simple and there is no padding on the shoulder strap but for something really affordable this is a good option.
See the latest price of the OYT Water Bottle Shoulder Strap at Amazon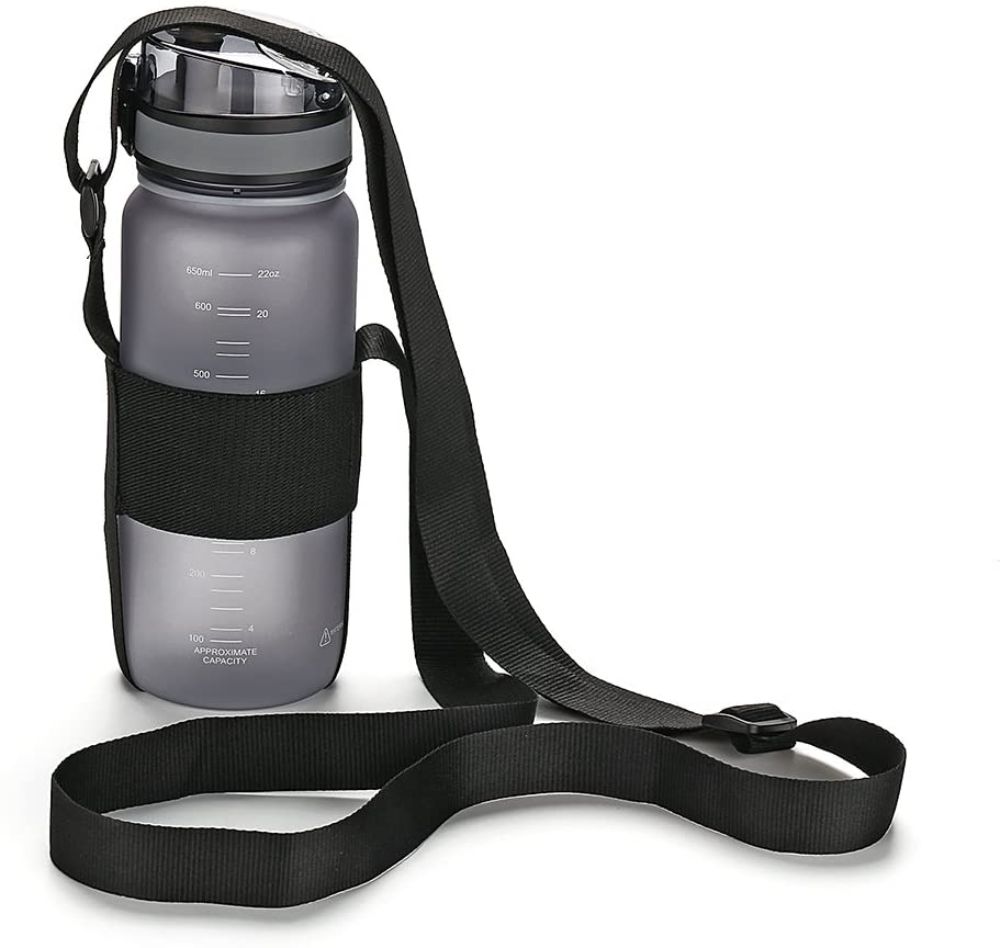 6. Side Handle For Wide Mouth Hydro Flasks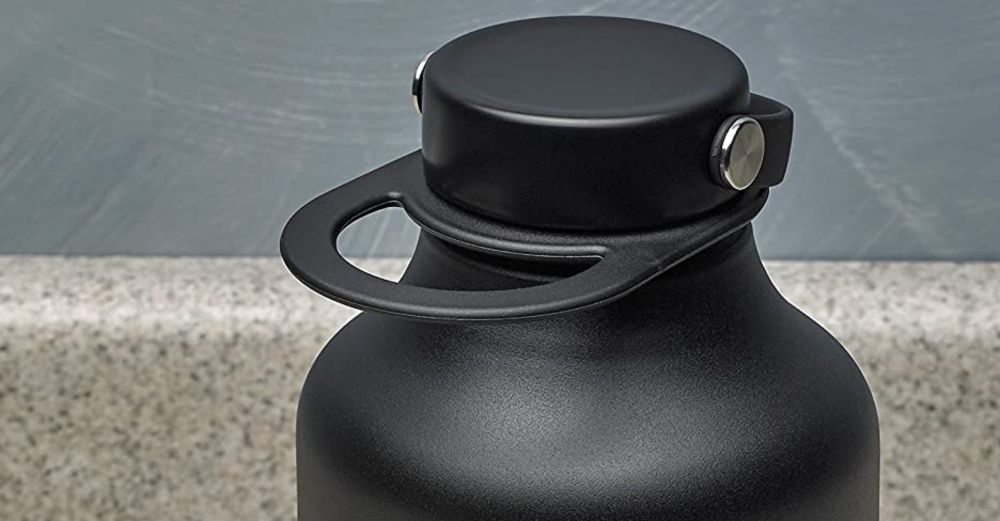 This simple side handle slips onto the top of your Hydro Flask and is held on by the lid.
It'll fit both the new and older style Hydro Flasks and it works with other major bottle brands like Nalgene, CamelBak etc.
It's made from strong plastic and the fact that it's held on by the lid means you can remove it when you don't want to use it anymore.
These are super cheap and come in a 2 pack so they are a good simple Hydro Flask handle option.
See the latest price of the Side Handle for Wide Mouth Bottles at Amazon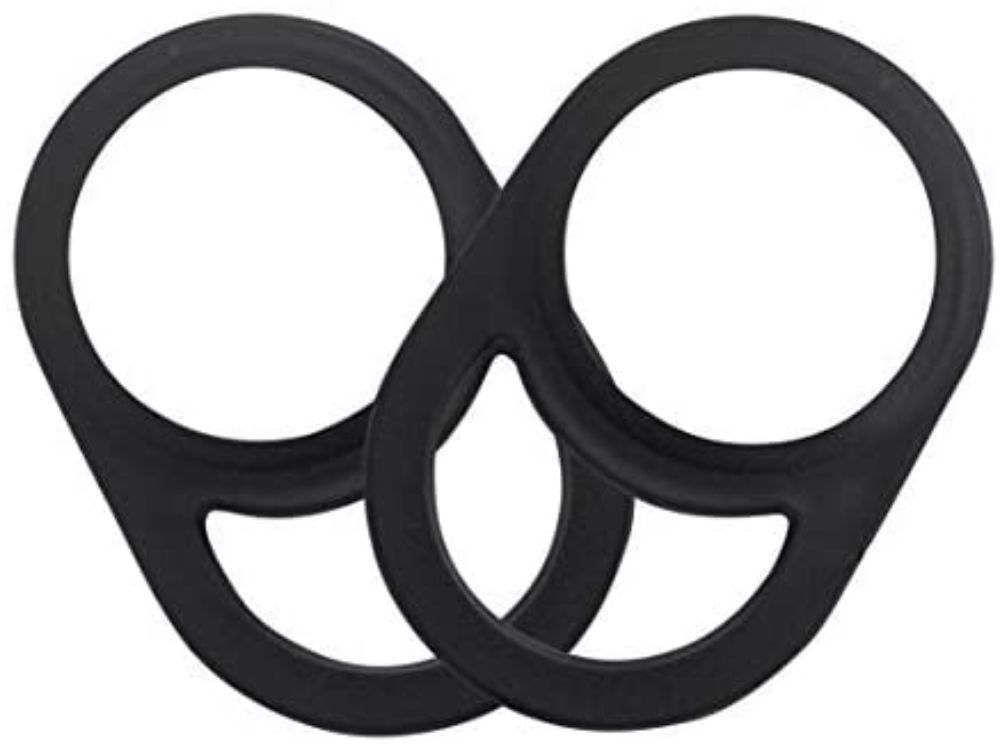 7. Gearproz Straw Lid + Paracord Handle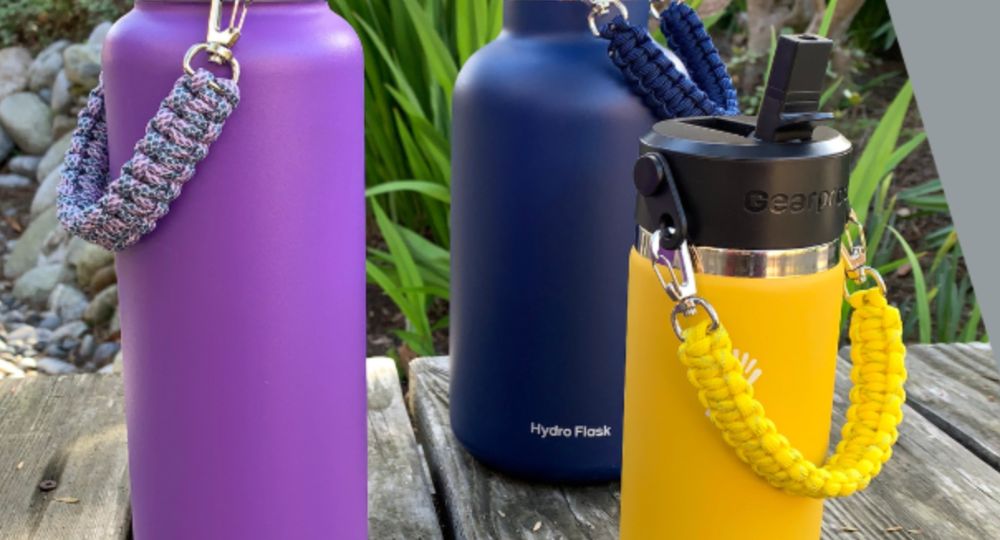 Instead of getting a separate paracord handle that goes around the neck of your Hydro Flask the Gearproz Straw Lid comes with a clip on paracord handle.
This one also comes with a shoulder strap attachment if you prefer to carry your Hydro Flask that way and because it clips onto the lid it's compatible with both the older and newer style Hydro Flasks.
It comes in 6 different colors and comes with 2 straws and a straw cleaner as well so you're getting value for money.
See the latest price of the Gearproz Straw Lid + Paracord Handle at Amazon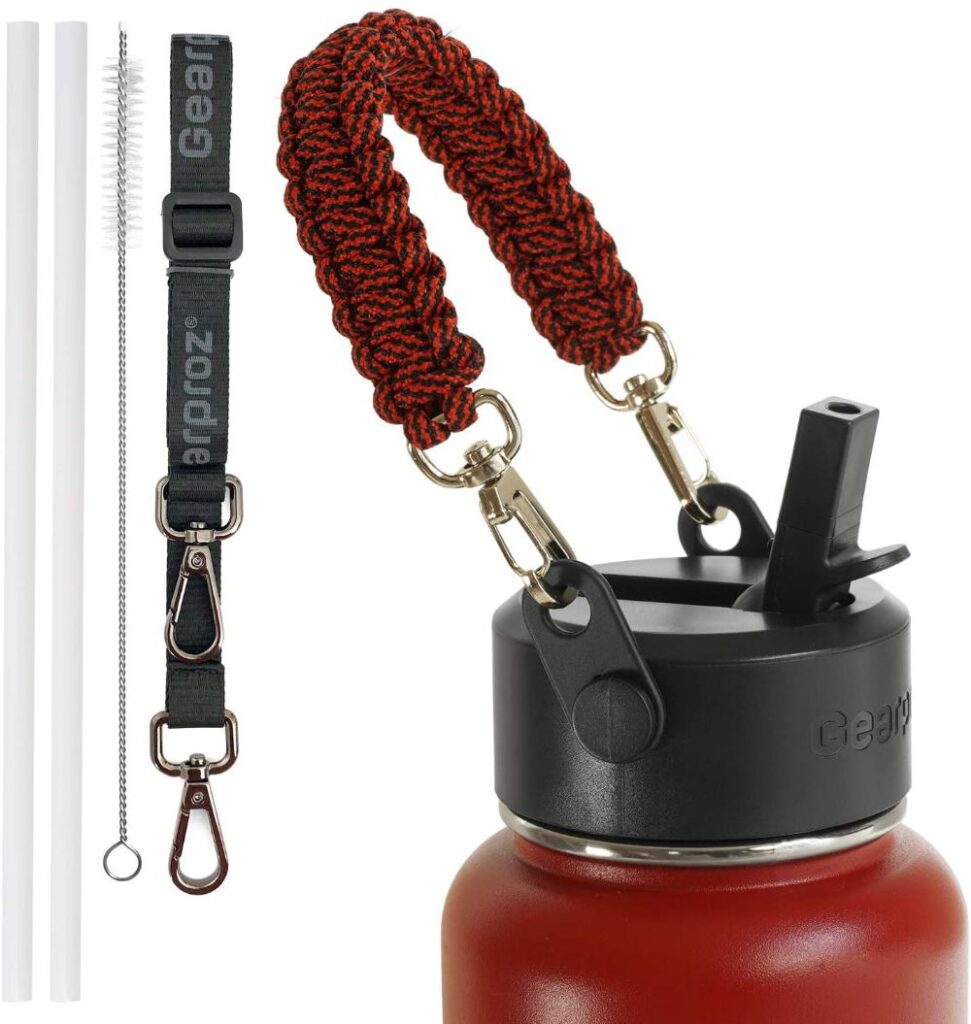 8. FlaskGear Grab & Go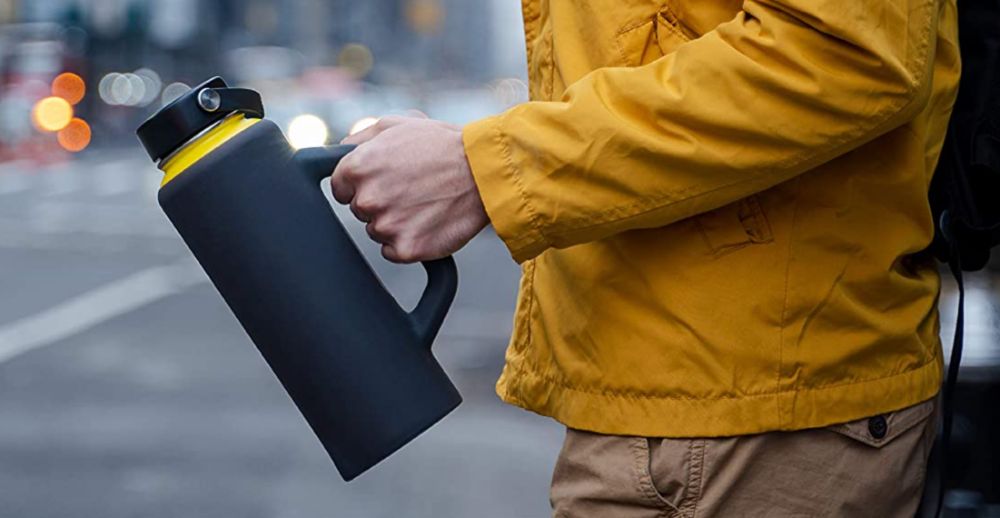 The Flaskgear Grab & Go is a silicone sleeve that fits over your Hydro Flask 40 oz bottle and gives you a big sturdy handle to carry your bottle and also to drink from.
It's a really cool product but for now it's limited to the large 40 oz Hydro Flask only. I wish they made one for the 32 oz this is the size I have but at the moment it looks like they just make the one size.
If you've got a 40 oz Hydro Flask and want a big strong side handle then this is going to be the product for you.
See the latest price of the FlaskGear Grab&Go Handle at Amazon