The Ember Mug app has a useful tea timer that allows you to quickly set a timer so you know how long to steep your tea.
In this article I'll show you exactly how to find and use the Ember Tea Timer as well as how you can edit the Tea Timer to suit your needs and the exact kind of tea you're making.
How To Find and Use The Ember Tea Timer
Using the Ember Tea Timer is extremely easy and takes only a few simple steps.
1. Open Your Ember Mug App and Click on Your Mug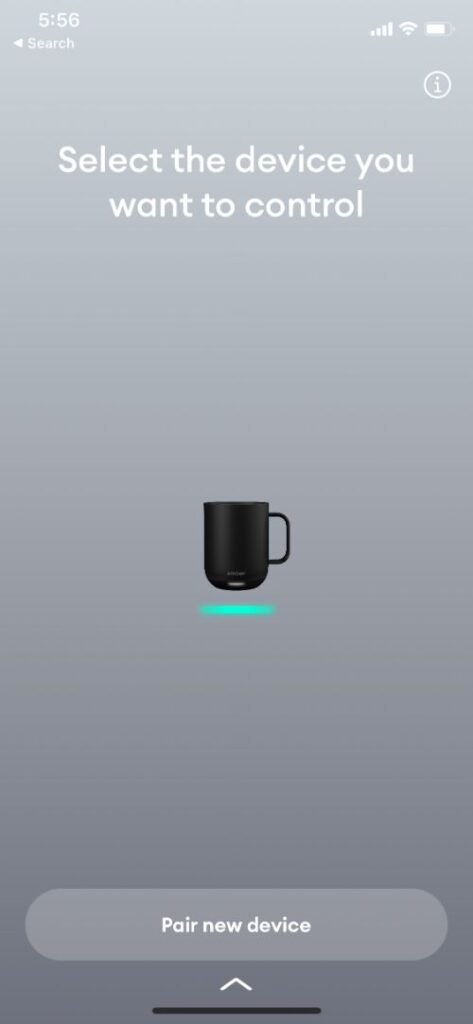 Open the Ember Mug app on your phone and select your Ember Mug or Ember Travel Mug.
This will bring up the page showing you what temperature your drink is at or if it's empty then it'll display "Empty".
This is also where you can adjust your temperature manually and set your desired temperature.
2. Swipe Up From The Bottom To Reveal Temperature Presets and Tea Timer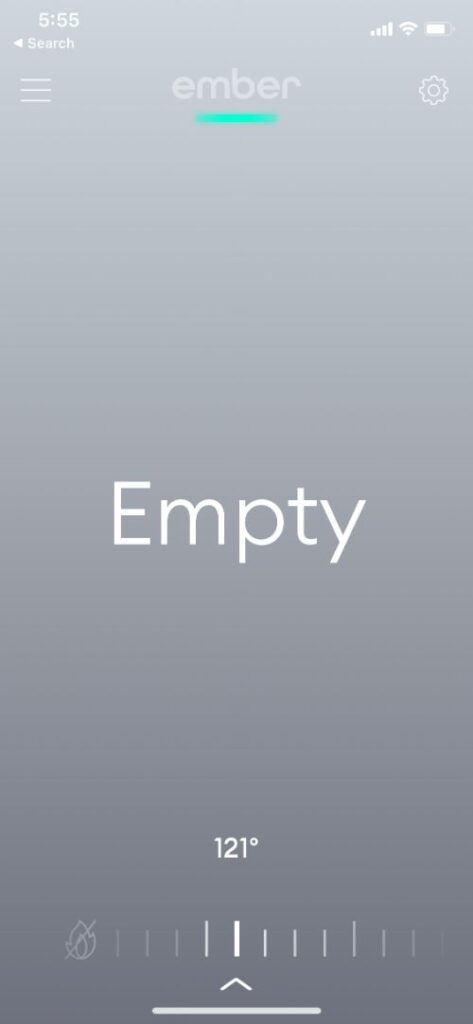 Either swipe up from the bottom or click on the little arrow at the bottom of the screen.
This will bring up a page that shows both Temperature Presets as well as the Tea Timer underneath it.
3. Click on Green Tea, Black Tea or Herbal Tea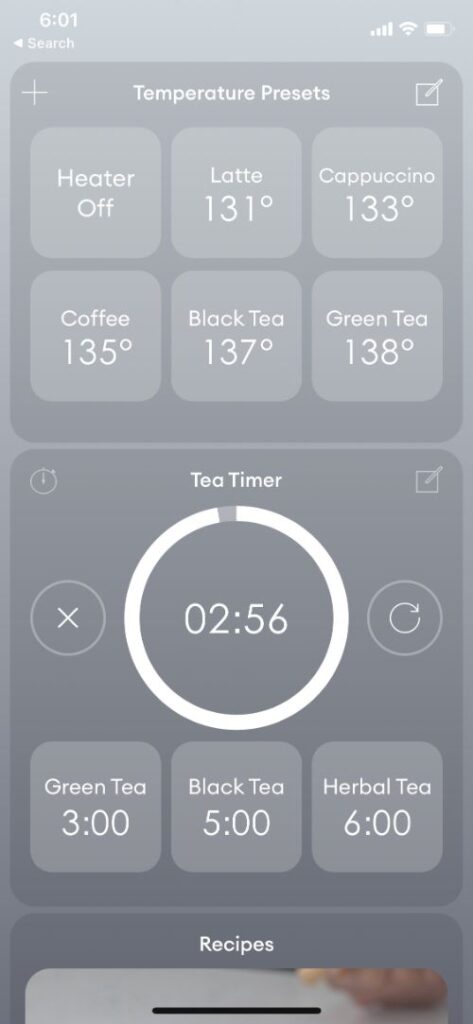 There are 3 preset options for Tea Timers:
Green Tea: 3 minutes
Black Tea: 5 minutes
Herbal Tea: 6 minutes
Click on one of these options to begin the timer.
These timers are just suggestions and depending on the type of tea you are using and the size of the leaves your exact steeping time may be different.
I suggest going with what the tea manufacturer or your local tea guru says over the Ember App and in the next section I'll show you exactly how to edit these timers and even change the names of them if you want.
4. Wait Until Alarm Goes Off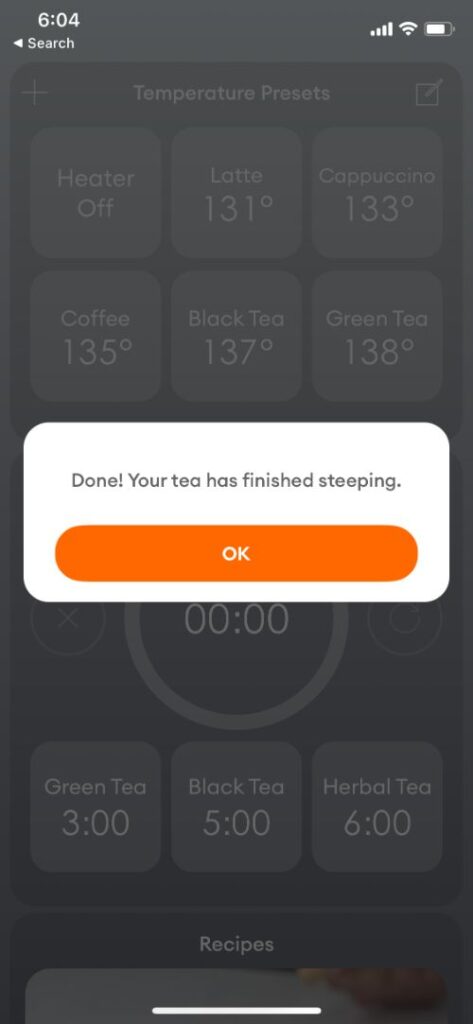 When the timer runs out a short (but loud and annoying) alarm will sound advising you that your tea is ready.
If your phone is locked a notification will appear on your home screen.
Is The Tea Timer Connected To The Ember Mug?
No, the Ember Tea Timer is not connected to your Ember Mug in any way. It doesn't affect heating of your mug and doesn't affect your mug in any way.
It's just a preset timer similar to the default timers you would have in the clock on your smartphone anyway.
How To Create Your Own Tea Timer Presets in Ember
If you want a preset that is a different time to the default ones in the Ember App it is possible to change both the times and the names of the Tea Timer presets.
To do this first you need to make sure you have no timer currently running. Then do the following:
1. Click The Edit Icon In The Top Right Corner of The Tea Timer Section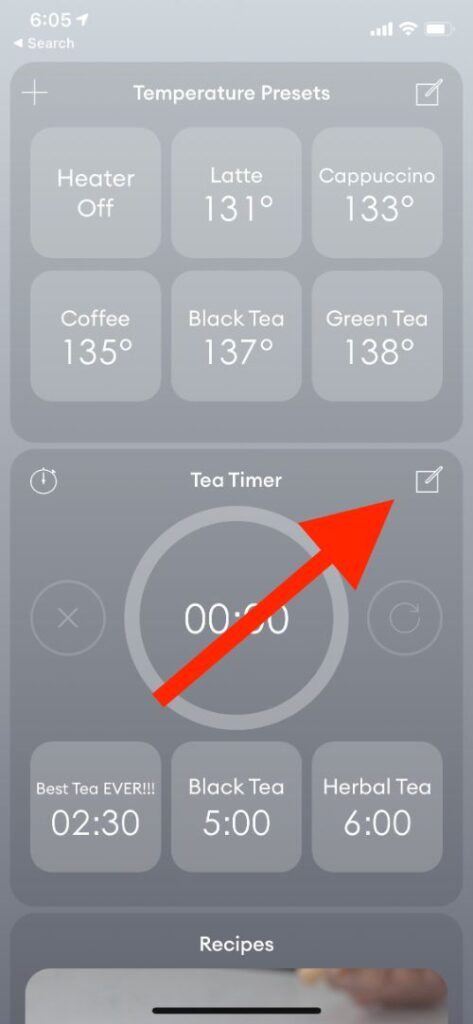 In the top right corner of the Tea Timer section you'll see an edit button that looks like a square piece of paper with a pen. Click this to begin editing.
2. Choose One Of The Wobbling Presets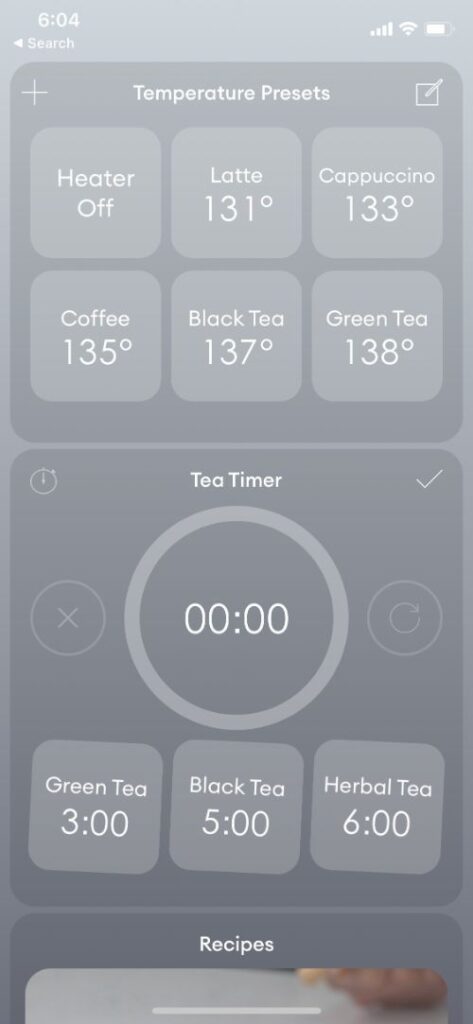 You will now notice that the 3 tea timer squares are wobbling. This indicates they are available to be edited.
To edit on simply click on the wobbling square.
3. Edit Name + Time and Click Save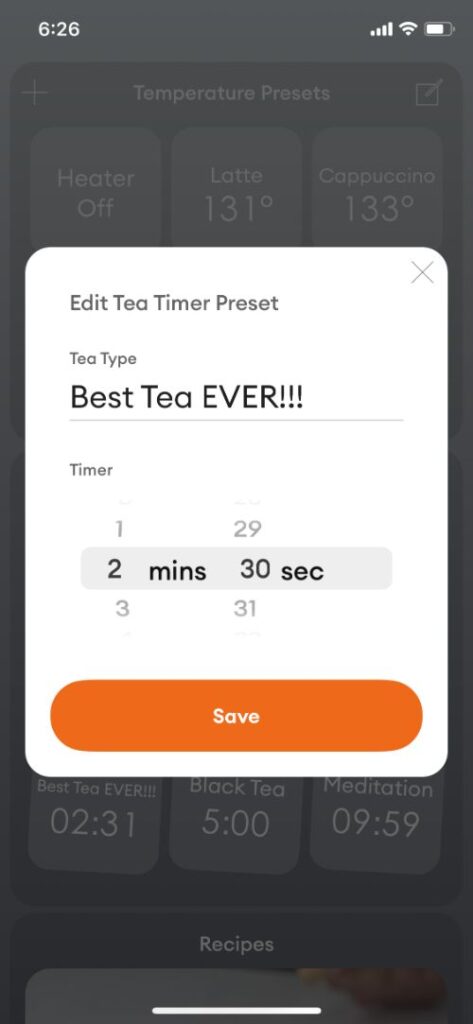 An editing section will come up allowing you to change both the name and time of your Tea Timer.
For me I named it something fun and cooler and adjusted my timer to 2 minutes 30 seconds.
Then hit save.
You new tea timer should now be available.
I've even set a 10 minute (well 9 minute 59 second) timer for meditating. I like the inbuilt timer because it means I don't have to manually set one myself. I just open the Ember App and use the Tea Timer instead.
The timer maxes out at 9 minutes and 59 seconds though so I can't use the timer for longer things.
Will The Ember Mug Keep Tea Hot?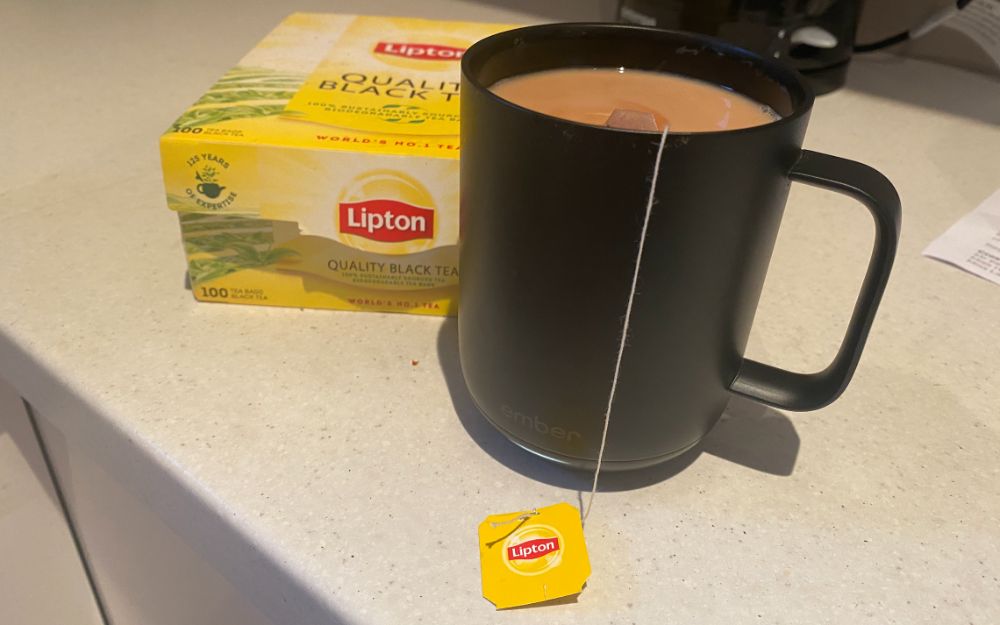 Tea is generally drunk at a much warmer temperature than coffee. It actually surprises me how hot my dad is able to drink his tea.
Is the Ember Mug able to keep tea hot or will your tea become lukewarm quickly?
The Ember Mug is able to keep tea at a maximum temperature of 145ºF (62.5ºC). Ideal drinking temperatures for tea is between 135-150ºF (57-65ºC). Trying to keep tea at the highest temperature will use the battery faster than keeping it at a lower temperature.
The Ember Mug is not capable of maintaining tea brewing temperatures as these range from 158-208ºF (70-98ºC) depending on the type of tea. So it's good for drinking tea, but not idea for brewing tea.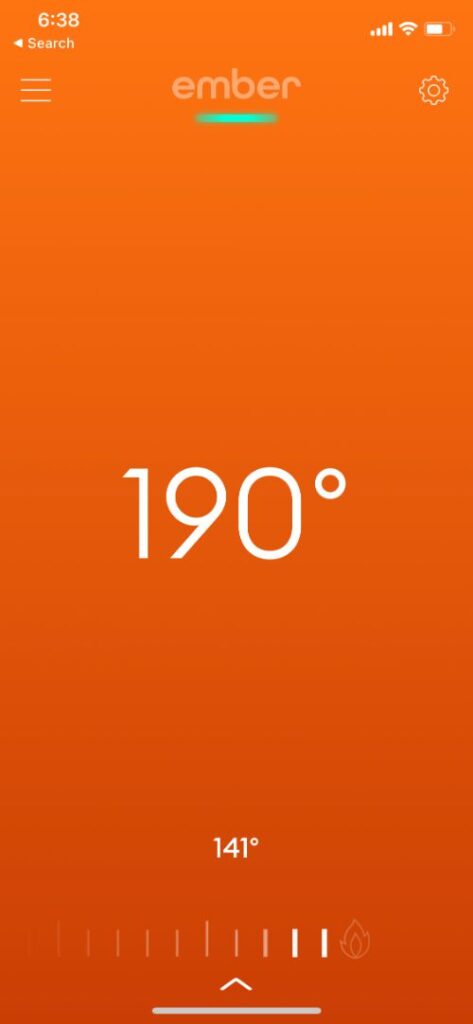 Brewing Temperatures vs Drinking Temperatures For Tea
The optimal brewing temperatures for tea and the optimal drinking temperatures are very different.
It's recommended you drink tea at around 135-150ºF (57-65ºC) but brewing temperatures are almost always recommended to be higher than this at anywhere from 158-208ºF (70-98ºC).
The below infographic from Let's Drink Tea – Tea Temperature Brewing Guide gives a good guide as to brew temperatures and brew times for different types of teas.