Most CamelBak backpacks are lightly insulated but not nearly enough to keep the water in your bladder cold for long in the summer and in sub-freezing temperatures the bladder can even freeze.
An insulated reservoir is always an option, but you may not want to replace your entire bladder.
To insulate your CamelBak bladder, you can wrap it in foam packing material, stick it in a cold grocery bag, make a pouch from neoprene cut from an old wetsuit, or wrap it in any sweater, towel, or sleeping bag you have on hand. Don't forget to insulate the delivery tube as well. It's the part of your bladder that loses heat the fastest.
Insulating my CamelBak was a big win.
1. Get An Insulated Bladder
While there are plenty of ways to insulate your CamelBak on your own, none of them are nearly as effective as an insulated bladder or backpack.
A non-insulated bladder will keep ice water cold for about two hours on a hot summer day. The more ice you add to your CamelBak or other bladder the longer it'll stay cold, but it's still limited by the lack of insulation.
Adding some DIY insulation doubles that time to about four hours in the same conditions.
But an insulated bladder puts both to shame — keeping water cold for up to eight hours and sometimes even longer depending on external temperatures and how good the insulation is.
2. Get An Insulated Backpack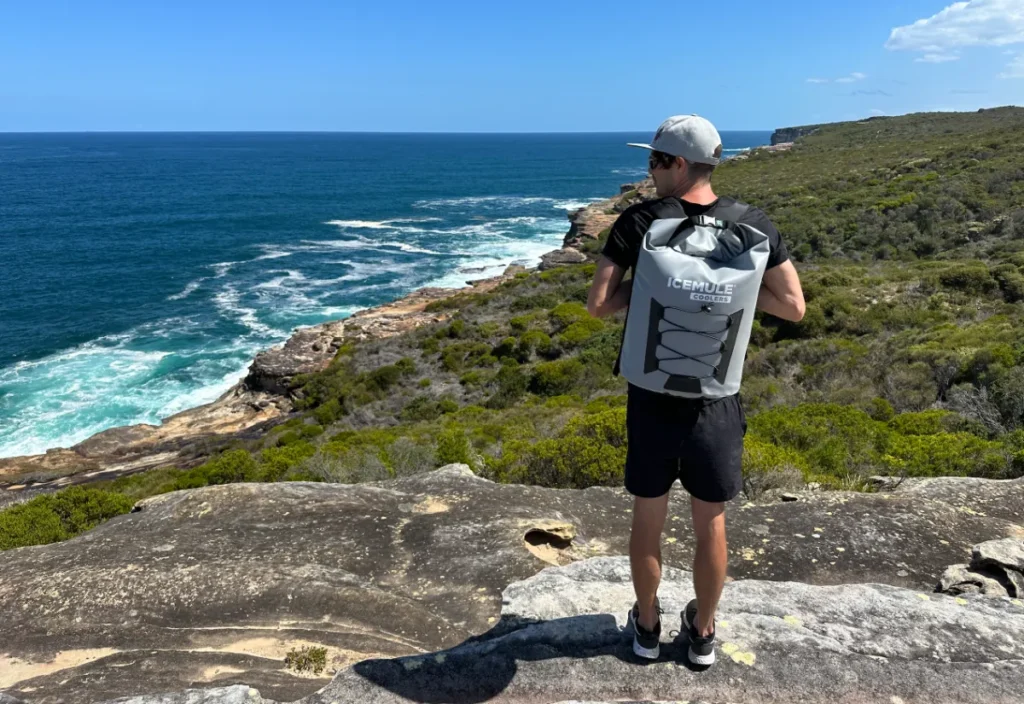 While insulating your bladder directly with some sort of cover is a great way to protect it from outside temperatures having an insulated backpack can also work well.
An insulated backpack or backpack cooler will not only help to keep your bladder cold but it'll help keep everything else cold too.
I often use my IceMule Pro backpack cooler on hikes and it works great. I also combine this with other forms of insulation for my CamelBak and it'll stay cold for the entire hike.
Plus, the ice cold CamelBak also helps to keep food items like yogurt and chocolate cold and stops them from melting on those hot summer days.
3. Keep It Under Your Jacket
If you're out in cold weather and you're trying to stop your CamelBak from freezing then keeping it under the layers you're already using to keep yourself warm can work great.
CamelBak makes the Bootlegger Insulated Hydration Pack which is designed to be ultra low profile and fit underneath your jacket.
Your body warmth will keep your CamelBak warm or if you fill your CamelBak with warm water (not boiling water though) it can help to keep your core temperature warm on those chilly hikes.
4. Use A Hydration Pack Insulator
If you don't want to buy a whole new bladder, a hydration pack insulator is the next best thing. They're relatively inexpensive, more effective than any of the DIY methods below, and are really convenient to use.
My favorite is GearHandle's Universal Water Bladder Insulator Bag.
It's made of neoprene (the same stuff wetsuits are made of) so it absorbs sweat and insulates almost as well as an insulated bladder — able to keep water cold for about six hours during the summer.
They're compact enough to slide right into your CamelBak pack, but have straps to connect to the exterior of any other backpack as well.
Plus they're universal, meaning they can be used with any size reservoir, CamelBak or otherwise.
5. Wrap It In A Towel, Sleeping Bag, or Jacket
If you're already out on the road or trail and want to insulate your pack, you probably don't have immediate access to any of the options above.
But that doesn't mean you can't temporarily insulate your CamelBak with something you already have on hand.
Simply wrapping your bladder in a towel, sweater, sleeping bag, or any other cloth will help quite a bit.
Wool, fleece, down, and terrycloth work best because they provide the most thermal insulation.
6. Insulated Using Flexible Foam Packaging Material
If you want to save a few bucks or a few ounces, foam packing material is pretty efficient with both.
A huge roll only costs a few bucks and will last for years. Weight-wise, it's one of the lightest materials you'll find that still offers decent insulation.
Just cut a piece big enough to wrap around your bladder once or twice, stick it in your CamelBak pack, and you're good to go.
If you want to get handy then you can sew or stick bits together to make a DIY bladder insulator.
Cheap, easy, lightweight insulation.
7. Use a Hot Water Bottle Cover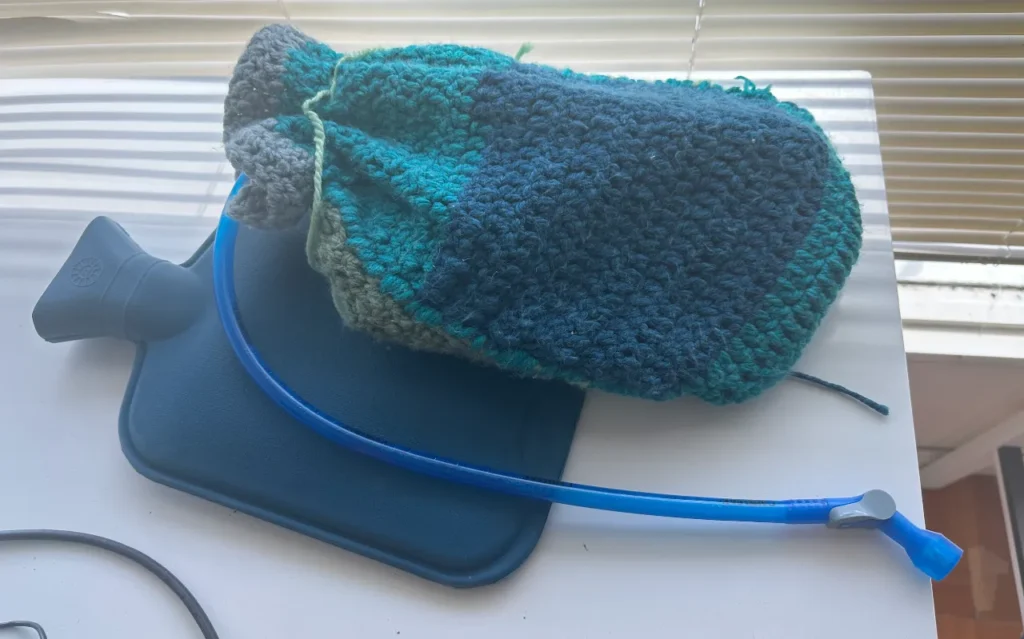 Hot water bottle covers are a cheap and easy way to insulate your hydration pack bladder. I have quite a few lying around my house and the bladder fits in many of them close to perfectly.
The hole in the top allows the tube to come out and they are a simple solution that you can use from time to time.
8. Use A Cold Bag From The Grocery Store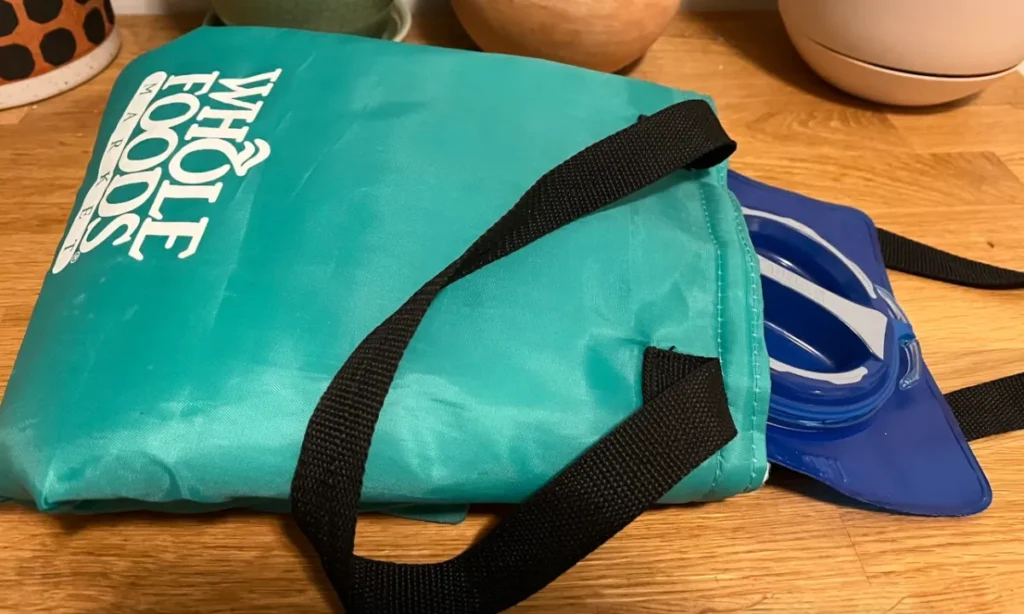 An insulated grocery bag can be repurposed for use as an insulating pouch for your CamelBak.
The only issue is that you probably won't be able to fit it into the pack that came with your CamelBak, since they usually don't have much room to spare.
But if you keep your bladder in a larger backpack like I do, it works perfectly.
9. Use An Old Wetsuit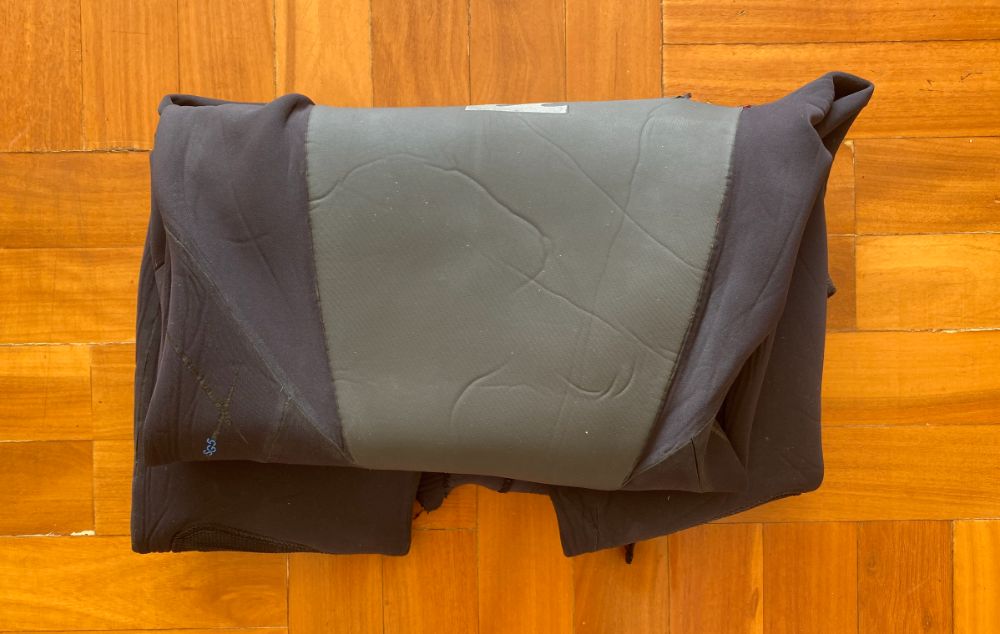 If you have an old wetsuit laying around, you can use the scrap neoprene to make an insulating wrap or pouch for your bladder.
One of the wetsuit's thighs can be cut off and sewn shut on one end to make a simple insulating pouch if you're the crafty type.
Or if you're not, a simple rectangle of neoprene can be wrapped around your bladder a couple times before you stick it into your pack. It works almost just as well.
Don't Forget To Insulate The Tube
Insulating your CamelBak's delivery tube is arguably even more important than insulating the reservoir itself.
Because the tube has a lot of surface area and relatively little volume, the water in it warms up or freezes much faster than the water in the reservoir itself.
A thermal control kit is by far the best option. It's fully coated in closed cell foam insulation and includes an insulating bite valve cover.
But if you don't want to replace your tube, this insulation works pretty well and is a lot less expensive.