Propane is a popular fuel for camping and RVs and a 20 lb tank is perfect if you run a stove and other appliances. Propane's BTU rating refers to its thermal energy potential and influences how long your appliance will run. 
There are 431,880 BTUs in a 20lb propane tank. However, since most propane tanks are only filled 80% as a safety measure and to allow for expansion, there are usually only 16 lbs of propane, equating to 345,504 BTUs in total (1 lb of propane has 21,594 BTUs).
When you understand your propane tank's BTU rating and that of the appliances you run off it, you can get a clear idea of how long it will last.
How Long Does a 20lbs Propane Tank Last?
How long a 20 lbs propane tank lasts depends on your appliance's BTU rating. For example, it can last between 13 and 15 hours running a stove with a BTU rating of 30,000. 
You could also make approximately 52 meals on a Weber barbecue with a BTU rating of 12,000, as the YouTube video below shows:
Below is a table explaining how long a 20lb propane tank will last with RV and camping appliances at different BTU ratings:
| Appliance BTU Rating  | How Long a 20lb Propane Tank Will Last (80% Filled – 3.776 gallons) |
| --- | --- |
| 10,000 | 34.5 Hours |
| 15,000 | 23 Hours |
| 20,000 | 69 Hours |
| 25,000 | 14 Hours |
| 30,000 | 46 Hours |
Bear in mind that your appliance's BTU rating refers to its maximum output. This means that if your camping stove has 2 burners and a BTU rating of 20,000 but you normally only use 1 plate on high, the BTU rating will be closer to 10,000. 
Other factors that affect how long your propane will last include:
Fuel quality
Condition of the tank
Usage conditions (e.g. temperature, wind conditions, altitude etc.)
Have a 30 lb propane tank? This useful guide explains how long it will last.
How To Calculate How Long a 20 lbs Propane Tank Will Last
Here's how to calculate how long your 20 lb propane tank will last on different camping and RV appliances: 
1. Get your appliance's BTU rating (you can normally find this in the user manual or online). 
The BTU rating expresses how many BTUs the item will consume in the space of 1 hour.
2. Determine how much propane you have in your tank (0.236 gallons of propane equates to 1 lb) by using a propane tank scale or inline gauge.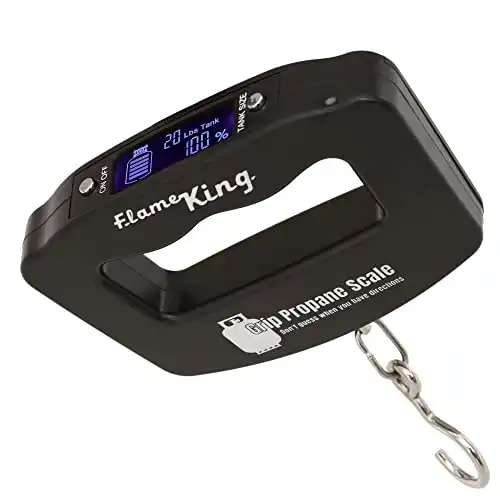 These devices are widely available for purchase at camping stores or online.
3. Since 1 gallon of propane has a BTU rating of 91,502, multiply this by how many gallons of propane you have and divide the figure by your appliance's BTU rating. 
Eg.
If you have 5 lbs of propane left that's 1.18 gallons (5 lbs x 0.0236 gal = 1.18)
Total BTUs is 107,972 (91,502 x 1.18)
If your stove has a BTU rating of 10,000 then it will last 10.79 hours running constantly (107,972 / 10,000)
If you're also using items like propane fridges, hot water heaters, lanterns/lighting and furnaces then you'll also need to add in their BTU's and the hours you'll be using them.
4. You will now have the number of hours a gallon of propane will last.
How To Make Your Propane Last Longer
To ensure you don't run out of propane while camping or RVing, here are some helpful tips:
Set your RV's water heater to the minimum temperature you're comfortable with or only turn it on when you plan on having a shower and turn it off directly afterwards.
Consider slow cooking meals in a camp crock or only having 1 hot meal a day. 
Maintain your propane tank by keeping it clean and ensuring the valve and fuel lines are in good condition.
Keep food warm in a cooler or use another method such as foil.