If you're looking to purchase dry ice for some halloween fog or to keep things frozen in your cooler then you might be wondering whether or not your local Walmart store sells dry ice and how much it sells it for.
Most Walmart stores stock and sell dry ice for around $1.00-1.50/pound. You can find dry ice in self-serve Penguin Ice freezers near the entrance or near the regular ice. It's a good idea to call your local Walmart to see if they have dry ice in stock as sometimes they run out and some Walmarts don't stock it.
Chances are if there is a Walmart near you they are going to have dry ice, especially around Halloween time as this is when a lot of people buy it to make fog effects.
Because dry ice is difficult to store as it sublimated (or turns into gas) not all Walmart stores will have it in stock at all times. So it's a good idea to call ahead to see if they have dry ice in stock at the moment.
How Much Is Dry Ice at Walmart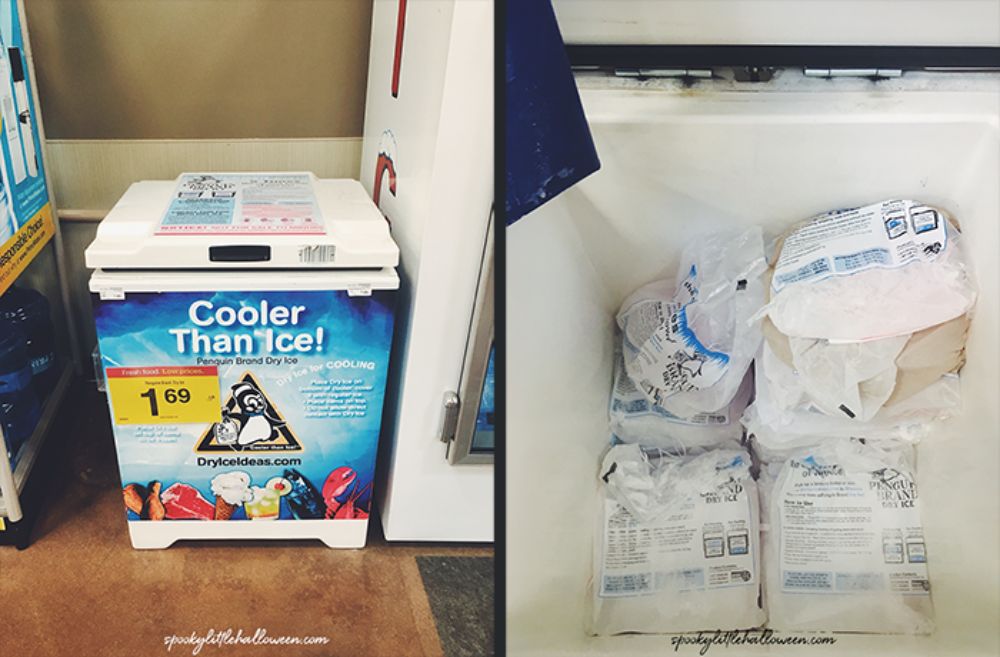 If you go to Walmart how much can you expect to pay for dry ice and how does this compare to other supermarkets?
Dry ice at Walmart usually costs between $1.00-$1.50/lb and rarely costs more than that. Online Walmart have it listed as $1.44/lb but this can vary from store to store with some stores selling it for as little as $1.00/lb.
Walmart is generally one of the cheaper places to purchase dry ice with other stores like Meijer selling it for $2-$3 per pound. You'll usually pay $1-$3/lb for dry ice depending on where you go. Learn more about how much dry ice costs.
Above you can see a photo from SpookyLittleHalloween who picked up some dry ice for her spooky drinks and the price was listed as $1.69/lb at the time.
Below you can see an image that someone took at Walmart showing the same Penguin Dry Ice for sale just just $1.00/lb.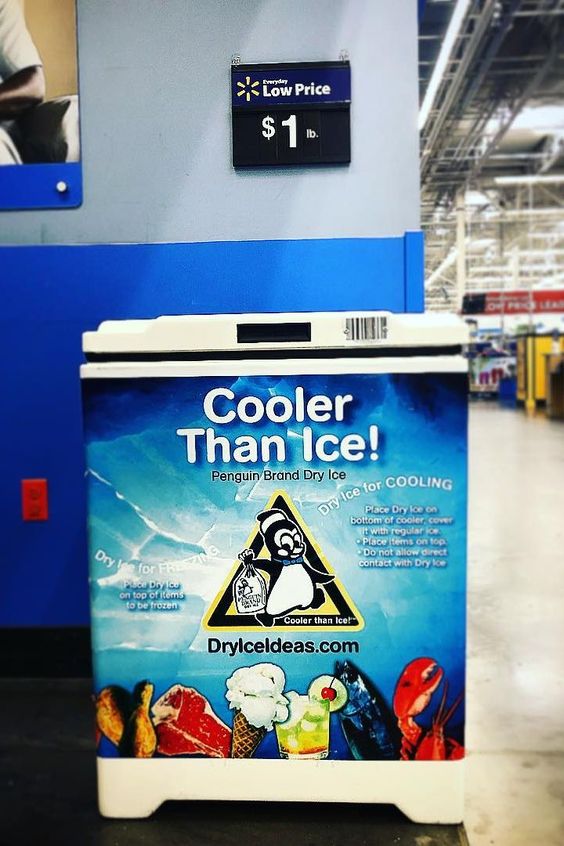 Where To Find Dry Ice In Walmart? Where Would Dry Ice Be
If you're looking for dry ice in Walmart there are a few common places you can find it.
In Walmart, dry ice is usually located in a Penguin Ice self serve freezer near the front of the store close to the checkouts or near the regular ice freezer. In some Walmart stores you need to ask a store associate to get the dry ice for you. It's recommended to call ahead to make sure your local store has dry ice in stock.
A good place to start is looking in the area with the other freezers selling regular ice. But sometimes you'll need to ask a store associate where to find it and whether or not they have it in stock at the moment.
Walmart's website states to "see store associate" in order to find the location of the dry ice.
How To Find Out If Your Local Walmart Store Has Dry Ice For Sale
There is no simple way to check online if your local Walmart store has dry ice in stock at this point in time.
The only 2 ways to truly find out of your local Walmart has dry ice is to either call ahead and ask or to go into store yourself and ask an associate (or find the dry ice bin).
Why Doesn't Walmart Always Have Dry Ice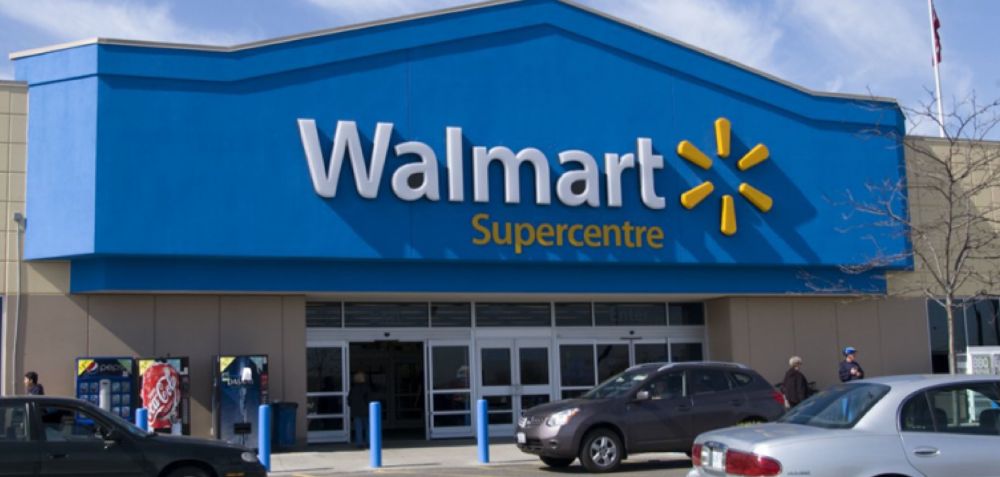 While many Walmart stores have a constant supply of dry ice not all of them do.
Dry ice isn't as popular as regular ice and it's much harder to store.
Dry ice is frozen carbon dioxide and at the super cold -109ºF (-78ºC) no freezer is cold enough to keep it frozen.
Thus Walmart receive dry ice from their supplier (usually Penguin Dry Ice) and the dry ice is placed in a cooler so
Does Walmart Sell Dry Ice Online?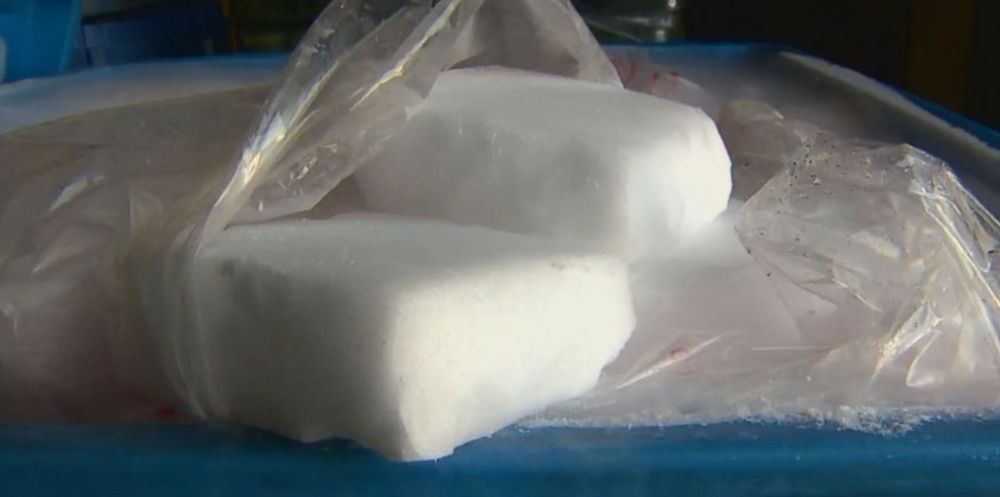 If you go onto Walmart.com and search for dry ice you will find no listings that show you actual frozen dry ice. Rather you'll just find some gel ice packs which you need to freeze yourself.
I did find this dry ice listing at Walmart.com which shows that Walmart do in fact sell Penguin Brand Dry Ice however it forever says "out of stock" meaning you can't order dry ice from Walmart online.
Walmart does NOT sell dry ice online. You cannot get it shipped to you from Walmart nor can you preorder online and go and pick it up. You must go to a Walmart store in person to purchase dry ice or call ahead and ask to have some put aside for you.
If you want to source dry ice online then I suggest reading my article on where to buy dry ice which lists a lot of different resources for finding dry ice near you.
One of the few places you can actually purchase dry ice online and get it delivered to you is from Dry Ice Delivered. This is an online store that lets you purchase dry ice in bulk (starting at 10 lbs) and have it shipped to you.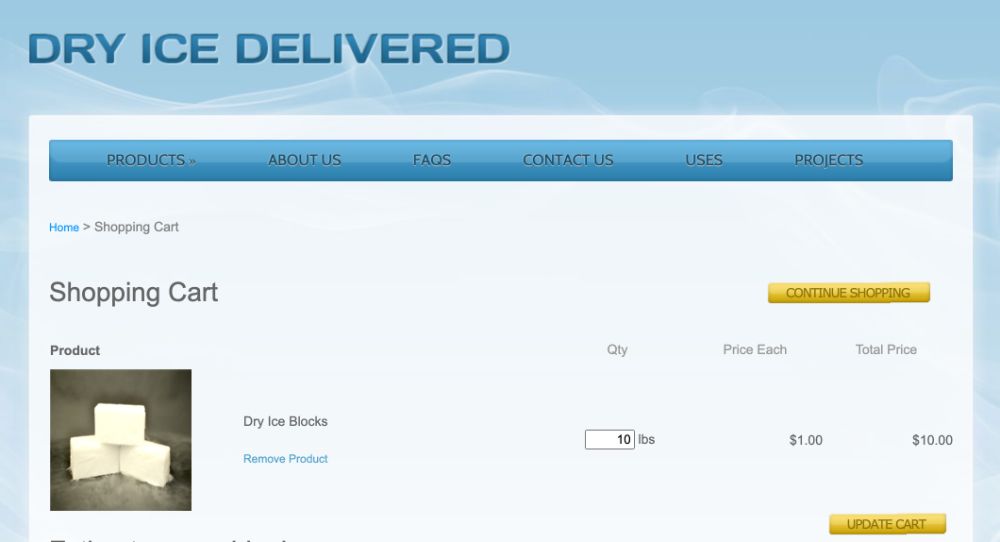 The dry ice is sold for a reasonable price of around $0.50-$1.00/lb which is cheaper than you would pay at your local Walmart.
However, shipping is extremely expensive.
A 10lb order of dry ice will only cost you $10 for the dry ice but you'll pay around $20-$60 to have it shipped to you and this could take days (allowing most of the dry ice to disappear into gas).
Overnight shipping is even more expensive costing around $35-$120+ depending on where in the US you are located and how far away you are from Dry Ice Delivered's Headquarters.
So buying dry ice from your local Walmart or any other local store is likely going to be a lot cheaper.