Dry ice (or frozen carbon dioxide) has many different uses from creating a fog effect in halloween drinks to frozen food storage as well as a variety of commercial uses.
But if you need to get some dry ice where can you buy it from and how much is it roughly going to cost you?
Dry ice is actually pretty easy to buy and is available in a wide variety of places. You just need to know where to look and how to find it within the store your purchasing the dry ice from.
Dry ice is available from major supermarket chains like Walmart, Safeway, Costco and Kroger for around $1-$2.50/lb. Ice cream stores as well as local dry ice manufacturers will often sell small amounts to consumers. You can buy dry ice online for $0.50-$1/lb plus shipping or even less for large commercial quantities.
Some stores offer self service dry ice while other stores you need to speak to an employee or a manager who will get the dry ice for you.
Also not all stores will have dry ice in stock at all times so it's a good idea to call ahead and check if they have it in stock before driving down to the store.
Supermarkets, Grocery Store, Big-Box Stores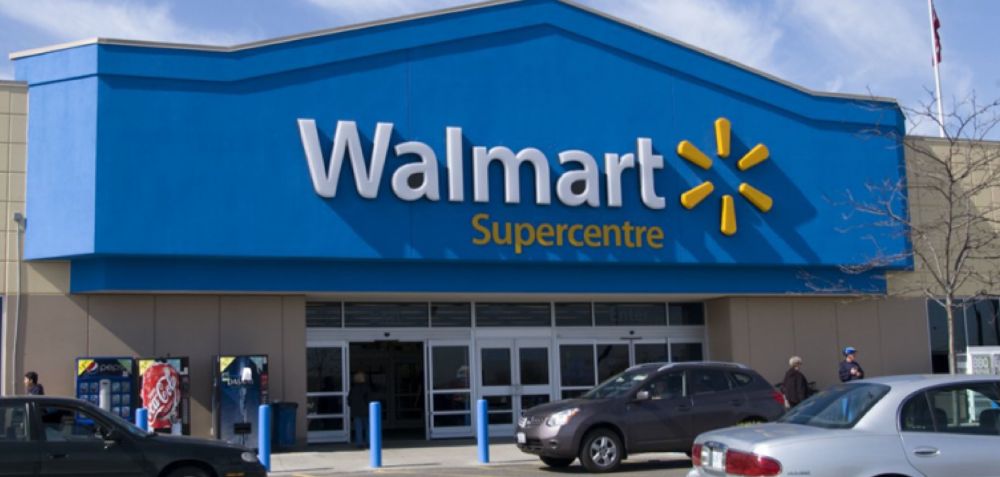 One of the easiest and most convenient places to purchase dry ice is from a local supermarket, grocery store or big-box chain like Walmart, Costco, Kroger, Meijer etc
A lot of these stores stock dry ice and they usually sell it in 1 pound blocks for around $1-$2.50 per pound.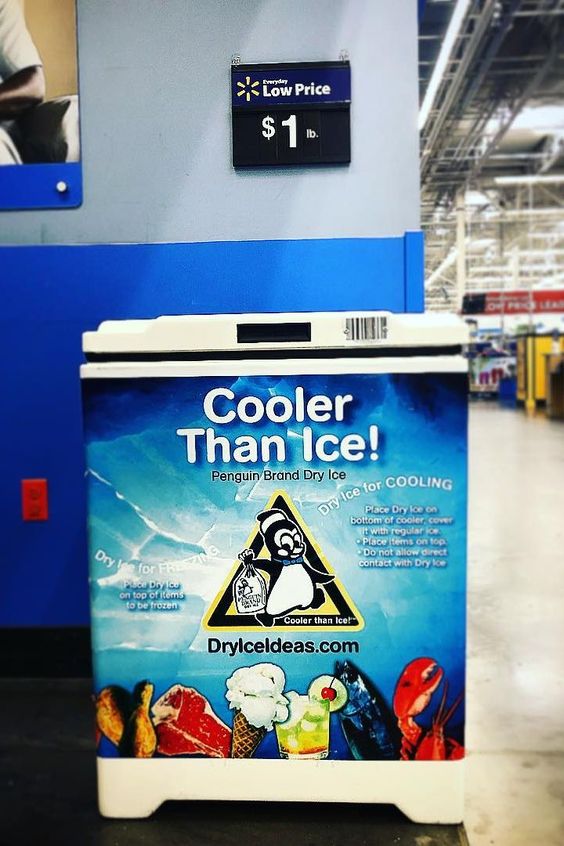 Sometimes the dry ice can be found near the regular ice bags but in a lot of cases you'll need to ask an employee to get some dry ice for you.
Because of the dangers of handling dry ice some stores keep it out the back and out of reach of customers while other stores like Walmart might have a dedicated fridge on the floor that customers can access themselves.
Below you can see an screenshot from Dry Ice at Walmart.com where it advises the location of the dry ice as "See Store Associate".
If it was located in a specific part of the store then usually the specific aisle would be displayed. This means it's either located randomly in the store in no specified aisle or it's out the back and you need a staff members help to access it.

It's always a good idea to call ahead and to see whether your local supermarket or big-box store currently has dry ice in stock or if they sell it at all. Some stores don't stock it and sometimes they are out of stock.
Calling ahead can save you a lot of time driving around and checking individual stores to see if they have dry ice.
It's rare to find dry ice pellets or larger dry ice blocks at grocery stores as this type of dry ice is more used for shipping or commercial usages and needs to be ordered directly from suppliers or distributors of dry ice.
This person's post on Quora gives a good summary of how to go about buying dry ice from a grocery store:
You can buy dry ice at a common grocery store like Safeway. I just bought some the other month.
You'll have to ask a cashier for access, you might have to be older than 18 since it's dangerous. To be sure, I'd suggest calling around first to Safeway, Walmart, and other grocery stores just to make sure they have it in stock. That will save you time than finding out they didn't have it.
List Of Popular Stores That Sell Dry Ice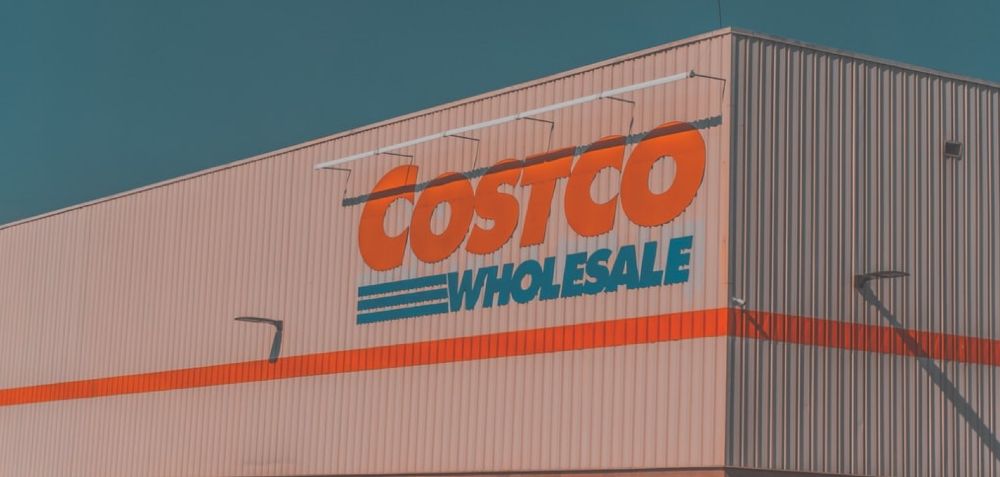 Below is a shortlist of some of the popular chains that sell dry ice. There is no guarantee that your local store will have stock so always call ahead.
Costco
Walmart
Albertsons
H-E-B
Safeway
Kroger
Ice Cream Stores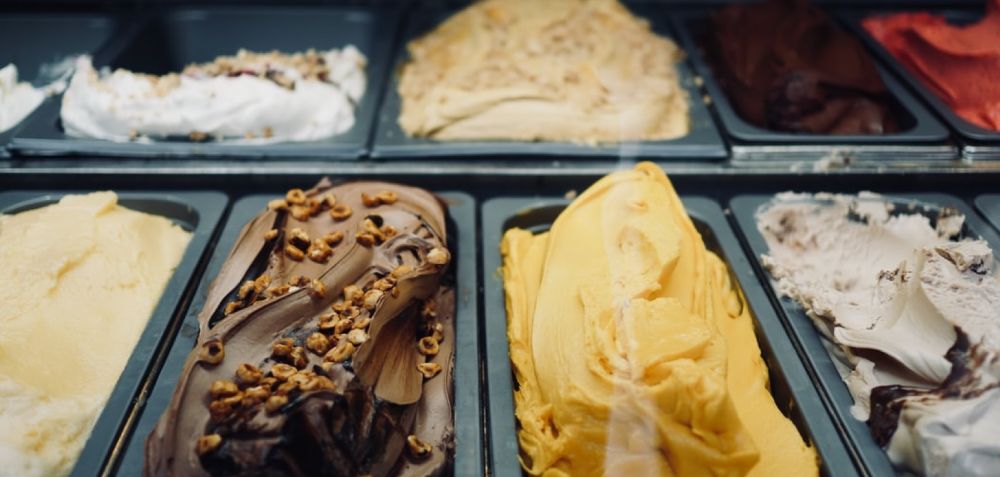 Another excellent place to source small amounts of dry ice is from your local ice cream store.
Ice cream parlors commonly use dry ice as a way to keep their ice cream cold and many ice cream parlors will happily on-sell dry ice to customers by the pound for a fee or some stores might just give you a little bit free of charge if it's not a common occurrence for them.
You'll need to call or pop into your local store to see if they are willing to sell you some and you'll likely need to talk to the manager as the 15 year old ice cream scooper might not know what you're talking about.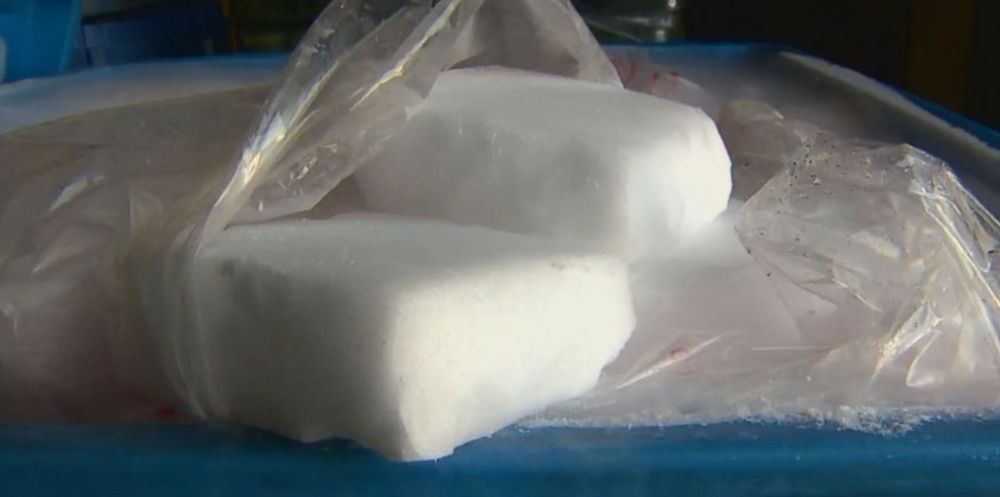 Some larger chains like Baskin Robbins as well as Graeters confirm on their website that they sell dry ice.
Baskin Robbins says on this FAQ page:
You can buy extra dry ice for your cake
While this talks specifically for people purchasing ice cream cakes who are taking them home this implies that they would also be willing to sell dry ice to other consumers.
Graeters says on their Dry Ice FAQ page:
Most of Graeter's retail locations sell dry ice by the pound. Contact your local store for availability.
Below is someone's experience of buying from a local Baskin Robbins. They shared their story here:
In the US I usually purchased dry ice from Baskin-Robbins Ice Cream shops (yeah, the "31 flavor" people.) They use it with certain products, such as ice cream cakes and the like, but the ones around me sold chunks of it as well. I used them in ice chests for camping and Burning Man.
Local Dry Ice Wholesalers/Suppliers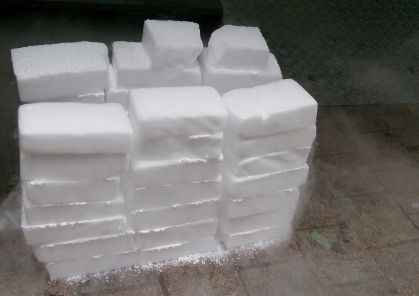 In almost every major city or town there is likely going to be a dry ice manufacturer or distributor. Chances are there are going to be multiple of them in your area.
Simple search into google "dry ice [CITY] [STATE]" and you should get multiple results for companies that sell dry ice.
Simply give them a call and ask if they'll sell dry ice to you in the amount you need. They are usually really friendly and happy to help.
These local wholesalers usually make the bulk of their money selling dry ice for commercial uses.
They may distribute to stores like Walmart and Costco to sell to consumers or they may work directly with companies selling bulk dry ice for commercial uses.
However, they are often willing to sell small amounts to consumers who need some dry ice for halloween or their cooler or their science experiment.
Some dry ice wholesalers will even give you dry ice for free if you come and pick it up. Given they are used to selling high quantities of dry ice to businesses it's often not worth their time charging you a couple of dollars for a pound or two of dry ice.
Check out what this person said on their post on Quora about getting dry ice for free on occassion:
the guy working asked me how much I wanted and he said that it didn't matter, it was going to be such a small amount by his standards that he wasn't going to charge me
Online
With the popularity of online ordering these days I would have thought there would be multiple suppliers willing to sell dry ice online and ship it to you. However, there only seems to be a couple.
Dry Ice Delivered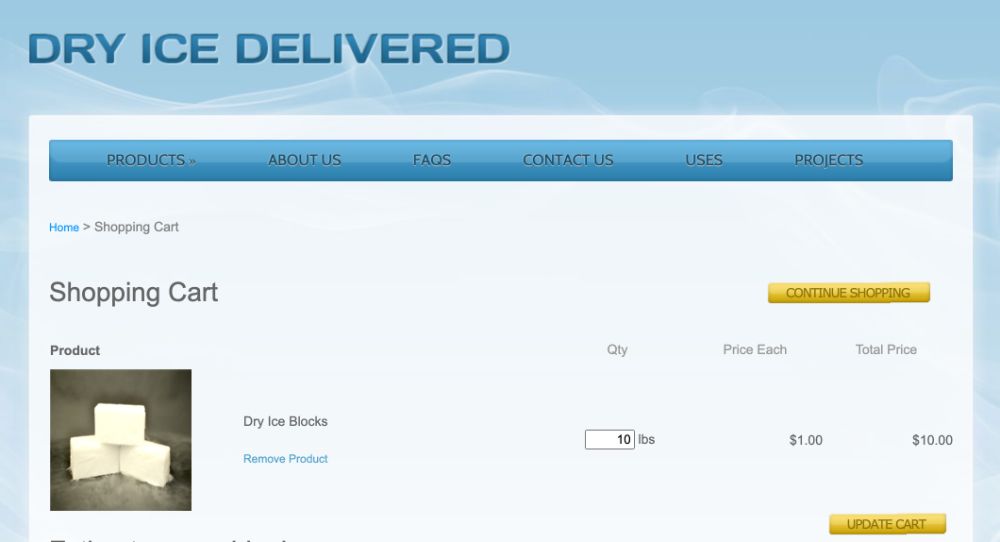 Dry Ice Delivered is the easiest site to order dry ice from and they offer competitive prices of $0.50-$1.00 per pound depending on how much you buy.
Their minimum order quantity is 10 lbs which will cost you $10 but the price is actually more expensive due to shipping costs.
Dry Ice Delivered are located in Baton Rouge, Louisiana. The closer you are located to them the cheaper shipping costs will be.
For a 10 lb order you're looking at $20-$60 shipping when choosing the cheapest ground option which could take days…after which your dry ice will be all gone.
For overnight shipping you're looking at around $35-$120+ depending on where in the US you are located.
For 100 lbs of dry ice you'll only pay $60 for the dry ice but you'll pay anywhere from $120-$600 for the shipping!
Buying dry ice locally is going to be much more cost effective but if you don't have a local option or price isn't an issue for you then this may be your best bet.
Gas Stations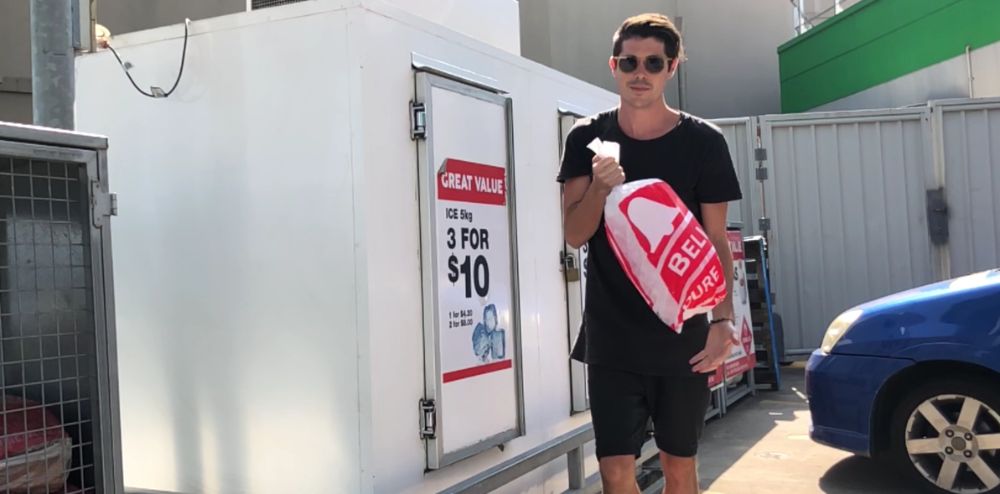 It's extremely common for gas stations to sell regular ice. Usually this is out the front in a large freezer. However, it's less common for them to stock dry ice.
Some gas stations sell dry ice either in the front of the store near the regular ice or out the back.
I suggest using one of the dry ice directories below to find dry ice near you and seeing if any gas stations come up.
If a gas station comes up in that directory make sure to call ahead and see if they actually have any in stock or not.
Dry Ice Directory For Finding Dry Ice Near You
If you want some extra help finding a dry ice seller/supplier near you then there are a variety of directories you can use to find your closest stores.
Penguin Locator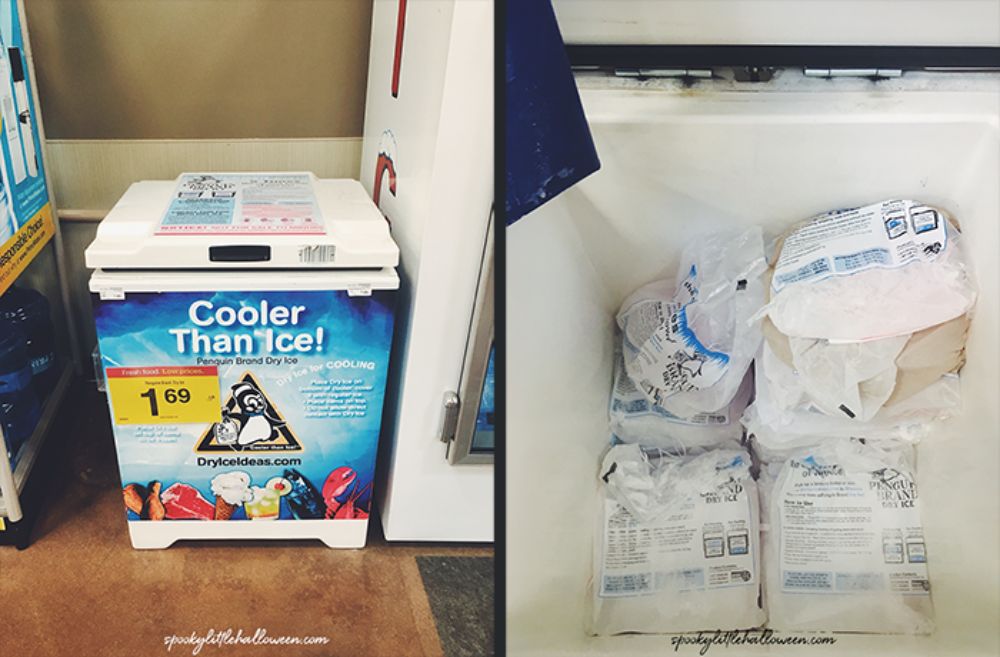 Penguin Dry Ice is the largest distributor of dry ice for consumers and so this is the best place to start.
They distribute their dry ice to all major grocery chains and big-box stores so if you're looking for easy to access dry ice in small quantities then this is the best directory to start with.
Penguin Dry Ice Store Locator is easy to use and you can set your location by entering your zip code and set your maximum radius and how many stores you want to show.

Find the closest store near you but always remember to call ahead and see if they have any dry ice in stock.
They may be out of stock or not selling it at the moment so it always pays to call ahead.
Dry Ice Directory

If you're looking for a dry ice supplier or wholesaler then the Dry Ice Directory is a good place to find one near you.
Simply enter your telephone area code and it'll show a bunch of results as to who manufactures and distributes dry ice in your area
Continental Carbonic Locator

Continental Carbon is a company that sells dry ice. They have 50+ different locations all across the US and can be a good place to buy dry ice if you need it.
At the Continental Carbonic Locator you can enter your state or your zip code and it'll show you all the closest stores.
They are a lot more spread out than the penguin store locator but if you're looking for a commercial supplier near you this could be a good option.
What Others Say About Where To Buy Dry Ice
While the above suggestions should give you everything you need to find where to buy dry ice near you I also wanted to include some of the suggestions other people have made online.
These suggestions helped me a lot in the research for this article and may help you find dry ice easier also.
Responses to this Quora question:
Where can I buy dry ice?
The short answer is everywhere. 2 years ago I drove 9,000 miles in 30 days. I used a rotomoulded 70 quart cooler that I only used dry ice in. I bought 2 wire baskets that sat above the food and drinks. I put dry ice (10–15#) and food I wanted to be a little warmer in the other. I'm talking about butter and cheese. You have to be careful with dry ice not only in the handling of it, but making sure that things don't freeze.
Now where to get it. Ice distributors, Ice Cream wholesalers and certain grocery stores. I never had a problem and I drove about 3000 miles on the west coast and the desert Southwest. I would either ask my Garmin GPS to find it on my route or use my phone and use Google/Google Maps for a place to buy it. The only time I had to go out of my way to find it was in Arkansas and the guy working asked me how much I wanted and he said that it didn't matter, it was going to be such a small amount by his standards that he wasn't going to charge me. I paid between 50¢ and $2.75 a pound. It always cheaper to buy it where it's being made. Make sure that you call ahead and confirm. Information like this can either be out of date or if it's a retail operation, they can be out of stock.
There are stores that specialize in selling ice in bulk. They sell ice in huge blocks for for customers who are into things such as ice sculpting and whatever else someone may need ice in bulk for. Those stores usually have dry ice as well. Also, there are suppliers who sell stuff like compressed gases which most likely also have dry ice. Its actually not that hard to find.
Not all Walmart stores carry dry ice. It's best to call them first and ask if they carry it, and at the same time, you can ask in which aisle or department you'll find it.
There are also a few grocery stores that had it, but note, not all of them. Just because they offer regular water ice (that big "Ice" cooler usually at the front, also at many 7–11 and other convenience stores) doesn't mean they'll also offer dry ice. Those freezers aren't cold enough to maintain dry ice. But use Google to search for "dry ice suppliers <your town>".