Dry ice has advantages over regular ice because it can keep food and drinks cooler for longer due to its lower temperature. A thermos is a great insulator and in theory it could keep dry ice frozen for a long period of time.
However, you might be hesitant about doing this as you may have heard about insulated flask lids exploding off when they contained dry ice. So can you put dry ice in a thermos? And what are some safety precautions you need to take if you do?
Yes, you can store dry ice in a Thermos but you MUST leave the lid slightly open so gas can vent otherwise pressure will build up in the bottle eventually causing the lid to blast off or the bottle to explode which can be extremely dangerous.
You can also only fit small amounts of dry ice inside a thermos and given the small openings you can only fit small pieces of dry ice inside a thermos. Camp crocks have a larger opening allowing you to store more dry ice and many also have vents built into the lid to stop gas buildup.
Dry ice is called "dry" because it doesn't melt into a liquid but rather it sublimates into a gas.
Dry ice releases carbon dioxide gas as it warms up and this gas can accumulate in the Thermos. The vacuum insulation will slow the dry ice from sublimated (much like how a cooler slows ice from melting) but it won't ever stop the sublimation completely.
If the lid is sealed shut, it will cause an immense amount of pressure to build up and eventually cause the lid or stopper to burst off forcefully and potentially injure you. In extreme cases, the actual flask could explode, which has the potential of sending dangerous metal shrapnel at high speeds which could in theory cause injury or death.
Below you can see a plastic bottle exploding in slow motion caused by the pressure built up inside due to dry ice. Learn more in my article about dry ice bombs.
If you need a good insulated container to store your dry ice, a Thermos bottle is a great idea.
However, you should take the right safety precautions or use another storage method for larger amounts of dry ice.
Is It Safe To Store Dry Ice In a Thermos?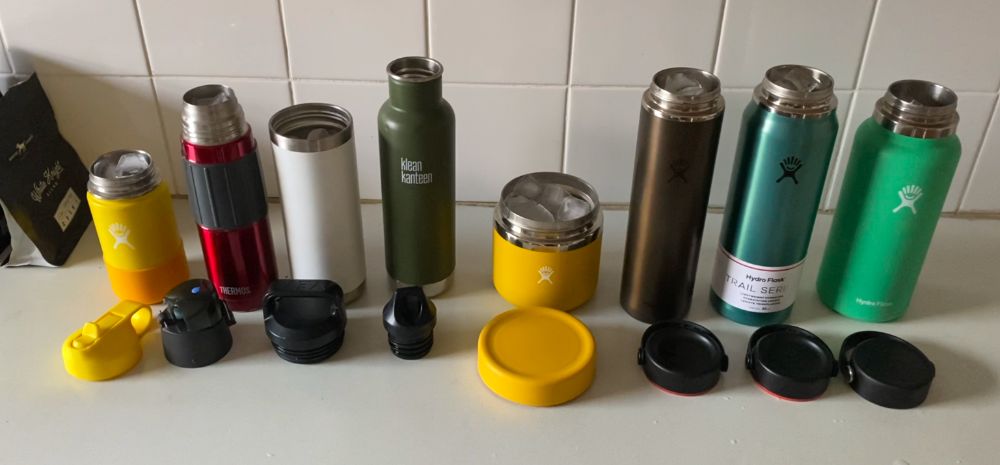 It's safe to store dry ice in a Thermos but you MUST ensure that you leave the lid slightly open so the built-up carbon dioxide can vent and doesn't pressurize the bottle.
A Thermos's double walled insulation makes it a fantastic insulator and storage container for dry ice.
However, since you can only fit small amounts of dry ice inside a Thermos, consider another storage method (like a thermal cooker/camp crock) for larger amounts of dry ice.
I have a Stanley Adventure Camp Crock and this has a vent hole in the lid. Meaning you could keep the lid closed but still allow gas to vent. It's also a good 3-quart size – making it the size of a small soft cooler, but it's vacuum insulated so it'll keep your dry ice longer than a regular cooler would.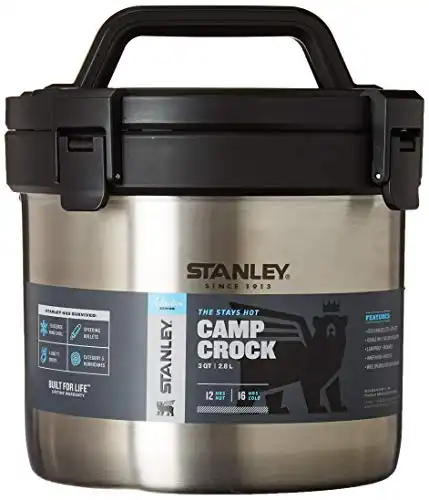 According to the user manual for Thermos mugs, tumblers, water bottles and beverage bottles, you shouldn't store dry ice in them but this is only if you close the lid properly.
Where To Store Dry Ice for Camping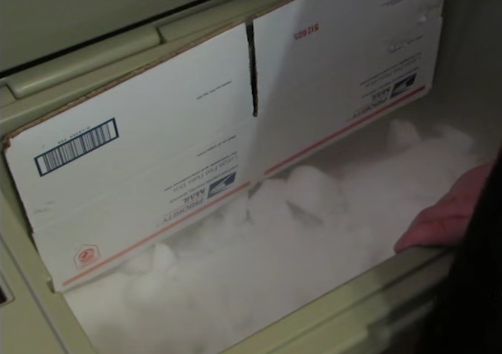 You can store dry ice in a thermal cooker (or camp crock) for camping as they are well insulated. These range in size from 3 to 10 quarts but if you need to store larger amounts of dry ice, store it in a dry ice compatible hard cooler (like a YETI cooler).
Tayama Stainless Steel Thermal Cooker is a great example of a camp crock for storing dry ice. It has a 5 or 7 quart capacity and you can use it to slow cook your food once you've used up your dry ice.
Dry ice in a hard cooler can keep cold for several days but you can make it last longer by keeping the cooler in the shade.
The reason most hard coolers are dry ice compatible is because they usually have gaskets that allow a tiny amount of air to escape if the pressure inside the cooler is high enough to prevent an explosion. Plus the plastic and foam used in regular coolers can handle the cold temperatures of dry ice without cracking.
Generally speaking, the better a cooler is at stopping ice from melting the better it'll be at storing dry ice for extended periods of time.
You can check out my life of the best coolers for ice retention or my list of the best coolers for dry ice.
Not all hard coolers are dry ice compatible, though, so you'll need to check your cooler's user manual. For example, according to Yeti's official website, you can safely store dry ice in their Roadie and Tundra hard coolers but not in their soft coolers, V-Series coolers or drinkware.
If you want to know more about dry ice, this article answers some fascinating questions about it.