Whether swimming, surfing, or scuba diving, rash guards are perfect for protecting your skin against the sun's UV rays and abrasion from things like surf boards. Rash guards come in a variety of lengths and styles.
But you might be wondering what you are meant to wear under a rash guard…if anything? Do you still wear your swimmers? Can you wear a bra for support or do most people simply wear nothing at all?
Most women will wear a swimsuit under their rash guard – either a bikini top or one-piece swimsuit. When wet, rash guards will cling to your body and clearly show your nipples if you aren't wearing anything underneath.
Some rash guards are designed with double layers or more padding/support which means they can be worn without anything underneath but most normal rash guards are designed to have a swimsuit be worn underneath them for females or nothing underneath them for males.
Some women opt for sport bras, swim bras or regular bras to provide bust support under their rash suit. What you use depends on your body type, what you feel most comfortable in and the rash guard you have. But there are some considerations to take into account.
Not sure whether to take a bra or bikini with you on your next trip? Let's 'dive' into what might work best for you.
Do I Need To Wear Something Under My Rash Guard At All Times?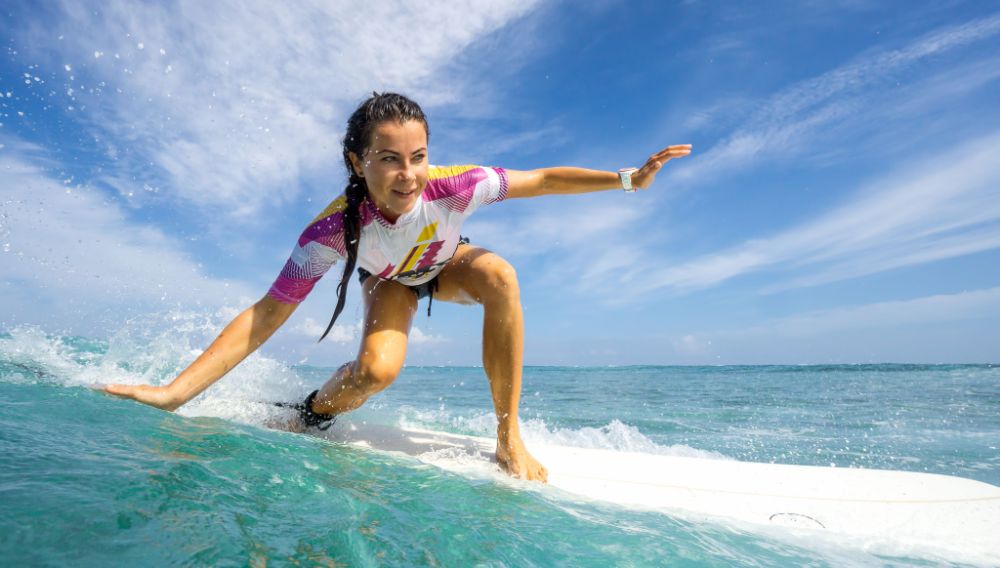 Rash guards are designed to be worn at the beach or the pool and protect you from the sun's harmful UV rays. They can be loose fitting or tight fitting and there are a variety of attractive designs available.
Rash guards are designed to be able to get wet and they are quick drying. However, when they are wet they have a tendency to completely cling to your body, show the shape of your nipples and in some cases even become transparent.
Unless you are confident having the shape of your nipples show under your rash guard (and some women like this look) then it's usually always recommended to wear something under your rash guard.
Usually this will be a swimsuit in the form of a bikini top or one-piece swimsuit however some women also opt for sports bras or regular bras as these can offer extra support if you have a large bust.
If you don't plan on getting your rash guard wet and are just using it for sun protection then bras are fine. However, if you plan on swimming you want to make sure you are swimming in items that are safe for use in salt water or chlorinated water.
What Can I Wear Under A Rash Guard?
You have a variety of options to choose from of what to wear under your rash guard. Have a look through this list and pick the option that you will feel most comfortable in.
Bikini Top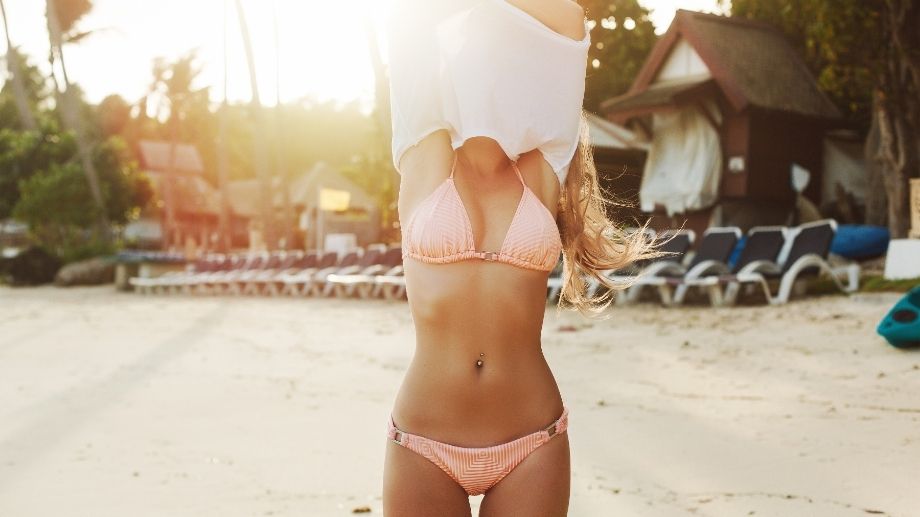 Bikini tops are the most common item people wear under rash guards.
Most women will wear their regular bikini and throw their rash guard over the top to protect them from the sun and maybe even for modesty reasons. You may also want to wear board shorts over your bikini bottoms.
If you plan on wearing your rash shirt all day and you have a dark colored rash shirt then your bikini top doesn't need to match your bottoms and you can choose the top that is most comfortable for you.
Generally speaking you wouldn't wear anything extra under your swimsuit. The bikini + rash guard will be enough.
One Piece Swimsuit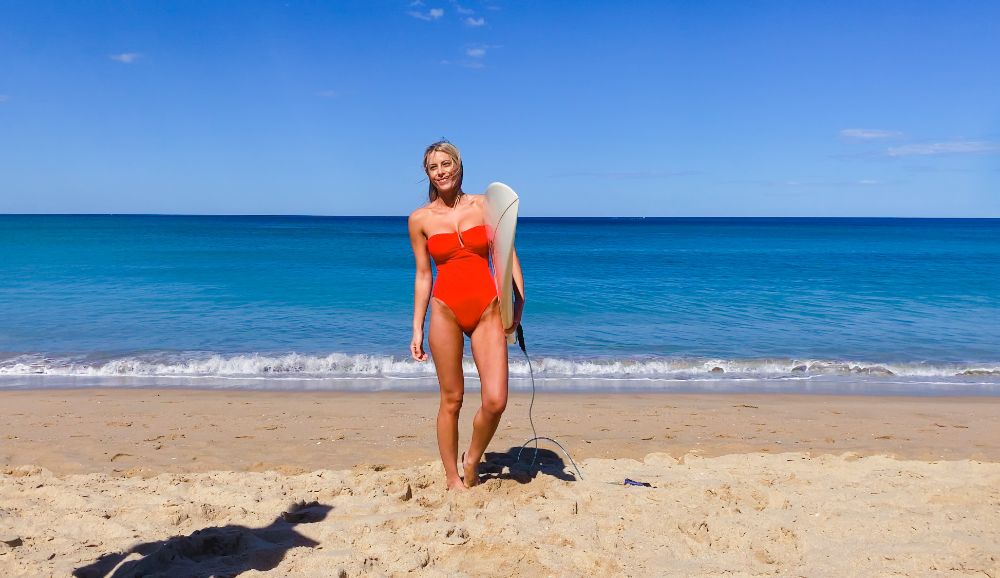 One piece swimsuits, when well-fitted, can give you ample support, maneuverability, and privacy under a rash guard. Try and opt for a smooth, simple suit without frills and textures – as these will all show through your rash guard when it gets wet.
Swimsuits, however, aren't always ideal for wearing under rash guards as they're not easy to remove if you need to make a bathroom trip.
But once the rash guard is on you'll have a very similar look to if you were wearing a bikini set, it's just a little less common to wear one pieces under rash guards compared to bikinis. But it's still a very acceptable option and no one will look twice.
Sports Bra (For Support)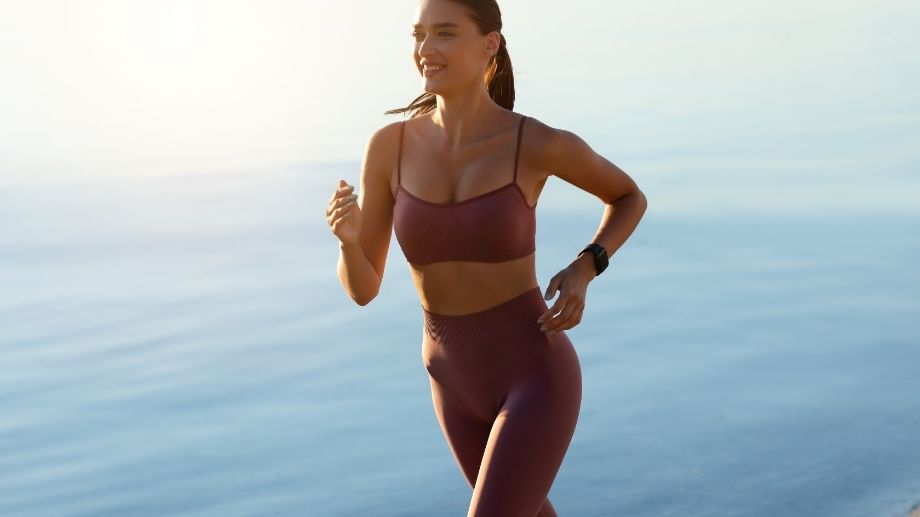 Sports bras are designed for active use and have the benefit of being supportive and low profile – there aren't a lot of frills and buckets that will show through your rash guard as it gets wet.
Make sure you invest in a waterproof, zipper-free, low-padded bra without metal clasps.
Ideally, a quick-dry sports bra and/or a piece you don't mind spoiling will work well, but try and invest in a salt water-resistant option (that won't retain moisture under your bust).
Supportive Swim Bra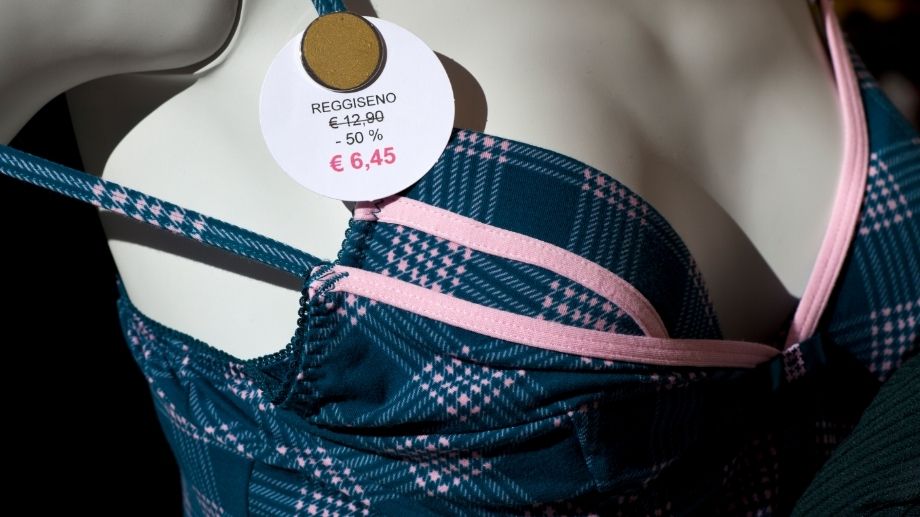 Many swim bras, designed for support when you take to the water, are amazingly resistant to salt water (as well as pool chemicals). Some swim bras work especially well under rash guards if you need extra support, as they'll dry quickly and are safe to use in salt and chlorinated water.
Some fantastic choices include:
A Regular Bra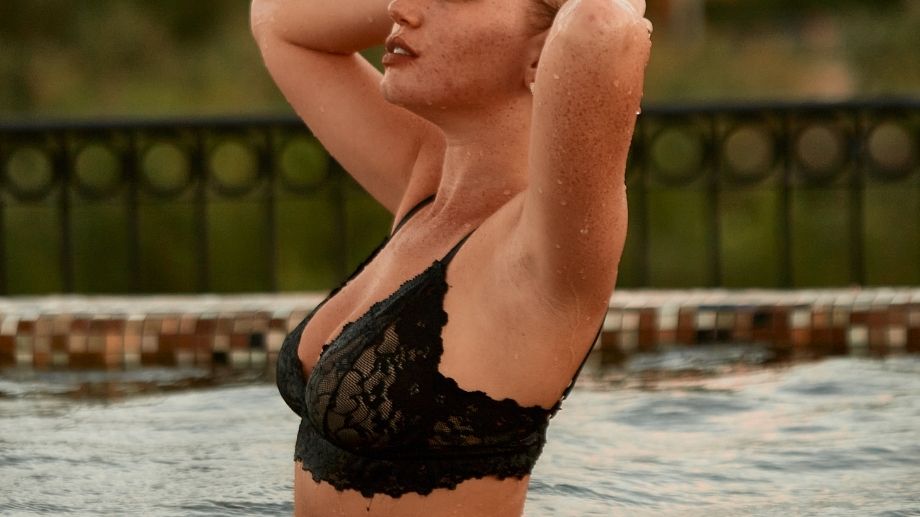 You can wear regular bras under your rash guard, but they'll need to be smooth, free from metal and zippers (to avoid catching), and should dry quickly. Avoid textures if you can too as these will show through your rash shirt once it gets wet. Generally speaking, the simpler the bra design, the better.
Many of the same rules for sports bras apply here. For example, heavy molding or padding won't look great underneath a rash guard and will absorb a fair amount of water and dry slowly.
Some women opt to wear a swim bra underneath their swimsuit for extra support. So if you need a proper bra to get the full bust support you need then wearing a bra under your rash shirt will work fine – just be aware of how the shape will look once your rash shirt is wet.
You may even wish to use an adhesive bra while wearing a rash guard, which will support you providing its glue is water- and chemical-resistant. Otherwise, you could irritate your skin or end up developing something nasty!
Nothing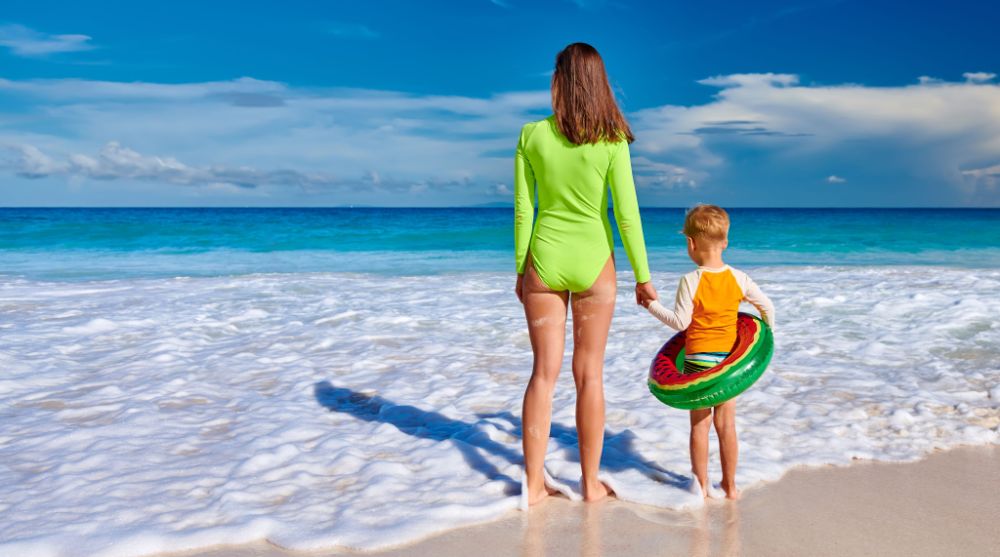 Whether you're looking fine and feeling absolutely confident or you're wearing a rash guard that has a thick or double lining so your nipples won't show wearing nothing under your rash guard is a perfectly acceptable option.
Many women wear nothing under their wetsuits when they go surfing (or maybe just bikini bottoms) and the same is true for rash guards. Often women will wear bikini bottoms and then throw on their rash shirt and they are done.
You do need to consider how your rash shirt looks when we and if it becomes transparent or not but whether or like that look or have a rash guard that won't do that it's a-ok to wear nothing underneath your rash guard…after all men do that all the time.
There are also now some swimsuits that are designed more like rash guards with long arms. For these one-piece swimsuits you don't need to wear anything underneath at all.
Do You Wear Anything Under A Rash Guard As A Male?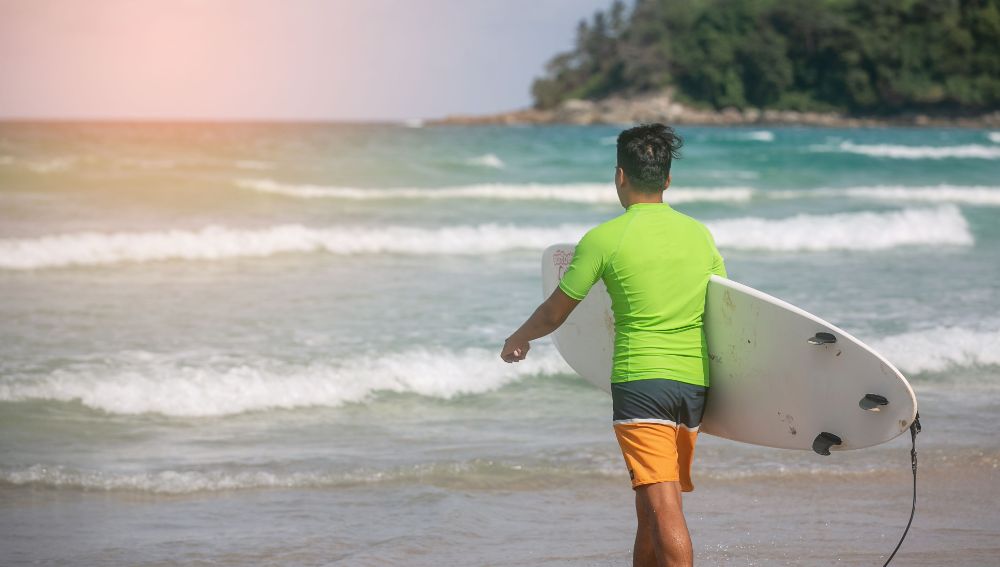 Things are a bit different for men.
Men are not required to wear anything under their rash guards and should just wear the rash guard without anything underneath. Obviously wear swim trunks and/or board shorts but you shouldn't wear a t-shirt or singlet under your rash guard as it'll just absorb water and will take longer to dry.
The only time I've ever worn anything under my rash guard was bandage tape and that's when I had chafing from too much surfing.
The rash guard will cling to your body when wet and potentially show the shape of your body and nipples, but for almost all men this isn't a concern.