I love everything about my Yeti Coolers. They're super rugged, last forever, and keep my drinks ice cold for days on end.
But the one major complaint I have is their weight.
Yeti Coolers are pretty heavy compared to traditional coolers – often by quite a lot. 
As I was looking to pick up a new cooler for the summer, I started to wonder, are the new Yeti Coolers any lighter than their old ones?
While any given model of Yeti Cooler will remain the same weight for as long as it's being produced, new and updated models tend to be slightly lighter than the models they replace. Though the difference isn't large and Yeti recently has seemed to focus on adding features to new coolers (thus making them heavier) rather than removing weight.
As Yeti continues to update their coolers and phase out older models, new Yetis should only continue to weigh a little bit less.
However, what makes Yeti coolers so strong and so effective at keeping ice frozen is their thick roto-molded plastic shell and their thick walls of polyurethane insulation. Unless a huge breakthrough is made in plastic and foam insulation weight we are unlikely to see big reductions in the weight of Yeti coolers in the coming years.
Yeti Coolers are relatively heavy, but that's a result of their amazing insulation and durable, long-lasting design.
Lugging around a heavy cooler full of ice and drinks kinda sucks, but an ice cold soda or beer at the end of the day more than makes up for it in my opinion.
Are New Yeti Coolers Lighter Weight?
The weight of each model of Yeti Cooler remains more or less the same for as long as they're being produced. A Tundra 250 is always going to weigh about 70 lbs, whether you bought one when it was first released or you buy one today. 
But, as Yeti continues to refine and improve their designs, Yeti Coolers are getting lighter and lighter.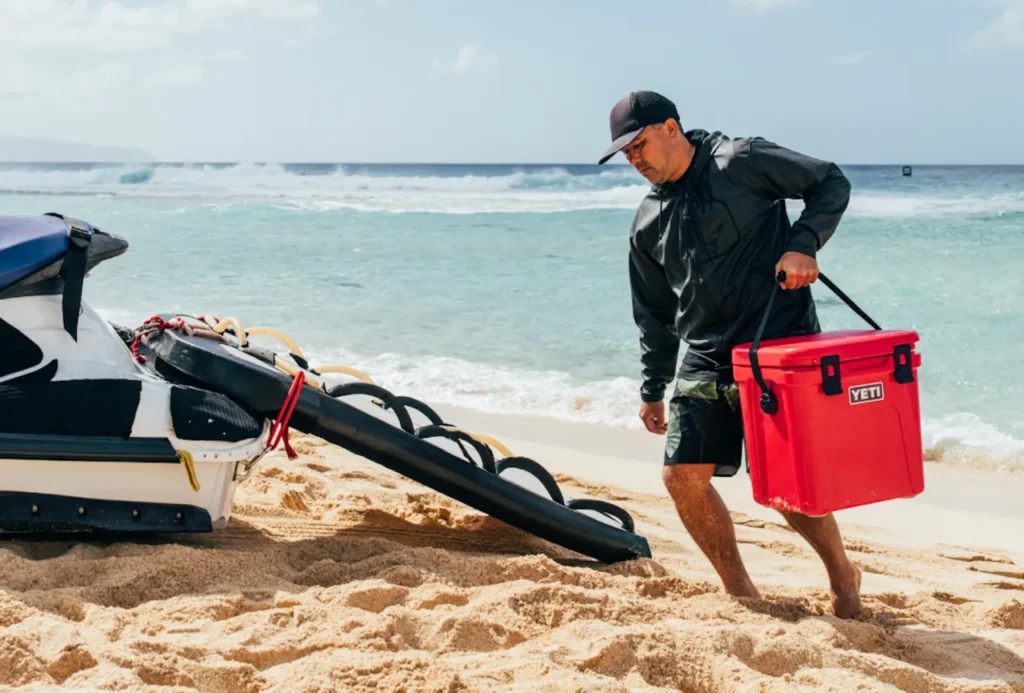 Look at their new Roadie 24 as an example. 
| Roadie 24 (new model) | Roadie 20 (older model) |
| --- | --- |
| 13.1 lbs / 5.9 kgs | 15.0 lbs / 6.8 kgs |
Not only is it larger than the Roadie 20 that it replaced, it's also almost a full two pounds lighter — without sacrificing any insulation or durability. 
It's likely that part of this weight saving is in the taller design as well as the rope handle as opposed to the metal handle of the old Yeti Roadie.
When Yeti replaces old models for new ones they do seem to try and cut on weight where they can. But it's generally not by a lot.
However, a trend I have noticed with newer Yeti coolers is that they are focusing on adding features, rather than removing weight.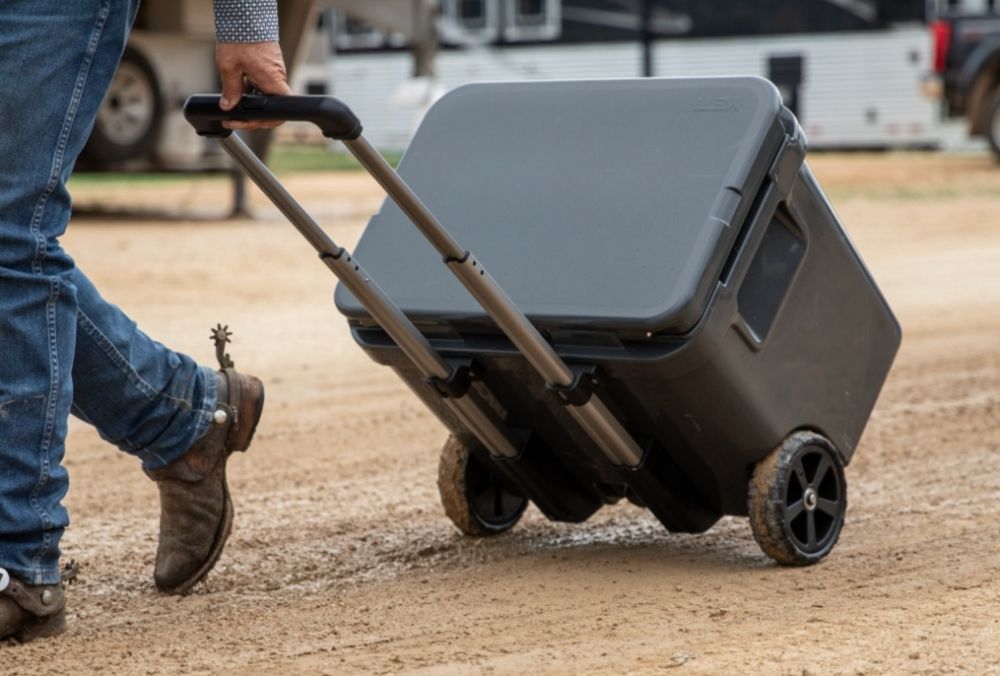 One of the newer coolers Yeti brought to the market was the Roadie 48 and Roadie 60 coolers. These featured built in wheels as well as a suitcase style carry handle.
In the comparisons between the new roadie and the original model Tundra coolers you can see the Roadie coolers are actually heavier. However, given they have wheels this won't be noticed as much and they are much easier to transport.
| Roadie 48 (newer model) | Yeti Tundra 45 (original model) |
| --- | --- |
| 28.3 lbs / 12.8 kgs | 24.6 lbs / 11.1 kgs |
| Roadie 60 (newer model) | Tundra 65 (original model) |
| --- | --- |
| 30.6 lbs / 13.9 kgs | 30.3 lbs / 13.7 kgs |
Why Are Yeti Coolers So Heavy?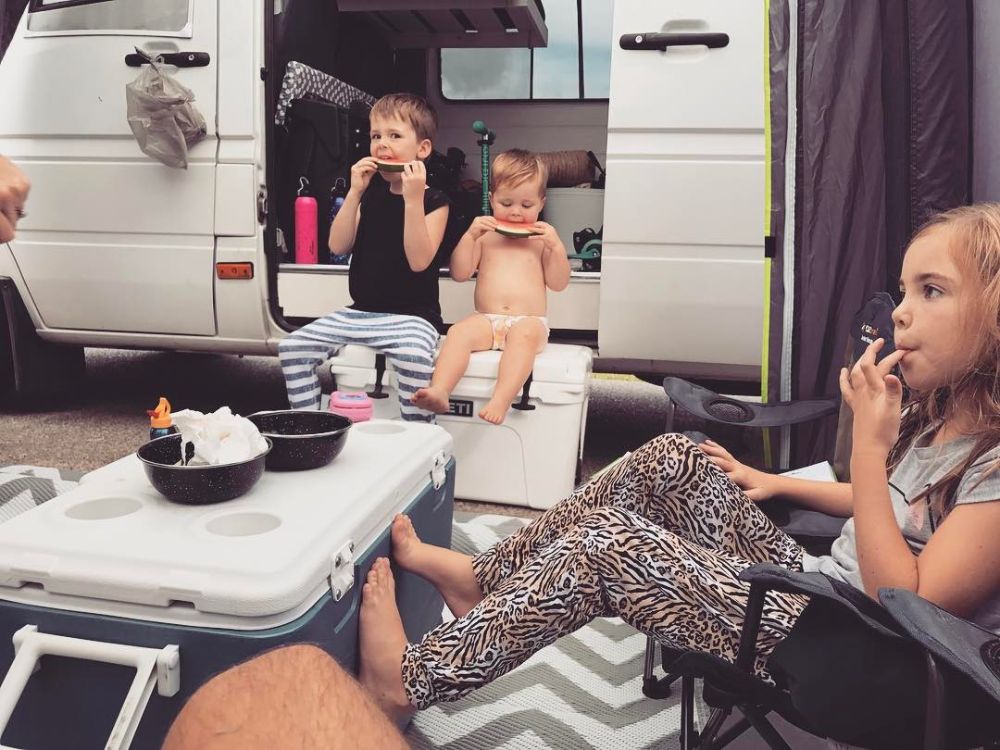 Yeti Coolers tend to be much heavier than most traditional coolers, but for good reason — they're not trying to make lightweight coolers, they're trying to make coolers that can withstand a beating and keep cold for days.
To better understand why Yeti Coolers need to be a bit on the heavy side, it's important to understand how they're constructed. 
Yeti uses a process called rotational molding, or roto-molding, to make all of their hard coolers.
Roto-molding involves melting polyethylene plastic in a mold and rotating it as it cools to form a solid, but hollow, shell. That shell is then injected with two to three inches of high-density polyurethane foam insulation.
The super tough, but far from lightweight, outer shell provides your cooler with durability and longevity, whether you're dragging it across a gravel camping lot (have you ever tried carrying a full Tundra 350 by yourself?) or using it as a stepping stool to unload your gear from the back of your truck.
The polyurethane core isn't exactly light either, but it's what insulates your cooler well enough to keep cold for days on end.
Sure Yeti could make lightweight coolers (their soft coolers are a better option if you need something easier to carry), but they wouldn't feel much like a Yeti if they needed to be replaced every year and only kept drinks cold for an afternoon.