You've probably heard that you shouldn't use butane stoves indoors but I've personally used mine in my campervan and even inside a tent when it was raining outside.
However, if you do use it inside there are some SERIOUS safety precautions you need to take to keep yourself and your family safe.
So what's the deal – is it safe to use a butane stove indoors? 
You can use a butane stove indoors but you should make sure that it's in a very well-ventilated space. Use a carbon monoxide detector (a portable one is great when camping) and remove any flammable materials nearby. If you can, use an indoor-rated butane stove.
Most veteran campers have used their butane stoves inside at some point and it's all about doing it safely and mitigating the risk. 
Sadly there are hundreds of hospitalizations every year from carbon monoxide poisoning whilst camping and even multiple deaths each year. It's important that you take the right precautions if you do plan on using your butane stove indoors.
How To Use a Butane Stove Inside Safely
Using a butane stove outdoors is always first prize but if you can't, here are some helpful safety tips to follow:
Make Sure The Area Is Well Ventilated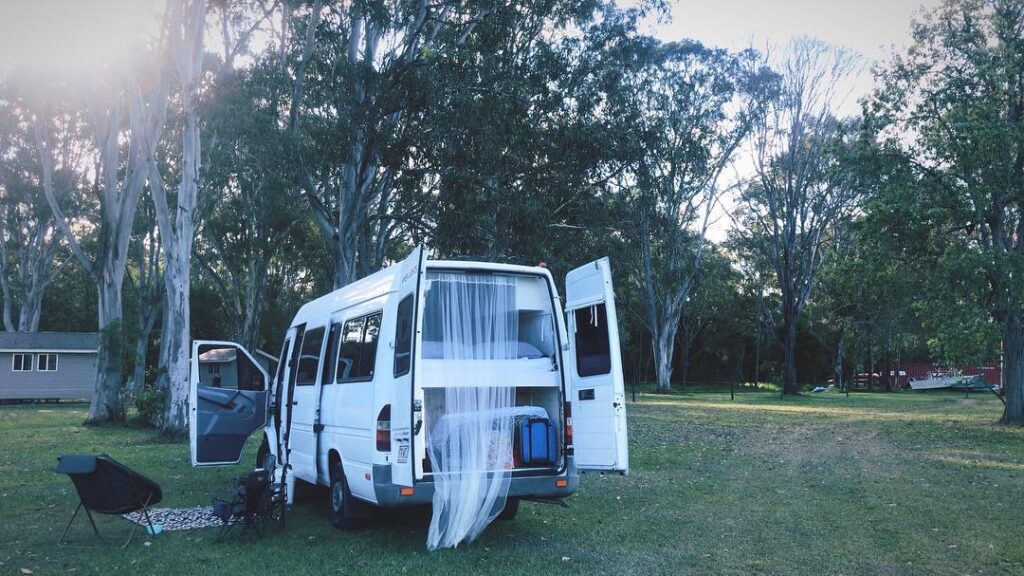 Butane is a heavy and slow-moving gas and it will accumulate and sink to the ground if the space isn't well-ventilated.
When there's not enough fresh air entering the space, the butane stove will use up the oxygen in the space and then begin to form carbon monoxide, an odorless but deadly gas. 
If you're cooking in a campervan, keep the doors and windows open when you're cooking and for a while after so that all the butane and carbon monoxide can escape.
The same goes for a tent – keep the flap and any ventilation holes open while cooking. Even if it's cold out still have good ventilation – it's better to be cold than poisoned.
When I used to cook in my campervan I would open the doors or the windows and turn on the exhaust fan we had installed in the roof to ensure great airflow whilst cooking. I never cooked inside the van with everything shut up. It's just too dangerous and not worth the risk.
Use a Carbon Monoxide Detector
Butane and carbon monoxide are both odorless and therefore impossible to detect on your own, often before it's too late.
If you're cooking with your butane stove at home, make sure your carbon monoxide detector is working properly. Since tents and campervans don't have carbon monoxide detectors, consider investing in a portable one before leaving on your trip.
Lunarlipes Handheld Carbon Monoxide Detector from Amazon can be used while camping and gives accurate digital carbon monoxide readings. Although it's not dirt cheap, it could potentially save your life while camping.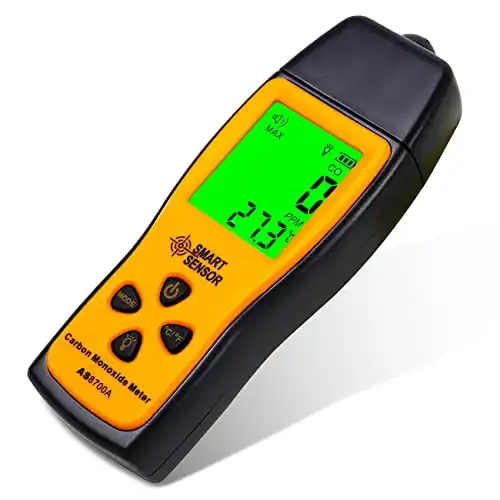 Lunarlipes Handheld Carbon Monoxide Detector(0-1000PPM High Precision)
Portable Carbon Monoxide Meter can continuously monitor the CO concentration in the surrounding environment. It has 4 modes, which can be easily switched according to the working environment.
The measurable CO concentration range is 0~1000PPM (accuracy 1PPM); when the CO gas concentration reaches the alarm level, the sound and light alarm will work.
Buy Now at Amazon
Keep the carbon monoxide detector near you while cooking. If it displays a high reading, turn the stove off immediately and leave the area. Open up the windows and doors to allow airflow into the air and don't return for some time.
Don't Cook For Excessively Long Periods of Time Indoors
The longer you cook for the higher the likelihood of a buildup of carbon monoxide in your enclosed area.
Cooking for shorter periods of time is much safer and if you are going to be cooking for hours then it's probably a good idea to take your stove outside.
Remove Nearby Flammable Materials
Butane is highly flammable and only needs a tiny spark (or even a bit of static electricity) to ignite. To prevent a fire or explosion, remove any flammable materials away from your stove. These include: 
Paper
Wood
Fire starting materials
Aerosols
Also make sure your butane canister is in good condition. Butane itself doesn't expire or go bad but if the canister is damaged or rusted, the butane can leak out and explode.  
Use an Indoor-Rated Butane Stove If Possible
Using a regular outdoor use butane store inside can be safe as long as you take the precautions mentioned above.
However, if you plan on using a butane stove extensively inside a campervan or area where it's difficult to cook outside, consider investing in an indoor-rated model.
Chef Master Countertop Butane Stove from Amazon is a fantastic example. It's ETL certified for safety and is designed to be used indoors.
It's safe to use inside and designed for restaurant kitchens. The piezo electric ignition helps you to control the flame well but you should still ensure the space has good ventilation just in case.