Camp Chef make two fantastic camping stoves: the Teton 2X and the Everest 2X which are upgraded versions of the Teton and Everest stoves with improved regulators.
These two stoves share many similarities and on the surface look almost like exactly the same stoves. But they are different enough that one tends to be a better buy than the other, for most people.
Before splurging on one of them, it's worth considering the key differences between them.
The Camp Chef Teton 2X and Everest 2X are both high quality propane-fueled, suitcase style camping stoves with matchless autoignition. The major difference is the heat output of the burners with the Everest outputting twice the BTUs of the Teton.
The Everest 2X is more powerful with a total 40,000 BTU output while the Teton 2X has only 20,000 BTUs. The Everest is slightly larger, heavier and slightly more expensive but worth the cost if you want to be able to cook faster or are cooking for multiple people.
Even though both stoves are ideal for camping, the Everest 2X is the clear winner due to its added power but comes with approximately a 27% higher price tag.
You just need to manage your fuel consumption with the Everest as using both burners on high burns through a lot of propane fairly quickly. A 1 lb propane tank will only last around half an hour with both burners on their highest settings whereas 1 lb of propane would last a full hour on the Teton with both burners on full.
That said, if space and weight is important to you and you don't cook in very cold conditions and for many people, I'd go for the Teton 2X which is slightly smaller and lighter. 
Best For:

Cooking for small camping groups Those who like to pack lightly

Best For:

Cooking for larger camping groupsCooking in very cold temperatures
Best For:
Cooking for small camping groups Those who like to pack lightly
My Recommendation
Best For:
Cooking for larger camping groupsCooking in very cold temperatures
12/08/2023 08:22 am GMT
What's The Difference Between Camp Chef Teton 2X and Everest 2X?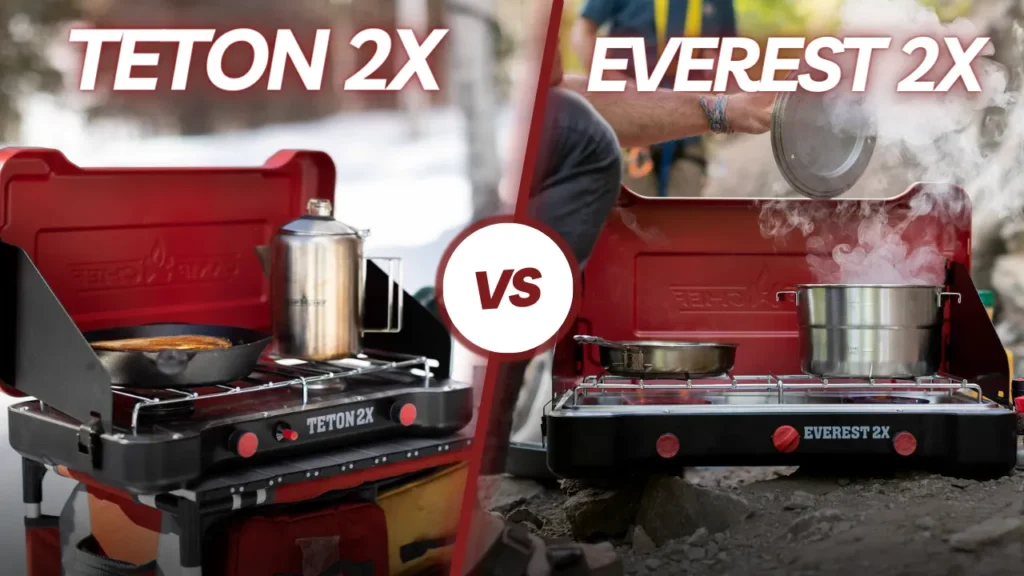 If you haven't used camping stoves much in the past the differences between the Camp Chef Teton 2X and Everest 2X might not be obvious because at face value they both look pretty similar.
This is because they share many similarities:
Both use propane as fuel
Both are 2-burner camping stoves
Both have matchless autoignition eliminating the need for lighters or matches
Both are suitcase style camping stoves
However, where they really differ is in their performance and BTU output, with the Everest putting out twice the amount of heat as the the Teton – leading to faster cooking.
Performance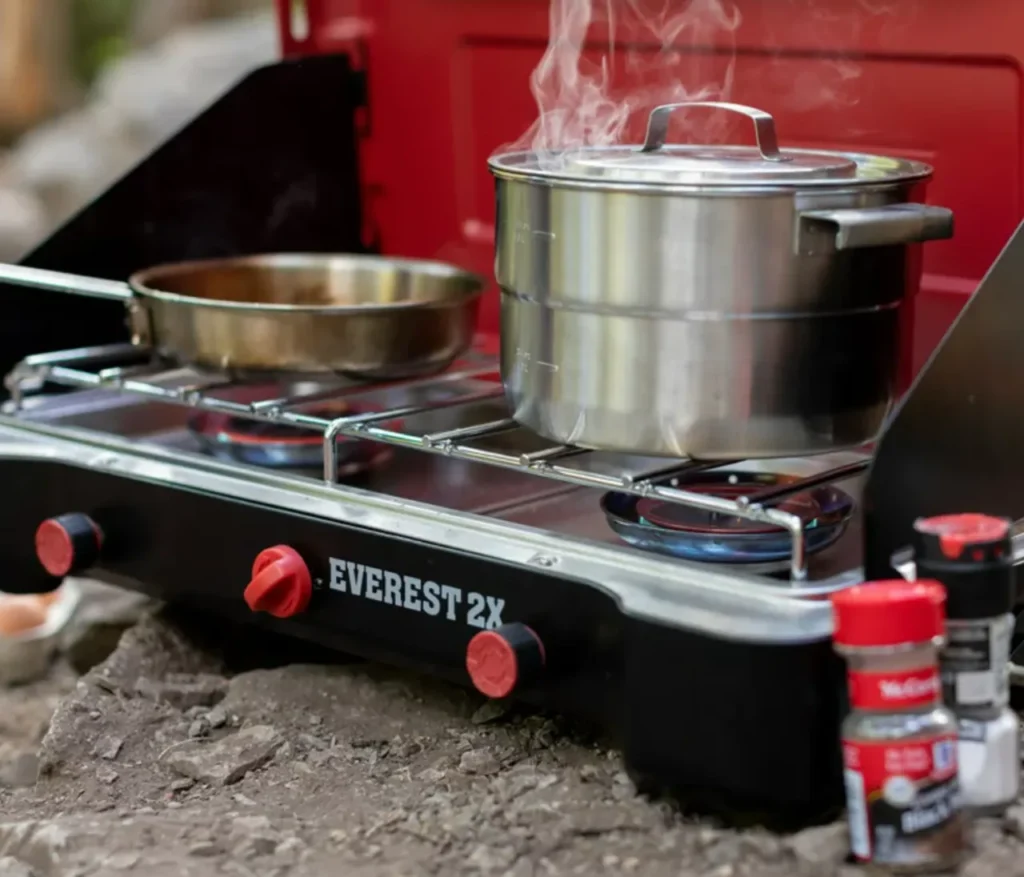 Performance is really where the differences between the Teton 2X and Everest 2X become apparent.
The Teton 2X has a total BTU output of 20,000 with each burner offering 10,000 BTUs per hour. This heat output rating is the gold standard for most basic camping stoves and will suit you perfectly if:
You only go camping occasionally and only cook basic items like boiling water for coffee, eggs, noodles, minute steaks, etc. You can use it to make the perfect rice too. 
Your camping groups are typically small with no more than 4 people.
You don't usually camp in very cold areas (this is where a higher output BTU rating would help).
However, if you're a camping enthusiast like me you'd probably appreciate the Everest 2X's superior performance because:
The 40,000 total BTU rating (20,000 per burner) helps the stove heat up faster and cooks your food faster as well, giving you more time to enjoy fun things.
You can effortlessly cook denser foods and food for larger groups, something that the Teton 2X will struggle to do. (eg. Big batches of soup or large pots of pasta) 
You can easily use your top quality and thick-based camping cookware (such as cast iron dutch ovens)
You can cook at very cold temperatures. This isn't something I personally do but the Everest 2X won't take ages to boil water for your coffee on a frigid and icy morning. 
The Everest has some of the highest heat output of any stove around this size but not only that it's got really good control so you can simmer food too (although the low setting is still a bit high).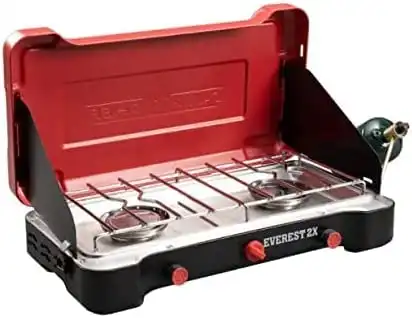 Fuel Consumption
It's important to note though that this doubling of heat output does come with a doubling of fuel consumption as well.
Each propane tank only has so many BTUs and using twice the BTUs means you'll burn through the fuel twice as fast.
For example a 20 lb propane bottle has 431,880 BTUs and a 1 lb propane bottle contains around 21,594 BTUs.
Below you can see how fast you'll go through fuel on each device based on usage.
| Usage | Teton 2X | Everest 2X |
| --- | --- | --- |
| Both burners on full | 1 hour | 30 minutes |
| Single burner of full | 2 hours | 1 hour |
However, you can turn down the burners in order to get more cooking time for the fuel you have.
The Everest can be turned down so that it's outputting the same BTUs as the Teton. But the Teton cannot be turned up to have the high output the Everest has.
Cooking Area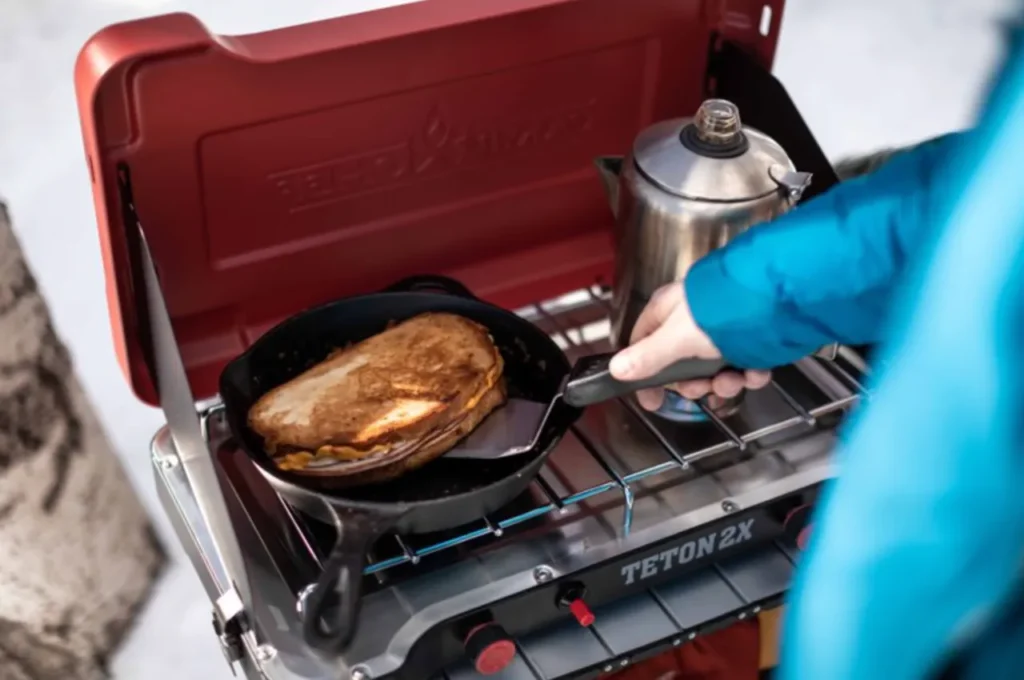 If cooking area is your most important consideration then the Teton 2X wins out in this department with 317 sq inches of cooking space compared to 215 inches of cooking space with the Everest 2X.
Having said that the Everest still has more than enough space for cooking on so really your consideration should be the BTU output as well as the price and weight.
Size and Weight
The Camp Chef Teton 2X and Everest 2X are both portable suitcase style camping stoves and both work on propane (which is better than butane for use in very cold temperatures) but you can use butane if you have an adaptor. 
Generally speaking, their size and weight are roughly similar but if you like to pack light when camping and like your stove to be as lightweight as possible when hauling it to your campsite, the Teton 2X may be your best bet as it's lighter and a bit smaller.
The Teton also maximizes space when it comes to the cooking area, which is larger than the Everest 2X. So if you like cooking with bulky camping cookware and with 2 pots at a time, it's the better option.
Here's how the two stoves compare in size and weight:
Price
The Teton 2X sells for $149.99 and the Everest 2X for $189.99 on Camp Chef's official website, making the Teton 2X 27% cheaper than the Everest 2X. 
This price difference could be a dealbreaker if you're on a tight budget but if you're not in a hurry, you could wait for Black Friday or flash sales (REI is known to sometimes discount Camp Chef stoves).   
Is The Camp Chef Teton 2X or Everest Better 2X?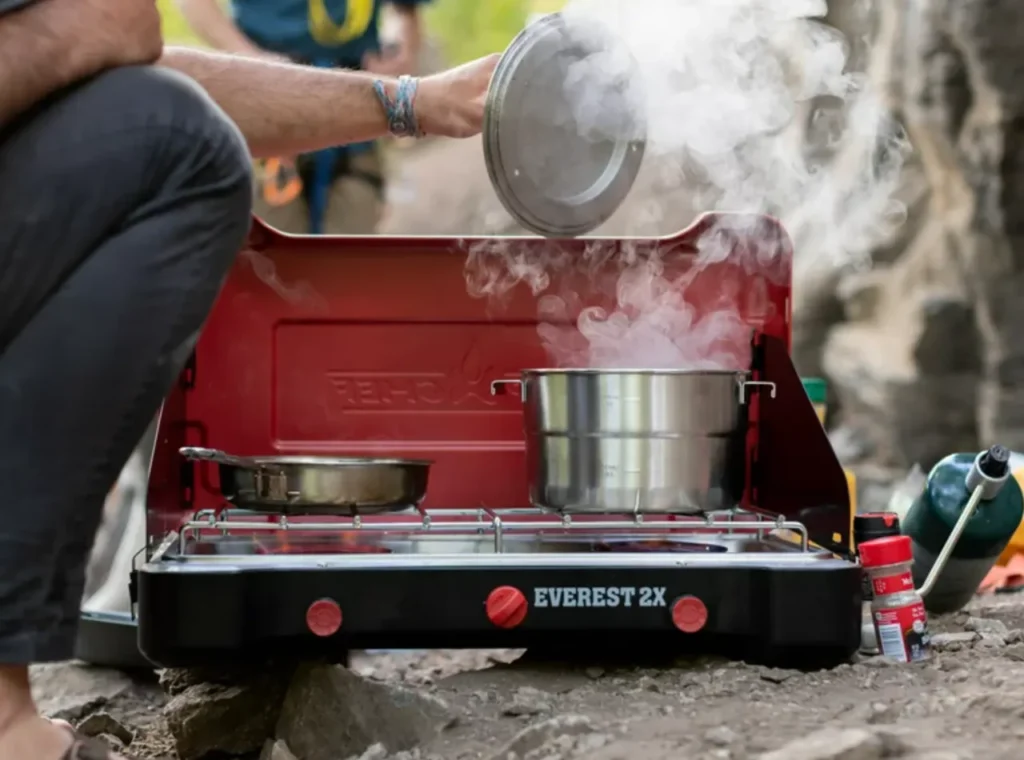 At face value, the Camp Chef Teton 2X and the Everest 2X are both excellent camping stoves that cook food very well but the Everest 2X is definitely the superior model and well worth the slight increase in price.
At twice the BTU rating as the Teton 2X, the Everest heats up and cooks food twice as fast and is more efficient and less frustrating if you're cooking for a large group. It can also help when the temperatures are below freezing. 
The Everest gives you better control over the size of your flame as well when compared to the Teton. This means you can get the lower BTU output of the Teton if you are cooking smaller meals or don't need the full 20,000 BTUs per burner.
For me the Everest is the clear winner and the one I would recommend.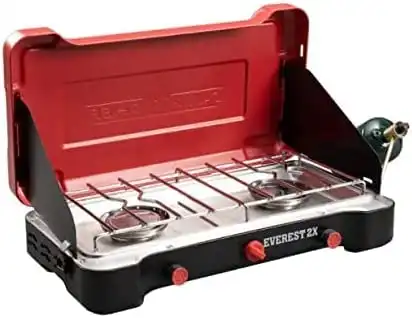 However, this isn't to say the Teton isn't a good camp stove. It's still a quality product and does the job.
If you like to take it easy when camping and aren't fussed about your food not cooking at lightning speed, I would go for the cheaper Teton 2X. In this case, you'll also benefit from its slightly lighter weight, smaller size and larger cooking area.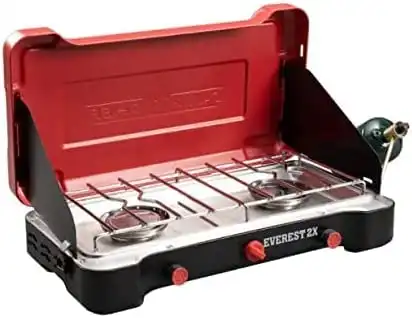 That said, if you want something a bit more powerful than the Teton 2X but you don't want to shell out almost $200 for the Everest 2X, consider the Coleman Triton Camping Stove which is cheaper than both and offers a 22,000 BTU rating.