Rice is an awesome food for camping or backpacking because it's versatile, packed with nutrition, inexpensive, and super filling for how light it is.
The only problem is, it can be a little tricky to cook while camping, and you certainly don't want to be left stranded in the wild without an edible dinner.
So what exactly is the best way to cook rice while camping?
Depending on the type of camping you're doing, the best way to cook rice will vary.
For backpacking, you can cook instant rice or heat a packet of pre-cooked rice simply by boiling water over a campfire or backpacking stove.
If you're car camping, you have more options. You can use a camp stove or grill to boil water for regular rice, a wok to stir fry pre-cooked rice, or, if you have a generator, a rice cooker, electric pot, or electric burner.
Below are the 8 best ways to cook rice while camping or backpacking, what method works best for each type of camping, and how to make your rice a lot less boring.
You can also check out my list of the best rice cookers for camping to find the rice cooker that's right for you. 
How To Cook Rice While Camping Or Backpacking
There are so many different ways to camp — from fully powered car camping with a generator and all the luxuries of home to ultralight thru-hiking in the middle of nowhere with as little gear as you can manage.
So naturally, the best way to cook rice while you camp is going to vary nearly just as much.
Use A Backpacking or Camp Stove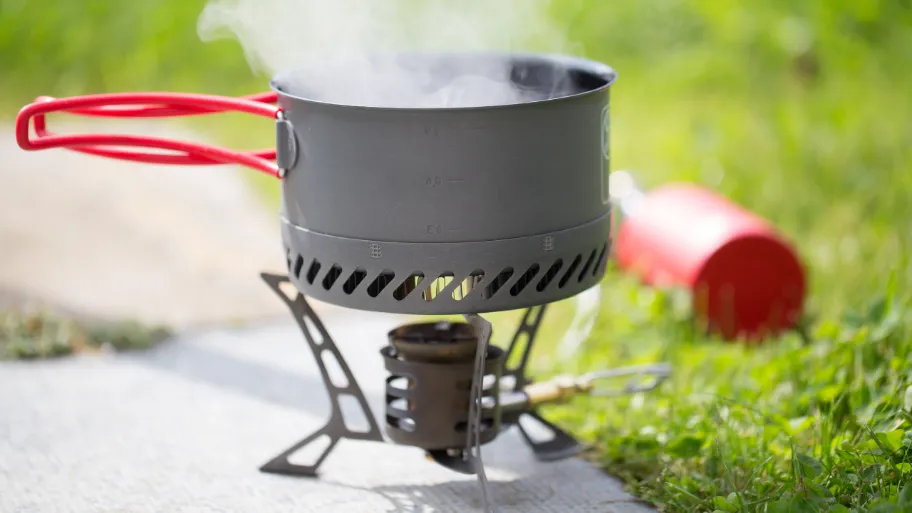 A portable propane or butane stove is one of the most common ways to cook while camping. Which makes sense because it's super easy, efficient, and flexible.
In fact, cooking rice on a camping stove is about as close to cooking on a stovetop as you'll get. Simply follow the directions on the bag of rice. 
The way I personally find is the most effective way to cook rice on a camp stove is:
Use 2 cups of water for every 1 cup of rice
Cook on low heat with the lid on or slightly ajar
Take rice off heat once all the excess water has boiled off and rice looks fluffy (usually 15-20 minutes)
Be careful not to cook it on too high of a heat or cook it for very long after the water has evaporated as this is when the rice will begin to burn and stick to the bottom of your pot.
For car camping, this works perfectly on basically any camp burner. I've used a Coleman Propane stove for years and it's treated me very well. 
But if you're backpacking, you'll want to be a little more sparing with your fuel — running your burner for 20+ minutes is going to burn through your propane or butane pretty quickly. 
One way to save on fuel without burning your rice is to first boil your water on a fire and then add your rice and cook slowly on your stove. The heating of the water takes a lot of energy so doing this separately can save you some fuel.
But generally for hiking or backpacking instant rice works a lot better because you only need to bring your water to a boil, add equal parts rice, and wait about five minutes for the water to be absorbed. You don't need to actively cook the rice for 15-20 minutes
It uses about ⅓ the fuel needed for normal white rice and ⅕ the fuel needed for normal brown rice.
The MSR Pocketrocket Deluxe is my go-to stove for backpacking. It's super lightweight, very fuel efficient, and even works perfectly in wet or windy weather.
If you've never used one, be sure to check out my deep dive on how to safely use a camping stove. 
Cook Instant Rice In A Campfire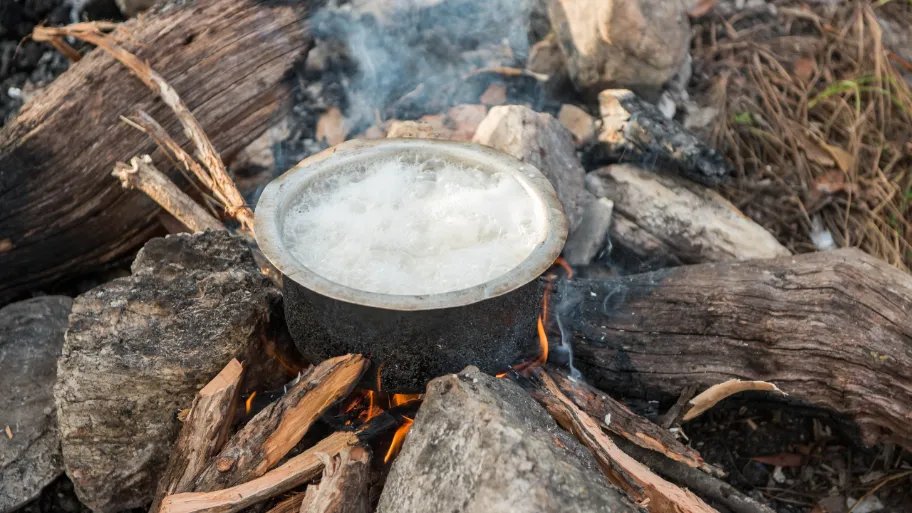 If you're already planning on making a campfire, it makes perfect sense to also use it for cooking.
The problem is, regular rice requires low, controlled levels of heat to cook properly — which is almost impossible to achieve in a campfire without some extra tools to help (check out the next method).
With too much heat and regular rice, you'll end up with a pot of poorly cooked grains and a thick layer of burnt rice stuck to the bottom of your pan that's a nightmare to clean.
Instant rice, on the other hand, only requires boiling water and a few minutes of your time: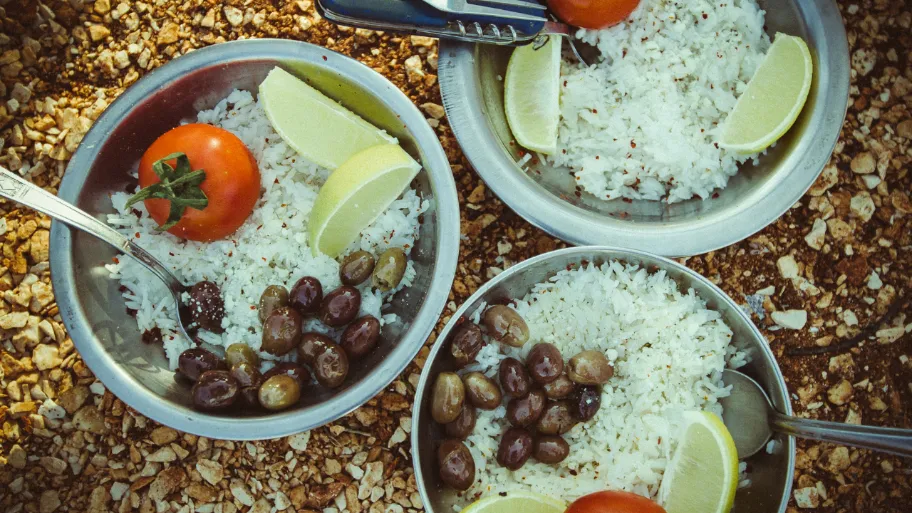 Add one cup of water per cup of instant rice to a fire-safe cast iron or stainless steel pot. If I want to save some weight, I'll often just boil my water directly in my stainless steel Nalgene.
Place the pot in the coals of your fire for about five to ten minutes, until it just comes to a rolling boil.
Carefully remove the pot from the fire (the entire thing will be super hot), add your instant rice, and stir.
Cover and wait about five minutes.
Once all the water is absorbed, fluff with a fork and enjoy.
Works Best For: This method works great for backpacking because it can be very lightweight. If you boil your water directly in a stainless Steel Nalgene, the only extra thing you need to carry is your uncooked instant rice.
Cook Rice Over Your Campfire Using A Tripod Or Grate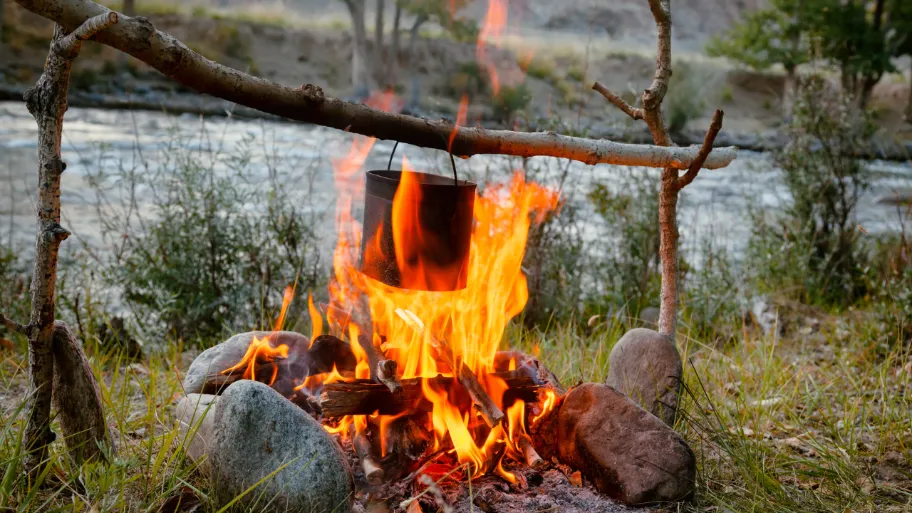 If you'd prefer to cook regular rice (rather than instant) using your campfire, you're going to need something to help manage the temperature.
The easiest way is to use an adjustable campfire tripod, that allows you to quickly and easily adjust the height of your pot above the coals to prevent burning. Or if you're a seasoned campfire cooking pro, a campfire grill grate works perfectly fine too — it's just harder to manage the cooking temperature.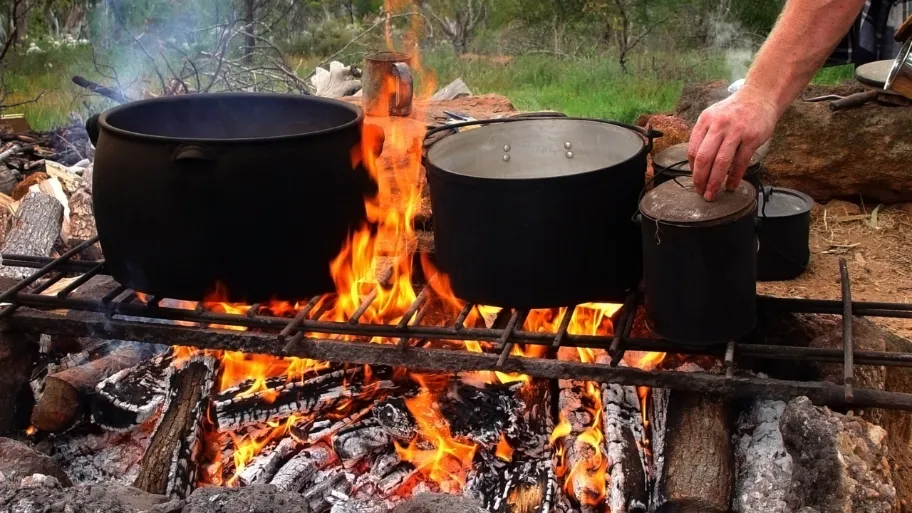 Wait until the coals of your campfire are smoldering at a pretty consistent rate.
Set up your tripod or grate above the fire, aiming for a height just close enough to the coals to reach a simmering boil.
Add about two cups of water per cup of uncooked rice to the pot (adjusting according to the recommendations on the package).
When the water starts to boil, add your rice and cover.
As your rice cooks, monitor your fire so that the cooking temperature remains fairly consistent throughout. Try not to open the pot as your rice cooks or you'll disrupt the cooking process.
Cook 15 minutes for white rice and 30 for brown, remove the pot from the tripod, let stand for about 5 minutes still covered, then enjoy.
Works Best For: Larger groups when car camping. Because you need a heavy, bulky tripod or grate, this method realistically only works for car camping. Have fun trying to drag that tripod up a mountainside.
Use Your Campground's Charcoal Grill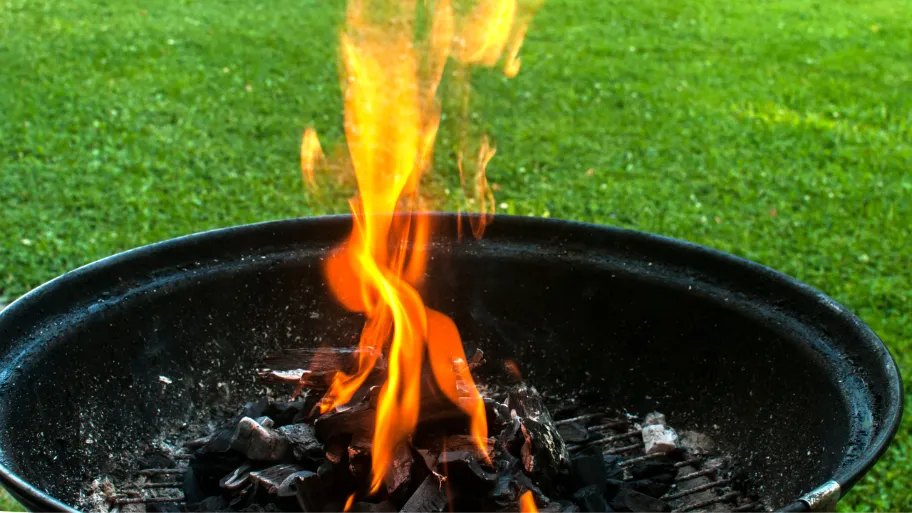 Many campgrounds provide basic charcoal grills, which can easily be used to boil water for rice.
Cooking instant rice on a grill is much easier than regular rice because you don't have to pay as much attention to the level of heat.
Start your charcoal grill and wait until the coals are super hot and covered in ash.
Lower the grate an inch or two above the coals.
In a cast iron, stainless steel, or aluminum pot, bring one cup of water for each cup of uncooked instant rice to a rolling boil.
Carefully remove the pot from the grill.
Add your instant rice and stir.
Cover and wait about five minutes, until all of the water is absorbed.
Fluff with a fork and enjoy.
If you'd rather cook normal rice, it's more than doable. It just takes a little more finesse.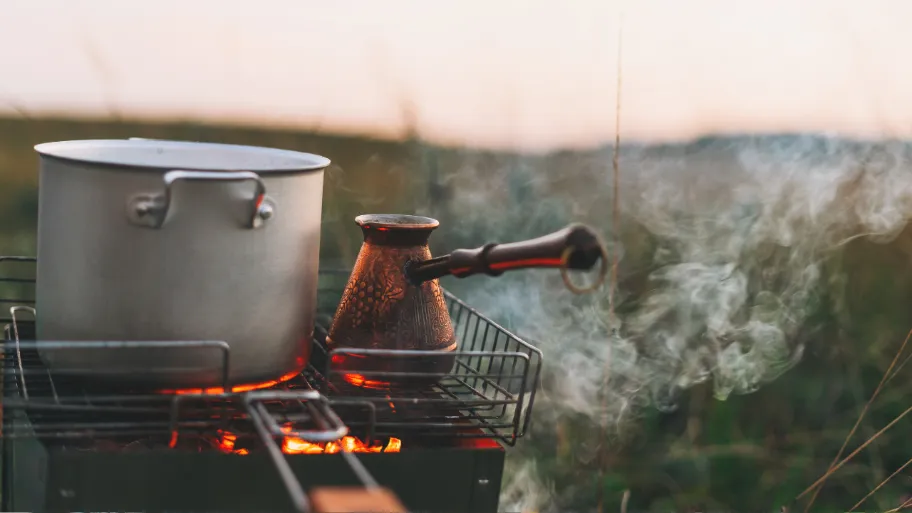 Start your charcoal and wait until it's super hot and all the coals are covered in ash.
Lower the grate about five to eight inches above the coals. You may need to readjust as needed. You want the grate near enough to cook but not so close that your rice burns.
Add two cups of water to the pot for each cup of uncooked rice (adjust according to the directions on your rice's packaging).
Bring to a rolling boil, add your rice, and cover.
After 15 minutes for white rice and 30 for brown, remove the pot from the grill, let rest 5 minutes still covered, and enjoy.
Works Best For: Camping at a campground with charcoal grills or car camping where you bring your own grill.
Use A Rice Cooker, Electric Pot, or Electric Burner
If you're car camping (or glamping) with a generator, it opens up way more options. Any electric device you use to cook rice at home is on the table.
A standard rice cooker works great. Or if that's too bulky to pack, you can always grab a portable rice cooker to make things even more convenient. 
If you don't have a dedicated rice cooker, electric pots cook rice nearly just as well.
My Instant Pot Duo cooks perfect rice for my entire family and is completely set-and-forget. Not to mention it's great for making soups and stews on chilly nights in the wild. 
Or if you prefer to cook rice the old-fashioned way, on a stovetop in a pot, a single electric burner is an easy answer. 
Works Best For: Needless to say, this isn't an option for backpacking or even car camping without a generator. But if you do have a generator or electricity available at your campsite, cooking rice any other way feels like a waste of effort. 
Stir Fry Pre Cooked Rice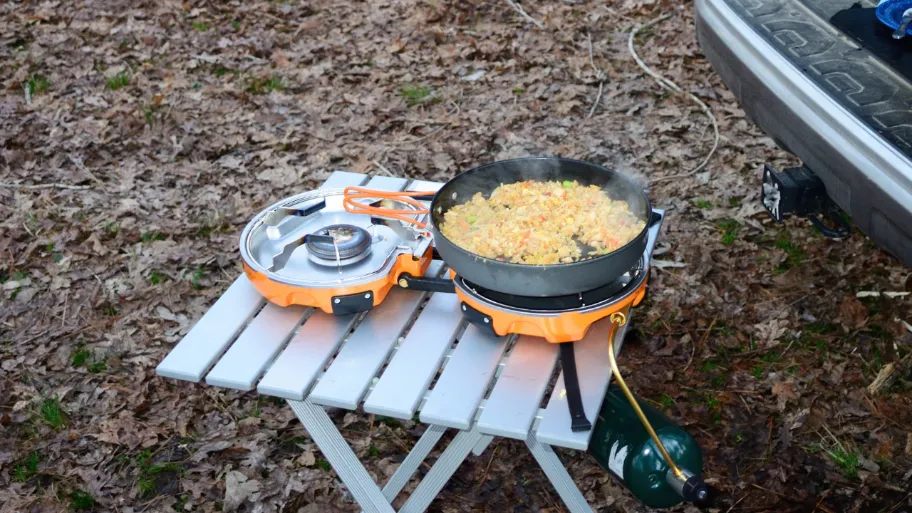 Pre cooked rice can be a big time saver and much easier to work with while camping.
If you pre cook your own rice at home, you'll need to seal it in an airtight container so it doesn't dry out and keep it cold to prevent food borne illness. Toss a bag of frozen stir fry veggies in the cooler while you're at it.
Check out my list of the best coolers for camping trips if you need one. 
If you'd rather skip the cooler, you can just buy packets of pre-packaged cooked rice instead, which is completely shelf stable. Aromatics like garlic or some ginger root are also shelf stable and can really make your rice pop.
Place a cast iron or stainless steel pan, wok, or pot over a heat source, whether it's a campfire grate, charcoal grill, or electric burner.
Add a tablespoon of high-smoke point oil (like olive, coconut, or avocado oil) and wait for it to shimmer.
If you're using any, add your veggies to the pan and cook, stirring constantly until softened.
Push the veggies to one side of the pan and add another tablespoon of oil.
Add your rice and stir constantly, incorporating your veggies and breaking apart any clumps, for about three minutes.
Scoot your rice and veggies to the outside of the pan, leaving an open space in the middle.
If your pan's looking dry, add another tablespoon of oil, then add any aromatics and stir constantly (without mixing them into the rice) for about 30 to 45 seconds.
Pour your stir fry sauce of choice into the open space over the aromatics. Let it heat until it just starts to bubble.
Mix the entire dish until all of your rice is well coated in sauce.
Works Best For: As long as you have a heat source and a pot or pan, this method works great. If you're car camping with a cooler, you can pre cook your own rice and get a little more creative about what you add to your stir fry. If you're backpacking, you're stuck with pre-packaged rice.
Boil Packaged Pre Cooked Rice
Stir frying isn't the only way to take advantage of pre-packaged rice while backpacking. As long as you have a pot of boiling water, you can heat up a packet of rice at the same time.
This is one of my favorite timesavers when I'm out in the backcountry.
I'm often boiling water in the evenings anyway to drink the next day or to use as a hot water bottle. So I just pop a packet of rice in and make an effortless dinner at the same time.
The only real downside is that pre cooked rice is quite a bit heavier than uncooked rice. So if weight is a concern, it's probably best to go with one of the instant rice methods above.
Bring a pot of water to a boil.
Toss the packet of rice into the water for 5 to 10 minutes.
Remove the packet from the pot.
Open it and give it a taste. If it's too dry, mix a couple tablespoons of boiling water into the packet.
Works Best For: Backpacking trips where you don't really mind the small amount of extra weight.
Easy Car Camping Rice
If you're car camping without a generator, a car rice cooker may be exactly what you need. 
It plugs right into your car's 12V power outlet (what used to be called the cigarette lighter) and cooks up to 3 liters of rice, soup, oatmeal, or stew. 
You do have to be careful with anything that generates heat and runs from off a 12V power source. From my personal experience they tend to be low quality and don't last very long or can even burn out the fuses in your car if they aren't designed properly.
Look for items that have a lot of reviews and don't expect these products to last you a lifetime.
This mini 12V car rice cooker has hundreds of high quality reviews and is cheap enough that if it does end up breaking after a few trips it's not hard to replace.
Works Best For: Lazy, generator-less car camping (don't worry, I've been there myself).
What Type Of Rice Is Best For Camping?
Everyone has their own preferences for the variety of rice they prefer, but when choosing one for camping there's a little more to consider than simply which tastes best.
For car camping, you actually have quite a bit of flexibility. But the best type of rice will still depend on whether or not you're bringing a cooler and the cooking method you plan to use.
Backpacking requires even more planning. You'll also need to think about how fuel efficient your food is, how much weight you're carrying, and how much time you'll spend cooking (especially for those midday meals).
Instant Rice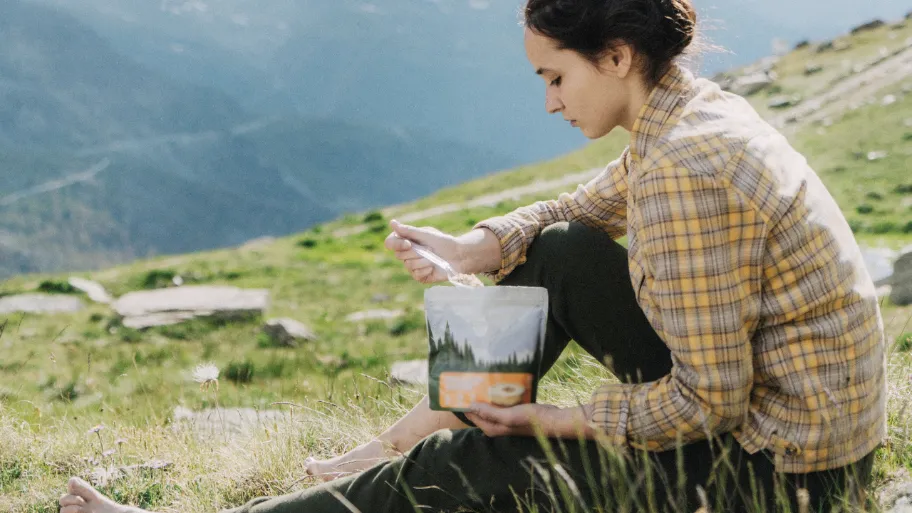 Instant rice is essentially just rice that's been pre cooked and dehydrated.
It's as lightweight as any other dry rice and only requires boiling water to cook — which means that it works well with nearly any cooking method and can save a ton of fuel.
But it's not the perfect solution for everyone.
The taste and texture leave something to be desired and a lot of its nutrition is stripped away during the dehydration process.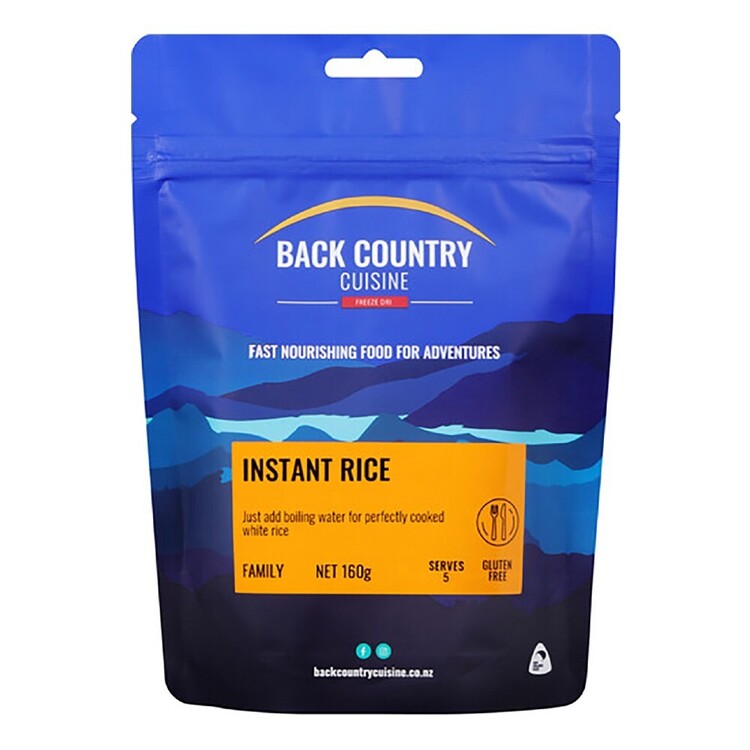 Still, for backpacking, the benefits easily outweigh the downsides. For car camping, I pretty strongly prefer any of the other varieties below.
Pre Cooked Rice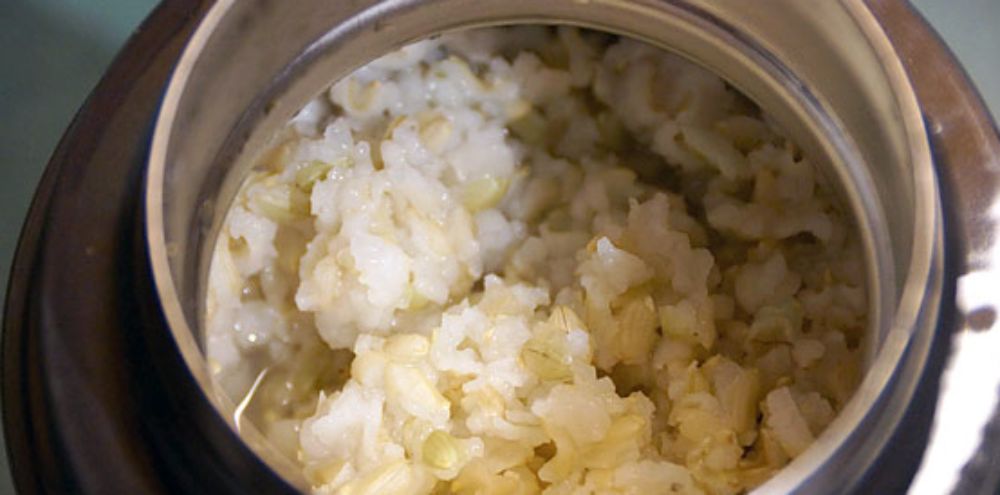 There are two main types of pre cooked rice — rice you cook at home and pack yourself and cooked rice sold in shelf stable packets.
Either is great for camping because they only have to be reheated rather than cooked, which saves a ton of fuel and makes it pretty impossible to mess up.
If you plan to pre cook your own rice at home, keep in mind that it can't be stored at room temperature. You need to keep it in a cooler until you're ready to cook it. It's not safe to store warm rice in a thermos or any other container for an extended period of time.
Pre-packaged rice, on the other hand, is completely shelf stable, making it a decent option for backpacking and car camping without a cooler.
The main drawback of pre cooked rice is that it's over twice as heavy as an equal amount of dry rice, and when you're carrying all your food on your back, that extra weight adds up quickly.
White Rice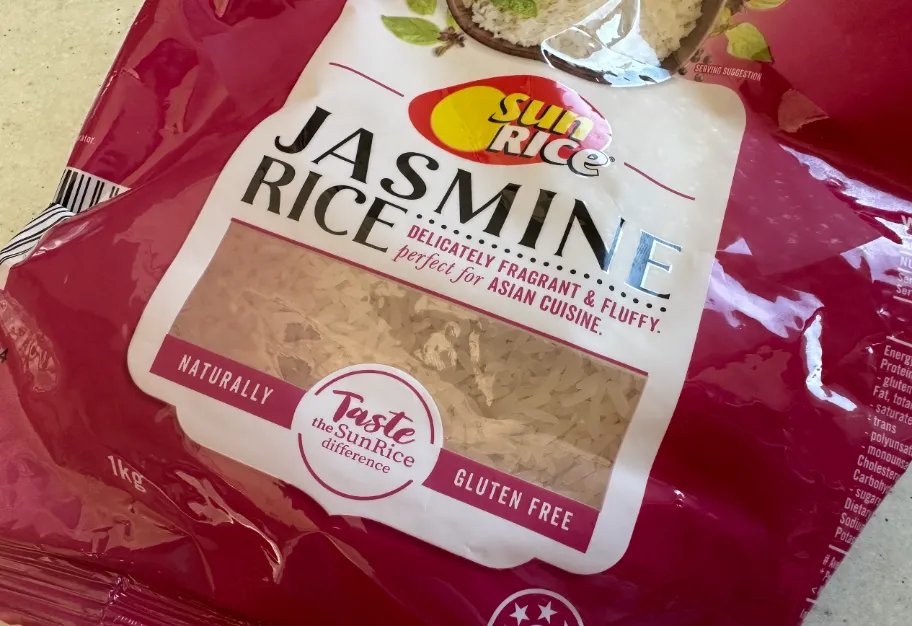 White rice, whether short or long grain, works great for both camping and backpacking.
It's much lighter than pre cooked rice, will keep uncooked at room temperature pretty much forever, and cooks relatively quickly – especially compared to brown rice.
Jasmine rice is personally my go-to and my favorite but there are a wide variety of white rices and they are all pretty good.
The only real downside is that it uses up about three times more fuel than instant rice — but if you're car camping, cooking over a campfire or have the fuel to spare, it doesn't really matter.
Brown Rice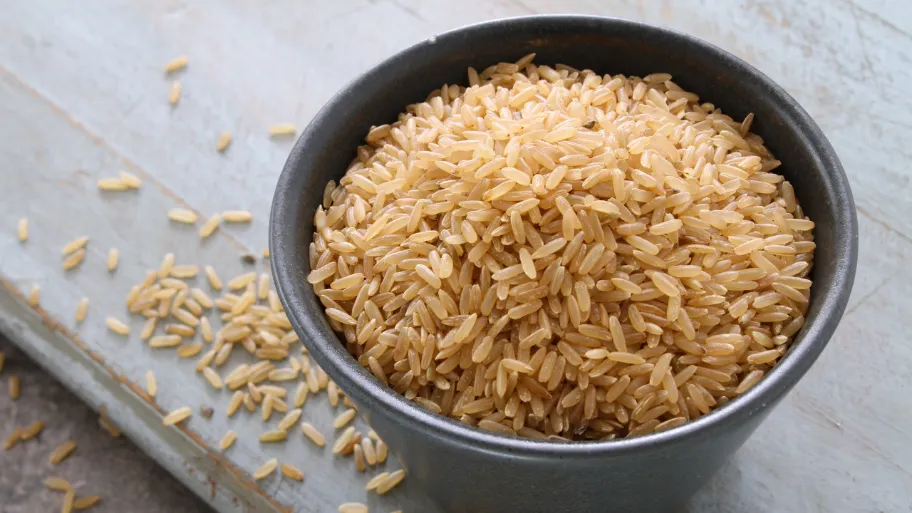 Brown rice is less processed than white rice and, as a result, has more nutritional value, more fiber, and a lower glycemic index — meaning that it provides more lasting energy throughout the day. 
However, I have seen some health advocators saying that white rice is easier on the stomach and better for you – so I guess the jury is still out on which is better. I stick to white rice but a previous partner of mine swore by brown.
The problem is that it takes at least twice as long to cook (and about five times as long as instant rice).
So if you're backpacking with a camping stove, where white rice is even pushing it in terms of fuel efficiency, brown rice is pretty much out of the question.
How To Make Rice Taste Better While Camping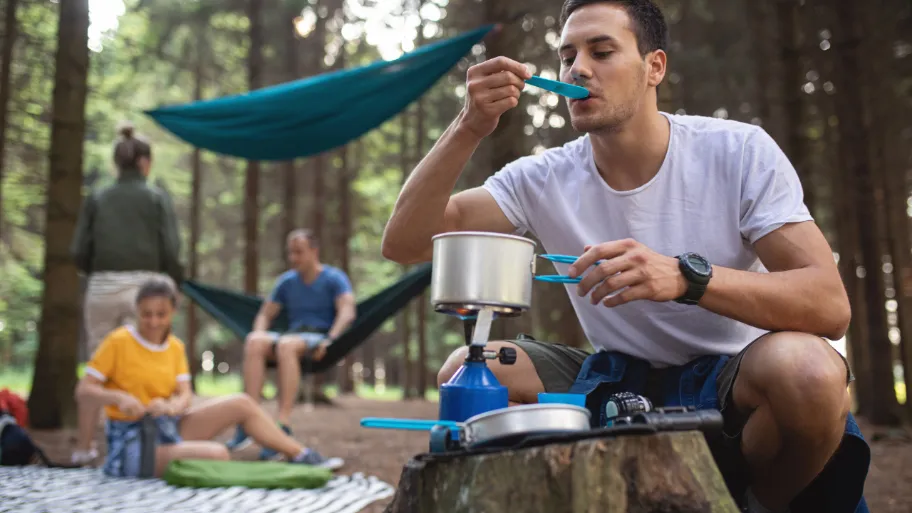 Plain rice can be pretty boring. And while no one is expecting a gourmet meal when they're out camping, something with a bit of flavor is always nice.
The good news is, it's relatively easy to add some taste (and extra nutrition) to your rice, even on the trail.
Adding a bit of oil and salt to your water as your rice cooks will improve the texture, make your meal more filling and add a little flavor. Just keep a few tablespoons in an ultralight condiment bottle.
Spice up your rice using… spices. Use a bit of cumin and chili powder to make Mexican-inspired rice, some soy sauce packets and garlic for fried rice, or curry and garam masala for an Indian flair.
You can pack your dry spices in small ziploc bags and add almost zero weight. Garlic and ginger are shelf stable and can just be kept in your pack. And we all have a bunch of extra soy sauce packets tucked away somewhere in that random kitchen drawer.
If you're car camping you have even more options. Toss a bag of frozen veggies in your cooler, bring a few cans of stock to use instead of water, or lightly brown your uncooked rice in some oil, spices, and tomato paste before adding your water.