A good tailgating party needs a great tailgate cooler for your food and even more importantly for your beverages. Here are the 10 best tailgate coolers to suit any budget.
Tailgate parties are great fun and your cooler is going to be your most used item at the party with your grill coming in a close second.
Generally speaking a cooler isn't a feature point. Most people's coolers are boring and just simply do the job of keeping your drinks and food cold for a day.
But you're better than that. You're going to have a cooler worth being a feature point. You're going to have a cool that everytime you go to get a beer you feel a sense of pride and joy in your cooler.
A good tailgating cooler makes the party all the more enjoyable which is why I have focused this list on tailgate coolers that have some serious wow factor while still being great at their primary job of keeping beers cold.
1. Pelican ProGear Elite 50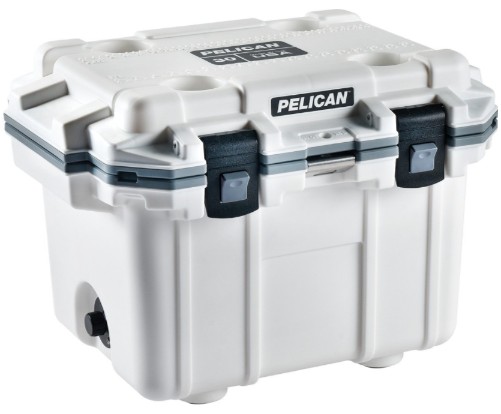 The Pelican ProGear Elite coolers are the man's man of the roto-moulded coolers. Built like a tank these coolers are almost indestructible.
There are a few things that make the Pelican Elite 50 my pick for the best tailgating cooler on the market today.
Ice Retention – Pelican coolers have some of the best ice retention of all the coolers out there. They kept ice 10+ days in my ice challenge. While you don't need that much ice retention for a tailgate party what this means is that you can use less ice and your cooler will keep ice longer.
When you're friends coolers are full of water you'll still have solid ice in your cooler and your food won't be all wet. They'll be drinking warm beers at the end of the day while you'll be enjoying your crisp cold ones.
Looks Awesome – The design of this cooler is really unique. It stands out and draws attention to itself. The fact that it is eye catching mixed with how well made this product is give it definite wow factor.
Practical and Easy To Use – The easy to use push and pull latches makes accessing your contents really easy and the cup holders in the lid are a great feature.
Great Price – For a cooler of this quality and this size this is a great price. Compare that to the Yeti 65 which is a similar size and over $100 more expensive.
Tie Downs and Lockable – You can tie this baby to your car or truck and then lock the lid with a padlock. Not only will people not be able to steel your beers while you're away but they won't be able to steal your cooler either.
Built in Bottle Opener – This cooler has a built in bottle opener so you never have to go digging for it. You'll also never crack your teeth from trying to open a bottle cap using them, so it'll save you in dentist bills.
Non-Slip Rubber Feet – The feet on this thing are non-slip meaning even if you don't strap it down it's not going anywhere while you drive to your tailgating party.
2. Coleman Xtreme 50-Quart Wheeled Cooler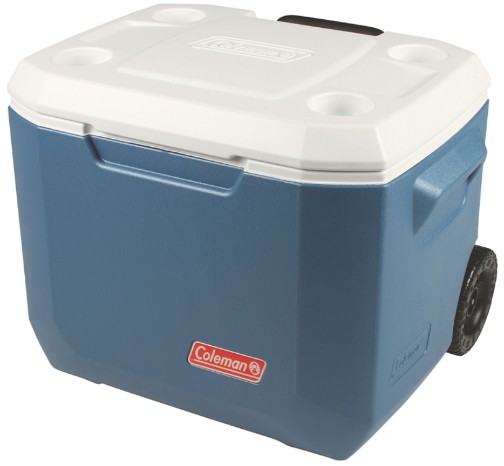 This cooler is the ultimate tailgating budget pick. Coming in at under $50 they are basically giving these away!
What this cooler lacks in wow factor it makes up for in practicality and ice retention.
While it just looks like an ordinary cooler it certainly doesn't perform like one. The ice retention in the Coleman Xtreme's rivals that of some roto-moulded coolers that are 5 times more expensive.
The wheels and suitcase style pull up handle are also a great feature for when you need to park a bit of a distance away from the party and walk your stuff in. Cup holders on the lid are a great feature and overall this cooler is built pretty well.
If I could I would give this cooler a 10 star rating for value for money. For the quality of the cooler, the features like the wheels and the incredible ice retention I don't know how this cooler is so cheap.
If you're a budget conscious tailgater then this is absolutely the best cooler for you.
3. RovR 80 Wheeled Cooler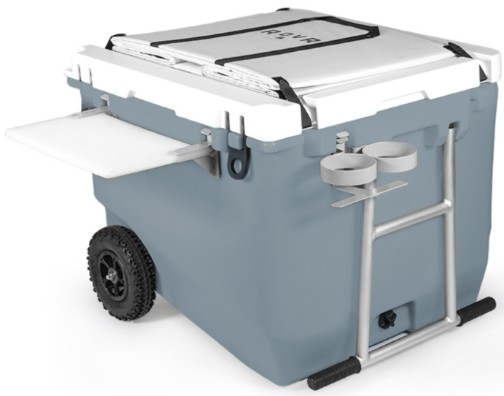 This is the Mack Truck of the roto-moulded cooler world. Built like a tank the RovR has great ice retention keeping ice up to 5 days or more.
But what really sets this cooler apart is it's multiple features.
Dry basket that slots inside the cooler keeping items cool and dry.
Wheels and a carry handle for easy moving
Slot in cutting board for extra food prep space
2 cup holder for your drinks
Fold out basket that doubles as a seat allowing you to carry all your gear to the party
This cooler even has a bike attachment so you can put it on the back on your bike and ride to wherever the action is.
It's an expensive cooler and the design isn't as great as some other coolers which brings it down but otherwise it's a really great cooler
4. Corona Stainless Steel Cooler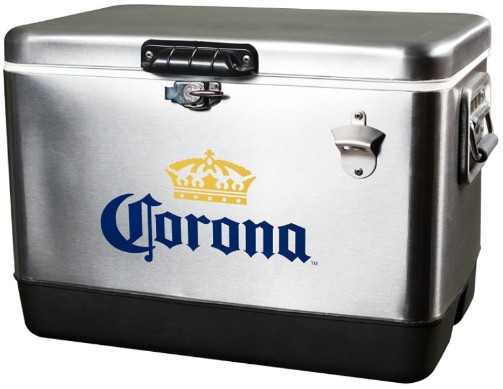 This stainless steel Corona cooler is just f#%king cool!
It doesn't feature awesome ice retention or have some amazing wizz-bang features like cup holders, dry baskets and wheels.
Overall it's not the most practical cooler you can buy. But damn girl! This thing is hot!
Pulling a beer out of this cooler for you and your friends and then cracking it open on the attached bottle opener is just such a satisfying experience.
This cooler makes you feel relaxed and chilled out. It's a cooler you can be proud of and one that everyone else will think is awesome.
This cooler has the ultimate "cool" factor and is perfect for a day of drinking beers and grilling burgers.
5. Orca 40 Cooler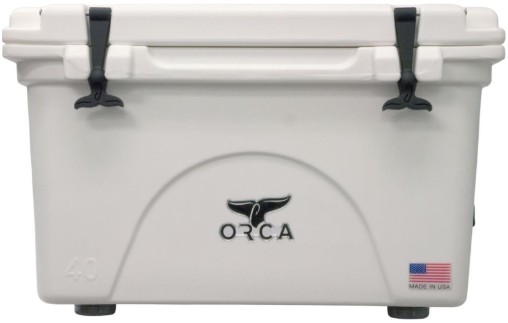 The All-American made Orca is one of my favorite coolers on the market.
It's design is simple, beautiful and understated. It has more insulation than almost any other cooler on the market, keeping your stuff cooler longer.
It's built to last with strong roto-moulded exterior and is backed by an amazing lifetime warranty. If you have any problems ever with this cooler you can rest assured knowing that Orca will make it right.
This is the cooler you buy if you do a lot of tailgating and you want to have a great cooler that will last you a lifetime.
6. BEST PERSONAL COOLER – Sub Z With Chair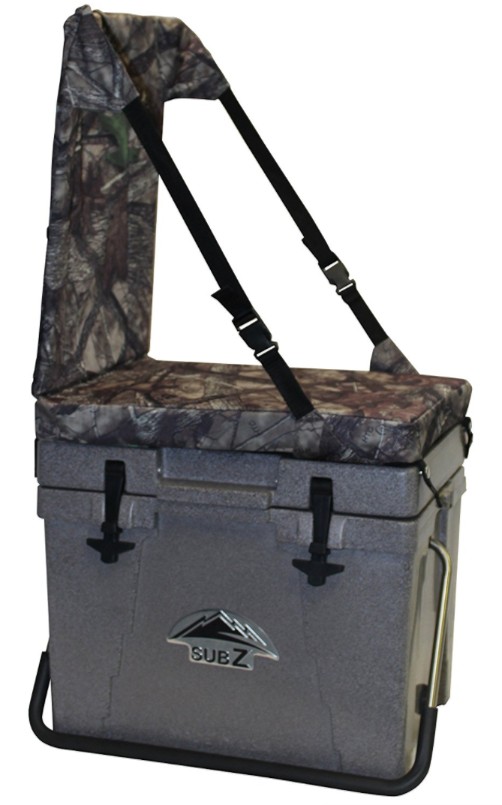 If you're flying solo and only need a small cooler for a couple of drinks and a bit of food for yourself then the Sub Z is a great cooler.
Being small (around 20-Quart) means it is an easy cooler to carry to the party but still has enough space that you can fit all your stuff.
Quality insulation means you'll get really good ice retention. This means you can use less ice and have more space for your food and drink but it'll still keep ice the entire day.
But this coolest feature is the seat attachment. No need to bring a cooler and a chair, this is 2-in-1. The seat is surprising comfy and I love that you get a back rest so you can relax with your friends all day without becoming the hunchback of notre dame.
7. Yeti 65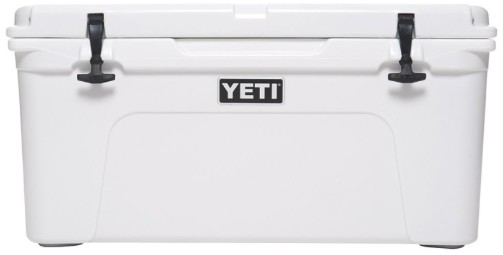 Yeti are the premium brand in the cooler world. It's like having an iPhone while everyone else has an old Nokia.
Yeti's have a premium plastic finish making them look second to none in terms of build quality and attention to detail.
They are strong, durable, have great ice retention and are backed by a 5-year warranty. These are great coolers.
I personally have a Yeti and absolutely love it. The only problem with the Yeti is that you do pay a premium for the brand name, but if you're happy to spend a bit extra they are well worth it.
8. Pelican ProGear Elite 55 Wheeled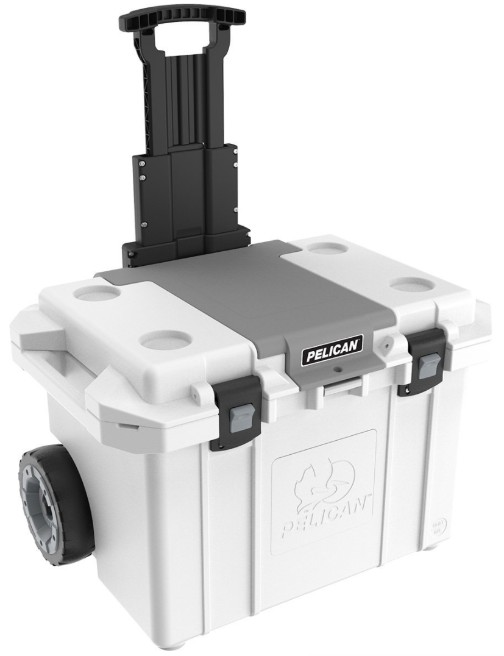 A cooler made specifically for tailgaters. Big wheels and a strong handle make for easy moving and the easy open compartment on the top means you don't have to open the entire lid to access your contents.
As people tend to use their cooler way more frequently at a tailgating party as compared to something like camping or fishing this feature really makes life easier throughout the day.
While ice retention isn't as good as the normal Pelican coolers it's still really solid and will keep ice for days.
4 cup holders on the lid are a great feature and while this cooler is more expensive than the un-wheeled coolers it'll definitely save you money on trips to the Chiro.
9. Coolest Cooler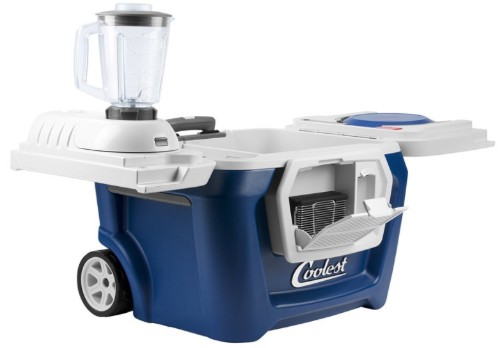 This is the R2D2 of the cooler world with every gadget you can imagine ever needing in a cooler.
Built in ice-crushing blender
Splash proof bluetooth speaker
Built in USB charger
LED lid light for night time
Bottle opener
Cutting tray, plates and knives
Dual fold lid
Wheels and suitcase style pull handle
This cooler has everything you'll need for a great party and definitely has a huge wow factor as a result.
The features are great assuming you'll use them all. If you're not someone who's likely to use all the features then you'll be paying extra for no reason.
I can see this as the perfect cooler for a family, a bunch of friends making cocktails or someone who wants to be the center of the party.
10. CHEAP AND NASTY – Coleman 48
Just want a cooler that does the job and you don't want to spend anymore than you have to?
The Coleman 48 is a good sized cooler and comes in at under $30. Ice retention is terrible compared to most of the coolers mentioned above but if you only need to keep ice for max 1 day then this'll do the job just fine.
It's not going to turn any heads and it's not a cool that create a deep sense of pride in it's owner but it's practical and it's cheap.