The Yeti Colster is a vacuum insulated can and bottle koozie that can keep your beer or sodas cold for hours at a time.
They work way better than the traditional neoprene foam koozies and it means you can take your time drinking your beverage even if you're sitting in the warm summer sun.
The Yeti Colster is a great option but as with all Yeti products it's pretty expensive. Especially when you compare it to foam koozies which usually cost around $1 each.
So I wanted to see what Yeti Colster alternatives were out there and which ones I would recommend. Below is a list that'll help you decide which koozie is best for you.
Some have more (or better) features than the Yeti Colster, some are more affordable and others are just really cool. Have a look through the list and choose the one you like best.
What Makes The Yeti Colster So Good?
Before we jump into the list of the best Yeti Colster alternatives I think it's a good idea to look at exactly what makes the Yeti Colster so good.
If you don't already own a Yeti Colster then this will give you a good overview of what makes them so good so when you are comparing the other brands you can decide which is best for you.
Vacuum Insulation Keeps Drinks Cold
The Yeti Colster uses the same vacuum insulation that Yeti uses in their Rambler Tumblers and bottles.
They used 2 walls of stainless steel and inbetween the walls they suck of all the air creating a vacuum. Heat really struggles to move through a vacuum so this is why the Yeti Colster is really effective at keeping drinks cold for long periods of time.
Durable and Dishwasher Safe

Yeti are known for creating extremely high quality products that are over-engineered and made to be extremely durable.
The Colster is no exception to this rule. It's made from durable 18/8 kitchen grade stainless steel which is safe to drink from and strong.
It will dent over time as it gets dropped or banged around but even with dents it works just fine and it's also backed by a 5-year warranty.
Yeti Colsters are dishwasher safe, which most of the alternatives are not so that's definitely an extra bonus.
Multiple Sizes and Colors

The Yeti Colster comes in multiple different sizes and has a wide variety of colors to choose from.
At the time of writing there were 11 different colors to choose from, so you can definitely find one that will suit your style.
The Colster comes in 3 different sizes with the 12 oz being able to fit both cans and bottles (but cans fit a lot better and bottles can slide out):
12 oz cans
16 oz large cans
12 oz slim cans
1. Hydro Flask Cooler Cup
My Personal Favorite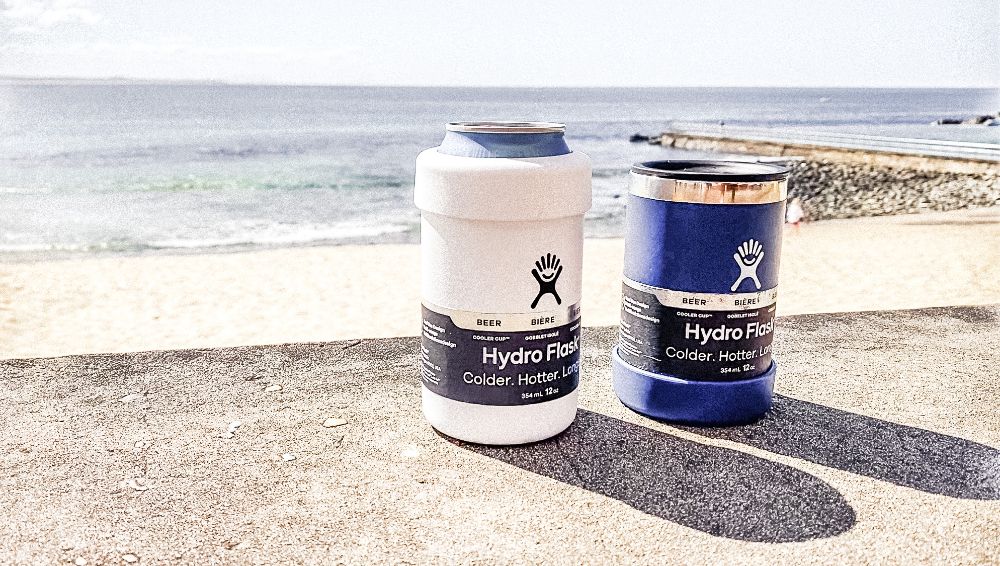 While all the can coolers on this list are great my personal favorite option has to go to the Hydro Flask Cooler Cup.
It fits 12 oz cans and bottles and has a silicone collar that holds in your cans or bottles but also can be placed on the bottom of the Cooler Cup to double as a non-slip base.
Compared to the Yeti Colster I find sliding the silicone cover on and off much easier than the screw collar of the Colster. It's tight enough that your bottle or can won't fall out but isn't difficult to remove. It's a really great design.
The Hydro Flask Cooler Cup doubles as a can cooler or an insulated mug. But what really makes this product my personal favorite is when you combine it with the 10 oz Wine Lid.
This lid fits on perfectly and converts this into the best small insulated travel mug/tumbler on the market.
Check out my full Hydro Flask Cooler Cup review for more details on this product or check out my video review above.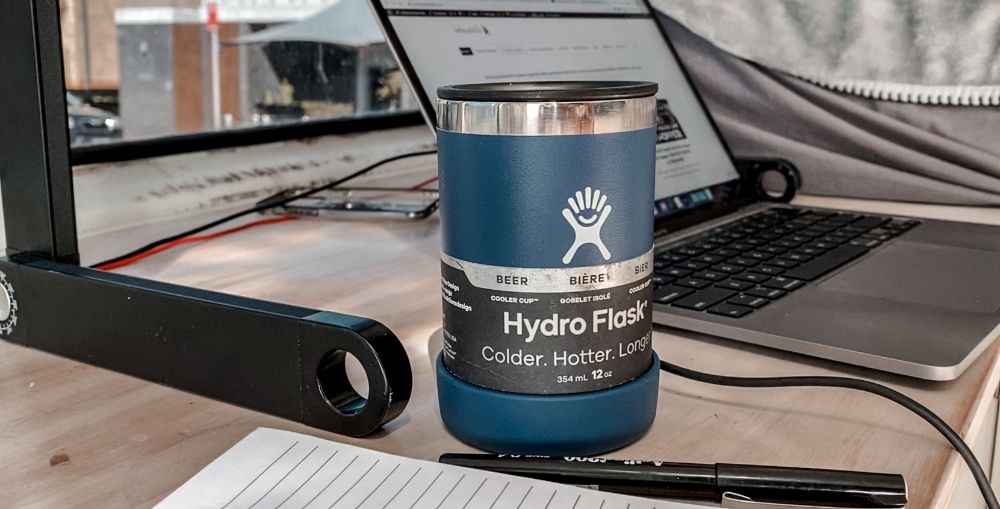 As a coffee snob I have found this lid to be better to drink from than other plastic lids. It's doesn't have an awkward lip where bits of coffee gets stuck and the plastic feels smooth on your lips. It's an amazing drinking experience.
This isn't the product with the most features, nor is it the cheapest, but I have found it the most enjoyable to use. It's also backed by a lifetime warranty giving you full peace of mind.
I love it and use it both these both when I'm traveling around the country in my camper van as well as when I'm at home or in the office.
See the latest price of the Hydro Flask Cooler Cup at HydroFlask.com
(or compare to the latest price of the Hydro Flask Cooler Cup at Amazon)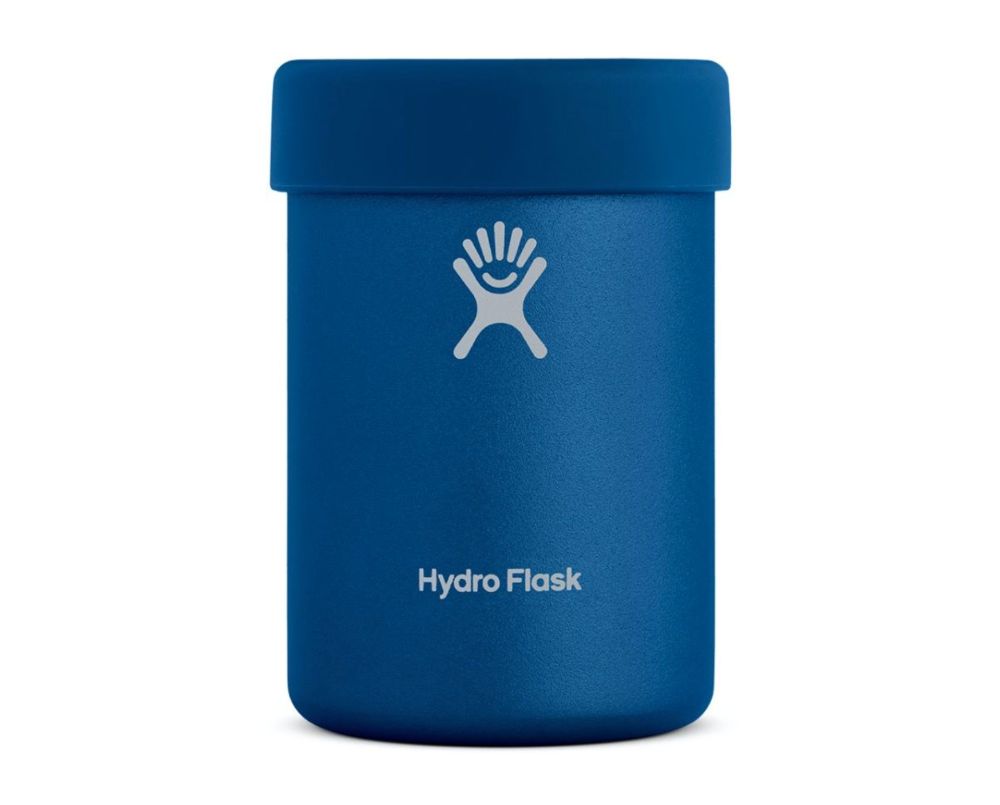 See the latest price of the Hydro Flask Wine Lid at HydroFlask.com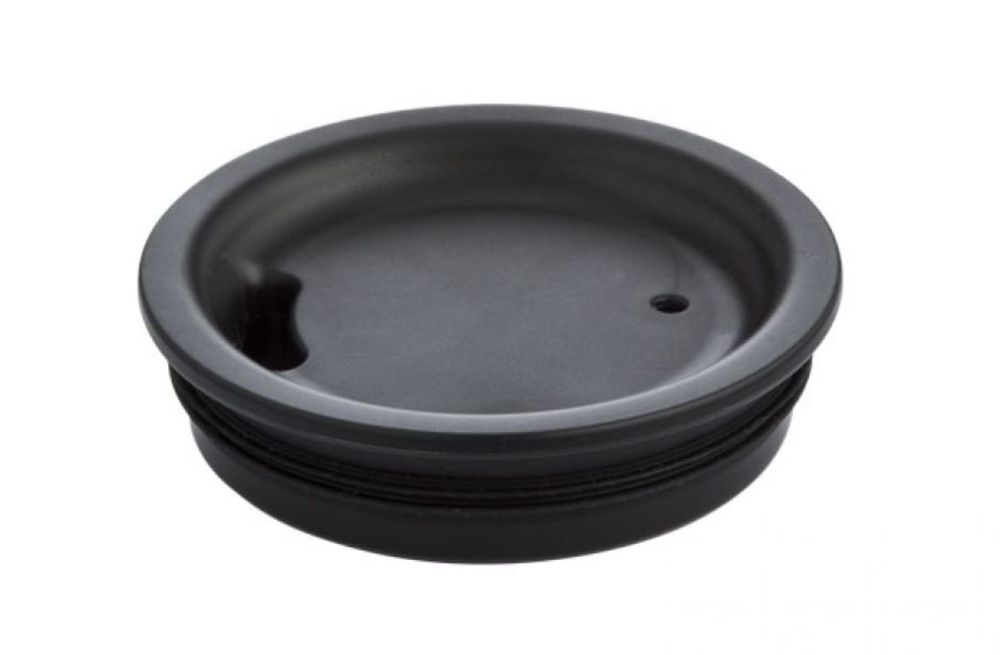 2. Brumate Hopsulator 3-in-1
Most Versatile, Best Cold Retention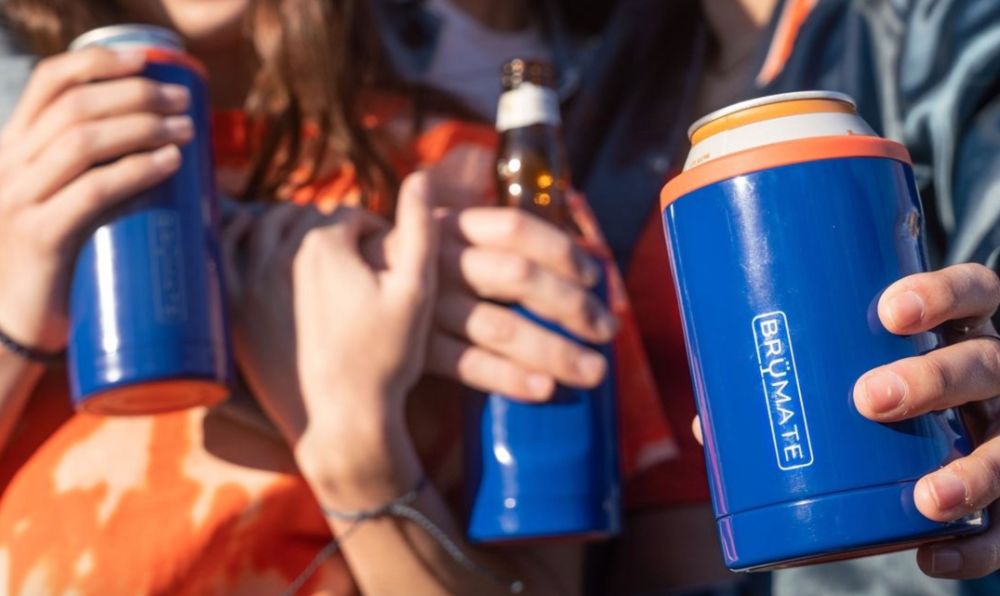 The Brumate Hopsulator Trip is a unique 3-in-1 design that makes it a really useful and versatile product.
It can be used:
To fit a 16 oz can
To fit a 12 oz can (with a specifically made ice brick)
As a 16 oz cup with a splash proof travel lid
The Brumate Trio is a similar price to the Yeti Colster but it has more flexibility. It comes with a 4 oz ice brick that fits into the bottom of the cup to keep your beers cold longer as well as a splash proof lid that converts your can cooler into a tumbler.
The Brumate Hopsulators also have a non-slip rubber base which means they won't slide around and they also won't scratch anything you leave your cup on.
There are loads of great colors to choose from as well as a variety of designs like a wood grain or marble finish. There's even a rainbow titanium finish which I love.
This is definitely one of the best can cooler options on the market. It also comes with a lifetime warranty so if you even have an issues they'll replace it for you free of charge.
See the latest price of the Brumate 3-in-1 at Amazon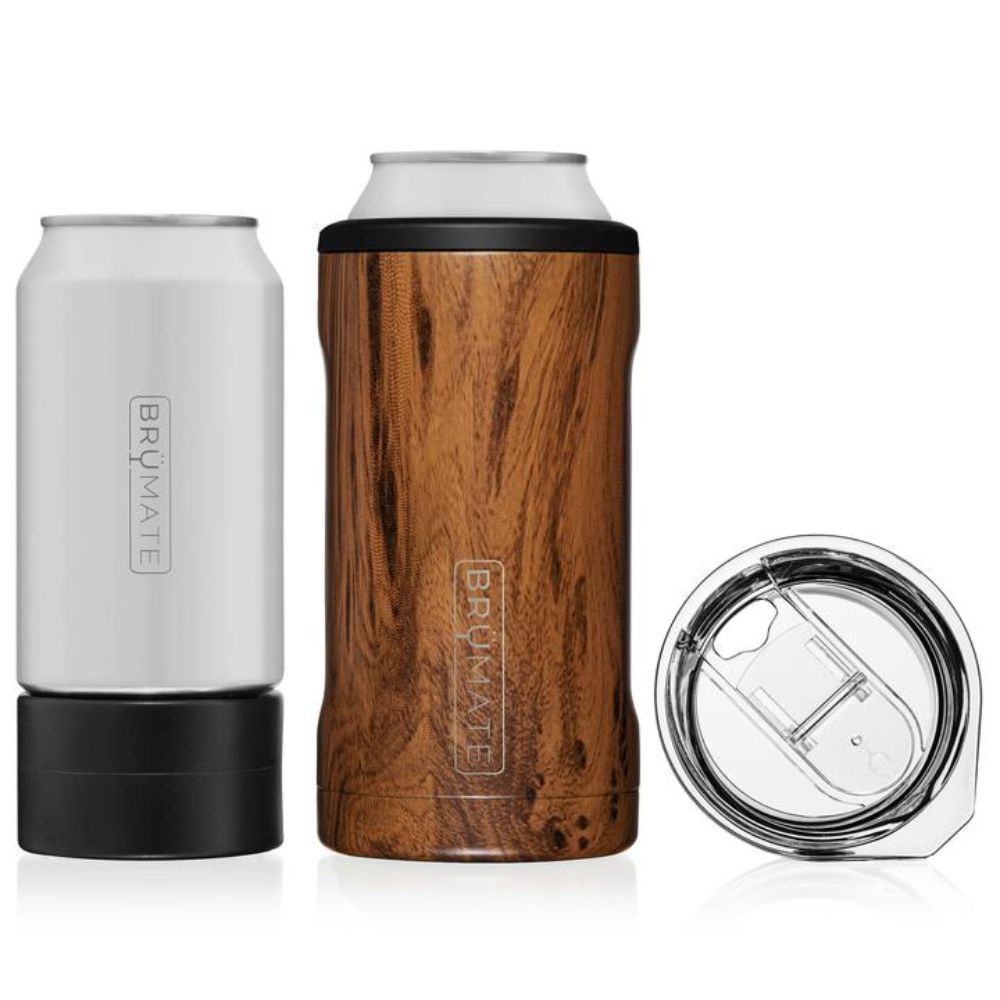 3. Ozark Trail Can Cooler (Best Value)
Best Value For Money
If you're just looking for the cheapest option to the Yeti Colster then the Ozark Trail can cooler is the cheapest you can find.
It ranges from about $6-$10 but Walmart sell them in a 2 pack (linked below) for just $10. Making them only $5 each. Way cheaper than the Yeti or most other brands on this list.
Interestingly this forum post shows some images of the Yeti Colster and the Ozark Trail Can Cooler side-by-side and they look identical except for the embossed logo. It's possible that both products are made by the same company but also might not be. More on if Yeti and Ozark Trail are made by the same company.
The below video also shows a test of the 2 products side-by-side. You'll be surprise which one performs better:
These work just as well as the Yeti Colster for a fraction of the price and they come with a lifetime warranty so if anything happens to it then you are covered.
If you're looking for the most affordable option then look no further than the Ozark Trail Can Cooler. Check out my affiliate links below to find the best price.
See the latest price of the Ozark Trail Can Cooler at Walmart.com
(or compare to the latest price of the Ozark Trail Cooler Can at Amazon)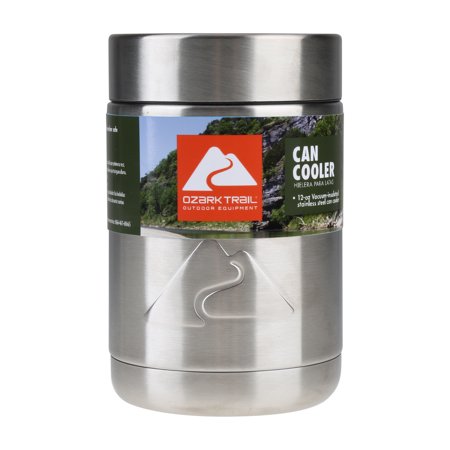 4. ToadFish Non-Tipping Can Cooler
Incredible Non-Tip Design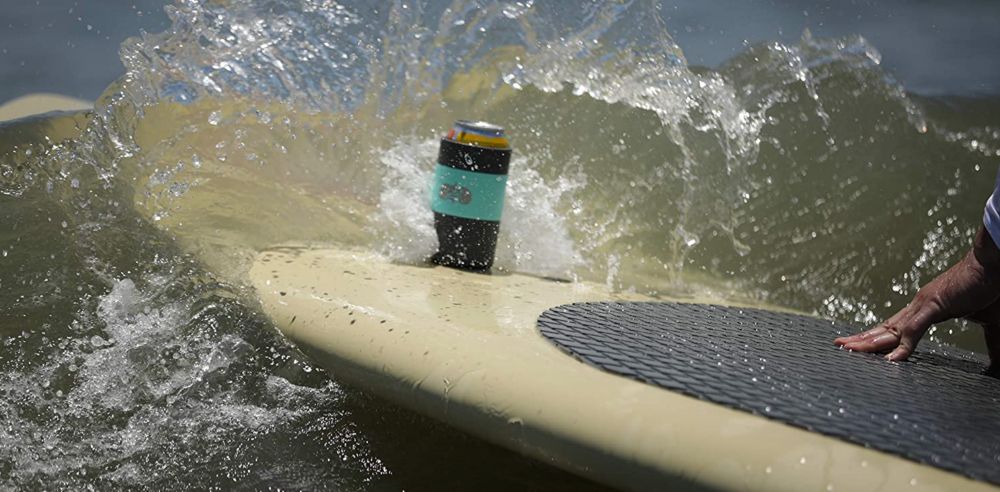 When I first saw this non-tip koozie being placed on a surfboard and the slanted surface of a boat without falling off I was amazed.
Check it out in the video below:
So often I'm in my van or hanging out with friends at the beach or at the park and there isn't a smooth flat surface or cup holder to place by drink on.
The ToadFish Non-Tipping Can Cooler solves this because it sticks to any smooth surface and won't come off even if it's knocked.
However, if you lift it up directly from above then it comes up easily so drinking is a breeze.
It's vacuum insulated so it'll keep your beers cold for hours and it's made with durable 18/8 stainless steel just like the Yeti Colster.
See the latest price of the ToadFish Non-Slip Can Cooler at Amazon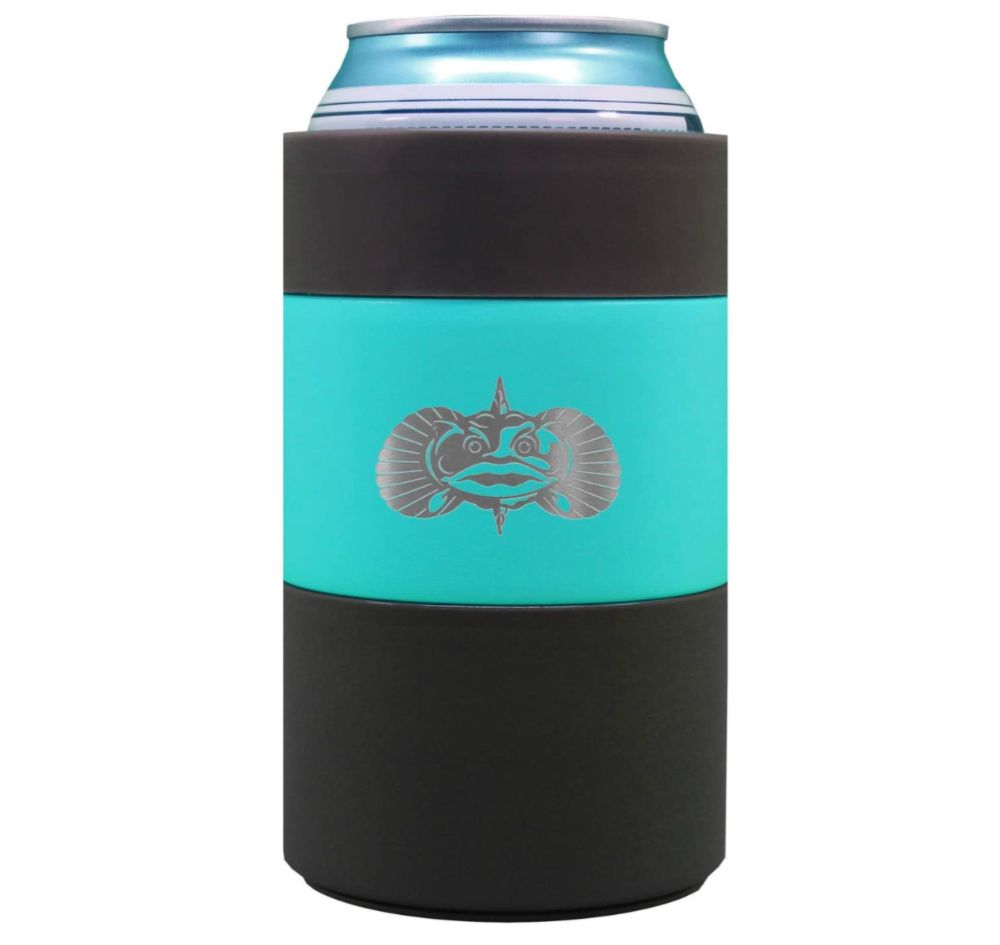 5. Corkcicle Arctican
Built In Freezer Pack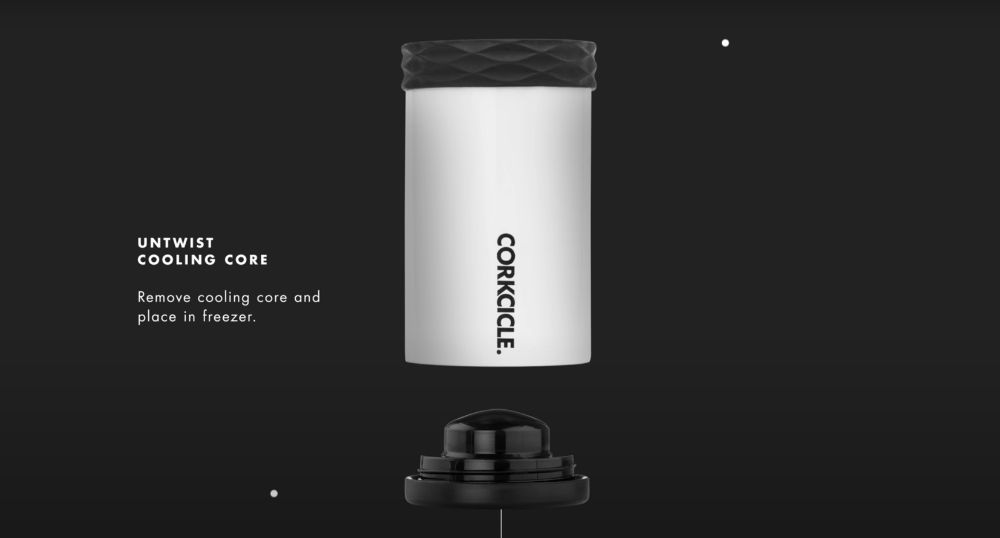 The Corkcicle Arctican can cooler has a unique design where the base has a gel pack in it to keep your drinks colder for longer. The base actually unscrews and can be placed in the freezer or in your cooler prior to use.
It is designed to fit 12 oz cans perfectly and it comes with a felt sleeve to put over your bottles so that they fit in here perfectly too. It's a really cool design and Corkcicle make some great products.
See the latest price of the Corkcicle Can Coolers at Amazon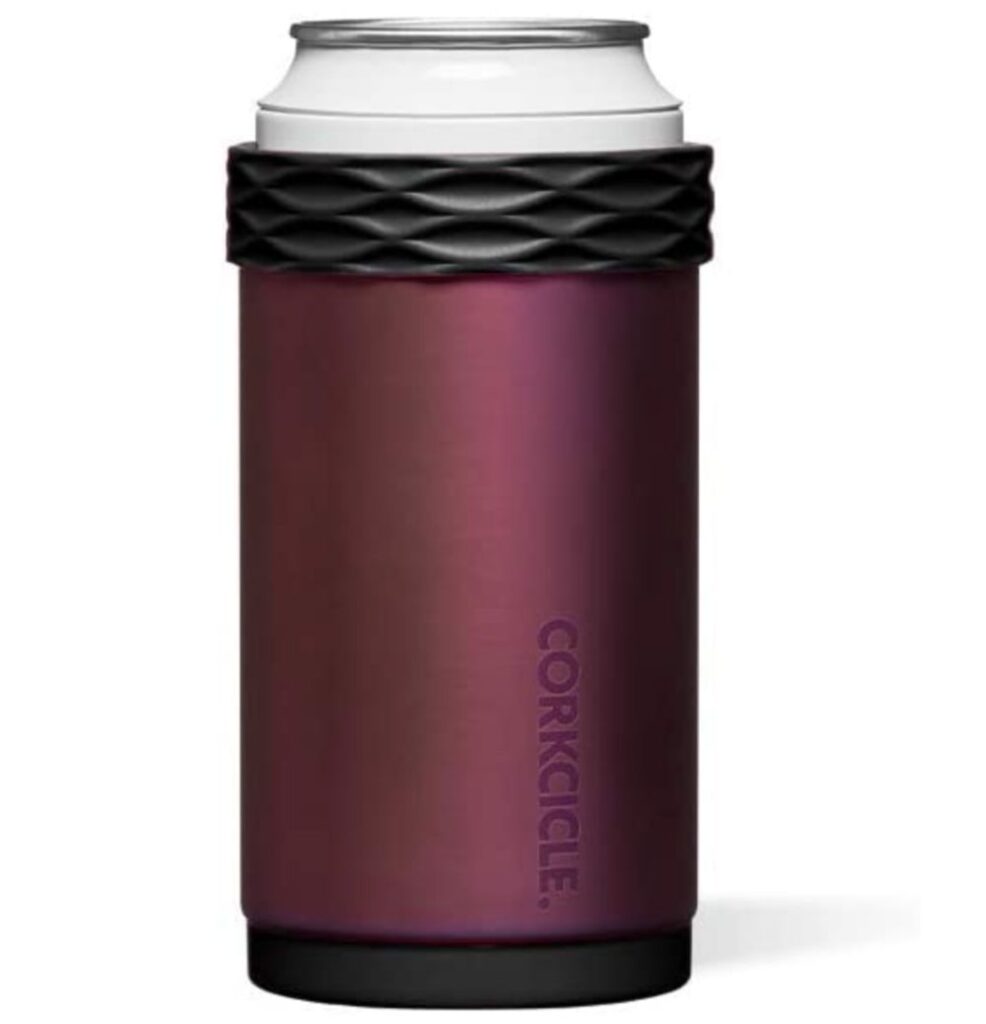 6. Reduce 4-in-1 Can Cooler – Fits Skinny Cans
Fits All Types of Cans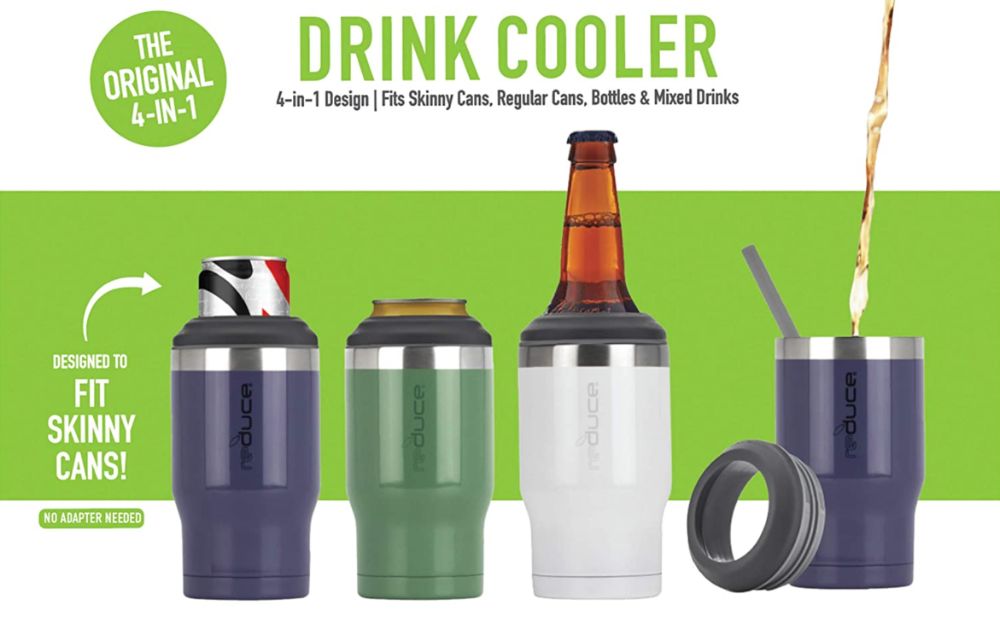 The Reduce 4-in-1 Can Cooler is unlike any other because it can fit regular cans, bottles AND skinny cans! Plus it doubles as a drinking cup as well.
It's tapered at the bottom so that it'll easily fit in your cup holder and this thinner bottom also makes it easier to hold when you've got a can in it.
The unique lid design means even this skinny cans fit in and stay in and it's actually dishwasher proof just like the Yeti Colster.
If you want the versatility to be able to keep any size of can cold plus be able to use it as an insulated tumbler then this mug is a great option for you.
See the latest price of the Reduce Can Coolers at Amazon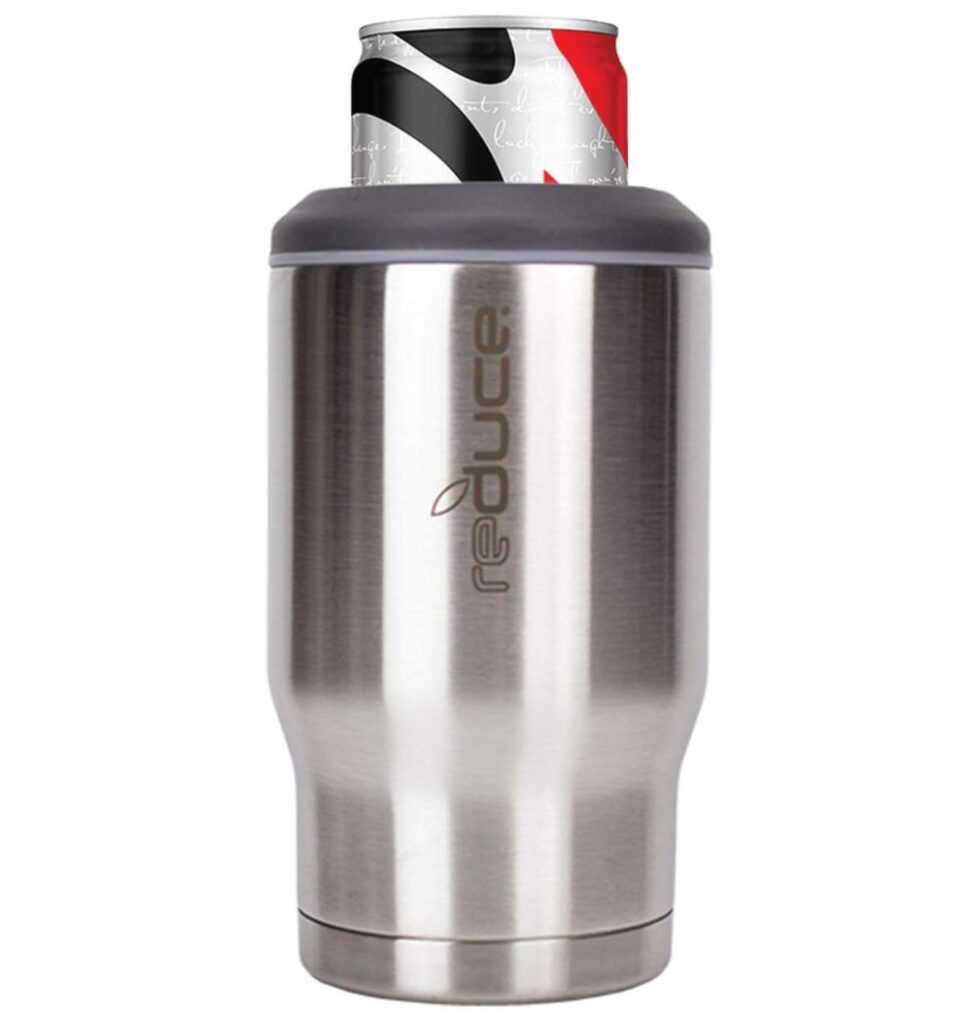 7. Asobu Frosty Beer 2
Best For Bottles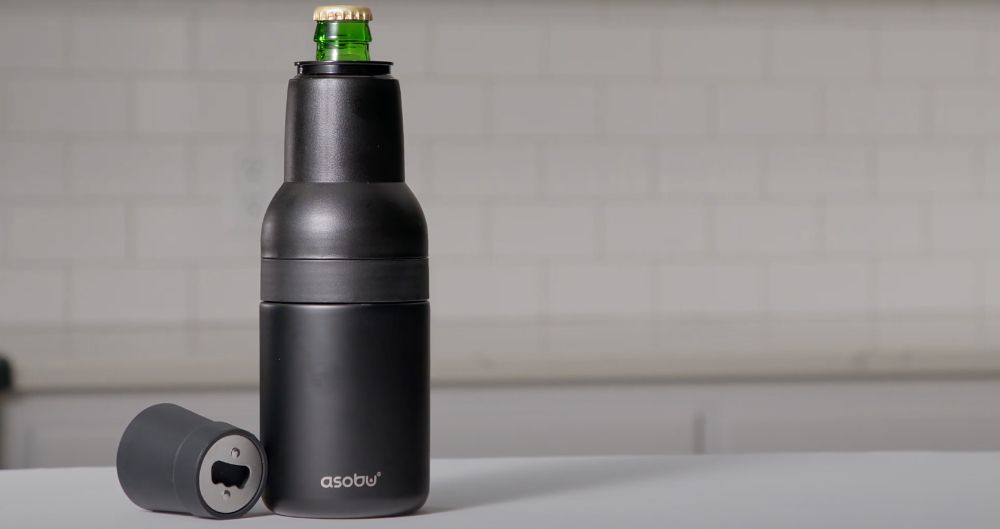 Asobu is the best cooler specifically designed for bottles. It fits can too just like all the other products on this list but where it really shines is with bottles.
Other can coolers leave the top half of the bottle exposed. This means your drink warms up faster because it's fully exposed to the outside heat. It also means that the bottle could potentially shatter if dropped or knocked.
The Asobu frosty has the same vacuum insulated bottom that other can coolers have but then it also has a plastic top to both insulate and protect the bottle from ever shattering.
On top of that it has a lid that can help your beer stay bubbly for longer and in the lid is a built in bottle opener.
This is a really cool product, well priced compared to the Yeti Colster which has less features and it comes in a wide variety of colors and designs.
See the latest price of the Asobu Frosty Can Cooler at Amazon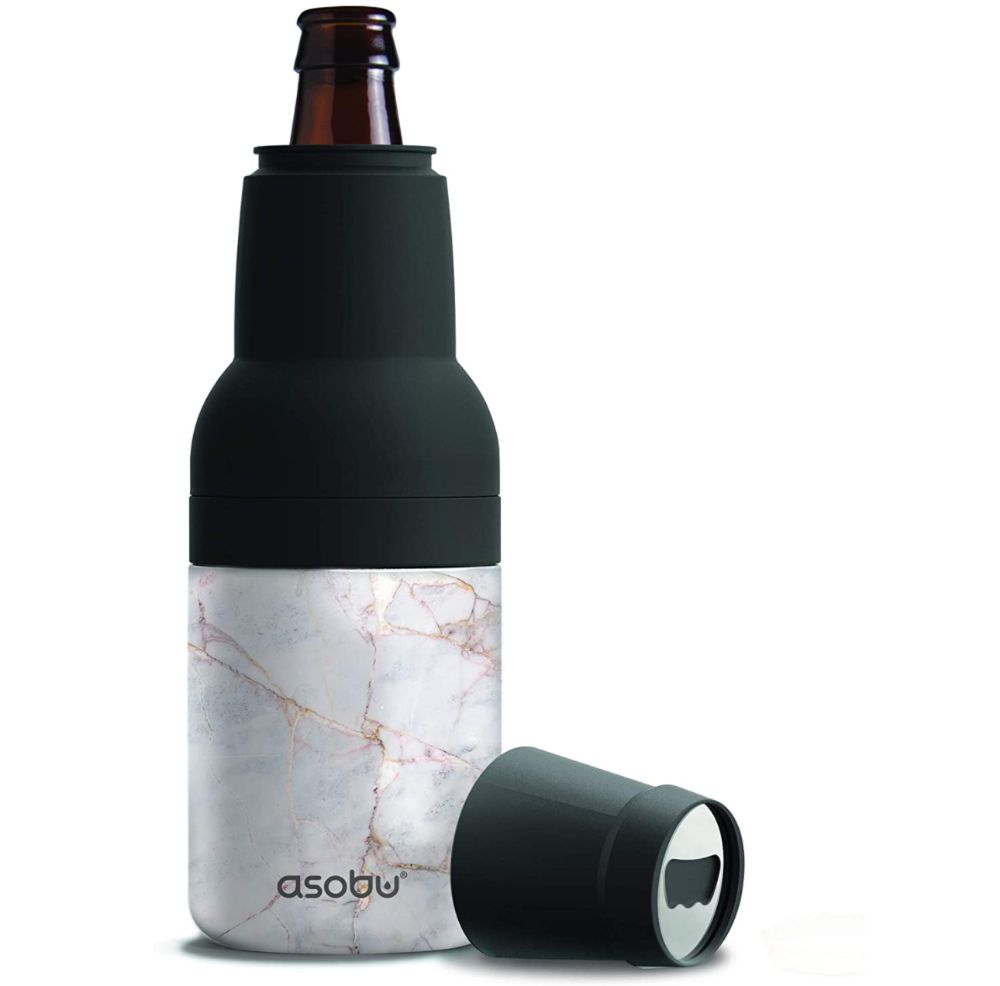 8. RTIC Can Cooler
Most Like Yeti Colster
If you want a can cooler that looks and performs a lot like a Yeti but that doesn't come with the big price tag of the Yeti Colster then the RTIC Can Cooler is the option for you.
They come in 12 oz, 12 oz skinny and 16 oz sizes so you can get the right can cooler to suit your favorite beers.
There are a variety of colors to choose from and they are approximately half the price of a Yeti, offering you a huge saving.
RTIC make a bunch of great products. Their one negative is their limited warranty. Their products only come with a 90-day warranty which isn't anywhere close to Yeti's 5-year warranty or Hydro Flask, Brumate or even Ozark Trail's lifetime warranty.
See the latest price of the RTIC Can Coolers at RTICOutdoors.com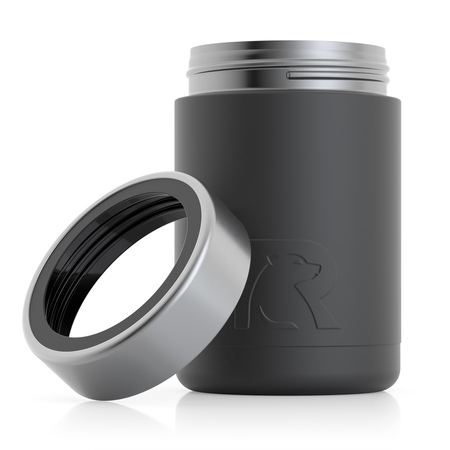 9. KelvZ Can Cooler With Finger Grooves
Good Affordable Option
The Kelvz Can Cooler is a good affordable option with a little bit of a different design.
It has finger grooves in the side to make gripping the can cooler easy.
It's made from the same durable 18/8 stainless steel as the Yeti and is both bottle and can compatible.
It also comes with 2 neoprene foam koozies as a bonus. So you can give your friends the foam ones and show off how much better your stainless steel koozie works.
See the latest price of the KelvZ Can Coolers at Amazon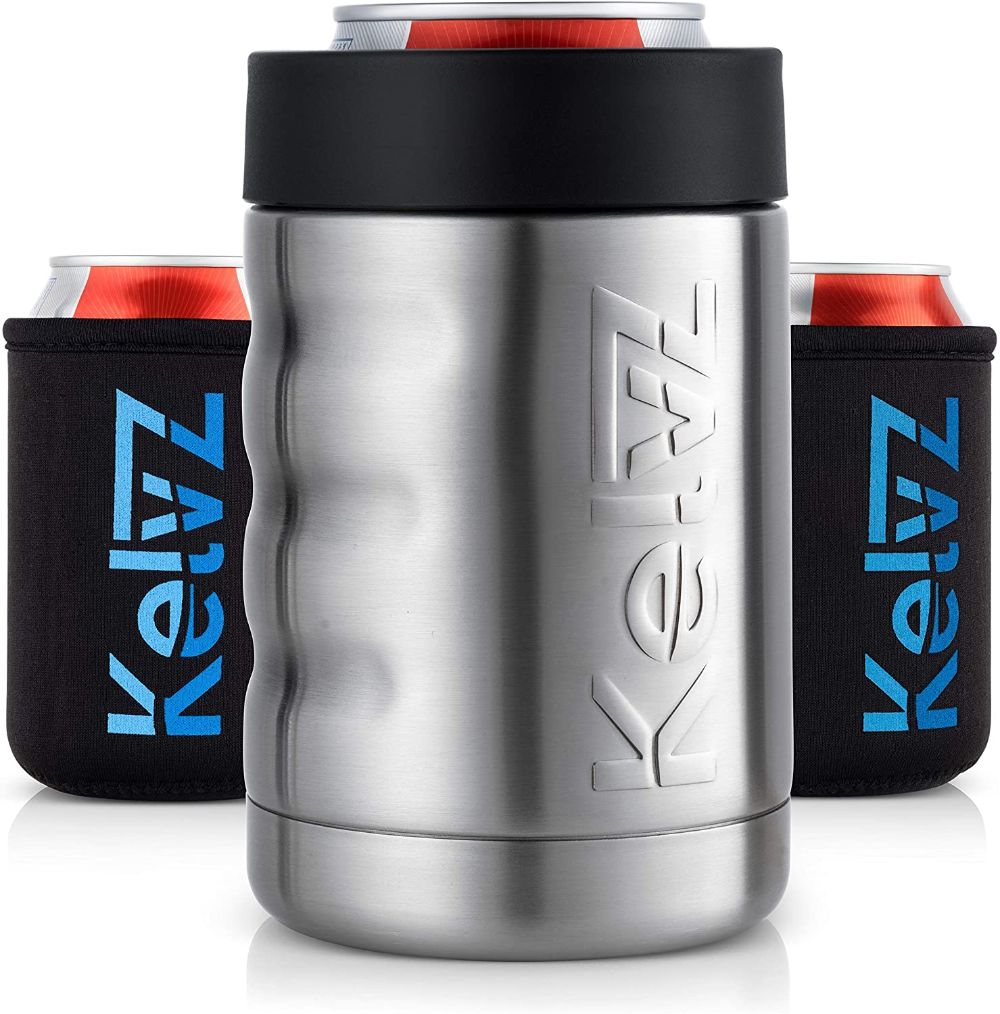 10. The Humble Foam Koozie
Cheapest Option
Last but not is the humble foam koozie. These have been around forever and almost everyone owns a few of these.
They keep beers colder longer than using nothing at all and they stop the condensation from making your table or surface wet.
They are super cheap and fold or squash away making for easy storage.
They don't work as well as the stainless steel vacuum insulation cups in this list but they are a fraction of the price and still do a decent job as you can see in the video below.
If you've got a lot of people in your household or are throwing a party then sometimes the cheaper option is the best option as it means everyone can have a koozie and it won't break the bank.
They cost less than $1 each on Amazon so grab some if you just want to go with the simple cheap option.
See the latest price for Foam Koozies at Amazon